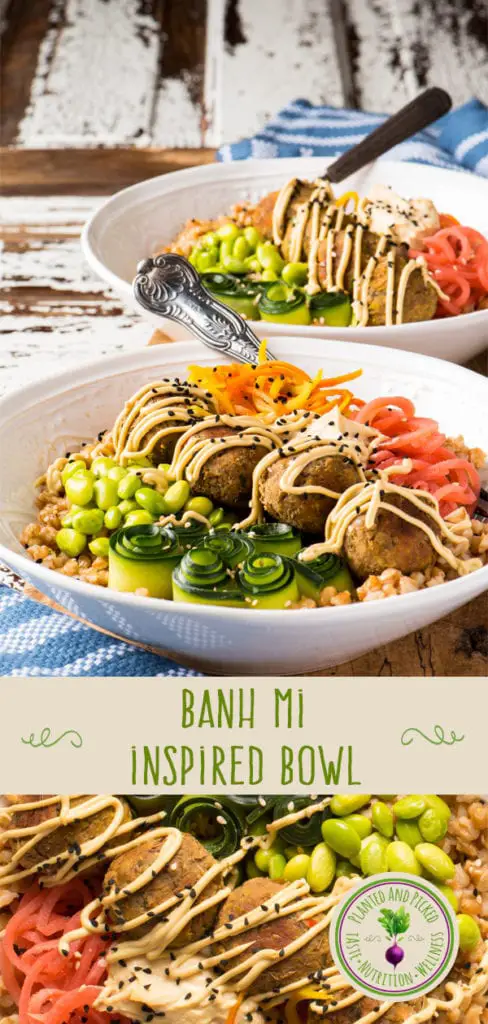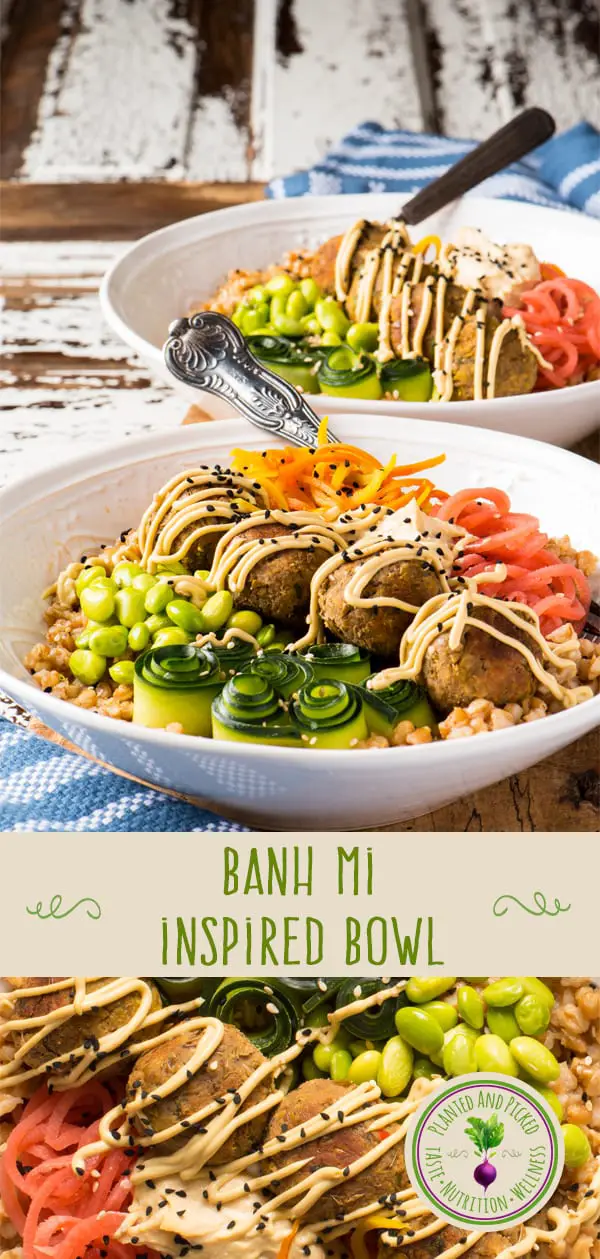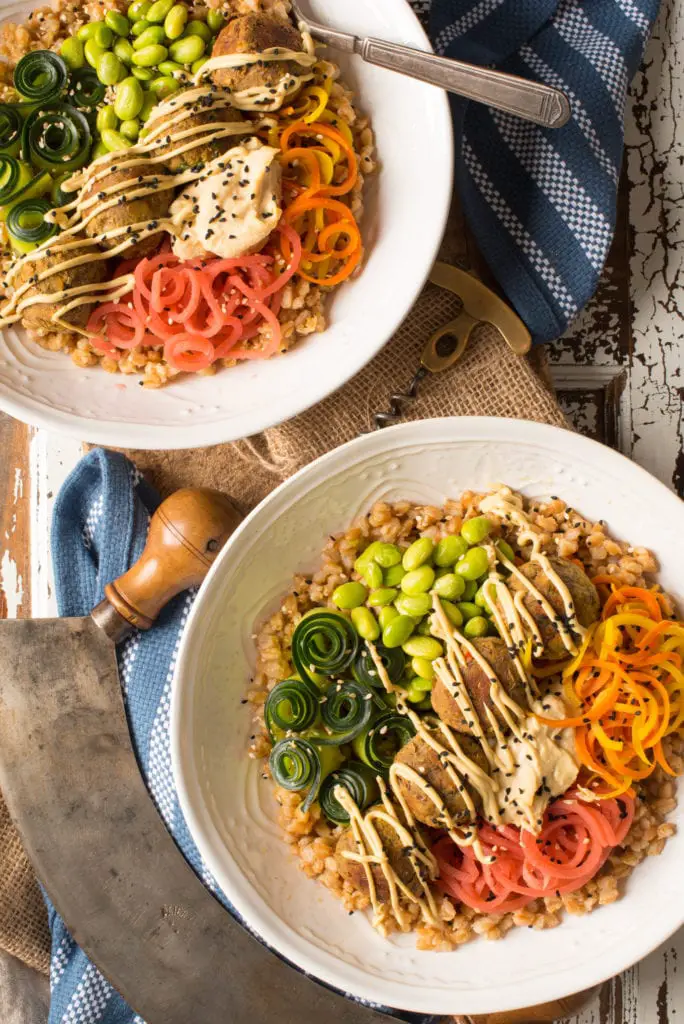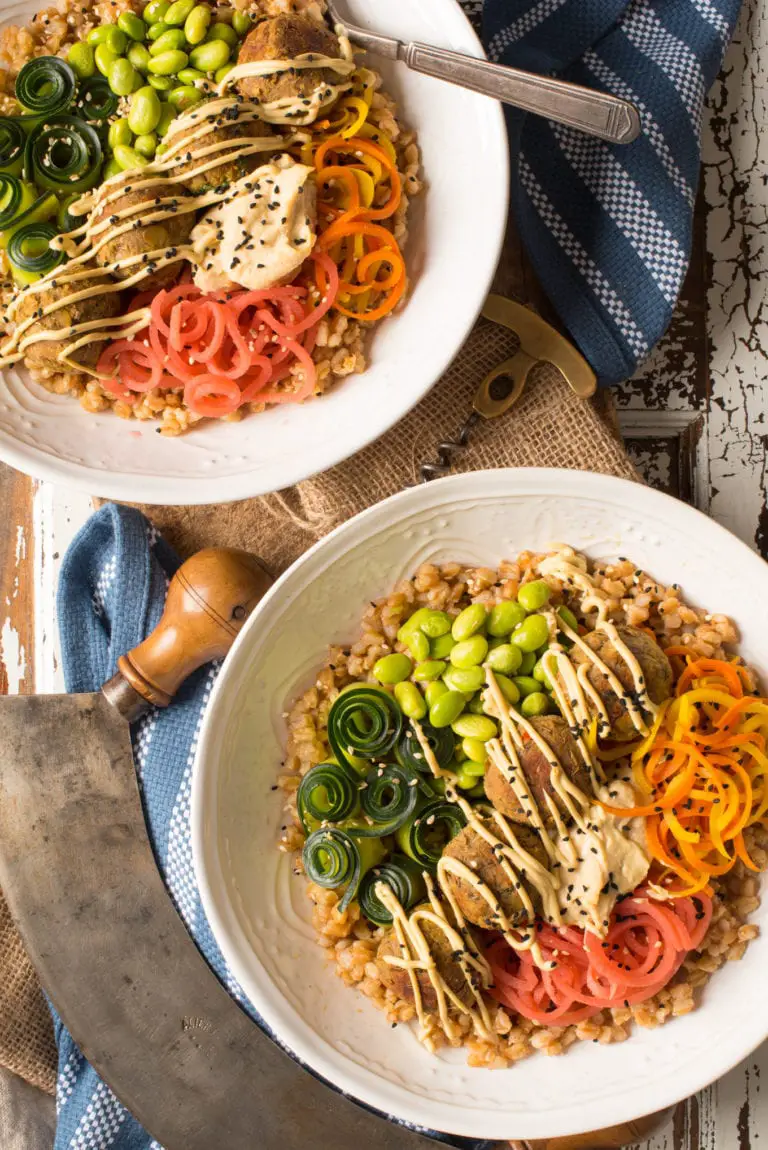 This Bánh Mì inspired bowl is a vegan version of the insides of a traditional Vietnamese sandwich. We've taken away the bread and replaced it with farro, rich in fiber, protein, vitamins, minerals and antioxidants. Hopefully, no one will strike us down for our vegan twist on this traditional street food!
The Components of this Bánh Mì Inspired Bowl
Warning: Some assembly required! This Bánh Mì Inspired Bowl requires some assembly and the preparation of a few key components. We prepped our Spicy Cashew Avocado Mayo and the Pickled Radish and Carrot ahead of time. They also need time to cool and the veg tastes much better after at least an overnighter in the fridge. This also makes less work at mealtime. Simply prepare the Asian Lentil Balls, the farro and the edamame and put it all together when you're ready to eat.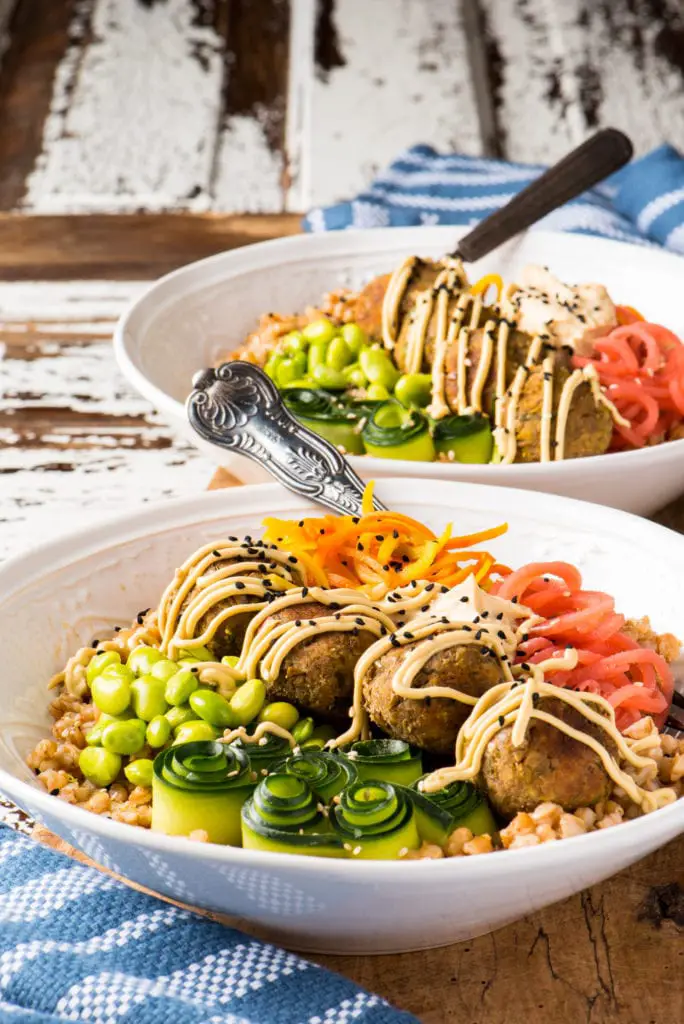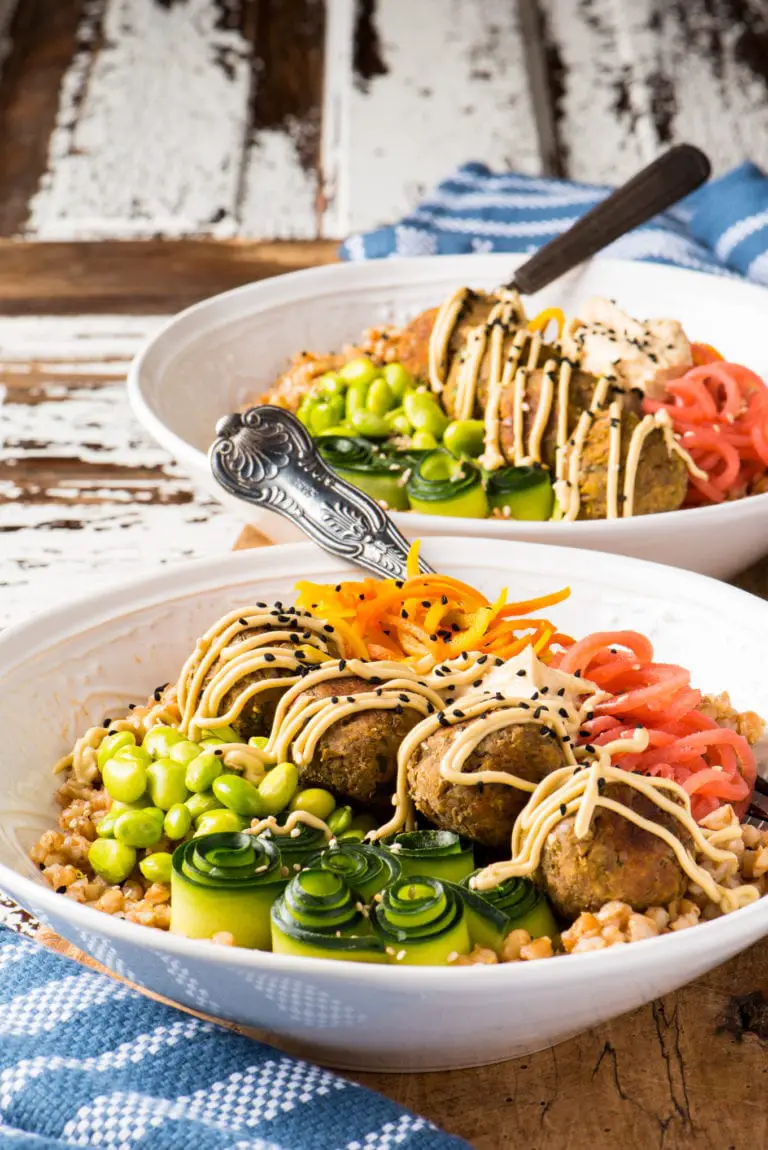 The Farro
You'll want to make sure that you know whether you have semi-pearled, pearled or whole-grain farro. Semi-pearled or pearled farro takes about 30 to 40 minutes to cook while whole-grain farro takes approximately 60 minutes. While the semi-pearled and pearled farro take less time to cook, the trade-off is reduced nutritional content. Pearling removes the hull that surrounds the grain and with it, some or all of the nutritious germ and bran. We used the semi-pearled farro that we had on hand. The farrow was tender in about 30 minutes with just a small amount of stock at the bottom of the pot. We removed the lid to cook off the stock over the next few minutes. Next stop: Bahn Mi Bowl!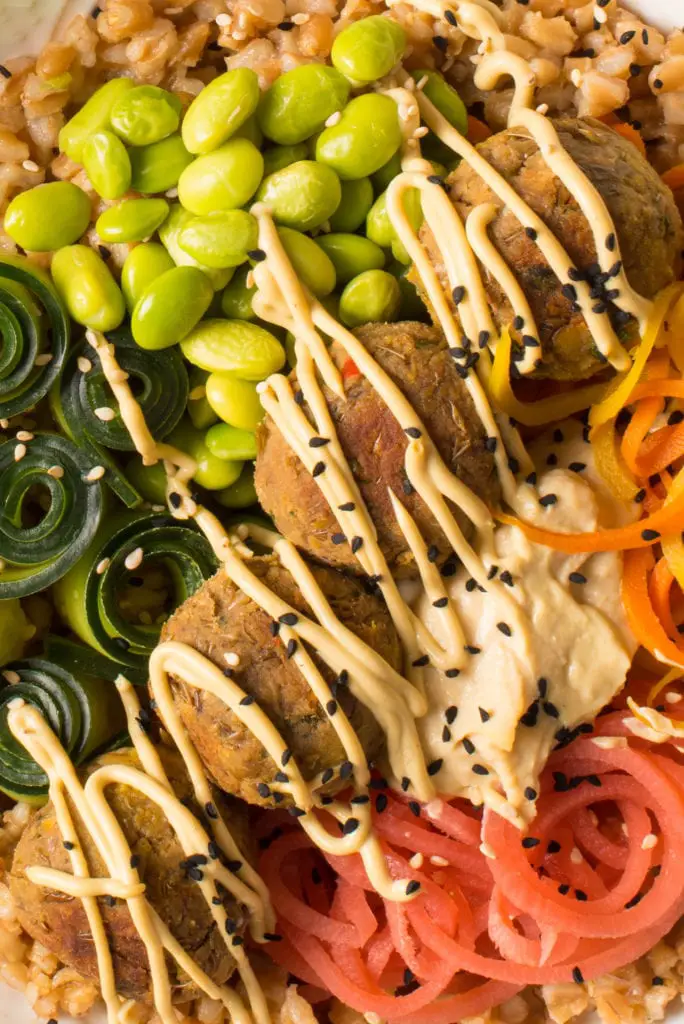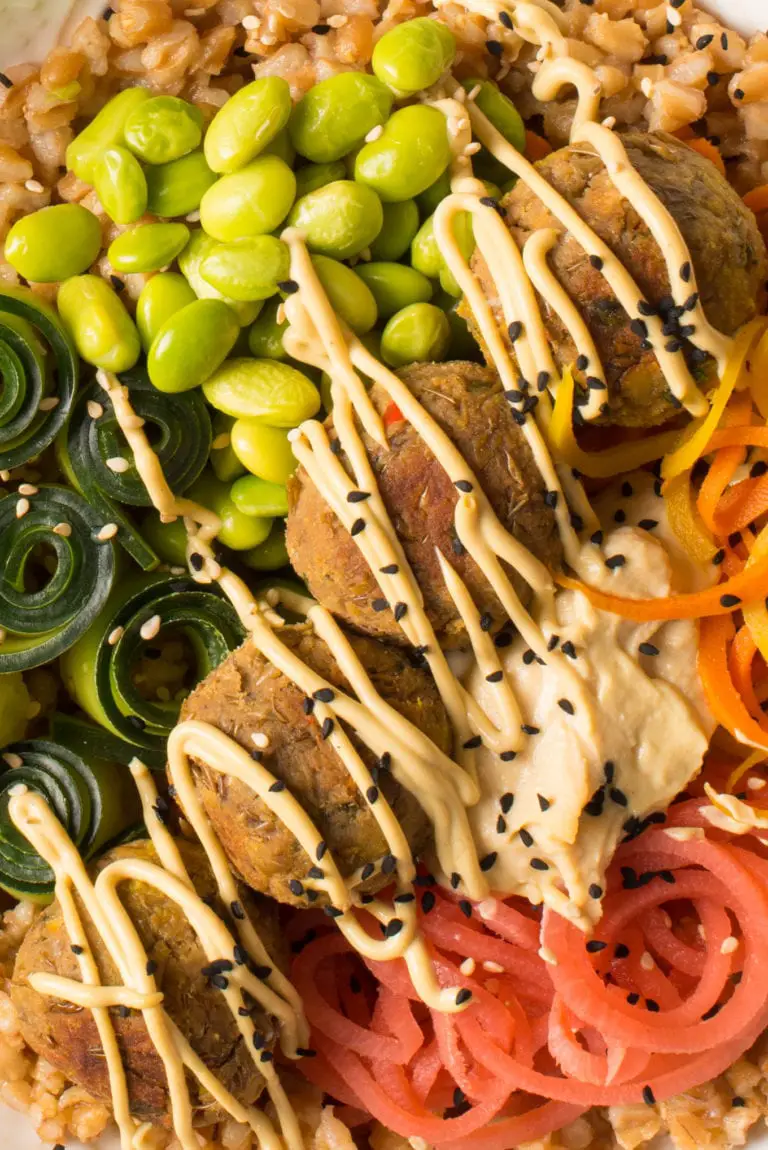 Practical Tips
We prepared the cucumber in nice swirls, but let's face it, it's easier just to dice it up. We also wanted you to see all of the components in the photos, but if you like a lot of mayo, feel free to be liberal with your dressing. Similarly, if you like hummus ???? don't be shy. The cool thing with bowls is that you make it your own!
We just love the combination of flavours in this Bánh Mì Inspired Bowl. The Asian Lentil Balls also make a great appetizer and the Pickled Radish and Carrot can be used in any other vegan bowl. The Spicy Cashew Avocado Mayo works as a topping on sandwiches or thinned out with some lime juice as a dressing for greens.
Let us know if you do try out this Bánh Mì Inspired Bowl and leave a comment and a rating. Snap a pic of yours, tag us @plantedandpicked on Instagram and hashtag it  #plantedandpicked. Eat together as often as possible.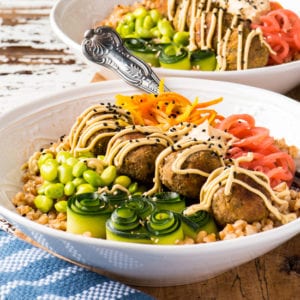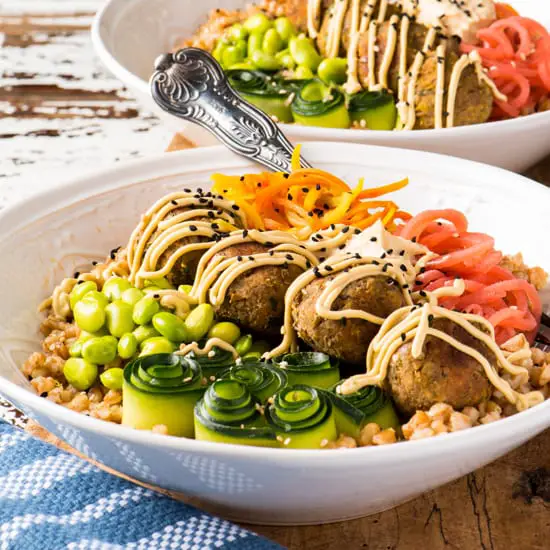 Ingredients
Farro Base
1½

cups

semi-pearled or pearled farro

3¾

cups

vegetable broth or filtered water
Other Toppings
½

english cucumber sliced thinly lenthwise

or 1 cup diced ¼"

1

cup

edamame beans

½

cup

Hummus

Homemade if you'd like!

¼

cup

fresh cilantro chopped

optional

¼

cup

chili peppers, thinly sliced

optional
Instructions
Prepare your Asian Lentil Balls according to the recipe. These can also be prepared ahead of time and reheated, but are always best fresh. If you are preparing them fresh, give yourself another 45 minutes. While the total preparation and cooking time for the lentil balls is 75 mintues, they they can be baking whilst the farro is being cooked stovetop.

Rinse and drain the farro and place in medium-sized pot with broth or filtered water. Bring to a boil, cover and simmer for 30 minutes or until tender. If there is still liquid in the pot once the farro is ready, we remove the lid and cook off the remaining liquid.

While the farro is cooking you can cook the edamame. Simply add the beans to half a cup of boiling water, cover and simmer for 4 minutes. Drain and set aside.

Once the beens are simmering, slice or dice the cucumber and set out your pickled veg, hummus, mayo and hummus, ready for assembly.

Place a layer of farro on the bottom of your bowls and add the beans, pickled veg, cucumber, hummus on top. Dress with mayo.

Optional garnishes include chopped fresh cilantro, sliced hot peppers and black and white sesame seeds.