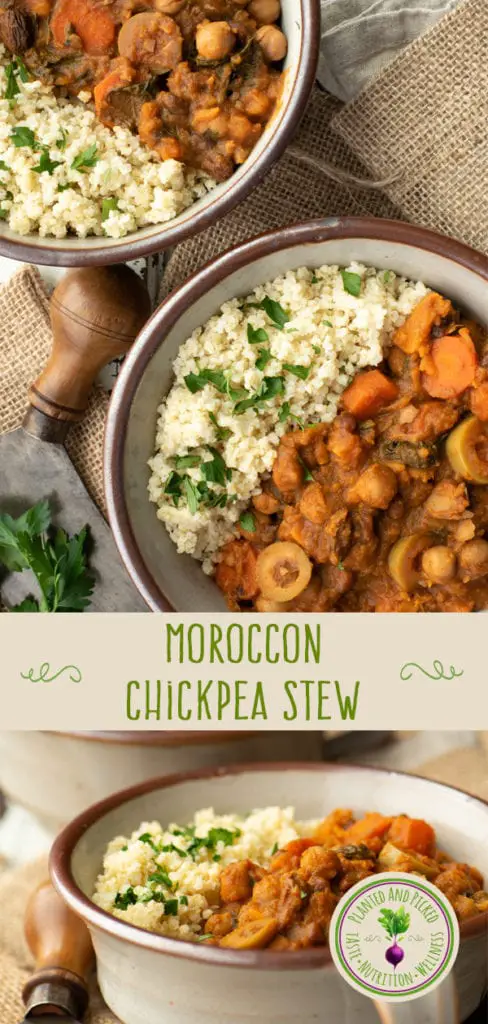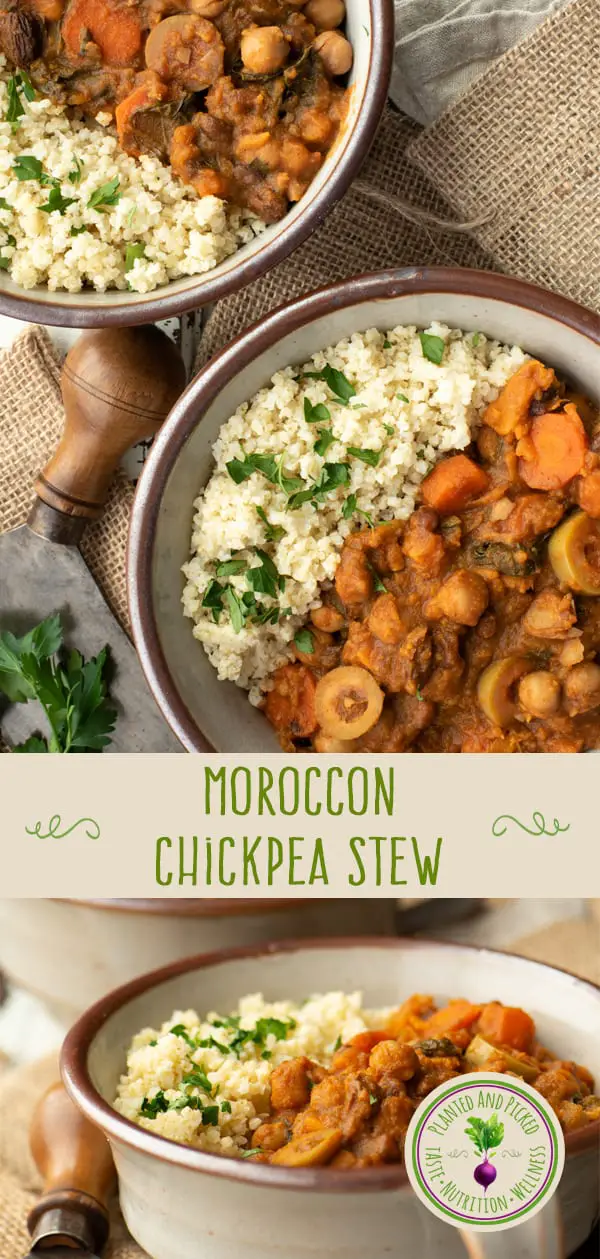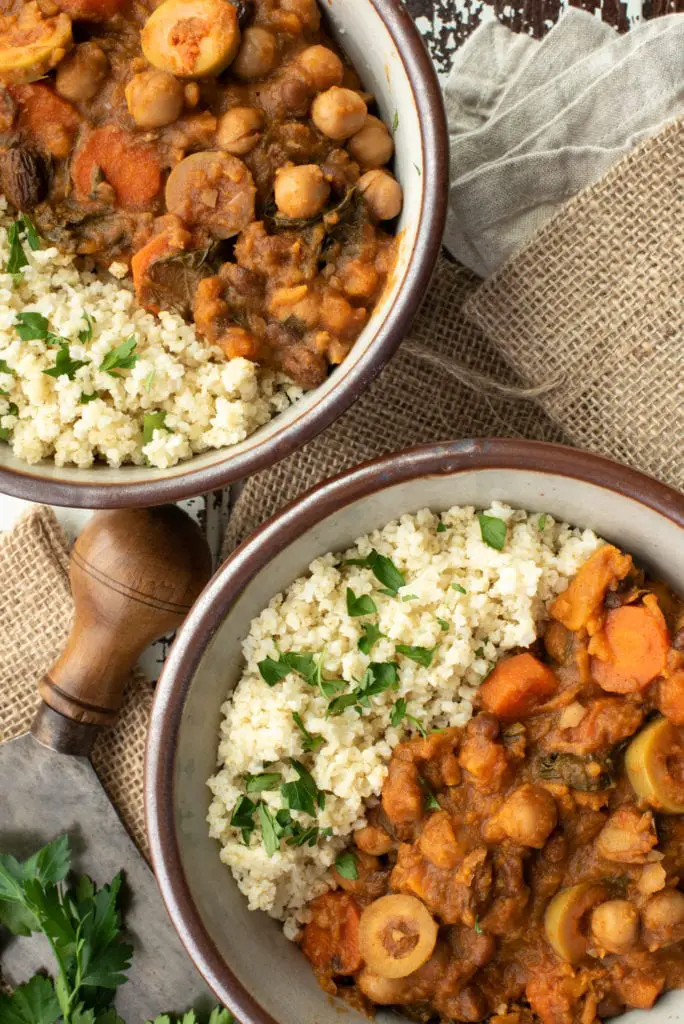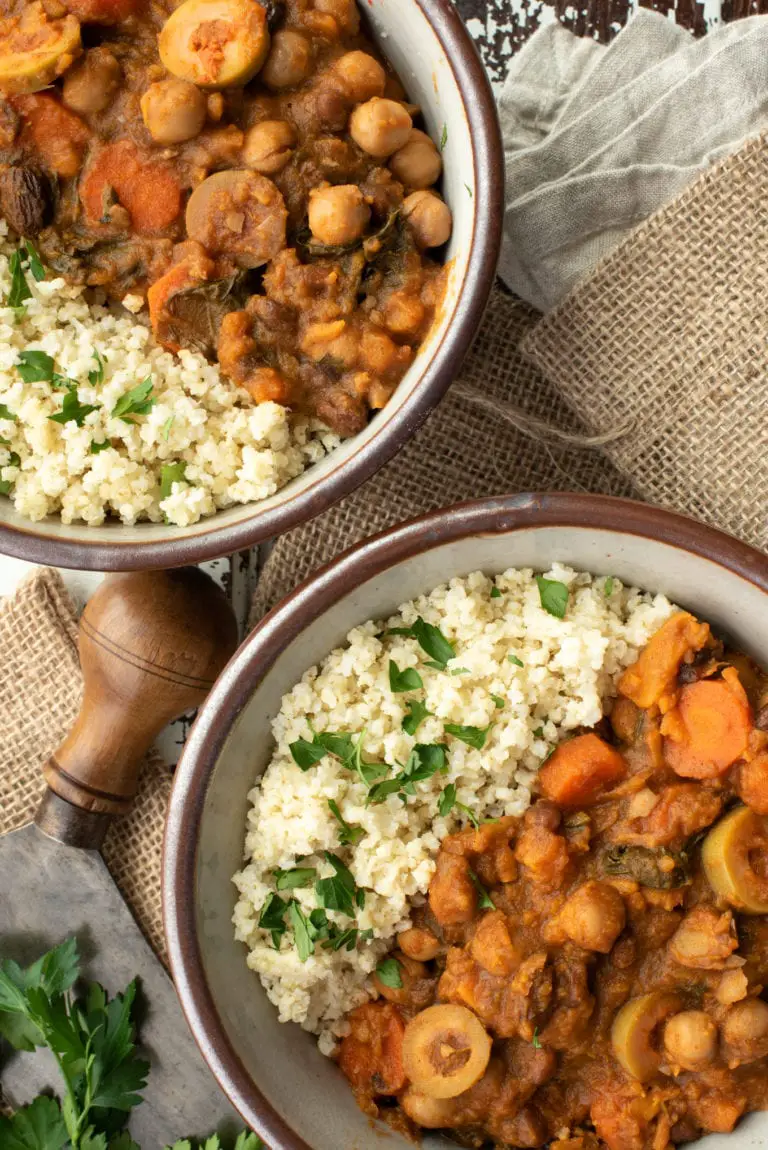 This Moroccan Chickpea Stew is rich with spices, herbs, vegetables and chickpeas. It's perfect for a quick and nourishing meal!
When people think of Spring detoxes, they usually think of juice cleanses and smoothies. However, cleansing can also be about giving your body nourishing, whole plant foods in large quantities.
Not everyone's constitution is designed for hardcore juice cleanses, nor is it required. Give your body a break by omitting toxic, hard to digest food such as processed foods, fried foods, rancid fats, meat and dairy. Also, include more clean foods in your diet. This Moroccan Chickpea Stew is just one example of a clean food that is sure to help.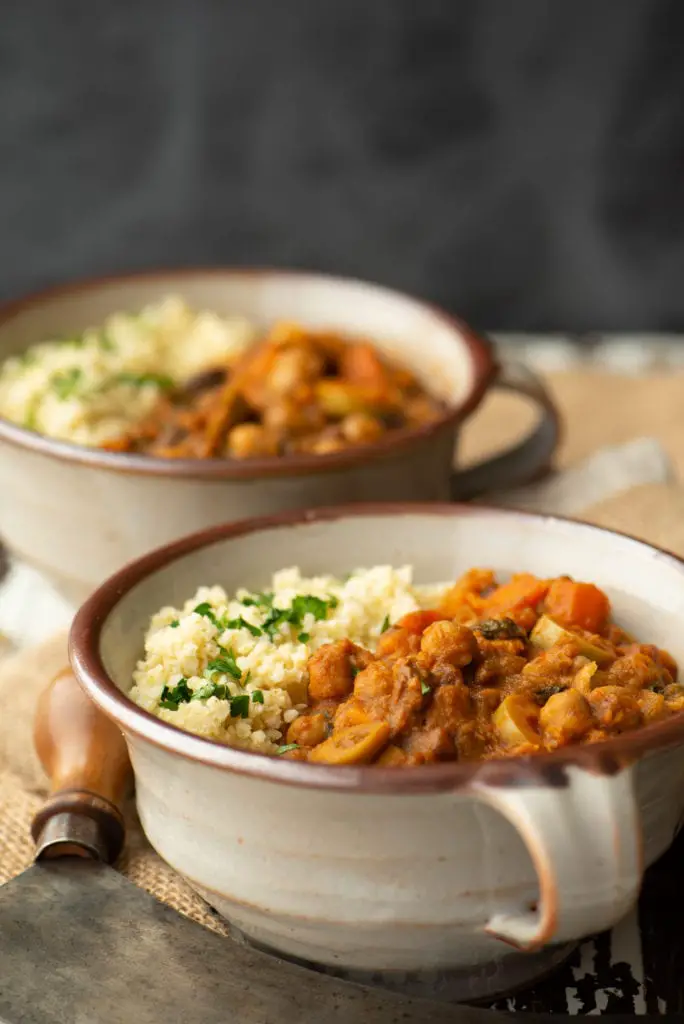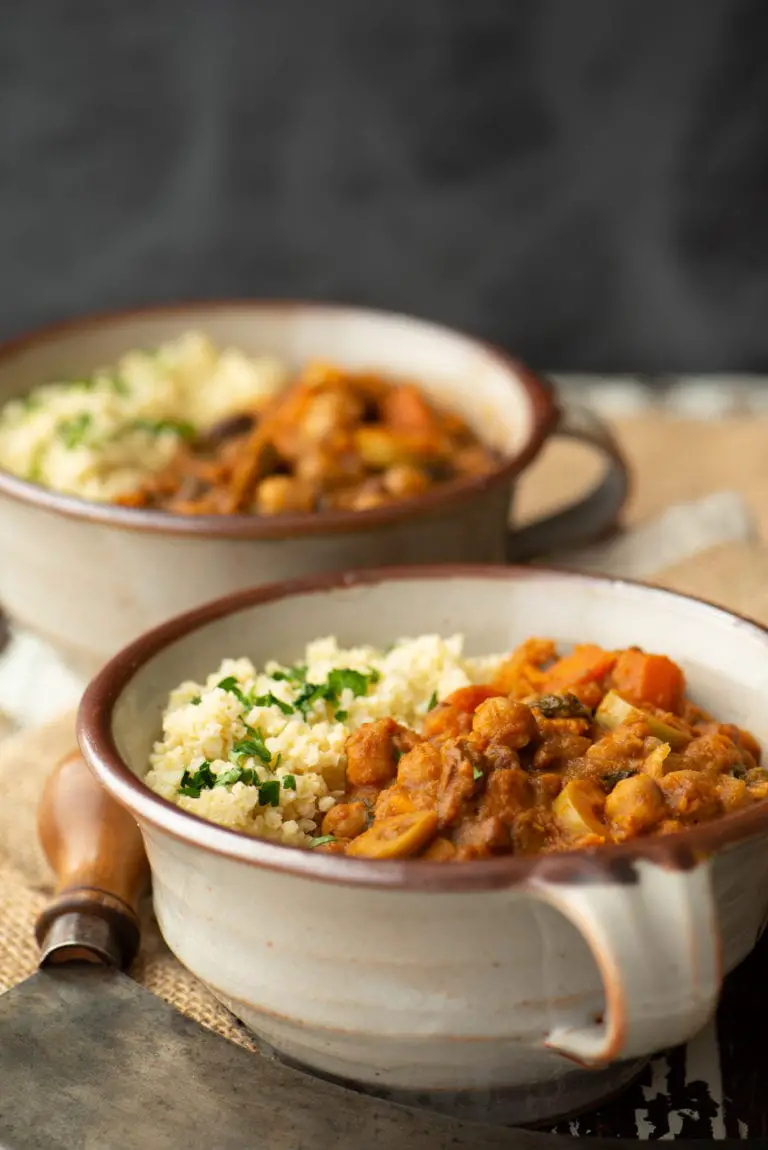 What we love about this Moroccan Chickpea Stew is that we tend to have all of the ingredients on hand as they are all staples in our house. Feel free to make substitutions – just try to keep the quantities in sync. For example, if you love turnip, replace the sweet potatoes with them. If you only have kale or spinach on hand, replace the Swiss chard with one of these. Always use recipes as inspiration and infuse them with your personal likes and needs.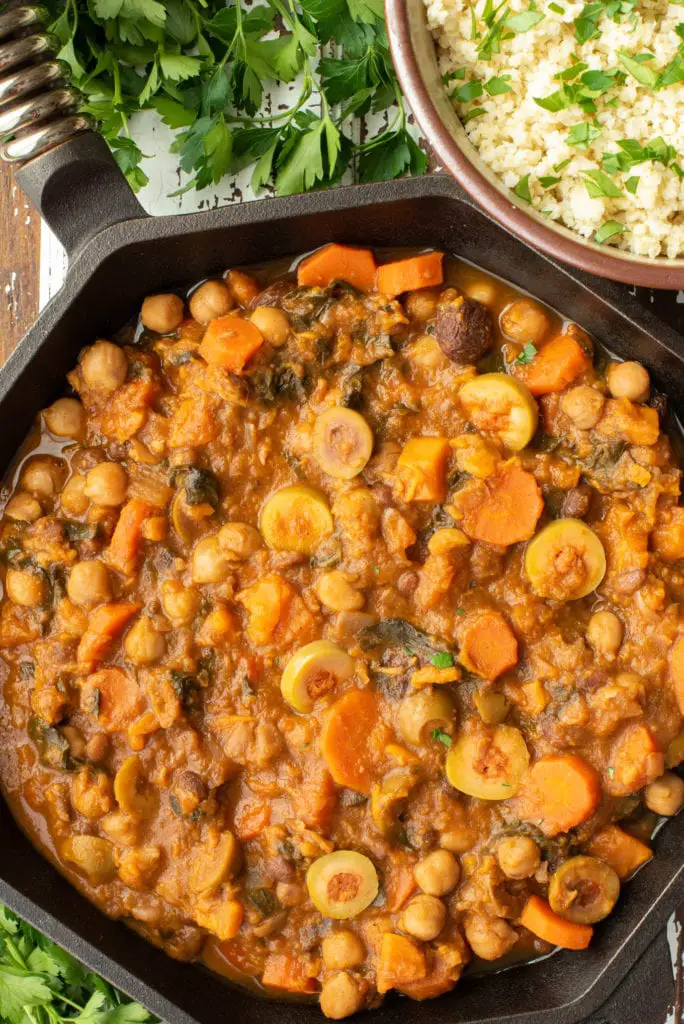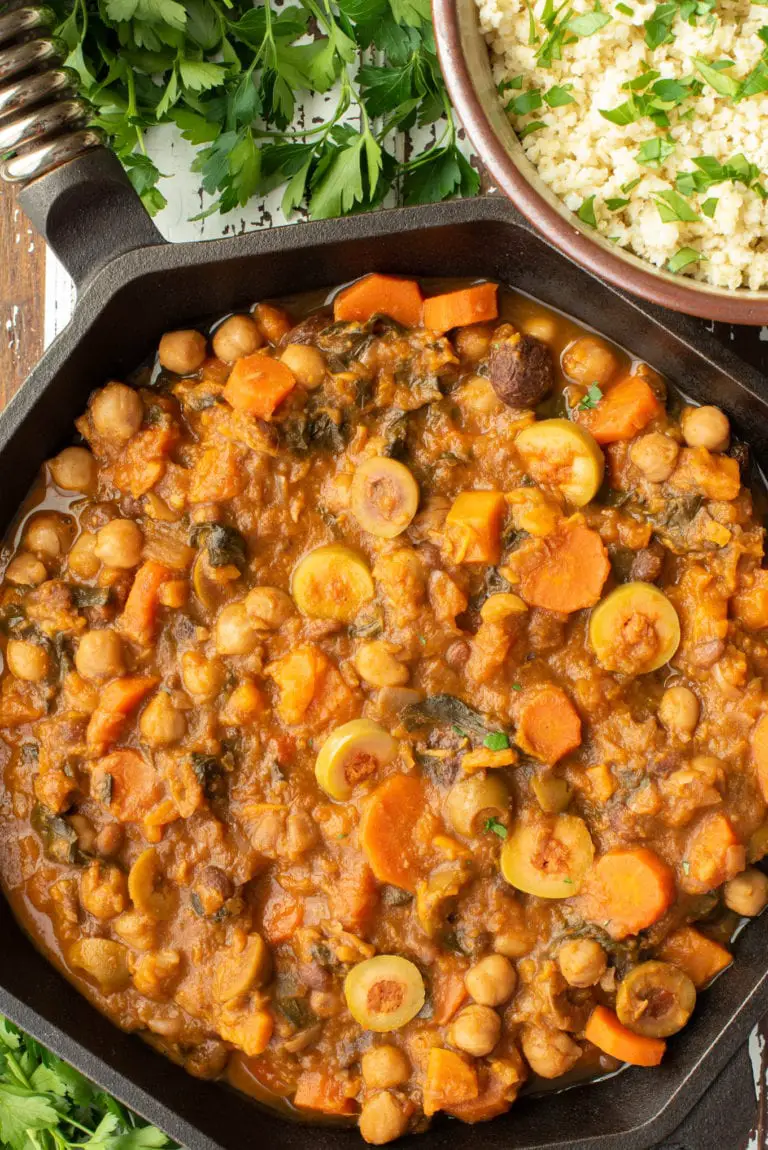 If you're looking for some more delicious comfort foods, try our Hearty Vegetable Shepherd's Pie, Coconut Lentil Curry, One Pot Lentil Bolognese, or this Simple Weeknight Marinara Sauce.
If you try this Moroccan Chickpea Stew, tell us about it. Your feedback helps us the whole community. Leave a comment and a rating and don't forget to tag us @plantedandpicked on Instagram and hashtag it  #plantedandpicked. Share great food with friends!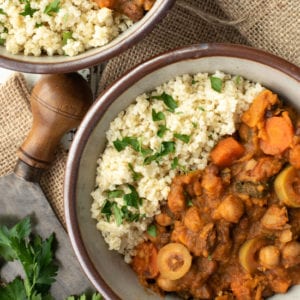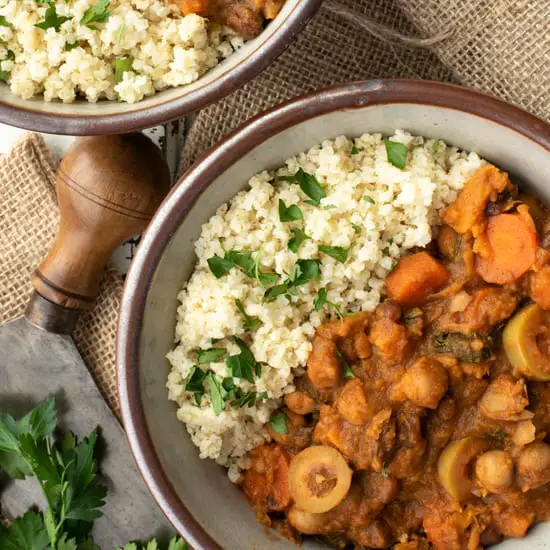 Ingredients
1

tbsp

olive oil

1

cup

onion, diced

2

large

garlic cloves, minced

2

cups

sweet potatoes, medium diced

2

cups

carrots, sliced about 1/2 inch thick

1 1/2

cups

cooked chickpeas (or 1 398ml can rinsed and drained)

1

tsp

sea salt

2

tbsp

tomato paste

2

cups

vegetable broth

1/2

cup

green olives, sliced

1/4

cup

raisons or diced dried apricots

1

lemon

zest of lemon only

1

small bunch

swiss chard, leaves only, sliced

1/4

cup

chopped fresh parsley (optional)
Spice Blend
2

tsp

ground cumin

1

tsp

paprika

1

tsp

ground coriander

1/2

tsp

ground cinnamon

1/2

tsp

ground ginger
Instructions
Spice Blend
Measure all spices into a small bowl. Set aside.
Stew
Peel and chop sweet potatoes and carrots; set aside.

Wash and drain swiss chard.

Zest one lemon and set aside.

If you are cooking chickpeas from dry, you will need to start the process the night before and have them ready prior to starting to prepare the recipe. If you wish to use canned chickpeas, choose a small can of organic chickpeas in a BPA free can. Our preferred brand is Eden Organic where the chickpeas are cooked with Kombu for added minerals and easier digestion.

Prep remaining ingredients and organize work station so that everything is ready before you start cooking.

Heat large pot to medium heat on stovetop.

Add olive oil, salt and onions. Cook for about 5 minutes, stirring occasionally until onions are translucent and slightly browned.

Add garlic and cook for about a minute

Add tomato paste and spices and stir for about 1 minute to release the flavours.

Add vegetable stock, sweet potatoes, carrots, chickpeas, green olives and raisons.

Bring to a boil, reduce heat to a simmer. Place cover on pot and simmer for about 30 minutes, stirring occasionally, or until sweet potato and carrot are fully cooked.

Add swiss chard and lemon zest and cook another 5 minutes until the greens are wilted.

Stew can be served over a grain or seed such as rice, quinoa or millet and topped with fresh parsley (optional).
Cooked Chickpeas from Dry Beans
Rinse 3/4 cups dry chickpeas.

Place chickpeas in bowl or pot with water to cover by about 2 inches and soak overnight.

Drain and rinse the chickpeas. Place in pot with enough water to cover by about 2 inches.

Bring to a boil and cook, stirring occassionally for about 1 1/2 hours. Add more water if required during cooking to ensure that chickpeas remain covered.

You can start checking the chickpeas after about an hour. Continue to cook until done. Cooking time for beans varies greatly. We have had some batches that have taken up to 2 1/2 hours! Keep cooking and adding water if required until they are soft (but not mushy).