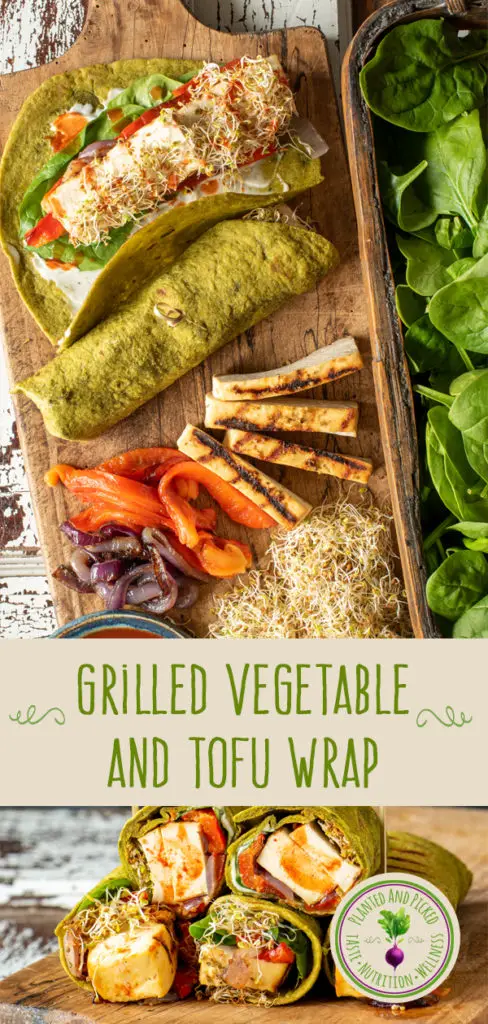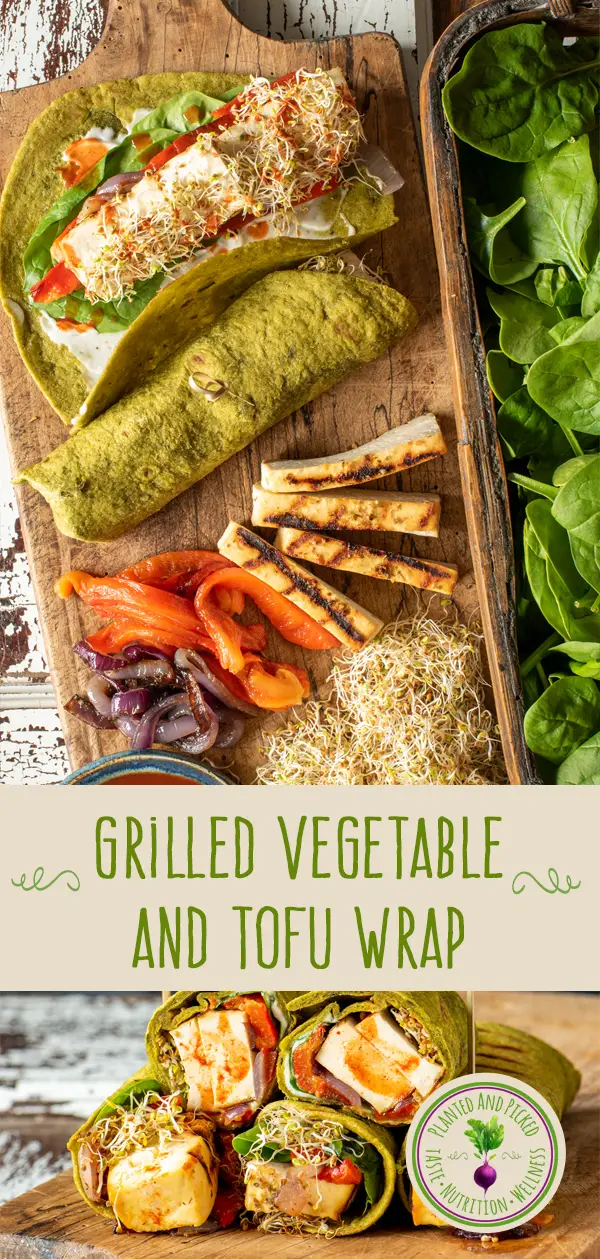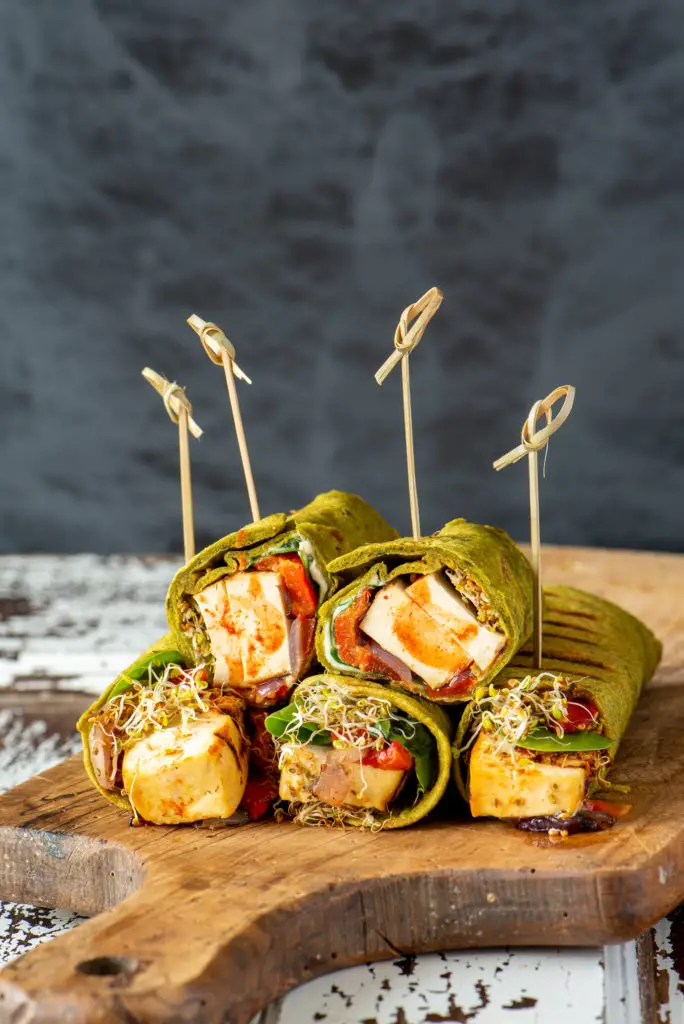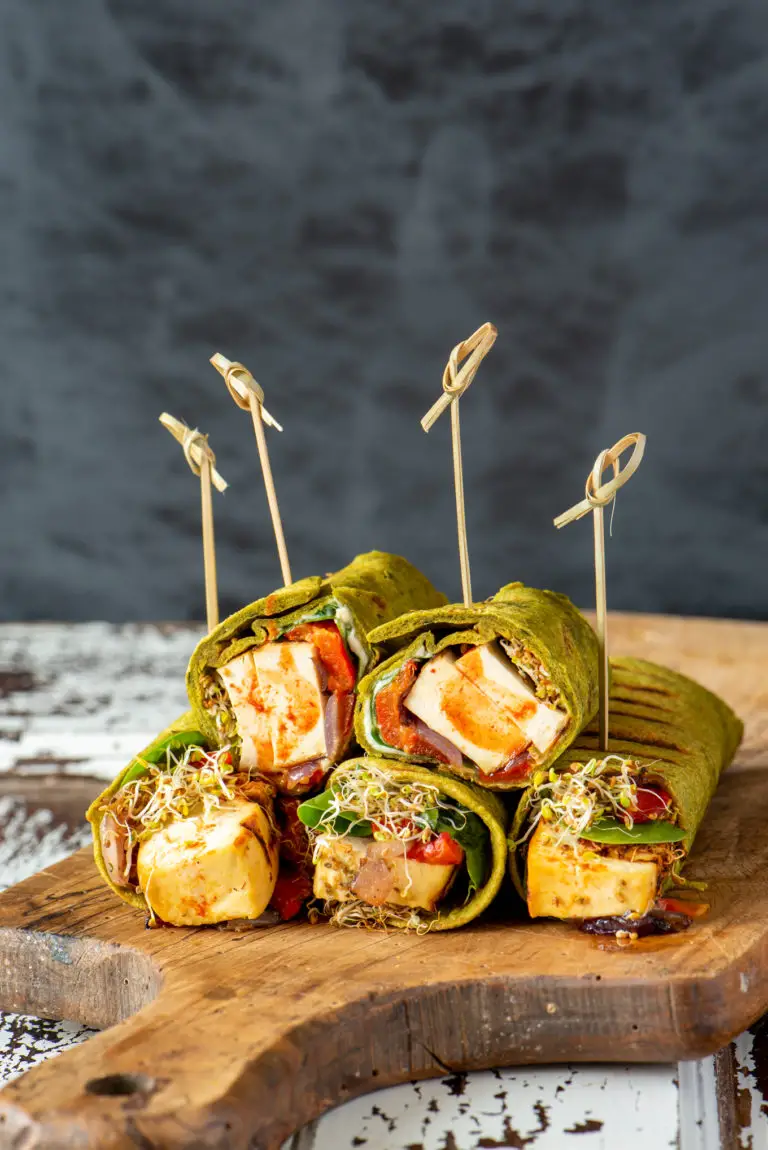 These grilled vegetable and tofu wraps make a great lunch or light dinner because they're super tasty and easy to put together. Have them on their own or serve them with a side salad or soup.
Some Important Facts About Tofu
We use a combination of protein rich plants in our diet. These include beans, good quality protein powders, nuts, seeds, organic tofu and tempeh. We know that tofu has received some mixed publicity in the past, but you have to keep in mind that quality is the key to the tofu that you should be eating. Sprouted whole food soy products or naturally fermented ones are the best choice.
Tofu starts with soy beans (edamame) and results from coagulating soy milk and mineral salts. The curds of the milk are then pressed into solid white blocks of varying softness. These include silken (good for desserts), soft (good blended into sauces), firm and extra firm. Tofu really has no flavour, but takes on the flavour of any marinades or sauces that you like. In this way, it is quite versatile!
Soybeans naturally contain a class of phytoestrogens called isoflavones. Many people hear the word estrogen in the term phytoestrogen and assume that this means that soy has an 'estrogen-like' effect. It can, however, the way it binds to specific tissues seems to result in a positive effect in many ailments, including many cancers, bone health and high cholesterol. Dr. Michael Gregor explains how this works in the following video.
Three ounces of tofu contains only about 78 calories and almost 9 grams of protein. Unlike many other plant based proteins, tofu is a 'complete' protein. This means that it contains all 9 essential amino acids (the ones that your body can't produce). It is high in the nutrients we tend to associate with other legumes including fibre, iron, magnesium, potassium and zinc.
Being Careful to Use the Best Tofu
Over 90% of the soy grown in North America is genetically modified and is also saturated with chemicals. Most soy is produced as a mono-crop to support the factory farming of animals and is also altered to produce soy isolate, which is used in many processed food products. These are not a healthy versions of soy! When choosing soy products, always choose non-GMO, organic and as close to the whole food as possible.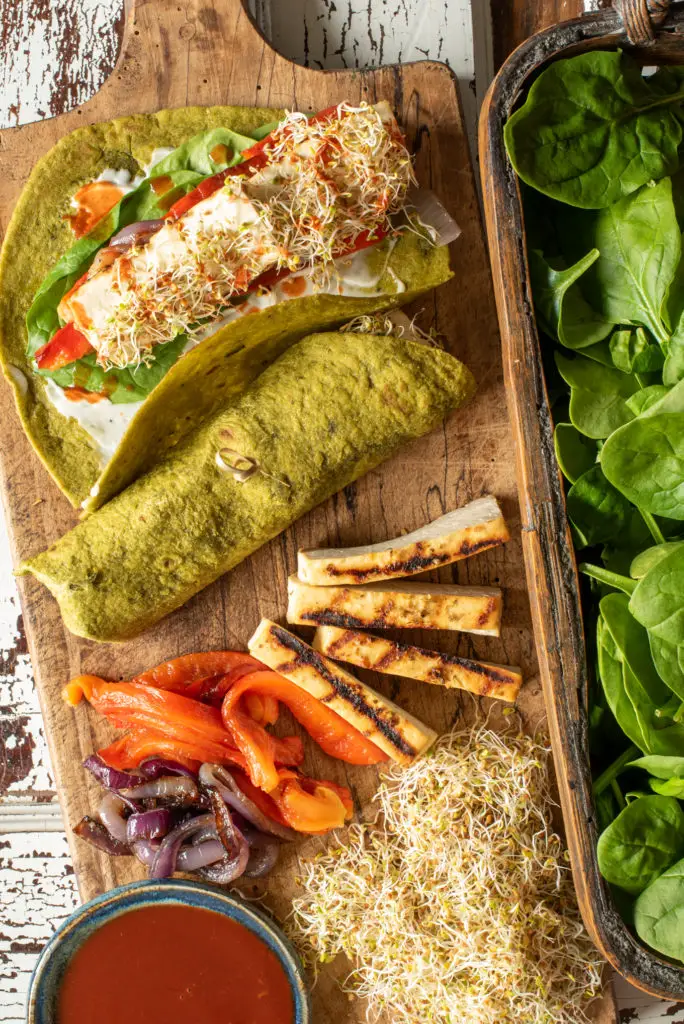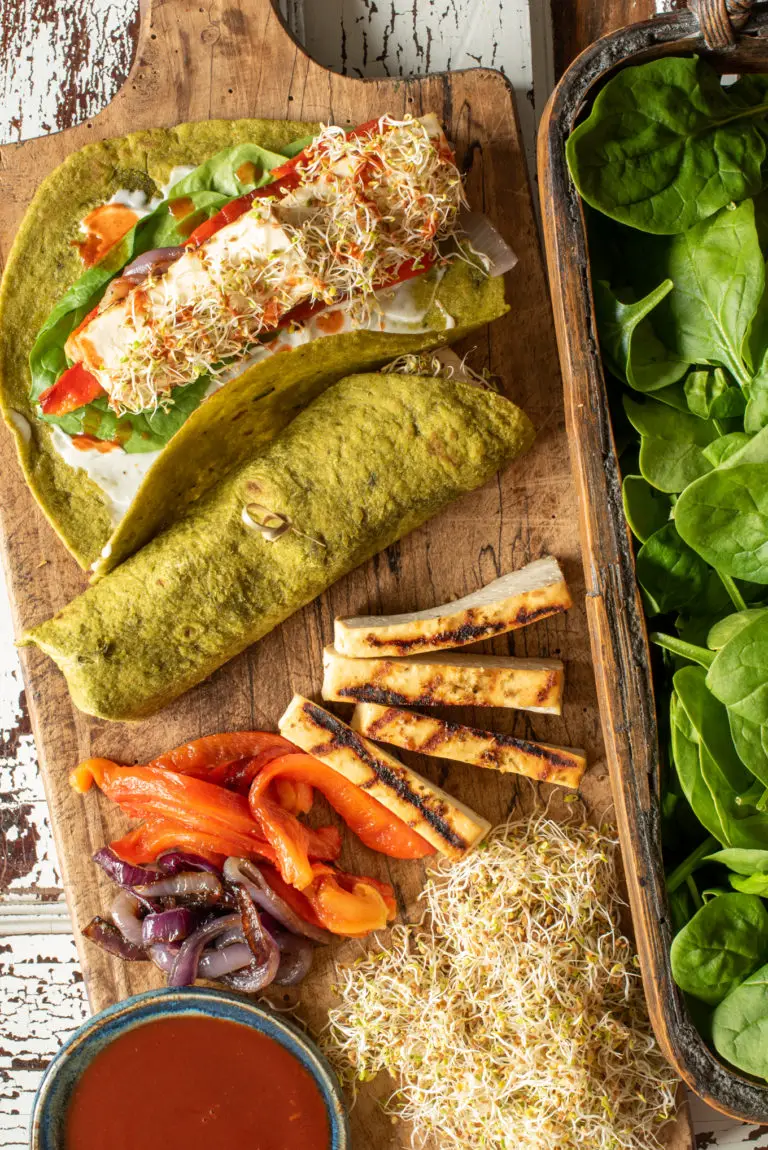 Bringing It All Together
Roasting the red pepper and onions for this dish enhance the flavour of the vegetables because roasting any vegetables makes them taste sweeter. You can always use jarred roasted peppers if you have them on hand. Just beware that the brand that you buy does not contain any preservatives or chemicals in them. For the spread, you can always sub our Spicy Cashew Avocado Mayo if you have some on hand!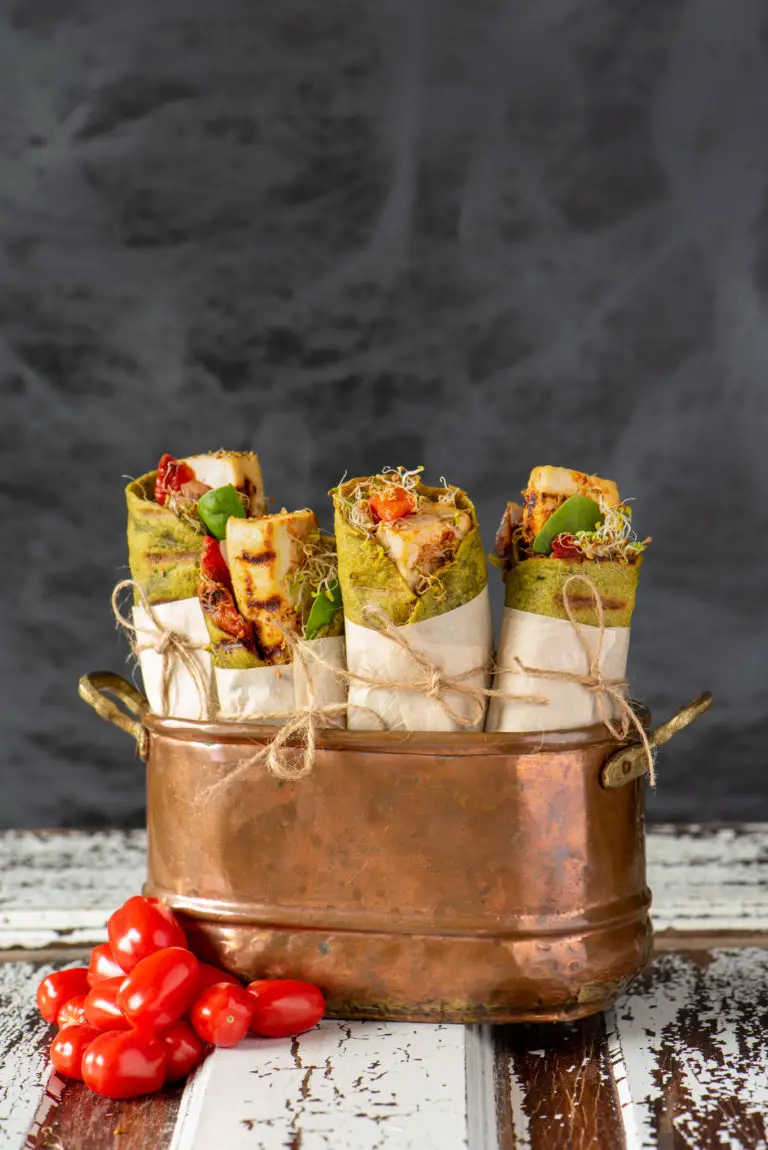 Check out one of these savoury soups to accompany your grilled vegetable and tofu wrap: Quick and Easy Black Bean Soup, Classic Italian Minestrone Soup, Spiced Red Lentil Soup or Fire Roasted Tomato Soup.
Let us know if you make these wraps because we're always happy to receive feedback! Leave a comment and a rating and don't forget to tag us @plantedandpicked on Instagram and hashtag it  #plantedandpicked. Pull up a chair and enjoy a bowl of soup!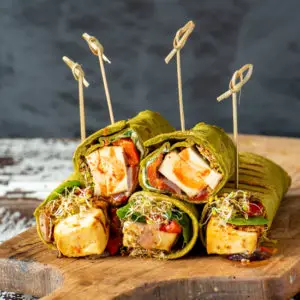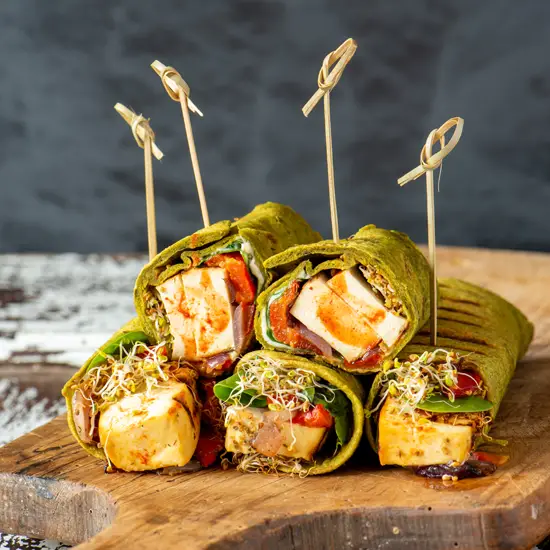 Ingredients
Marinated Tofu
1

10 oz

block of organic extra firm tofu

2

tbsp

lemon juice

1

tbsp

extra virgin olive oil

1

tsp

garlic powder

1

tsp

oregano

pinch

salt and pepper
Remaining Ingredients
1

red pepper (or jarred roasted red peppers)

1

red onion

1

cup

baby spinach leaves, stems removed

8

tsp

vegan mayo such as vegannaise

4

small wraps

sprouts (optional)

hot sauce (optional)
Instructions
Marinated Tofu
Mix marinade ingredients in a shallow dish.

Place tofu in the dish and coat with marinade.

Let sit for 30 minutes, flip over and let sit for another 30 minutes on the other side.

Remove tofu from marinade and grill on a pre-heated grill pan for about 7 minutes on each side.

Remove to a cutting board and slice into 8 equal pieces. Set aside.
Roasted Red Pepper
While tofu is marinating, place the red pepper on a baking tray and broil for a total of 30 minutes, rotating it twice at 10 minutes and 20 minutes to ensure even broiling.

Remove the pepper from the oven and let cool.

Peel the skin from the pepper. Pull out the stem and open the pepper up. Remove the seeds and dry the pepper in some paper towel or using a dish towel, to remove excess moisture.

Slice the roasted red pepper and split into 4 equal portions.
Roasted Onion Slices
Peel the onion and slice width wise into circles about ½ inch thick

Lay each onion slice flat on a baking tray lined with parchment paper and brush with a little olive oil on both sides. Add a pinch of salt and pepper.

Roast for 25 minutes, turning halfway through.

Separate rings into 4 equal portions and set aside
Assembly
Spread 2 tsp of mayo on each wrap. You can sub with any other spread that you enjoy such as hummus or pesto.

Spread an even number of leaves of baby spinach down one side of the wrap (about 8), leaving about 2 inches of space to be folded over.

Layer red pepper, onions, 2 slices of tofu, sprouts and hot sauce, leaving some space at the bottom of the wrap to be folded.

Fold up bottom of the wrap and roll up the wrap with the seam side down.

These wraps can be heated on a grill if desired.