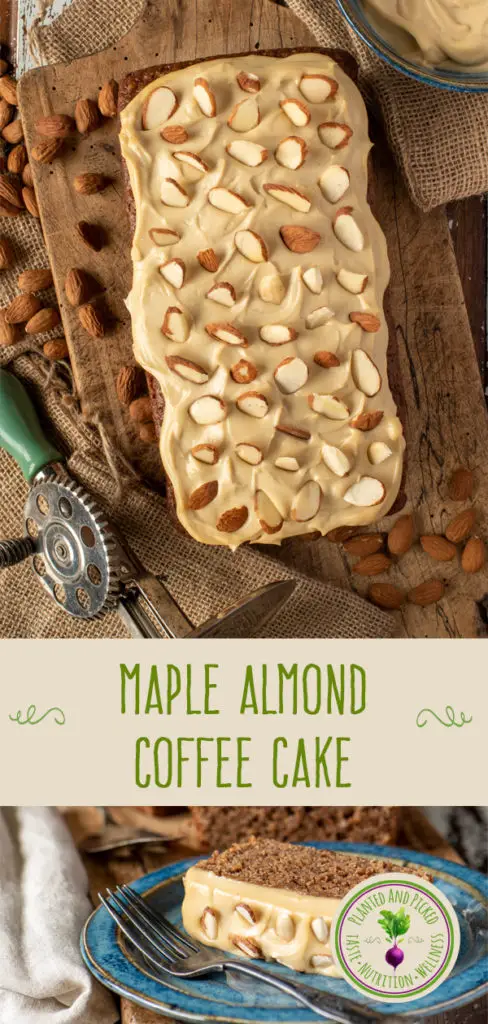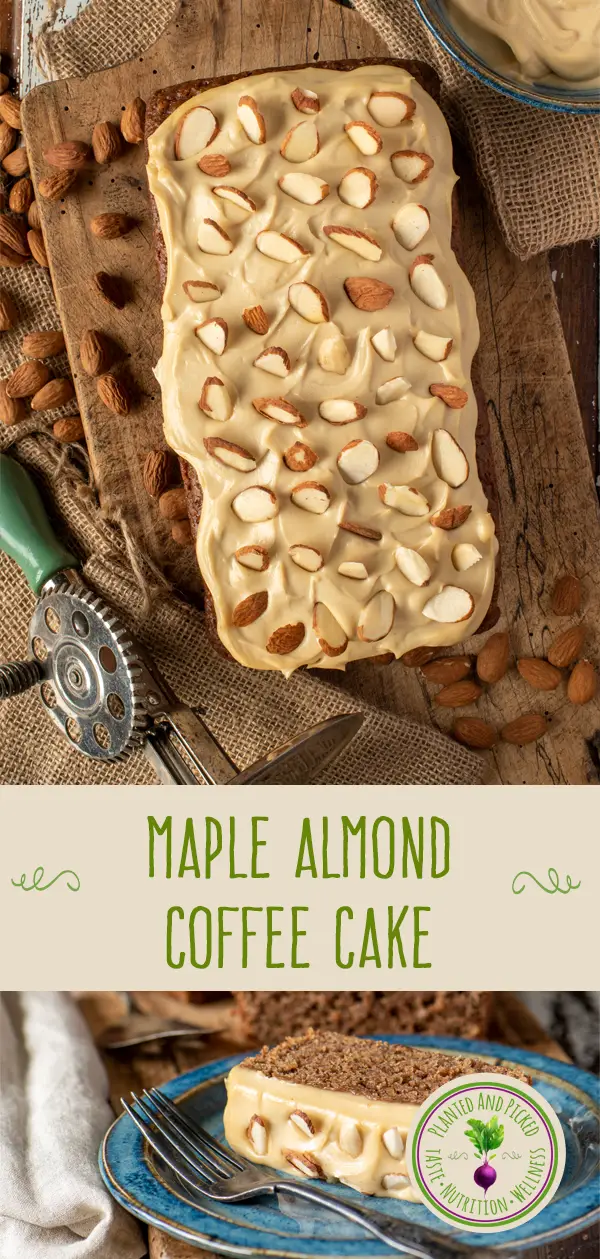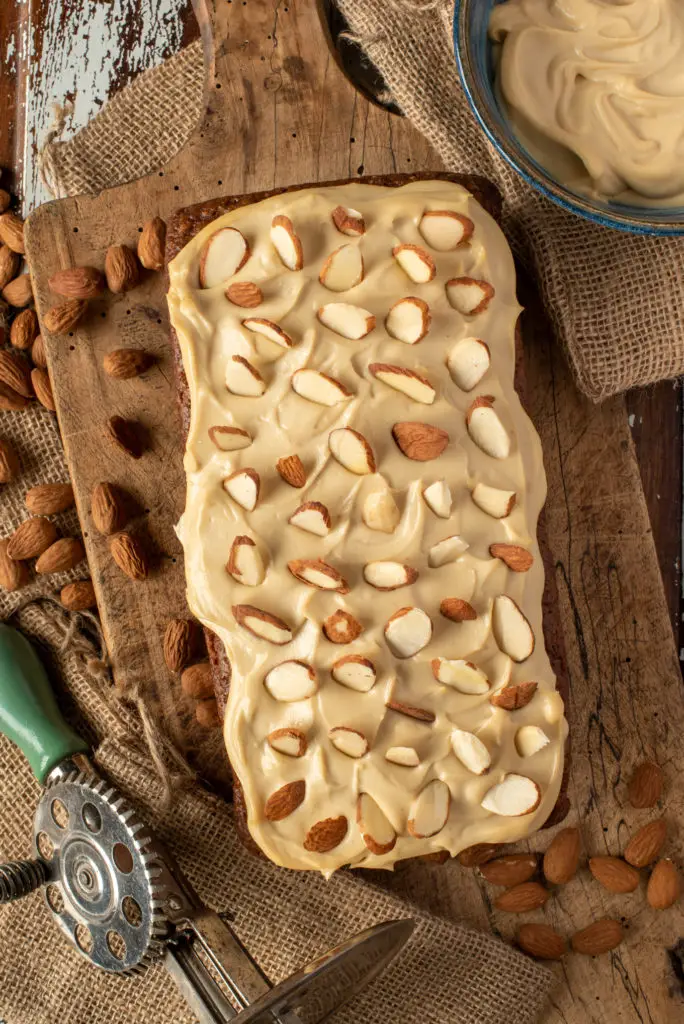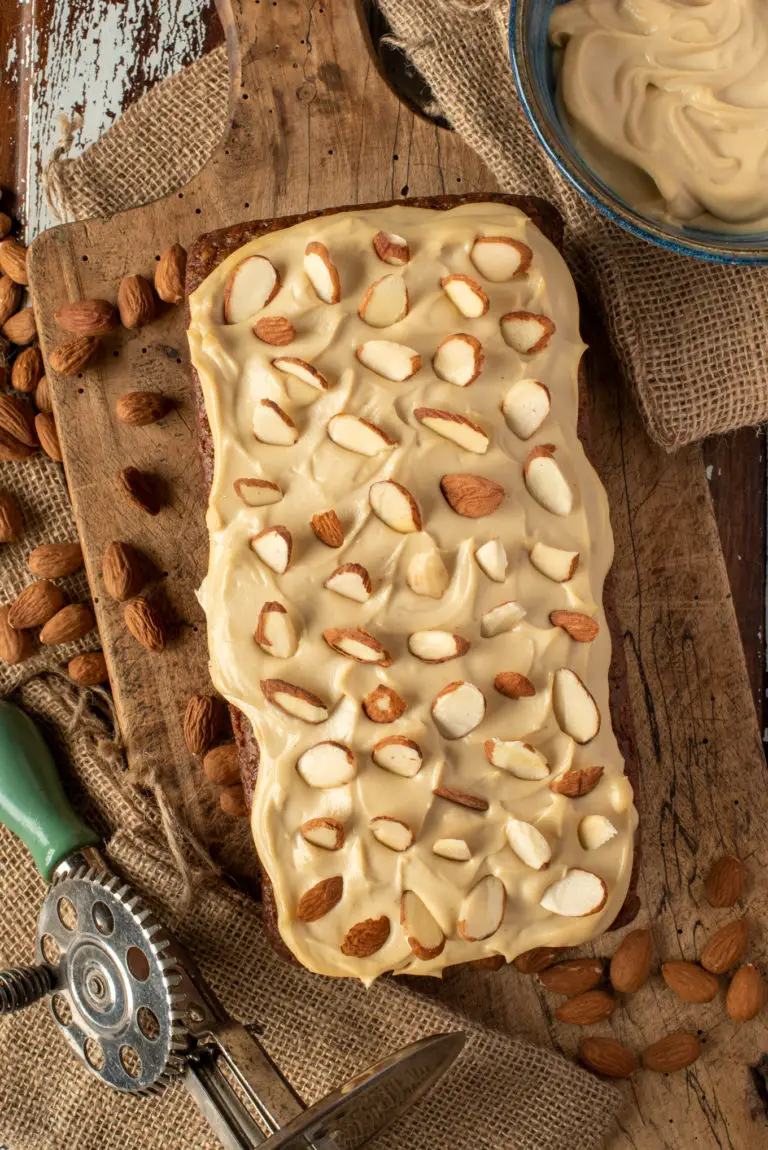 Alright, let's level . . . we are all for the green smoothies, the plant-proteins, our home made fermented veg and superfoods. However, we need to have a bit of sweetness sometimes and this vegan Maple Almond Coffee Cake is what we're talking about!
Coffee Cake Memories
Growing up, we always had some sort of coffee cake or pie or Chelsea bun for dessert after Sunday dinner. Thanks Gramma and Grampa for making Sunday dinner dessert worthy! We don't often have dessert after our meals now, but once in awhile it's nice to have a little treat with our cup of tea. Are we right?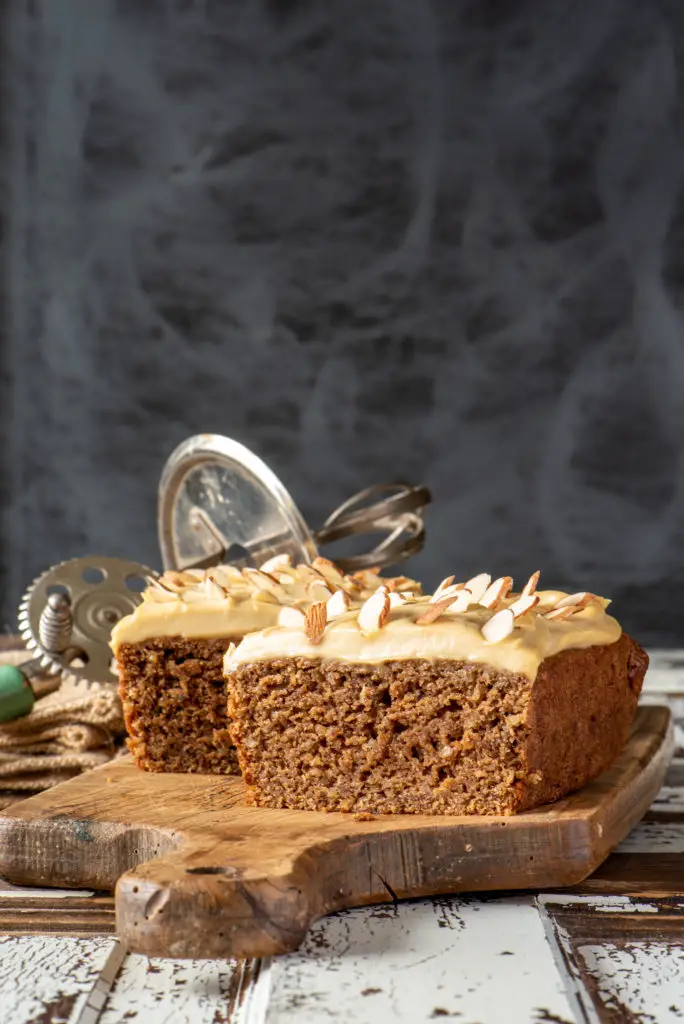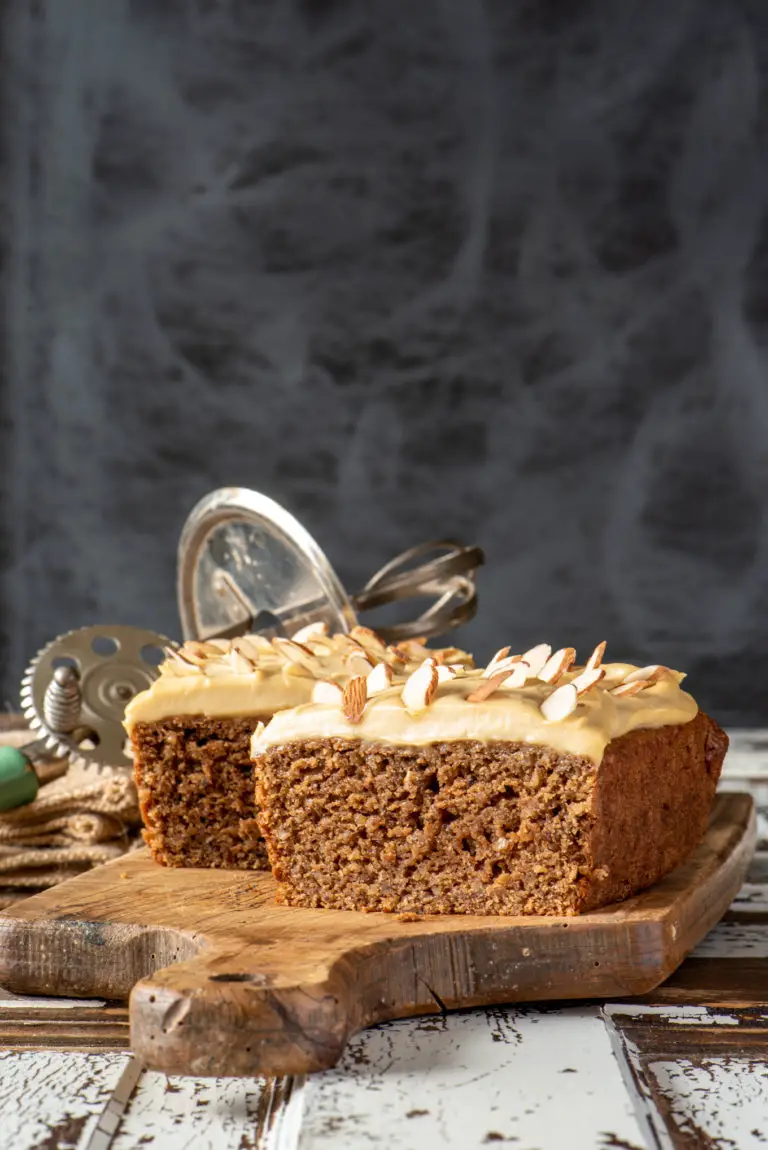 When you make this coffee cake . . . feel free to play around with the spices you add. We've included cinnamon, ginger and nutmeg. If you like cloves, go ahead and add some ground cloves or substitute it for one of the other spices. It's all just about the flavour and won't affect the bake.
Important Reminders
However, where you don't want to change things is with the baking powder and baking soda in this coffee cake. You typically want to use about a teaspoon of baking powder and a quarter teaspoon of baking soda for each cup of flour. While it is possible to use one and not the other in some cases, this can affect the amount of leavening and the taste of your cake.
The other important point here is that when using organic baking powders, they are typically only single-acting. This means that the reaction starts when combined with moisture. While a second reaction occurs with double-acting baking powders once exposed to heat, this requires chemical agents. We just prefer to keep these out of our bodies. Given the reliance on only the single reaction, it is necessary to pop your coffee cake straight into the oven after mixing the wet and dry ingredients. The bubbles of carbon dioxide produced by the reaction will otherwise disappear and you'll end up with a flat cake!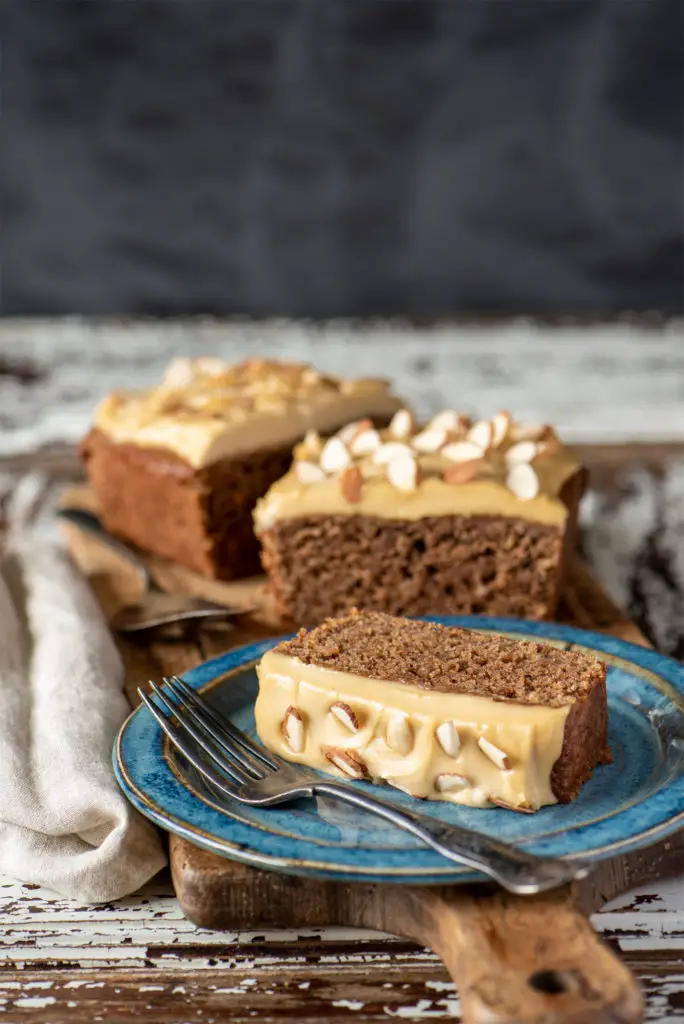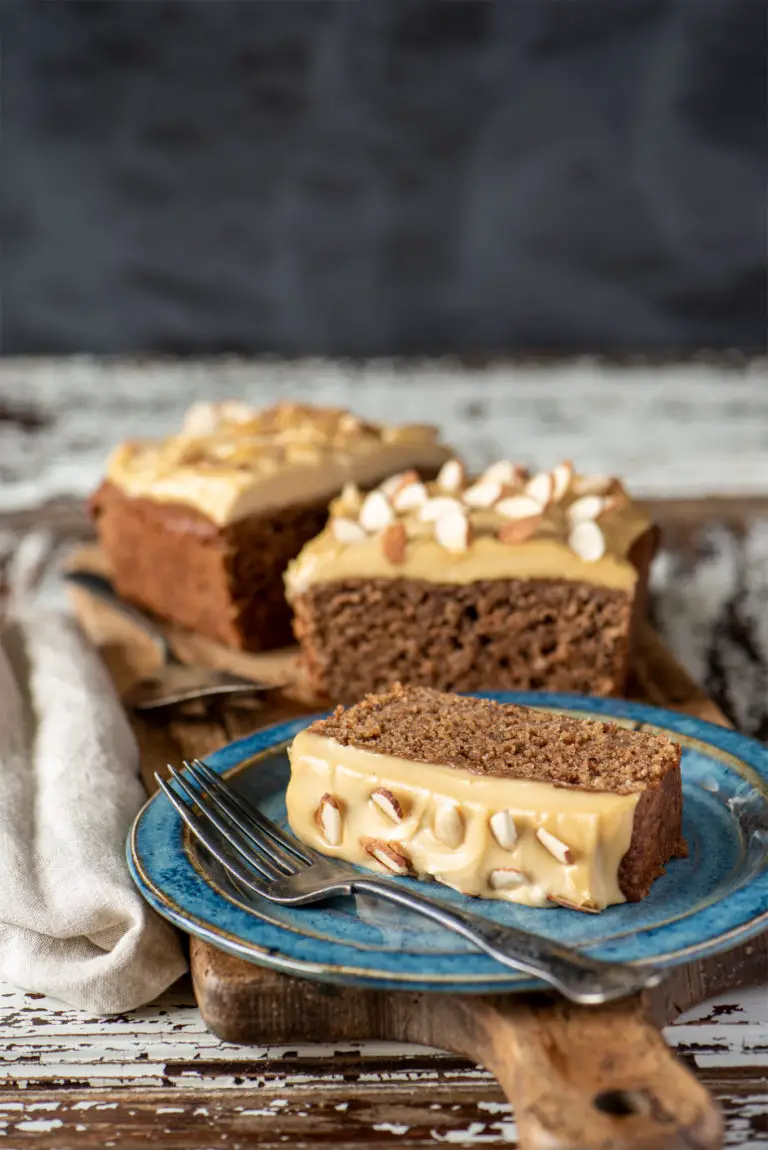 Nuts for Icing?
If you think that some blended-up nuts with some maple syrup won't cut it as a frosting, think again. This frosting is plenty silky and sweet to compliment our Maple Almond Coffee Cake. You may just have to have a second slice to make sure though. You can also try out our Pumpkin Spice Muffins for a quick snack. If you're looking for gluten-free options, these Oatmeal Cranberry Muffins, Blueberry Oatmeal Muffins and Banana Raspberry Muffins are also good at tea time!
If you satisfy your sweet tooth by making this coffee cake, please leave a comment and rating below. Snap a pic and share it with us on Instagram by tagging us @plantedandpicked and hash tagging #plantedandpicked. Put the kettle on, sit back with your feet up and have a slice of cake!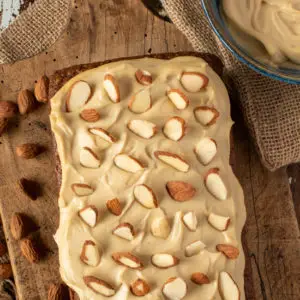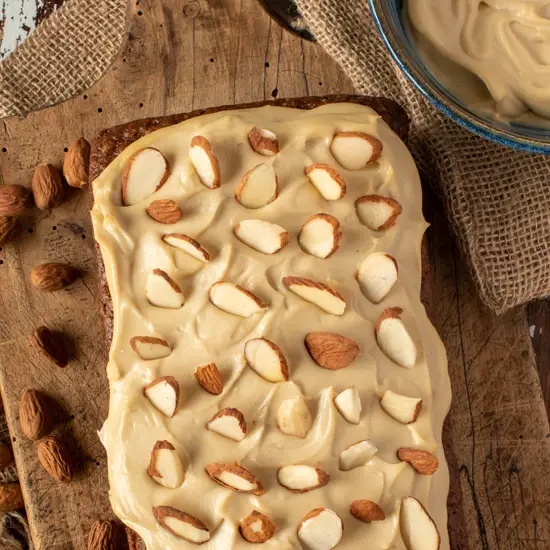 Ingredients
Coffee Cake Dry Ingredients
1½

cups

all-purpose flour

235 g

¾

cup

ground almonds

100 g

1½

tsp

organic baking powder

½

tsp

organic baking soda

2

tsp

ground cinnamon

½

tsp

ground ginger

¼

tsp

ground nutmeg

½

tsp

fine sea salt

⅔

cup

cane sugar

150 g
Coffee Cake Wet Ingredients
¾

cup

plant-based milk

soy works best

1

tbsp

cider vinegar

¼

cup

applesauce

¼

cup

strong coffee or espresso

¼

cup

melted coconut oil
Maple Frosting
1½

cups

raw cashews

¼

cup

maple syrup

¼

cup

plant-based milk

1

tsp

vanilla extract
Instructions
Pre-heat oven to 350°F with rack in the middle of the oven.

Add cider vinegar to plant-based milk (soy), stir to combine and thicken and let rest while preparing dry ingredients.

Combine all dry ingredients in a large mixing bowl.

Combine applesauce, coffee and melted coconut oil with the soy milk.

Stir wet ingredients into dry ingredients until combined ONLY once oven has pre-heated. If using organic baking powder, it is only single-acting (activated by moisture) rather than double-acting (also activated by heat). You will want to place the loaf pan in the oven as soon as you have mixed the wet and dry ingredients to avoid the bubbles from escaping before the cake has started to bake!

Add the mixed batter to a parchment-lined loaf pan and place in the oven to bake straight away.

Bake for approximately 45 minutes or until an inserted wooden skewer or toothpick is removed cleanly.

Let cake cool completely before icing.

Soak raw cashews for 2 to 3 hours in room temperature water or an hour in hot water from the kettle.

Combine cashews, maple syrup, plant-based milk and vanilla extract in a high-speed blender and blend until creamy. This frosting can be placed in the refrigerator until the cake has cooled and is ready to frost.

Cover top of coffee cake with frosting and garnish with sliced or slivered almonds and enjoy fresh!