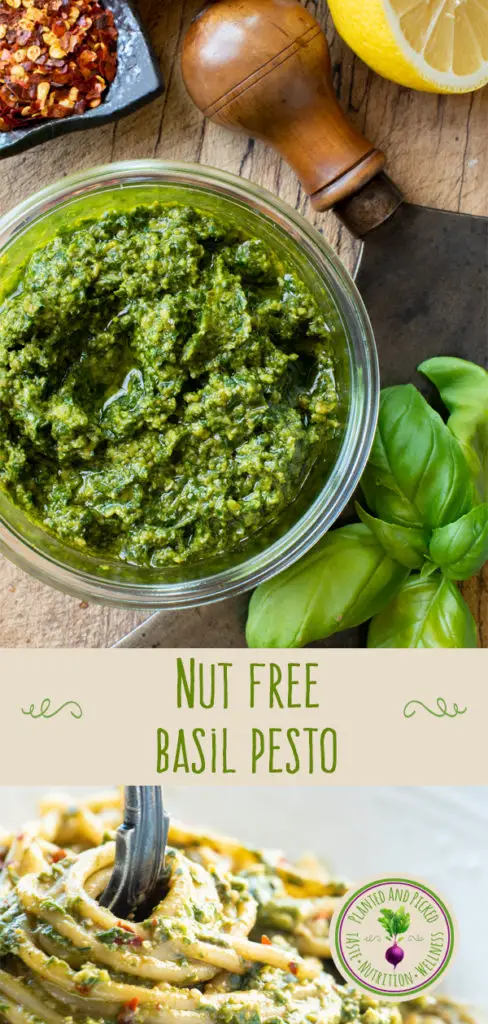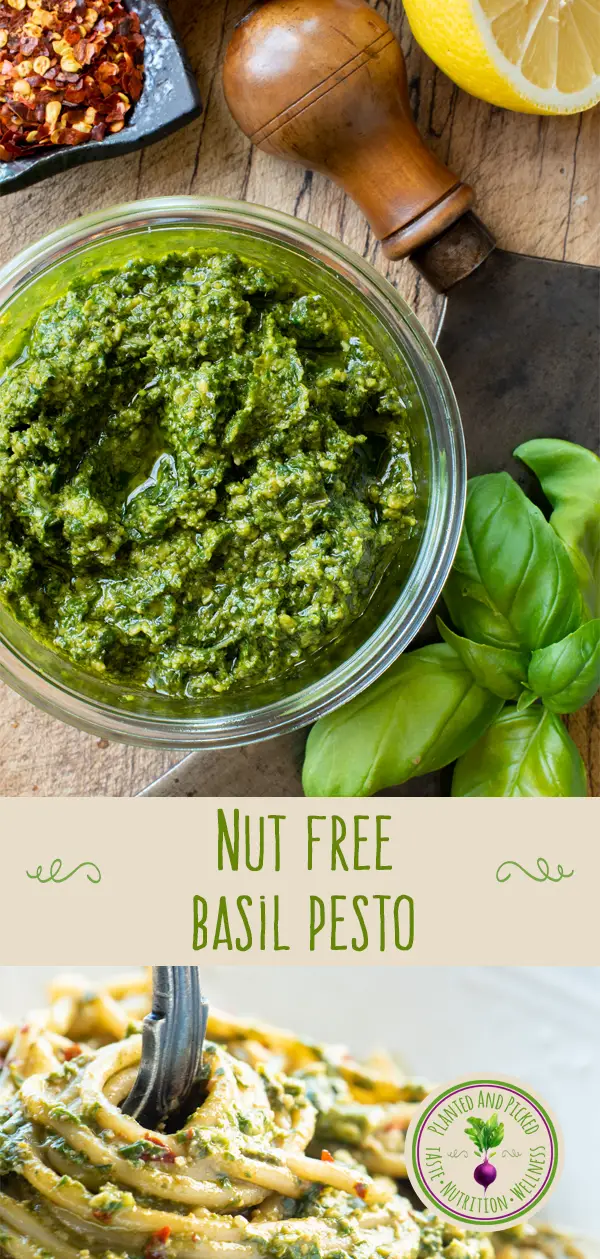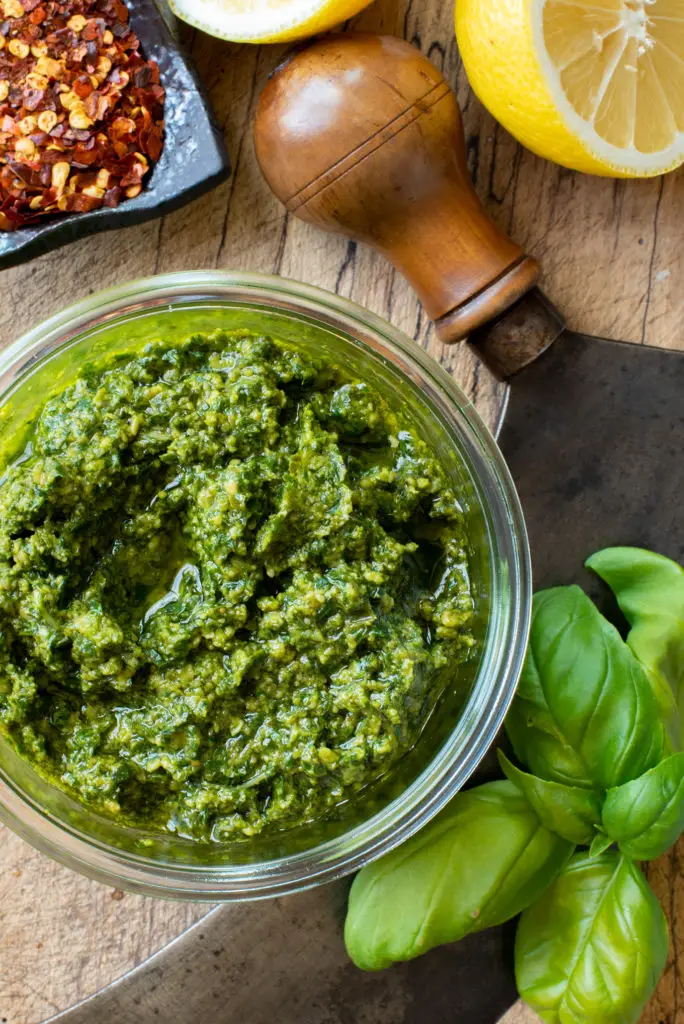 We love this nut free basil pesto because one of our kids has a nut allergy so we can't make it the traditional way, which includes pine nuts. This version uses sunflower seeds and still gives us all the flavour without the nuts!
The Oil
Pesto contains a lot of oil so we use it sparingly. Also, be sure that your oil is good quality. We choose olive oil because it is traditional in pesto and also because we can get a quality variety and an organic option.
Extra Virgin Olive Oil is the highest grade. The olives are harvested and washed with cold water. They grind them into a paste and spin them in a centrifuge to extract this initial, high-quality oil. Typically, this process occurs within 24 hours of picking the olives from the trees. This is also known as cold pressed. Traditionally, the makers will actually press the olives by hand. If you have access to that where you live, that's amazing! This oil will have the best flavour and will make the best pesto. We can sometime find this at Farmers Markets or specialty food shops.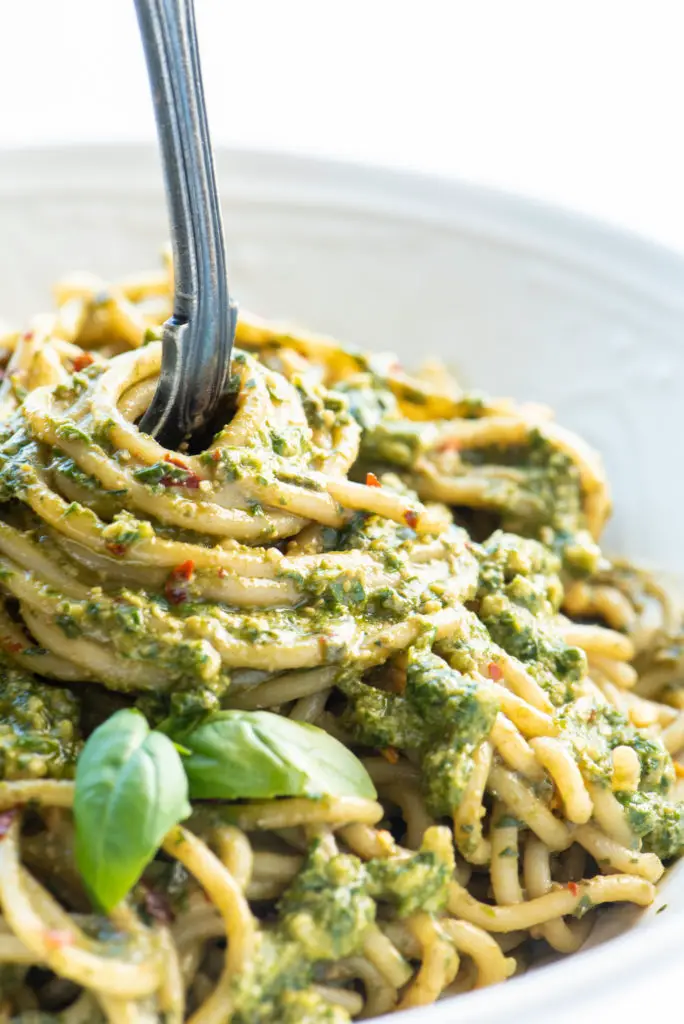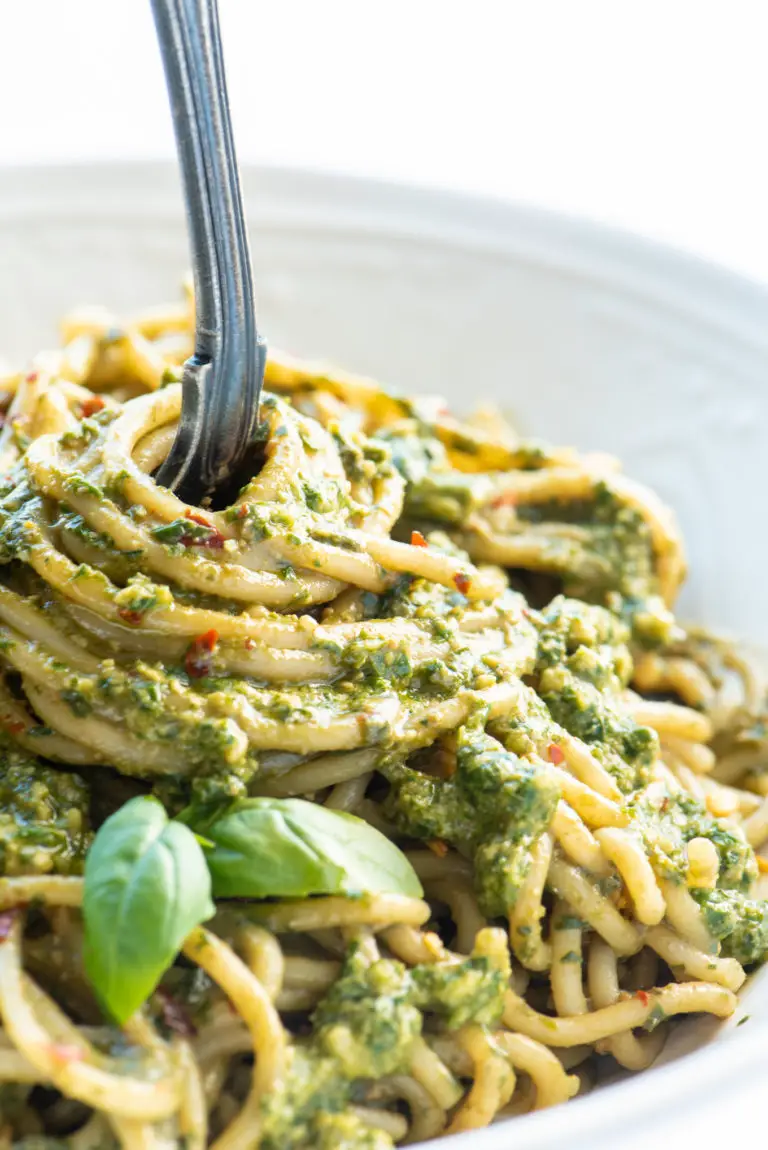 Cold Pressed olive oil contains the best quality heart healthy monounsaturated fats and is the type that we always choose. There is no need to use high heat or chemical solvents because the olives are pressed mechanically. Some of the plant compounds in the oil are called polyphenols and these have been shown to have many health benefits. This includes acting as an antioxidant. To read more about antioxidants, see our article: Antioxidants and Foods Containing Them.
Olive oil can go rancid quickly. If you are buying a large container of olive oil from a discount store – beware! Chances are it is not of high quality and can actually damage your cells. The very good varieties come in smaller opaque bottles and they definitely cost more. With olive oil, you get what you pay for.
Rest of the Pesto Ingredients
Basil is certainly the star of pesto. We grow some in our garden in the summer, but since pesto uses a lot of basil, we sometimes have to buy it as well. If you are making this during the summer time, you can usually find large bunches of basil at Farmer's Markets (our favourite place!).
We replace the nuts with sunflower seeds. These still add a creaminess. You can also try shelled pumpkin seeds in place of the sunflower seeds if that is available to you. One ingredient that you may notice is missing from this pesto is parmesan cheese. This is a dairy free version but still has lots of flavour!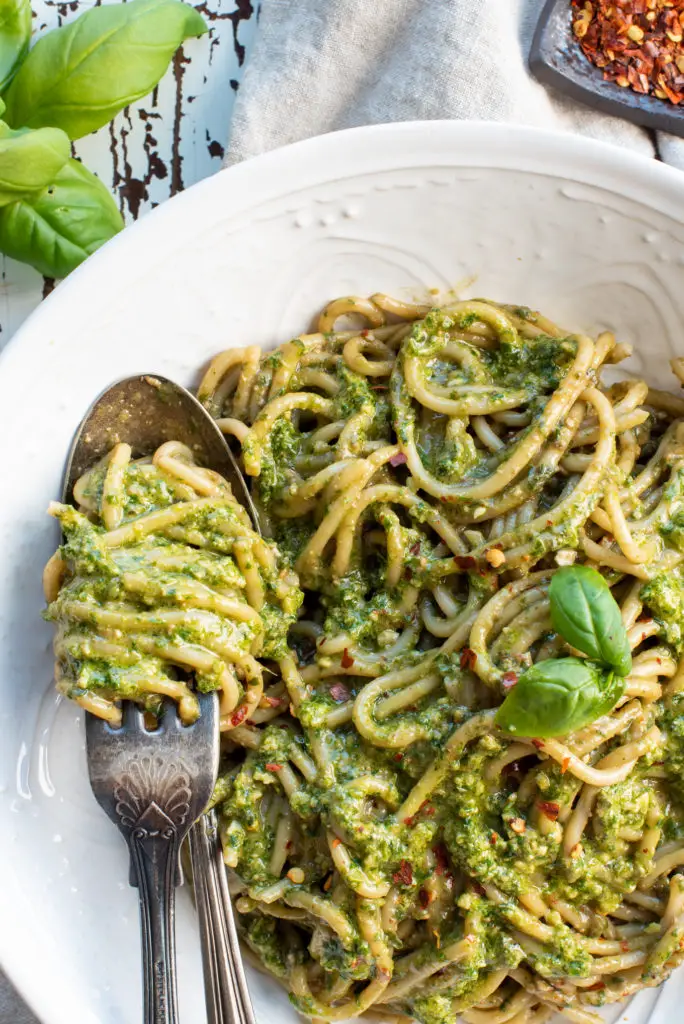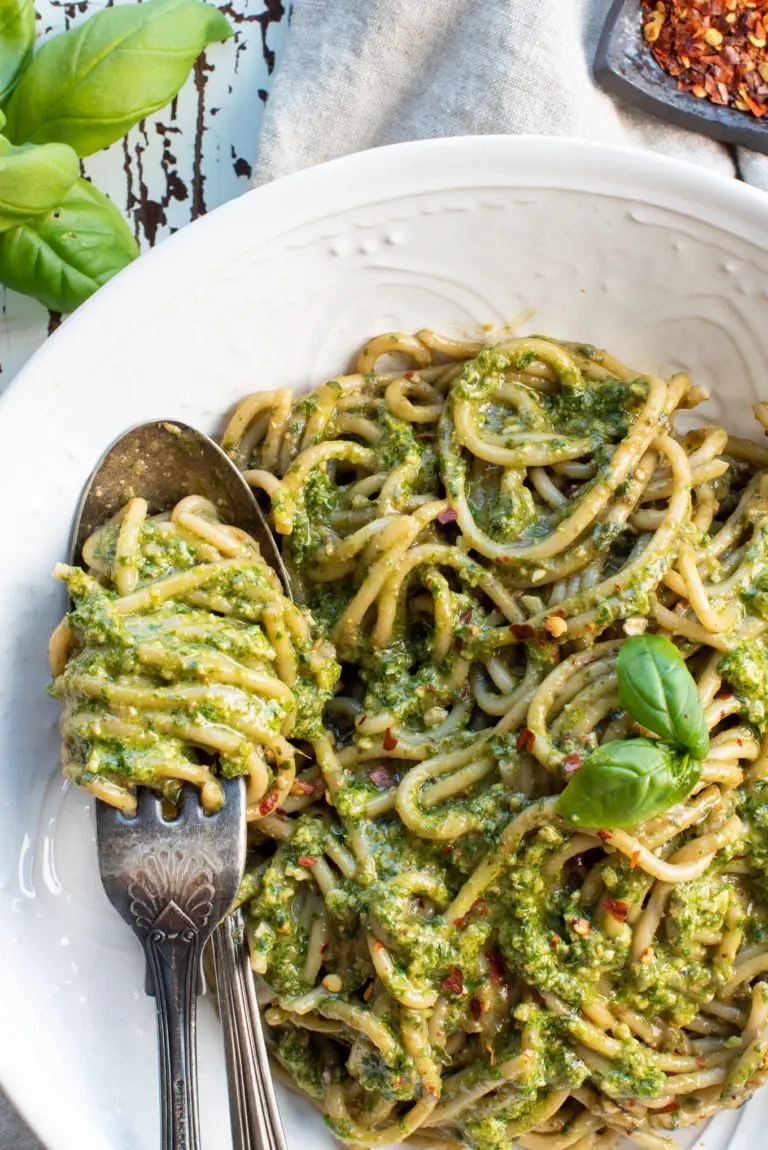 Some ways that we use pesto include on pasta, pizza or flatbread, as a topping for roasted or steamed veggies or as a condiment on a sandwich.
If you're looking for some other pasta sauce recipes, try out this Simple Weeknight Marinara Sauce, this One Pot Lentil Bolognese or another of our favourites . . . Vegan Mushroom Cream Sauce with Truffle Oil.
Please let us know if you try out this Nut Free Basil Pesto! Leave a comment and a rating and don't forget to tag us @plantedandpicked on Instagram and hashtag it #plantedandpicked. Always eat together and share gratitude!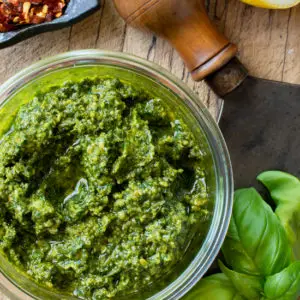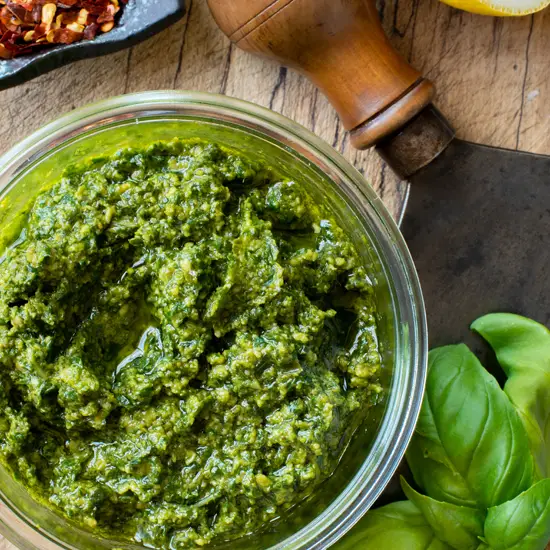 Ingredients
2

cups

basil, tightly packed

½

cup

sunflower seeds

2

large

garlic cloves, minced

2

tbsp

fresh lemon juice

¼

tsp

sea salt

½

cup

organic extra virgin olive oil
Instructions
Remove the basil leaves off the stems and measure out about 4 cups. Press down on the leaves to ensure they are tightly packed. This will be about 100 grams in weight.

Mince the garlic and squeeze the lemon to get about 2 tbsp of juice.

Place the sunflower seeds in a food processor and process for a couple of minutes, stopping to scrape down the sides. The seeds should mostly be broken down into a paste like consistency.

Add the remaining ingredients (except the oil) and pulse for another minute or so until the basil is processed. You may have to scrape down the sides again a few times.

With the processor running, slowly add the oil through the hole at the top until the oil has been incorporated.

Taste and adjust seasonings (e.g. a little more salt or lemon juice).

Remove the pesto and place in a glass jar and store in the fridge. The pesto will last up to about a week in the fridge. It will turn darker the longer it is exposed to the air.

This recipe make about 1 cup of pesto.