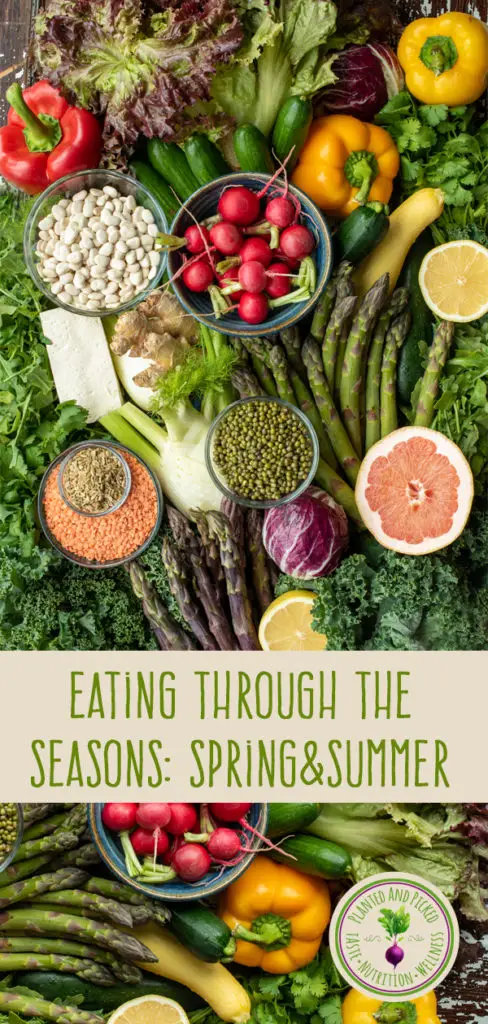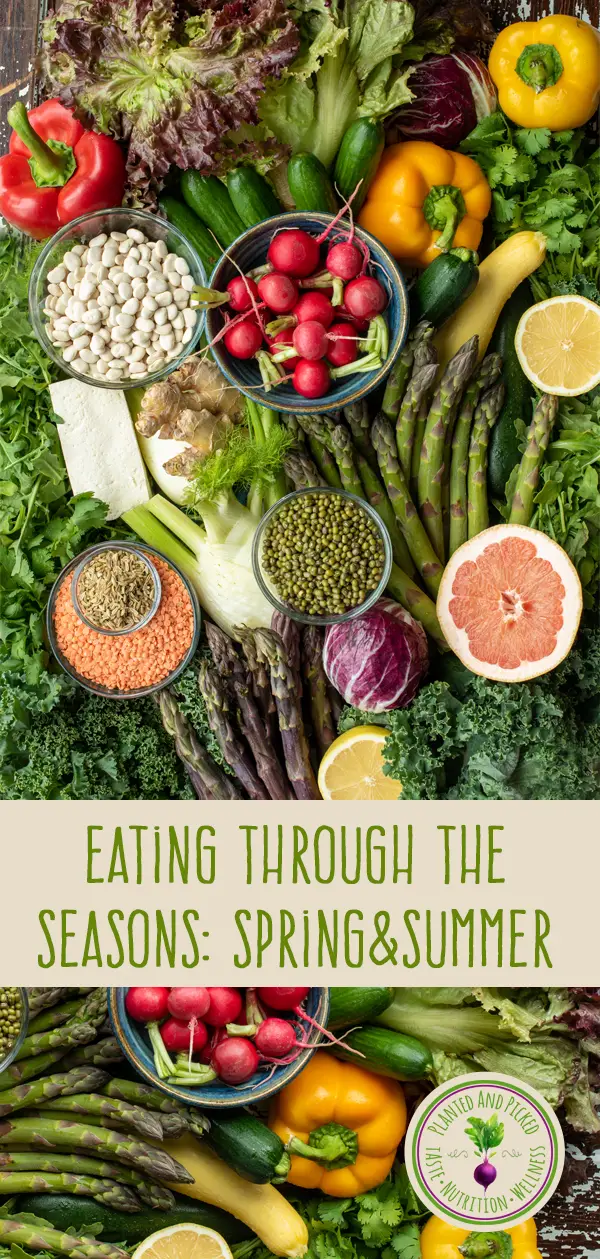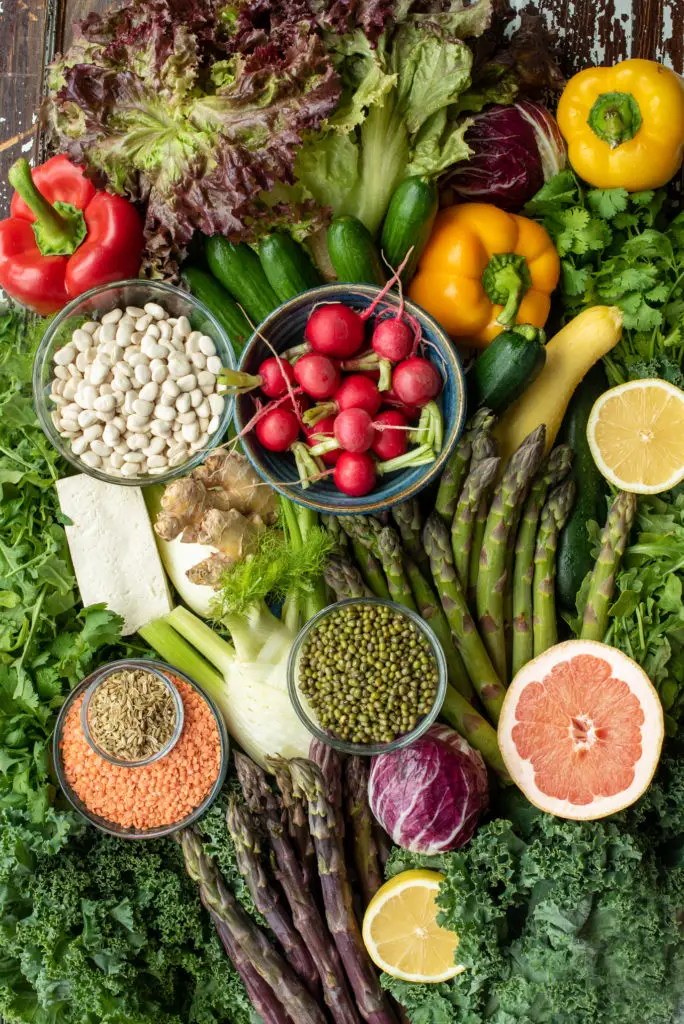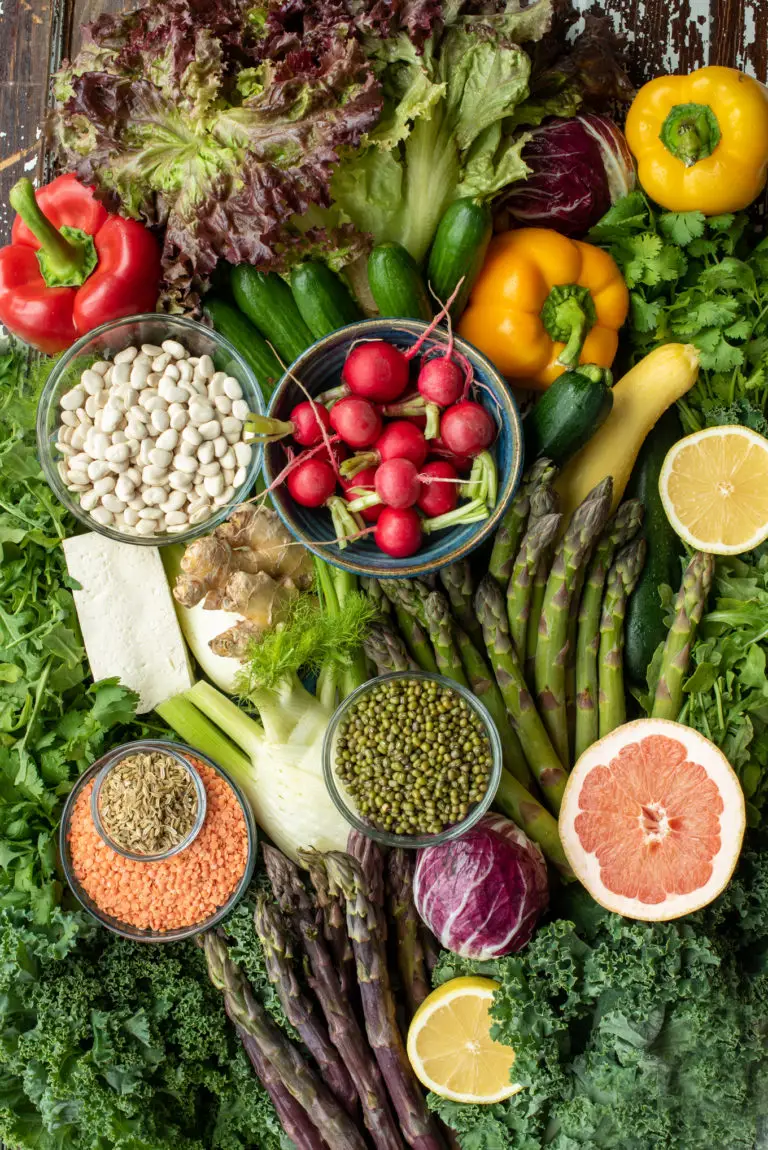 In a previous post, we pointed out that we have lost sight of the importance of eating through the seasons. Many people at this time of year are feeling less than vibrant. Are you experiencing feelings of heaviness, denseness or lethargy? Are you experiencing seasonal allergy symptoms? If so, it may be time to switch to a lighter seasonal spring and summer diet.
In our previous post, Eating Through The Seasons: Fall and Winter , we discussed the importance of eating a seasonal diet , as well as beneficial foods during that period. Whole foods have a cyclical rhythm — and so do we.  We continue our discussion on seasonal eating in this post, with a focus on Eating Through the Seasons: Spring and Summer.
Eating Through the Seasons: Spring Cleaning
As a recap, in Ayurveda, the traditional Hindu system of medicine, the term Rtucharya means seasonal regimen. As we emerge from the Winter season we typically have accumulated heavy and dense qualities that need to be burned off. That is one of the reasons that Spring cleanses are recommended. You can read more about detoxification in previous Wellness Posts here: Part 1 and Part 2.
A cleanse will help remove the heavy and dense characteristics from your body. Moreover, it will help you 'lighten up' before moving into the lighter fare that is plentiful in Spring and Summer. One of the best foods to include in the Spring diet are bitter greens because they will help break up the heaviness.
Spring & Summer Seasonal Characteristics
Characteristics of Spring are damp and cool and your body's needs shift to a desire for light, dry and simple foods that can be easily digested. Therefore, favouring foods that are warm and light are recommended. Likewise, it also helps to add some spice to food at this time. The spice will help to fuel your digestive fire and burn off any accumulation of excess fat and weight from the body.
The characteristics of Summer are hot and humid. Balancing these seasonal qualities with foods that are cooling, slightly dry and calming become important. As luck would have it, there is usually a bounty of these foods available at this time of year!
We live in Canada and have four distinct seasons. The summary below describes some of the beneficial seasonal foods that are local to our environment in Spring and Summer. Please do the research on what is local and in season for you, so that you can practice eating through the seasons.
Beneficial Foods for Spring and Summer
Fruits: Fresh berries, cherries, lemons, limes, grapefruit, pomegranate and cranberry juice, melons, peaches, plums, apricots, prunes, raisons and dates
Vegetables: Sprouts, greens such as arugula, mustard, dandelion, spinach and kale, endive, radicchio, asparagus, artichokes, lettuces, garlic scapes, scallions, leeks, radish, green peas, fennel, peppers, cauliflower, cucumber, tomatoes and zucchini
Sprouted Grains: Amaranth, barley, buckwheat, millet, bulgur, corn, rye and rice
Beans (preferably sprouted): Fava, adzuki, chickpeas, lentils, mung beans, tofu and white beans
Light Fats: Grapeseed oil, plant based milks (hemp, rice, soy), chia, hemp, sunflower and flax seeds
Spices: Fenugreek , fennel and mustard seeds, ginger, turmeric, red chilies and fresh herbs
Example of lighter seasonal dishes on our blog include this Spring Detox Soup, our White Bean and Artichoke Patties and this Raspberry Chia Pudding.
Not just about food
In addition to paying attention to your food choices during the Spring and Summer, there are also lifestyle guidelines that you can follow. These include: engaging in a 3 week Spring detox; dry brushing your body every morning to help remove toxins and stimulate the lymphatic system; decreasing the amount of food that you have been eating; moving your body more – especially in nature; using a Neti pot to flush out the sinuses and guard against allergies; decluttering your home and doing some Spring cleaning; practicing more breath work; booking a dry sunny vacation in the Spring (Arizona anyone?).
Let us know if you practice seasonal eating and what some of your favourite Spring and Summer dishes are!