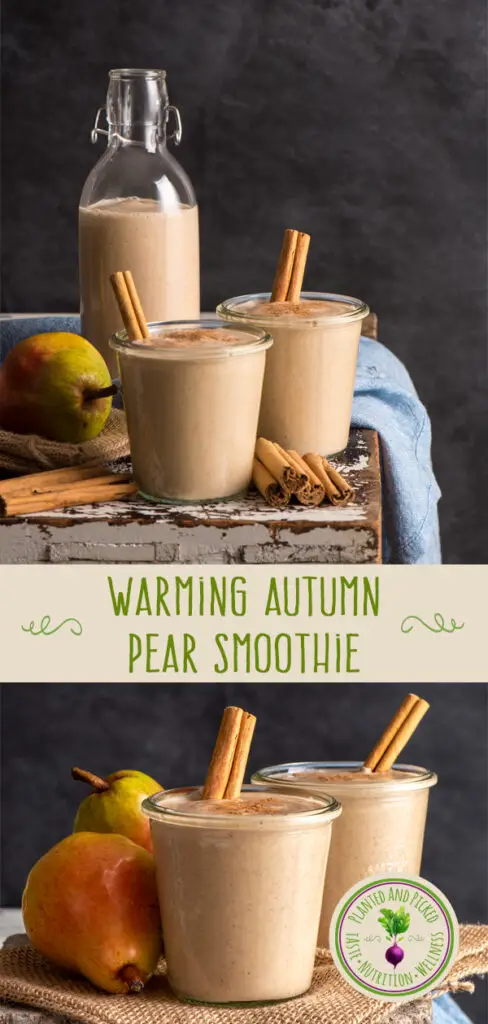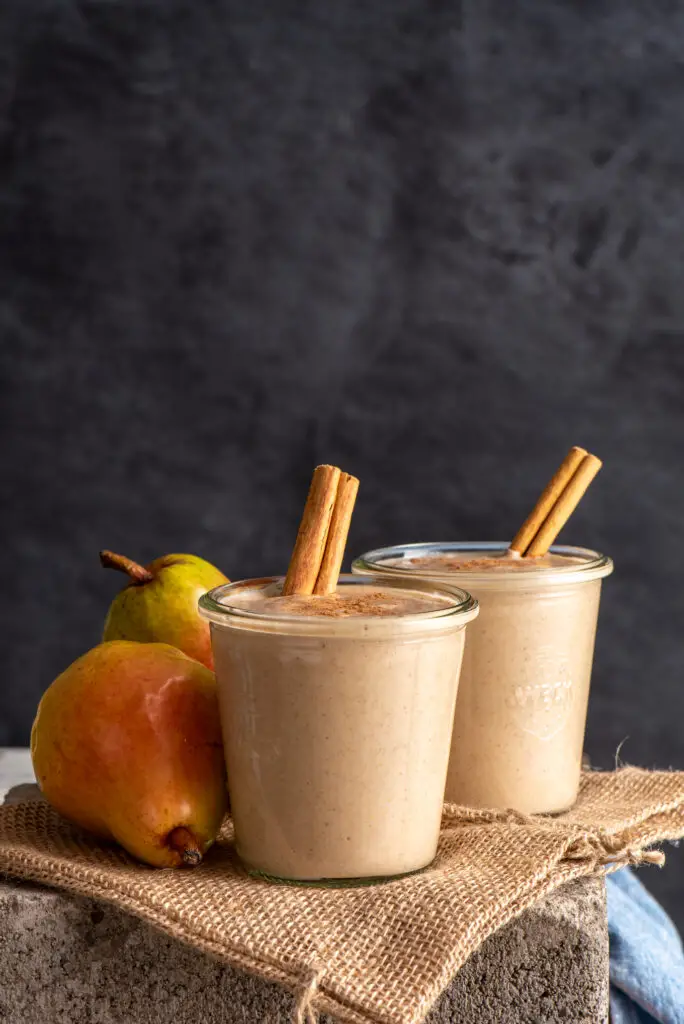 If you still want to enjoy smoothies in the colder fall and winter months, this Warming Autumn Pear Smoothie is a great option! This smoothie contains seasonal foods and warming spices to offset any cold properties.
Tune Into the Season
We don't normally recommend smoothies in the Autumn/Winter because of their cold and light properties. In Autumn and moving into Winter, the weather typically gets colder. If you are eating seasonally (which is recommended!) you should increase the amount of warmer and grounding foods in your diet.
Holistic health modalities such as Holistic Nutrition and Ayurveda, consider a seasonal routine an important cornerstone of health, year around. Balancing the nature of your local climate with lifestyle choices that offset the potential for seasonally-induced imbalances, is one of the simplest ways that you can protect your well-being. Our Warming Autumn Pear Smoothie is a perfect way to do this.
Have you heard of the concept of Like increases Like and Opposites balance? This is how things work in Nature. Autumn has properties of cool, light, dry, windy, and unpredictable. This can be less aggravating if you fill it with warmth, oiliness, deep nourishment, loving relationships, and a sense of stability, routine, and groundedness.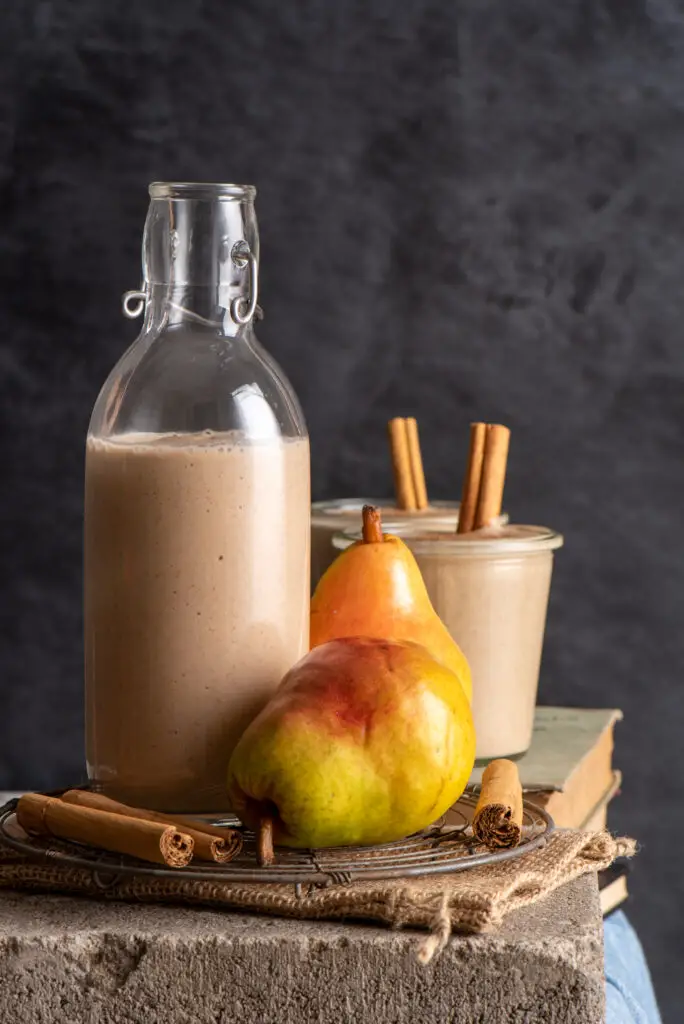 How can you eat seasonally and still enjoy your morning smoothie? First, you can choose to add seasonal ingredients. In this smoothie we added pears, dates, almond milk, nut butter and oats. These ingredients are seasonal in the Fall and Winter and they are grounding. Then we added spices that are warming. They includes fresh ginger, cinnamon and nutmeg. These spices also aid in digestion.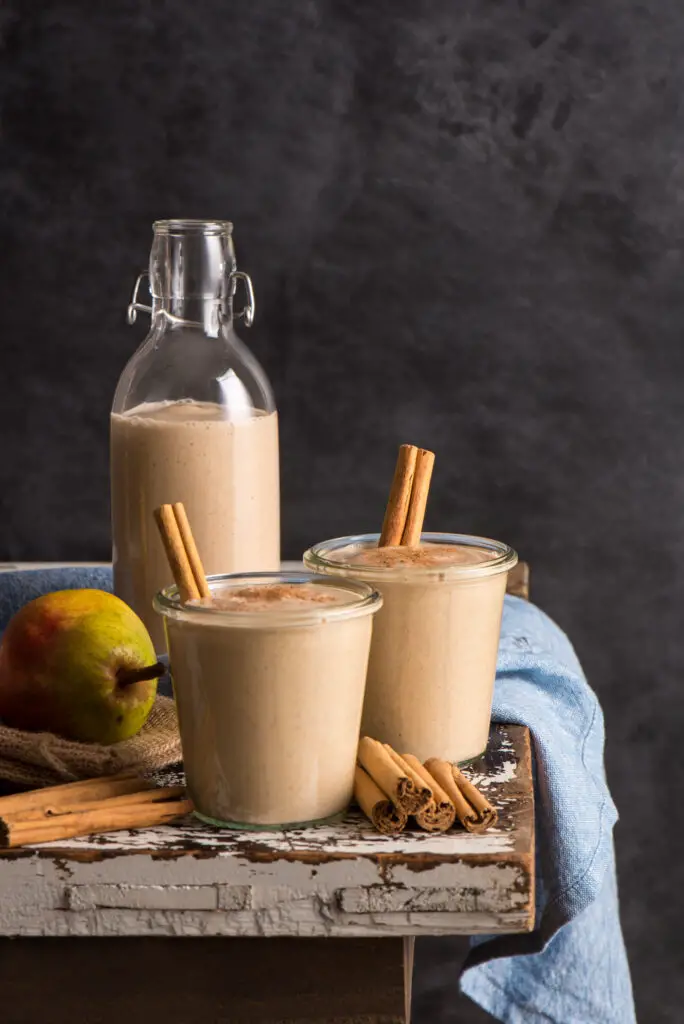 Enjoy your Warming Autumn Pear Smoothie and Check These Out
If you love this Warming Autumn Pear Smoothie, try out some of these other warm Fall recipes. . . Warming Carrot Ginger Soup, Autumn Vegetable Stew,  Roasted Squash and Pear Soup, Spiced Red Lentil Soup, Homemade Mushroom Soup or Spinach Stuffed Portobello Mushrooms.
Also, check our our Eating Through the Seasons: Fall and Winter Guide for more tips on seasonal eating.
Let us know if you make this Warming Autumn Pear Smoothie because we always love to read your comments and follow up! Leave a comment and a rating and don't forget to tag us @plantedandpicked on Instagram and hashtag it  #plantedandpicked. Eat tasty plant-based food and experience wellness!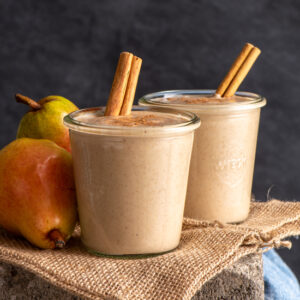 Ingredients
1

large

pear, seeded and chopped

1

cup

almond milk (or any plant based milk)

½

cup

unsweetened coconut yogurt

¼

cup

oats

2

medjool dates, pitted

1

tbsp

raw almond butter

½

tsp

grated fresh ginger (or 1/4 tsp ground)

½

tsp

cinnamon

grated nutmeg
Instructions
Core the pear and chop roughly.

Grate fresh ginger (if using).

Add all ingredients except the nutmeg to a blender and blend on high until combined.

Pour into large glass and grate some nutmeg on the top.