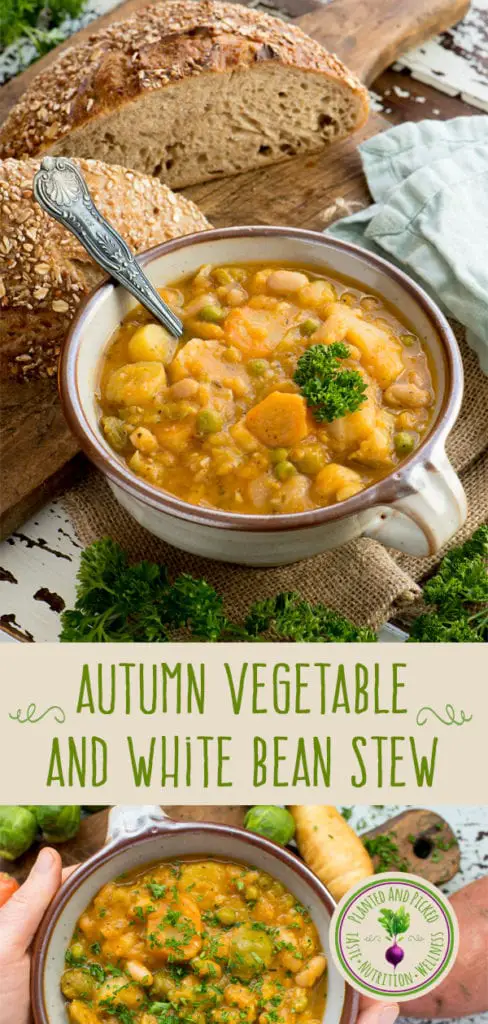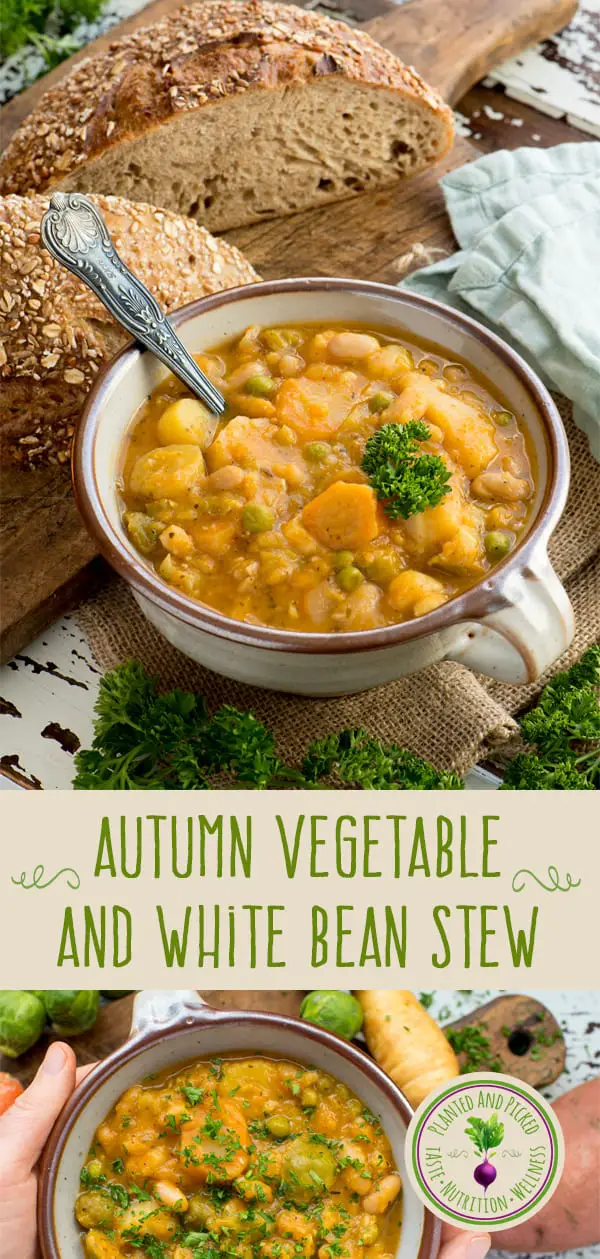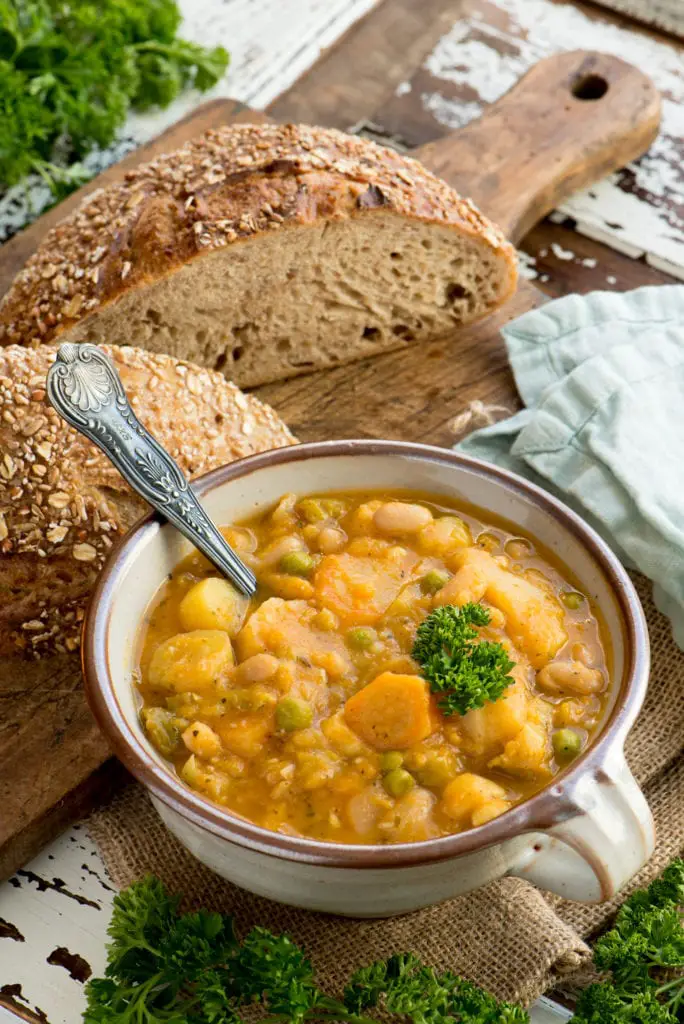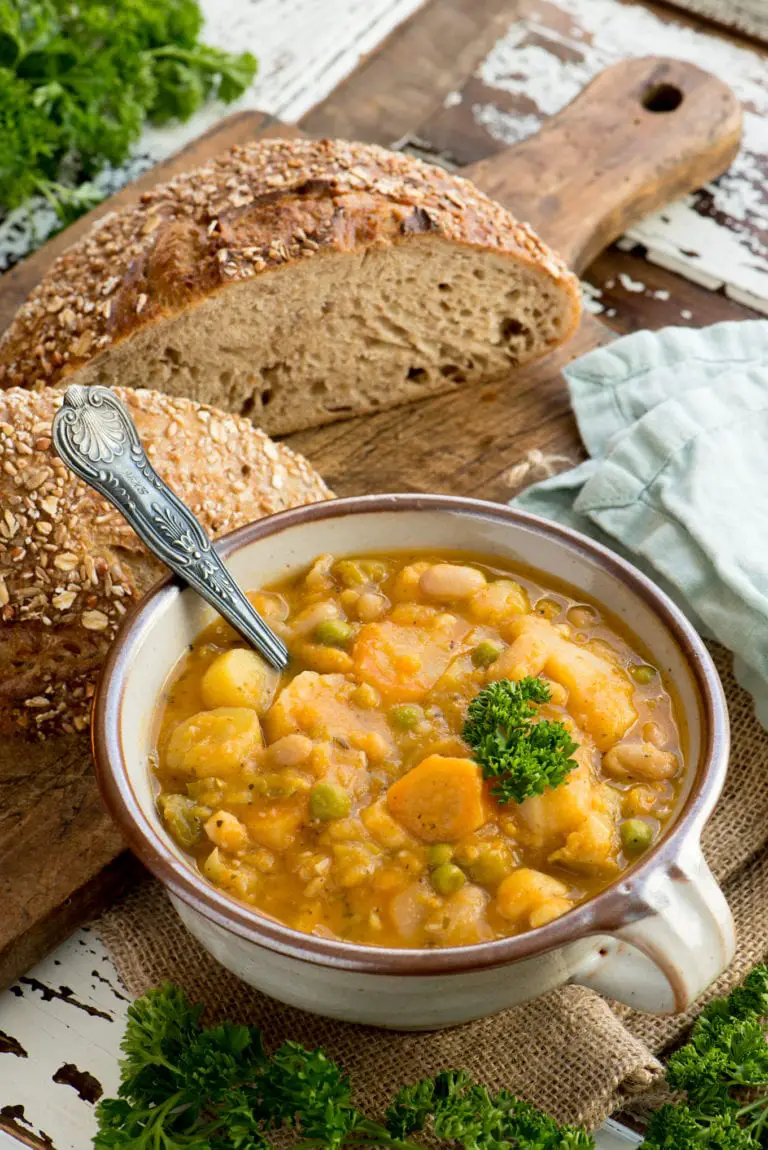 As the days grow cooler we crave something warm and comforting. This Autumn Vegetable Stew is a nourishing and warming bowl of deliciousness that will surely satisfy your soul.
Eating in Season
We love to make use of the local seasonal vegetables all year round. In the autumn, hearty vegetables are bountiful. Here in Canada we have lots of root vegetables available to us at this time of year. We have many varieties of squash, carrots, potatoes and turnips. The beauty of this Autumn Vegetable Stew is that you can choose the vegetables that you like! We're working on an upcoming post about the benefits of seasonal eating, so stay tuned.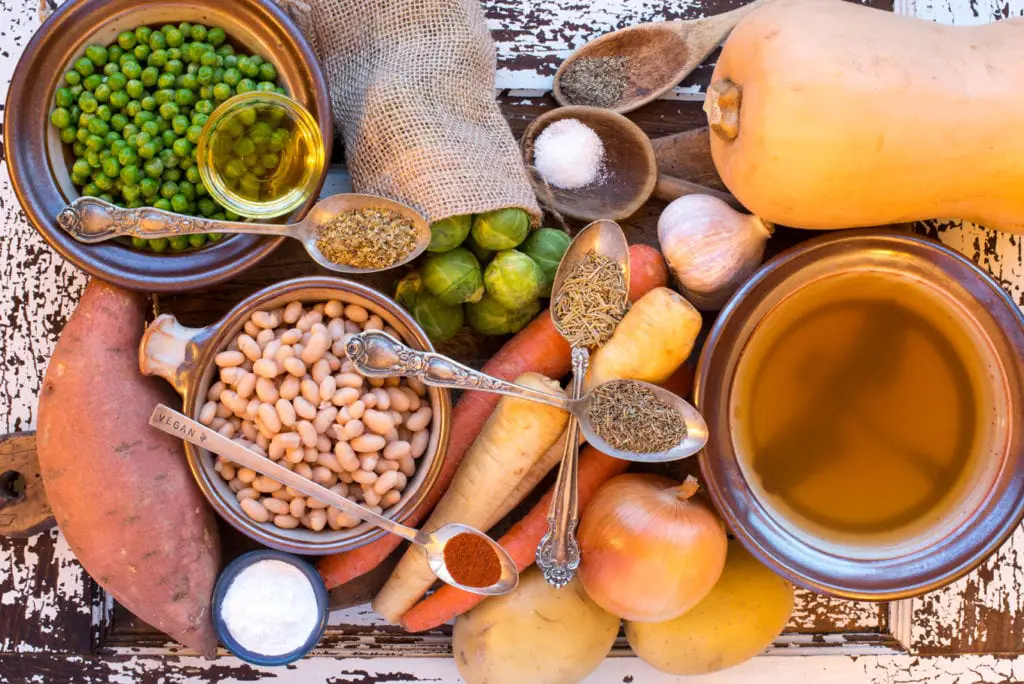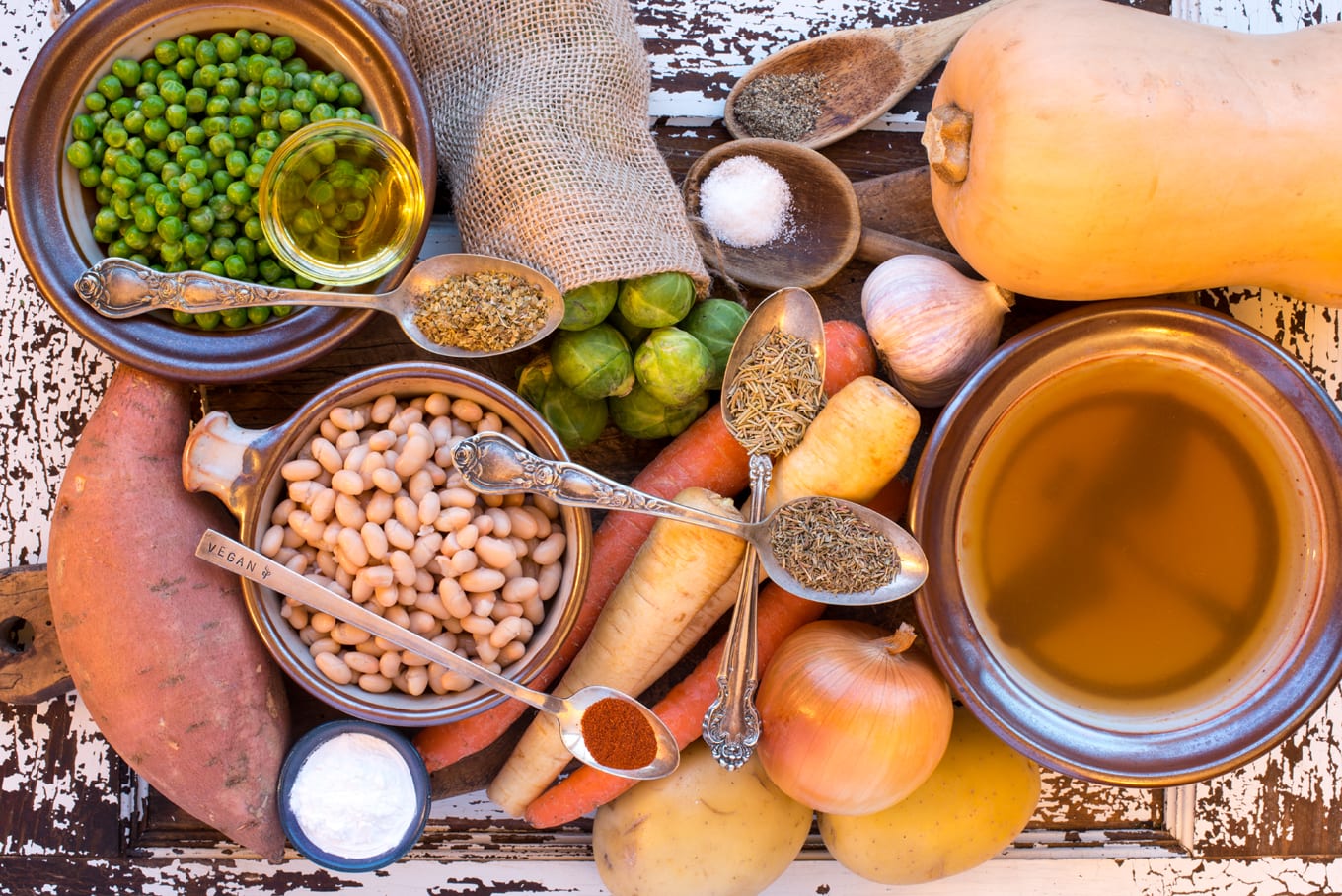 The recipe calls for 8 cups of chopped hearty vegetables. We used carrots, potato, sweet potato, parsnip and butternut squash. All of these vegetables are high in fibre and complex carbohydrates. This helps to satiate and feed your microbiome (the friendly little bacteria in your digestive tract). Other root vegetables you could choose include celeriac, beets, fennel or rutabaga.
Eat the Rainbow with this Autumn Vegetable Stew
Using a greater variety of vegetables provides a greater variety of vitamins, minerals, phytochemicals and antioxidants for your body. Vegetables in the orange and yellow hue, for example, are generally high in vitamin C and the antioxidant beta carotene. So . . . bring on the carrots and sweet potatoes! White vegetables, like turnips, contain rich amounts of compounds known as glucosinolates, which may provide some protection against cancer. Garlic and onions contain polyphenols, which may play an important role in managing chronic inflammation.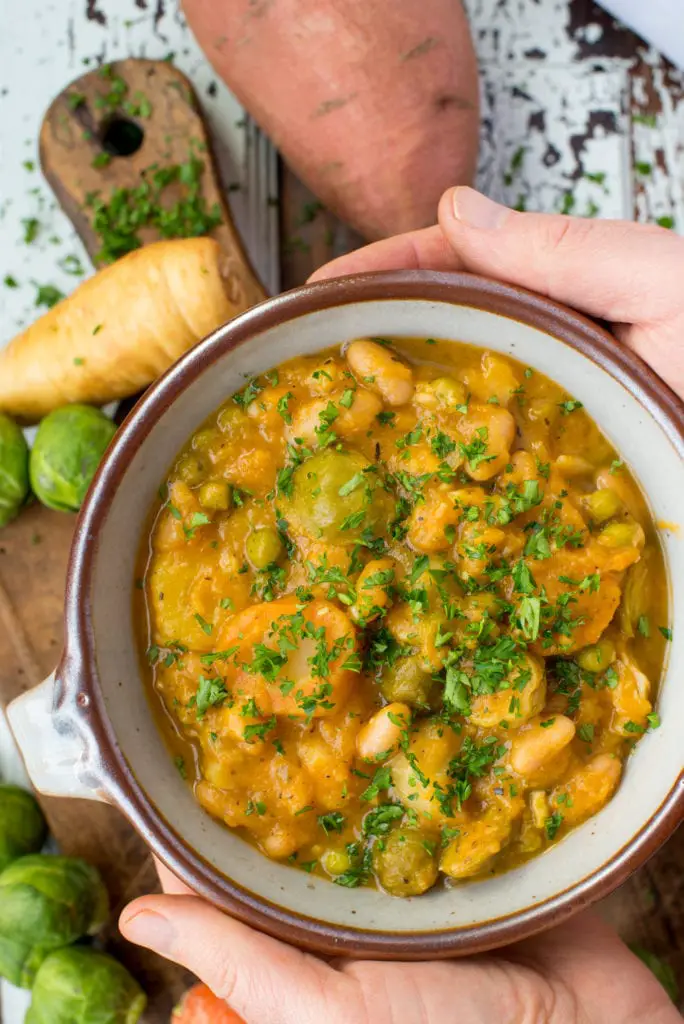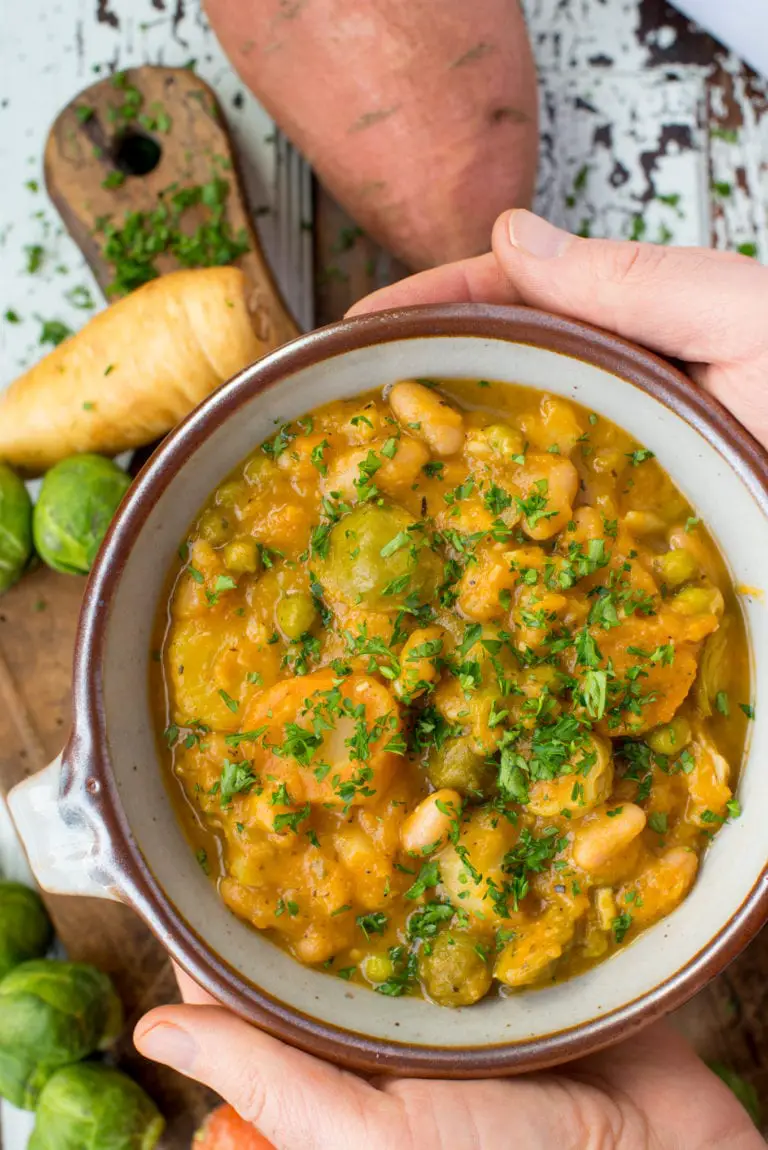 We also use white beans in these tasty White Bean and Artichoke Patties. Other one-pot meals that warm the autumn days include our Quick and Easy Black Bean Soup and this Coconut Chickpea Curry Masala.
This Autumn Vegetable Stew is a great way to cook and eat in season. It's oh so good on a cool afternoon or evening. Make yourself a potful so that you can let us know how you like it. We would quite like to connect with you! Leave a comment and a rating and don't forget to tag us @plantedandpicked on Instagram and hashtag it  #plantedandpicked. Our table always has an extra place setting and a place to sit!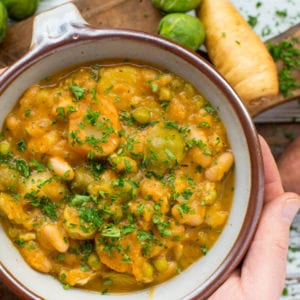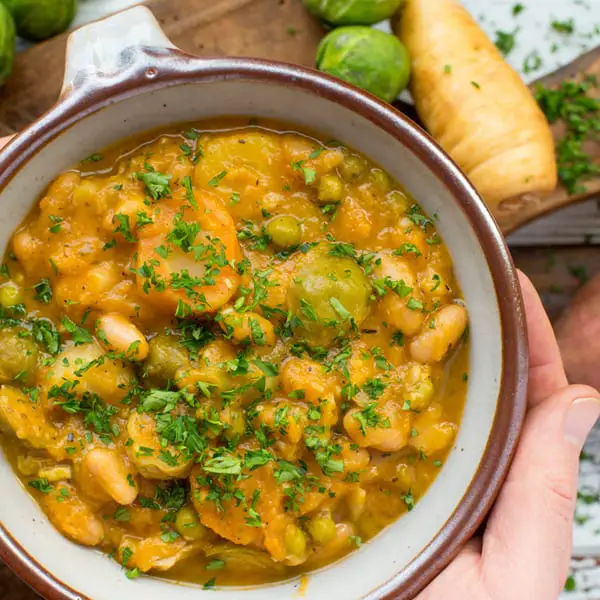 Ingredients
1

tbsp

olive oil

1

large chopped onion (about 2 cups)

2

large garlic cloves (or 4 small)

1

tsp

salt

pepper to taste

8

cups

assorted root vegetables such as carrots, potatoes, parsnips, rutabaga, squash, turnips etc.

2

tbsp

italian seasoning blend (or sub other herbs such as oregano, thyme, rosemary or sage to make up 2 tbsp

½

tsp

smoked paprika (a little goes a long way!)

2

tbsp

arrowroot starch

2

cups

vegetable broth

1

398 ml

can of organic white beans (we used Eden Organic navy beans) or about 1 1/2 cups cooked beans

1

cup

sliced brussels sprouts

1

cup

frozen green peas
Instructions
Prep the root vegetables. Wash, trim, peels and chop vegetables into similar size pieces. You will want to leave them chunky. If you are using sweet potato, cut it a little larger than the other vegetables. It will cook faster and start to break down if the pieces are too small. Measure out to 8 cups of chopped vegetables. For us, this was about 2 large carrots, 2 large parsnips, 2 large potatoes, 2 sweet potatoes and about a quarter of a butternut squash that was leftover and begging to be used.

Trim the ends off the brussels sprouts, wash and dry them. Slice them width wise into 3 or 4 pieces each. Measure out 1 cup of frozen peas and leave to thaw a little.

Peel and chop 1 large onion into medium sized pieces (about 2 cups chopped). Peel and chop or mince the garlic.

In a large, heavy pot, heat olive oil over medium heat. Add onion and garlic and cook, stirring occasionally for about 5 minutes. Add the 8 cups of chopped vegetables, italian seasoning blend and smoked paprika. Stir to combine and sauté for about another 5 minutes.

Add the arrowroot starch and stir to combine for about 1 minute.

Add vegetable broth, stir and push vegetables down into the broth.

Bring vegetables to a boil. Cover and reduce heat so that the vegetables are gently simmering. Cook for about 20 minutes, stirring a couple of times.

Add brussels sprouts, white beans and peas. Stir, cover and simmer for another 10 minutes.

This stew will thicken up a bit as it cooks from the arrowroot starch and the starch in the vegetables. Spoon into bowls and enjoy!