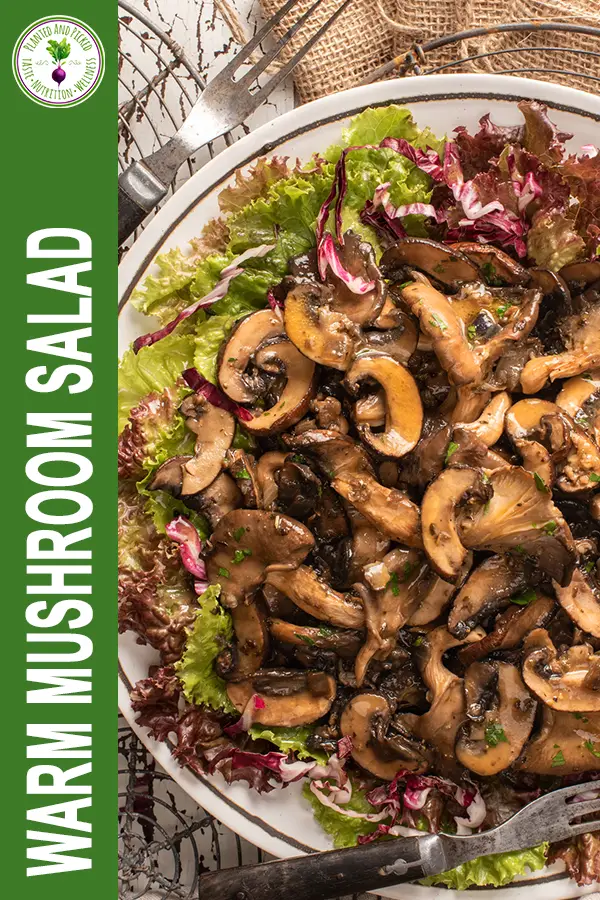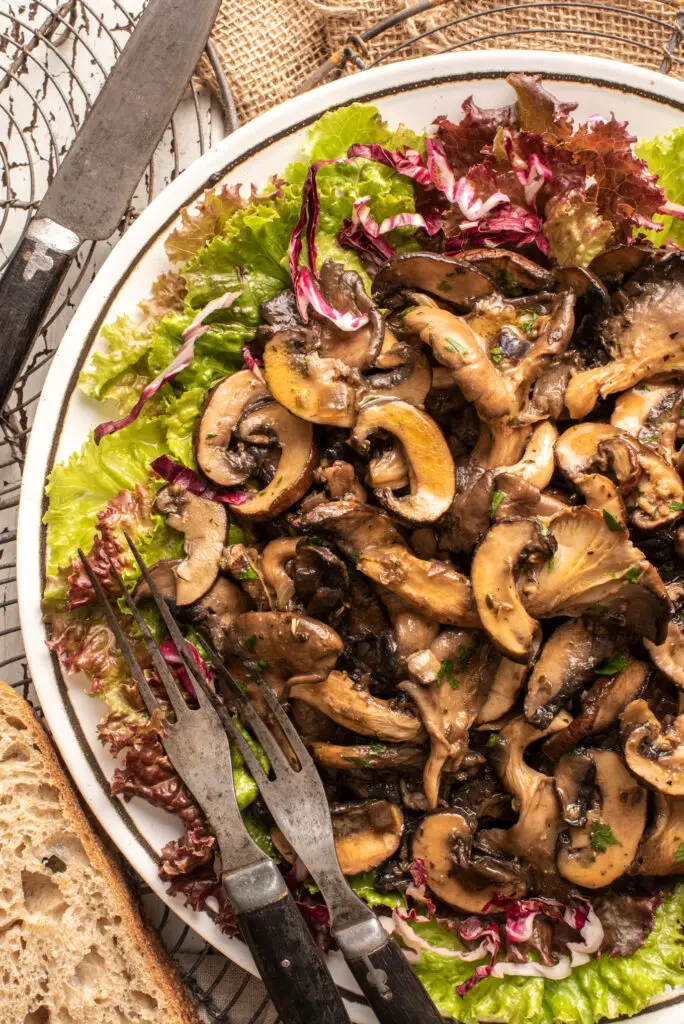 Eating warming foods in season is the inspiration for this nutritious Warm Mushroom Salad. It's perfect for a filling lunch or light supper.
Health Benefits of Mushrooms
We love including lots of mushrooms in our diet in the Fall. There are so many different varieties to choose from. Some common varieties include Oyster, Chanterelle, Lobster, Shitake and of course the common Cremini and Portabello. Include a variety when you make this Warm Mushroom Salad.
Mushrooms can be classified as culinary or medicinal and there are benefits of both. In this post we focus more on culinary mushrooms. Mushrooms also have many health benefits. Mushrooms can help suppress cancer cells from growing and they support the immune system. The main bio-active compounds found in mushrooms are polysaccharides (mostly beta-glucans). Polysaccharides stimulate immune system function without actually causing any harm to the body. They are also one of the only plant based sources of Vitamin D.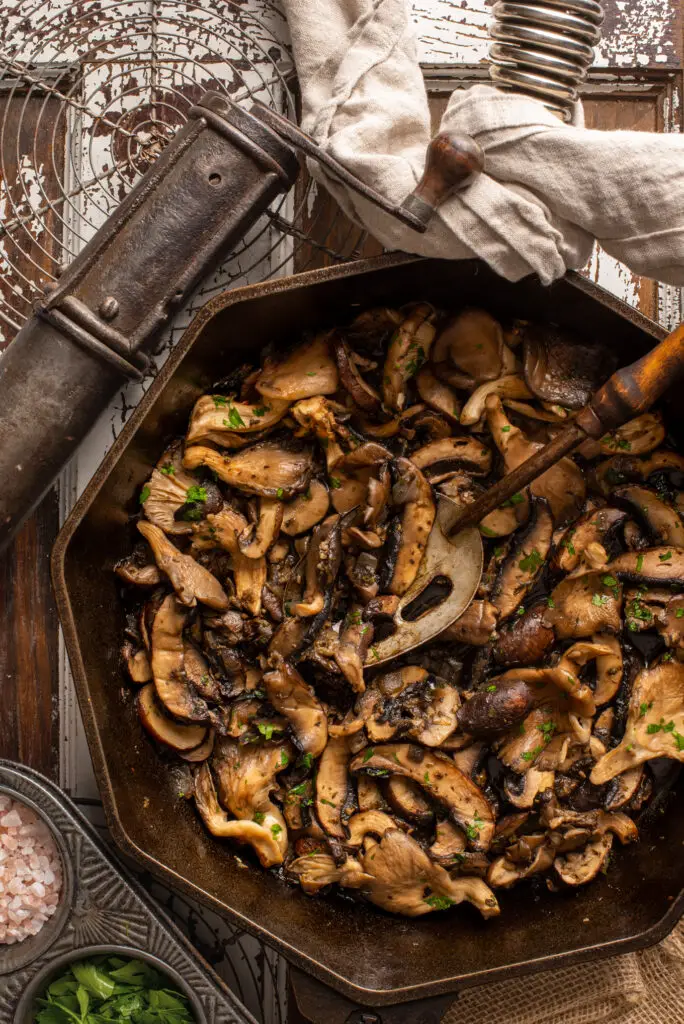 The cell walls of mushrooms are tough, making it difficult for your digestive system to get to all the nutrients they contain. Therefore, you should cook your mushrooms to take advantage of all these health benefits. In addition, mushrooms often contain chemical compounds that can interfere with digestion and nutrient absorption. Cooking breaks down the tough cell walls and inactivates the anti-digestive elements. Cooking also destroys many toxins. Sauté, grill or bake mushrooms before eating.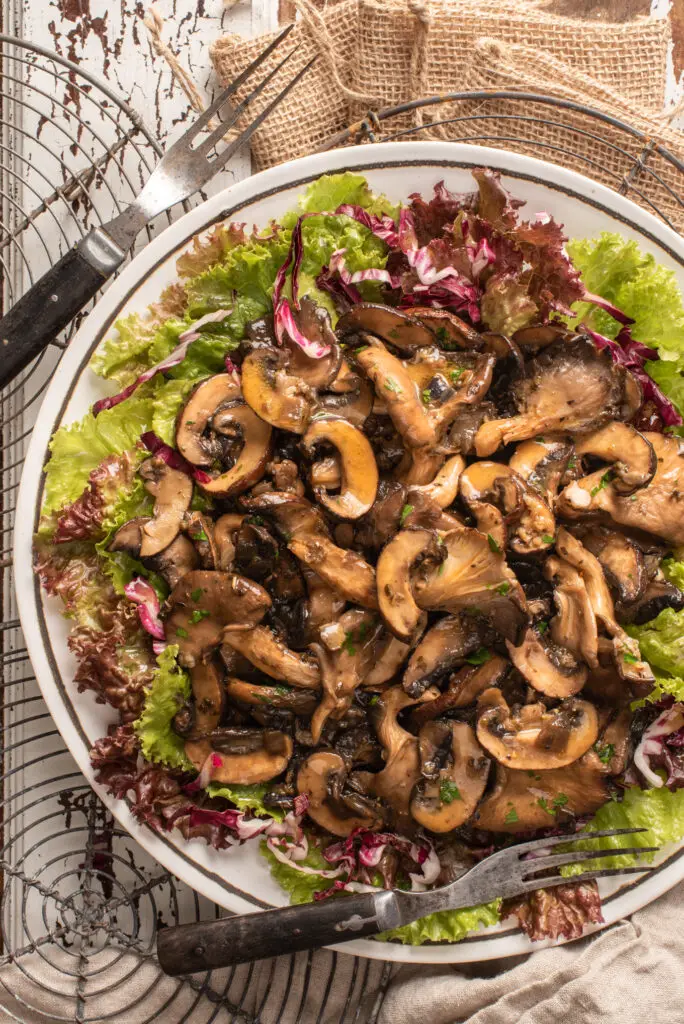 More Inspiration
For other salad inspirations, you can also try our Greek Chickpea Salad, or this Kale and Avocado Salad with Creamy Tahini Dressing. Or try this Loaded Greek Quinoa Salad. Perhaps you're also in the mood for a caesar salad with our Oil-Free Caesar Salad Dressing. Or if you want more mushrooms, try our Homemade Mushroom Soup.
This Warm Mushroom Salad makes a great lunch or light dinner. If you make this, we would love your feedback. Leave a comment and a rating and don't forget to tag us @plantedandpicked on Instagram and hashtag it #plantedandpicked.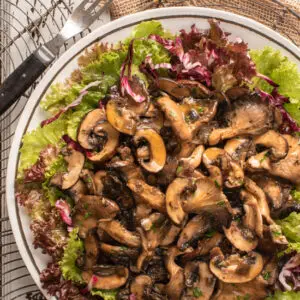 Ingredients
4

cups

lettuce or mixed greens

1

small

radicchio or red endive

16

oz

sliced mushrooms, any kind (we like a mix)

½

cup

red onions, diced

2

large

garlic cloves, minced

2

tbsp

cold pressed olive oil

2

tbsp

red wine vinegar

1

tsp

dijon mustard

1

tbsp

dried Italian herbs or thyme, oregano etc.

1

tbsp

grated lemon peel

¼

sea salt

fresh ground black pepper to taste
Instructions
Peel and dice onion. Peel and mince garlic. Slice mushrooms.

Add olive oil, vinegar, lemon peel, Italian seasoning, 1/4 tsp sea salt and pepper to a small bowl and whisk.

Wash and dry lettuce. Divide between two bowls.

Remove wilted outer leaves from radicchio and discard. Separate leaves into pieces and divide between bowls.

Heat large pan over medium heat and add a tbsp of water or veg broth.

Add onions and 1/4 tsp sea salt to the pan and saute for about 5 minutes, stirring occasionally.

Add garlic to the pan and saute for about 1 minute.

Add mushrooms to the pan and sauté until soft, about 5 minutes. If the mushrooms start to stick to the bottom of the pan, you can add a little water or vegetable broth a couple of tbsps at a time.

When the mushrooms are ready, add the dressing to the pan and gently heat for a minute or two.

Divide the mushroom mixture between the two bowls and top with some additional black pepper if desired. You can also add some soft cashew based cheese if desired.