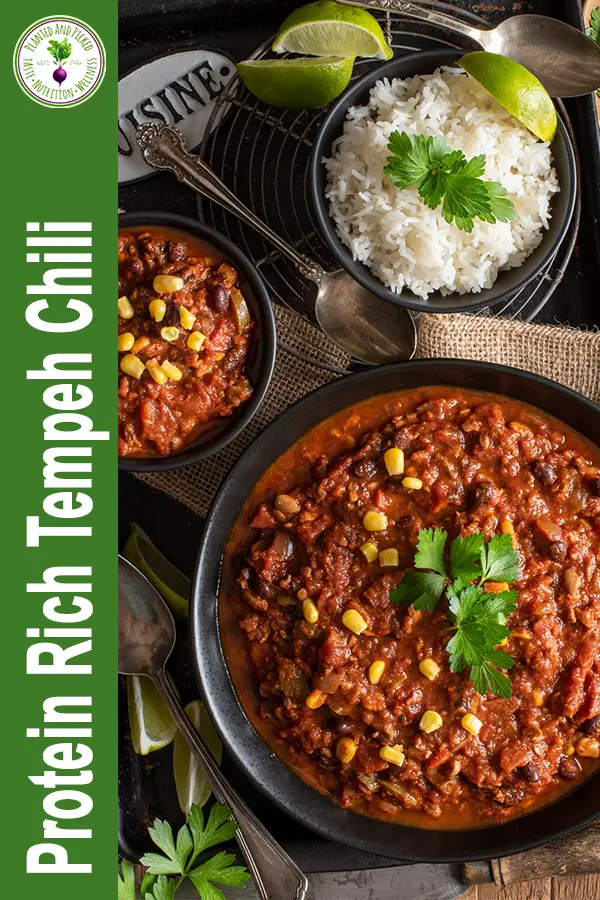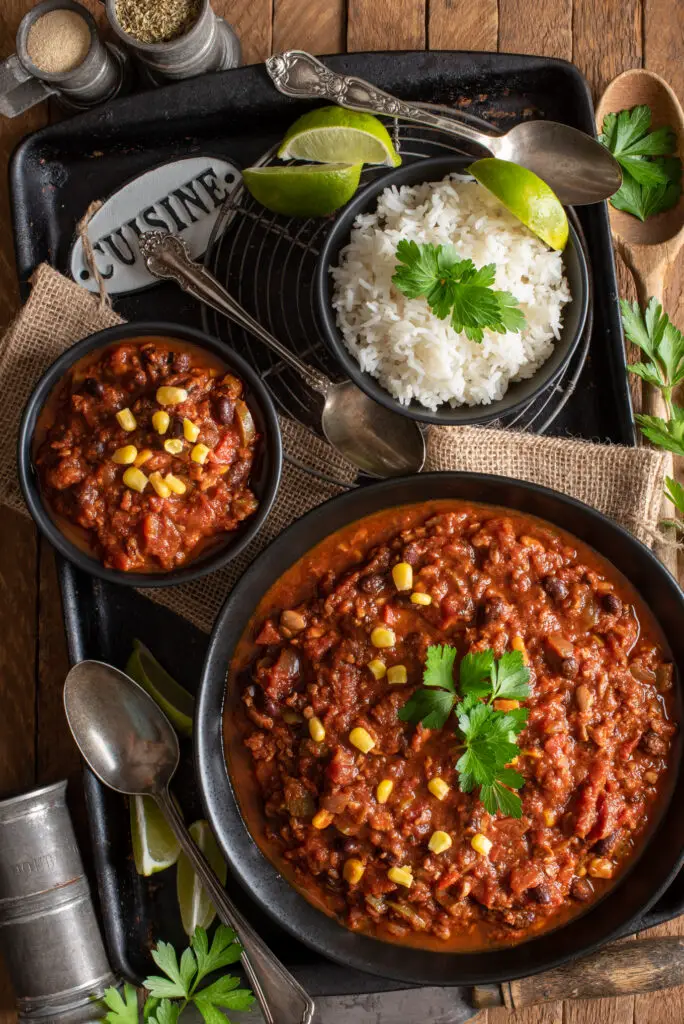 Cool weather calls for warming foods and this Protein Rich Tempeh Chili comes together quickly for a nutritious weeknight meal that will fill your belly and your soul. Bring your appetite!
It's All About the Tempeh!
We have some other bean-rich Chili's on the blog but this one is different because it highlights Tempeh as the protein of choice. Tempeh is usually found as a block and contains soy beans that have been fermented. The fermentation binds the soy beans together to form a cake. Since it has been fermented, it is a probiotic rich food – great for your gut!
Tempeh has a firm texture and a nutty and earthy taste. Like other soy products such as tofu, it easily takes on the flavours of whatever it's cooked with and can be marinated and seasoned to help boost the flavour. In this recipe, we add vegan Worcestershire sauce and Tamari to add flavour and boost the Unami taste.
Tempeh is also protein rich. A 3 ounce serving has 15 g of protein. It is also rich in some other minerals such as manganese, copper, phosphorus and magnesium, to name a few. Thanks to its versatility and nutrient profile, tempeh is a staple protein source on many vegetarian and vegan menus. If you want some other tempeh recipes, check out our Baked Tempeh Bacon Strips or Miso Baked Tempeh.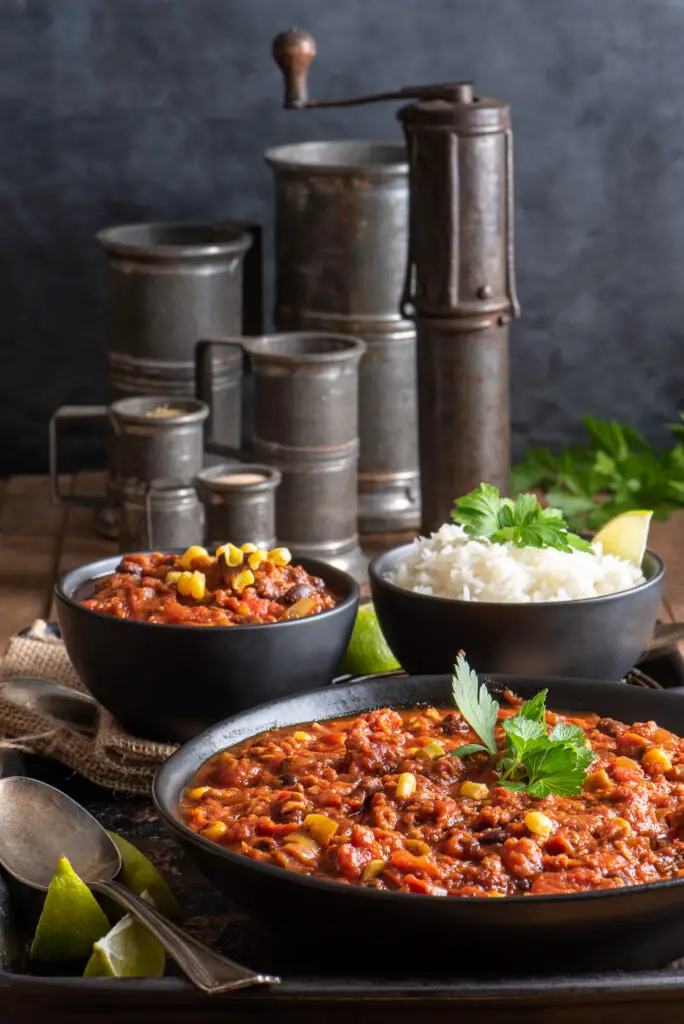 This Protein Rich Tempeh Chili also contains fibre-rich veg with onions, peppers, corn and tomatoes. And of course, what would Chili be without beans! Beans are rich in antioxidants as well as fibre. To learn more about beans, check out our wellness post: The Health Benefits of Beans.
The spice blend is rich in flavour and spices are nature's medicine! We cook this Chili for about 40 minutes or so. However, feel free to simmer on low for a longer period of time to add more depth of flavour. We also find that Chili is even better the next day!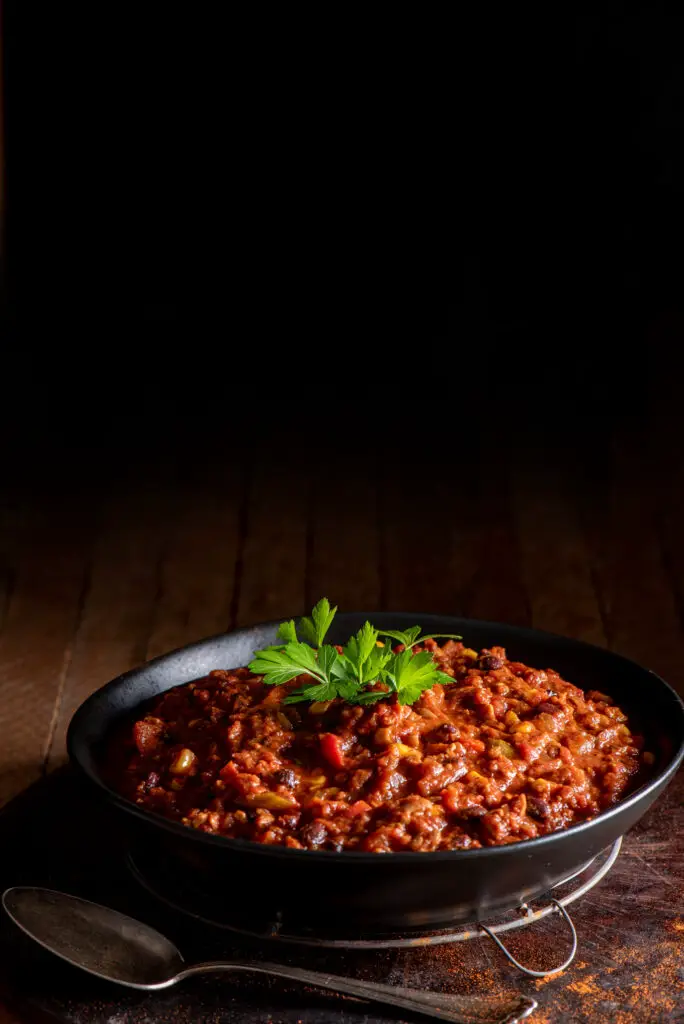 In Conclusion…
If you would like some toppings on your Protein Rich Tempeh Chili, try our Vegan Cashew Sour Cream with some ripe avocado and green onions. We sometimes like to add some hot brown rice to a bowl, a handful of spinach and layer the Chili on top. Or we serve some organic tortilla chips with our Chili – a kid favourite!
If you want some other Chili options, check our our Vegan Mexican Chili with Real Chilis or our Vegan red lentil Chili.
Let us know if you make this. We look forward to your feedback. Leave a comment and a rating and don't forget to tag us @plantedandpicked on Instagram and hashtag it  #plantedandpicked. Enjoy!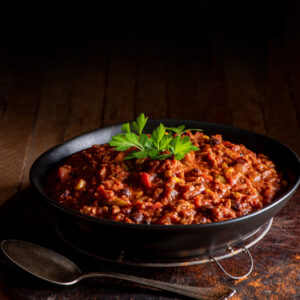 Ingredients
2

tbsp

avocado oil (divided)

1

package

tempeh

2

tbsp

tamari

2

tbsp

vegan Worcestershire sauce

1

medium

onion, diced

2

large

garlic cloves, minced

1

tsp

sea salt

1

red pepper, seeded and diced

1

green pepper, seeded and diced

2

tbsp

tomato paste

1

cup

frozen corn

2

28oz

cans organic fire roasted diced tomatoes

1

720 ml

bottle strained tomatoes

1

14oz

can black beans, pinto beans or kidney beans (or 1 1/2 cups cooked)

1

tbsp

organic dark brown sugar
Spice Blend
2

tbsp

chili powder

1

tbsp

ground cumin

2

tsp

ground coriander

1

tsp

chipotle chili powder

1

tbsp

garlic powder

1

tbsp

paprika

1

tsp

cinnamon
Instructions
In a bowl, measure out and add all of the ingredients for the spice blend. Set aside.

In a separate bowl, crumble the block of tempeh into small pieces.

Dice the onions and peppers. Mince the garlic.

Measure out frozen corn and set aside to thaw a little.

If you are using canned beans, drain and rinse them.

Heat a large pot over medium heat. Add 1 tbsp of avocado oil and warm (about 1 minute).

Add the tempeh and cook for about 5 minutes, stirring frequently. The tempeh should be browning nicely (not burnt). Adjust your stove, accordingly.

Add the Worcestershire sauce and tamari. Stir and cook for another minute or so. This will add a rich flavour to the tempeh. Spoon the tempeh into a bowl and set aside.

Add the other 1 tbsp of avocado oil to the pot and heat for about a minute.

Add the diced onions, peppers, garlic and sea salt. Cook and stir occasionally for about 5 to 7 minutes. The vegetables should be soft and slightly browned.

Add the spice blend and tomato paste. Cook and stir for about another minute.

Add the remaining ingredients, including the tempeh, and stir to combine. Bring to a boil, reduce heat to simmer and cover.

Cook for about 40 minutes, stirring about every 5 to 10 minutes to ensure the mixture doesn't stick to the bottom of the pot. You can continue to simmer longer. The longer it simmers, the more flavour will develop.

If you want a thicker chili, remove the lid and continue to simmer until the desired consistency is reached.

Spoon into bowls. You can garnish with some avocado and/or green onions or vegan cheese and a slice of lime. We like to serve our chili with some organic tortilla chips.