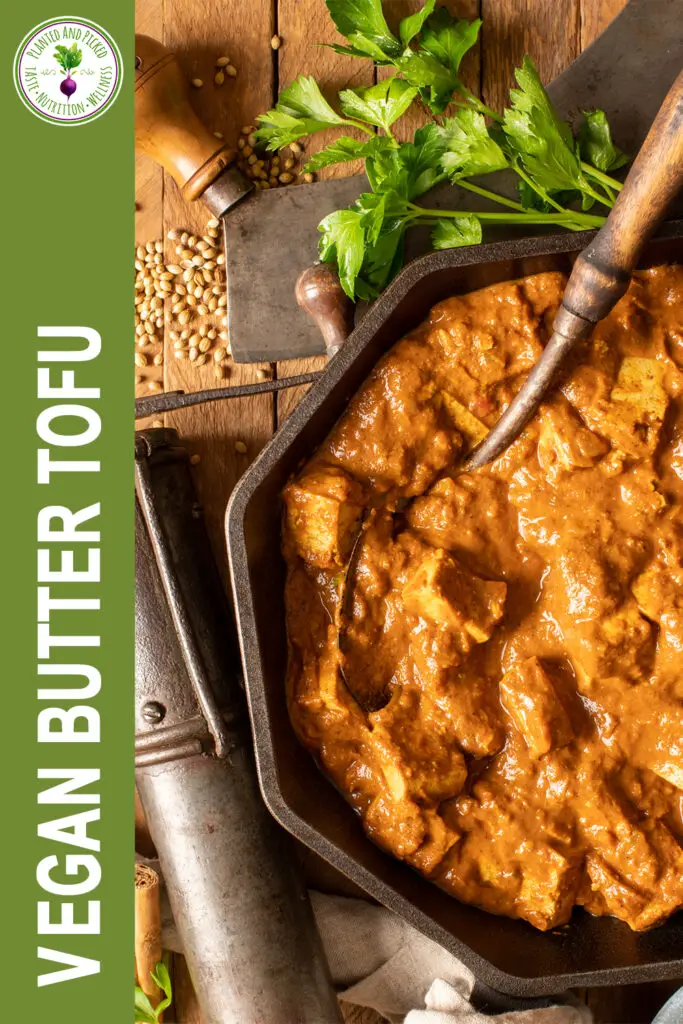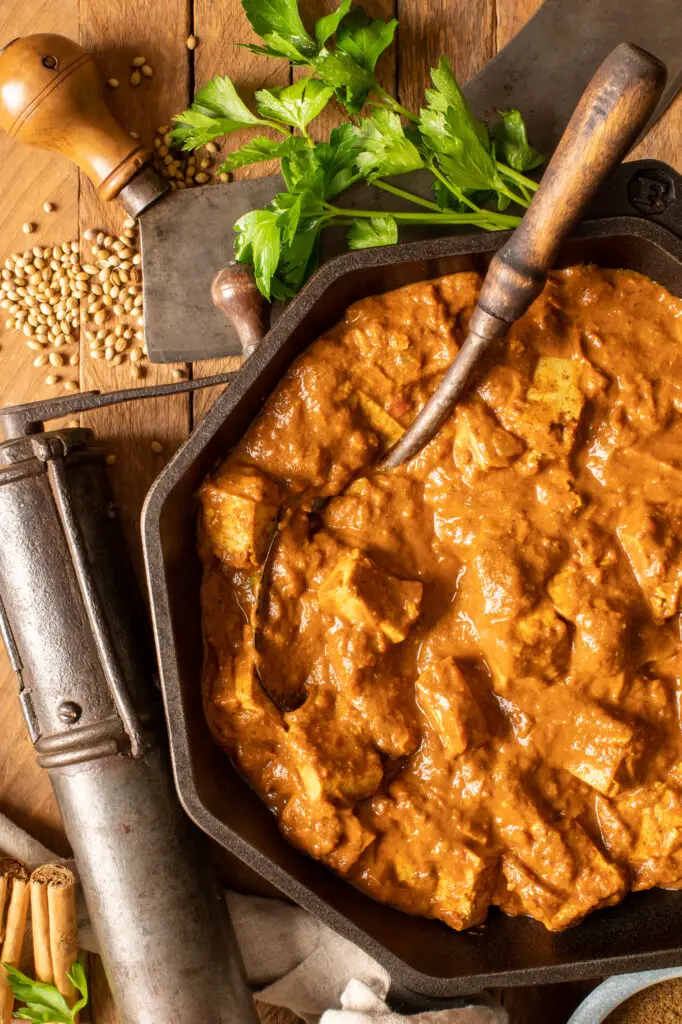 If you want a plant based replacement for Butter Chicken, look no further! The delicious sauce in this Vegan Butter Tofu is deliciously rich and creamy, just like the version from your favourite Indian restaurant.
It's All About the Spices….
We LOVE Indian food. These dishes are rich in spices, which not only add a tonne of flavour but also offer a host of health benefits. Herbs and spices are anti-inflammatory and reduce damage to your body's cells. That is because they are rich in phytochemicals (helpful plant chemicals), which act as anti-oxidants. For more information on antioxidants, see our Wellness Post: Antioxidants and Foods Containing Them. Now on to the Vegan Butter Tofu.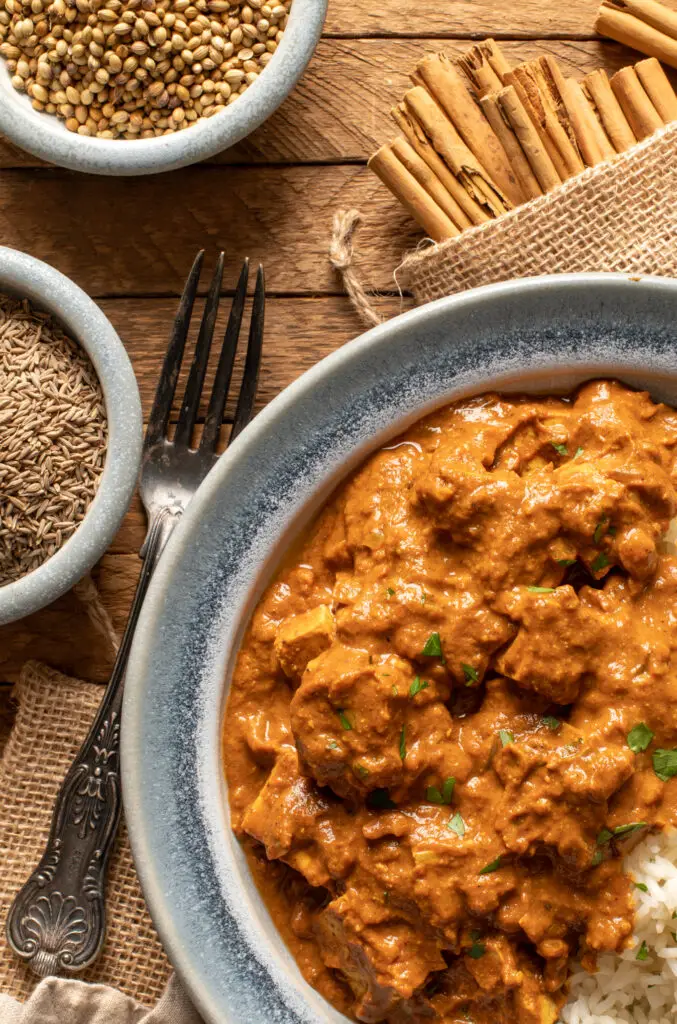 The Substitutions in Vegan Butter Tofu
It is super easy to substitute the standard ingredients in Butter Chicken with plant based options in this Vegan Butter Tofu version. First, Obviously we replaced the chicken with tofu. When you are buying tofu, always choose an organic brand that is free of GMO's. We like to find a local producer of tofu. Next, we used organic Earth Balance as a butter replacement, but we are searching for a more sustainable product that doesn't use palm oil and is also not heated. If you have a good substitute, please let us know! In addition, we used a plain coconut yogurt in this recipe but any plain plant based yogurt will do. Lastly, we were excited to find a new plain oat based creamer in our local grocery store.
All of the ingredients in this butter tofu, except for the creamer, are always on hand in our house as they are standard on our grocery list. All we have to do is remember to marinate the tofu in advance and getting a healthy and flavourful dinner on the table mid-week is a breeze! This is very good paired with some Jasmine or Basmati rice and some green peas and/or cauliflower on the side.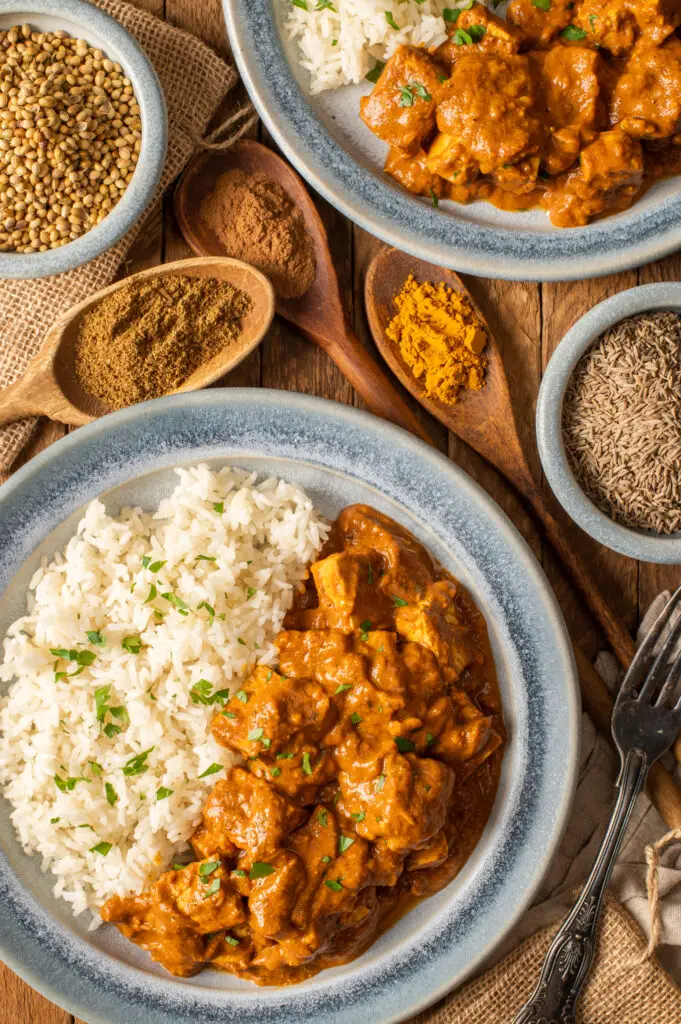 Unlike many Indian dishes, this spice blend is mild – not spicy. However, if you love curry and a little heat, try out some of our other Indian inspired dishes such as our Coconut Lentil Curry or Coconut Chickpea Curry Masala. Or try some of our other spice rich dishes like our Curried Cauliflower And Wild Rice Soup.
This Vegan Butter Tofu is a crowd pleaser. We look forward to your feedback. Leave a comment and a rating and don't forget to tag us @plantedandpicked on Instagram and hashtag it  #plantedandpicked. Thank you for checking it out.
Ingredients
Marinade for Tofu
1

block

extra firm tofu

1

cup

plain plant based yogurt

2

tbsp

lemon juice

2

tsp

garam masala

1

tsp

ground cumin

½

tsp

ground ginger or 1 tsp freshly grated

¼

tsp

ground turmeric or 1 tsp freshly grated

pinch

sea salt and pepper
Spice Blend
2

tsp

garam masala

1½

tsp

ground cumin

1

tsp

ground coriander

½

tsp

ground turmeric

½

tsp

paprika

½

tsp

chili powder

1

cinnamon stick

½

tsp

sea salt
Butter Tofu
2

tbsp

vegan butter (such as Earth Balance)

1

medium

onion, diced

3

cloves

garlic, minced

1

inch

piece ginger, minced

¼

cup

vegetable broth

14

oz

can crushed tomatoes (we like Eden Organic in a glass jar)

1

tsp

coconut sugar

½

cup

plant based creamer (we used an oat creamer)
Instructions
Marinated Tofu
Combine the ingredients for the marinate in a covered dish.

Turn the tofu on it's long side and cut in half. Cut each half into bite sized cubes.

Place the tofu in the marinade and stir to coat (it will be thick).

Cover and refrigerate for up to 8 hours. The longer, the better.
Spice Blend
Measure and add all the spices into a small dish. Set aside.
Buttered Tofu
Dice the onion into small pieces. Mince the garlic and the ginger.

On medium heat, in a deep pan, add the vegan butter until melted and simmering a little (a few minutes). If you are vegetarian, you can substitute the vegan butter with Ghee.

Add the onions and stir to combine. Cook, stirring occasionally for 5 to 7 minutes. Onions should be translucent but not overly brown.

Add the ginger and garlic. Stir and cook for about another 2 minutes.

Add the spice blend. Stir and cook for about a minute. Spices should smell fragrant.

Add the crushed tomatoes, vegetable broth (or water), cinnamon stick and sugar. Turn up the heat a little to bring the mixture up to a simmer. Stir to dislodge all the brown bits from the bottom of the pan.

Add the marinated tofu, along with the marinade. Stir to combine.

Bring mixture to a simmer, cover and reduce heat so that it is on a low simmer. Set timer for 20 minutes. Stir every 5 minutes or so.

Add the creamer and stir to combine. Cover and continue to simmer for another 10 minutes or so.

This rich dish can be served with rice and a green vegetable for a wholesome and satisfying meal. It keeps well if made ahead (for up to 5 days) and reheated on low. The flavours will continue to develop.