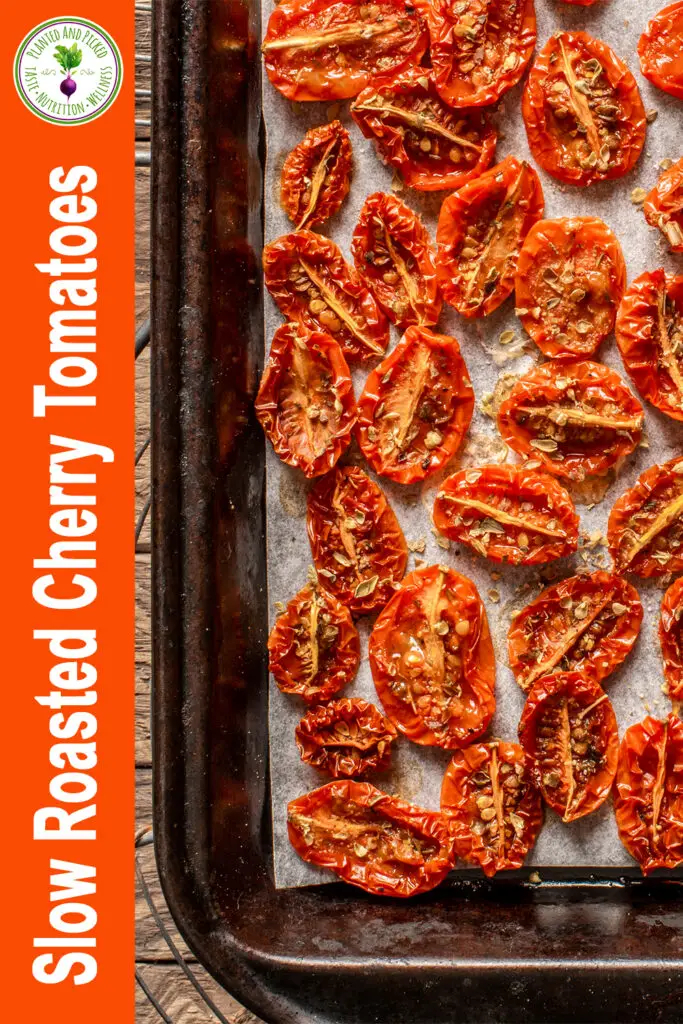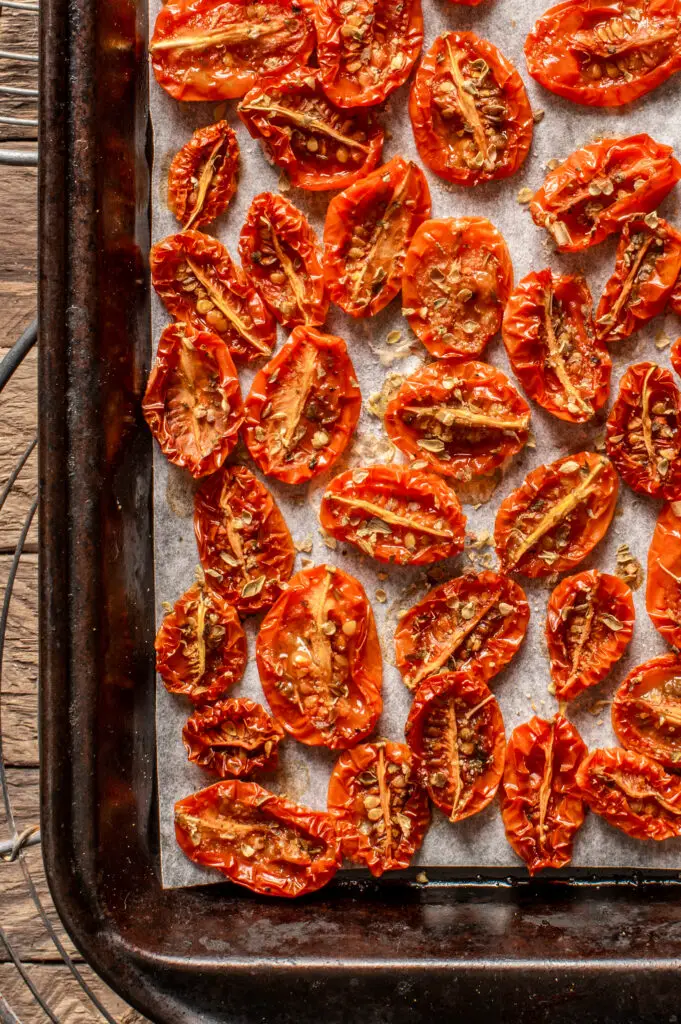 We love slow roasted cherry tomatoes in the same way that we love sun-dried tomatoes. We have a great memory of sun-dried tomatoes that we purchased from a vineyard in Tuscany while on a wine tour as part of a family vacation. They were wonderfully red, soft and full of intense flavour.
Slow roasting tomatoes is not the same as drying your garden roma tomatoes on clay tiled rooftops in the hot Tuscan sun . . . granted. However, it is a wonderful way to enjoy the resulting intensified flavour. You can toss slow roasted cherry tomatoes with pasta, include them in salads and buddha bowls or use them to top your avocado toast! They are also a great addition to a charcuterie board. In our minds, slow roasting tomatoes is quite possibly the single most wonderful thing you can do with a tomato.
Tips for Slow Roasting Your Tomatoes
Don't be put off by the three to four hour cooking time. The temperature is low and you can go about your business while they roast away! Just be sure to start checking in on them every 20 minutes or so after about three hours. Slow roasted tomatoes should be dry to the point where they are shrivelled on the outside and have lost most of their moisture. However, they should not start to brown . . . or burn for that matter! The inside should remain slightly juicy for the best experience.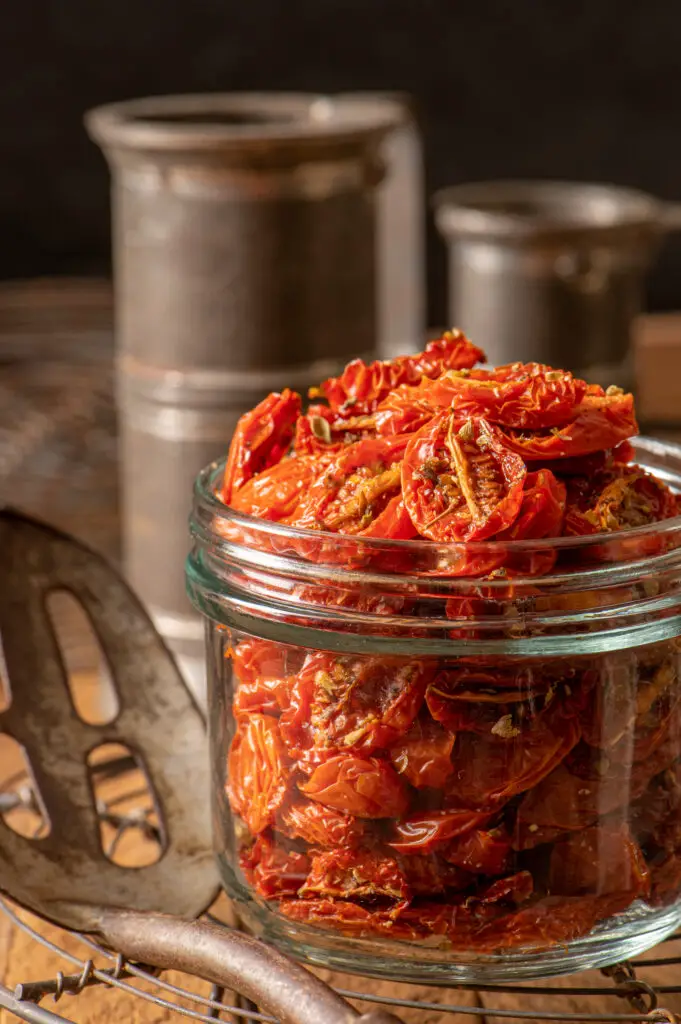 Split the cherry tomatoes lengthwise to expose the seeds and to allow them to dry out more quickly and evenly. Sprinkling a small amount of fine sea salt will help to intensify their flavour. Adding dried herbs is also a great way to flavour your roasted tomatoes up front. Alternatively, you can leave the slate blank and choose to include them later when preparing a dish that includes the tomatoes. We've used oregano here, but rosemary and basil are equally great choices.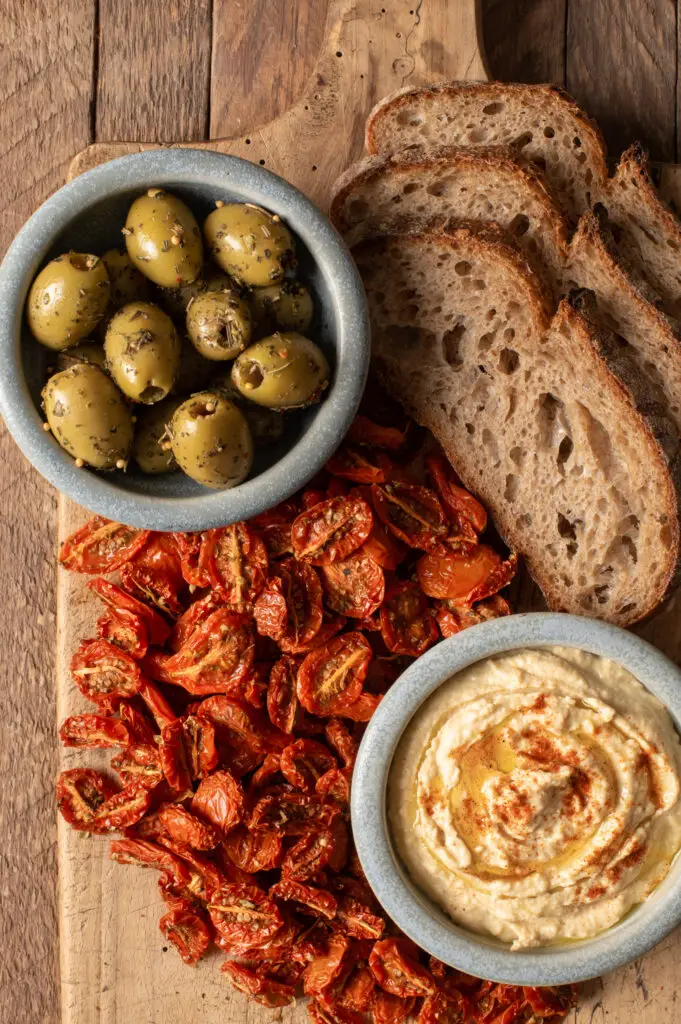 How to Use Slow Roasted Tomatoes
You certainly will not have to worry about using up your slow roasted cherry tomatoes. We use them in this delicious Slow Roasted Tomato Bean Salad and you won't believe the flavour they add. Include them in grilled wraps or on a grilled sandwich with avocado and Baked Tempeh Bacon Strips. They're also great with hummus, pesto or an olive tapenade on crostini or crackers as a snack. You can also serve this combination as part of a charcuterie board when you have friends in. You can use them as a perfect topping for pizza, with fresh pasta and a light vegan cream sauce or in a pasta salad. The list goes on . . . there is no shortage of ways to enjoy these delicious roasted tomatoes!
We would love to know how your Slow Roasted Cherry Tomatoes turned out. Leave a comment and a rating and don't forget to tag us @plantedandpicked on Instagram and hashtag it  #plantedandpicked. Always remember that food must serve the body while also nourishing the soul. We're grateful that you have visited us!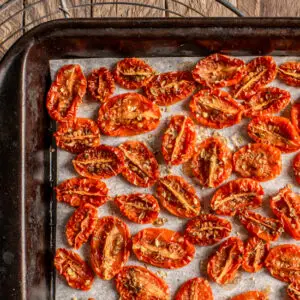 Ingredients
2

pints

organic cherry tomatoes

1

tsp

oregano

½

tsp

garlic powder

½

tsp

fine sea salt

¼

tsp

freshly ground black pepper
Instructions
Cut tomatoes in half lengthwise and arrange, cut-side up on a parchment lined baking sheet. Sprinkle oregano, garlic powder, sea salt and pepper over tomatoes.

Roast for 3 to 4 hours, checking every 20 minutes or so after 3 hours. Tomatoes should be visibly wrinkled and drying out, but still have a small amount of moisture. They should not be showing signs of blackening or burning.

Remove tomatoes from oven and let cool to room temperature before storing in a glass container in the refrigerator if not using straight away.