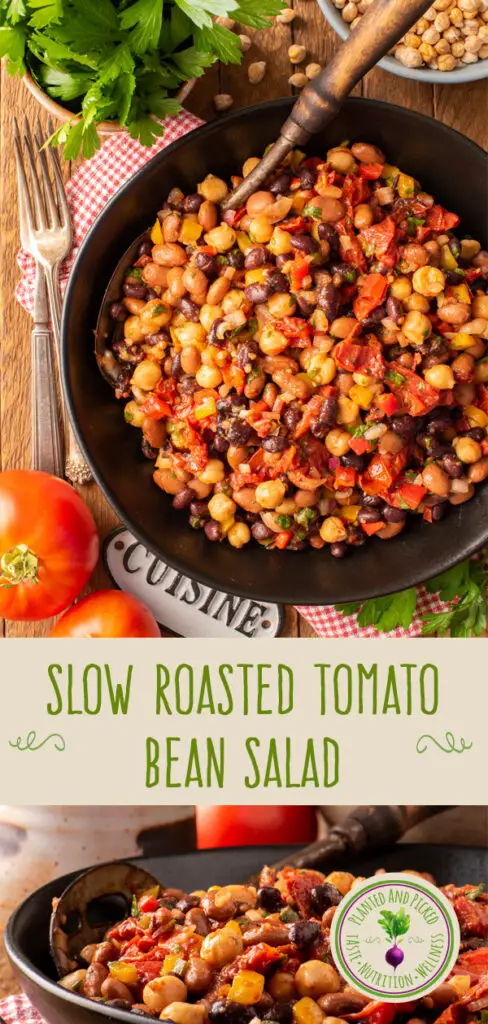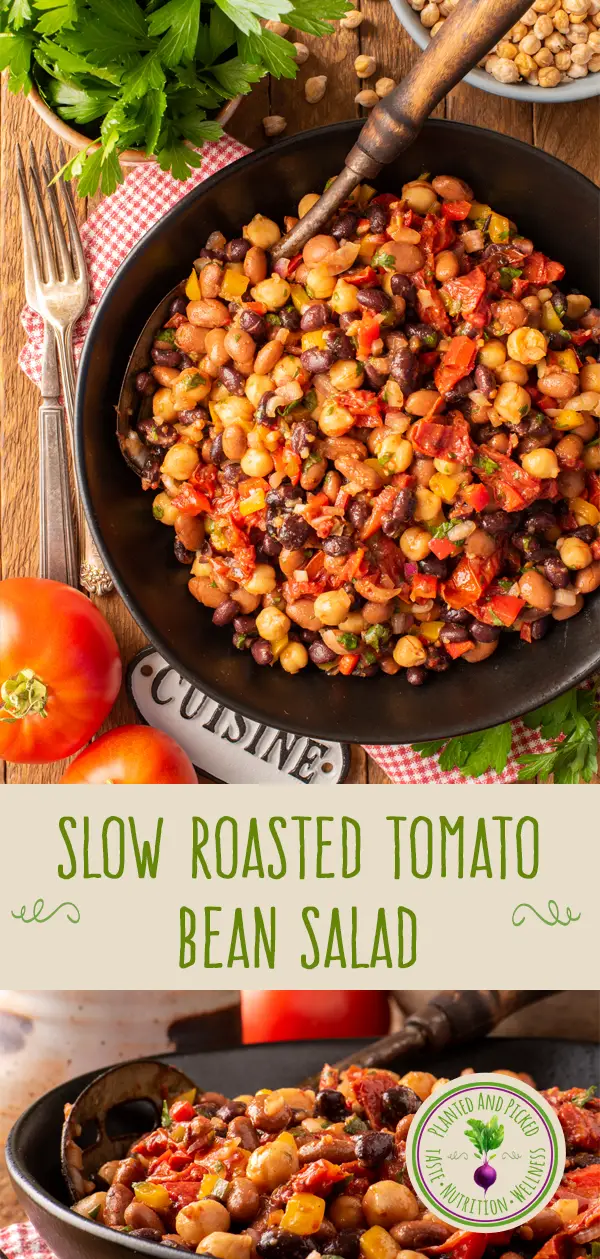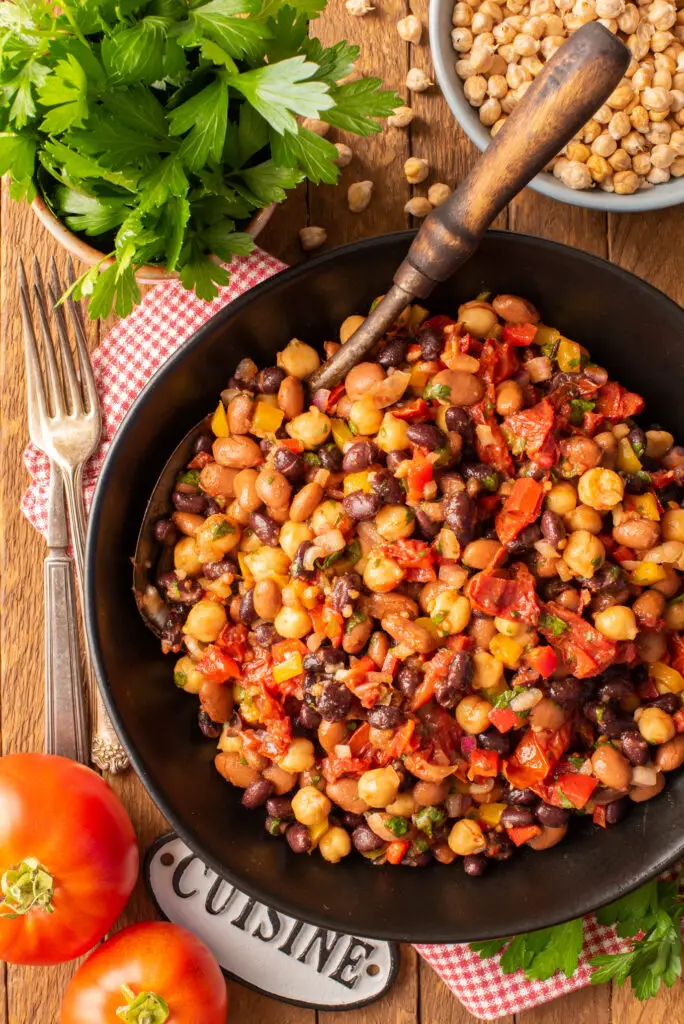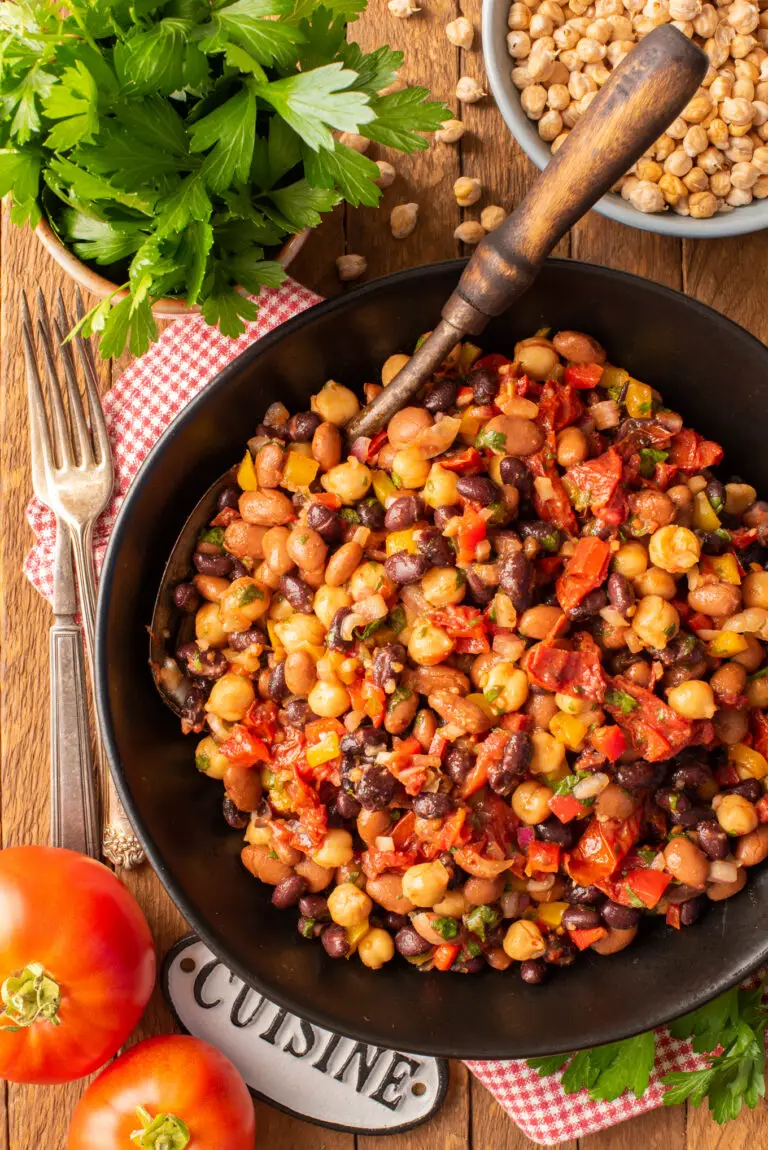 We up-level this simple salad by slow roasting tomatoes in this Slow Roasted Tomato Bean Salad. You will not only find it delicious, but it's also super nutritious.
If you haven't had them, you will love the flavour of slow roasted tomatoes. When we are getting an abundance of backyard tomatoes ripening at the same time, we roast some of them. This ensures that we don't waste them, but as a bonus, roasting the tomatoes adds so much more depth of flavour. When you roast your own tomatoes, they will be dry on the outside but still have some juiciness on the inside.
Why This Slow Roasted Tomato Bean Salad is So Good for You!
In this Slow Roasted Tomato Bean Salad, cooking tomatoes also increases the availability of some of the key nutrients such as lycopene. Lycopene is an antioxidant that is beneficial in many health conditions from heart health to certain types of cancer. In Dr. William Li's book "Eat to Beat Disease", he states that tomatoes are an antiangiogenic food. This means that they can help starve cancer cells. Lycopene is one of the key reasons for this and lycopene is more concentrated when you cook the tomatoes. Lycopene is also fat soluble which means that you absorb it better when you combine it with some fat.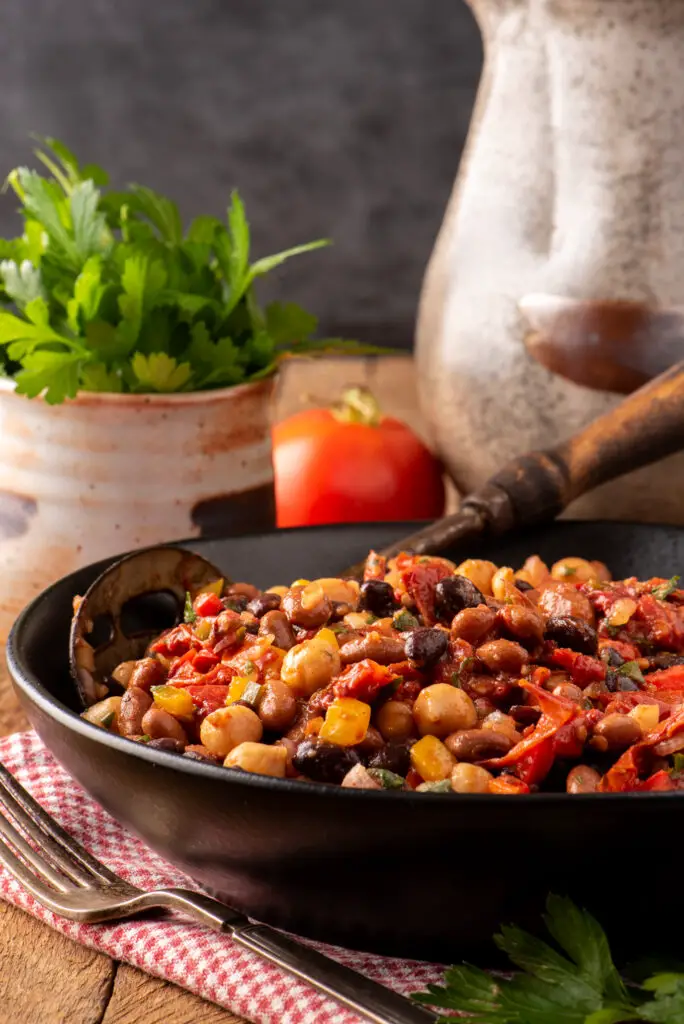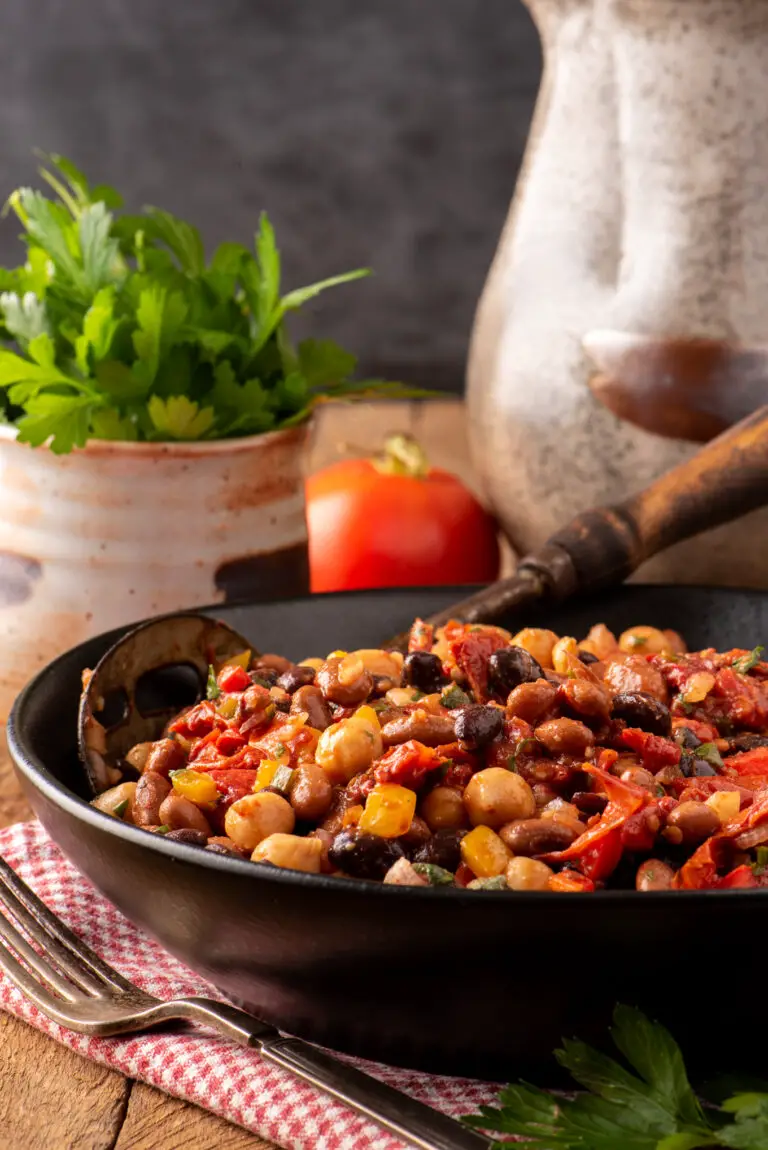 Dr. Li also highlights beans in his book, for their positive effect, not only with cancer and heart heath etc., but also gut health. Dr. William Bulsiewicz's also highlights this fact in his book "Fiber Fueled". He also recommends onions and garlic for supporting gut health, and they're both in this tomato bean salad. We highly recommend that you read this book if you want to increase the health of your gut microbiome. A healthy microbiome leads to strengthening your immune system because over 70% of your immunity is in your gut!
Seasoning and Bean Selection
So this Slow Roasted Tomato Bean Salad is not only tasty, it is also highly nutritious. We used a mix of spices that are Spanish inspired for this recipe. However, you can certainly switch up the herbs and spices to reflect other cuisines such as Italian (oregano, basil) or French (herbs de Provence) as some examples. You can also substitute cherry tomatoes in the recipe. However, you will need to reduce the cooking time, so watch them carefully to avoid burning.
This Slow Roasted Tomato Bean Salad is so simple to throw together if you are using canned beans. We like to use Eden Organic because they are stored in cans that are BPA free. Also, being organic means that they are free of chemicals. However, using organic dried beans is always the best option, so if you have time, prep and cook your beans in advance.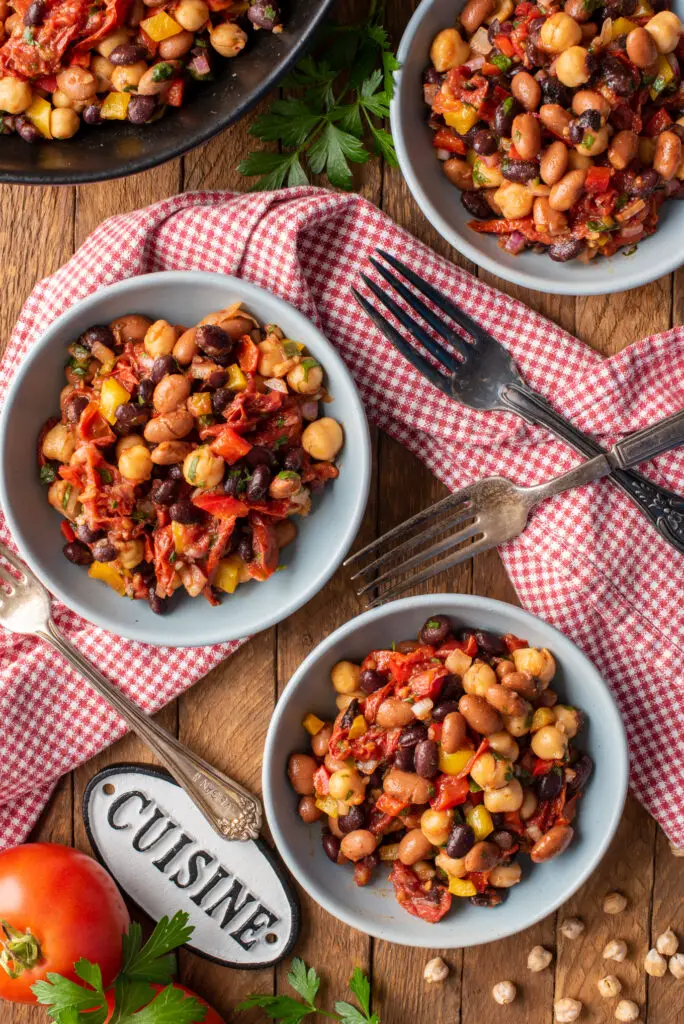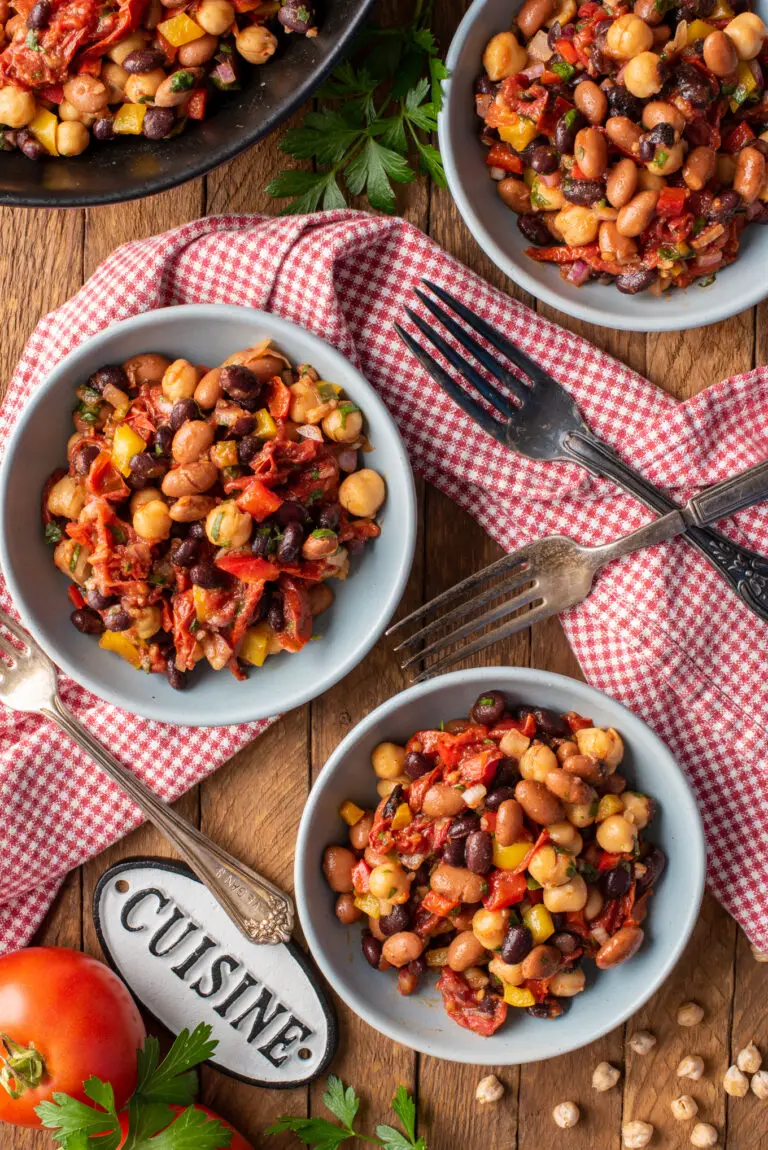 For other salad inspirations, you can also try our Greek Chickpea Salad, this Kale and Avocado Salad with Creamy Tahini Dressing, this Loaded Greek Quinoa Salad or this Ratatouille Pasta Salad. Perhaps you're in the mood for a caesar salad with our Oil-Free Caesar Salad Dressing.
This Slow Roasted Tomato Bean Salad will debut nicely on your next potluck. It's also great to have in your fridge to take along for lunch on a work day. If you make this, we would love your feedback. Leave a comment and a rating and don't forget to tag us @plantedandpicked on Instagram and hashtag it #plantedandpicked.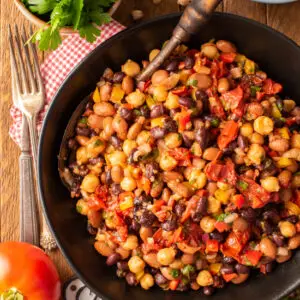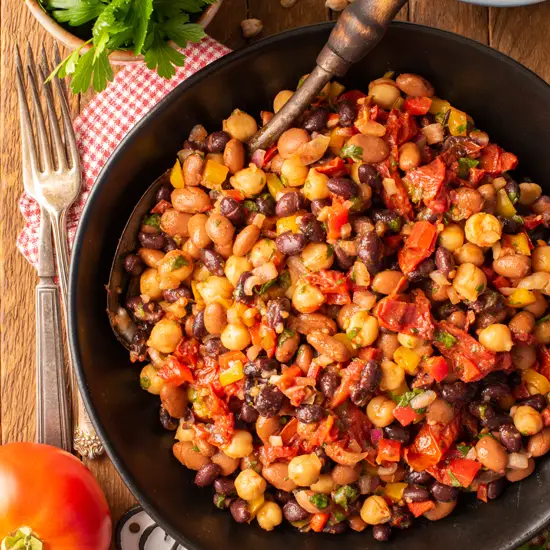 Ingredients
Bean Salad
1

cup

cooked pinto beans

1

cup

cooked chickpeas

1

cup

cooked black beans

⅓

cup

red onion, diced small

½

cup

sweet peppers, diced small

1

small

jalapeno pepper, seeded
Salad Dressing
2

tbsp

good oil such as cold pressed EVOO, Flax or Hemp

2

tbsp

red wine vinegar

½

lime, juiced

1

large

garlic clove, minced

⅓

cup

chopped cilantro

1

tsp

smoked paprika

1

tsp

ground cumin

½

tsp

ground coriander

¼

tsp

sea salt
Slow Roasted Tomatoes
4

large

tomatoes

2

tsp

dried oregano
Instructions
Slow Roasted Tomatoes
Wash and dry 4 large tomatoes. Cut each tomato into about 8 wedges.

Using your finger, gently scoop out some of the seeds from each tomato wedge. This will help to remove some of the moisture.

Place the tomato wedges on a baking tray and sprinkle with oregano. Stir to combine.

Place in oven and bake for about 2 to 3 hours. The length of cooking time will depend on the moisture in the tomatoes, so start checking after 2 hours and keep cooking, checking every 20 minutes or so.

The tomatoes should be mostly dry but not burned. Set aside.
Bean Salad
We used Eden Organic canned beans for this recipe. If you are not using canned beans, prepare the beans in advance. You can use any combination of beans that you want to make up three cups prepared.

If you are using canned beans, drain and rinse them. Set aside.

Dice the red onion and sweet pepper. You can substitute roasted peppers for the sweet pepper if you have them on hand or want to roast them yourself.

Slice the jalapeño pepper in half lengthwise and remove the seeds. Dice finely.

Add the red onions, sweet pepper, jalapeño pepper as well as the dressing ingredients to a large bowl. Add in beans and stir to combine.

Add in the slow roasted tomatoes and stir to combine.

Place the bean salad in the refrigerator and chill for at least one hour to develop the flavours prior to eating.

This salad can be used as a main for lunch or a side dish for lunch or dinner. It is a great addition to a pot luck.