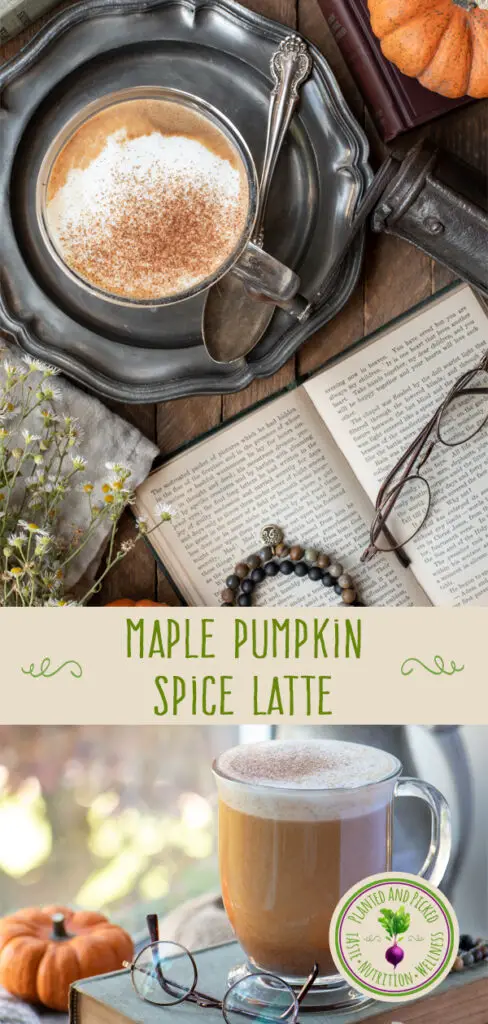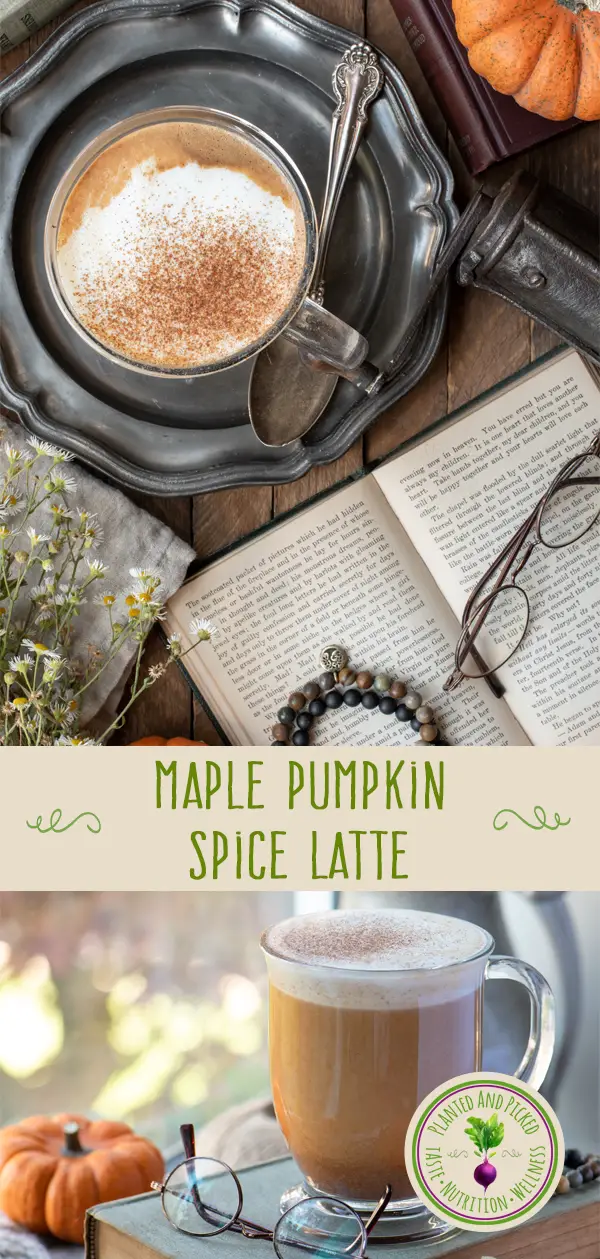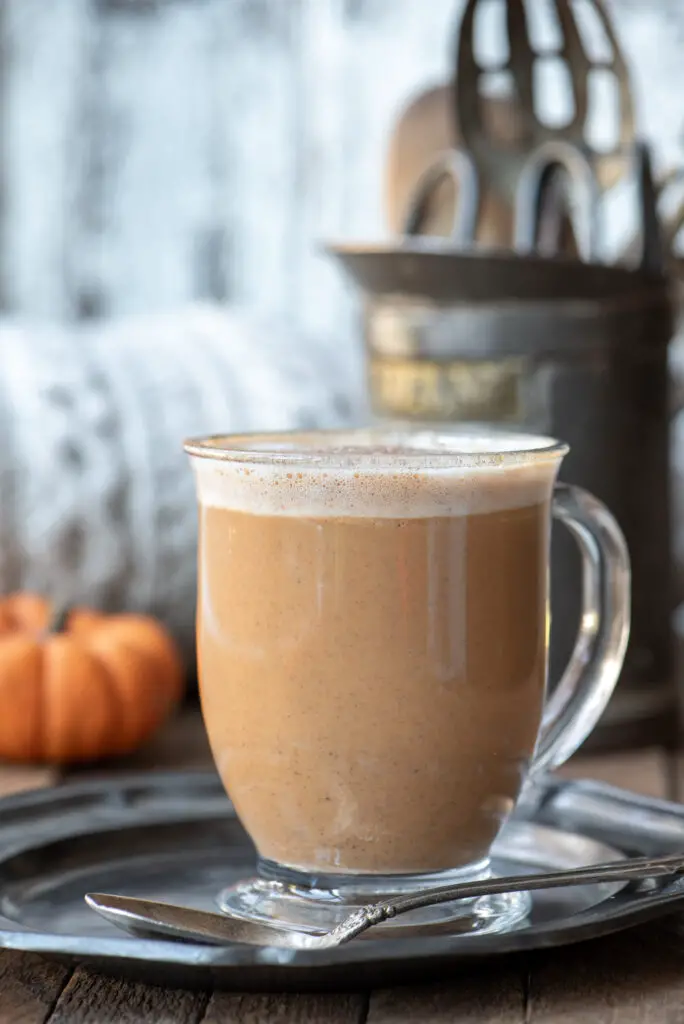 Fall is our favourite season, despite it being such a brief transition between summer and winter. It's a perfect time for brisk walks in the park, apple picking, fire-side chats and, of course, a maple pumpkin spice latte!
You can just breathe easier when the air is cool and crisp. The smell of the leaves, the warm afternoon sun and cozy socks and sweaters (one of us has a weakness for sweaters!) makes this an exciting time of year for both of us.
Why Make Your Own Maple Pumpkin Spice Latte?
We admit to being drawn in to the familiar flavours of a traditional pumpkin pie in a coffee cup. However, we only drink our pumpkin spice latte with actual pumpkin, naturally sweetened by maple syrup. It's still a treat, but one definitely worth having at this time of year. By making it at home, you ditch the potassium sorbate used as a preservative in the syrups. You also skip the sulphites common in the spice blend. You also avoid the highly refined sugar and carrageenan.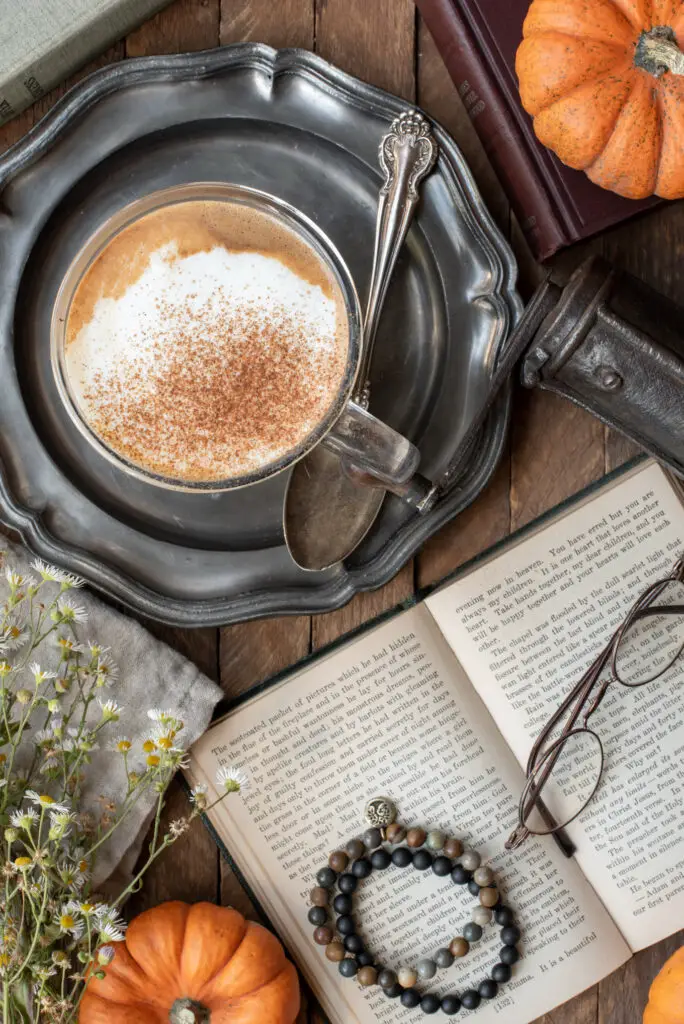 We choose to use real ingredients and avoid the nasty preservatives and sulphites. We use organic coffee, pumpkin, plant-based milk and spices and use maple syrup over refined sugar. It's all just a little bit more real if you make your pumpkin spice latte at home.
How to Make Your Latte – Easy Peasy
It's so easy to pull your maple pumpkin spice latte together in the same amount of time a barista at the coffee shop would do it . . . without the walk to the coffee shop.
Pour a quarter cup of your favourite plant-based milk together with all of the remaining ingredients, except the coffee, into a small sauce pan. We've provided our homemade pumpkin spice blend for reference. Heat mixture while gently whisking intermittently to prevent sticking. We have an espresso machine and pull a shot of espresso straight into our coffee cup. At the same time, we froth the remaining milk. Just pour the warmed pumpkin mixture from the sauce pan into the coffee cup, give it a quick stir and pour in the steamed milk. We top it with a little extra spice blend and serve.
We treated ourselves with an espresso machine and make the most of it. But you can totally make this maple pumpkin spice latte without one. Just brew some strong coffee and froth your milk with a frothing wand or using a French press coffee maker. Heat your milk to about 140°F on the stove. Use a steam want to froth it or pour into a French press and pump it up and down to create the foam. We're not looking for perfection, just a great-tasting latte!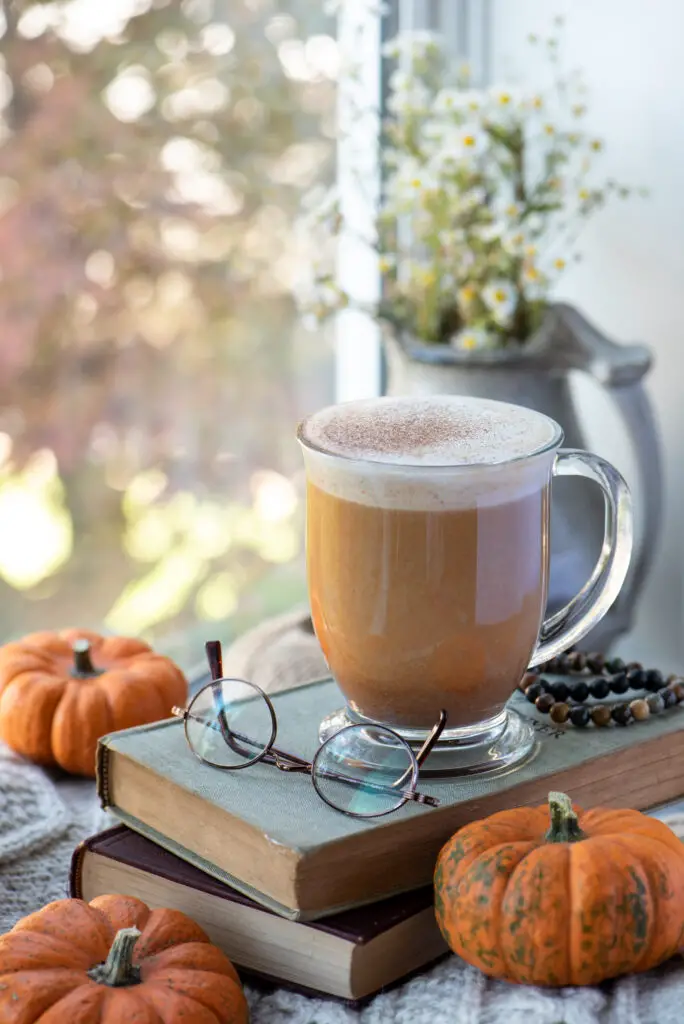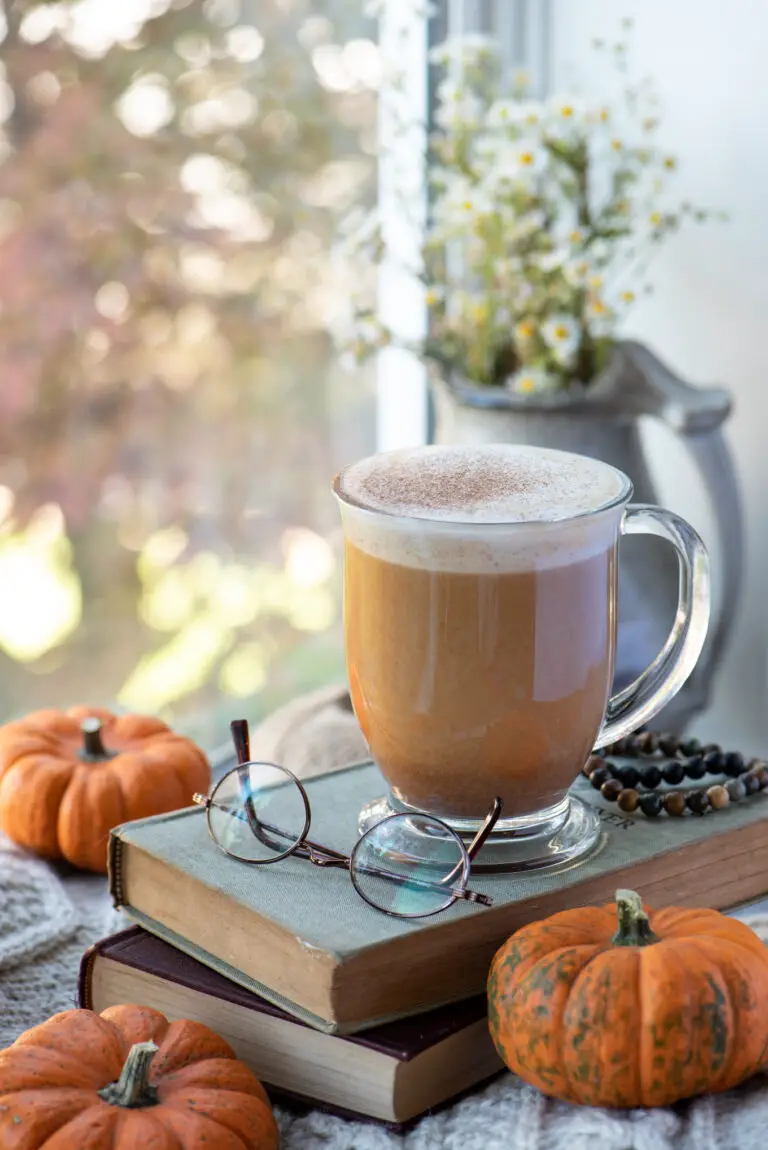 Choose Organic Fair Trade Coffee
Always choose organic, fair trade coffee. You are adding so much goodness into your body, so the last thing you want to do is add toxins. Coffee is typically heavily sprayed with pesticides if it is not organic. We also choose fair trade coffee in order to ensure that workers are paid fairly.
This maple pumpkin spice latte is such a great alternative to the store-bought version from the average coffee shop and you'll feel great knowing it's a healthier option. Try out this Superfood Coffee for another warm drink alternative. You can make your morning coffee super healthy by including additional nutrients to your cup of Joe!
We hope you really enjoy this maple pumpkin spice latte. Please leave a comment and a rating and don't forget to tag us @plantedandpicked on Instagram and hashtag it  #plantedandpicked. Have a great day!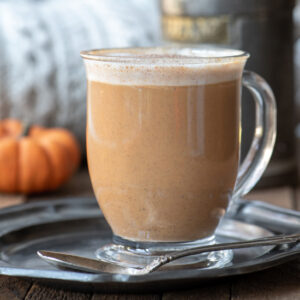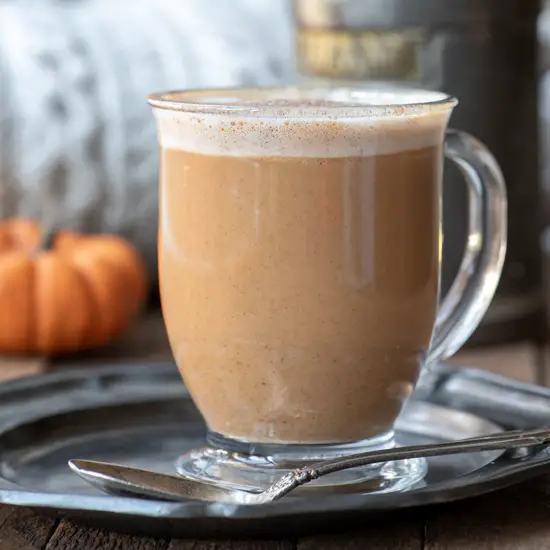 Ingredients
Maple Pumpkin Spice Latte
1

cup

plant-based milk

We used soy milk

2

tbsp

pumpkin purée

1½

tsp

pumpkin spice

2

tbsp

maple syrup

½

tsp

vanilla extract

¼

cup

espresso or strong coffee

2 double espresso shots
Homemade Pumpkin Spice Blend
3

tbsp

ground cinnamon

2

tsp

ground ginger

1

tsp

ground allspice

1

tsp

freshly grated nutmeg

½

tsp

ground cardamom
Instructions
Maple Pumpkin Spice Latte
If using strong coffee, brew coffee accordingly.

Combine ¼ cup of the milk with the pumpkin purée, pumpkin spice, maple syrup and vanilla extract in a small sauce pan and heat on medium, whisking well to combine. When the mixture is steaming, reduce to low just to keep warm.

While pumpkin mixture is heating, prepare the remaining milk either by heating it in a small sauce pan on medium until it is hot, but not boiling or by frothing it with the steam wand of an espresso machine, as described below. Either way results in a delicious drink!

Pour remaining milk into a large measuring cup and place steam wand into the milk and turn on. Slowly raise it to the surface of the milk until the milk starts to swirl. Continue slowly pulling it up, while still keeping it just beneath the surface, until the volume has increased by 50 to 75%. Set aside.

If using espresso, pull a double shot (about 2 oz) into a coffee cup.

Pour the heated pumpkin mixture into the coffee cup and stir well to combine.

Pour the prepared milk into the coffee cup, holding back some of the foam to release onto the surface at the end of the pour.

Gently sift some pumpkin spice on top of the foam to garnish, if desired.
Homemade Pumpkin Spice Blend
Grate enough nutmeg to make 1 teaspoon

Stir nutmeg and remaining spices together in a small dish and store in an airtight container. Re-use an emptied spice bottle and that's even better.