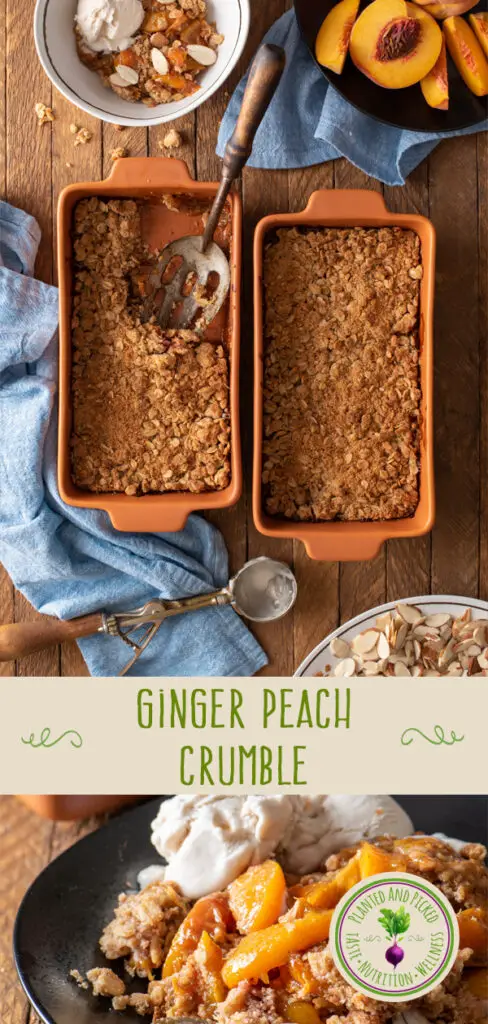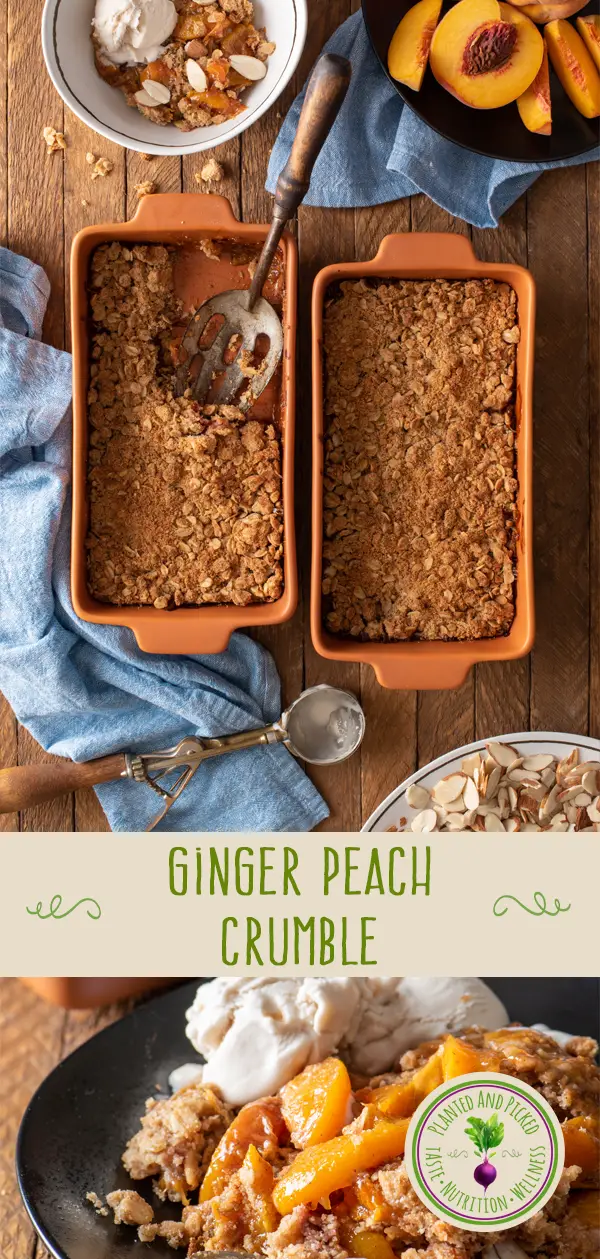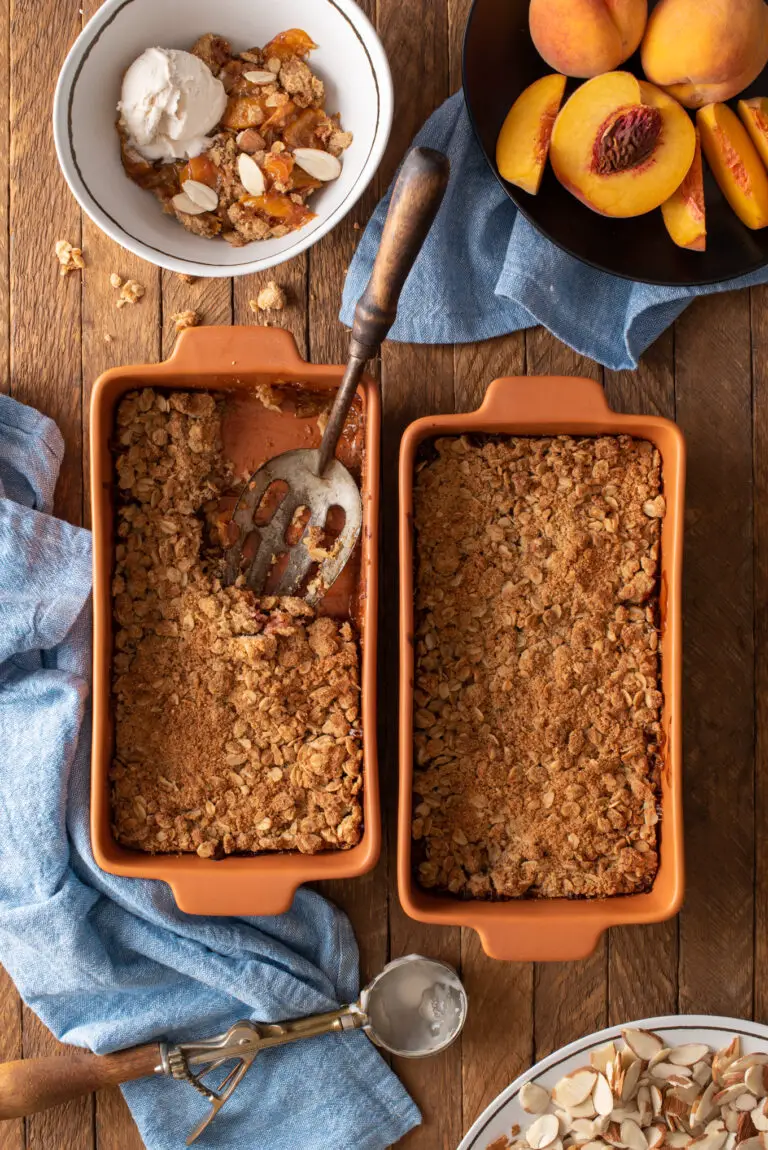 We can't let peach season go by without sharing at least one of our favourite peach recipes! There is nothing better than local, ripe, juicy peaches and we load up this Ginger Peach Crumble with them!
Peaches, like most plant foods, are rich in antioxidants – those beneficial compounds that protect your body from oxidative stress. The fresher and riper the peach, the more antioxidants it contains. If you'd like to read more about antioxidants and their benefits, you can read our Wellness article: Antioxidants and Foods Containing Them.
Peaches contain both soluble and insoluble fibre. Fibre is a key component to establishing and maintaining a rich and diverse microbiome – AKA gut health! Peaches have also been shown to aid in digestion. Interestingly, peaches may also reduce histamines in the body, making them beneficial for allergy sufferers.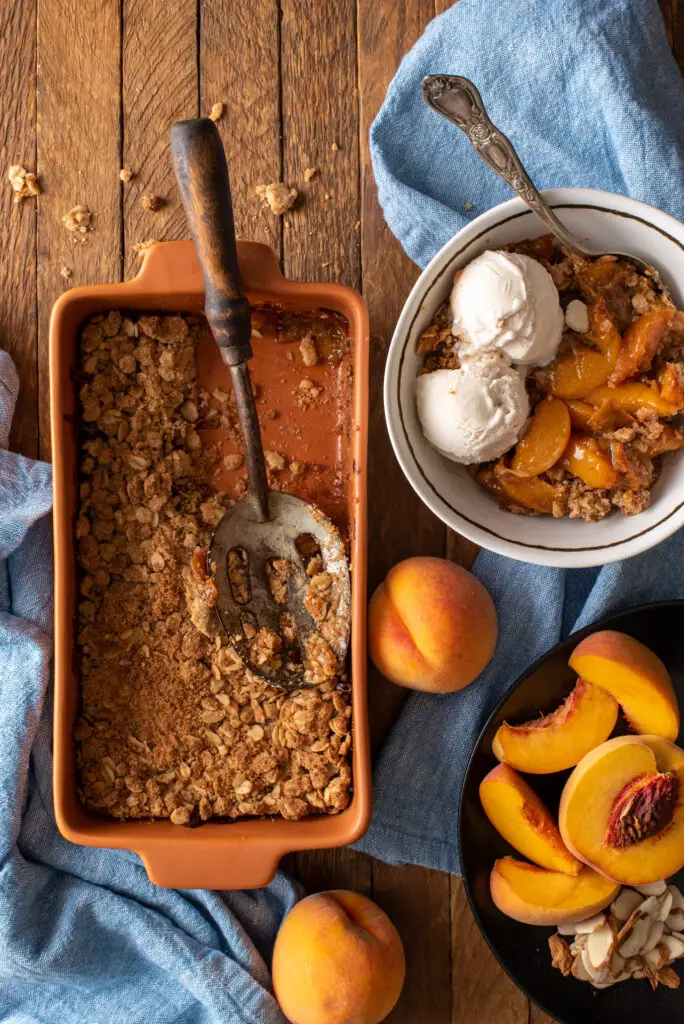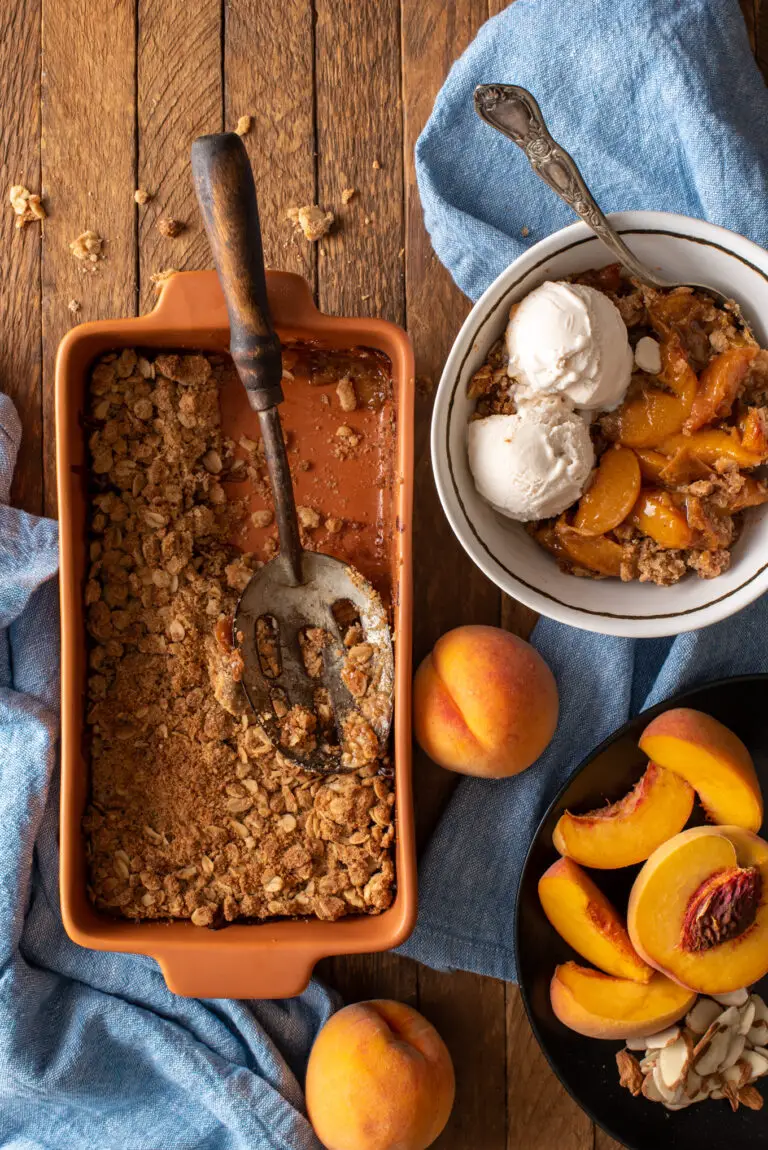 In addition to an abundance of mouth watering peaches in the recipe, we added fresh ginger which enhances the nutrition in this crumble. If we have dessert, we love for it to be healthy as well! Ginger is one of the healthiest spices on the planet and we use it every chance we get. One of ginger's best qualities is its anti-inflammatory properties – good for both chronic and acute pain.
Instead of adding only raw peaches to this recipe, we made a chutney with some of them. This acts as a thickener for the crumble and adds a little more creaminess and flavour to the base of the dessert. We kept this crumble gluten free by using GF oats and GF coconut flour. You can substitute for other GF flours if you prefer such as almond or rice flour. You can also substitute for a non-GF flour such as Organic Spelt if gluten is not an issue for you.
We included some natural sweeteners in this peach crumble – coconut nectar and maple syrup. If you don't have coconut nectar, feel free to use any combination of maple syrup or cane sugar. This crumble is not as sweet as it would be if you used refined sugar but we prefer the subtle sweetness of the peaches shine!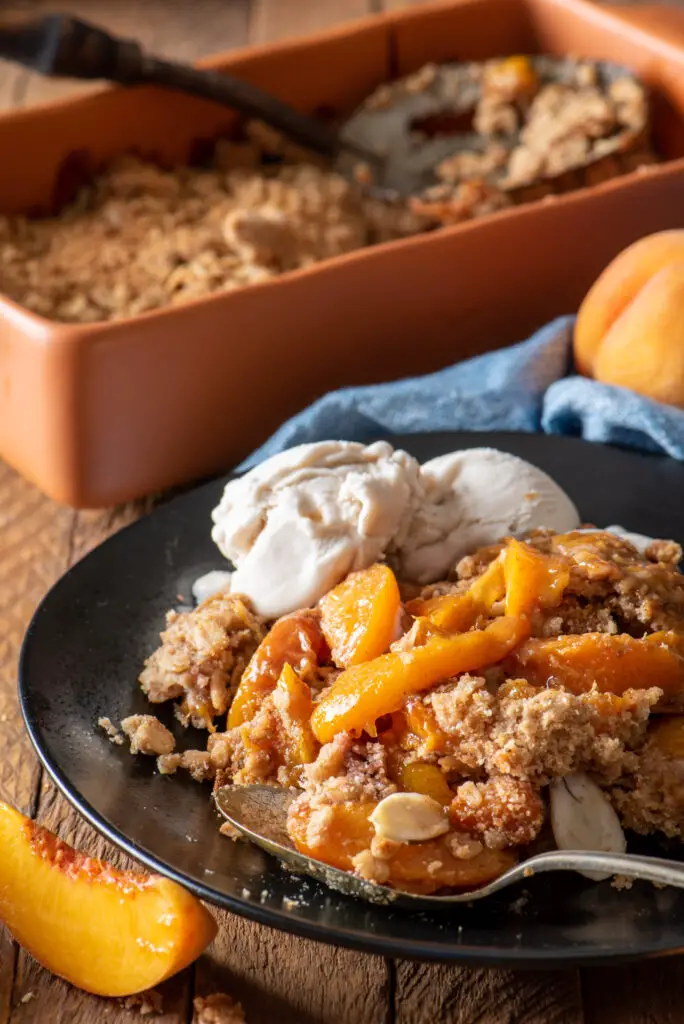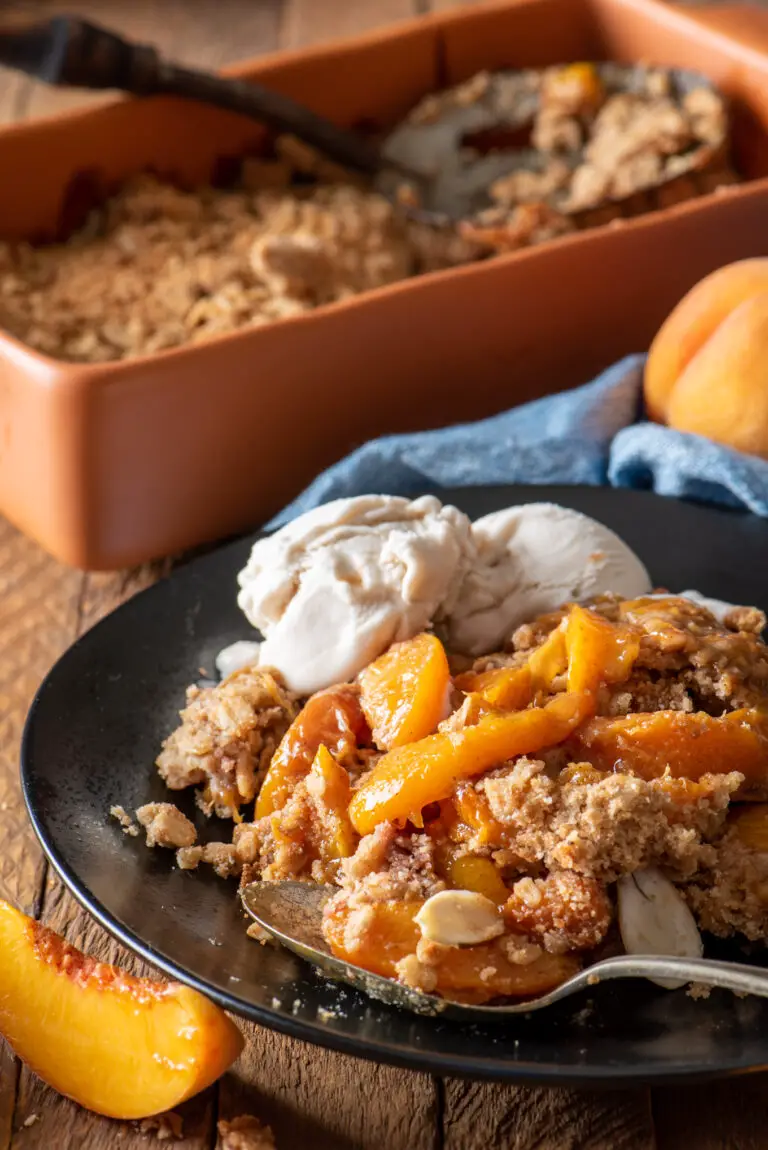 We hope you love this Ginger Peach Crumble. If you're looking for more Sweet inspiration, try out this Lemon Strawberry Loaf,  Maple Almond Coffee Cake, or Almond Chocolate Chip Cookies.
Let us know if you make this Ginger Peach Crumble. We are all about sharing and conversation! Leave a comment and a rating and don't forget to show us a photo of yours by tagging us @plantedandpicked on Instagram and hashtagging it #plantedandpicked. We appreciate you stopping by and love sharing with you!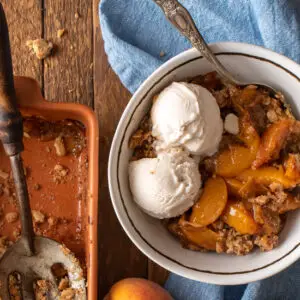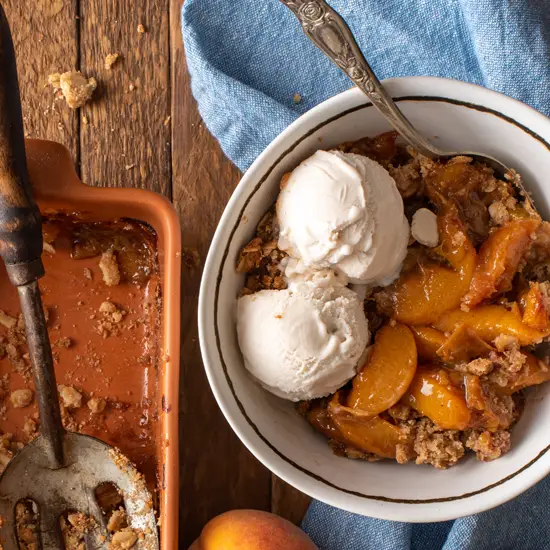 Ingredients
Peach Chutney
2

cups

ripe peaches, diced

½

tsp

cinnamon

1

tsp

coconut oil

2

tsp

fresh ginger, grated

1

tbsp

coconut nectar (or other sweetener such as maple syrup or cane sugar)
Peach Base
6

cups

sliced ripe peaches

½

lemon

juiced

¼

cup

maple syrup (or other natural sweetener)

1

tsp

vanilla

½

tsp

cinnamon

¼

tsp

grated nutmeg or allspice

1

tbsp

arrowroot starch or organic corn starch
Crumble Topping
1

cup

oats

½

cup

oat flour

½

cup

coconut flour

¼

cup

coconut oil, melted

½

tsp

cinnamon

¼

cup

organic cane sugar
Instructions
Peach Chutney
Heat a pan or pot over medium heat and add coconut oil.

Add ginger and heat for about one minute (be careful not to burn).

Add remaining chutney ingredients and stir to combine.

Simmer, stirring occasionally for about 30 minutes. The peaches will break down and the mixture should have a jammy consistency.
Peach Base
Slice each peach into about 8 slices. Place all peach slices in a large bowl.

Add remaining ingredients and stir to combine.
Crumble Topping
If your coconut oil is solid, heat the coconut oil gently in a small pot to liquify.

Add all crumble topping ingredients to a medium sized bowl and stir to combine.
Baking the Crumble
Mix the peach chutney into the large bowl of peaches for the base of the crumble.

In an 8" x 10" baking dish, add the peach mixture and spread out evenly in the dish.

Top the peaches with the crumble mixture and spread evenly.

Place the dish into the oven and bake for about 30 minutes. The topping should be a golden colour.

Let cool for about 15 minutes before serving. This crumble pairs great with some coconut ice cream on top!