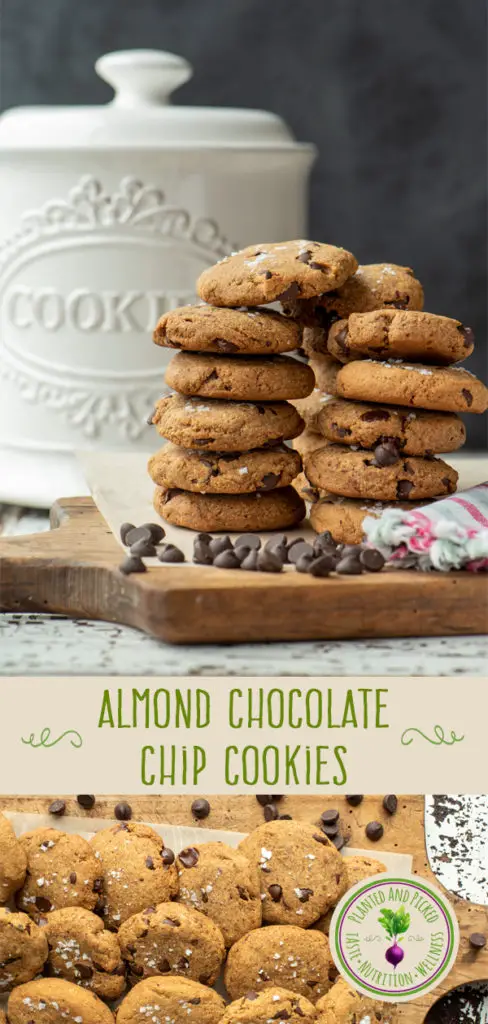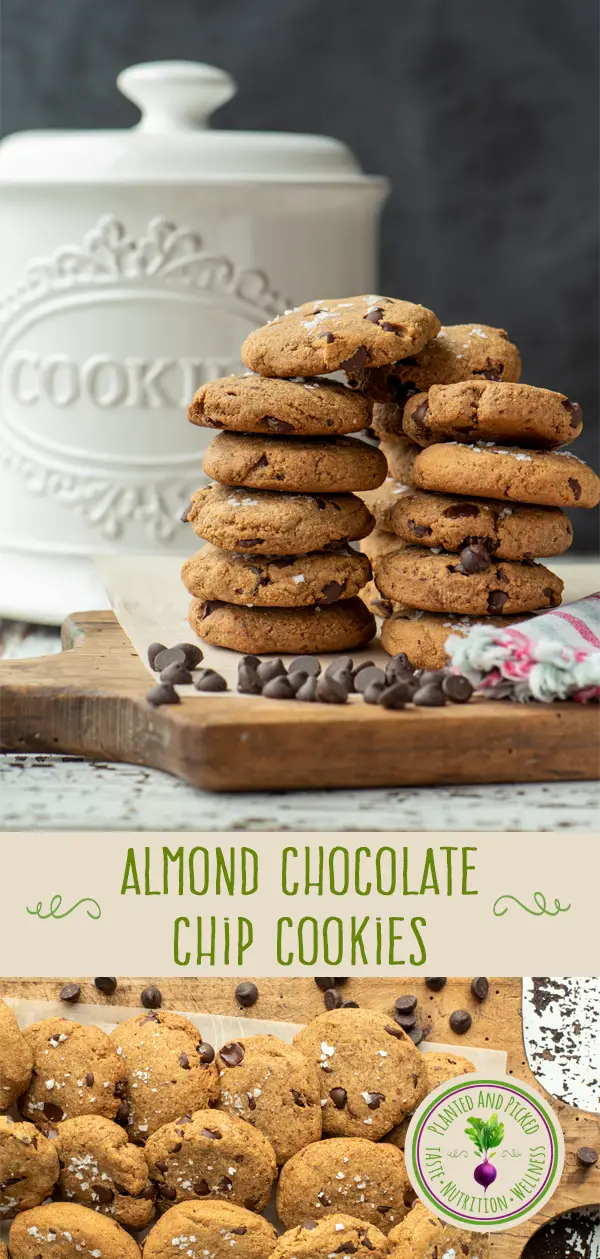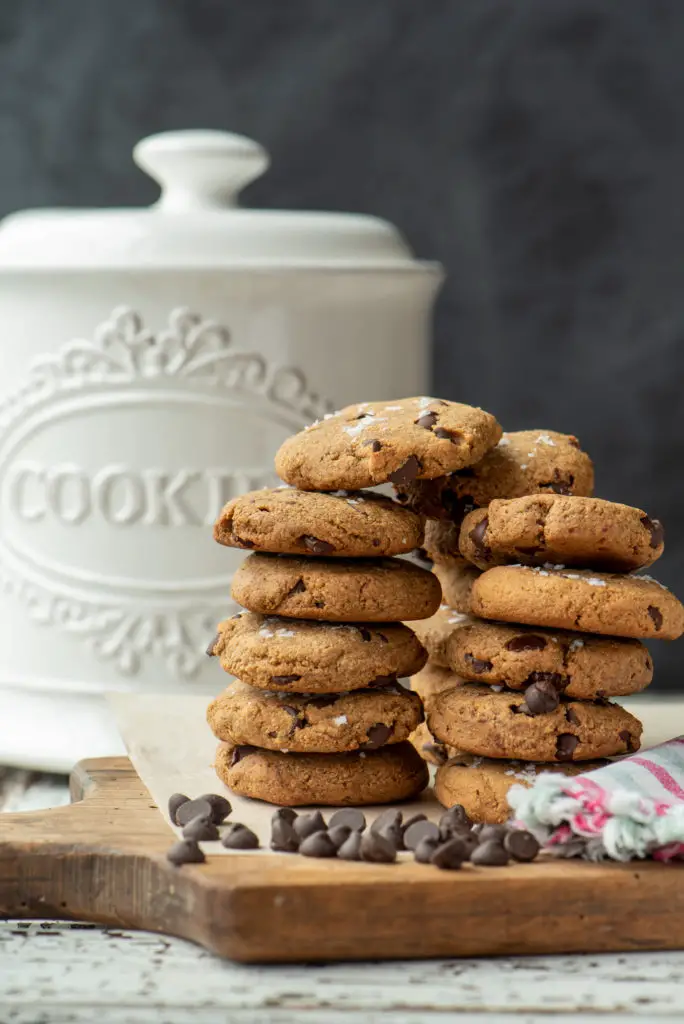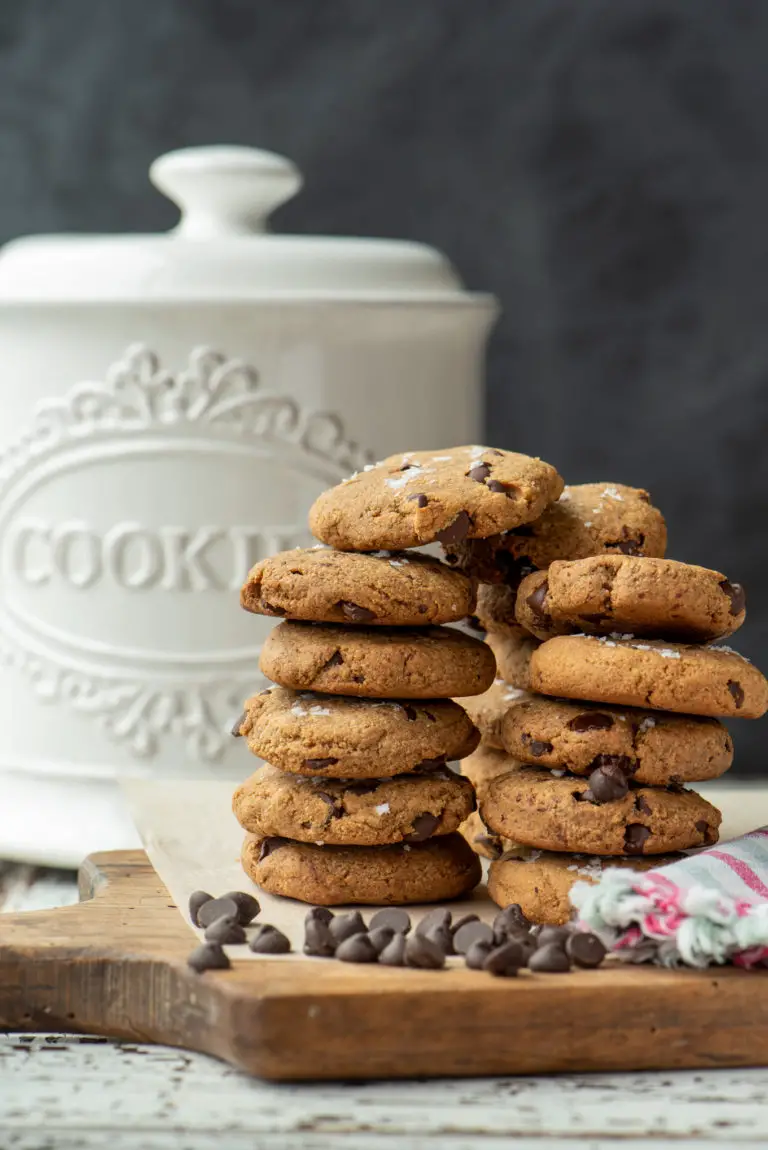 These Almond Chocolate Chip Cookies are a guilt free treat when you are craving something sweet. You can also keep them on hand in the freezer for a quick bite. They're made with whole ingredients and are super easy to make!
You can make this recipe with whole almonds if you want to make your own almond meal. Almond meal is made with the whole almonds (skin on). You can make almond flour with with blanched almonds (skin off). The flour will be fluffier than the meal because it has a finer texture. Almond meal on the other hand, will retain more nutrients and have more fibre because it contains the skins. Using almond meal will provide a denser, drier cookie. We made two different batches of cookies here, using both the meal and the flour. We enjoyed both, but if you prefer a lighter cookie – go with the flour.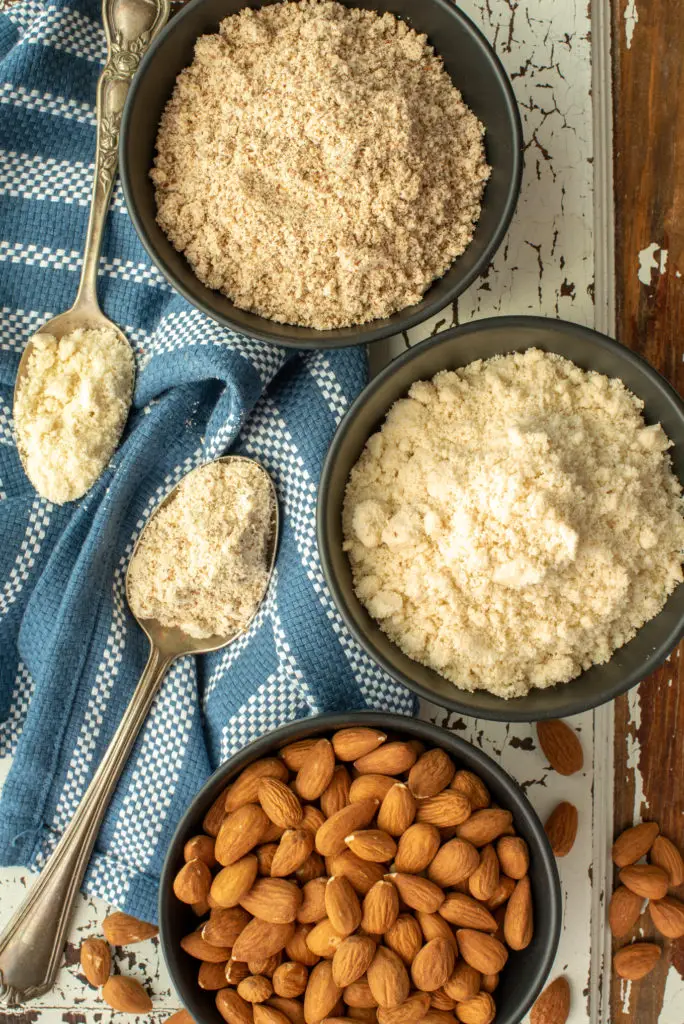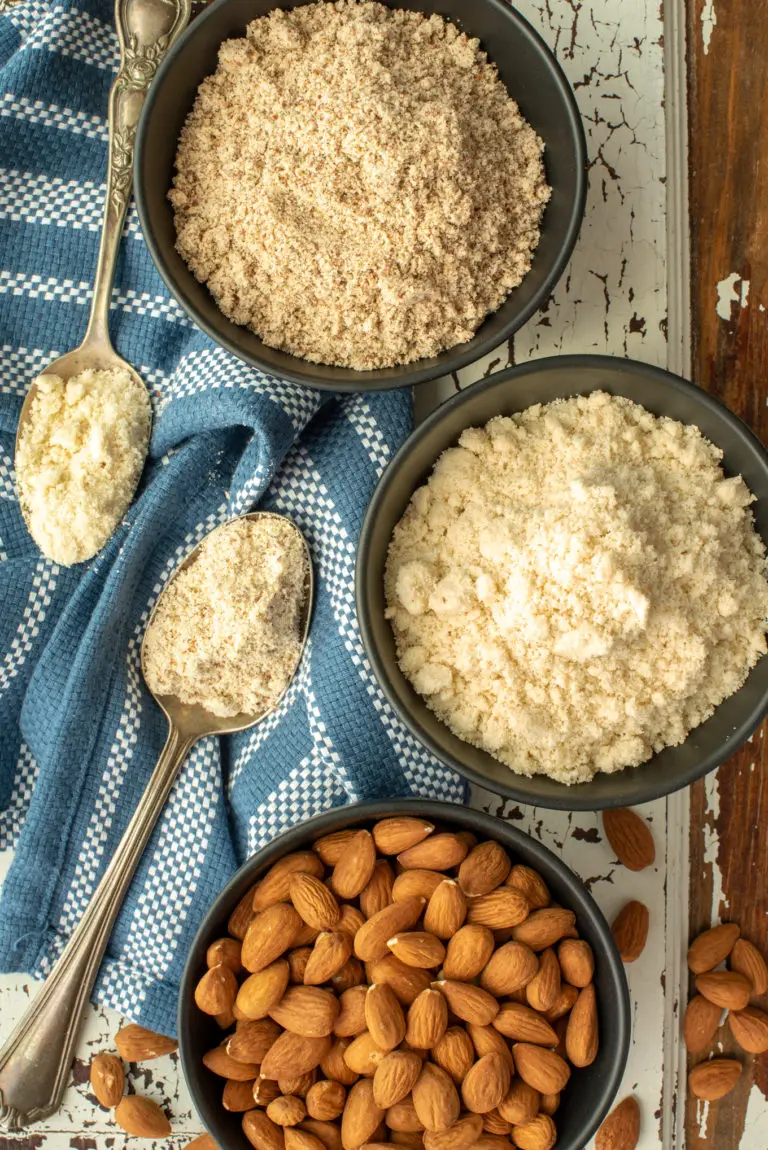 How to Make Your Own Flours
You can easily make your own almond meal. Place two cups of whole almonds in a high speed blender or food processor and pulse on high for 3 to 5 minutes. Stop periodically to scrape down the sides. Make sure you do not over process the almonds or you will make almond butter! Also good, but not what you need for this recipe! If you want to make almond flour, follow the same process using blanched almonds instead. You can certainly save money by making your own flours.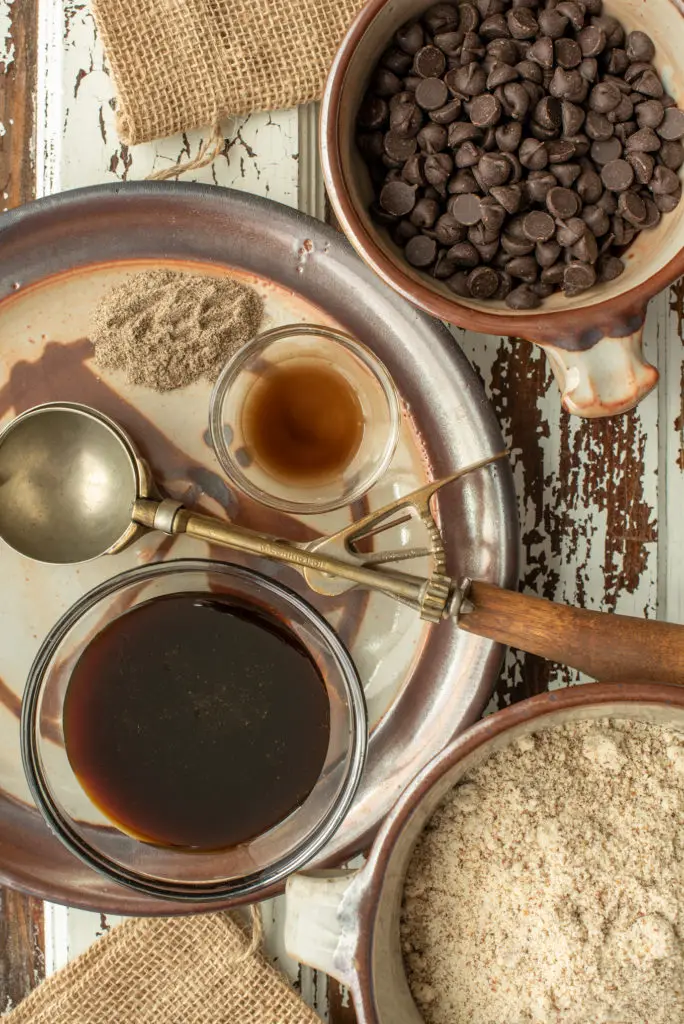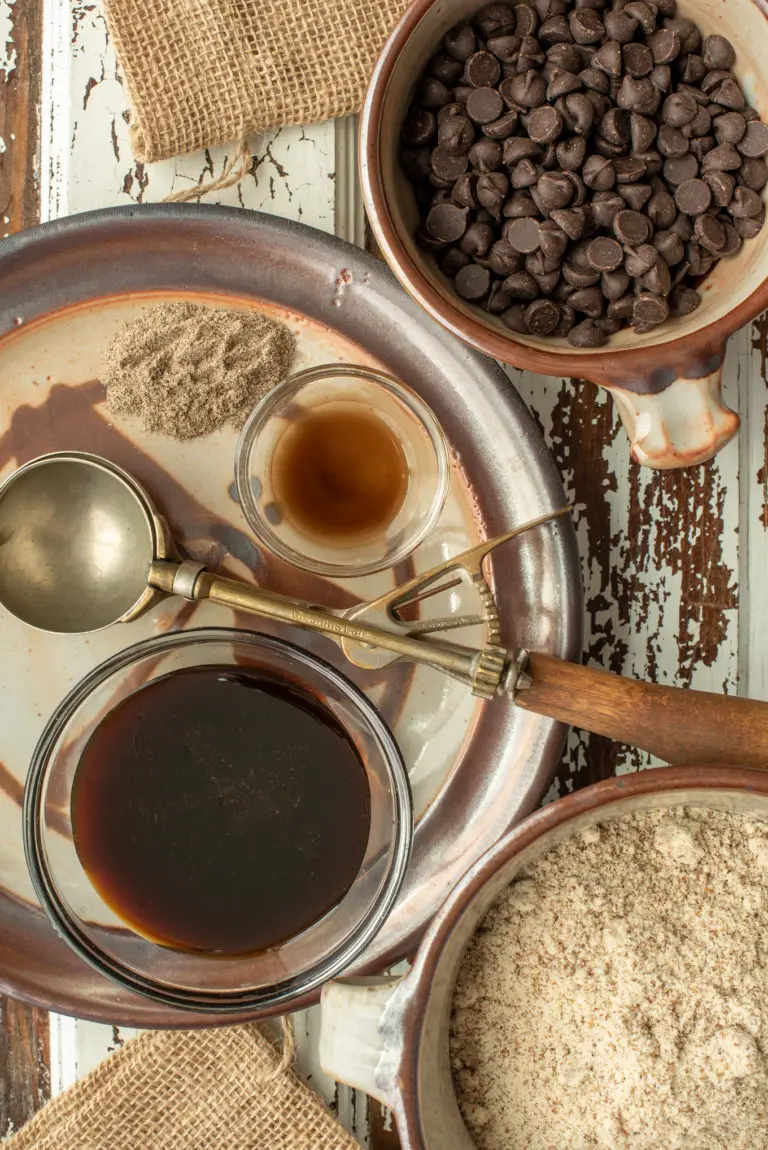 Finishing Touch for the Cookies
We sweetened these cookies using coconut nectar. Coconut nectar is the sap from from the flowers of a coconut tree that has been boiled just enough to thicken it. It has a really sticky texture, similar to molasses. It will help the cookies bind together better than a runnier liquid sweetener such as maple syrup. However, feel free to replace the coconut nectar with another liquid sweetener if you prefer or if you can't get access to the coconut nectar. Coconut nectar is less sweet than other substitutions, such as maple syrup or agave.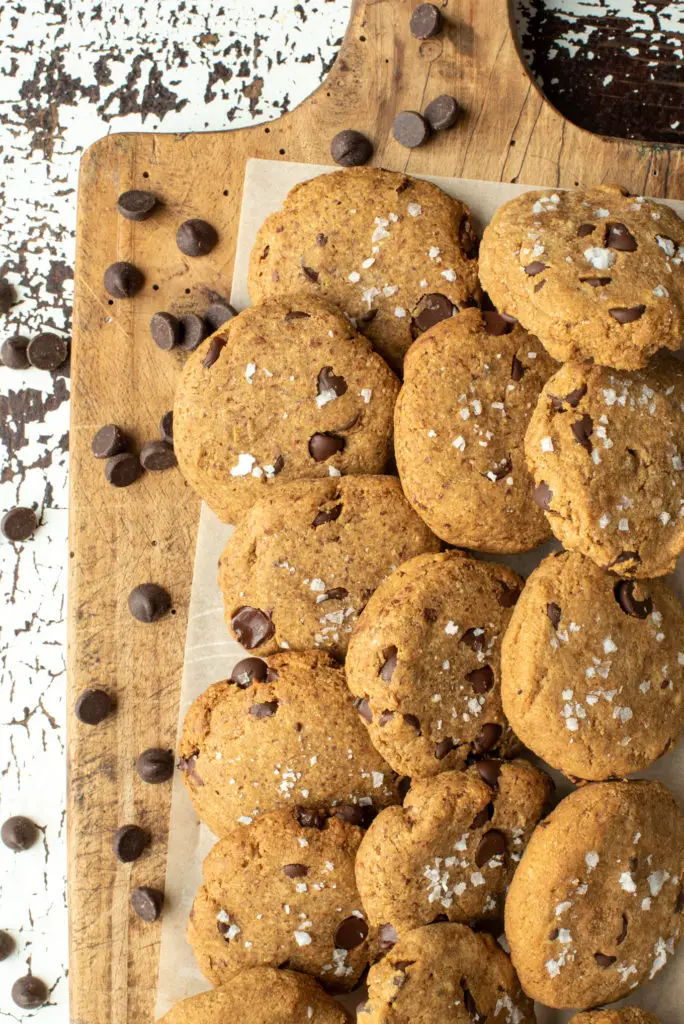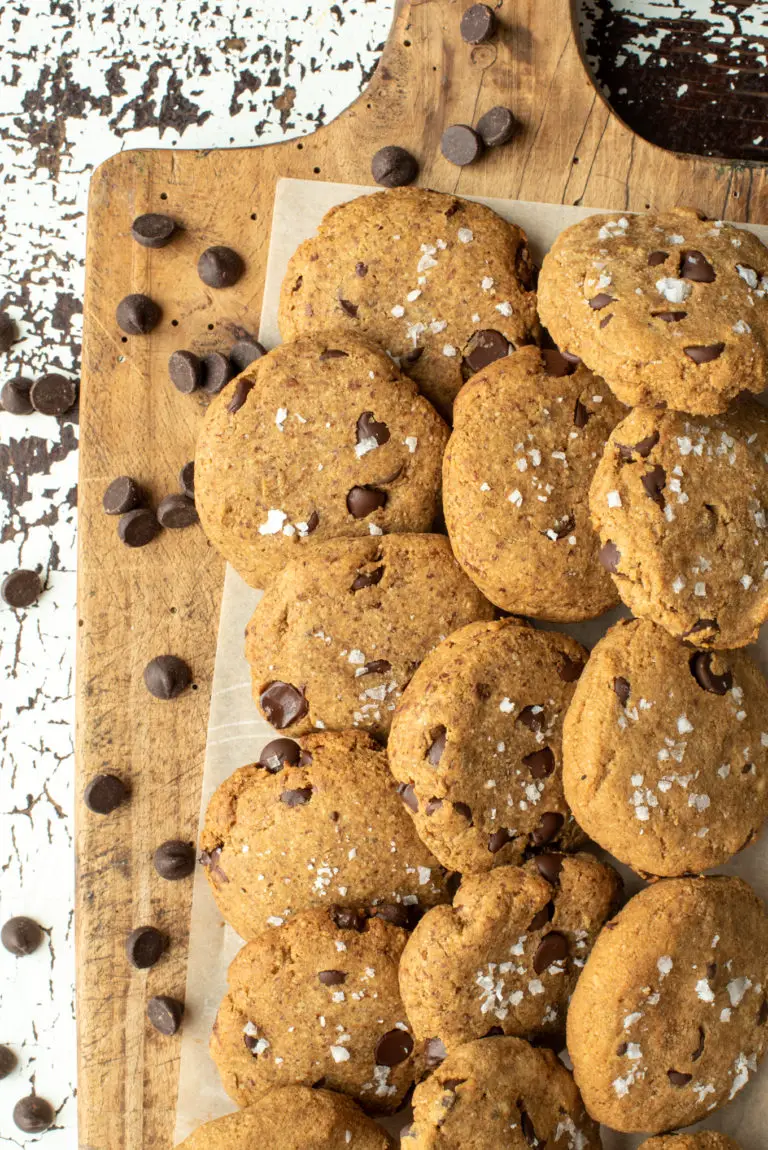 We make a batch of these cookies on the weekend and store them in an airtight container in the freezer. When we want a cookie, we take one out and let it thaw for about 5 minutes. These cookies are vegan, paleo and gluten free and perfect when you want a wholesome treat.
If you like the sound of these Almond Chocolate Chip Cookies, we're guessing that you will want to try out these No-Bake Granola Bars or these Seedy Almond Butter Energy Bites. Healthy can always be tasty too!
Please let us know how these Almond Chocolate Chip Cookies turn out. We are always happy to see your feedback and answer any questions you have. Leave a comment and a rating and don't forget to tag us @plantedandpicked on Instagram and hashtag it  #plantedandpicked.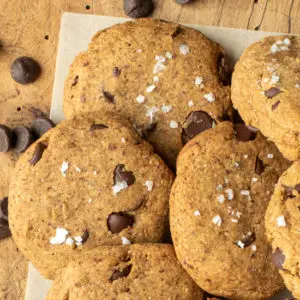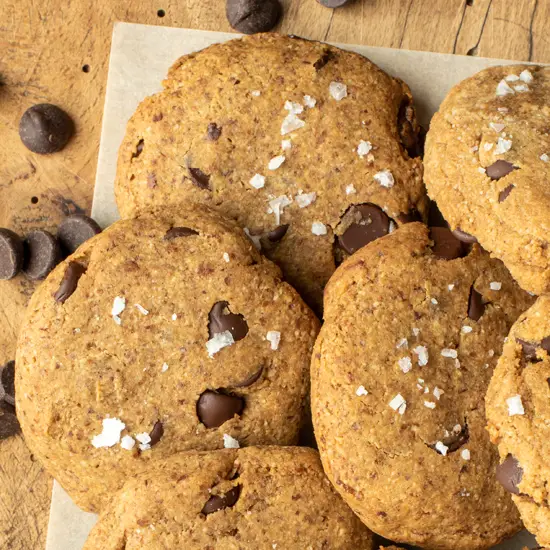 Ingredients
2

cups

whole almonds (or almond meal or almond flour)

¼

cup

coconut nectar

1

tsp

ceylon cinnamon (or cardamon)

½

tsp

vanilla

½

cup

vegan chocolate chips

1

tbsp

filtered water

pinch

flaked sea salt (for the top)
Instructions
If you are using whole almonds, place them in a food processor or high powered blander and pulse until almonds form a meal (course flour consistency). You will have to scape the sides a few times. It could take a few minutes to reach the desired consistency.

Place the almond meal in a large bowl along with the rest of the ingredients (except the salt).

Stir to combine. Add more water if necessary, a tsp at a time until the dough sticks together. We have not had to add anymore than an extra 1 tsp of water.

Either use a small spring form cookie scoop or measure out slightly less than a quarter cup of the dough and shape into a patty. The cookies will stay in the shape and size that you make them since there are no rising agents in them.

Place cookies on a Silpat or parchment lined cookie tray. Sprinkle with flaked sea salt if desired. This recipe will make 9 to 10 cookies.

Bake for about 18 minutes.

Remove the cookies from oven and let cool on a wire rack.

The cookies can be placed in an air top container and stored in the freezer for up to 3 months.