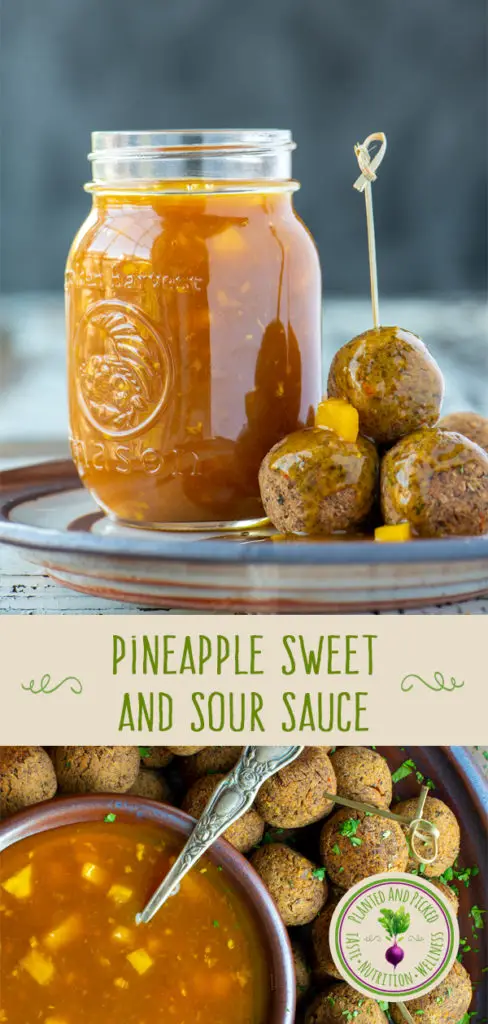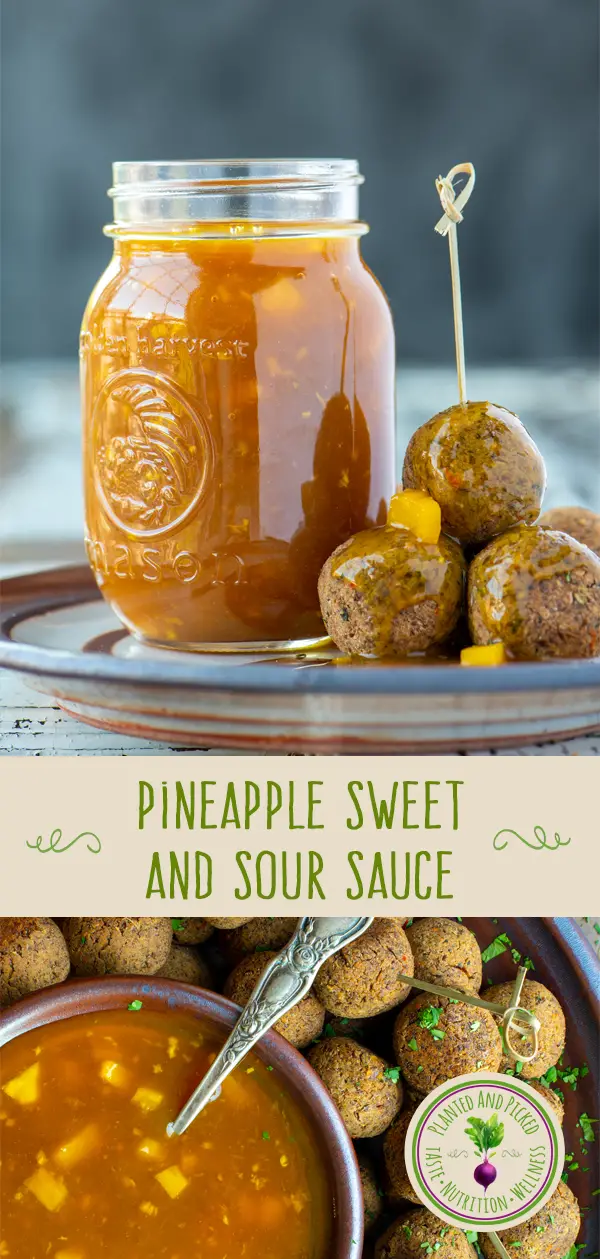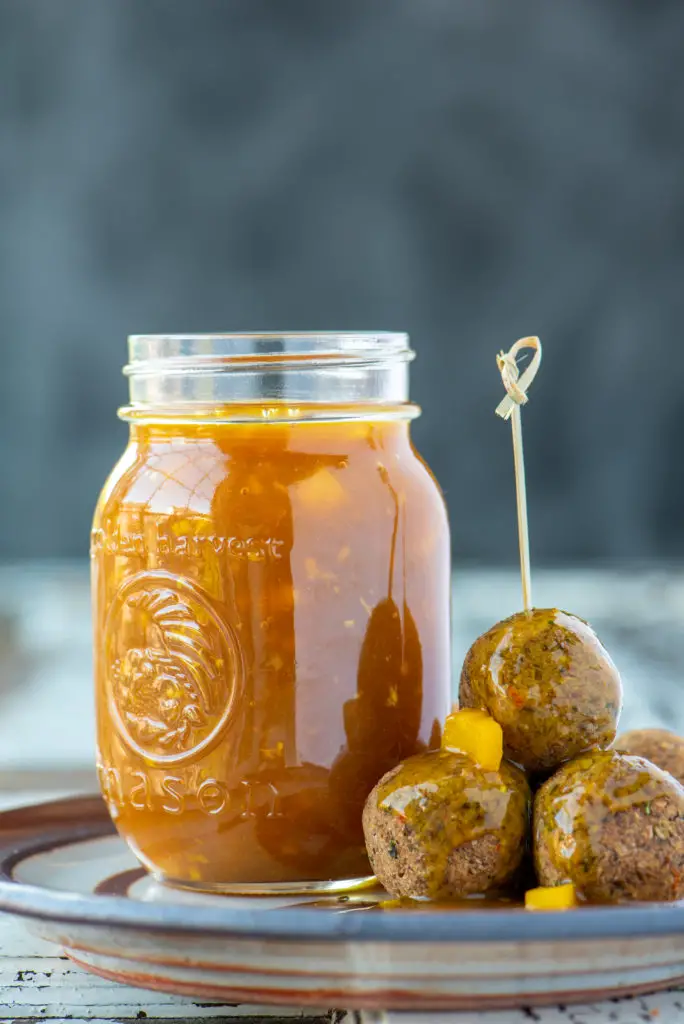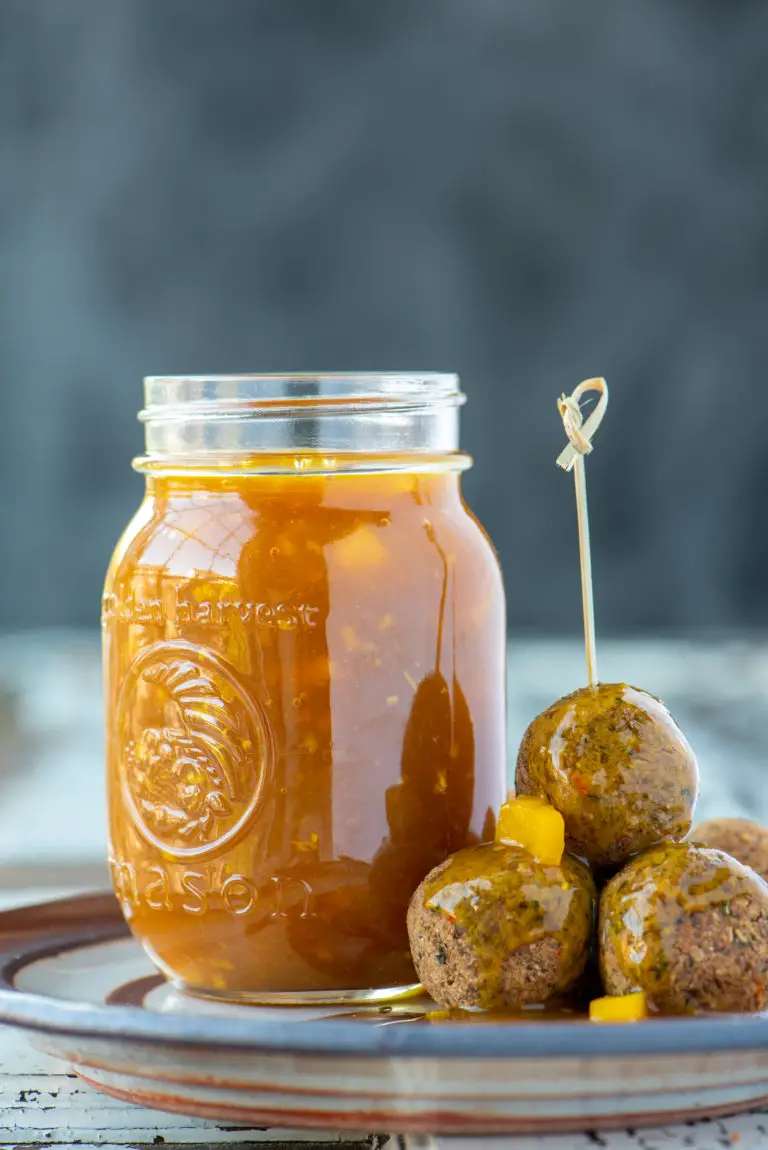 We like to serve this Pineapple Sweet and Sour Sauce over our Asian Lentil Balls with rice and broccoli or steamed greens for a satisfying dinner. It's always good to have a variety of recipes for sauces so that you can add flavour and interest to any meal. The combination of the sauce with the lentil balls also makes a great appetizer as pictured below. It also works very well with baked tofu.
Many traditional sweet and sour recipes contain A LOT of added sugar. This recipe reduces the sugar load. The 'sweet part' part is catered for by a combination of maple syrup and fresh pineapple juice. We also add garlic and ginger to provide some nutrients – most notably cancer fighting and anti-inflammatory properties.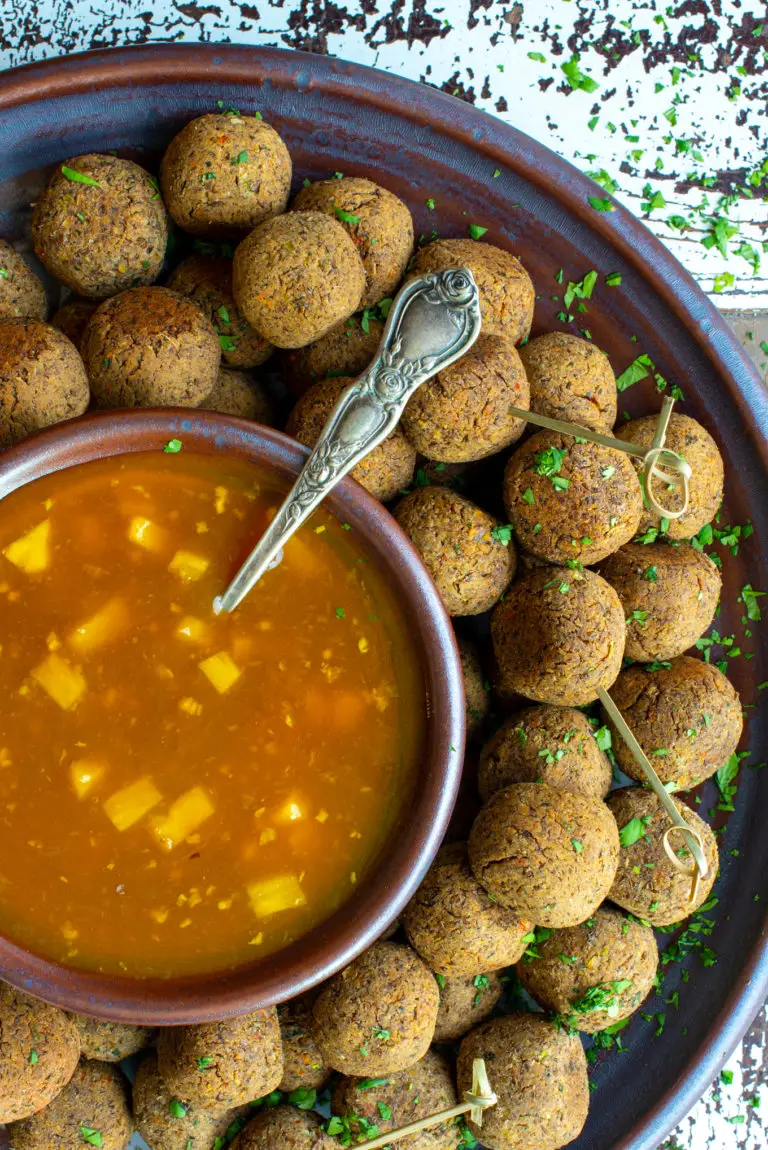 Apple cider vinegar is a probiotic and good for gut health. We do, unfortunately, diminish some of these characteristics because we are cooking it and not consuming it in it's raw form. However, it is still more beneficial in this sweet and sour sauce than say a plain white vinegar.
Ah turmeric . . . we try to find ways to add turmeric to anything we can. Turmeric has been a beloved spice in India for thousands of years. It contains curcumin which has been extensively studied for it's anti-inflammatory properties – one of the most powerful in the plant kingdom! By adding small amounts to recipes, you obtain benefits without overpowering the flavour. Turmeric also supports the liver. Include turmeric in your diet as often as possible!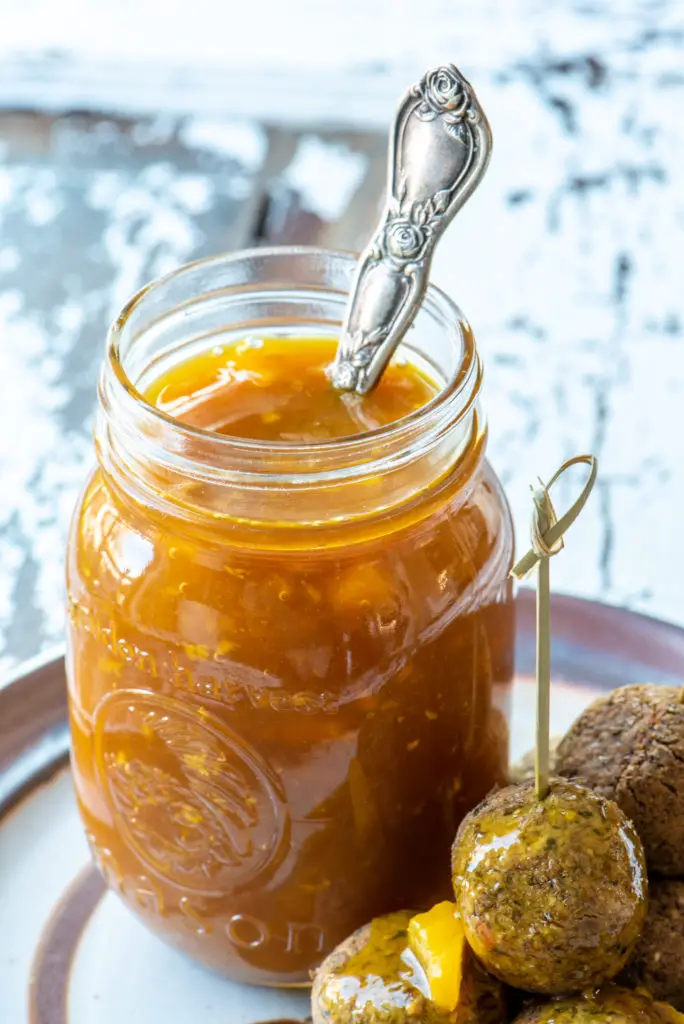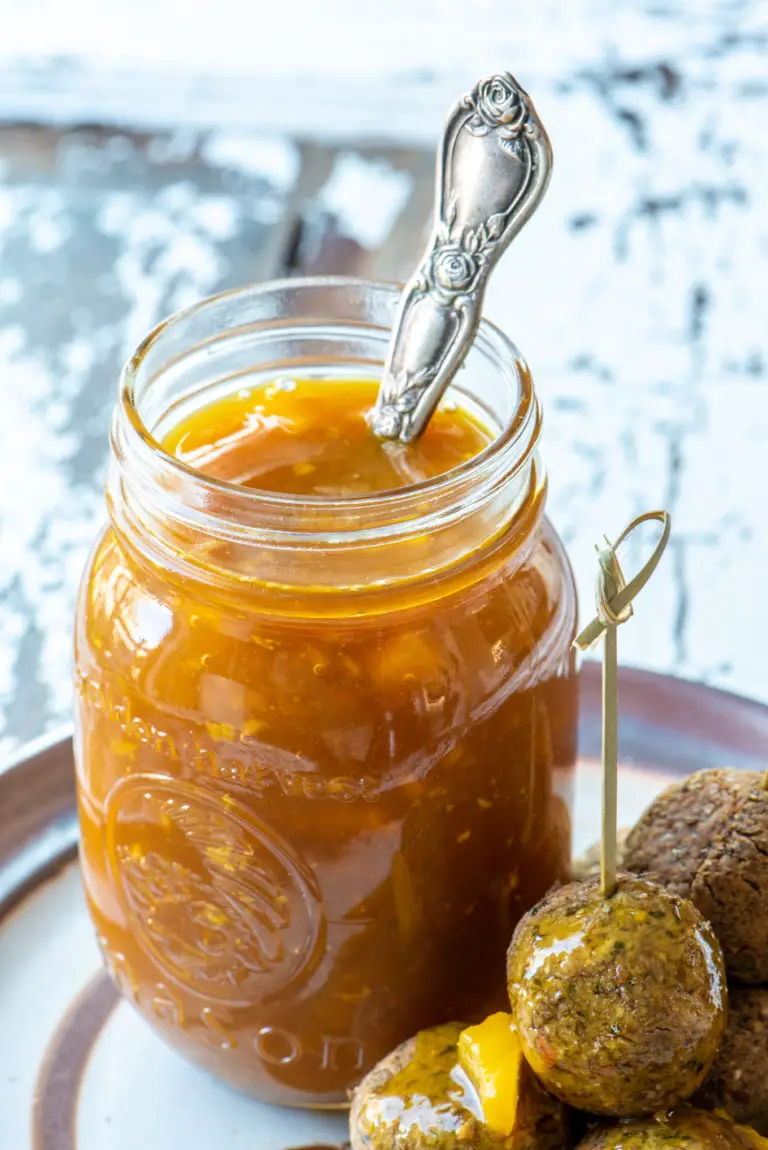 If you love dips and condiments, try this Indian Spiced Tomato Chutney or this Vegan Cashew Queso Dip. This Habañero Plum Hot Sauce or this Mango Lime Hot Sauce are also great if you like a little heat!
We really hope that you enjoy this Pineapple Sweet and Sour Sauce. Try it out and let us know how you like it. We always look forward to your feedback and your ideas for any changes! Leave a comment and a rating and don't forget to tag us @plantedandpicked on Instagram and hashtag it  #plantedandpicked. Pull up a chair and enjoy!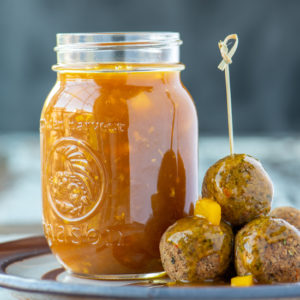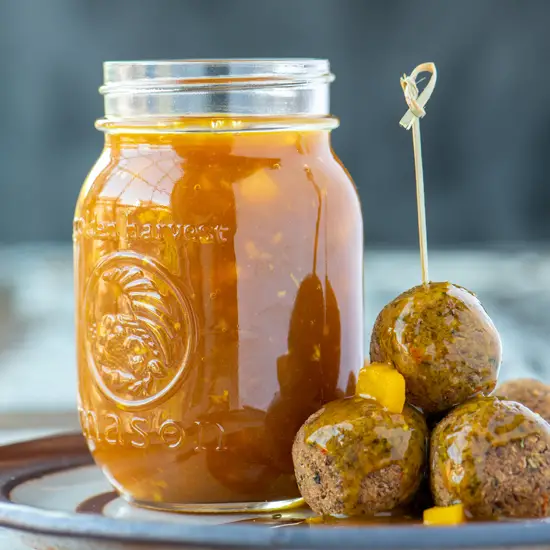 Ingredients
1

cup

pineapple juice

⅓

cup

raw apple cider vinegar

¼

cup

maple syrup

½

cup

pineapple pieces

2

tbsp

tamari

1

clove

garlic, minced

½

inch

piece ginger, minced

¼

tsp

ground turmeric

2

tbsps

arrowroot starch

6

tbsp

cold water
Instructions
If you have a juicer, you can juice part of a pineapple to obtain 1 cup of juice.

Dice a half cup of the pineapple into small chunks.

Alternatively, you can use the juice and pineapple from a can.

Combine pineapple juice, vinegar, maple syrup, tamari, garlic, ginger and turmeric in a pot. Bring to a bowl.

Reduce heat and simmer gently for 3 minutes.

Mix arrowroot starch and cold water in a small bowl.

Add arrowroot starch mixture to the pot. Bring to a boil, reduce heat and boil gently for 1 minute. Add pineapple pieces. Remove from heat and serve.