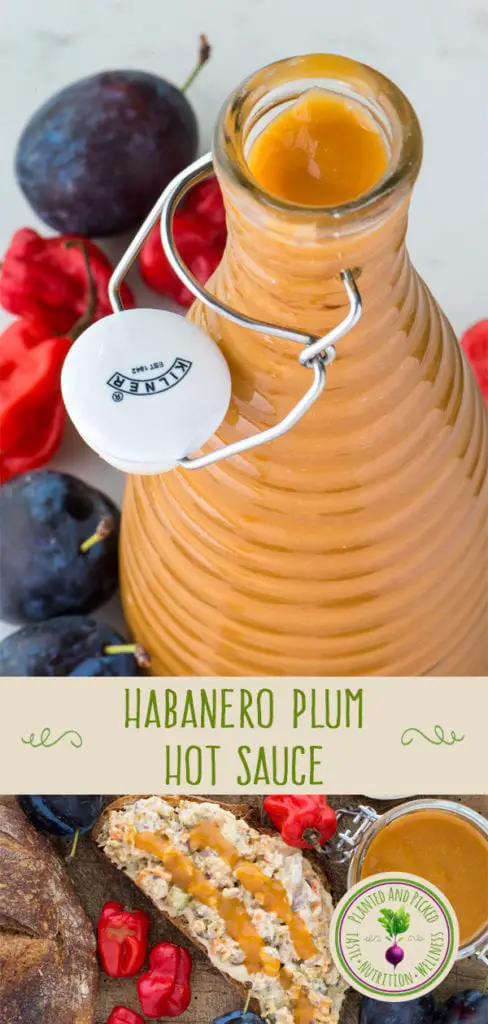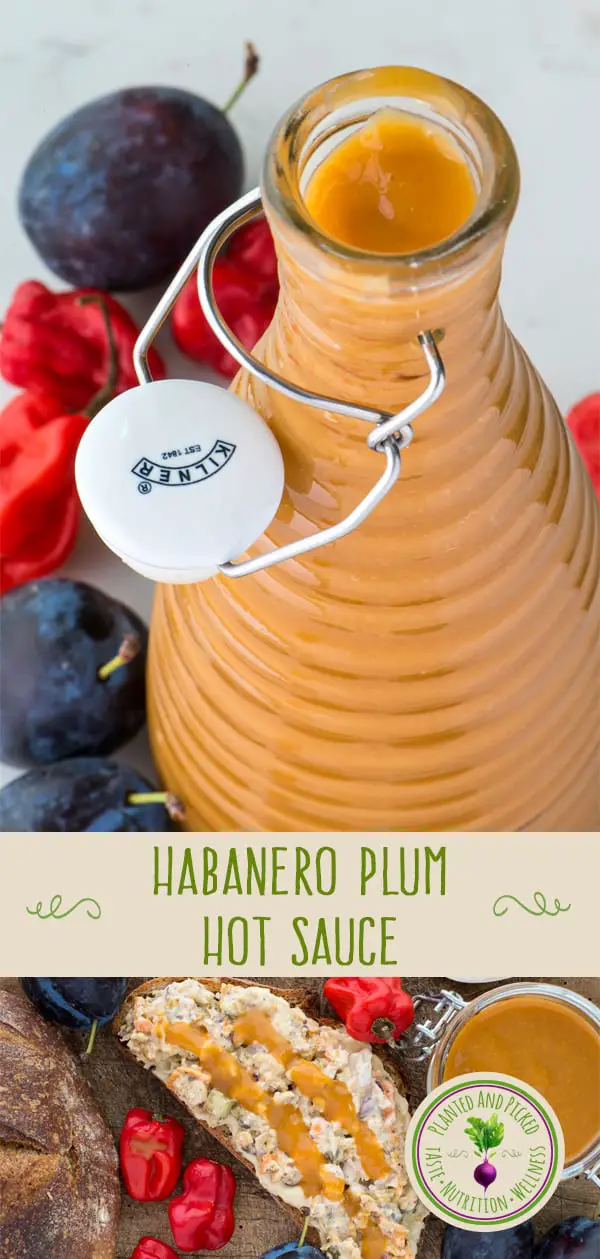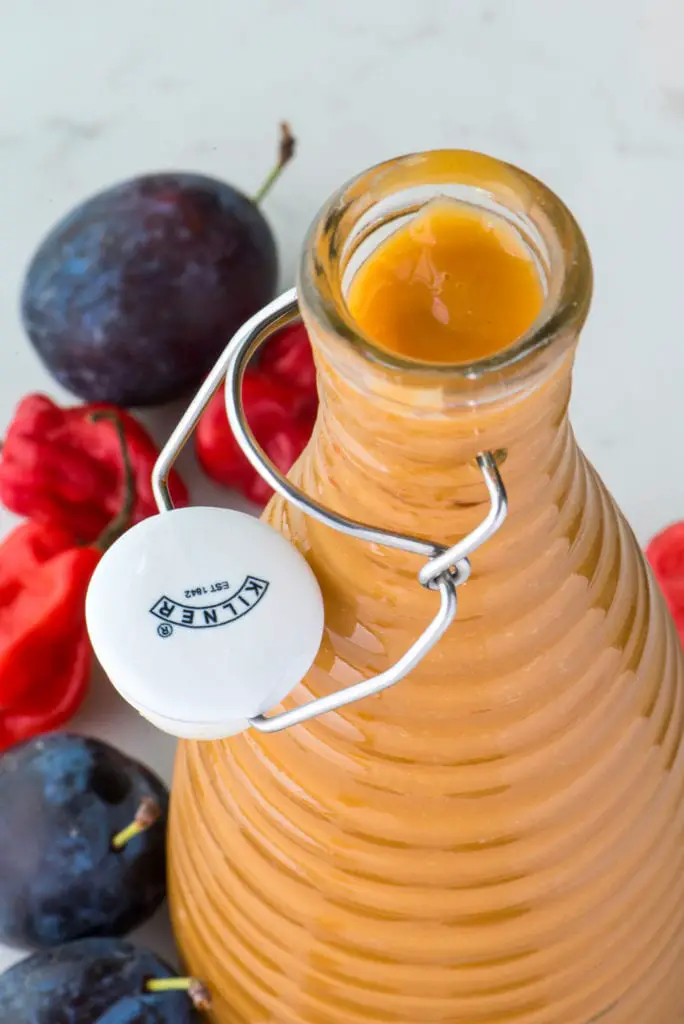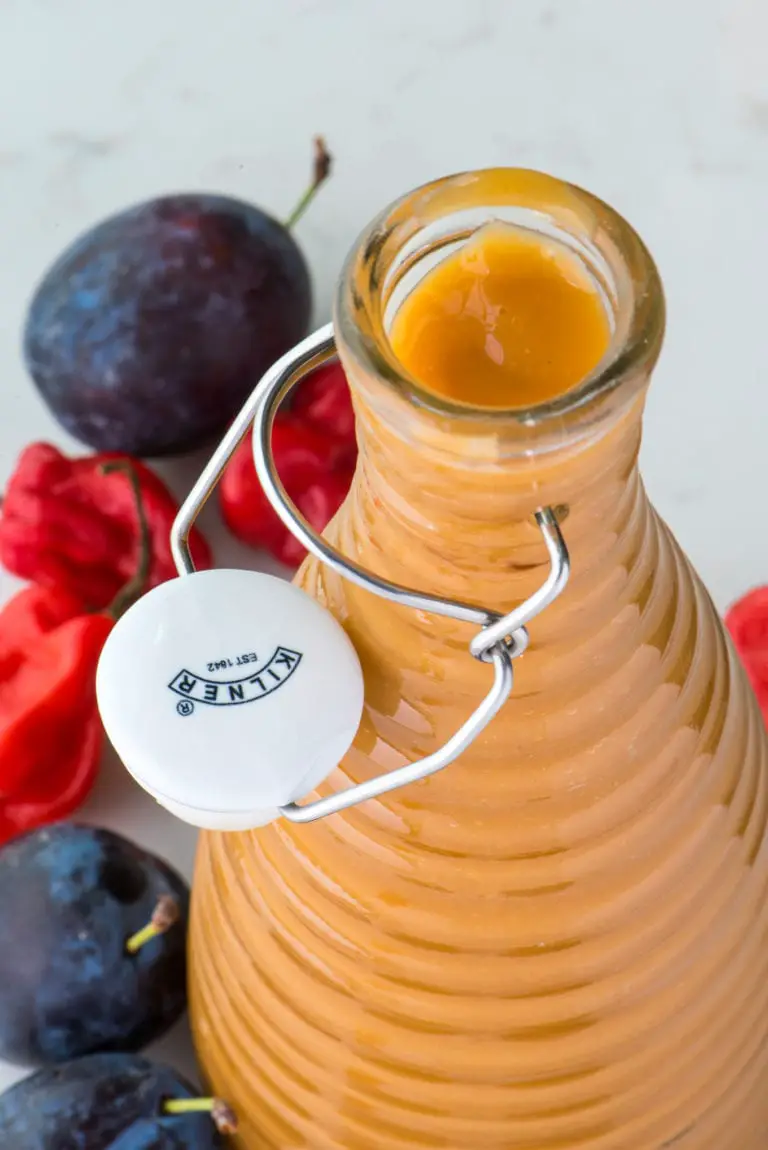 Plums are in season straight into the fall and are wonderfully juicy when they are their freshest. Fall is our favourite time of year because we love to make the most out of the harvest. This Habañero Plum Hot Sauce answers the call.
We don't make it a secret that we love sauces. When it comes to hot sauce, we want the flavours to shine and not be overpowered by the heat. Try a little of this Habañero Plum Hot Sauce with some Creamy Roasted Garlic Hummus on some flatbread, some pita or on crackers. It sparks the taste buds with a burst of flavours from the plums and limes. A little kick of heat complements these flavours and gently mellows.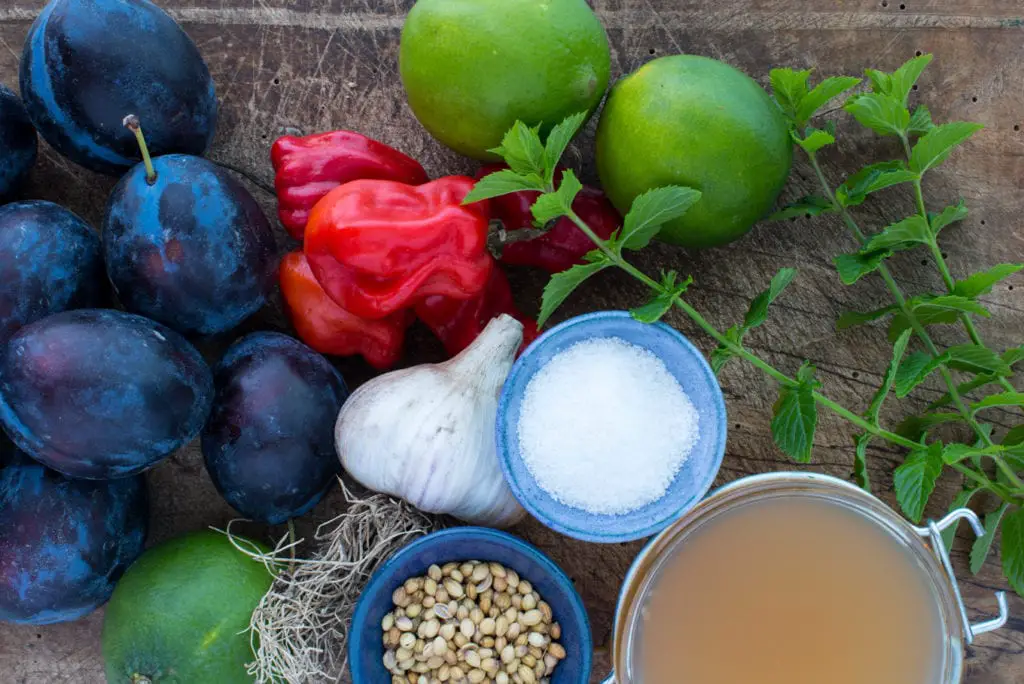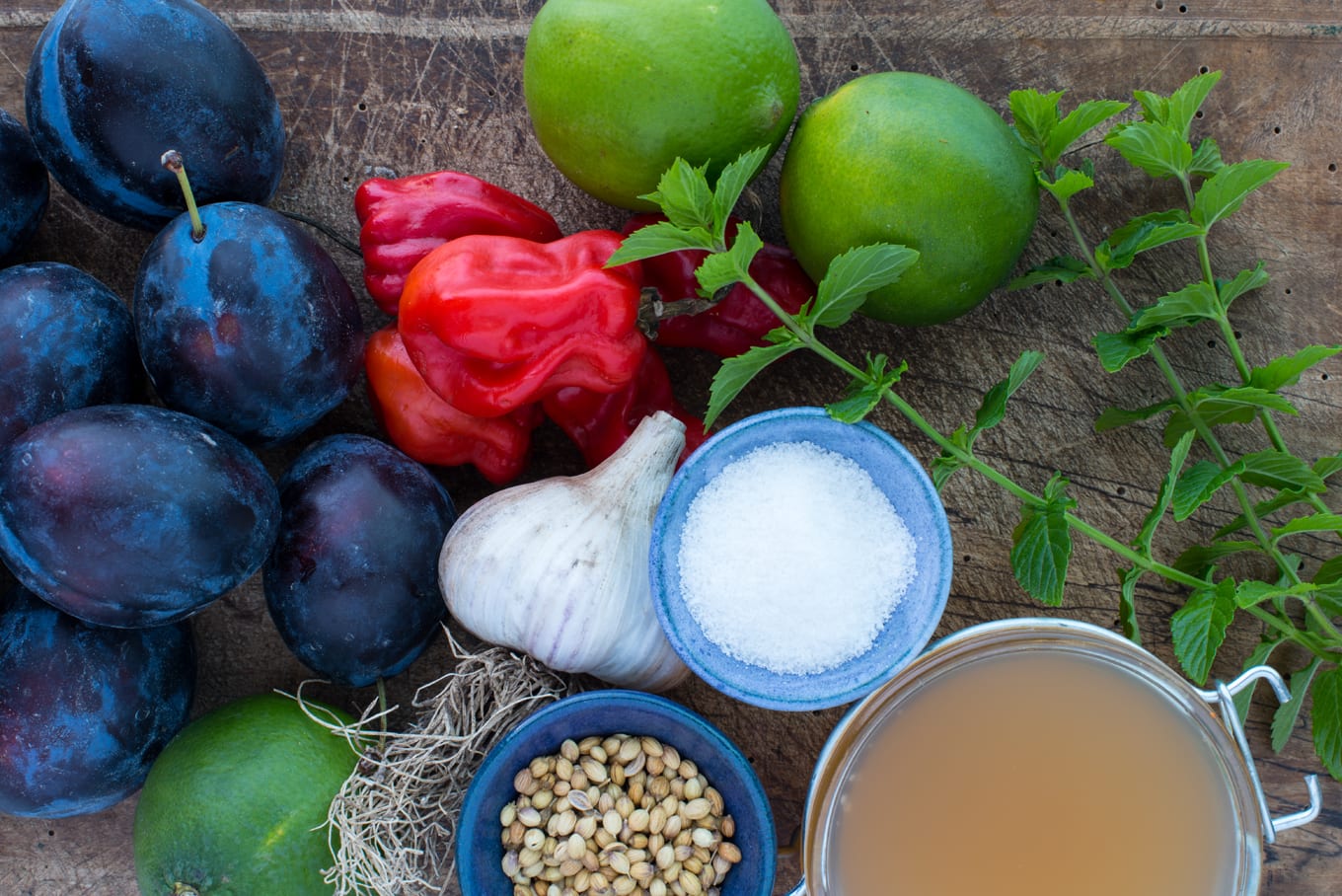 Benefits of Hot Peppers
There is some evidence that hot peppers are natural stimulants for both energy and metabolism. Some studies have linked them to lower blood fat levels as well as a reduction in blood pressure and atherosclerosis. They contain a compound called capsaicin, which helps increase blood flow in the brain, digestive system and skin. If you like life a little spicy, include some hot peppers in your diet daily!
The great thing about homemade hot sauces like this Habañero Plum Hot Sauce is that you can adjust the heat to suit your taste. Peppers' heat has a rating in Scoville Units or SHU. The habanero pepper rates at 325,000 SHU. You can read about the the origin of the Scoville Scale here at Pepperseeds.eu.
Preparation Tips for this Habañero Plum Hot Sauce
We recommend that you wear a pair of latex or non-latex gloves to handle the habanero peppers while you are preparing them. This will prevent painful stinging.
We dry-roast the spices in a small heavy cast iron pan. The smaller heavier pan will distribute the heat and contain the spices. We also pre-heat the pan over medium heat so that the spices begin to roast straight away. Be sure to shake the pan or stir the spices continuously to prevent over-roasting or burning. In the same manner that properly roasted spices will enhance the flavour of your sauce, burnt spices can ruin it. Roast the spices through rather than just heat them on the surface. Better to do this low and slow than quickly over high heat.
Once the spices become fragrant or just begin to darken, remove them from the pan immediately and let cool before grinding in a mortar and pestle or a spice grinder. We use a small electric coffee grinder.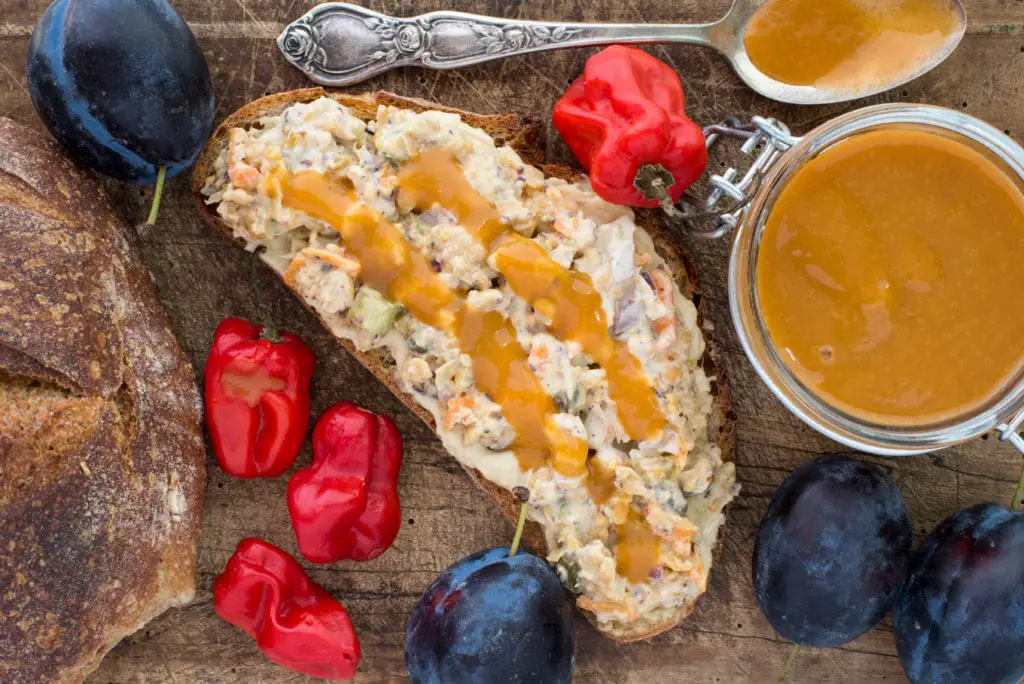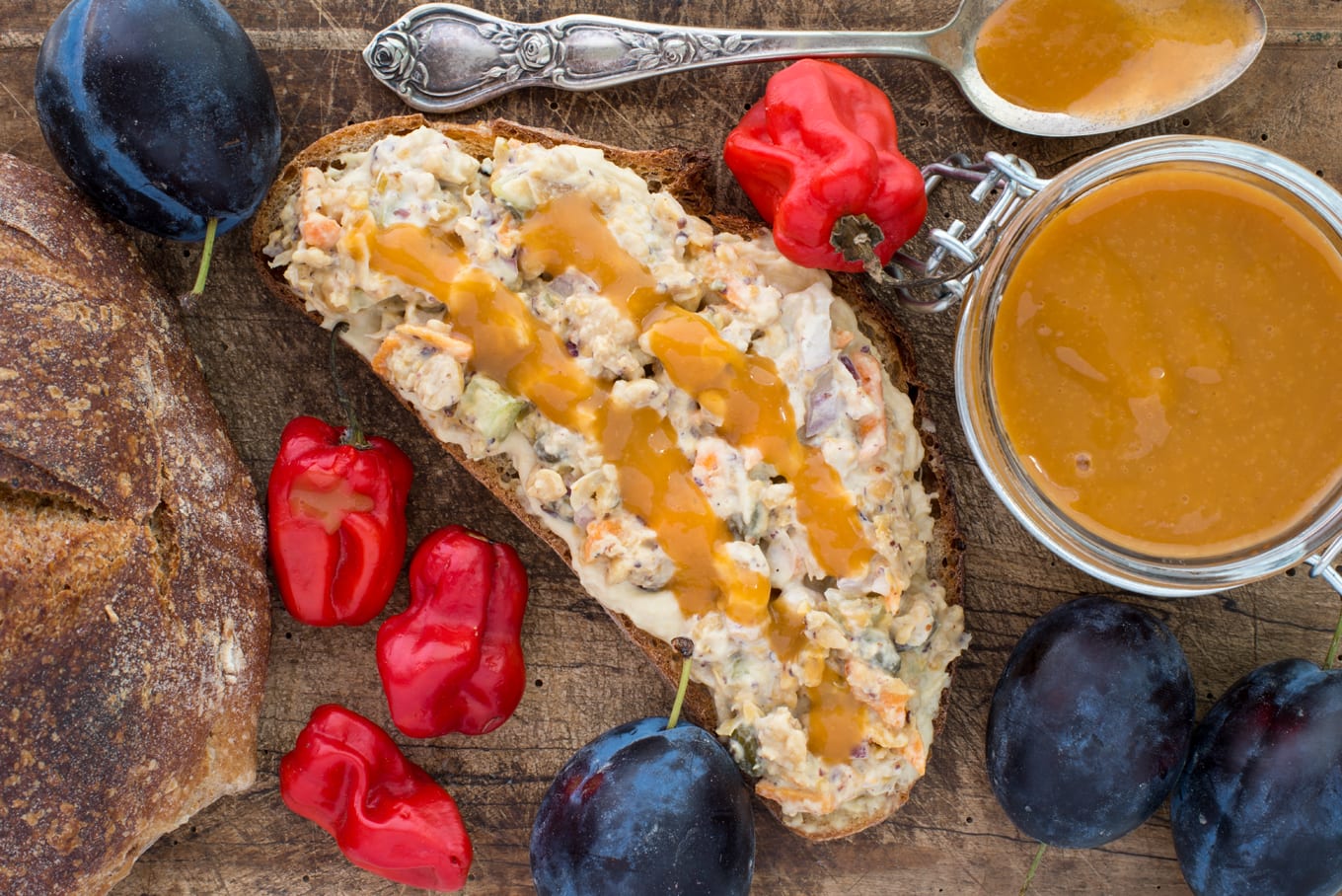 Try some of this Habañero Plum Hot Sauce with Creamy Roasted Garlic Hummus and some pita wedges or flatbread or on crackers. It is also a great condiment on a sandwich stacked with Baked Tempeh Bacon Strips or on Vegan Mexican Stuffed Peppers. Like hot sauce? Try out this Mango Lime Hot Sauce for a different, yet equally refreshing flavour.
Let us know if you try it out. We would love to know how you'd rate the heat! Leave a comment and a rating and don't forget to tag us @plantedandpicked on Instagram and hashtag it #plantedandpicked. Eat with friends and family as much as you can.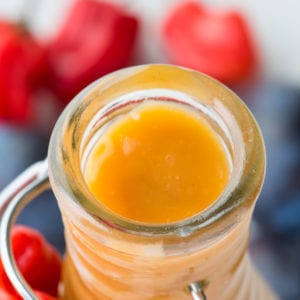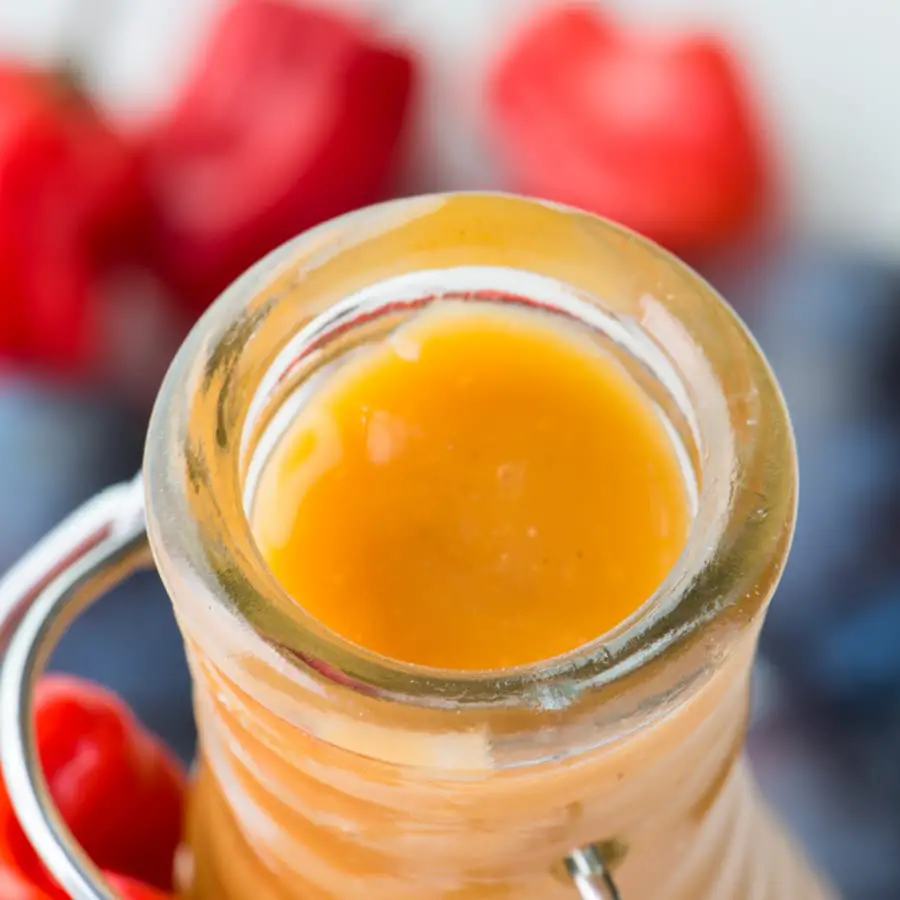 Ingredients
3

cups

peeled and roughly chopped plums

1

tbsp

coriander toasted and ground or 2 tsp ground

6

cloves

garlic minced

5

habañero peppers seeded and chopped

¾

cups

cider vinegar divided

1

cup

water

1

tsp

sea salt

1

cup

lime juice freshly squeezed

¼

cup

chopped mint
Instructions
Peel plums and remove pits and discard. Chop flesh coarsely and set aside.

Place corriander seed in a heavy pan pre-heated over medium heat and toast, stirring to prevent burning. Remove seed from heat when aromatic and let cool slightly before grinding them with a mortar and pestle or in a spice mill or small coffee grinder. Alternatively, you may certainly use prepared ground corriander. Set aside.

Sauté seeded and chopped habañero peppers and minced garlic in one third of the cider vinegar (¼ cup as per original recipe) over medium heat in a heavy non-reactive pot for approximately 10 minutes or until aromatics are fragrant. Stir frequently to prevent sticking, adding a little extra cider vinegar, as required.

Add prepared plums, ground corriander, the remaining cider vinegar (½ cup as per original recipe), water and sea salt to pan and continue to simmer gently for 30 minutes to reduce.

Remove from heat and cool slightly before processing together with lime juice and chopped mint in a high-powered blender to purée ingredients.

Place in bottles or jars and store in refrigerator.