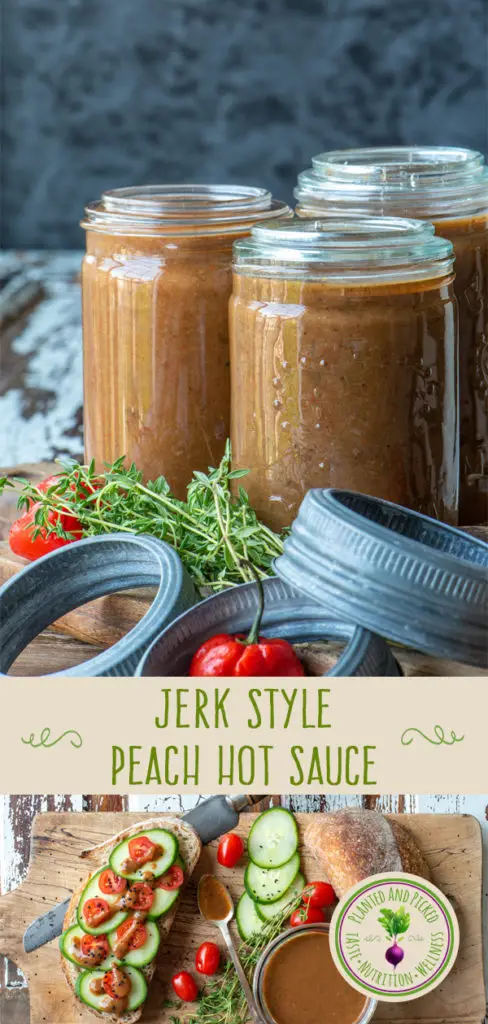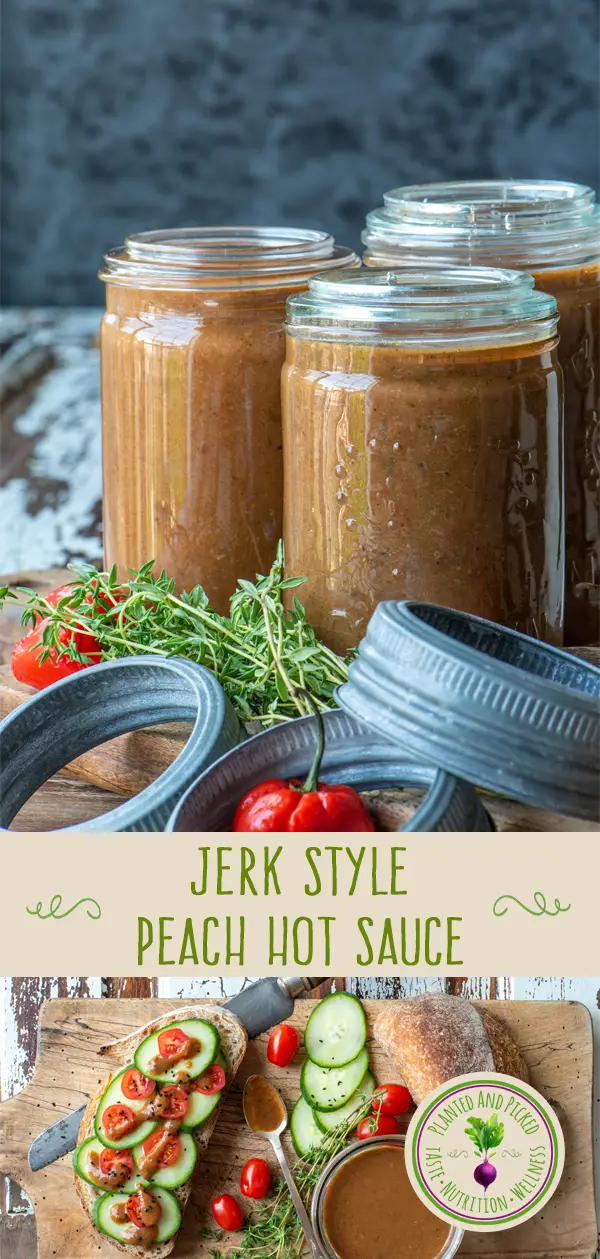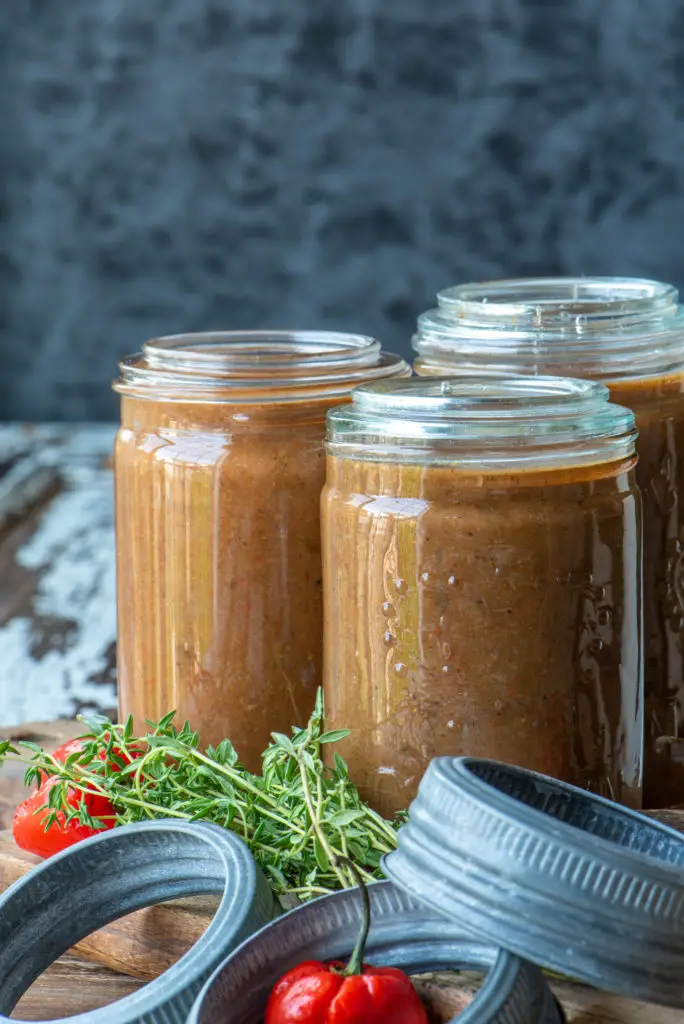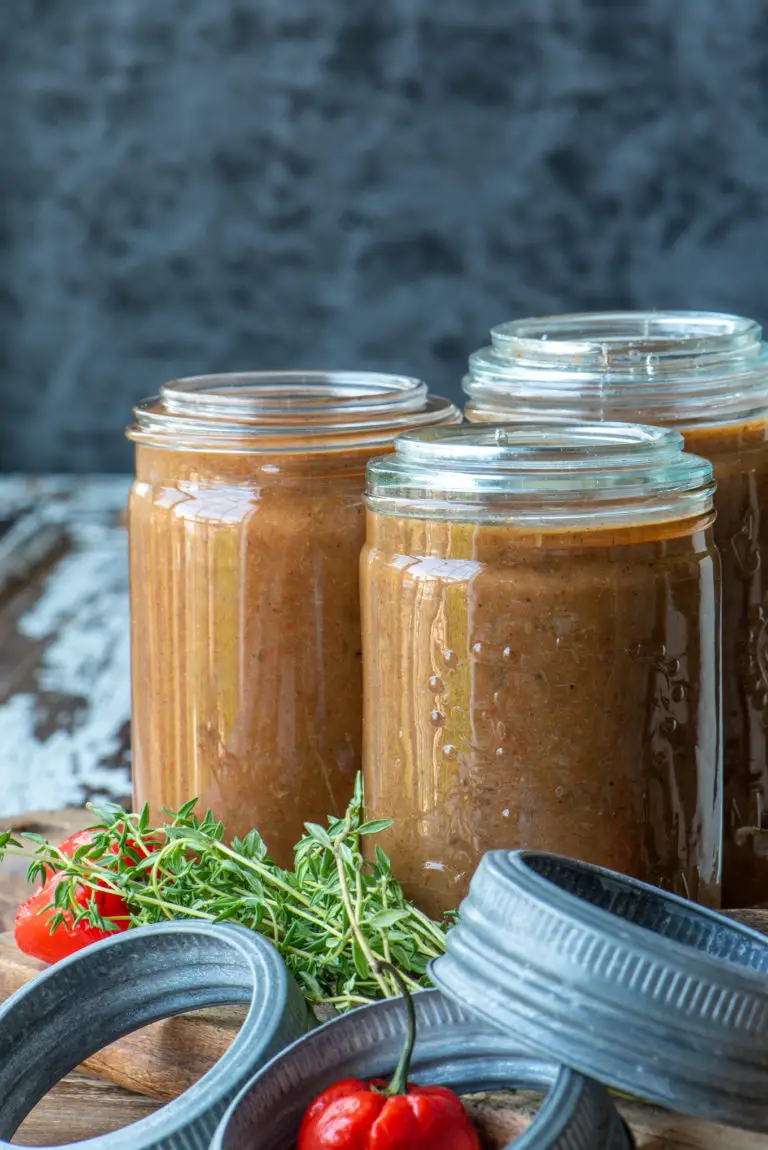 Get ready to spread some Jerk Style Peach Hot Sauce all over! It's peach season here in Southern Ontario and we have brought home some of those juicy sweet golden globes of goodness. Get your taste buds ready to dance because the party's about to start!
Orchard to Table
More than 80% of Canada's peach harvest comes from the Niagara Peninsula. It's only a stone's throw – no pun intended – from Niagara Falls. We're about an hour from prime fruit growing region and there's no doubt that it's worth the drive. It just so happens that where there are peaches, there are vineyards. Stopping in at a few of our favourite wineries is always part of this trip because a little sampling is a nice treat.
The sweetest and most flavourful fruit comes ripe from the tree and straight to your table. Locally picked fruit fresh and ripe from the tree is always the most nutrient dense. This is because fruit picked before it's ripe begins to lose nutrients as it is stored or transported to market. These losses can be high, depending on the fruit or vegetable. It's worth spending the time to go to local farmer's markets. It's even better to go straight to the farm and orchards directly to get the greatest nutrition. Your hot sauce will love you for it.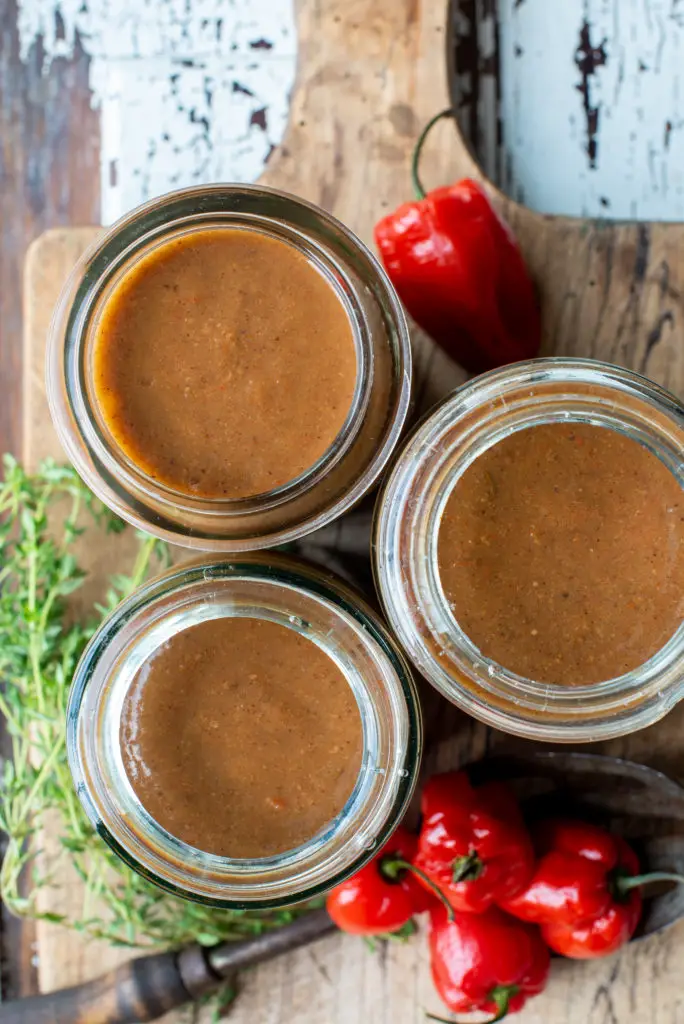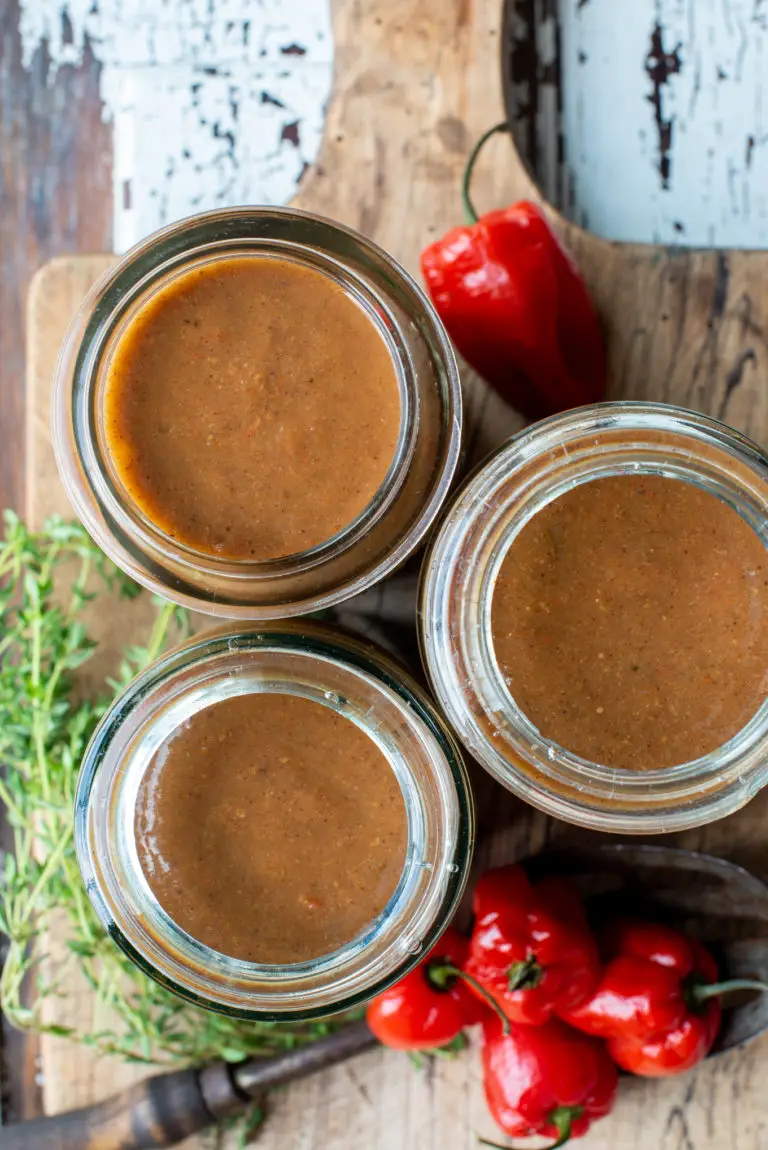 Hallelujah for Hot Peppers
We talked about the benefits of hot peppers in our Habañero Plum Hot Sauce post. There is evidence that hot peppers are natural stimulants for both energy and metabolism. Some studies have linked them to lower blood fat levels as well as a reduction in blood pressure and atherosclerosis. They contain a compound called capsaicin, which helps increase blood flow in the brain, digestive system and skin. So if you like life a little spicy, include some hot peppers in your diet daily and make a batch of hot sauce!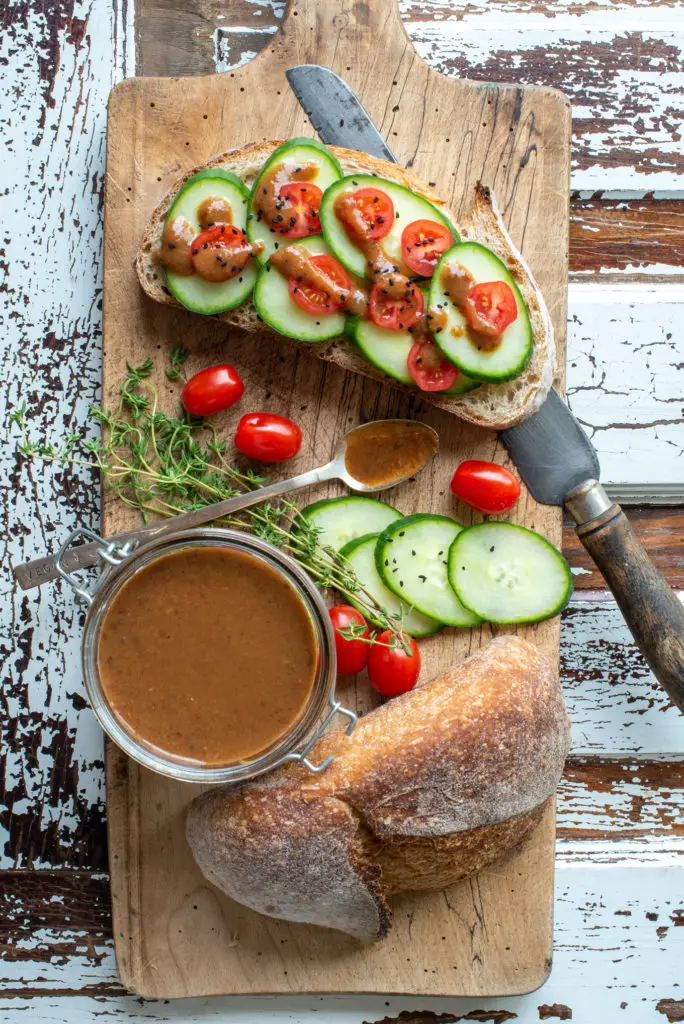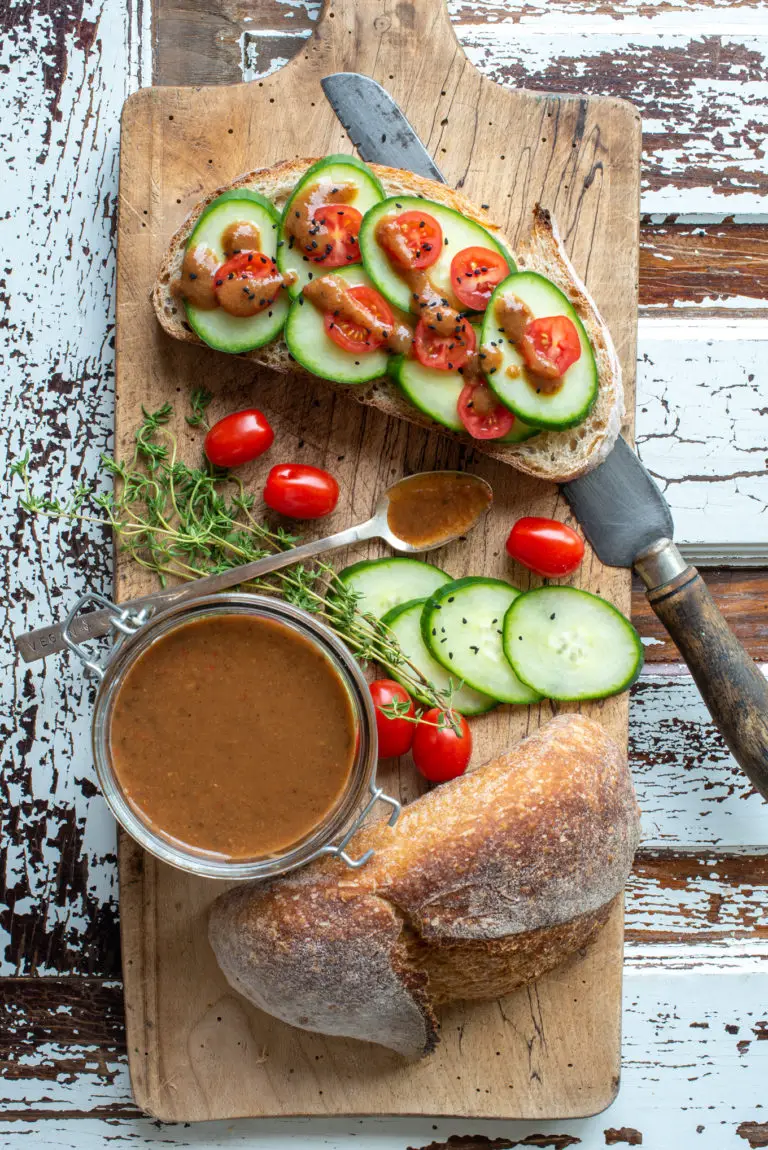 Preparation Tips for this Jerk Style Peach Hot Sauce
We recommend that you wear a pair of latex or non-latex gloves to handle the habanero peppers while you are preparing them. This will prevent painful stinging . . . we know this from experience!
The great thing about homemade hot sauces like this Jerk Style Peach Hot Sauce is that you can adjust the heat to suit your taste. Peppers' heat has a rating in Scoville Units or SHU. The habanero pepper rates at 325,000 SHU. You can read about the the origin of the Scoville Scale here at Pepperseeds.eu.
Try out this Mango Lime Hot Sauce or this Habañero Plum Hot Sauce if you're wanting to get a little spicy! We like to use a little hot sauce with our Creamy Roasted Garlic Hummus on some pita wedges or toasted sourdough. It is also a great condiment on a sandwich stacked with Baked Tempeh Bacon Strips or on Vegan Mexican Stuffed Peppers. We can't wait for you to try them all out!
Let us know if you try your hand at this Jerk Style Peach Hot Sauce because we love to hear from you! Leave a comment and a rating and don't forget to tag us @plantedandpicked on Instagram and hashtag it  #plantedandpicked. Remember to cook together, hug your friends and family and sit down at the table together.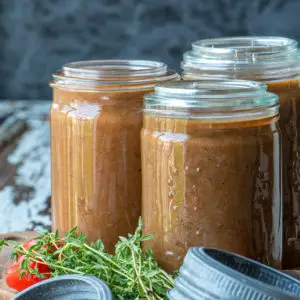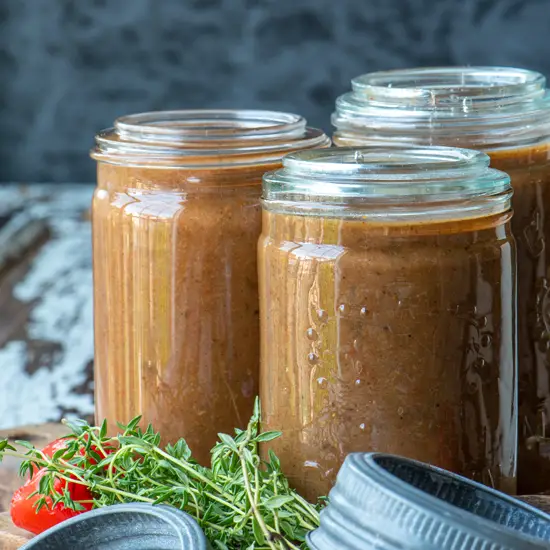 Ingredients
3

cups

peach purée

approximately 9 medium peaches

1

cup

sweet onion coursely diced

6

cloves

minced garlic

medium sized cloves

1½

tbsp

freshly grated ginger

5

habañero peppers seeded and chopped

1

tsp

sea salt

3

tbsp

fresh thyme leaves

2

tsp

ground allspice

1½

tsp

smoked paprika

1½

tsp

freshly grated nutmeg

1½

tsp

ground cinnamon

1½

tsp

ground cloves

1

tsp

black pepper

¾

cup

cider vinegar divided

2

tbsp

coconut sugar

1

cup

freshly squeezed lime juice

approximately 5 limes
Instructions
Peel peaches and remove pit and discard. Chop flesh coarsely and purée in a food processor. Set aside.

Place coarsely chopped sweet onion, garlic cloves, ginger and seeded habaneros in a food processor and purée.

Place vegetable purée in a heavy non-reactive pot and add sea salt, fresh thyme, allspice, smoked paprika, nutmeg, cinnamon, cloves and black pepper and sauté on medium for 10 minutes or until aromatics are fragrant, stirring frequently.

Add apple cider vinegar and coconut sugar and continue to simmer for 10 minutes.

Remove from heat and add lime juice and peach purée, stirring well to combine.

Optional: press sauce through a sieve to remove any pulp to produce the smoothest sauce texture. The texture is perfectly fine without this step.

Place in bottles or jars and store in refrigerator.