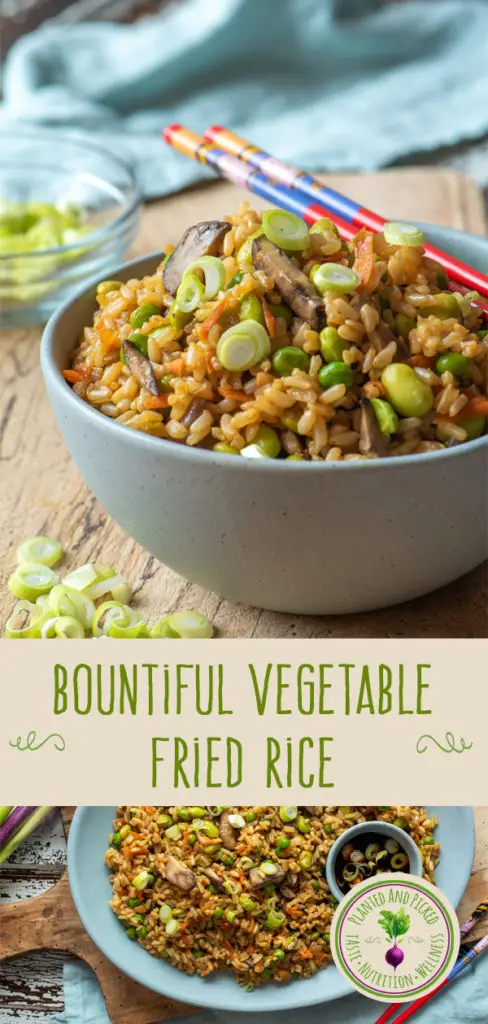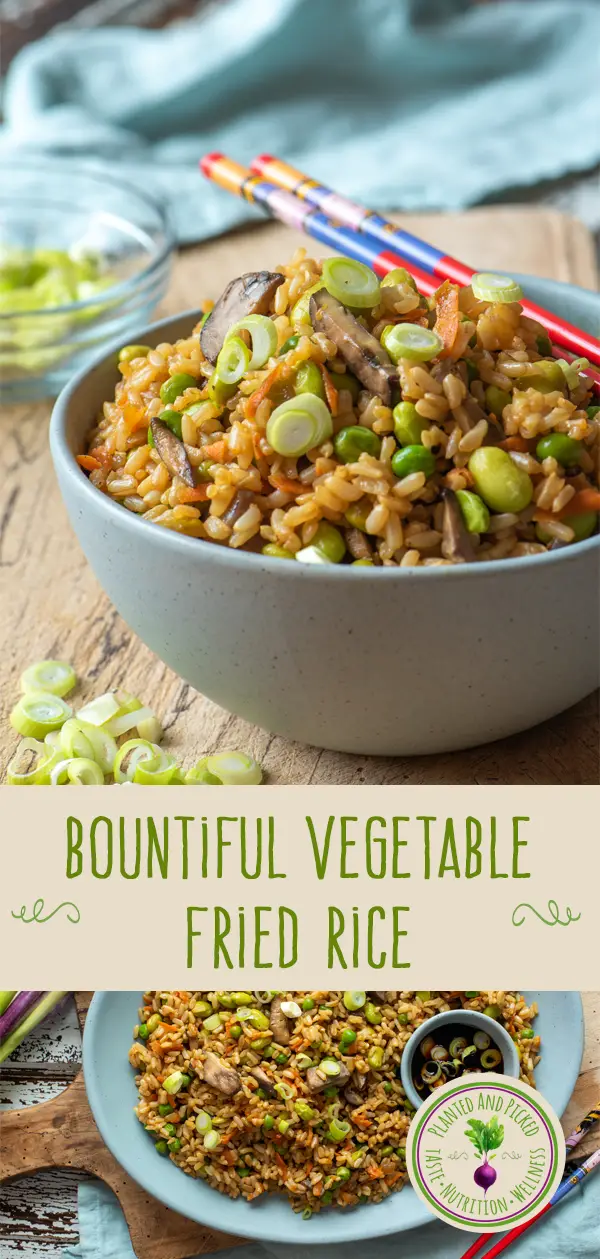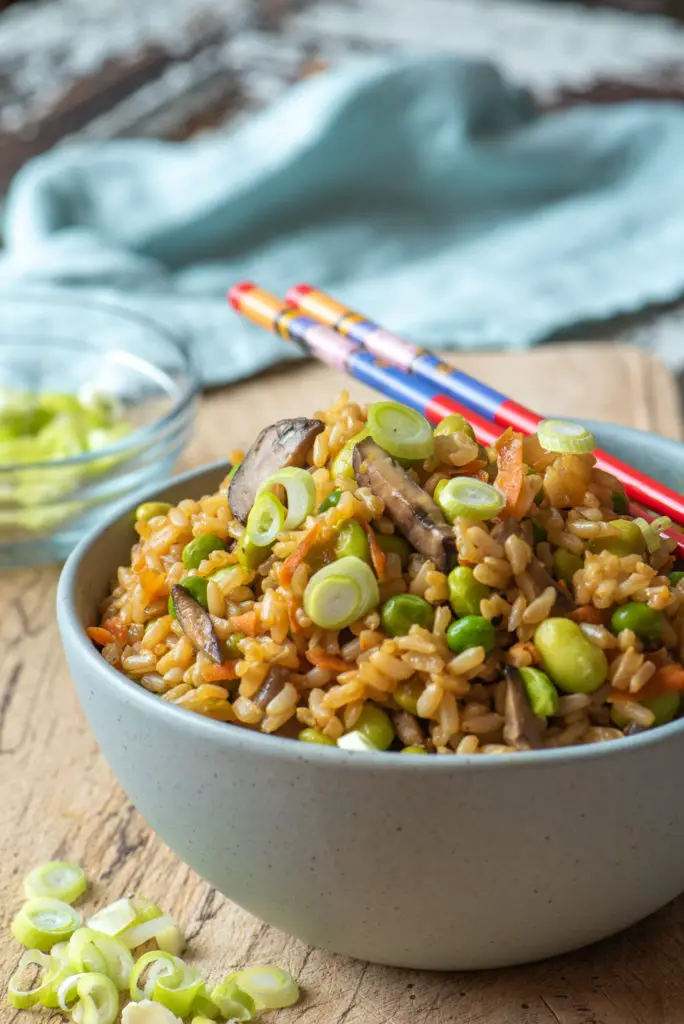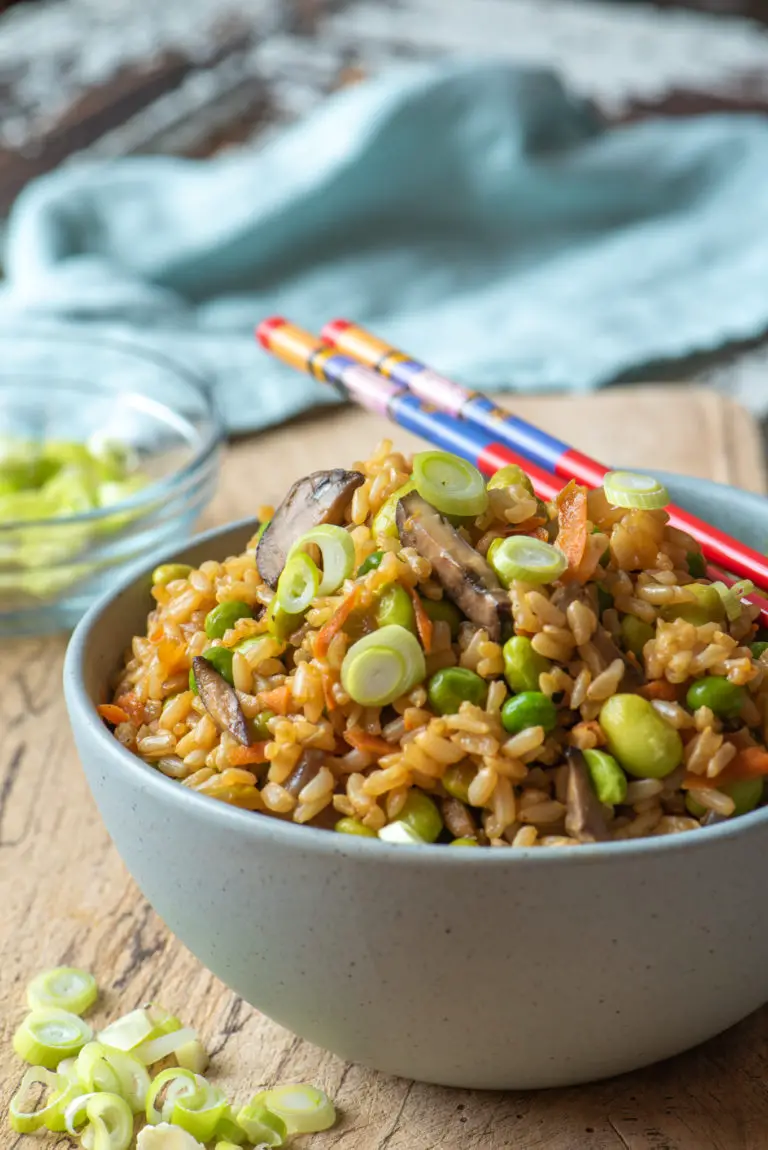 If you love fried rice but are looking for a healthier alternative, look no further! The fried rice from most restaurants is overly oily and salty. We use nutritious brown rice, garlic, ginger and lots of vegetables in this Bountiful Vegetable Fried Rice version.
We love fried rice but when you order it from a restaurant, you typically get a version that has a lot of unhealthy vegetable oil and GMO soy sauce. It is also hard to find a vegan version because most fried rice dishes also contain egg.
We up-level the nutrition in this Bountiful Vegetable Fried Rice recipe by adding lots of vegetables and spices. We start with aromatics of course – onions, garlic and ginger. Onions and garlic are natural blood cleaners and can assist with lowering blood pressure and cholesterol. Ginger is anti-inflammatory and can act as a digestive aid. It also adds lots of flavour to this dish.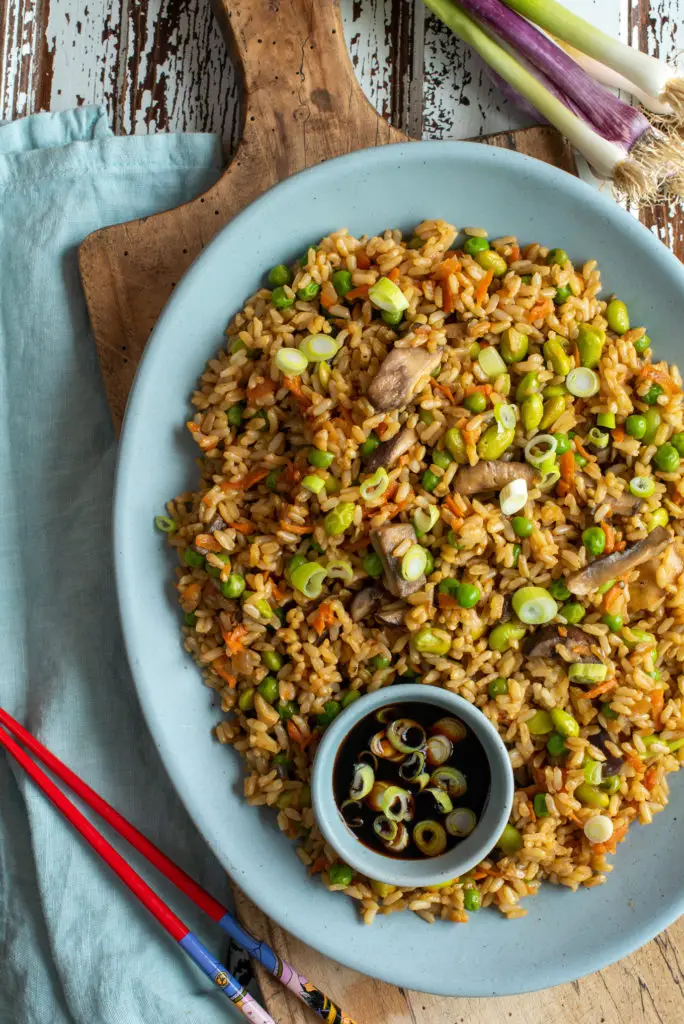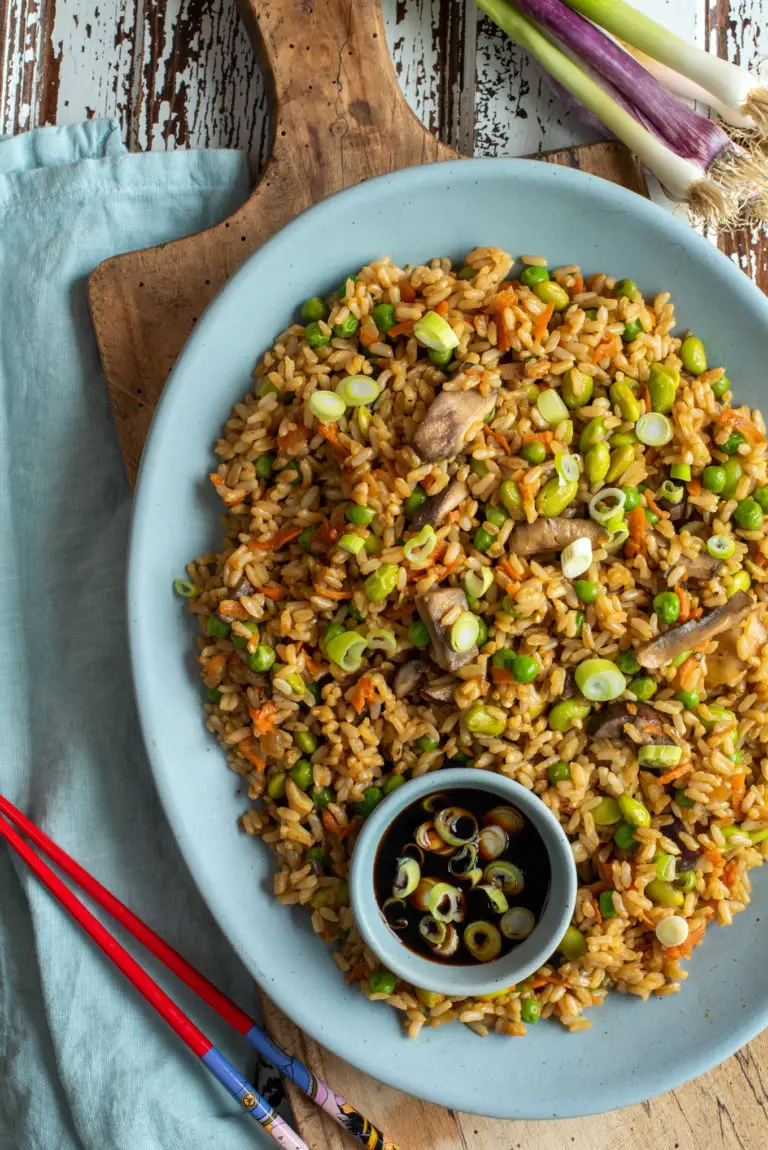 Most fried rice has lots of white rice and few vegetables. We use brown rice instead of white because it contains more nutrition than white rice and also more fibre. However, If you have a weak digestion and find brown rice harder to digest, then feel free to substitute with a white basmati rice.
In addition to the veggies – mushrooms, peas and carrots – we also add organic edamame to boost the protein in this carb heavy dish. When purchasing any soy products, please always look for organic! This ensures that the product is not genetically modified and has not be sprayed with chemicals.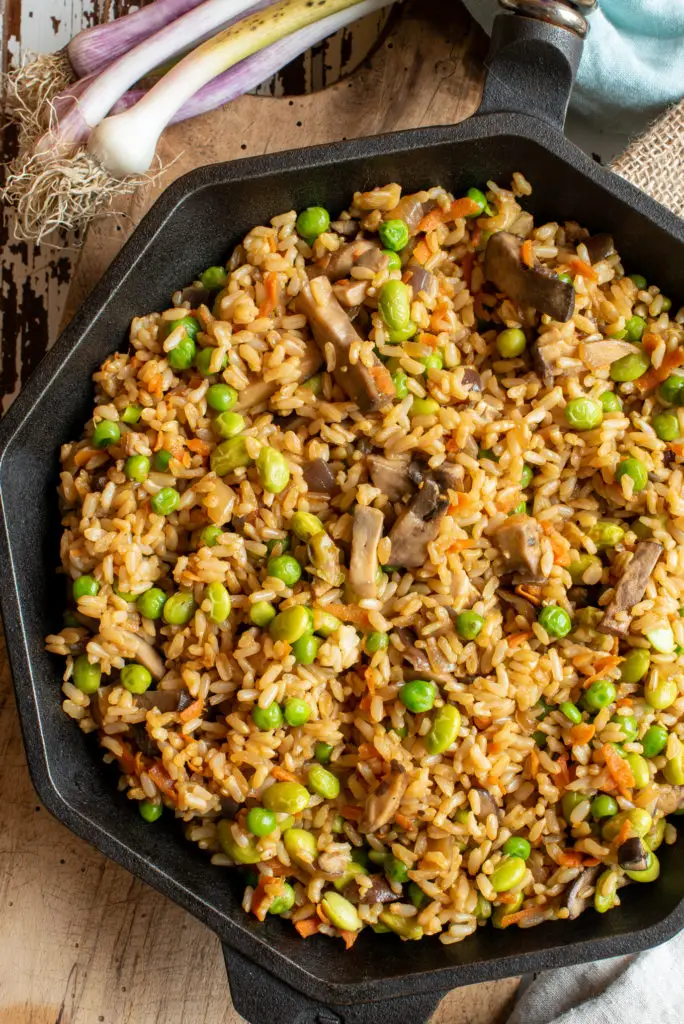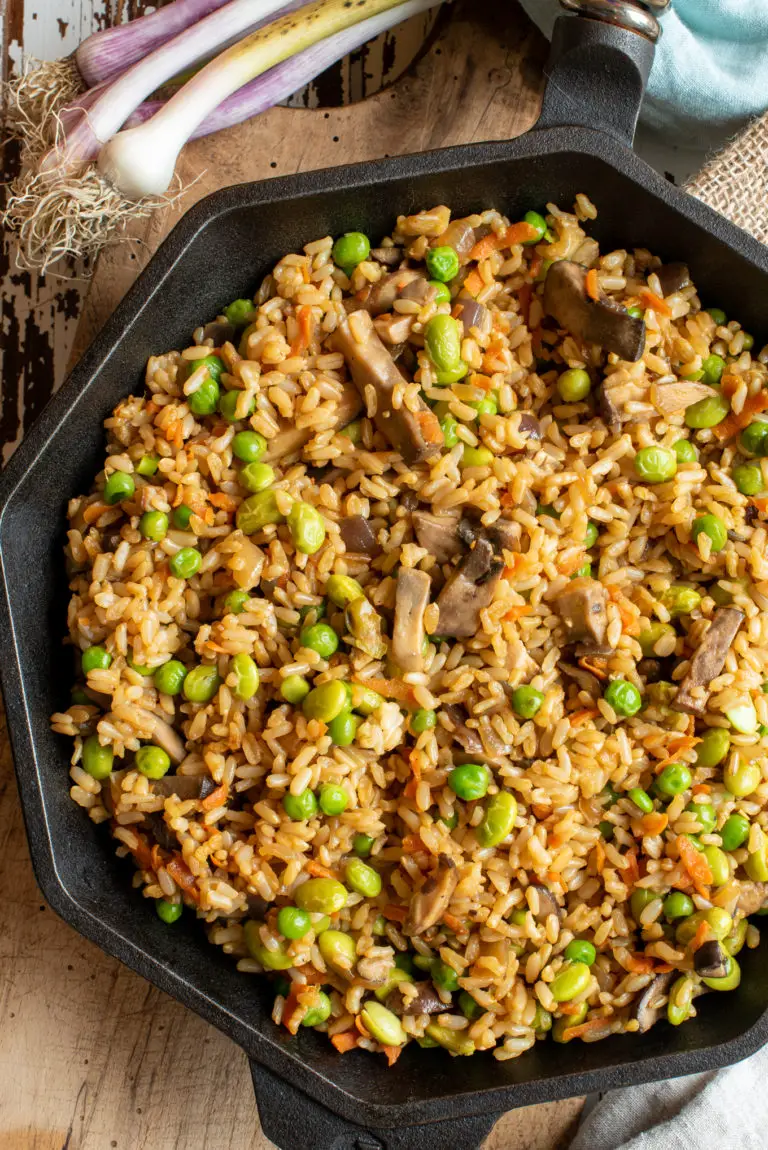 This Bountiful Vegetable Fried Rice works well as a main or as a side dish. You could include it as the base of a bowl like our Basic Buddha Bowl. Or try it as a side to our Spicy Sticky Tofu.
Let us know if you try this Bountiful Vegetable Fried Rice in the comments and give it a rating. Show us yours on Instagram and don't forget to tag us @plantedandpicked and hashtag it  #plantedandpicked. Remember too, food always tastes better when shared.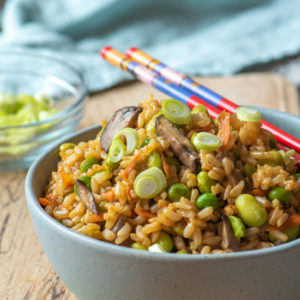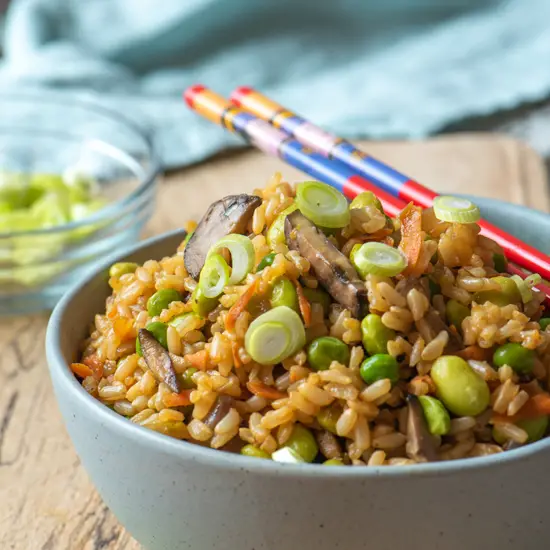 Ingredients
4

cups

cooked brown rice, cooled

1

tbsp

toasted sesame oil

⅔

cup

diced onions

2

garlic cloves, minced

1

tbsp

grated fresh ginger

2

cups

chopped mushrooms (any kind)

2

carrots, grated

1

cup

peas (thawed if frozen)

1

cup

edamame beans

4

tbsp

Tamari

2

green onions, sliced (optional)
Instructions
Cook 1 cup of brown rice according to instructions. This should yield about 4 cups cooked. We use an instant pot and add 1 cup brown rice, 1 cup of filtered water and cook for 30 minutes and then let pressure release.

We prefer to cook the rice ahead of time and let it cool for at least a few hours in the refrigerator. This makes for a less sticky fried rice.

Prep vegetables. If using frozen peas, measure 1 cup and place in a bowl to thaw.

Dice onions, mince garlic and grate the fresh ginger. Set aside.

Chop mushrooms to measure 2 cups. We used a combination of Shitake and Cremini for this recipe but you can use whatever kind you like or can source.

Add edamame beans to a small pot of boiling water and cook for 2 to 3 minutes. Drain and set aside.

In a large skillet on medium heat, add the toasted sesame oil.

Add the onions, garlic and ginger. On medium-low, saute the mixture, stirring often for about 5 to 7 minutes.

Add the mushrooms and grated carrot and cook for another 5 minutes. Stir often to keep the mixture from sticking to the pan. Add a small amount of water or vegetable broth if this happens, about a tablespoon at a time.

Add cooled rice. Stirring frequently, cook for a couple of minutes.

Add peas, edamame and Tamari. Stir and cook for another couple of minutes to blend the flavours.

Turn off the heat and sprinkle with sliced green onions if using.

You can eat this as a meal or as a side dish. Enjoy!