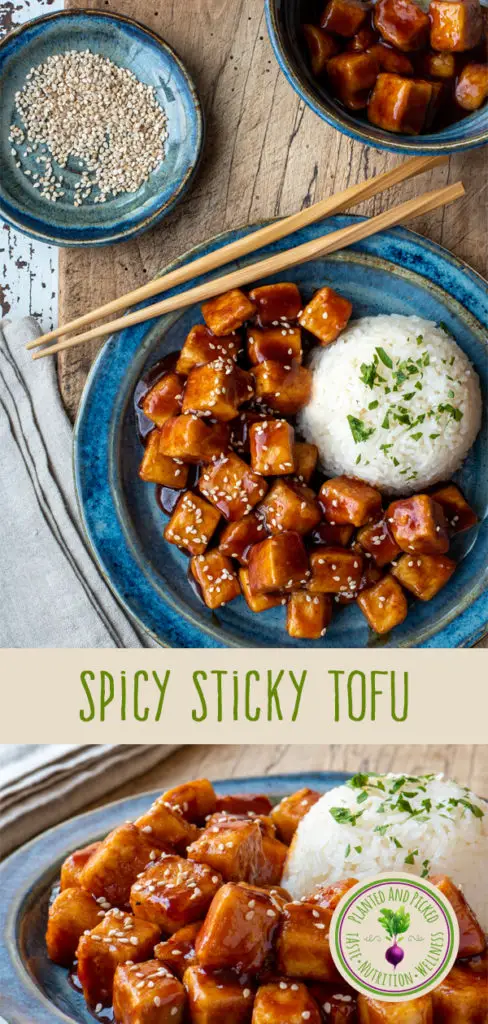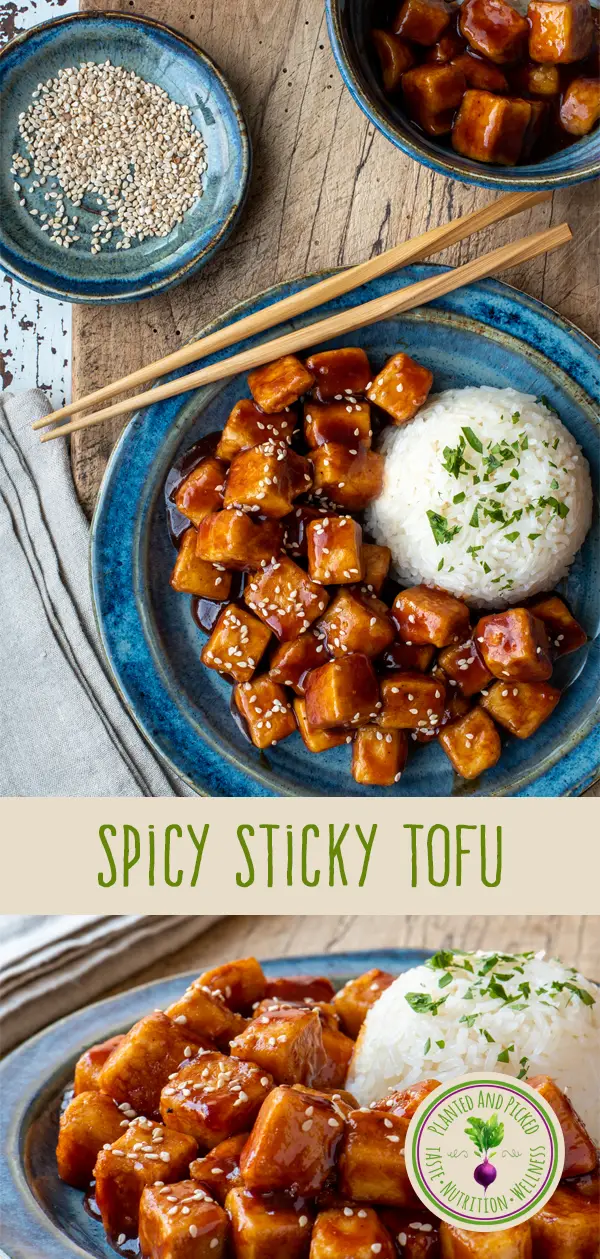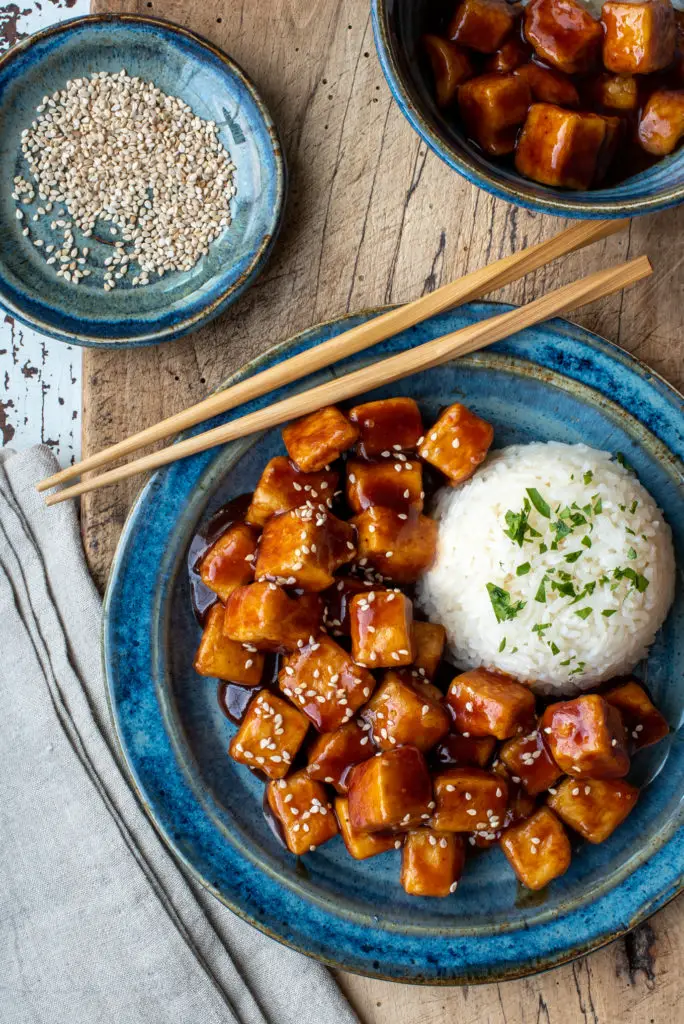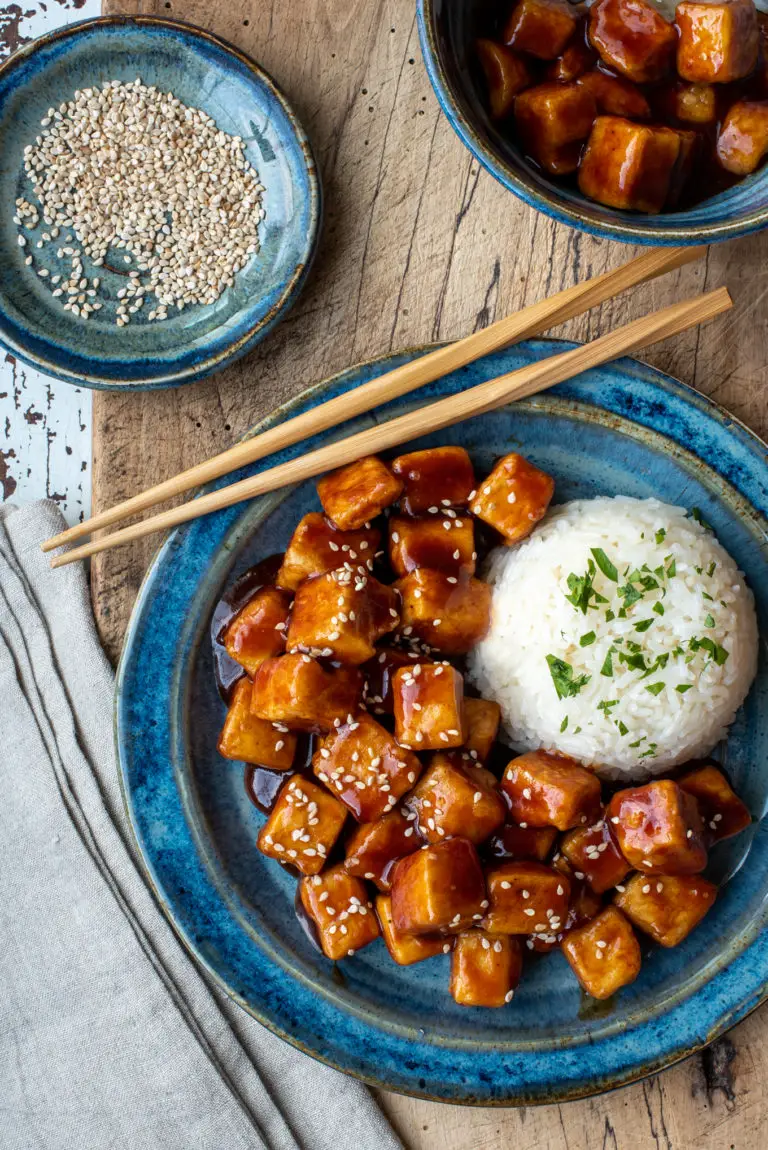 This Spicy Sticky Tofu will knock non-vegans' socks off! We had no lack of household teenage taste testers with this one. The combination of the meaty texture and the mildly sweet and sour flavours gets us every time.
Tofu is a blank pallet of plant protein for you to dress up in so many ways. Different textures, colour and mouthwatering flavour are yours to discover. This recipe is also super easy and quick when you're in a hurry, but not willing to give up homemade quality and taste.
We use an extra firm tofu that is not sprouted for this lip-smacking dish. It yields a more meaty texture for sure. It also pleases even those friends of ours who are not following a whole foods plant based diet. We've served it as an appetizer when having friends over and as a main course. We simply cook up a side of rice and green veg such as as broccoli, broccolini or asparagus.
We love rice and veg, but we'll tell you that the last bite of this meal is always a piece of that spicy sticky tofu! You know what we mean. Don't you also leave some of the best tasting part of your meal for the last bites? Sure you do!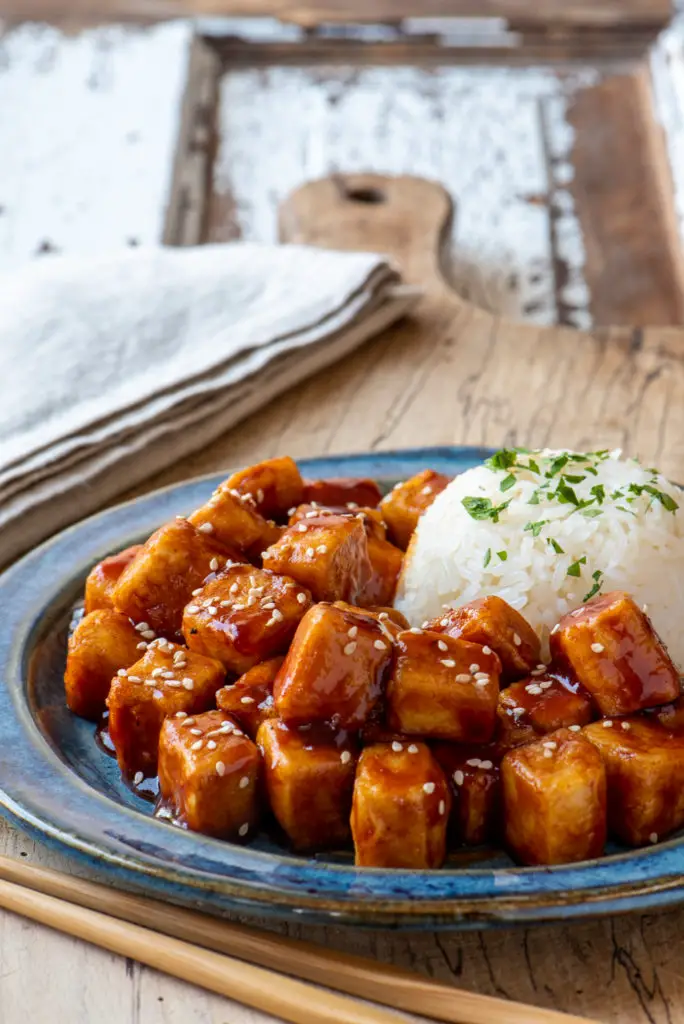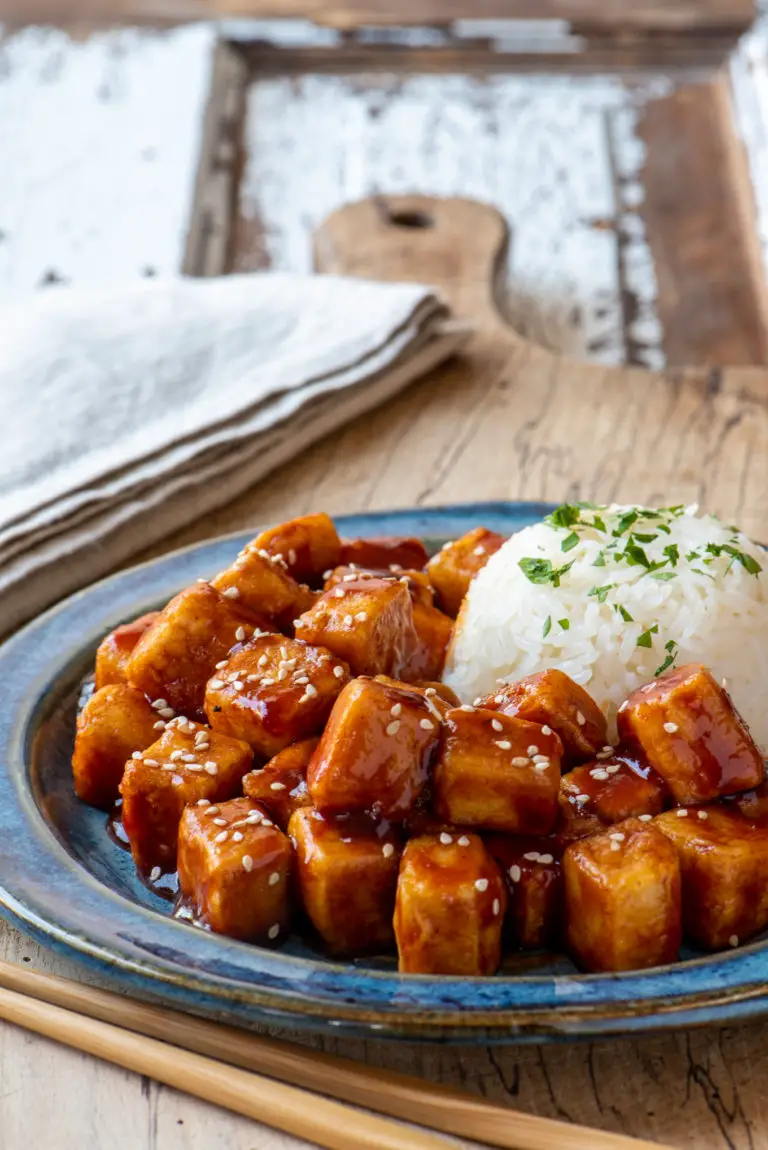 We use a 300 g (10.5 oz) block of tofu for our Spicy Sticky Tofu. However, if your tofu comes in a slightly larger size, there is plenty of sauce to cover you off. If you'd like to have more sauce to pour over rice, you can double up and still have some to save for later. Who doesn't like sauce? Right?
Always make sure you use organic tofu because conventionally grown soy is genetically modified and treated with fertilizers, herbicides and insecticides. This is neither what we want nor what should be in our bodies.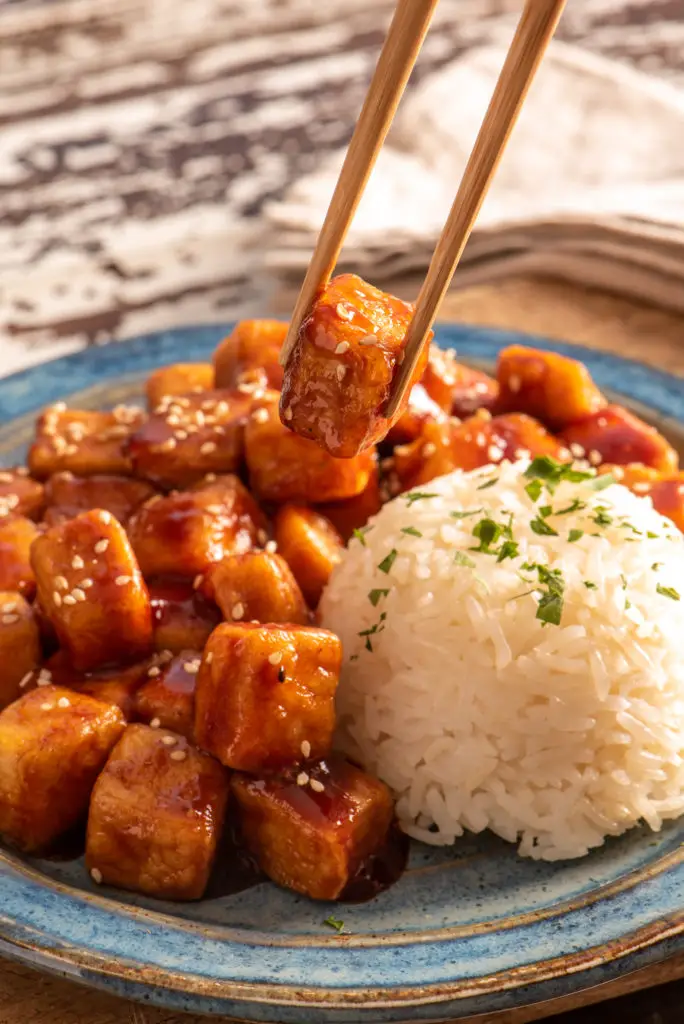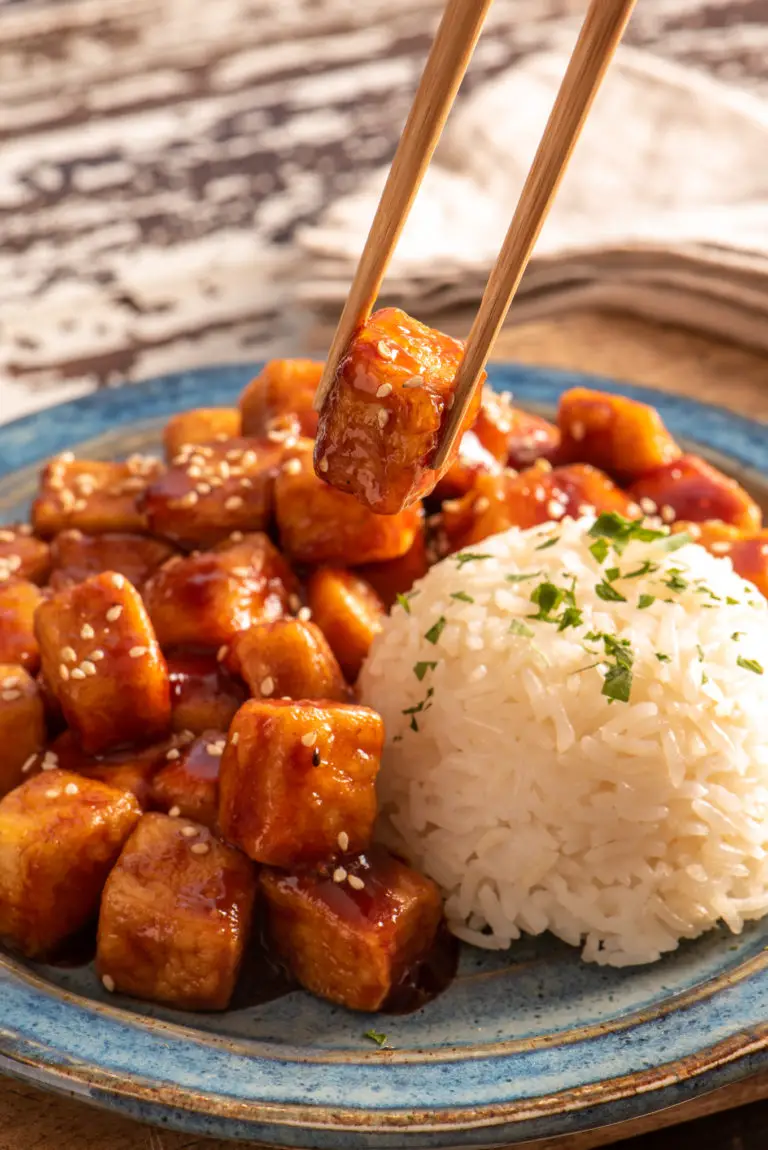 This Spicy Sticky Tofu works well as an appetizer, as a main with rice and veg or as a flavourful component to a bowl like our Basic Buddha Bowl. Try out this Vegan Pad Thai, this Grilled Vegetable and Tofu Wrap for other great mains with Tofu. For breakfast, our Super Eggy Tofu Scramble is delicious in a grilled wrap!
Let us know if you try out this Spicy Sticky Tofu in the comments and give it a rating. Show us yours on Instagram and don't forget to tag us @plantedandpicked and hashtag it #plantedandpicked. Remember too, food always tastes better when shared.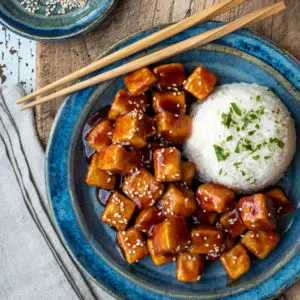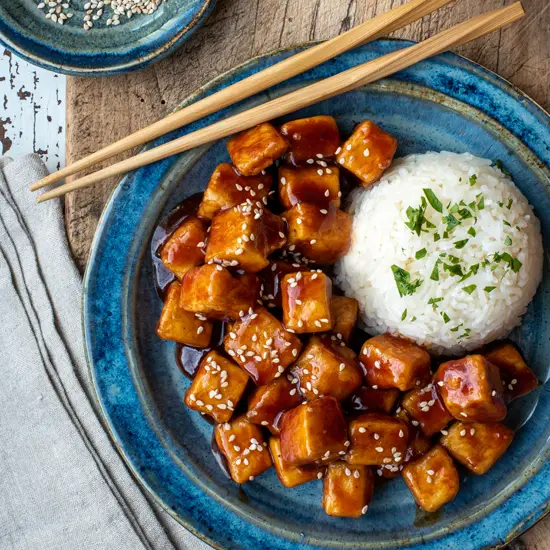 Ingredients
Crispy Tofu
1

block

extra firm tofu (300 g or 10.5 oz)

¼

cup

arrowroot starch

1

tbsp

avocado oil

¼

tsp

sea salt

¼

tsp

garlic powder
Sticky Sauce
¼

cup

tamari

¼

cup

brown rice vinegar

2

tbsp

maple syrup

2

tbsp

tomato paste

½

tsp

Sriracha hot sauce

1

tbsp

arrowroot starch

1

tbsp

water
Instructions
Crispy Tofu
Drain and press 1 300 g (10.5 oz) block of tofu. The sauce recipe provides plenty enough for a larger 15.5 oz block if that's what you have.

Cut the tofu into bite-sized cubes and toss in the ¼ cup of arrowroot starch in a small bowl. We find it easiest to do this in a few batches. Place the coated tofu on a clean plate.

Heat the 1 tbsp of avocado oil in a heavy frying pan over medium heat, being careful not to pass the smoke point. If this happens, toss it out and start again as oil heated past it's smoke point becomes unstable and harmful to your health.

Place coated tofu cubes in the pan, season with sea salt and garlic powder and sauté for approximately 15 minutes while turning, until golden on all sides. We like to shake the pan intermittently, to keep the tofu from sticking, but also to keep it moving around the pan. By doing so, the thin coat of oil on the pan between the cubes is less likely to reach its' smoke point.
Spicy Sticky Sauce
Add all ingredients with the exception of the arrowroot starch and water, to a small sauce pan and stir to combine.

Heat sauce mixture over medium heat until bubbly. Combine arrowroot starch and water and pour into heated sauce, stirring to combine and thicken.
Pulling it Together!
Pour sauce over crispy tofu cubes and enjoy with rice and some green vegetables, as part of a vegan bowl, or in a bun together with some pickled veg or cole slaw.