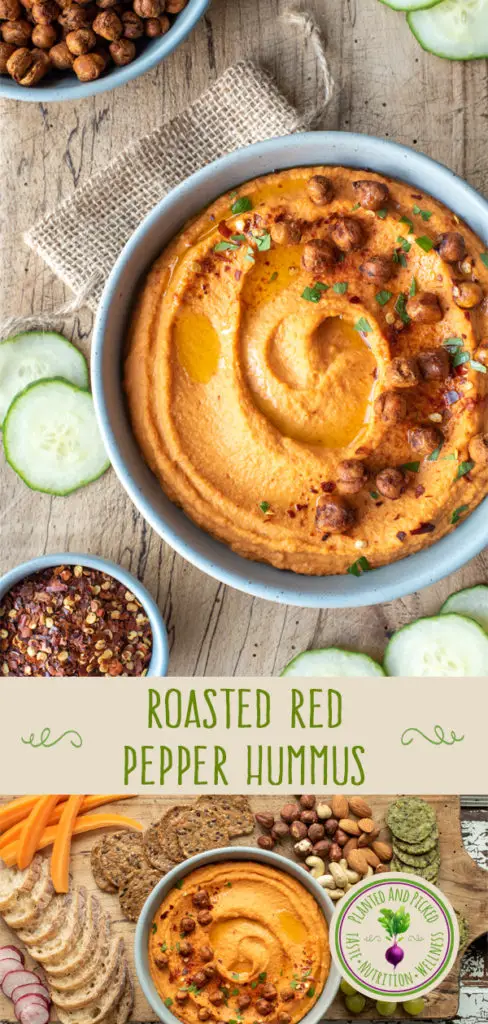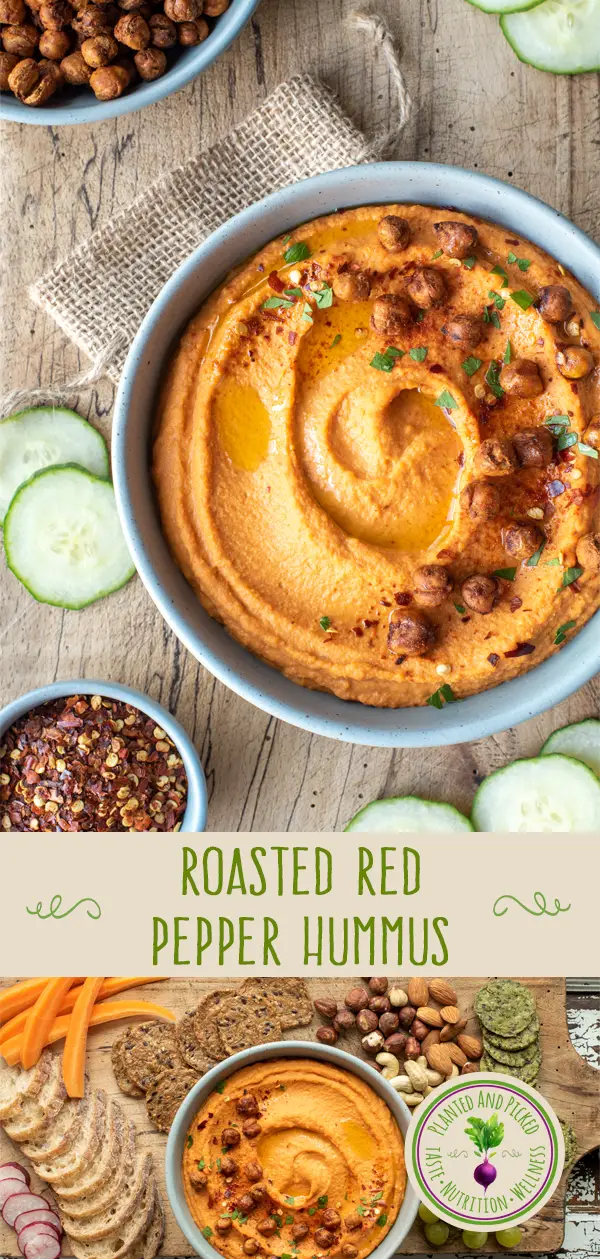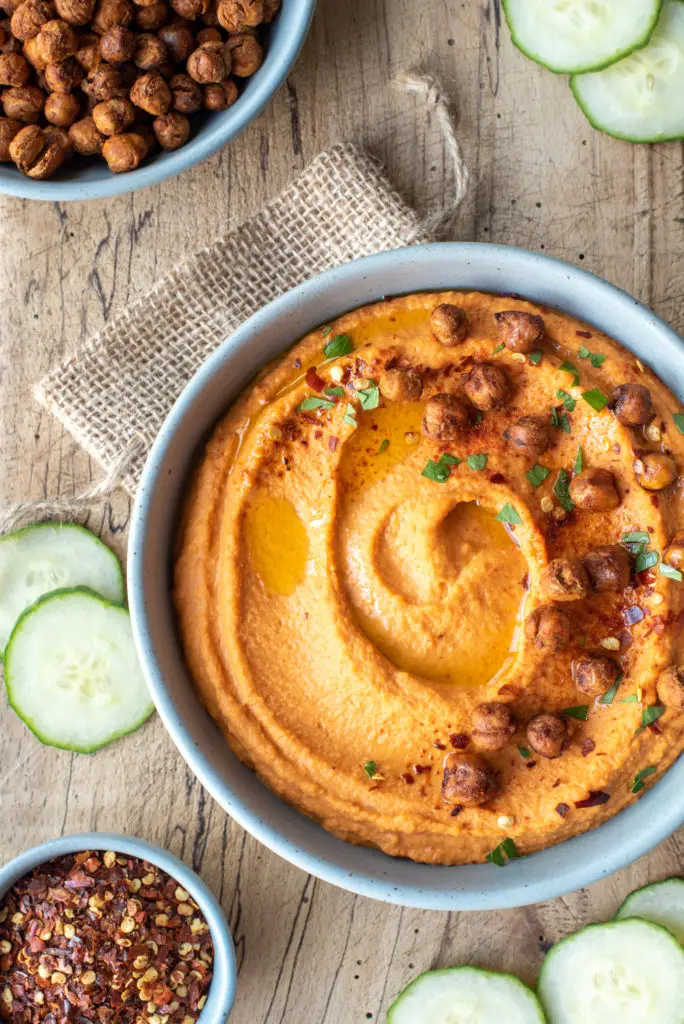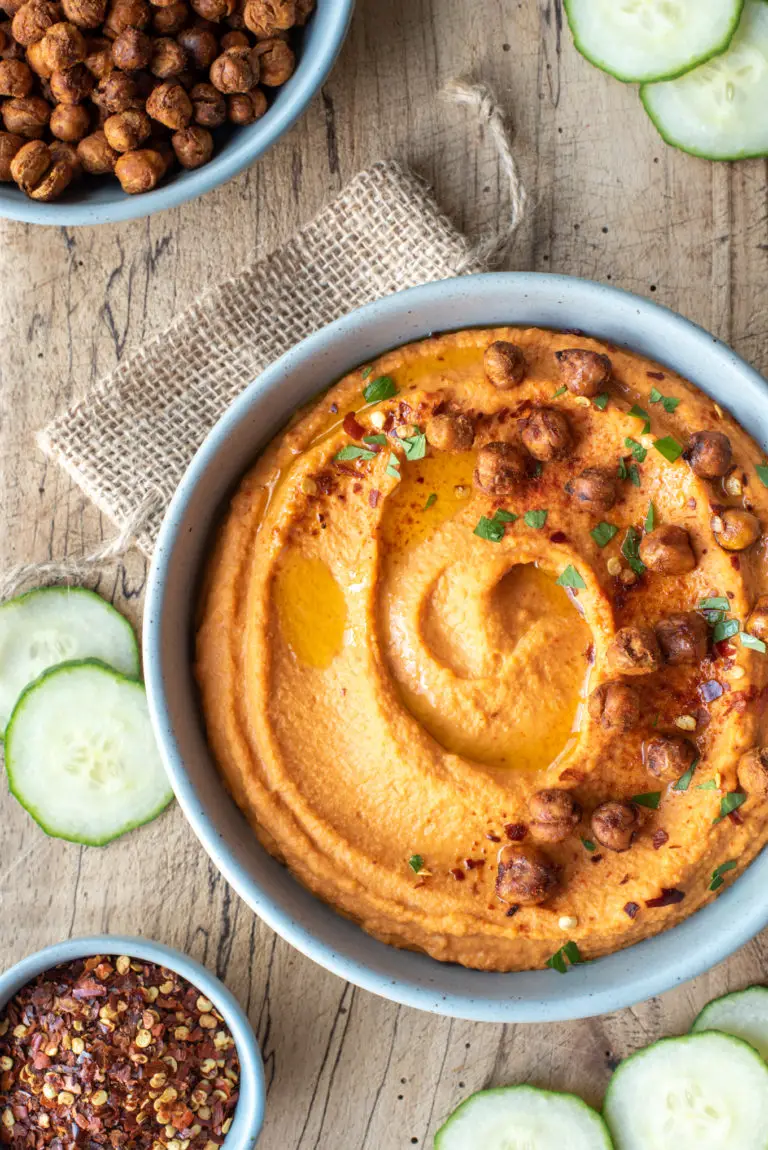 This Roasted Red Pepper Hummus is a staple in our house. Roasted Red Peppers are a wonderful addition to so many great dishes and hummus is one of our favourites. If you can master a basic hummus recipe, what you can add to make it your own is only limited by your imagination.
We love hummus and usually have at least a couple of varieties in the fridge at any one time. It's great, of course, with pita, crackers or fresh veg. But have you had it in roasted vegetable paninis or on sourdough toast with some fresh cucumber or tomato? We also love it as a topping on a Buddha Bowl or as the base of a sauce for pasta.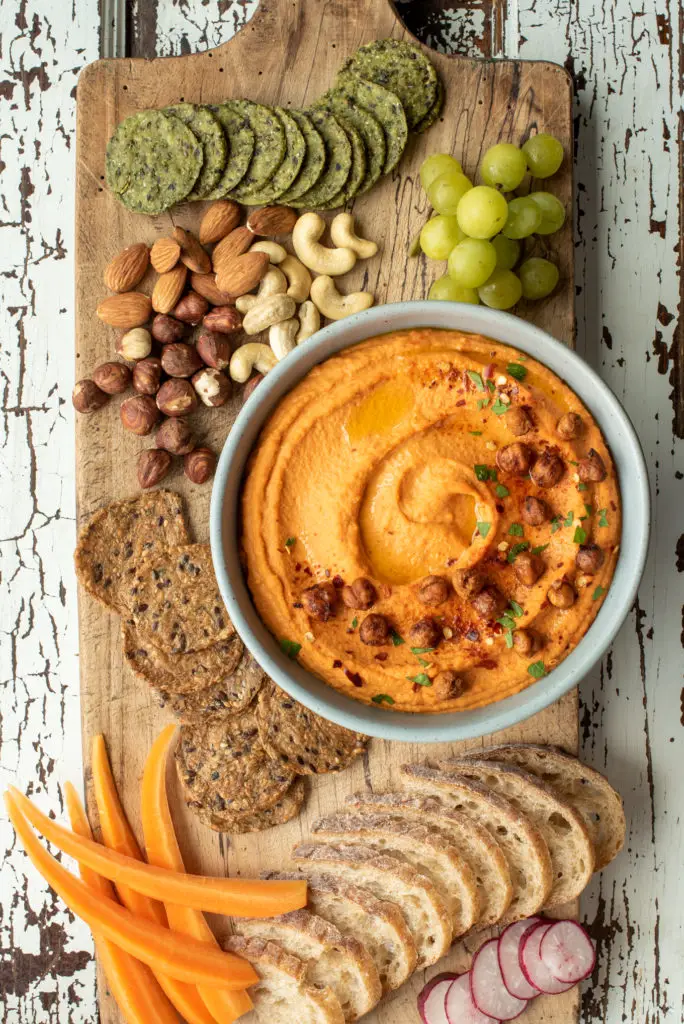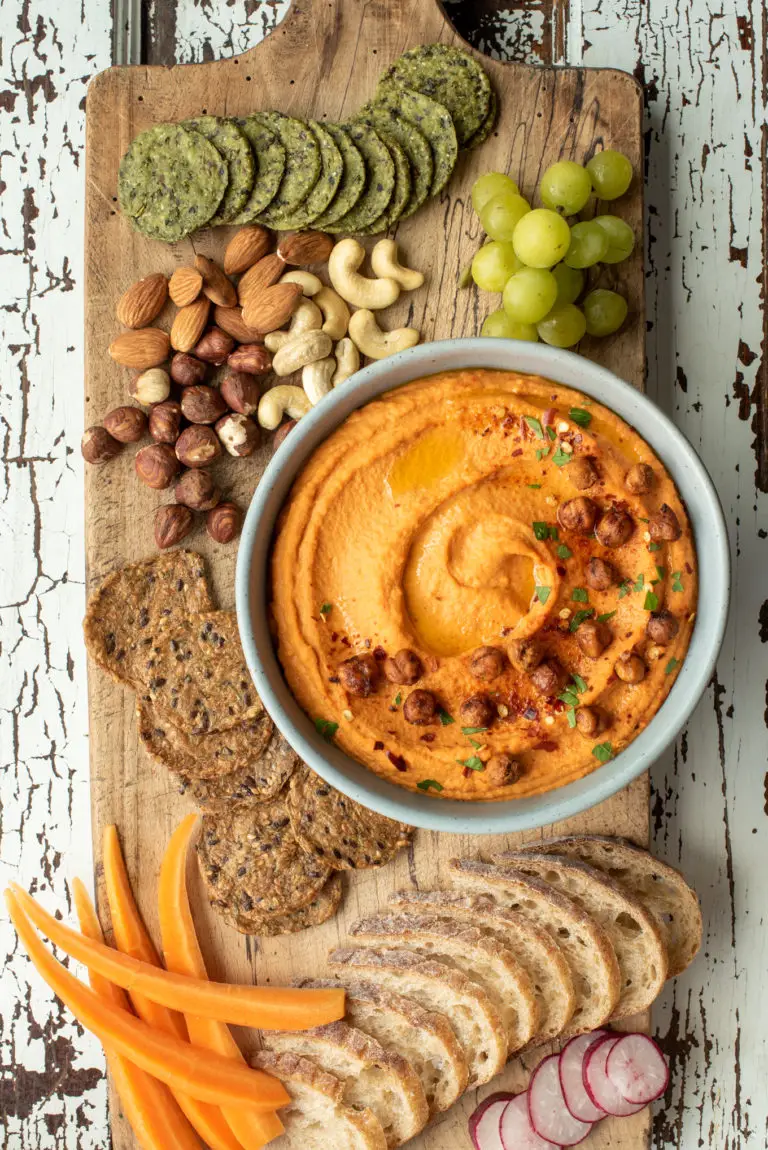 Roasting the Red Peppers
Roasting peppers is super easy under the broiler in an oven, or even a toaster oven. We like to roast them whole and simply turn them periodically to blacken the skin evenly on all sides and the top. Just toss them on a tray under the broiler and keep an eye on them, turning them a little as they blacken.
Once the peppers are evenly blackened all around and have collapsed, you can remove them from the oven and place them in a dish to cool sufficiently to handle. The key is to make sure that they are blackened all over and have collapsed. It's so easy to slide the skin off this way, before opening them up to remove the seeds. If you follow this technique, we have never found it necessary to seal them in a container to sweat, before removing the skin. Now, on to the roasted red pepper hummus!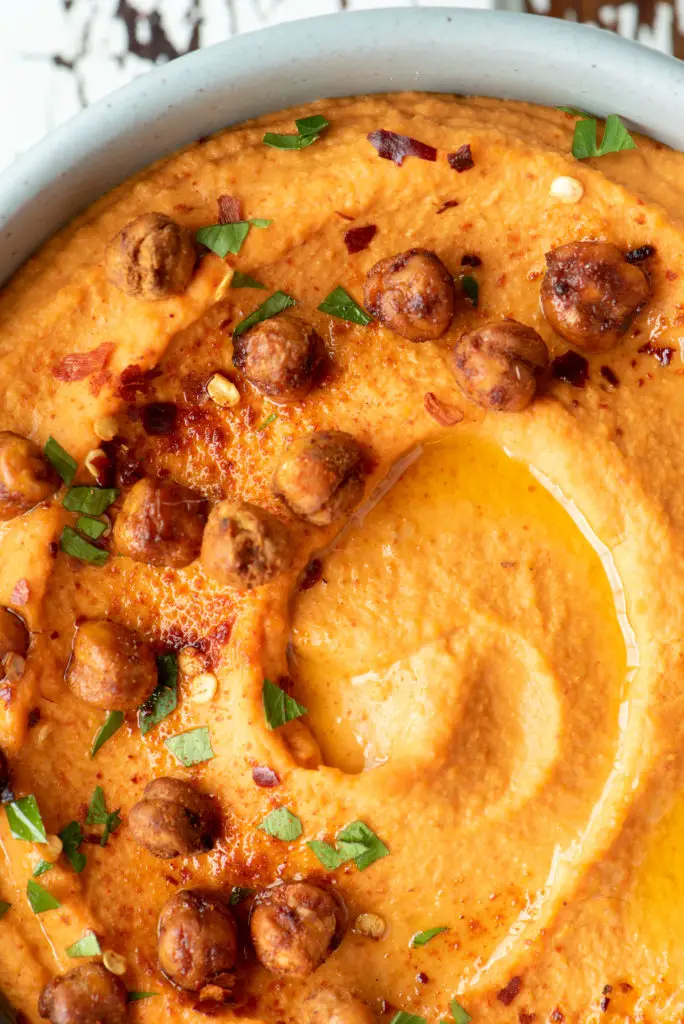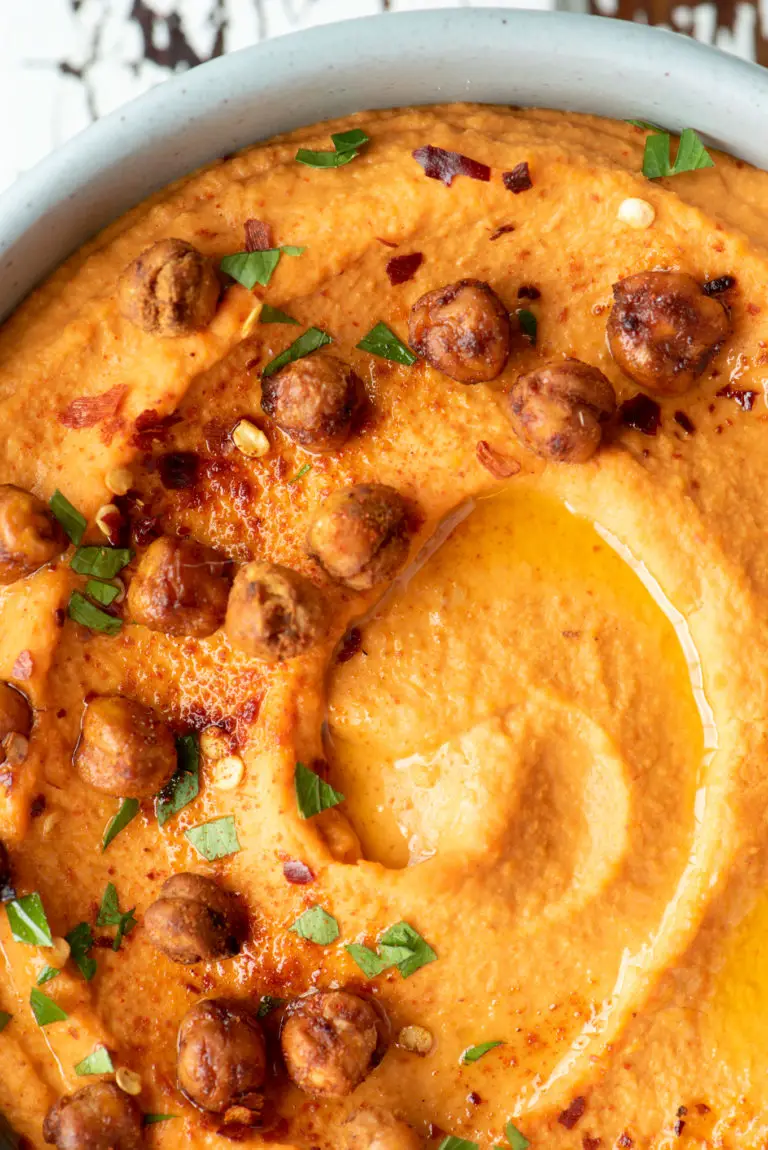 Preparing Your Chickpeas for Hummus
We often used canned chickpeas to save time. Just be sure to buy a brand whose cans are BPA free. Even though we do cook a lot of beans, everyone needs to save some time at one point or another, right? We do use dried beans for our hummus on occasion because beans that are less processed retain more of their nutrients. If you would like to try this out, we have a trick to share with you . . .
Soaking dried beans helps to eliminate phytic acid in beans. This acid can reduce our body's absorption of iron and the digestibility of protein. Leaching of the acid during soaking and cooking, however, makes the water acidic. This slows down the rate at which the cooking beans soften and can even prevent them from softening at all! Therefore, there will be no "creamy" in your roasted red pepper hummus.
Baking soda added to the soaking water and later to the cooking water raises the pH of the water. This, in turn, neutralizes the acidic environment, and makes for softer beans. This works to soften canned beans more as well. When the canned chickpeas are cooked for a short amount of time with baking soda, you will achieve a creamier hummus.
Bringing you Roasted Red Pepper Hummus Together
For the creamiest hummus, process it in steps. Process the minced garlic and roasted red pepper with the lemon juice, spices and salt first. Then add the tahini and continue to process before finally adding the chickpeas. It is important to use a good quality, light coloured tahini. Some tahini made with darker sesame seeds can taste bitter. One brand that we like and can find locally at Organic Garage is the Kevala brand.
Spread some of this Roasted Red Pepper hummus on a pita loaded with roasted vegetables for added flavour and extra protein or as a dip with veggies of your choice. Try this Creamy Roasted Garlic Hummus and have two variations in the fridge together. If you're looking for more dipping snacks, try our Vegan Cashew Queso Dip.
Please let us know if you make this creamy roasted red pepper hummus. We always like to see your feedback! Leave a comment and a rating and don't forget to tag us @plantedandpicked on Instagram and hashtag it  #plantedandpicked. Eat with family and friends and practice gratitude!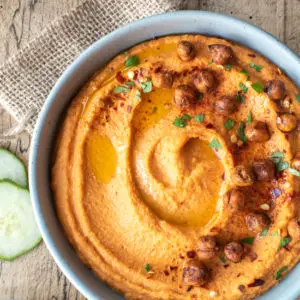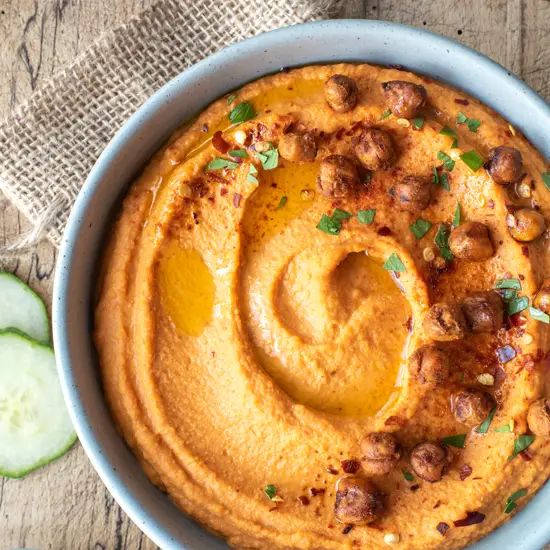 Ingredients
2

red bell peppers

1½

15 oz cans

chickpeas drained and rinced or 2¼ cups cooked

1½

tsp

baking soda

½

tsp

ground cumin

½

tsp

ground paprika

½

cup

freshly squeezed lemon juice

½

tsp

sea salt

½

cup

tahini

3

cloves

garlic minced finely
Instructions
Hummus Preparation
Place whole red peppers on a baking tray under the broiler in the oven or a toaster oven and roast for about 30 minutes or until blackened all over and collapsed, turning as the suface is blackened. Be sure to also roast the top of the pepper. Once roasting is complete, remove the peppers from the oven and place in a dish to cool sufficiently to handle.

While the peppers are roasting, drain and rince the canned chick peas and remove shells by gently squeezing them between your thumb and forefinger.

Place the chickpeas in a medium sauce pot and fill with cold water about 2 inches above chickpeas. Add baking soda and bring to a boil. Continue to boil gently for 3 mintues to soften chickpeas. Drain, rince and let cool.

Remove and discard the seeds and core from the roasted peppers and place the peppers in a food processor with the finely minced garlic, lemon juice, cumin, paprika and sea salt and process until the mixture is as creamy as possible.

Add tahini and continue to process until well combined. Add cooked chickpeas and continue to process until very smooth.
Serving Suggestion
Place desired amount of hummus into a bowl and swirl to create troughs. Drizzle extra virgin olive oil sparingly and garnish with red pepper flakes, parsely and crispy baked chickpeas.