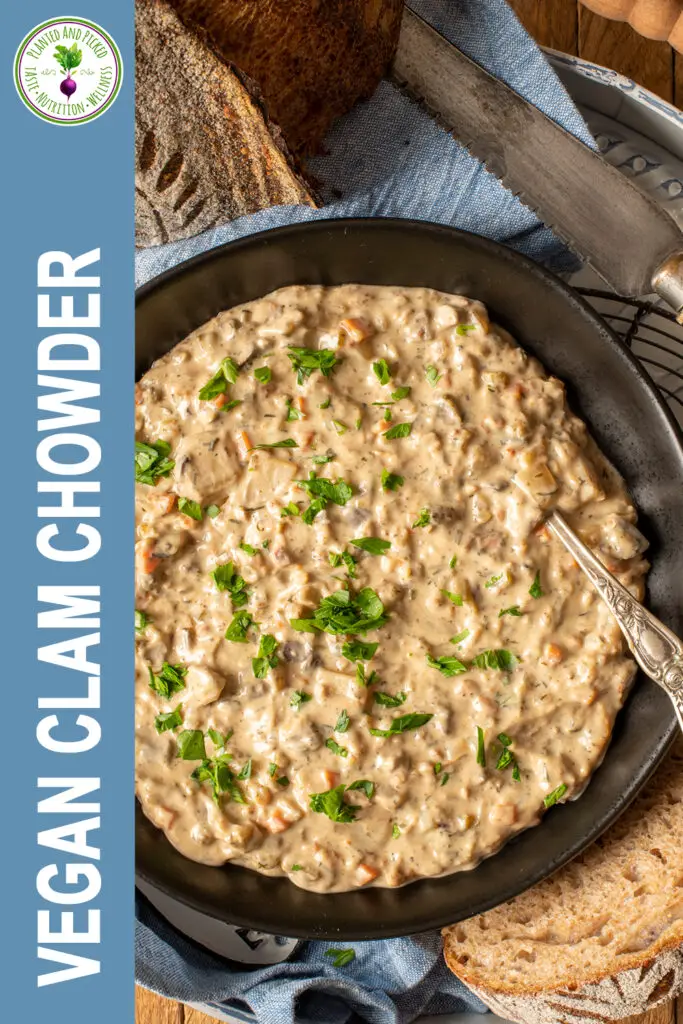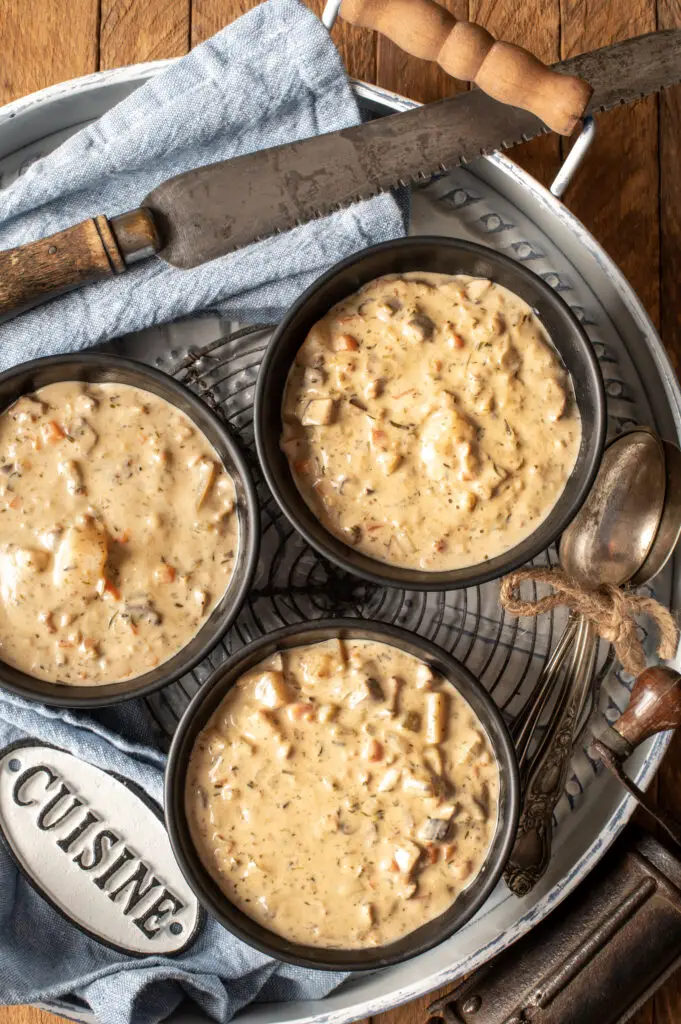 This Vegan Clam Chowder is a comfort food for us because it takes us home to Sandra's roots on the east coast of Canada. It is perfect for the cold snowy weather we've been struck with here in southern Ontario. A bowlful of chowder with a slice of Scott's freshly baked sourdough is all you need.
We've recreated the rich and creamy comfort that you expect from a bowl of clam chowder – except without the clams! Marinated mushrooms take the place of the chewiness of the clams and Unami flavours such as dulse flakes and miso help to create a 'seafood' flavour. Our revamped marinade recipe from our Vegan Scallop Tacos works well here.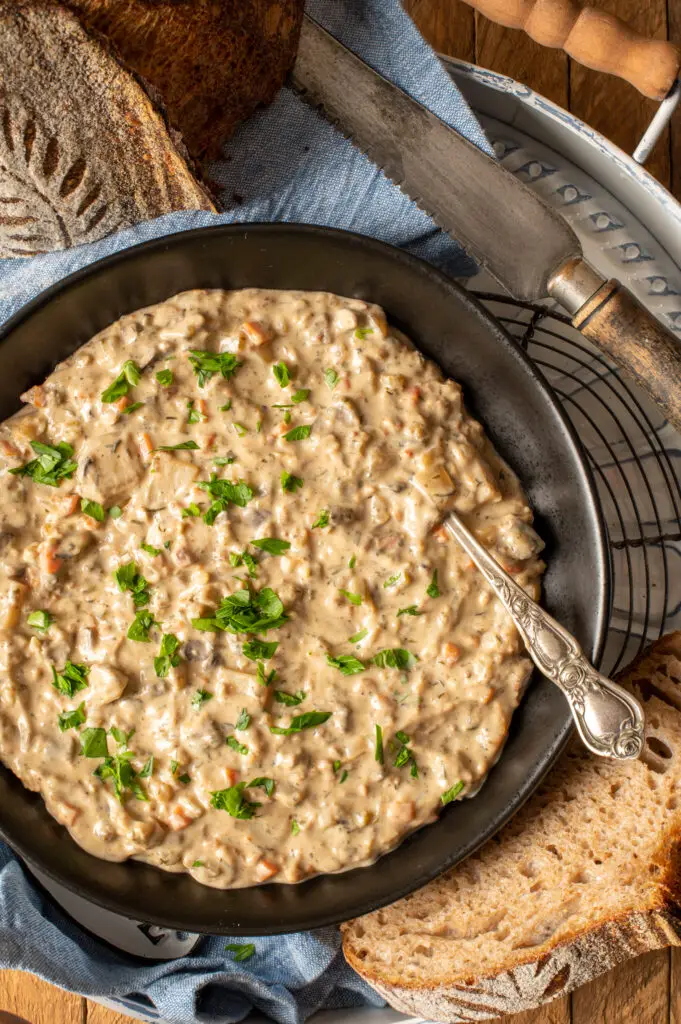 What distinguishes New England style clam chowder is the creaminess. Homemade cashew cream takes the place of traditional dairy cream in this recipe. You still have the creaminess factor without using dairy, which is inflammatory and many people have sensitivities to it. The main herb in this dish is savory because it is traditional in the version that Sandra grew up with. However, you can substitute with Old Bay seasoning (popular in New England) or dried parsley.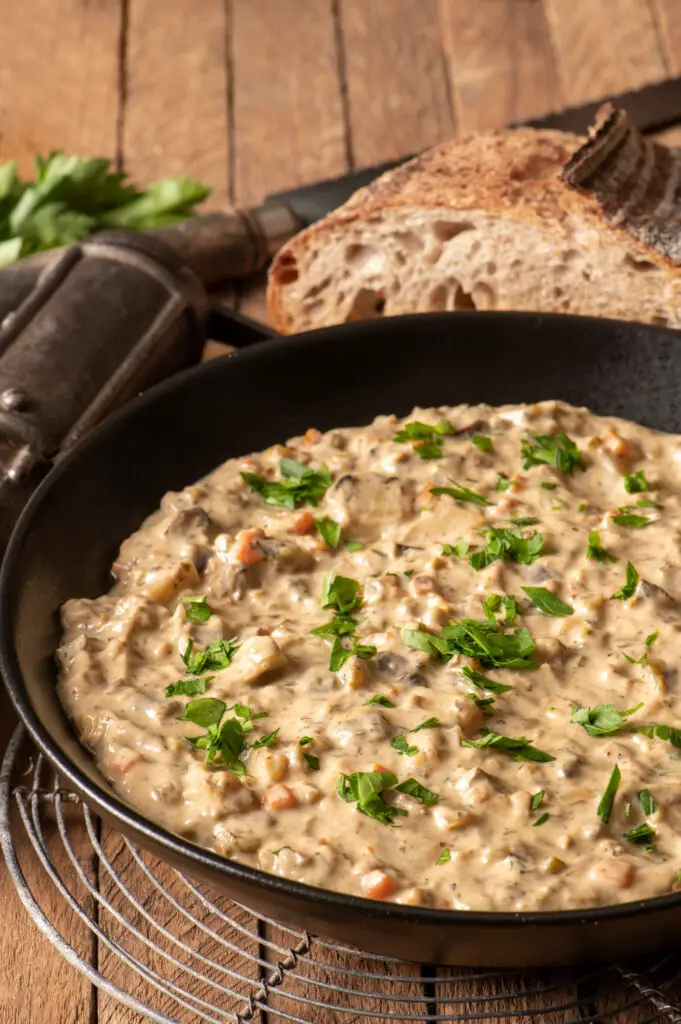 Try out our Vegan Scallop Tacos if you're up for more vegan seafood. They'll surprise you how close they are to the real thing! We also love this Creamy Vegan Corn Chowder if you're looking for comfort food! If you are looking for some other soup ideas, try out one of these warming bowls of deliciousness . . . Curried Cauliflower and Wild Rice Soup, Homemade Mushroom Soup, Italian Minestrone Soup, Roasted Squash and Pear Soup, Spiced Red Lentil Soup, Fire Roasted Tomato Soup or Warming Carrot Ginger.
This Vegan Clam Chowder provides the same rich and creamy comfort that you expect from your chowder! Try it and let us know in the comments below what you think. Don't forget to also leave a rating and snap a photo. Show us yours by tagging us @plantedandpicked on Instagram and hashtag it #plantedandpicked. Buen Provecho!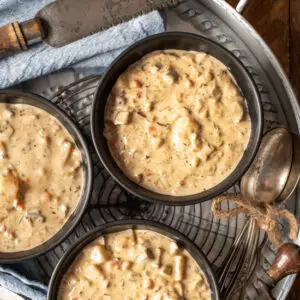 Ingredients
Vegan Clams
1

lb

cremini mushrooms diced ¼" to ½"

2¼

cups

vegetable broth

6

tbsp

dry white wine

6

tbsp

freshly squeezed lemon juice

2

tbsp

minced garlic

2

tbsp

tamari

5

g

kombu

3

tbsp

white rice miso

2

tsp

vegan Worcestershire sauce

2

tsp

maple syrup

1

tbsp

vegan butter
Cashew Cream
⅔

cup

raw cashews

1

cup

plant based milk

Soy works best because it is creamiest
Chowder
1

tbsp

vegan butter

1

cup

onion, diced

1

cup

celery, diced

¾

cup

carrot, diced

1

tsp

sea salt

1½

tbsp

garlic, minced

½

cup

dry white wine

1

tbsp

all-purpose flour

2

cups

marinating broth strained

2

cup

vegetable broth

1

tbsp

dried savory or "Old Bay Seasoning"

can substitute celery seed

2

large

bay leaves

1½

lbs

russet potatoes, peeled and cubed (about 2 cups)

2

tbsps

dulse flakes

¾

cup

plant based milk
Instructions
Vegan Clams
Remove stems from mushrooms and cut caps into approximately 1/4" or 1/2" cubes.

Combine remaining 'vegan clam' ingredients, except vegan butter, in a samll sauce pot and bring to a boil before reducing to a simmer and covering for about 10 minutes. Let cool completely before pouring into a bowl just big enough to hold all of the 'clams' and the marinade.

Add the 'clams' to the marinade bowl and place a smaller bowl or plate (that fits inside the bowl) on top of them to make sure they are submerged in the marinade. Leave on the counter for 3 to 4 hours.

Remove 'clams' from the marinade and dry them as best as you can with some paper towel.

Add the vegan butter to a dutch oven and heat over medium-high heat. Sauté 'clams' for 7 to 10 minutes to brown. Remove from pan and set aside.
Cashew Cream
Soak cashews in filtered water for at least 30 minutes or up to 4 hours and drain. Note that if you have a high powered blender, 30 minutes is sufficient, but that longer periods may be required for less powerful blenders.

Add the cashews and plant-based milk to the blender and blend to produce a smooth creamy consistency. You may need to scrape down the sides of the blender to ensure that all of the cashews are blended smoothly.
Chowder
Prepare onion, celery and carrot and sauté in vegan butter for 12 to 15 minutes in the same dutch oven used for the 'clams'. Note that depending on the size of your carrot and celery dice, you may need to adjust your sauté time. These need to be tender. Add minced garlic and sauté and additional 1 to 2 minutes until fragrant.

Add wine and cook off most of the liquid.

Add remaining chowder ingredients, except the plant based milk and remembering to strain the marinating broth,, to the dutch oven and bring to a boil before reducing to a simmer. Cover and cook for approximately 15 to 20 minutes until potatoes are fork tender. Remove and discard bay leaves.

Stir in cashew cream, vegan 'clams' and ½ cup of plant based milk and heat over medium low for 3 to 4 minutes. Add additional plant-based milk if you prefer a less thick chowder.

Serve with oyster crackers if you can find them, because that's just the way you do it! If you can't find them, don't stress! We also like ours with a slice of lightly toasted sourdough!