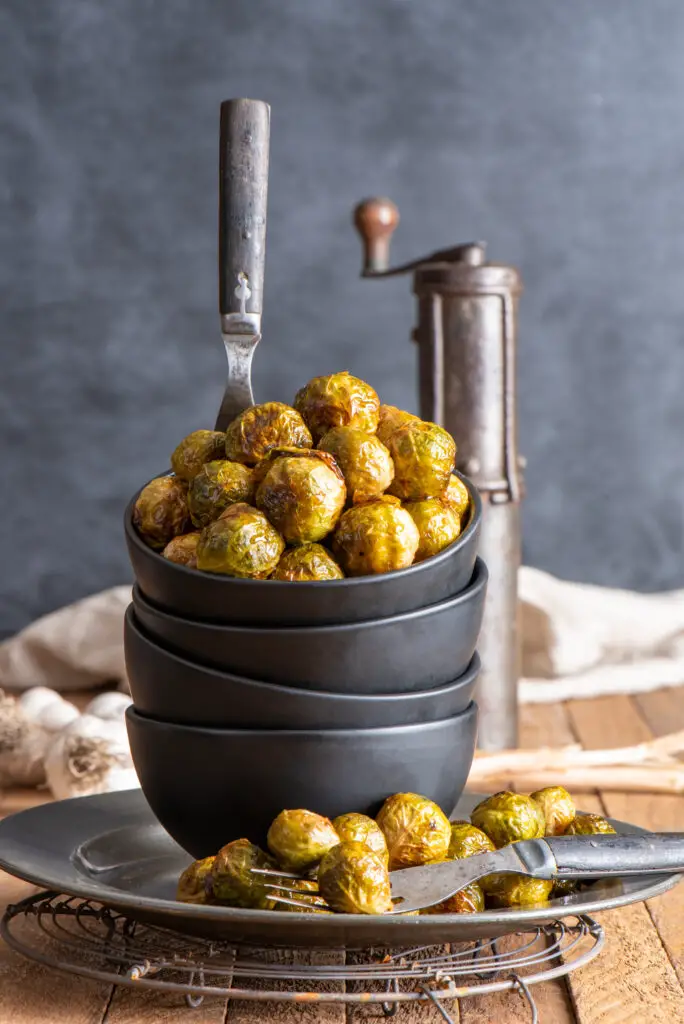 If you're looking for a side dish for your holiday dinner give these Garlicky Maple Brussels Sprouts a try! We promise that even if you don't love this vegetable, you will love them prepared this way.
Brussels Sprouts for the Doubter!
Many people our age have a bad memory of boiled and over cooked Brussels Sprouts from childhood – smelly and mushy. If this has been your experience and you vowed never to have them again, try this roasted version. It will have you falling in love with this cruciferous vegetable!
We find that most people either fall in the camp of 'Love them' or 'Hate them'. But even if you are wary, give this baked version of Garlicky Maple Brussels Sprouts a try! When you bake the Brussels with something sweet they get a caramelized coating that is delicious.
Health Benefits of this Little Cabbage
Brussels Sprouts are part of the cruciferous family of vegetables. This includes broccoli, cauliflower, mustard greens, arugula, cabbage, kale, and collard greens to name a few. Cruciferous vegetables contain a sulfur-containing phytochemical that has been researched for their anti-cancer effects. It can protect cells from DNA damage and preventing new blood vessels from growing in tumour cells.
Cruciferous vegetables are also important for detoxification and liver support. As an added bonus, the potent vegetables also contain chlorophyll, which boosts detox capacity even more. If you want to learn more about detoxification, see our wellness blog: Detoxification Do You Need It. Also the second part Detoxification: How It Works.
If that isn't enough, these Garlicky Maple Brussels Sprouts are also rich in vitamin C, vitamin K, folate, carotenoids (antioxidants) and fibre. Be aware though that cruciferous veggies also contain thiocyanates, which can block iodine absorption. People with thyroid problems might not want not eat very large amounts of these veggies. Also, choose cooked over raw.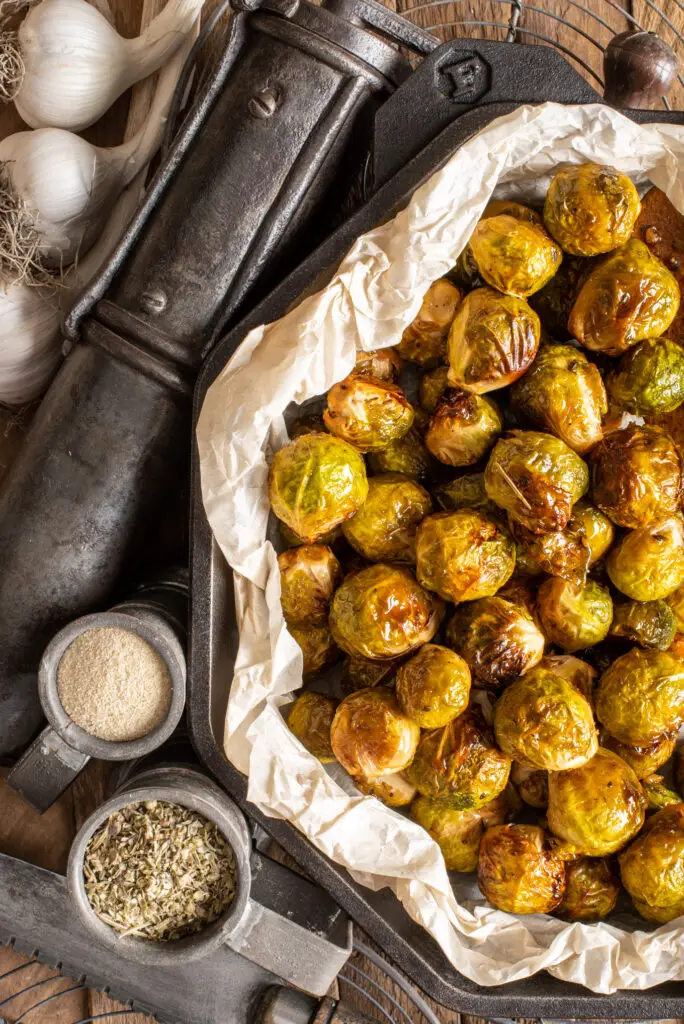 When you prepare them the right way, Brussels sprouts have a mild, sweet, almost nutty flavour. But they're very easy to overcook, which can lead to a bitter taste, mushy texture, and a strong, sulfur-like smell. Sometimes called mini cabbages, they have appeared on "most hated vegetable" lists due to their potentially bitter flavours. But trust us – when you bake these Garlicky Maple Brussels Sprouts, you will not have any of these issues!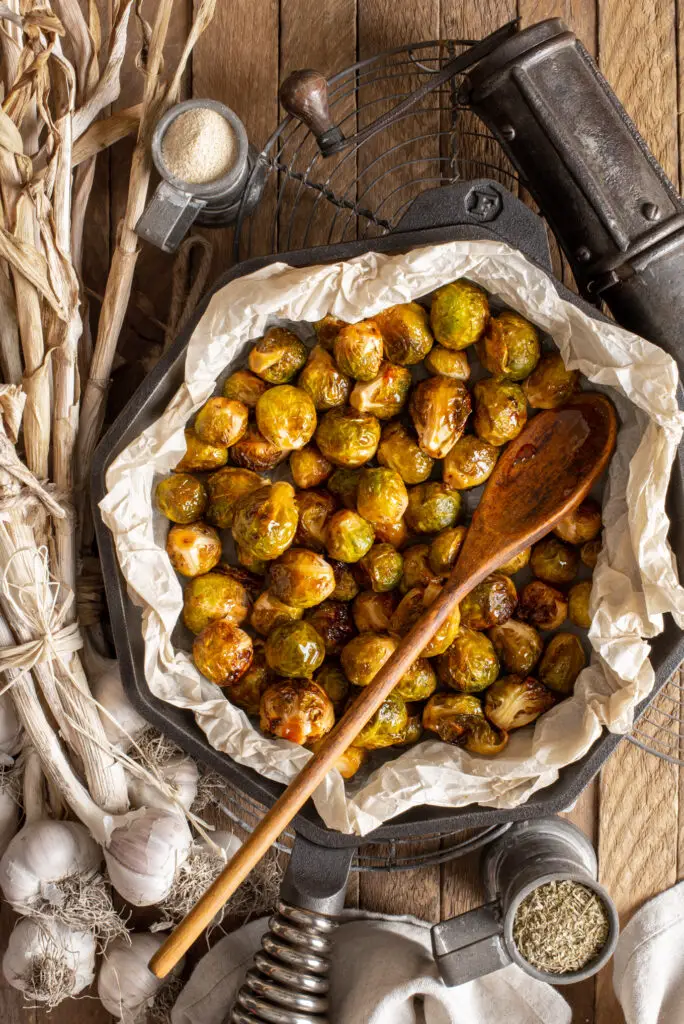 These Garlicky Maple Brussels Sprouts can be used with our Basic Buddha Bowl. Or as a side to our Spinach Stuffed Portobello Mushrooms.
Let us know if you do try out these Garlicky Maple Brussels Sprouts, in the comments and give it a rating. Show us yours on Instagram and don't forget to tag us @plantedandpicked and hashtag it  #plantedandpicked.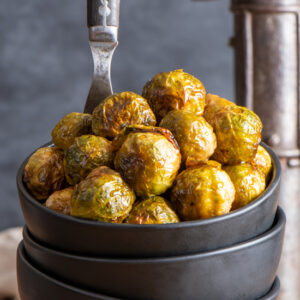 Ingredients
2

pounds

Brussels Sprouts

2

garlic cloves, minced

½

tsp

garlic powder

½

tsp

sea salt

1

tsp

oregano or Italian seasoning

⅓

cup

maple syrup – good quality

black pepper (optional)
Instructions
Preheat oven to 375°. Line a baking tray with parchment paper.

Wash Brussels Sprouts and trim the ends off. Remove any loose outer leaves. Leave whole or cut in half if you prefer (shorter cooking time).

In a medium sized bowl, mix the rest of the ingredients. Add the sprouts and stir.

Place Brussels Sprouts on baking tray, cut side down if in half. This will help them to brown evenly.

Bake in oven for about 20 minutes for halved sprouts and 30 to 45 minutes if you are leaving them whole (depending on size).

Enjoy as a side dish or on top of a Buddha bowl. We honestly eat these on their own sometimes as a snack!