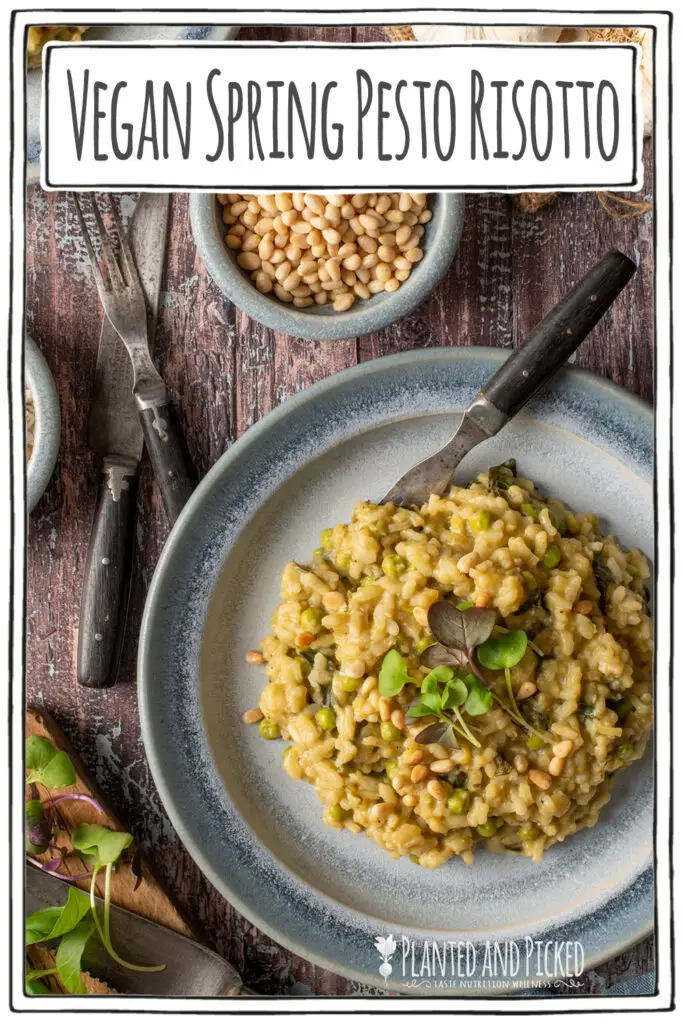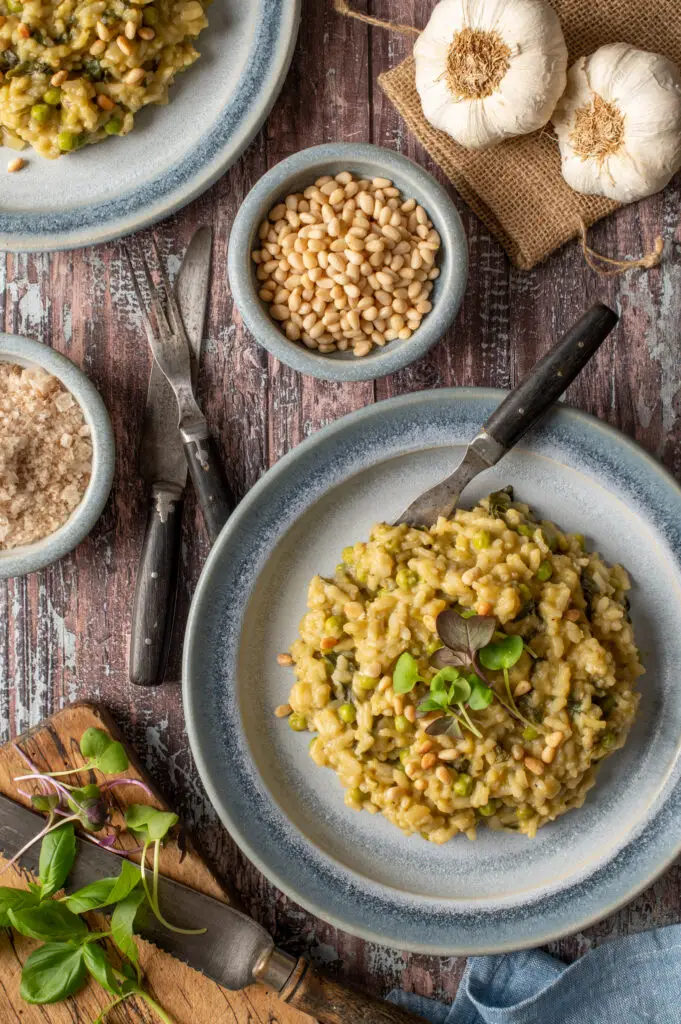 This vegan Spring Pesto Risotto is a perfect variation if you are looking for a lighter version of this traditional dish. Lemony and filled with spring vegetables, you are sure to find it satisfying.
Risotto comes from northern Italy and it is slow cooked with broth until the rice is cooked and it reaches a creamy consistency. Prepare your Spring Pesto Risotto with patience and love! There is something soothing about taking the time to slowly stir the dish for the 40 minutes or so that it takes to cook. We are big proponents of getting away from our culture of fast food. If you want to read more about the practice of conscious food preparation, see our article on Kitchen Sadhana.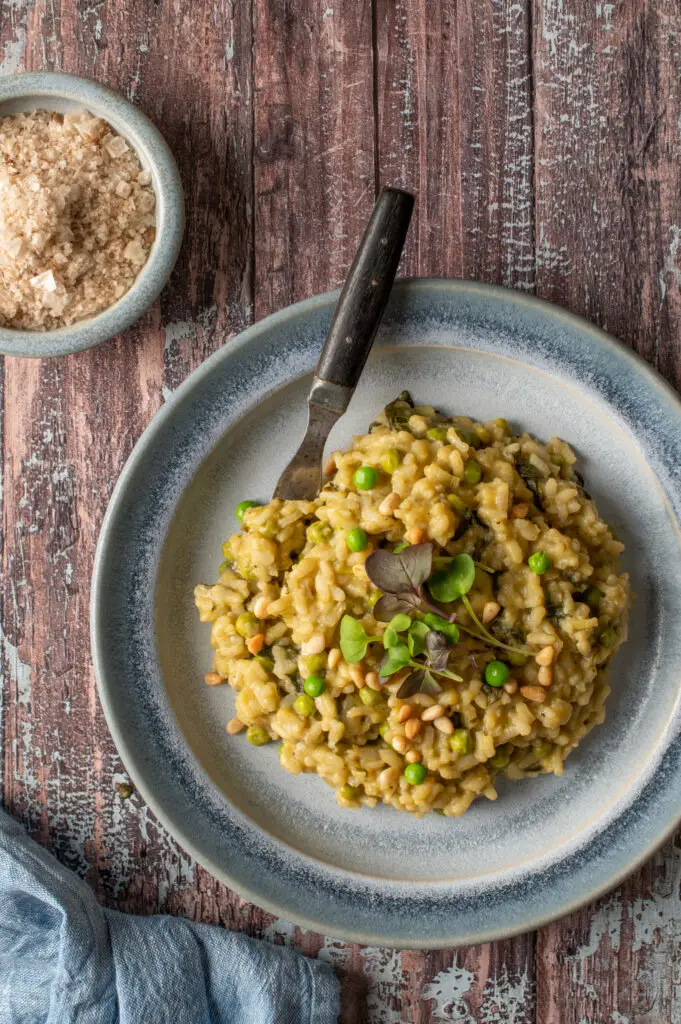 There are many versions of risotto. We believe that it is best to always use the produce that is available in season wherever you are. That is why we chose leeks, peas and spinach as the stars of this dish. For flavour, we chose to incorporate a spin on pesto, using basil and toasted pine nuts as garnish.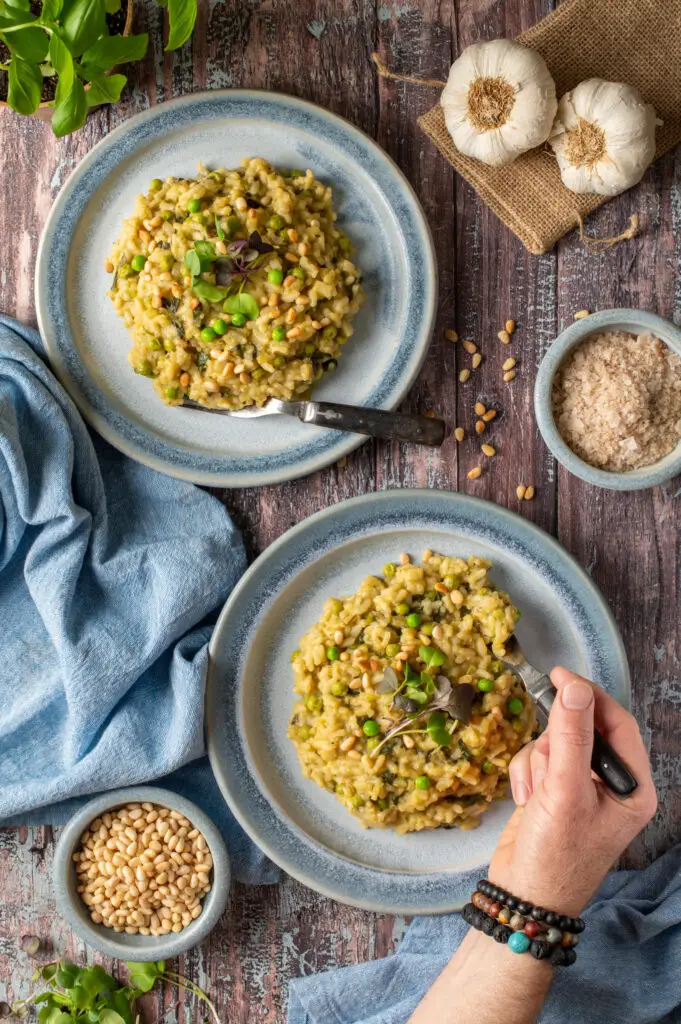 The traditional rice used in risotto is Arborio. This is a short grain white rice that is starchier that most white rice. It has the ability to absorb liquids and to release starch. This starch is what makes the rice creamy as it breaks down in cooking. In order to create this creaminess, you will need to add broth, a little at a time, and stir often. We won't lie – it requires constant care and attention.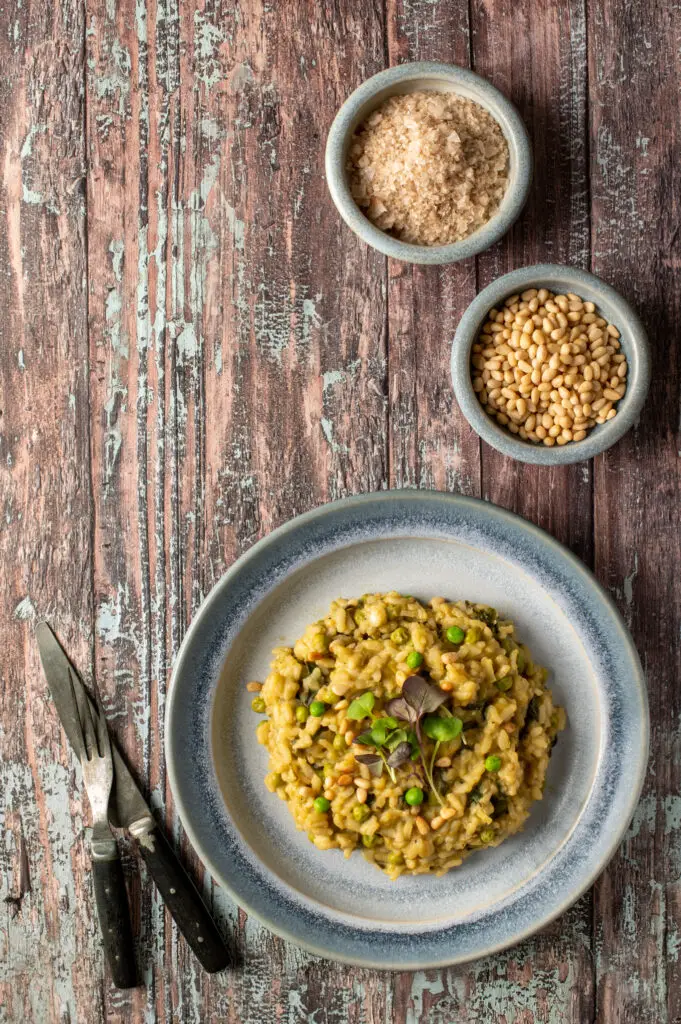 Traditional risotto typically contains butter, parmesan cheese and possibly some cream. This vegan Spring Pesto Risotto relies on the flavours of the vegetables, spices and aromatics to enhance the dish. We used lemon juice and grated lemon rind for a fresh taste. Basil is the main herb in the dish. We also included some Zatar (optional). Zatar is a Middle Eastern spice blend. It traditionally contains savoury dried herbs like oregano, marjoram or thyme. It also contains earthy spices like cumin and coriander, with sesame seeds, salt and sumac. Sumac gives a delicious unexpected tanginess to the blend.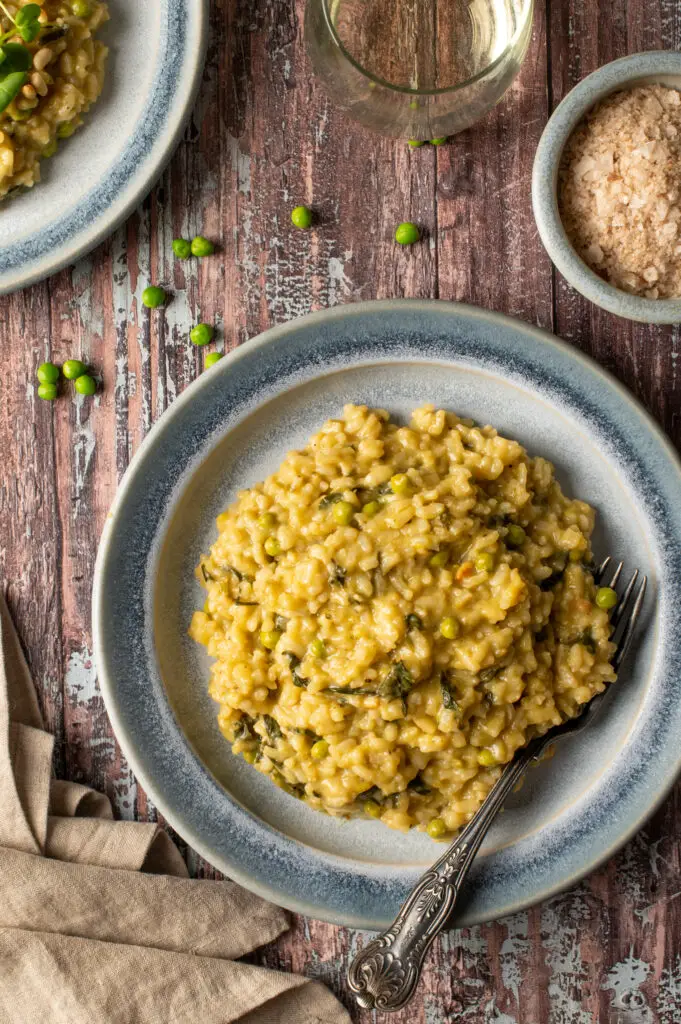 You should serve risotto warm and you can reheat it with a little more broth. It can be a side dish or a main course and is often served in restaurants as the first course. Risotto also works as a main when accompanied by a salad or cooked vegetables.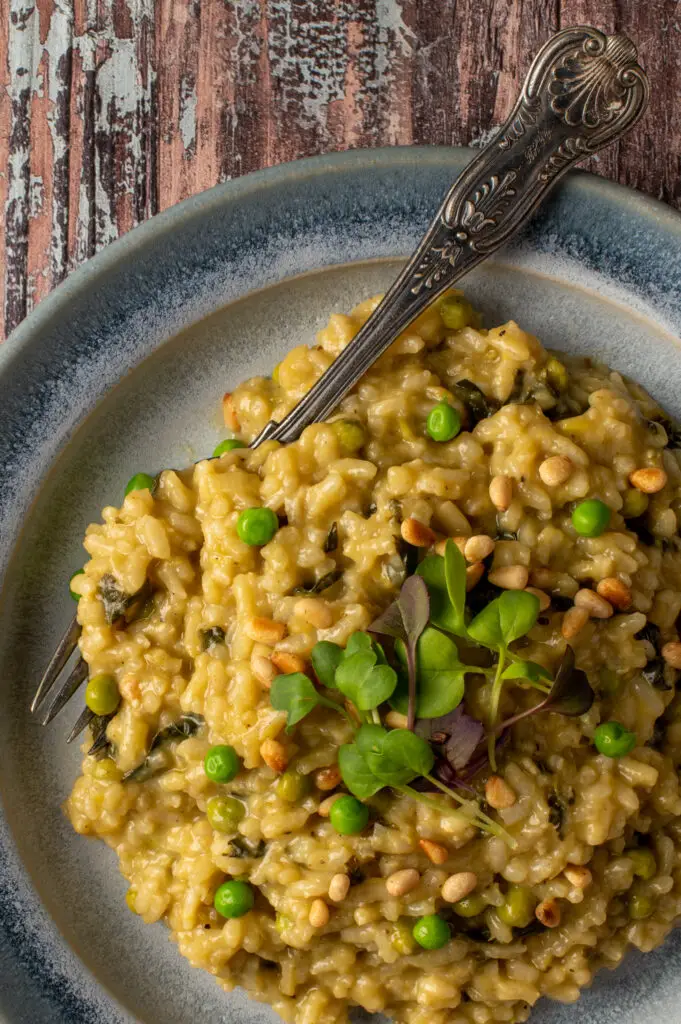 Try out this Vegan Pasta Alfredo for another wonderfully creamy comfort food. We also love this Vegan Mushroom Cream Sauce with Truffle Oil and this Vegan Hungarian Tofu Paprikash for its deep flavours.
Please let us know if you try out this Spring Pesto Risotto because we just love it and hope you take the opportunity to experience all of the flavour this traditional dish offers! Leave a comment and a rating and don't forget to tag us @plantedandpicked on Instagram and hashtag it  #plantedandpicked. We agree with Harriet Van Horne who said that cooking is like love – it should be entered into with abandon or not at all.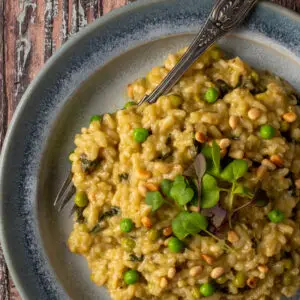 Ingredients
1½

cups

Arborio rice

2

tbsp

olive oil

1

leek, white/light green part only

2

large

garlic gloves, minced

¾

tsp

sea salt

½

cup

white wine

2

tsp

Zatar (optional)

6

cups

low sodium veg broth

4

cups

spinach, loosely packed

zest of 1 lemon

2

tbsp

lemon juice (1/2 lemon, juiced)

1½

cups

green peas, divided

1

cup

basil leaves, divided

black pepper to taste

¼

cup

pine nuts
Instructions
Risotto
If you are using frozen peas, place them in a bowl to start to thaw.

Wash and dry spinach, cut into bite sized pieces. Set aside. Measure out basil (leaves only).

Wash and zest 1 lemon. Cut in half and juice ½ of the lemon. Set aside.

Cut the leek in half lengthwise and wash to remove any dirt inside. Cut each piece lengthwise again. Slice each piece widthwise into thin strips. Peel and mince garlic.

Heat 6 cups of veg broth in a medium sized pot. Turn temperature to low to keep warm.

Measure out ½ cup of the peas and about ½ the basil leaves. Place in a blender with about a ¼ cup of veg broth. Blend to liquify. Set aside.

Heat olive oil in dutch oven over medium heat. Add leeks and salt. Grind some pepper into pot as well (if desired) to taste. Sauté, stirring occasionally for about 5 minutes. Add garlic and cook for another 2 minutes.

Add wine and Zatar to the pot, scraping any brown bits off the bottom. Cook for about a minute.

Add rice and stir to coat. Cook for about 2 minutes. Add 1 cup of the vegetable broth. Continue stirring frequently until the liquid has been absorbed (about 5 minutes).

Continue adding about ½ cup of the veg broth at a time, stirring for about 5 minutes in between until the liquid is absorbed. This whole process will probably take about 40 minutes and 6 cups of broth.

Once the rice is creamy and soft, add in the lemon juice, lemon zest, blended peas and spinach. Stir and cover. reduce heat to low to let the spinach wilt (a minute or two).

Meanwhile, slice the rest of the basil. Add the basil and remaining peas to the pot. Stir to combine.

If the risotto is too liquid for you, continue to cook a little longer until you get the right consistency. Likewise, add more broth if it is too thick. Note: the Risotto will thicken as it sits.

To serve, sprinkle each bowl with some pine nuts (about 1 tbsp per serving), and some extra basil or microgreens if desired.
Pine Nuts
Heat small frying pan to medium low. Add pine nuts and toast. Stir or shake the pan frequently to ensure they do not burn. Cook for about 5 minutes or so. They should be light brown and have a nice aroma.
Nutrition
Calories:
504
kcal
|
Carbohydrates:
79
g
|
Protein:
12
g
|
Fat:
14
g
|
Saturated Fat:
2
g
|
Sodium:
470
mg
|
Potassium:
500
mg
|
Fiber:
8
g
|
Sugar:
6
g
|
Vitamin A:
3920
IU
|
Vitamin C:
37
mg
|
Calcium:
77
mg
|
Iron:
6
mg