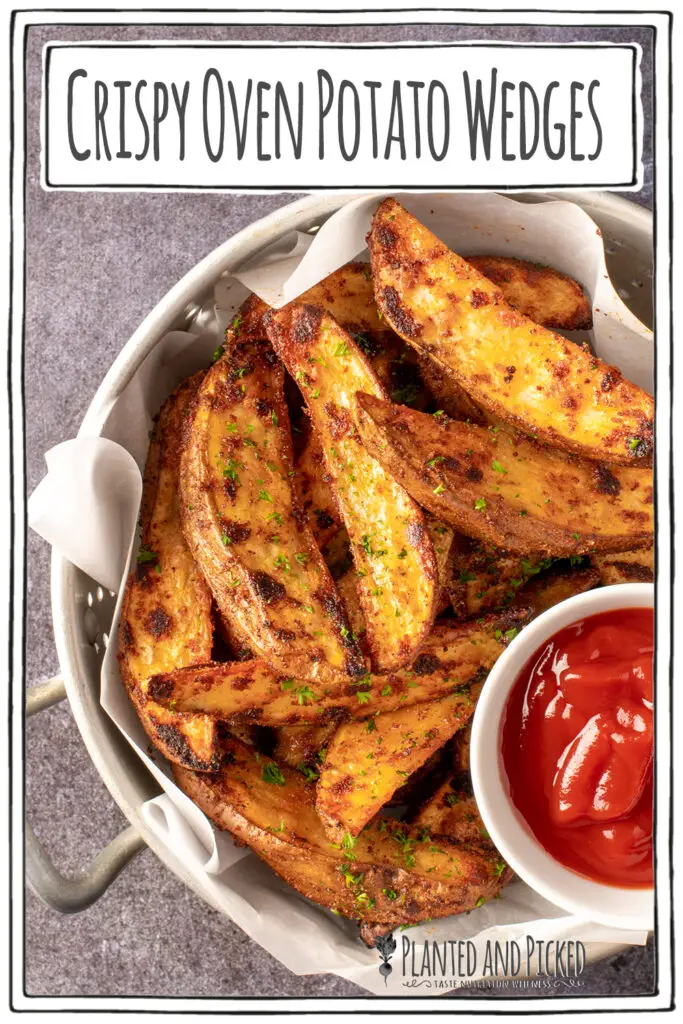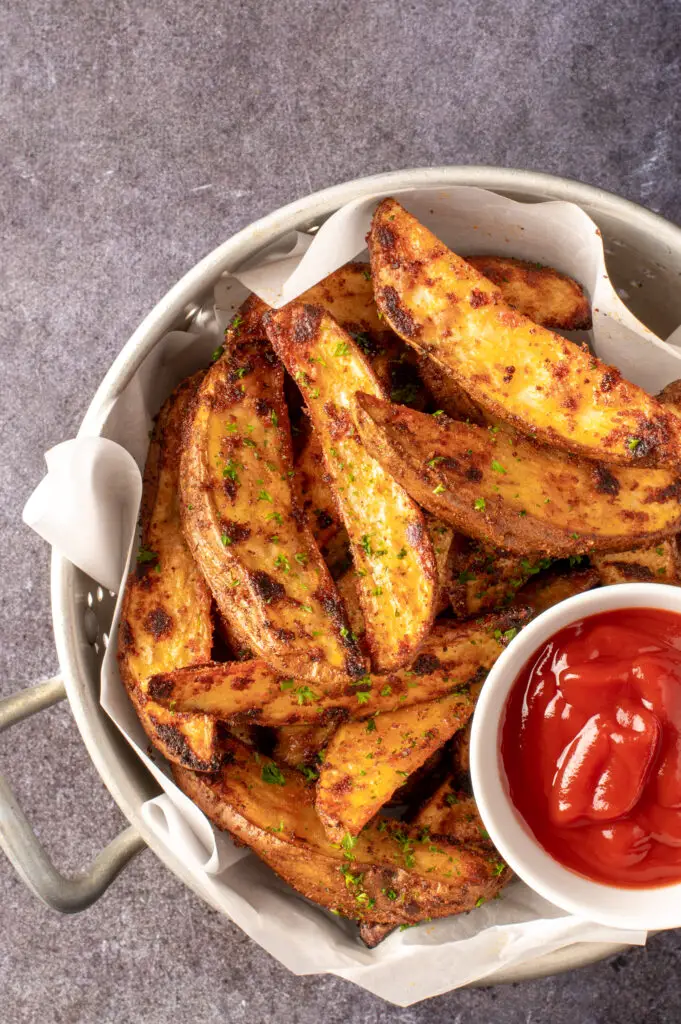 Crispy Oven Potato Wedges! Who does not like crispy on the outside – soft on the inside potato wedges?!? And of course, they're baked and not fried, so you can feel better eating them.
Simple, But with One Trick!
Making these is about as easy as it gets. Simply use a starchy potato such as a russet for a soft and fluffy inside. The only trick is to soak the cut potato wedges in warm water for about ten minutes to remove some of the excess starch on the outside so that they will crisp up in the oven. We put a large pot of cold water on the stove and heat it up to just before boiling and shut off the heat. We then place the potato wedges in the pot and give them a quick stir before leaving them to sit. Starting with cold water that has fewer dissolved minerals than hot water that has been sitting in your water heater and pipes is less likely to impart any off-putting flavour to your food.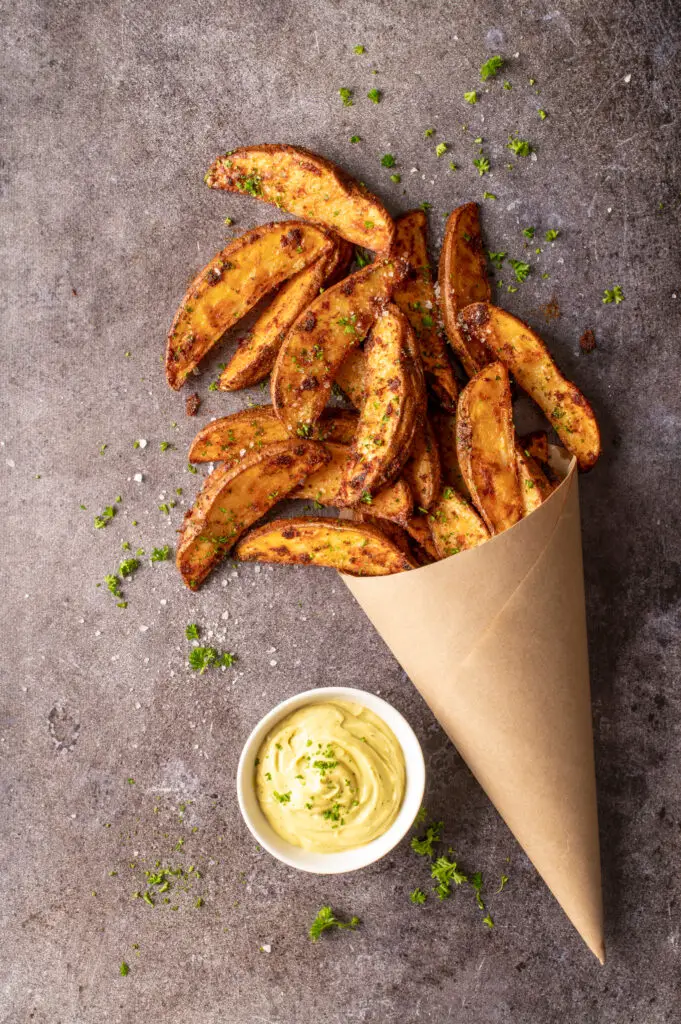 After the potatoes have soaked for ten minutes, we rinse them with cold water and dry them off with a clean, lint free towel. Don't skip this step because your spices will stick to the potatoes much better if they've been dried.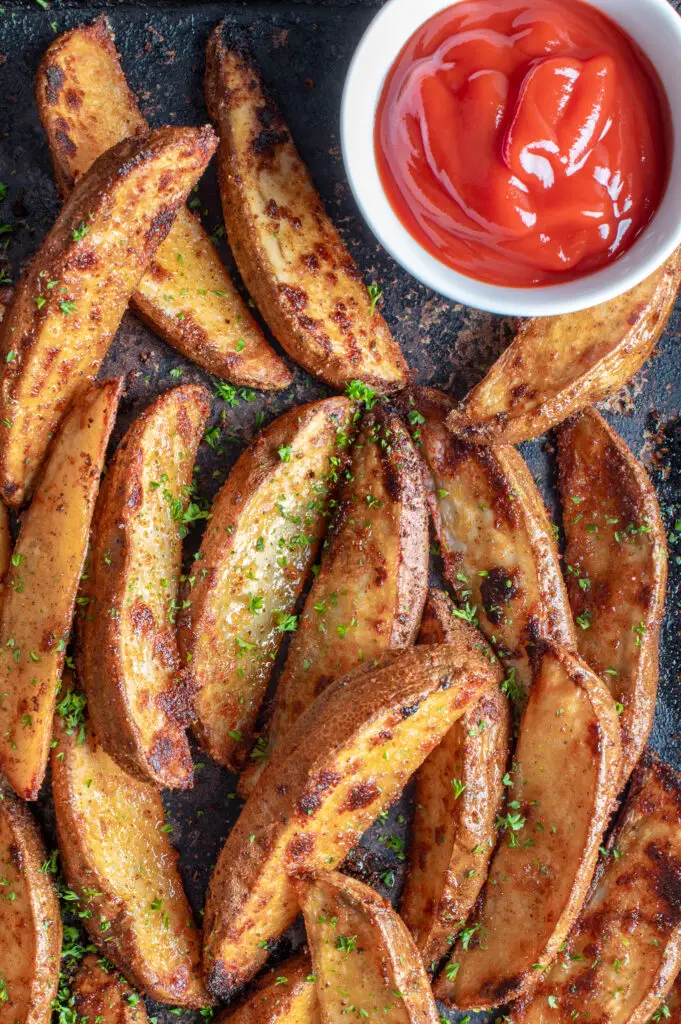 Bake Your Potato Wedges to Keep Them Healthier
Drizzle the wedges with the olive oil and sprinkle the garlic powder, onion powder and salt over top. You can do this right on your baking sheet or in a large bowl. Toss the potato wedges to evenly coat them and spread them out evenly in rows. It's important to space them evenly so that they are not overlapping or touching, ideally. This allows air to circulate around them so that they come out nice and crispy!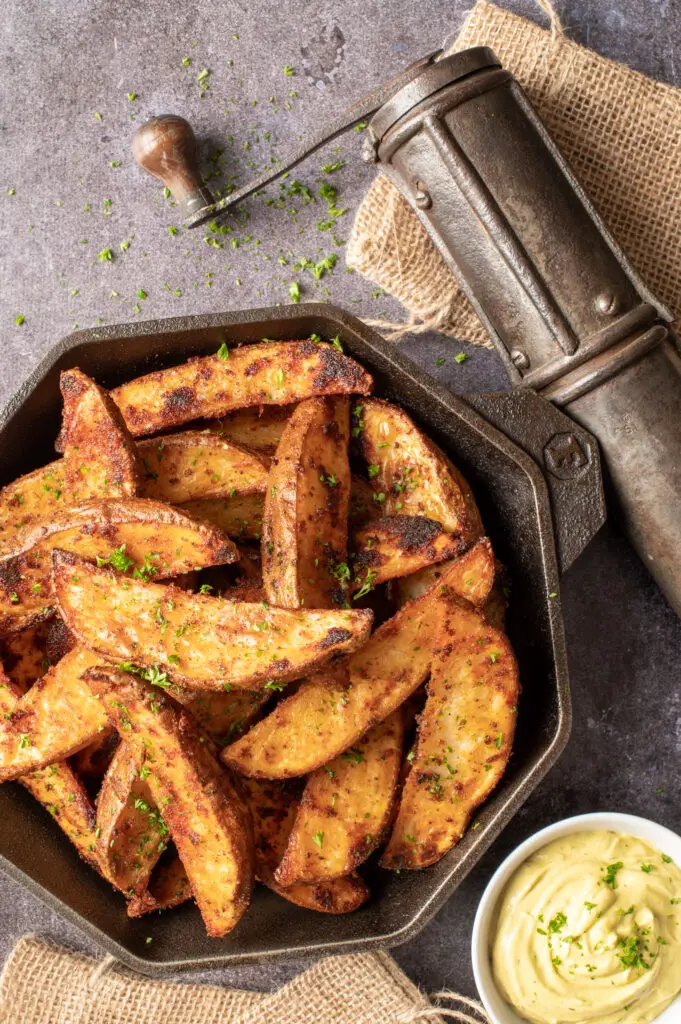 You'll need to flip the potato wedges after about 30 minutes before baking for another 20 to 25 minutes. If any appear to be cooking a little faster, pull them out sooner. Ours were just right after 20 minutes.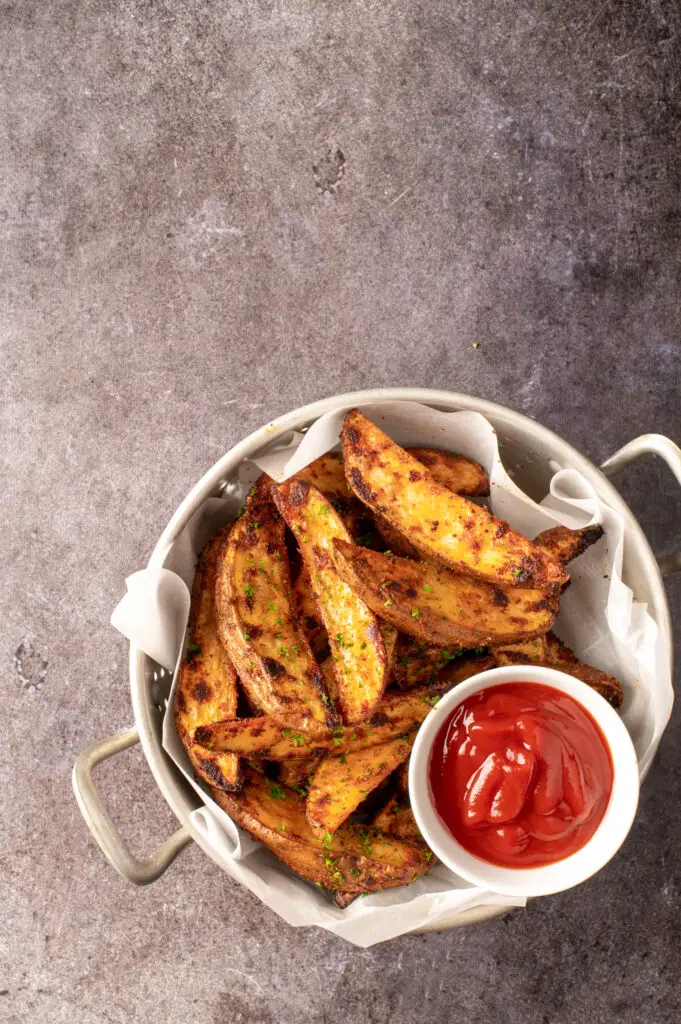 Potatoes are Actually Healthy
Potatoes often get a bad wrap in our carb-obsessed society. However, they have been a staple food in many cultures (including Sandra's Newfoundland culture). They are rich in potassium and vitamins C (immune system support) and B6 (mood health). Potatoes also contain resistant starch which is a special type of starch which your body does not digest. It's "resistant" because the digestive enzymes produced by your body don't break it down. Instead, it travels all the way to your large intestine where it feeds your gut microbiome. So eat your potatoes!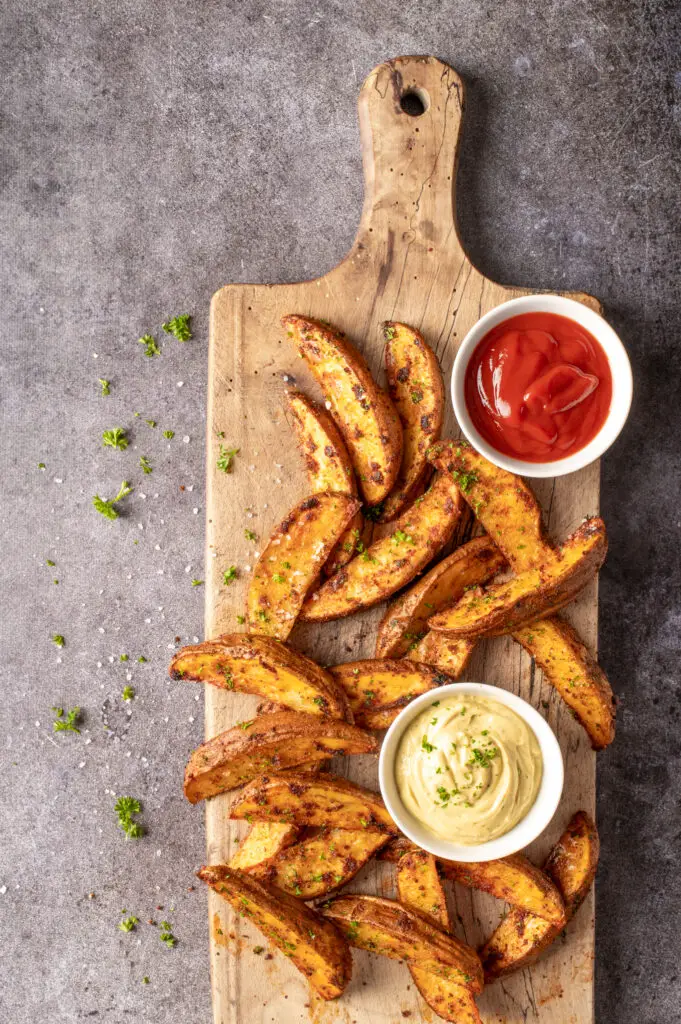 You can choose which every dipper you like, of course, but we love this Spicy Cashew Avocado Mayo. So creamy and perfect for these potato wedges!
We know you'll love these Crispy Oven Potato Wedges. After you've had these, you should also try this Roasted Potato and Tomato Tray Bake! For another great traditional potato dish, you'll fall in love with this Creamy Vegan Potato Salad. It has an oil free cashew based dressing that is perfect as a mayo replacement. Why not enjoy these crispy potato wedges with a Black Bean Veggie Burger or a burger made with a Chickpea Veggie Patty.
Potato wedges are total comfort food. Let us know if you loved the crispy outsides and tender soft inside. Leave a comment and a rating and don't forget to tag us @plantedandpicked on Instagram and hashtag it  #plantedandpicked. A.A. Milne once said "What I say is that, if a man really likes potatoes, he must be a pretty decent sort of fellow"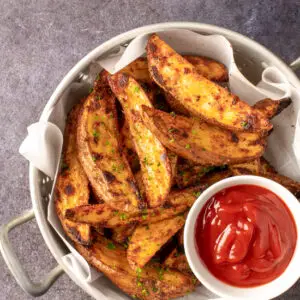 Ingredients
4

large

Russet potatoes

950 g

3

tbsp

extra virgin olive oil

45 ml

2

tsp

garlic powder

10 ml

2

tsp

onion powder

10 ml

2

tsp

paprika

10 ml

1

tsp

fine sea salt

5 ml

1

tbsp

fresh parsley

optional
Instructions
Pre-heat your oven to 400°F with a rack in middle. At the same time, heat a pot of cold water to just before boiling and turn off the heat.

Rinse and gently scrub your potatoes and cut them lengthwise into 8 wedges. Place them gently into the hot water and let rest for ten minutes.

Drain the potato wedges and dry them off completely with a clean, lint-free cloth and set them on a large parchment-lined baking sheet. Drizzle with olive oil and sprinkle with garlic powder, onion powder and sea salt and gently toss to evenly coat.

Arrange potato wedges in rows on the baking sheet. They should not overlap and should have just a little space between them to allow air to circulate and result in crispy outsides!

Bake the wedges for 30 minutes before flipping them and baking for an additional 20 to 25 minutes. We found that 20 minutes was just right. Don't take them out before they're nice and crispy, but watch them to make sure they don't burn around the edges.
Nutrition
Calories:
394
kcal
|
Carbohydrates:
69
g
|
Protein:
8
g
|
Fat:
11
g
|
Saturated Fat:
2
g
|
Sodium:
602
mg
|
Potassium:
1577
mg
|
Fiber:
5
g
|
Sugar:
3
g
|
Vitamin A:
165
IU
|
Vitamin C:
26
mg
|
Calcium:
55
mg
|
Iron:
3
mg