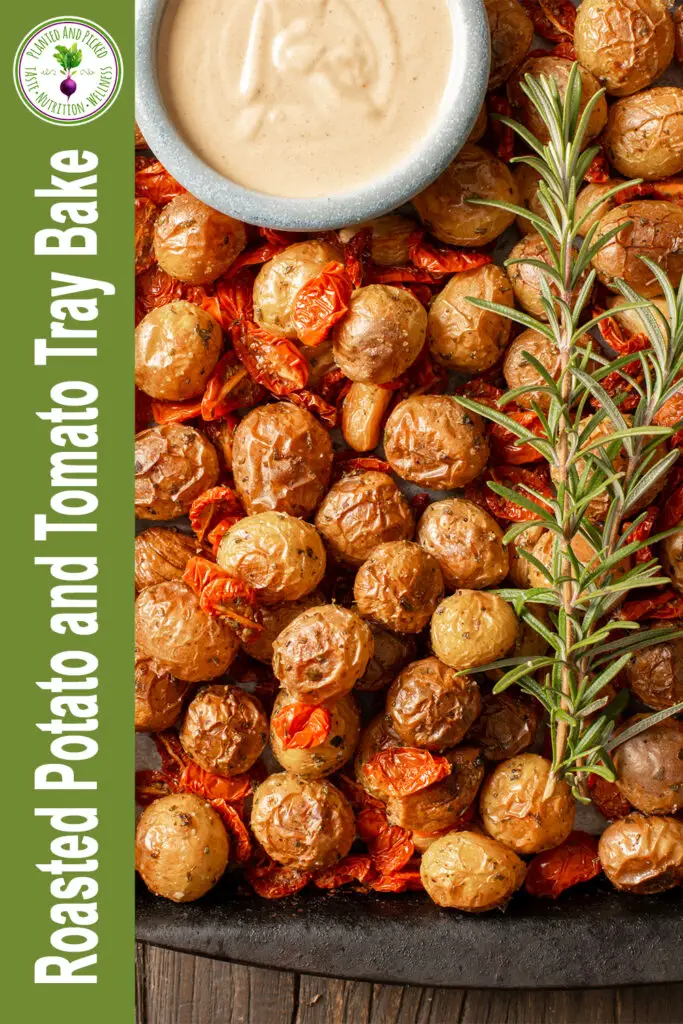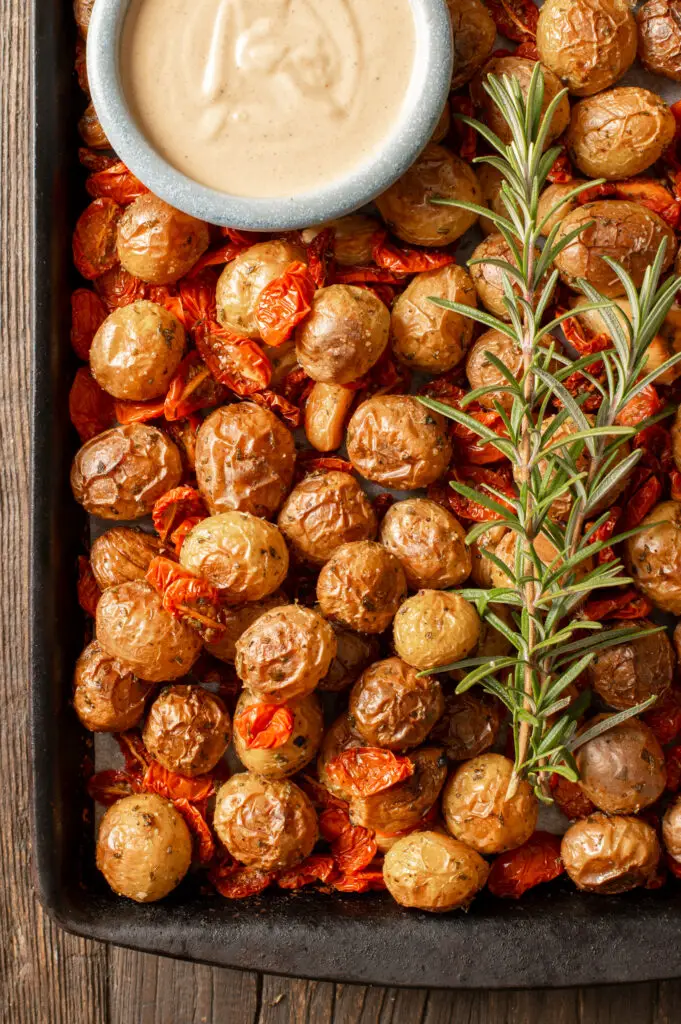 This Roasted Potato and Tomato Tray Bake will fill your kitchen with a savoury aroma with hints of fresh rosemary. You can choose to make the golden roasted potatoes and garlic only, or include the additional burst of flavour of the Slow Roasted Cherry Tomatoes and tangy Tahini Mustard Dressing that we include here.
Roasting Instead of Steaming!
We have to think that everyone loves roasted potatoes that are perfectly golden and crispy on the outside and creamy on the inside. That's why it's so important to space them out on the baking sheet so that the moisture they emit during roasting does not, in fact, steam them. We prefer to use organic potatoes because they're on the dirty dozen list. Wash them to remove any dirt and dry them well before seasoning.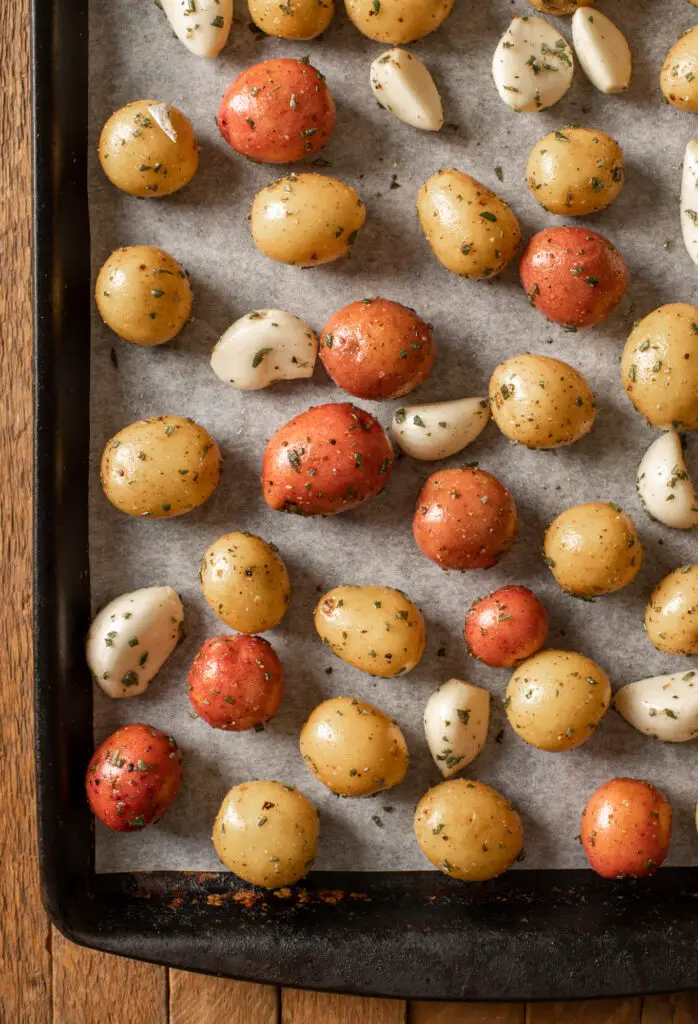 Using Fresh Rosemary
Would you believe that we harvested fresh rosemary from beneath the snow in our garden in December? We were amazed and pleasantly satisfied to be able to add it to our roasted potatoes. Rosemary is wonderfully fragrant and has an astringent tase that is just perfect for roasted vegetables.
It's needle-like leaves can be tough despite the length of cooking time. Therefore, you should remove the leaves from their stems and chop them very finely before adding them to the potatoes. Just pinch the stems between your thumb and forefinger and run your fingers along the stem against the direction that the leaves are growing.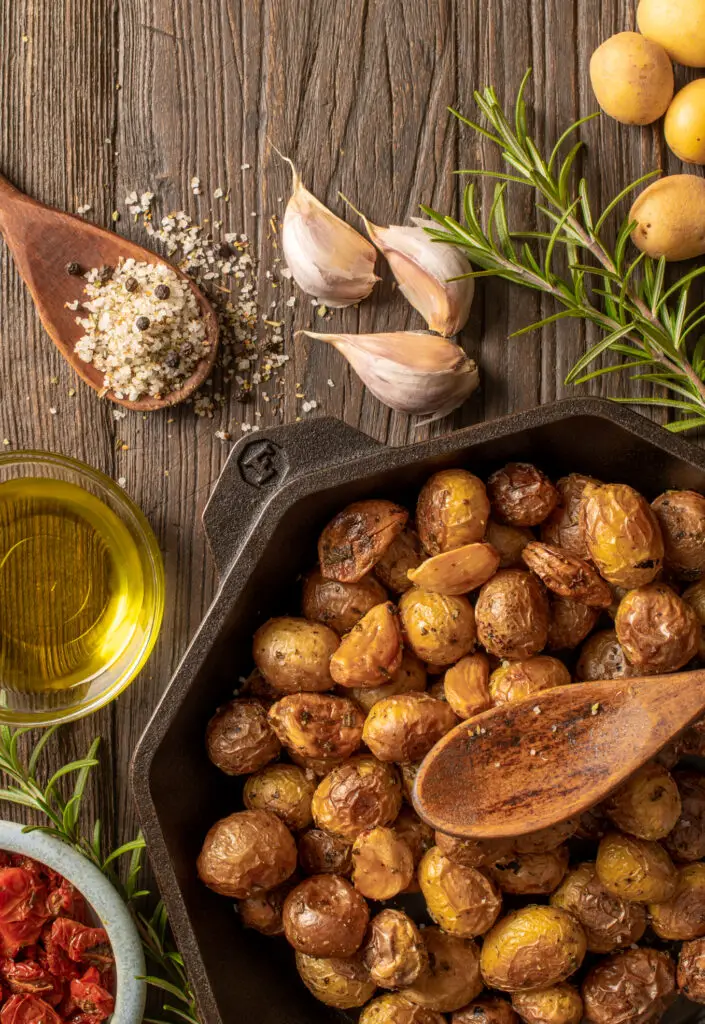 Bringing the Roasted Potato and Tomato Tray Bake Together . . .
If you just want to hunker down over the roasted potatoes and garlic, that's totally cool. If you can prepare the Slow Roasted Cherry Tomatoes ahead of time, even better! Take a few more minutes to prepare the Tahini Mustard Sauce while the potatoes are roasting and you'll love us! These additions will be worth the extra steps for sure. Who doesn't like a great sauce, right!? If you've prepared the slow roasted tomatoes to the tray with the potatoes during the last 10 minutes of cooking time.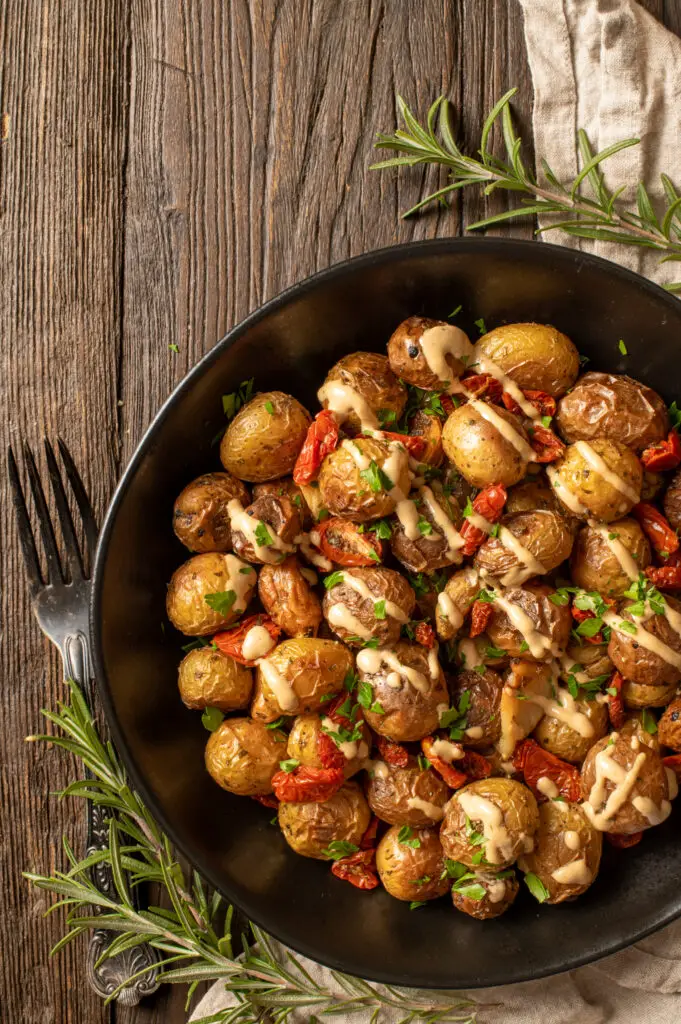 We hope that you love this Roasted Potato and Tomato Tray Bake! For another great traditional potato dish, you will fall in love with this Creamy Vegan Potato Salad. It has an oil free cashew based dressing that is perfect as a mayo replacement. Why not enjoy these crispy potatoes as a perfect side to go along with a Black Bean Veggie Burger or these White Bean Artichoke Patties.
Roasted Potatoes are always great comfort food. We look forward to your feedback. Leave a comment and a rating and don't forget to tag us @plantedandpicked on Instagram and hashtag it  #plantedandpicked. Let food be thy medicine . . .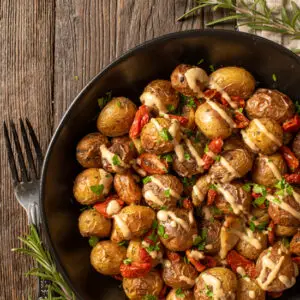 Ingredients
Roasted Potatoes
1½

lb

baby potatoes or larger potatoes in ¾" cubes

15

cloves

garlic

2

tsp

olive oil

1

tbsp

fresh rosemary, chopped finely

½

tsp

fine sea salt

¼

tsp

freshly ground black pepper
Garnish
¾

tsp

finishting salt

2

tbsp

parsely chopped
Instructions
Prepare tomatoes using the linked recipe. Take note that the slow roasting process takes between 3 and 4 hours and that this can be done the day before. As noted in the blog, you can certainly enjoy the roasted potatoes on there own!
Roasted Potatoes
Wash and dry the baby potatoes and peel garlic cloves

Measure olive oil and seasonings into a large mixing bowl and stir to combine before adding potatoes and garlic cloves and mixing well to coat.

Spread whole potatoes and garlic evenly over a parchment lined baking tray, leaving space between them so that the vegetables roast rather than steam.

Roast potatoes and garlic initially for approximately 25 minutes before turning over the potatoes and garlic. We also like to rotate the baking tray 180° when placing it back in the oven. This will result in more even browning. Continue to roast for another 20 to 30 minutes or until potatoes are lightly browned and are fork tender.

If you slow roasted cherry tomatoes as part of this recipe, add them to the potato tray approximately 10 minutes before roasting is complete, to warm them up.
While the potatotes and garlic are roasting, prepare the dressing using the linked recipe.
Assembly
Remove the roasted vegetables from the pan to a serving platter and drizzle Tahini Mustard Dressing. Garnish with chopped parsely and finishing/flake salt.