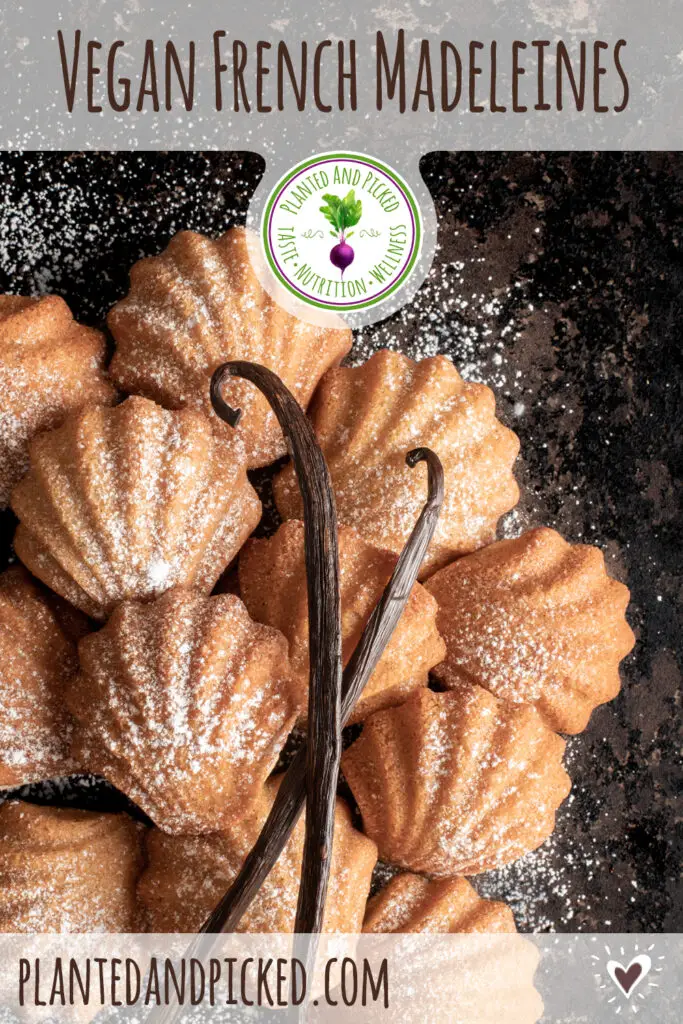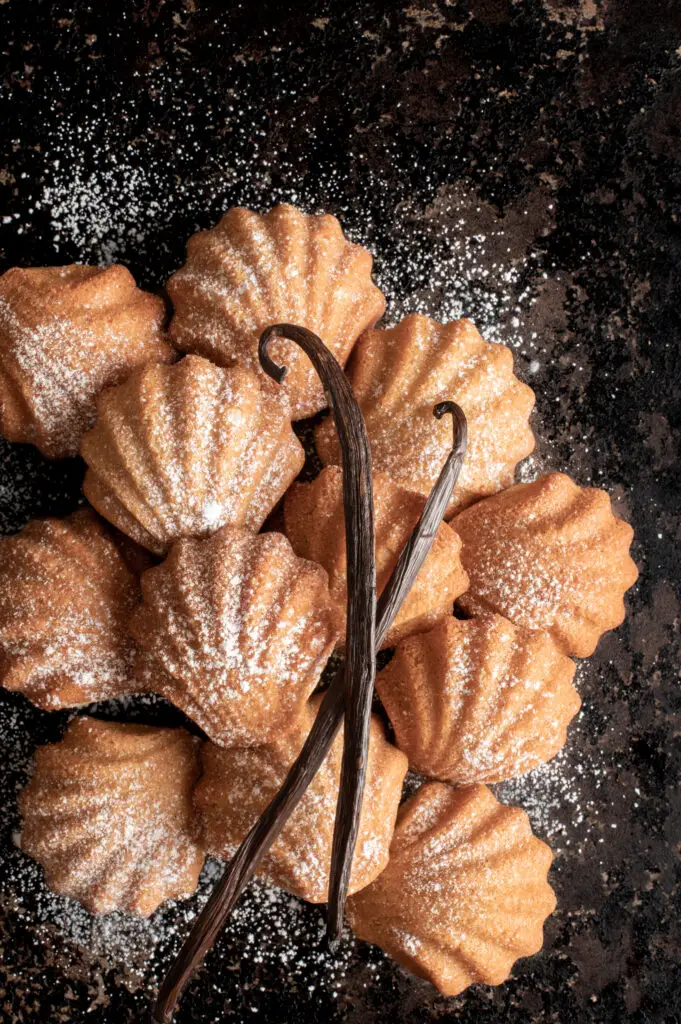 Admittedly, we are in love with anything Paris. Just about anything with French roots and history just resonates with us. These Vegan French Petites Madeleines are no exception. Such a history and just a few little tricks to be found to get them just right, when you start digging through to the roots of this little French tea cake!
The Beauty of Food
In France, food is beautiful and is meant to be enjoyed. It's not meant to be shoved in one's mouth before moving on to the next thing as quickly as possible. There is an art to good food and appreciating this elevates your experience with it. This may sound over the top to some, but this is why we present food in its best form and light when we bring you the recipes on this blog. We eat with our eyes first, then with our nose and lastly all three come together on our palette.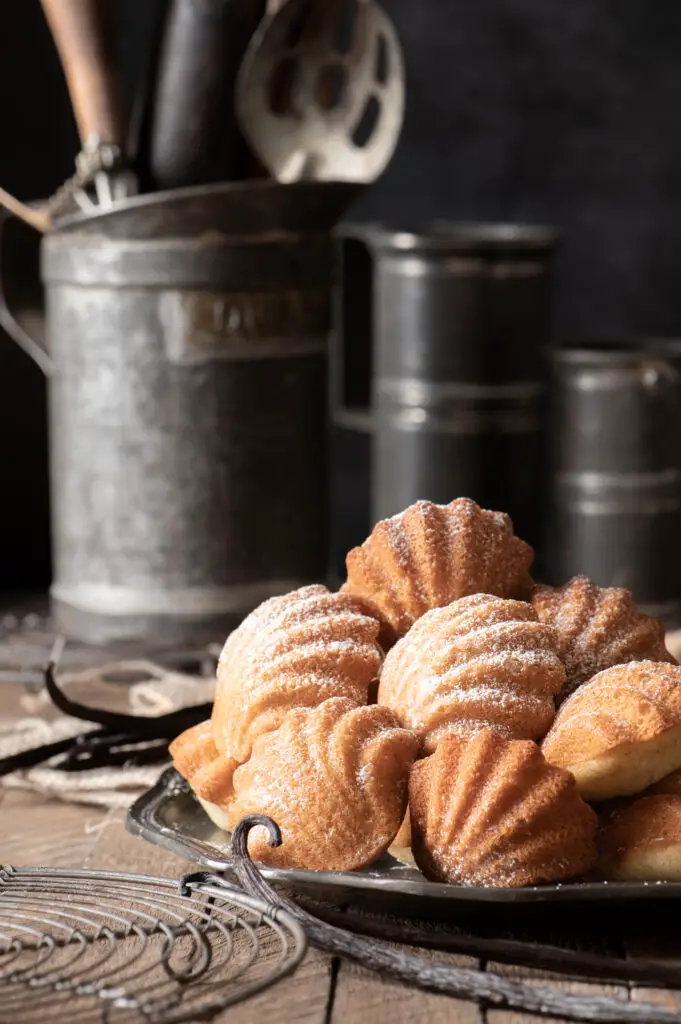 When you see beautiful food, you just know that you have to try it and find out if it's as wonderful as it looks. We truly believe that food nourishes our soul as much as it nourishes our bodies. Our hard work has gone into making these Vegan French Petites Madeleines excite all of your senses and soothe your soul. We hope you fall in love with them and share your story!
What are French Madeleines?
Madeleines are classic, small French sponge cakes best served with a cup of tea and not coffee. In fact, the height of the lemon flavour comes when you dip them in your tea. There has oft been debate over whether these jewels are cakes or cookies. They are most certainly deliciously golden tea cakes.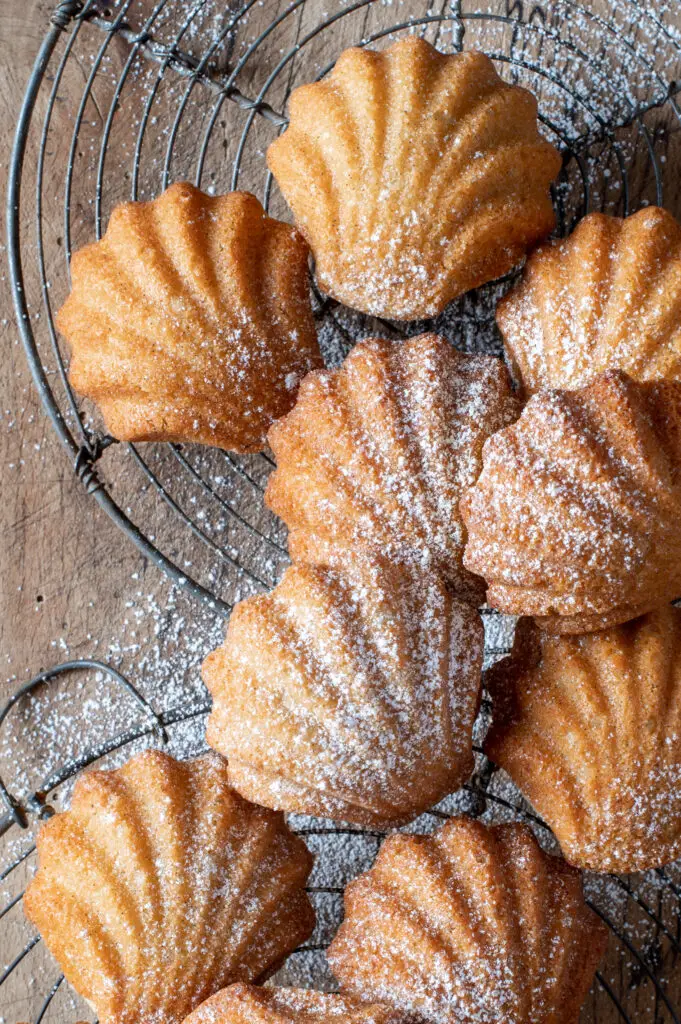 Just How to Make these Treats Vegan
Our vegan version of these wonderfully French Madeleines does not include eggs, of course. However, we owe great culinary thanks to Goose Wohlt, an American software engineer. He discovered in 2015 that aquafaba, or chickpea brine, that one typically discards, has all of the properties of egg whites, when whipped. While there are vegan versions of madeleines that do not use aquafaba, we wanted to stay as true to the original as possible. You will find it quite amazing if you have not whipped up aquafaba before!
We also took some pointers from the Bruni Bakery blog in Dublin, Ireland. They talk in their blog about preparation and baking techniques for French madeleines. While their version is not vegan, they provide some very helpful techniques that can also be applied with our vegan version of these madeleines.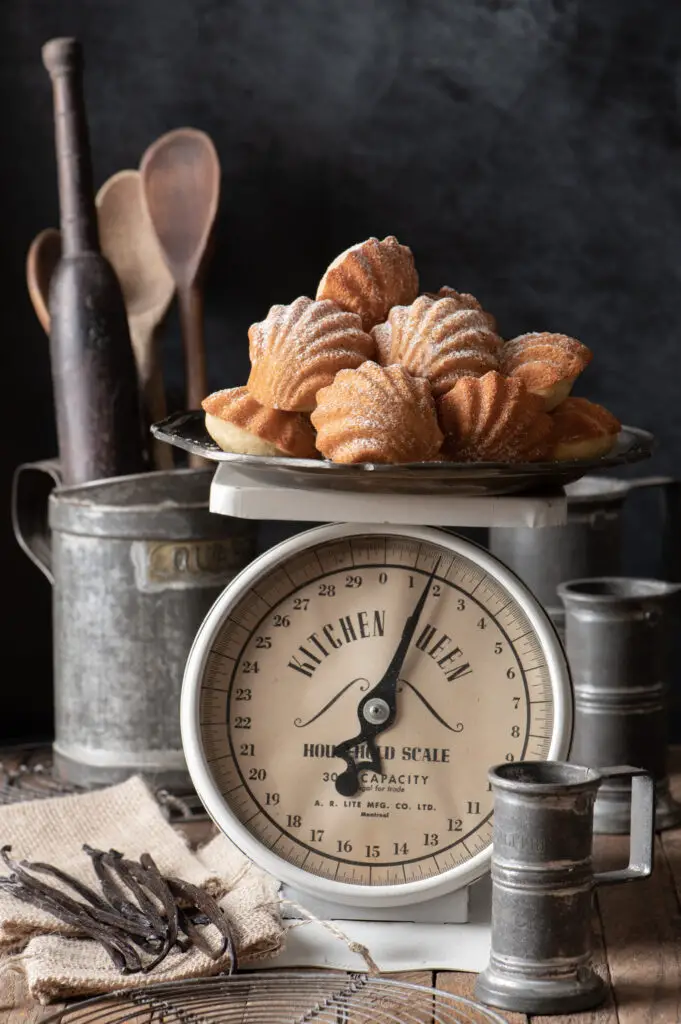 The Madeleine Pan
We use a non-stick madeleine pan with it's characteristic shell molds. We do not use non-stick cookware for anything else, but when it comes to this little bit of soul self-care, we indulge. Heat distribution in the metal pans gives your madeleines wonderfully golden crispy edges . . . so delightful! Preparation of the pan also includes keeping it in the freezer to help promote the characteristic hump. This is just not as effective with a silicon mold.
Preparing Your Pans
Achieving the characteristic hump comes down to thermal shock. The batter is chilled before placing it in pre-chilled pans before putting them straight to the oven. Just wait and see! Use a pastry brush to apply melted vegan butter to completely cover each mold in pan(s), being careful to remove any excess so that it does not pool. Immediately place the pan(s) in the freezer so that the melted butter remains distributed and leave them there for at least an hour before baking.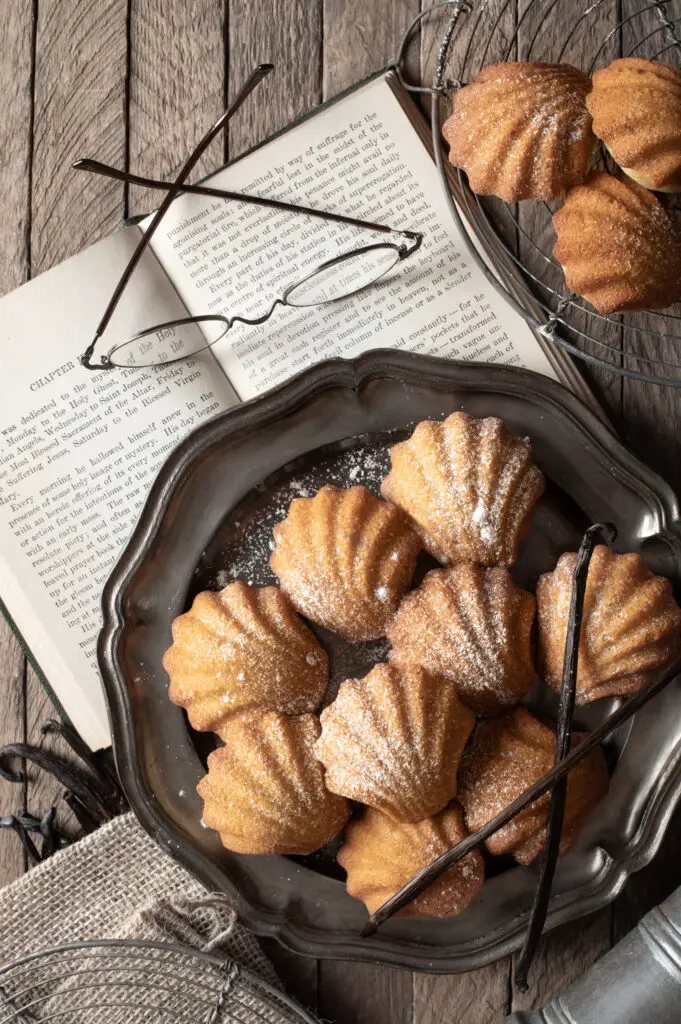 Preparing the Madeleine Batter
After whipping the aquafaba until soft peaks form, it is very important to add the sugar and cornstarch mixture very slowly. Continue mixing to fully incorporate each addition before adding more. Once all of this sugar mixture has been incorporated, mix in the vanilla-lemon mixture. Remove the bowl from the stand mixer to manually fold in the remaining ingredients. Ensure that all remaining ingredients are fully, but gently incorporated.
Chilling and Baking
Cover the mixing bowl with plastic wrap to seal in moisture and chill in the refrigerator for 30 to 60 minutes. If you chill longer than this, the vegan butter hardens more-so. You'll simply need to let it warm up so that they madeleines rise sufficiently.
Pre-heat the oven before filling the pans so that they can go straight into the oven when ready. Remove the batter from the refrigerator. Take the madeleine pans one at a time from the freezer and fill the centre of each mold two-thirds full without levelling the batter. Follow the baking instructions in the recipe and prepare to enjoy!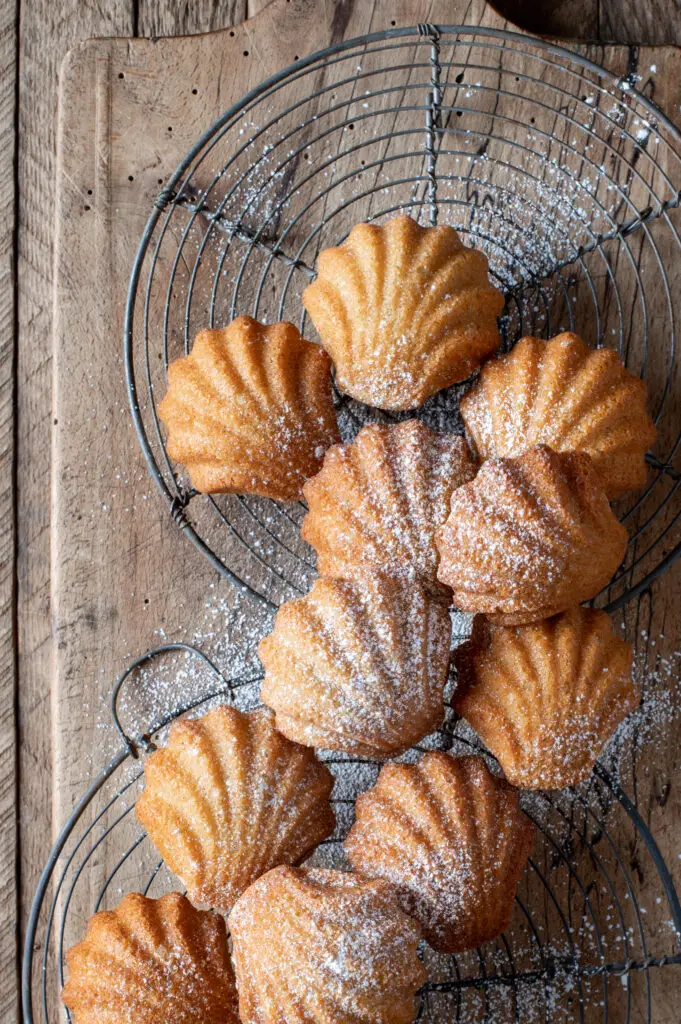 We do hope that you love these delightfully Vegan French Petites Madeleines. If you're interested in some other treats to enjoy with your tea, or maybe coffee, try out our Pumpkin Spice Muffins for a quick snack. If you're looking for gluten-free options, these Oatmeal Cranberry Muffins, Blueberry Oatmeal Muffins and Banana Raspberry Muffins are also good at tea time!
This is definitely a recipe where technique is key if you are striving for the very best madeleines. We are excited to see all of your results and comments. Please leave a comment and a rating below. Snap a pic and share it with us on Instagram by tagging us @plantedandpicked and hash tagging #plantedandpicked. Enjoy these delightfully Vegan French Petite Madeleines with a cup of your favourite tea!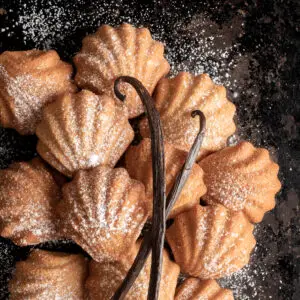 Equipment
Madeleine pan(s)

Stand mixer
Ingredients
Madeleine Ingredients
¼

cup

vegan butter, melted

⅔

cup

almond flour

100 g

⅓

cup

all-purpose flour

60 g

1¼

tsp

baking powder

¼

tsp

baking soda

¼

cup

cane sugar

¼

cup

cornstarch

1

vanilla bean

2

tsp

fine lemon zest

approximately zest of 1 lemon

1

tbsp

lemon juice, freshly squeezed

1

drop

lemon oil

optional

½

cup

aquafaba

⅛

tsp

fine sea salt
For Baking
2

tbsp

vegan butter, melted
Garnish
2

tbsp

powdered sugar

We prefer to make our own using cane sugar in a high-speed blender
Instructions
Melt the vegan butter over medium-low heat just to the point where there is a small bit of unmelted butter left. Remove from heat and stir until the butter is fully melted. This will ensure that the butter does not burn. Set aside to cool slightly.

Sift the flours, baking powder, baking soda and salt into a mixing bowl and set aside.

Mix the cane sugar and cornstarch to combine and set aside.

Split the vanilla bean lengthwise and scrape out all of the contents (seeds) into as small bowl and add lemon zest, lemon juice and lemon oil if using. Set aside.

Using a stand mixer with a whisk attachment, beat on medium-high speed until it becomes opaque and foamy with peaks beginning to form. This will likely take 5-6 minutes. Add the sugar mixture very slowly, a little more than a teaspoon at a time for roughly 20 seconds between additions until all of the sugar mixture is fully incorporated. Expect this to take 5 to 7 minutes.

Beat in the vanilla/lemon mixture until well combined. This should take about 20 to 30 seconds on medium-high. Remove mixing bowl from the stand mixer as the remaining ingredients are folded in by hand.

Fold in the flour mixture carefully with a large spatula in thirds. Then carefully stir in half of the melted butter until blended and repeat with the second half of the melted butter.

Cover the mixing bowl with plastic and refrigerate overnight.

Use a pastry brush to spread an even coat of melted vegan butter throughout the cups of the madeleine pan(s), being careful not to let any butter pool in the bottom of the moulds. Place the pans in the freezer overnight while the batter is chilling in the refrigerator.

Preheat the oven to 425°F and wait 10 to 15 minutes before adding loaded madeleine pans.

Remove the madeleine batter from the fridge and stir gently a couple of times around the bowl and let sit uncovered for about 15 minutes.

Fill each madeleine mould to approximately two-thirds full by either piping or using two spoons to add batter in the middle of each mould without spreading. Intentionally leaving the batter in a small mound leads to the distinctive and characteristic hump that is the true sign of a 'proper' madeleine. Depending on your particular form (ours are deeper shells), filling the cups two-thirds full may require different amounts of batter. Place the tin with batter into the freezer for 10 minutes.

Bake the madeleine straight from the freezer to the middle rack of your oven for 5 minutes and then reduce the oven temperature to 390°F and bake for an additional 8-10 minutes until the edges are golden. Remove from the oven and let rest in the pan for 5 minutes then gently remove each madeleine. Cool on a clean surface for approximately 1 hour so that the cakes become light and spongy.

At this point, you may choose to dust your madeleines with powdered sugar or dip one end in melted chocolate. So many options!