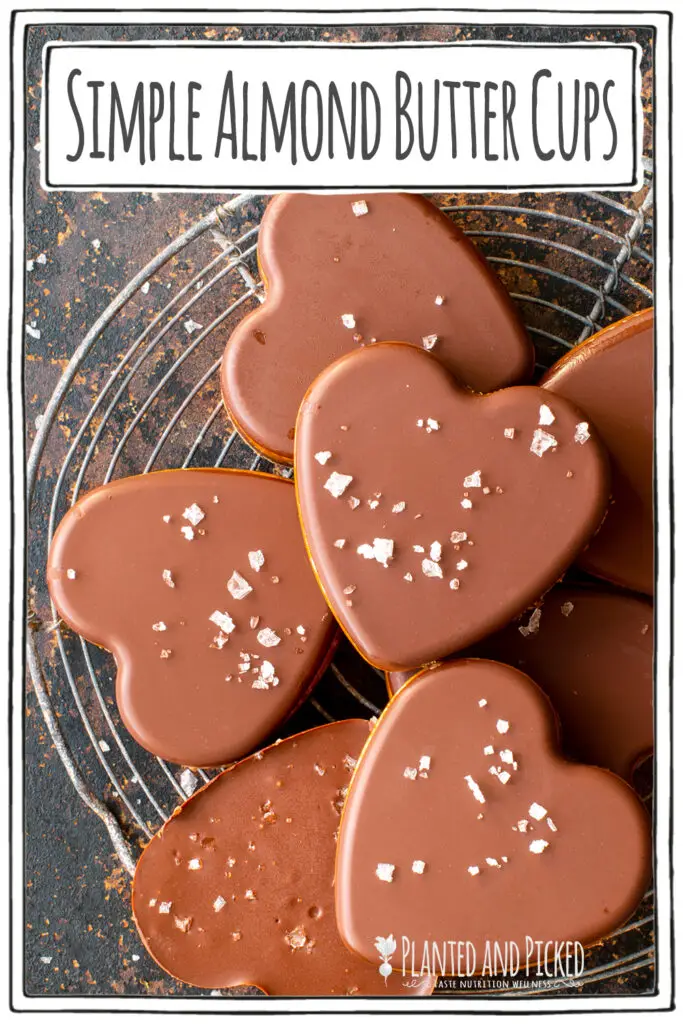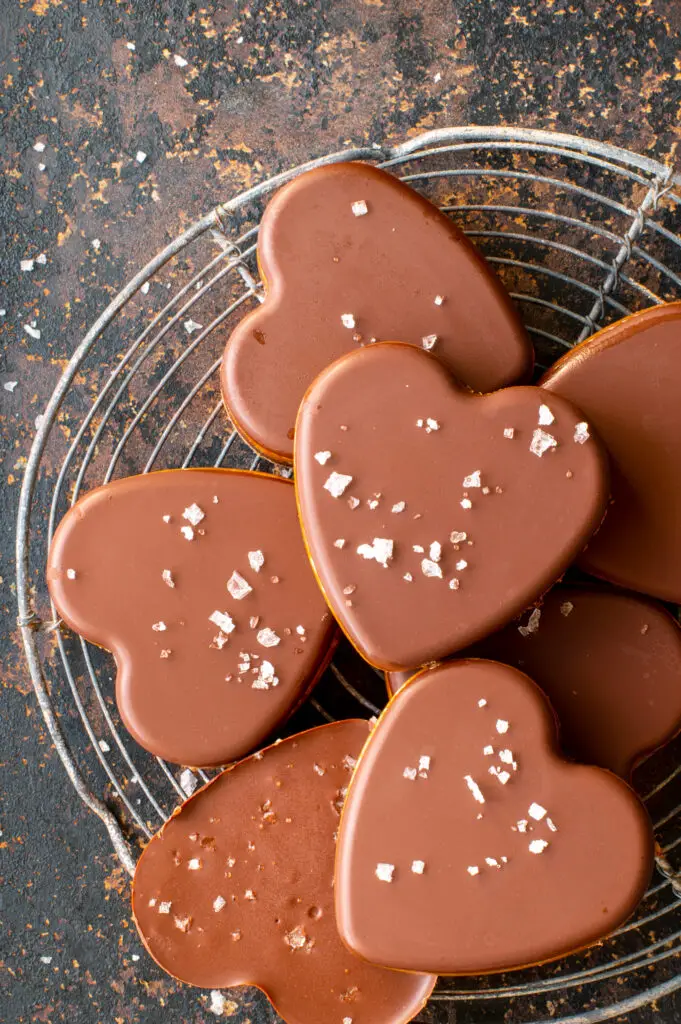 Just in time for Valentines Day – or anytime really! These Simple Almond Butter Cups are as nutritious as they are delicious.
Like a lot of people, we like the taste of Reese's Peanut Butter Cups and grew up with them. Have you ever checked the ingredients though? Well if not, let us tell you . . . "Milk chocolate (sugar, cocoa butter, chocolate, non-fat milk, milk fat, lactose, lecithin (soy), PGPR, Emulsifier), peanuts, sugar, dextrose, partially defatted peanuts, hydrogenated vegetable oil (palm kernel oil, soybean oil); contains 2% or less of: corn syrup, salt, palm kernel oil, artificial colour". Yikes! How does that sound? Let's get on to the almond butter cups, shall we!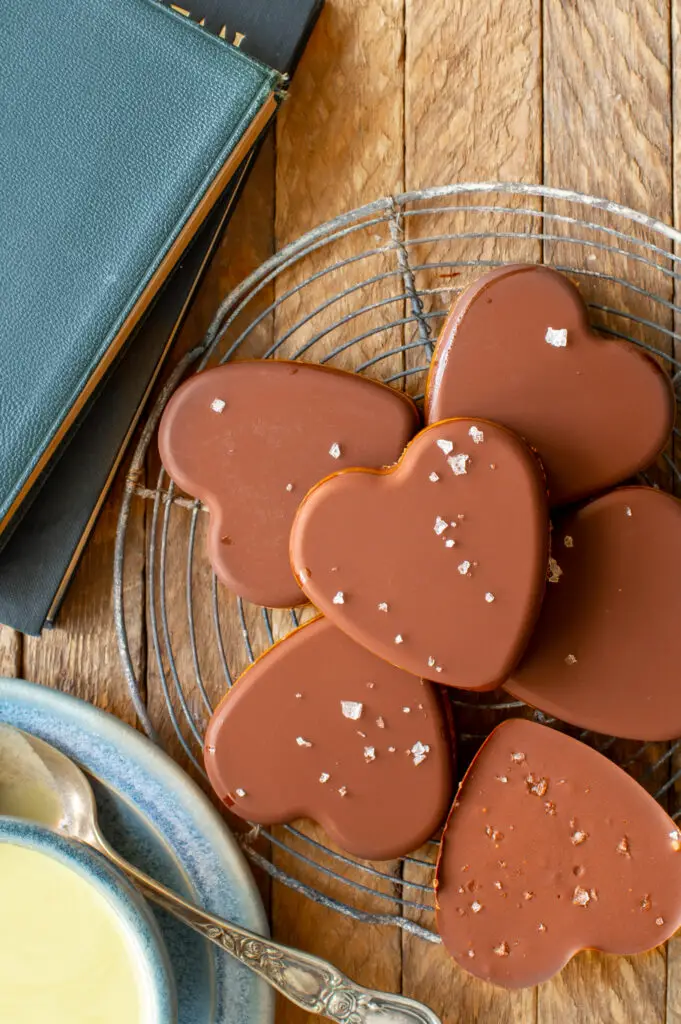 What Makes These Almond Butter Cups Healthier?
These Simple Almond Butter Cups contain a smaller and healthier list of ingredients. This includes organic chocolate chips (brown sugar, cacao, cacao butter), almond butter , local maple syrup, nutritional yeast and sea salt. No artificial ingredients, flavours or colours. This sounds a whole lot better to us. If you prefer peanut butter, you can certainly substitute pure unsweetened peanut butter for the almond butter. Almond butter has more more vitamins, minerals, and fibre than peanut butter, but PB is slightly higher in protein. If you are buying PB, be sure to buy a good quality organic brand because peanuts are known to be heavily sprayed and susceptible to mold.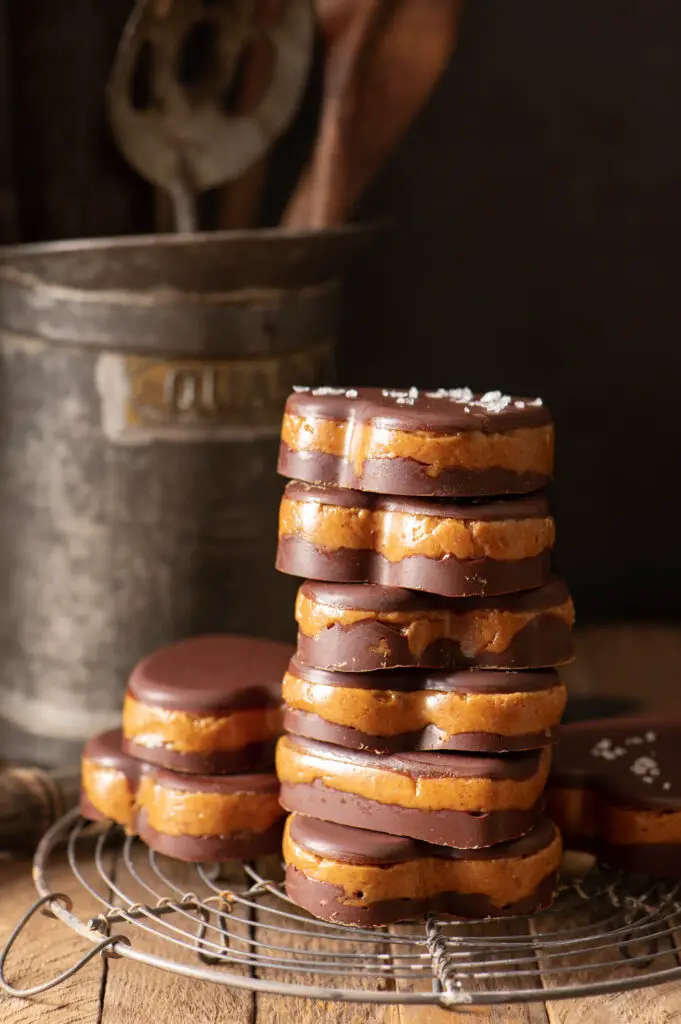 We used a heart shaped silicon mold to make our almond butter cups. We also use a larger amount of ingredients in each cup than you would normally find in a recipe. That is because we like to serve these on a plate as a dessert instead of just as a snack on their own. If you would prefer, you can, of course, half the recipe and make more bite-sized cups.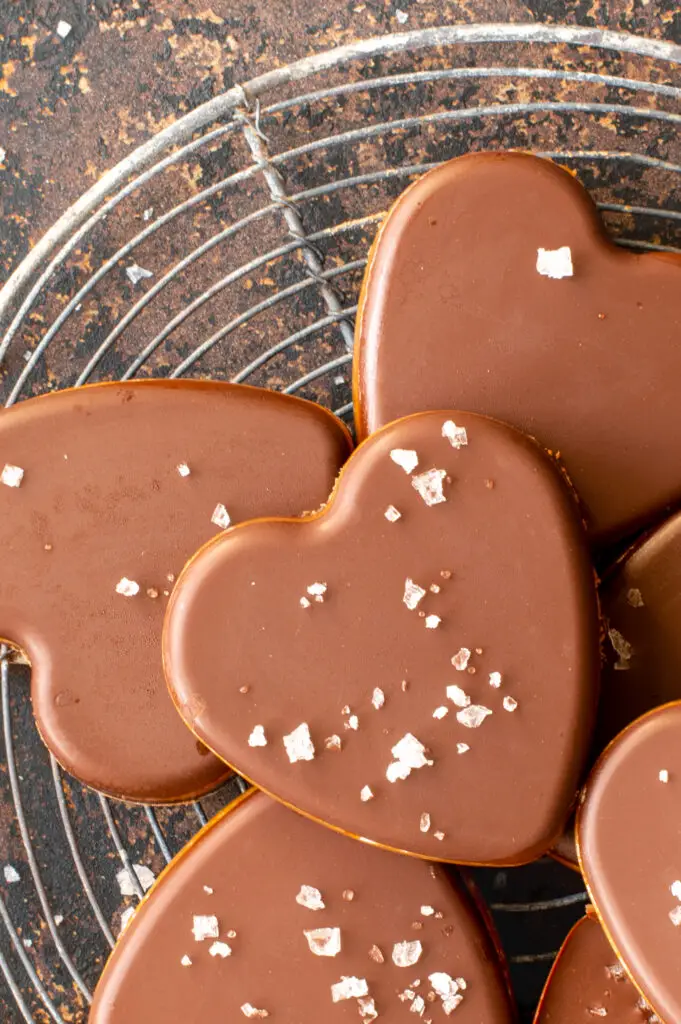 These are super simple to make and best of all, you have 100% control over the quality fo the ingredients. You can store these Almond Butter Cups in the freezer for when you are craving a sweet treat that you can feel good about eating. Pull them out as a great, ready-made dessert with friends. They will love you, trust us! Just pull them out of the freezer 10 minutes or so before serving and they'll be just right.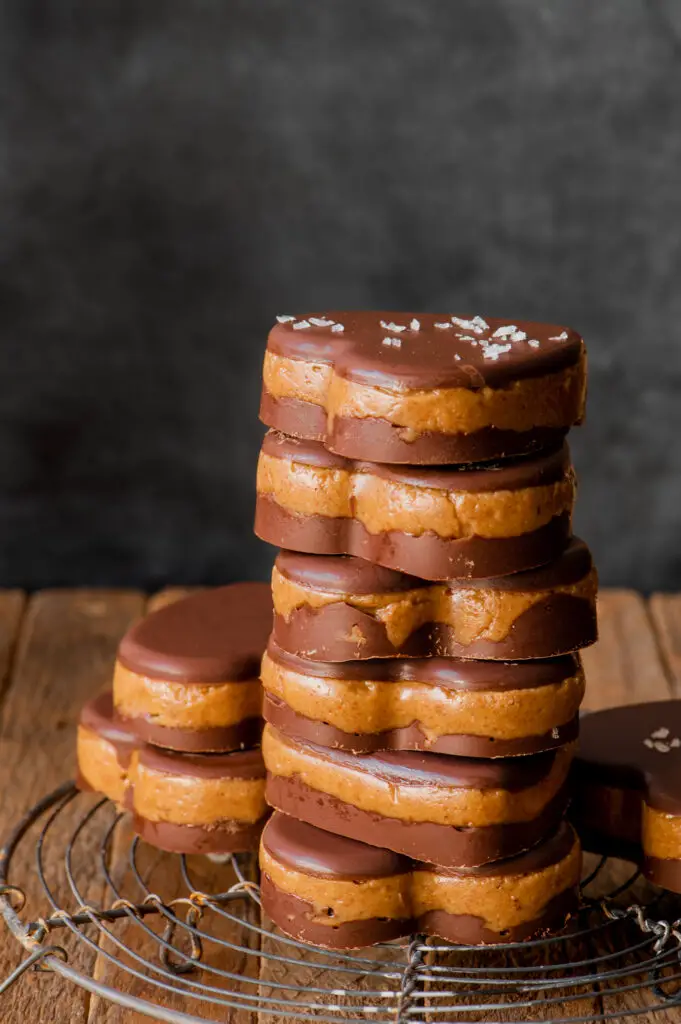 We do hope that you love these Simple Almond Butter Cups. If you're loving the decadent treats, try these wonderfully delicious Vegan French Petites Madeleines. If you're looking for some gluten-free options, these Oatmeal Cranberry Muffins, Blueberry Oatmeal Muffins or Banana Raspberry Muffins are some great healthy choices!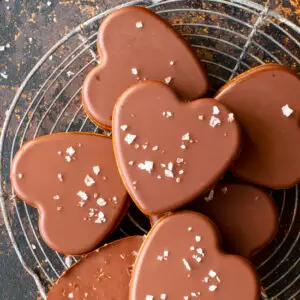 Ingredients
3

cups

vegan chocolate chips, divided (semi-sweet or dark)

1½

cups

unsweetened almond butter

½

cup

maple syrup

2

tbsp

nutritional yeast

sea salt flakes (optional)
Instructions
Melt 1½ cups of chocolate chips in a double boiler. If you don't have a double boiler you can place a glass or stainless steel bowl in a pot of hot water so that the bottom of the bowl is resting in the water. Stir chocolate chips until they are melted.

Use either silicon molds or liners placed in a muffin tin.

Place about a tbsp of the melted chocolate into each of 12 compartments. Make sure that the chocolate is touching all sides.

Place the tray (s) into the freezer for about 15 minutes to set.

In a separate bowl, mix the almond butter, maple syrup and nutritional yeast until combined.

Place the other 1½ cups of chocolate chips into the double boiler and melt.

Remove the trays from the freezer. Divide the almond butter mixture amongst the 12 cups (about 2 ½ tbsps per cup .

Top with the remaining chocolate (about a heaping tbsp in each cup). You can also sprinkle with a few flakes of sea salt if desired.

Place back in the freezer to set – at least 15 minutes.

You can remove the almond butter cups and place in a storage container.

Place them back in the freezer for storage and remove as required as the chocolate will get very soft if left out.