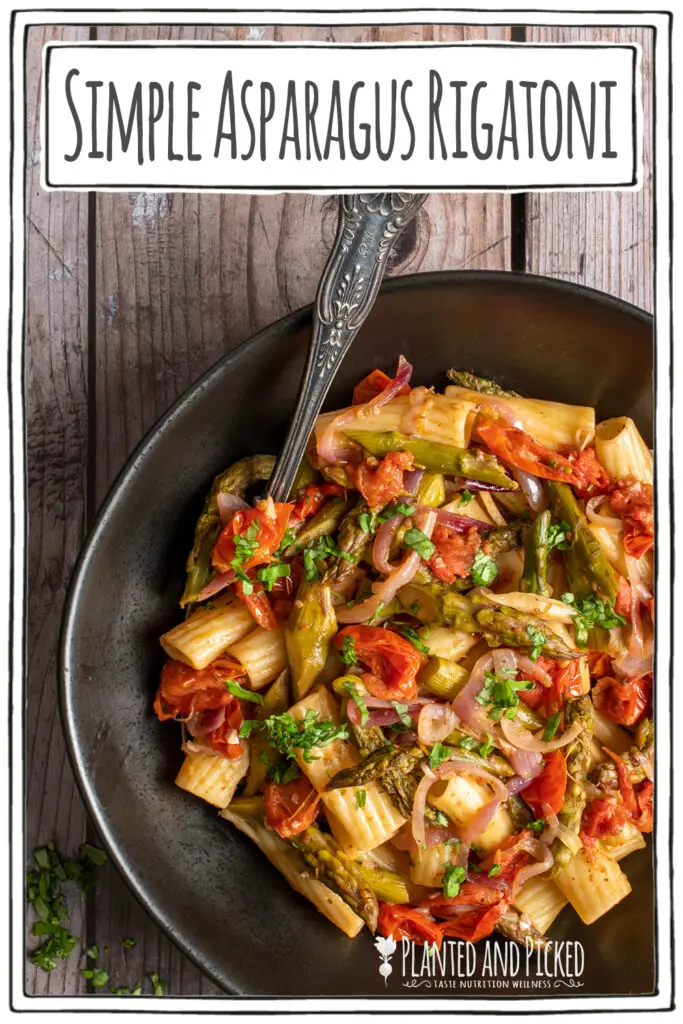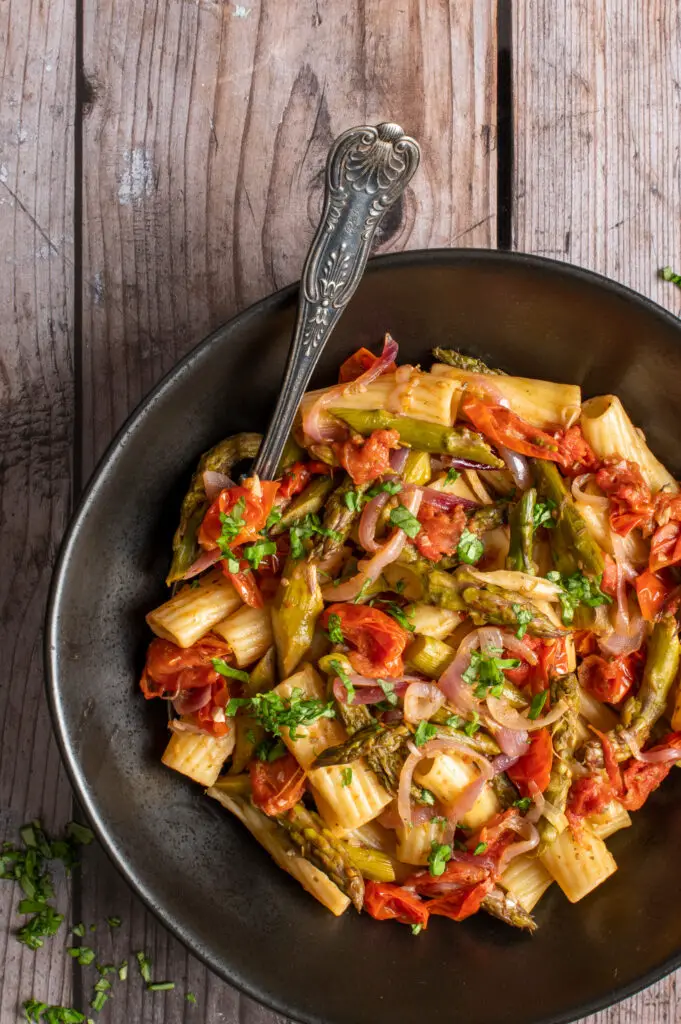 This Simple Asparagus Rigatoni dish is perfect for a weeknight meal. You can have this dish cooked and on the table in half an hour and it has loads of flavour. Springtime in a bowl!
Simple Can Be Delicious
Dishes don't always have to be complicated to be tasty. When you use good quality, fresh ingredients, you can get a delicious and satisfying meal on the table in no time. For this Simple Asparagus Rigatoni, you can use any shaped pasta that you have on hand. Penne and orecchiette would both go well in this dish. Just cook the pasta according to the directions on the package. Cooking times often vary depending on the type of pasta and the shape. The pasta will continue to cook a little when it's combined with the veg. Therefore, be sure not to overcook it, especially if you are not going to eat it straight away.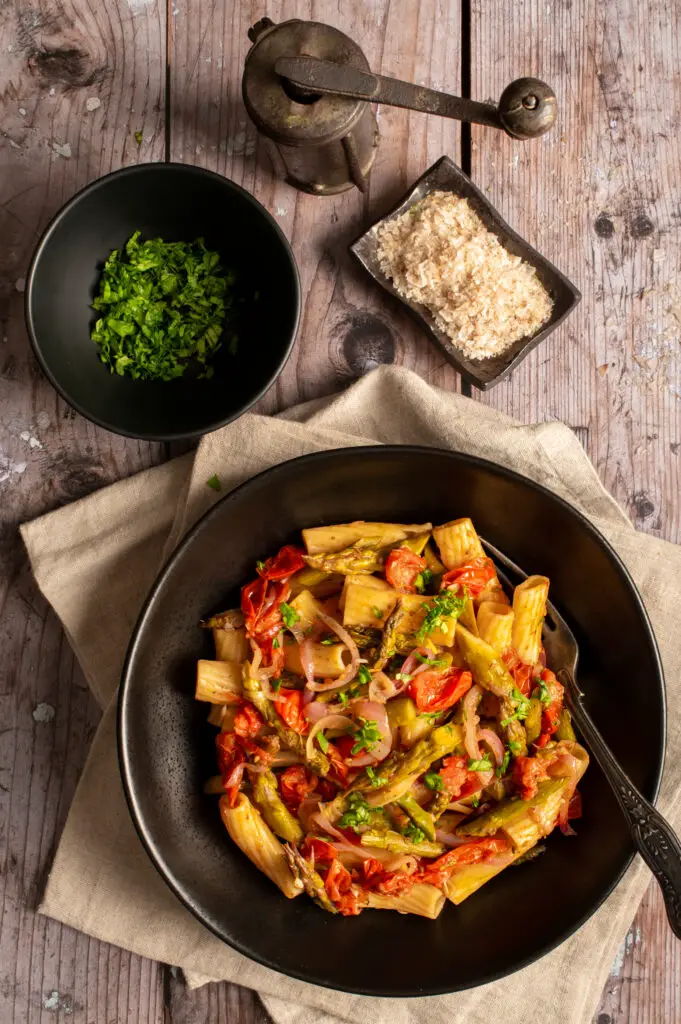 We love to make use of asparagus when it's local and in season . . . we eat it a lot of it in the spring! We bought two bunches for this asparagus rigatoni and when trimmed, it's about half a pound. Tomato sauces can be fantastic, but sometimes they can be heavy. We've included some chopped grape tomatoes for all the flavour, while keeping the dish fresh and light. The tomatoes will break down a little while cooking. Cherry tomatoes would be good to use here as well.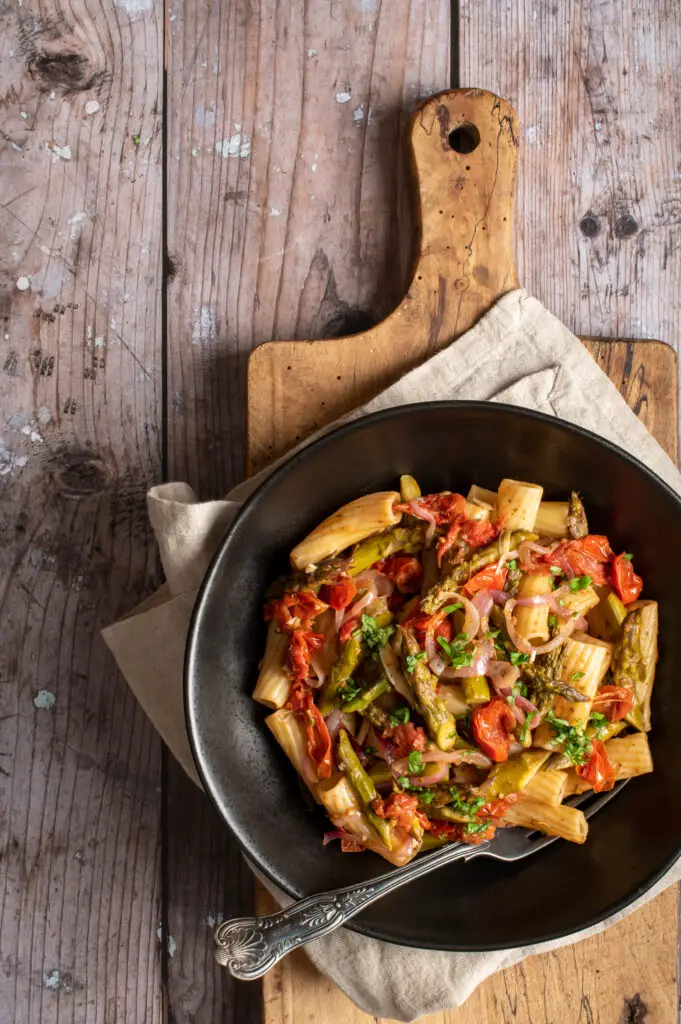 Why Eat Asparagus?
Asparagus is a good source of both soluble and insoluble fibre and acts as a prebiotic food. A prebiotic food is food that your good gut bacteria like to eat! It's also rich in vitamins such as A, C, E, K, B6 and folate. Asparagus can also act as a diuretic, which can help reduce bloating. It also has lots of antioxidants and glutathione, which is a detoxifying compound that helps break down carcinogens and other harmful compounds like free radicals. In addition to adding it to dishes, we love to roast the spears for about 10 minutes. Bottom line – eat your asparagus when it's in season!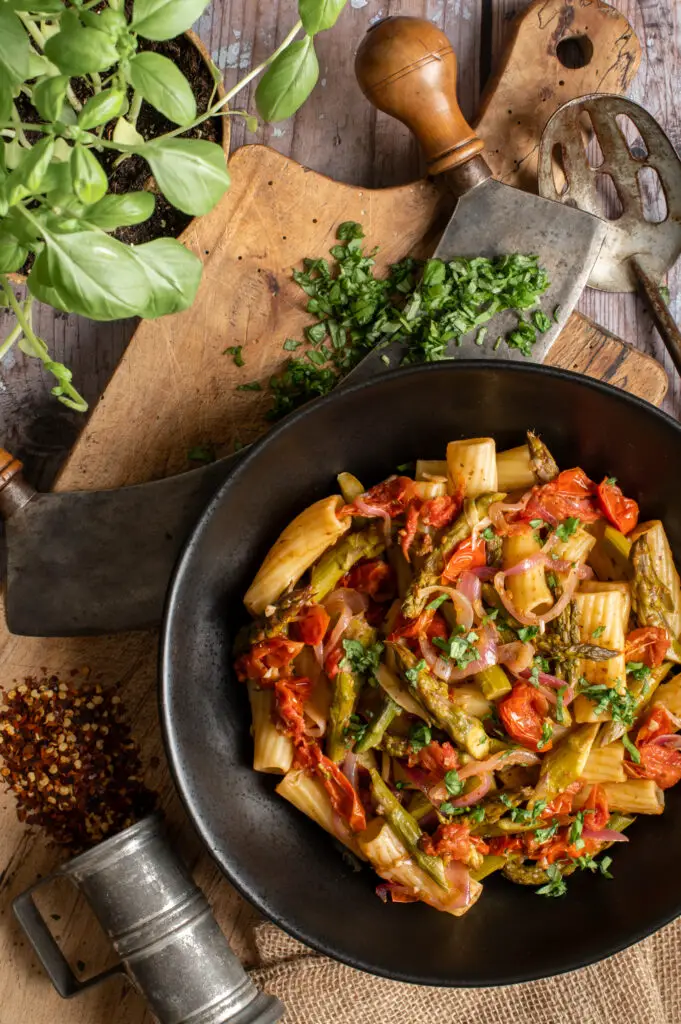 You can top this Simple Asparagus Rigatoni with some fresh herbs such as parsley or basil. Go ahead and add some vegan parmesan too, if you have it on hand. You could also sprinkle some nutritional yeast for some 'cheesiness' and extra B vitamins.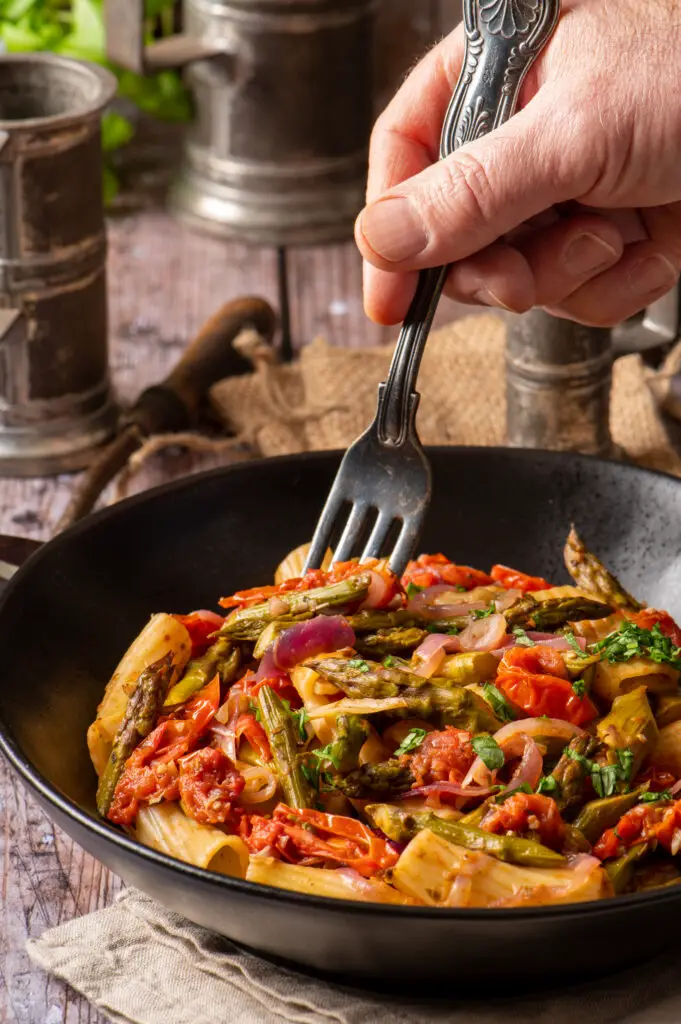 If you're looking for some other pasta recipes try our Ratatouille Pasta Salad this Simple Weeknight Marinara Sauce, Creamy Roasted Vegetable Pasta or one of our favourites . . . Vegan Mushroom Cream Sauce with Truffle Oil. Let us know if you try out this Simple Asparagus Rigatoni in the comments below. We love to know what resonates with our community of readers! Leave a comment and a rating and don't forget to tag us @plantedandpicked on Instagram and hashtag it  #plantedandpicked. We love what Julia Child told us . . . "You don't have to cook fancy or complicated masterpieces – just good food from fresh ingredients."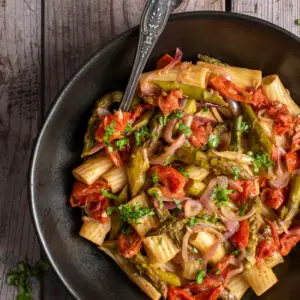 Ingredients
350

g

Rigatoni Pasta (or any shape)

2

tbsp

olive oil

30 ml

1

large red onion, sliced

150g

3

large

garlic cloves, chopped

15g

1

tsp

sea salt

5 ml

1

tbsp

italian seasoning

15 ml

½

lb

chopped asparagus

225 g

1

pint

grape or cherry tomatoes

290 g

½

cup

vegetable broth

120 ml

¼

cup

balsamic vinegar

60 ml

½

cup

chopped basil (optional)

120 ml

vegan parmesan (optional)

Homemade is best
Instructions
Place a large pot of water with 2 tbsp sea salt on stove to bring to a boil to cook pasta.

While the water is heating up, prep the vegetables.

Peel a large red onion and slice in half. Slice each half into strips.

Chop the ends off the asparagus and cut each spear into bite sized pieces (about the same length as the Rigatoni).

Chop grape tomatoes in half.

Cook the pasta according to the package directions (about 10 minutes for Rigatoni). Drain but don't rinse.

While the pasta is cooking, heat a large skillet on medium heat with the olive oil. Add the onions, garlic, sea salt, italian seasoning and crushed red chilis. Sauté, stirring often, for about 5 minutes.

Add the veg broth and about 1/4 cup of the pasta water (or extra veg broth) to the pan. Add the asparagus and tomatoes. Stir and cover. Cook for about 5 minutes. The asparagus should be cooked but still have some crunch.

Add the drained pasta and balsamic vinegar to the vegetables and stir to combine.

You can top this pasta with fresh herbs such as parsley or basil and also some vegan parmesan if you have some handy.
Nutrition
Calories:
453
kcal
|
Carbohydrates:
79
g
|
Protein:
14
g
|
Fat:
9
g
|
Saturated Fat:
1
g
|
Sodium:
717
mg
|
Potassium:
682
mg
|
Fiber:
7
g
|
Sugar:
10
g
|
Vitamin A:
1657
IU
|
Vitamin C:
23
mg
|
Calcium:
84
mg
|
Iron:
3
mg