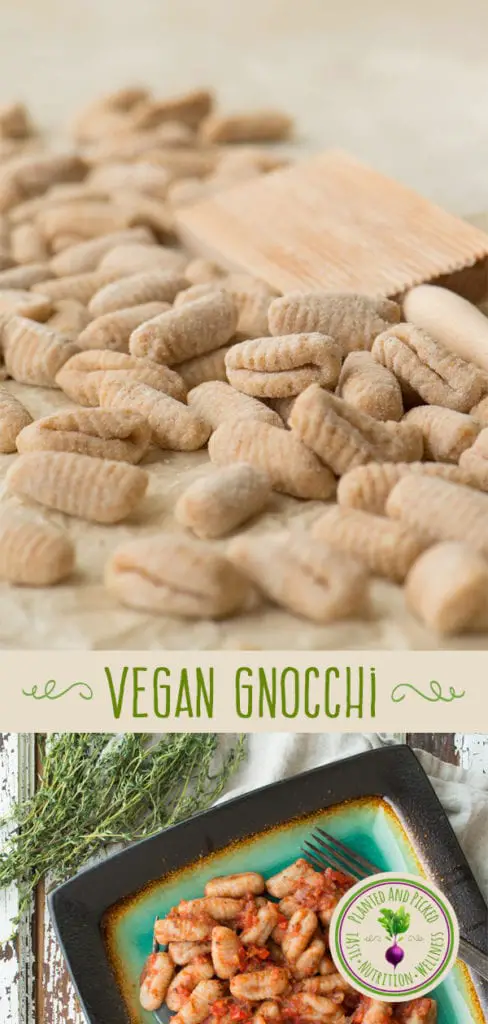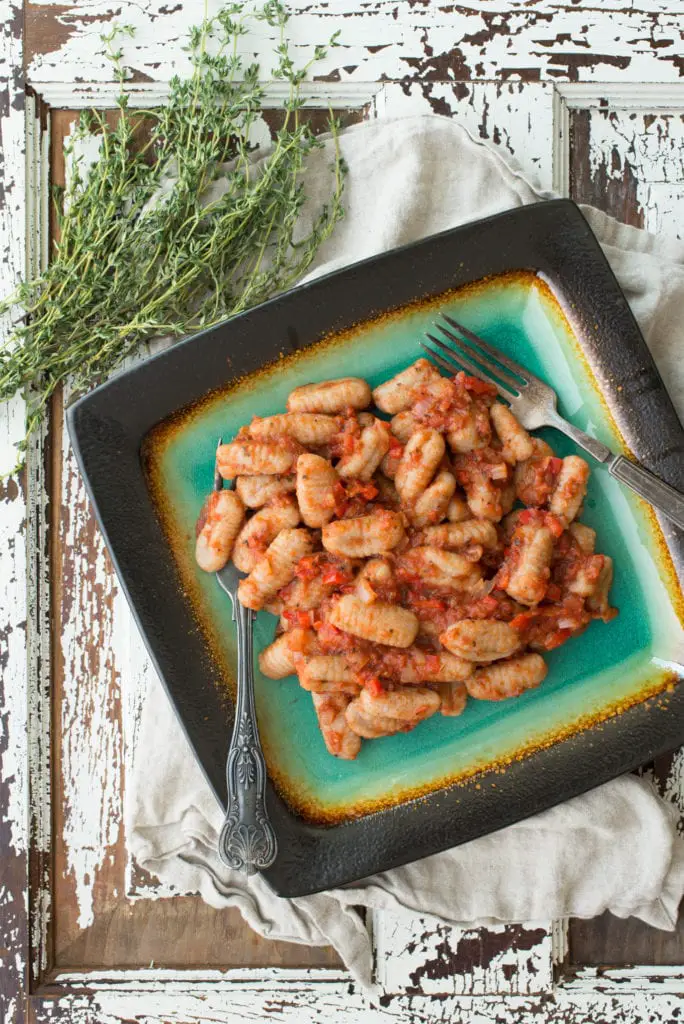 These tender vegan gnocchi contain just potato and flour. It is the technique and not the ingredients list that requires special attention when making gnocchi. Soft and tender dumplings will be your reward for mastering the technique. Yum!
The Ingredients for these Tender Vegan Gnocchi
The most experienced nonna's may be able to fashion tender fluffy gnocchi from many varieties of potato. However, most references you will find point to using russet potatoes. They are higher starch levels and, therefore, lower moisture content. Waxier potatoes have a higher moisture content and tend to become 'gluey' when blended with flour. We use russet potatoes for these tender vegan gnocchi with stellar results. Older potatoes are also typically drier. Therefore, if you have some that have started to grow eyes, these are perfectly fine for gnocchi.
We use spelt flour in our tender vegan gnocchi because it's more easily digested due to a higher fibre content. Spelt flour also contains less gluten than wheat flour. This gluten is more fragile and water soluble, which also aids in digestion.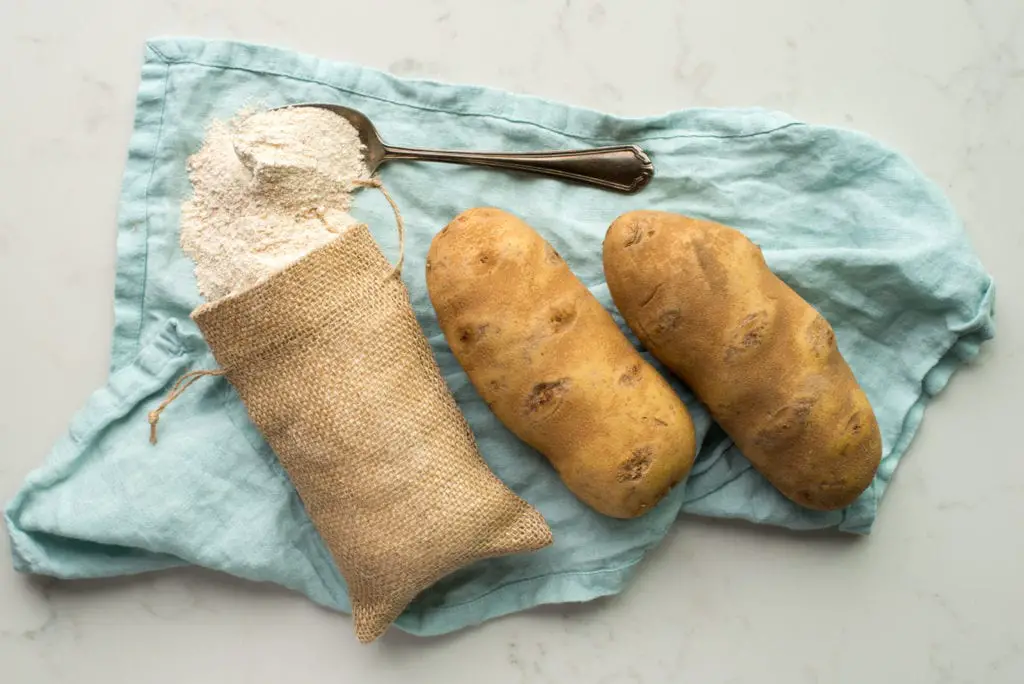 Tips for Preparing the Dough
Lower moisture content requires less flour to form a workable dough. Less flour, in turn, results in a lighter and fluffier gnocchi and a more predominant potato flavour. It stands to reason, therefore, that the way you cook and process the potatoes is equally important to selecting a drier potato. We pierce and bake our potatoes slowly on a rack in a 350ºF oven to give extra time for moisture to escape.
Slice the potatoes lengthwise and remove the flesh from the jackets as soon as they're out of the oven. A ricer is the ideal tool to achieve the most tender vegan gnocchi. It creates a fine potato mixture with the least amount of processing. Processing the potatoes while they are still hot allows even more moisture to escape. Cooled potatoes become too sticky and are difficult to work with.
Working most of the flour into the potato with a surface scraper in stages prevents the dough from being over-worked. Only with the addition of the last of the flour do you fold the dough in half and press down with the palm of your hand. Repeat this folding and pressing step only until the flour is fully incorporated and remains just slightly sticky. You can add small amounts of additional flour, as required.
We like to test the moisture content and the need to add some more flour by rolling a small piece of the dough into a gnocchi shape. We roll this along the gnocchi board or the back of a fork to check that it rolls without sticking to the board or the fork (or your finger). If all checks out, form the dough into a log and let rest for a few minutes to allow the gluten to relax. This will make it easier to form your tender vegan gnocchi.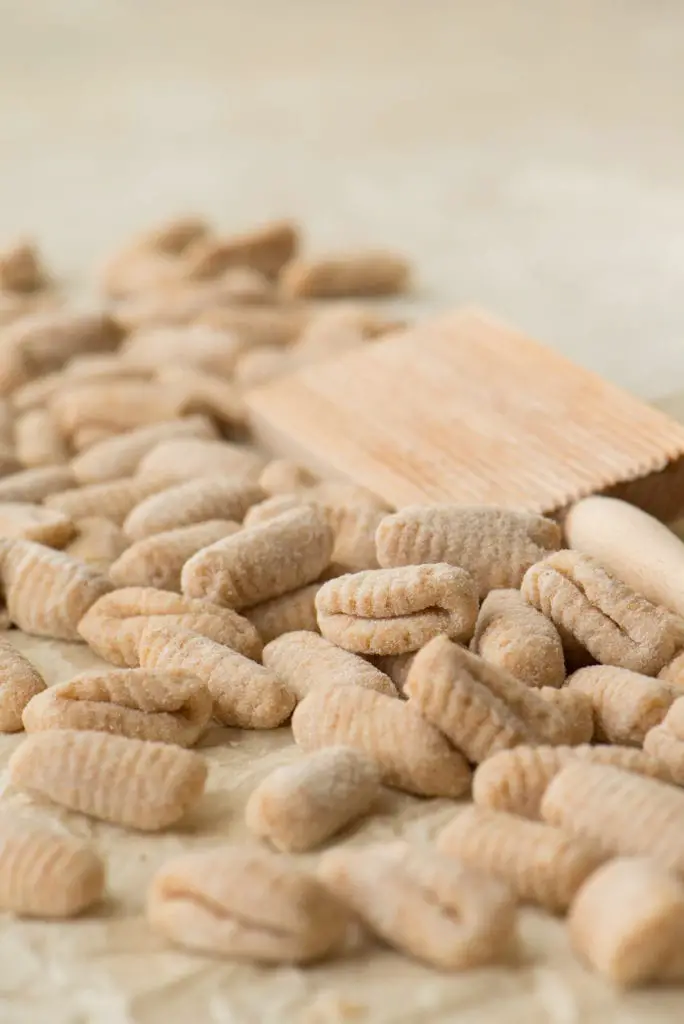 Forming and Cooking The Gnocchi
You do not absolutely need to roll the the formed gnocchi 'pillows' over a gnocchi board or the back of a fork. However, we find that doing so results in more even cooking. When you use your finger or thumb to 'roll' the gnocchi using either technique, this leaves the characteristic grooves on one side and an imprint on the other. This also provides a great way to 'carry' the sauce.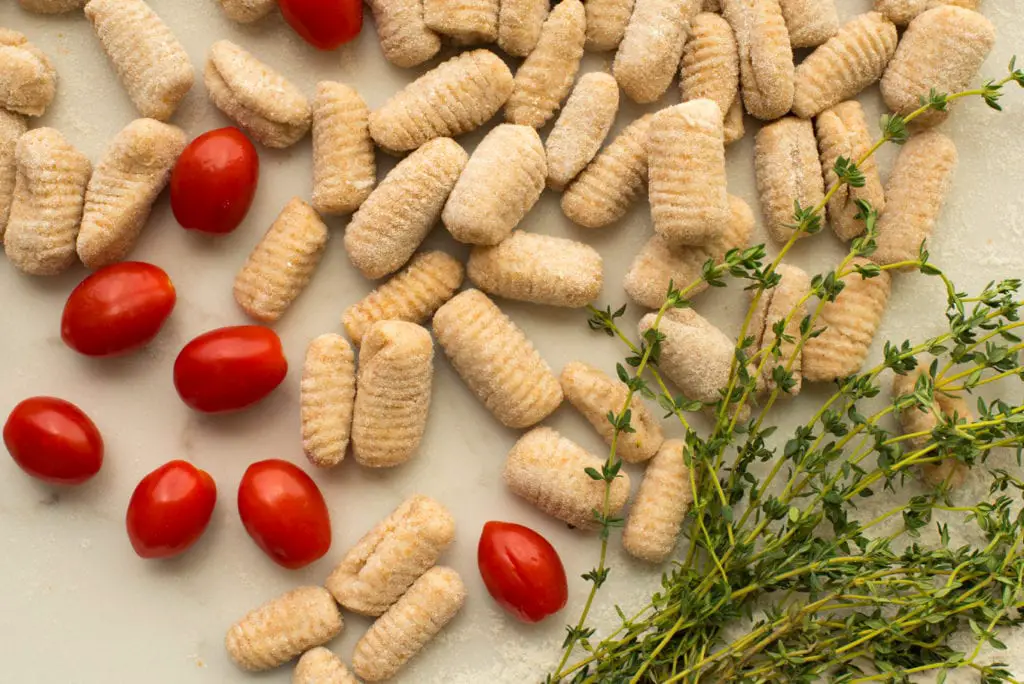 You can make these ahead if you wish and serve them with this Simple Weeknight Marinara Sauce, this One Pot Lentil Bolognese or our favourite . . . Vegan Mushroom Cream Sauce with Truffle Oil.
Please let us know if you tried these tender vegan gnocchi. Your opinion is super important and may provide helpful suggestions to the other members of our community! Leave a comment and a rating and don't forget to tag us @plantedandpicked on Instagram and hashtag it  #plantedandpicked. Pull up a chair and enjoy!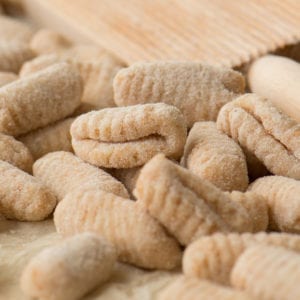 Ingredients
900

g

russet potatoes

¾

cup

spelt flour
Instructions
Pierce potatoes with a pairing knife and bake slowly on a rack in a 350°F oven for approximately 1½ to 1¾ hrs or until a pairing knife or wooden skewer can be inserted and withdrawn without picking up the potato.

Cut the potatoes in half lengthwise immediately after removing them from the oven by holding with a glove or tongs. Remove all flesh and discard jackets.

Press warm potato flesh through a ricer or a food mill and spread out on a work surface to allow moisture to continue to escape for a few minutes.

Gather potato flesh together so that there is no space between the riced potato and sift approximately 2/3 of the flour (1/2 cup as per original recipe) over the potato.

Cut the flour into the potato flesh using a pastry blender or a bench scraper and gather into a smaller area than initially.

Sift most of the remaining flour over the potato mixture and continue to cut in the flour and gather into an even smaller area.

Fold the dough in half and press down without stretching and repeat just enough times to fully blend the flour and potato. Add the remaining flour only if the dough remains sticky. You should ideally stop when the dough is just slightly sticky, to know that you have not over-worked the mixture. Over-working the dough will develop the gluten too much and result in a tougher gnocchi and under-working will result in gnocchi that may fall apart when cooked.

Form a gnocchi-sized piece of dough into a ball and roll with your finger on a gnocchi board or over the back of a fork to test for moisture content. Press the gnocchi against the board or fork as you roll it to create the indentation on one side (you can see this in the photos in our post). The goal is for the gnocchi to roll nicely without sticking either to the board/fork or your finger. If you need to add a little flour, do so before proceeding to the next step.

Form the dough into a small log of about 3 to 4 inches in diameter and let rest for for a few minutes.

Slice off a 1 inch piece off of the log and form this with the least amount of working into a ½ to ¾ inch diameter rope on a flour-dusted work surface, dusting with additional flour only as required to prevent sticking.

Cut ropes into about ¾ inch pieces and roll on a gnocchi board or the back of a fork. This step is optional as described in the post.

Lightly dust the formed gnocchi to prevent them from sticking together.

Repeat the steps 10 through 12 until all gnocchi has been formed.

Bring a large pot of salted water (1 tbsp of sea salt for every quart of water) to a boil and drop gnocchi into the water in batches. Remove gnocchi with a strainer or slotted spoon once they have floated to the surface and quickly cool in ice water to stop them from cooking further before placing them on a towel to dry.