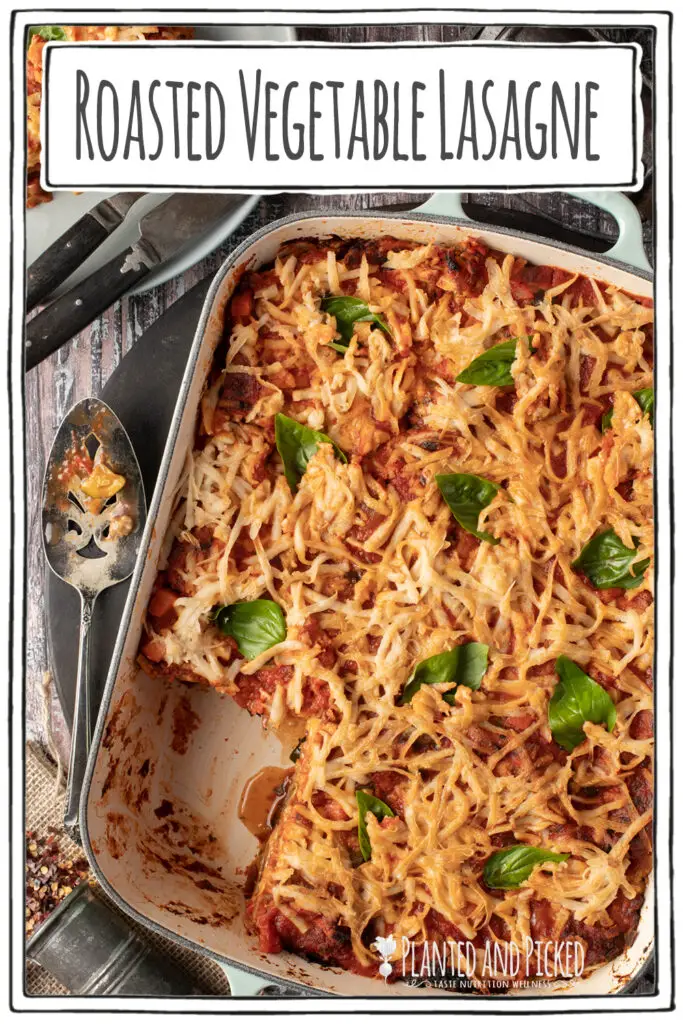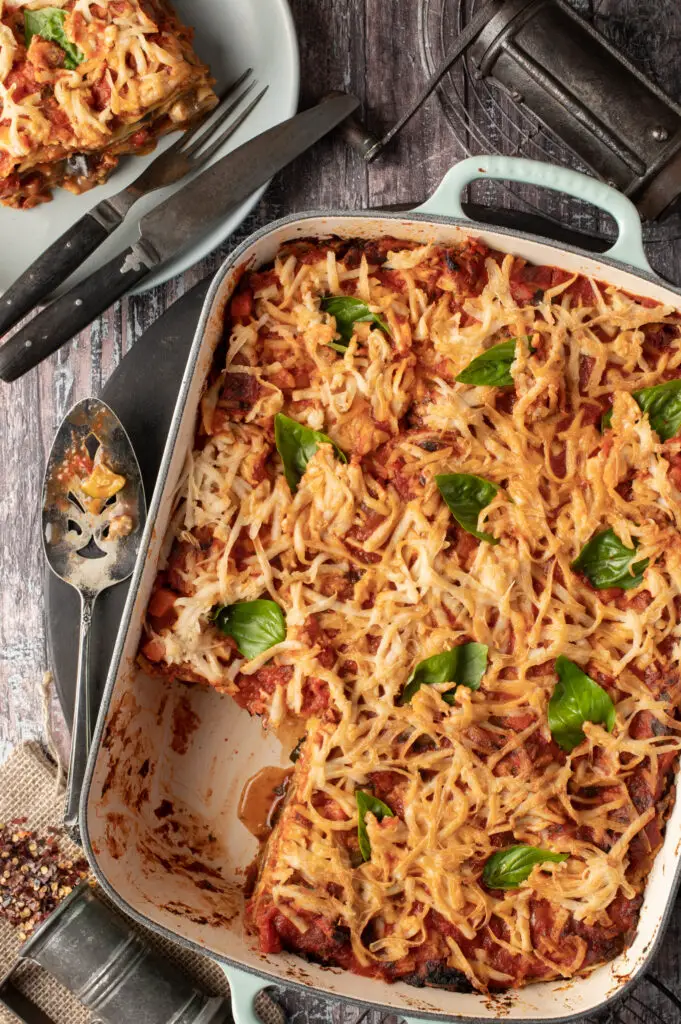 We LOVE making this roasted vegetable lasagna. Ratatouille is lovely with fresh summer vegetables, but in this case, we put those veggies in a hearty lasagna. Roasted eggplant, zucchini and peppers, along with onions and homemade marinara sauce, provides a wonderful base to this favourite of ours.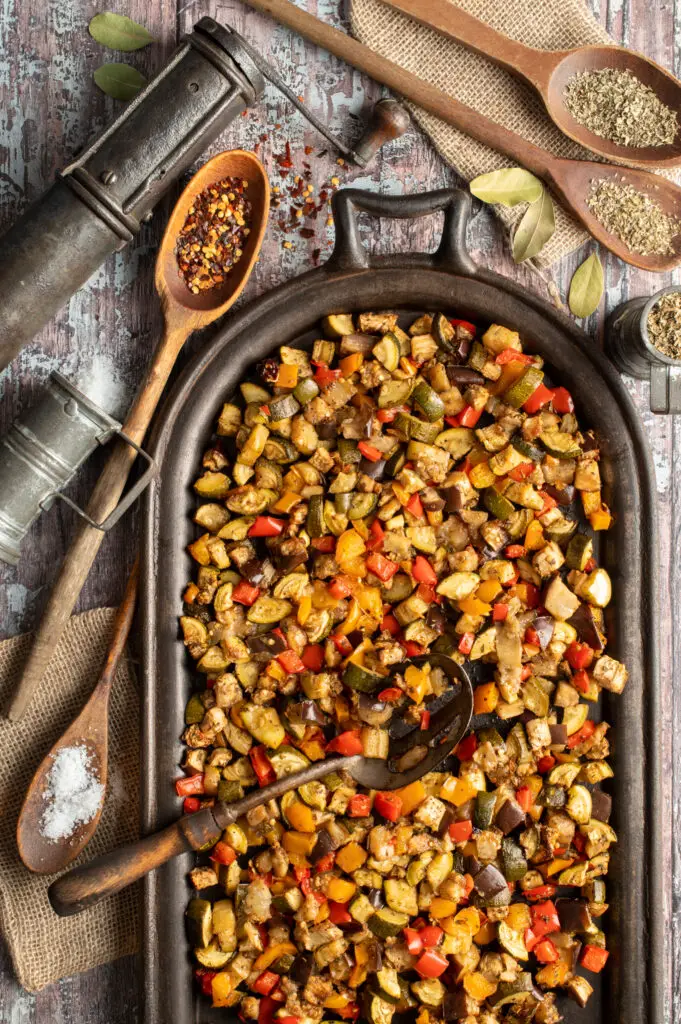 We have tried a lot of different vegan lasagna recipes over the years, many with tofu ricotta and cashew cheese sauces. All are delicious, but we decided to make this roasted vegetable lasagna super simple by using a good brand of shredded vegan mozzarella as many people are daunted by the steps to make lasagna.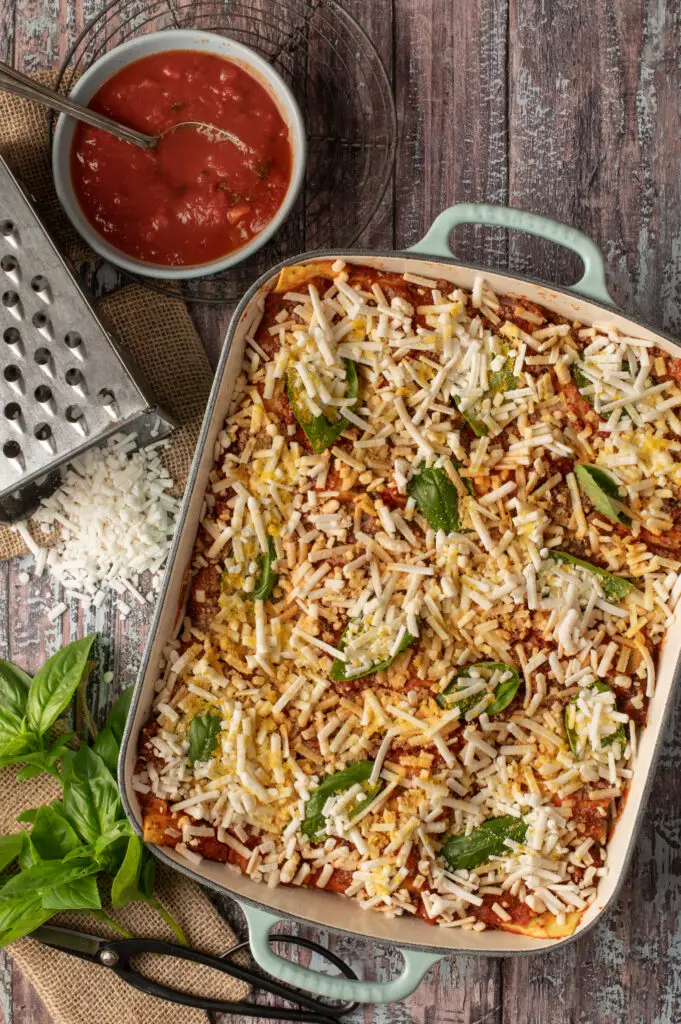 This roasted vegetable lasagna takes about an hour of prep time. While the vegetables are roasting, you can make the sauce. We used fresh lasagna sheets from our local grocery store (of course you can make your own if you want!). You can also use dried lasagna noodles. In that case you will need about 15 strips to make 5 layers.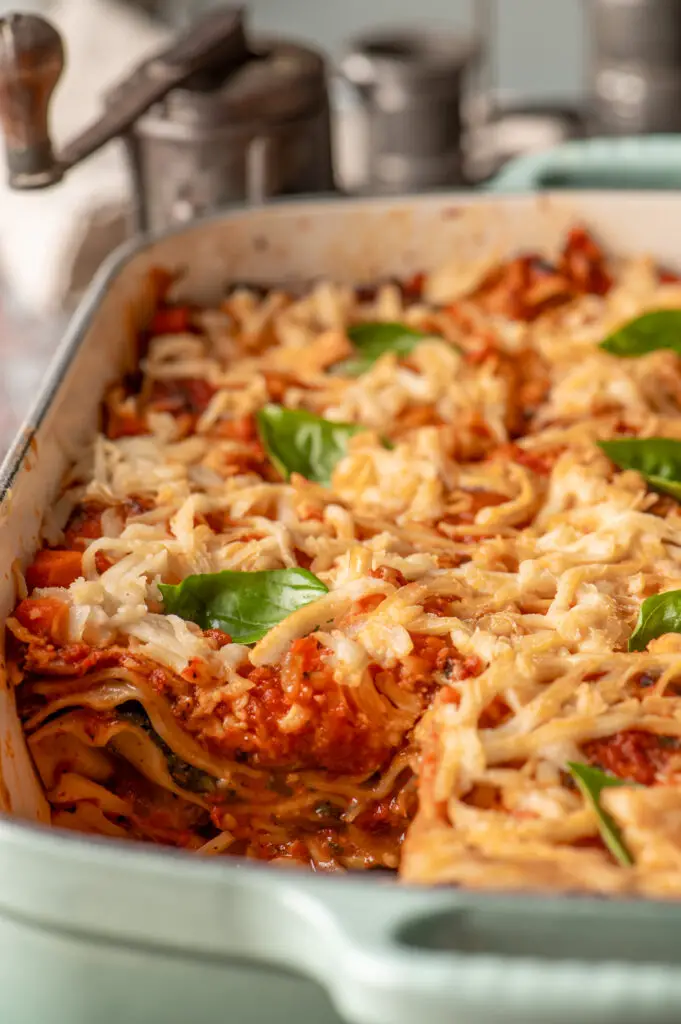 We love lasagna because it is so versatile. It is a great dish for a family dinner, potluck or when entertaining. Who doesn't love lasagna paired with a salad and a fresh baguette? You can also make it ahead and freeze it, so it's perfect for meal prep. We would suggest defrosting it first in the refrigerator. You can also freeze the leftovers. We cut it into serving sizes and freeze them in individual glass dishes for a quick weekday meal.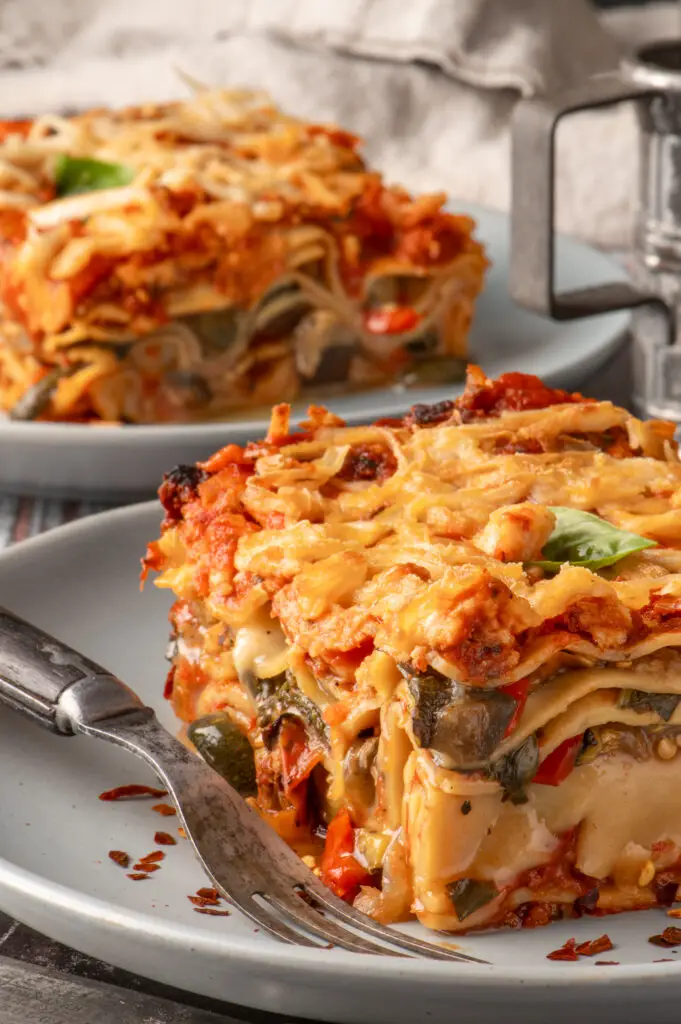 There are many ways that you can vary this recipe.
We used our homemade marinara sauce, but you could certainly use bottled pasta sauce to save time.
Make it gluten free by using gluten free lasagna noodles. We like the Tikyada brand of rice noodles.
Bump up the fibre by using whole wheat lasagna noodles.
Make it vegetarian if you're not vegan – use a good quality organic mozzarella cheese instead of vegan cheese.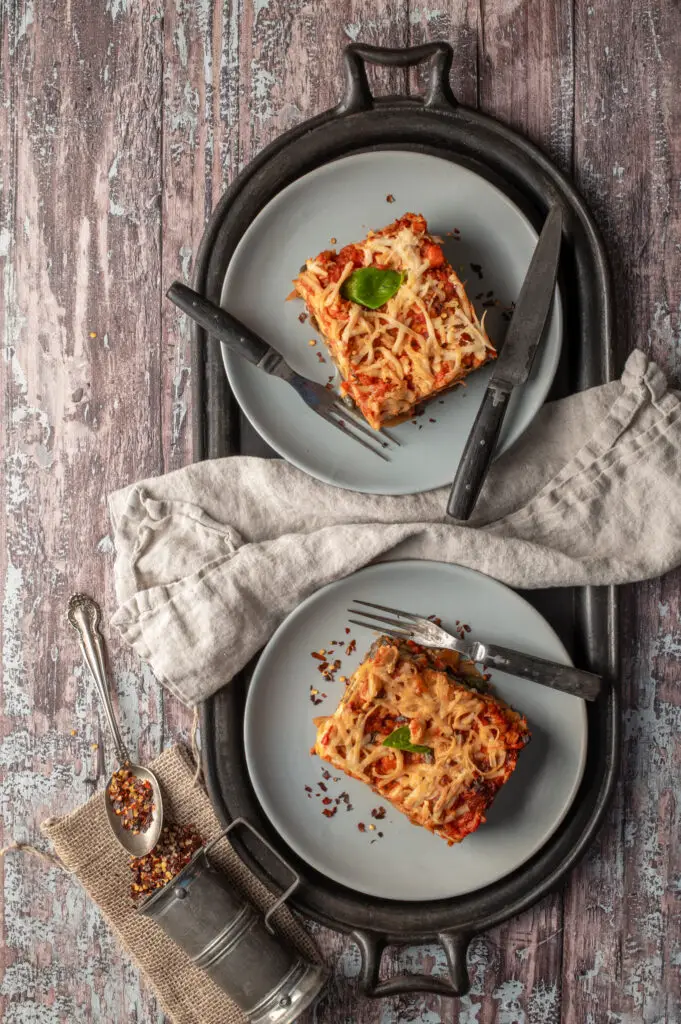 If you're looking for some other pasta recipes try our Ratatouille Pasta Salad, Simple Asparagus Rigatoni, Creamy Roasted Vegetable Pasta or one of our favourites . . . Vegan Mushroom Cream Sauce with Truffle Oil. Let us know if you try this Roasted Vegetable Lasagna in the comments below. We love to know what resonates with our community of readers! Leave a comment and a rating and don't forget to tag us @plantedandpicked on Instagram and hashtag it #plantedandpicked. We love what Julia Child told us . . . "You don't have to cook fancy or complicated masterpieces – just good food from fresh ingredients."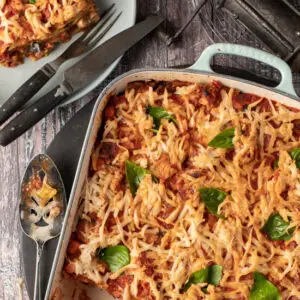 Ingredients
Roasted Vegetables
4

cups

eggplant, diced

450 g

4

cups

zucchini, diced

560 g

2

sweet peppers, diced

300 g

¼

cup

balsamic vinegar

60 ml

1

tbsp

Italian seasoning

15 ml

½

tsp

sea salt

2 ml
1

batch

Simple Marinara Sauce

or about 6 cups of your favourite homemade or store bought pasta sauce
The Supporting Cast…
4

cups

spinach, packed

142 g package

15

dry lasagna noodles

420 g

3

cups

shredded vegan mozzarella

720 ml

fresh basil leaves

optional

nutritional yeast

optional
Instructions
Roasted Vegetables
Preheat the oven to 375° F.

We bought one large Italian eggplant. Slice the ends off the eggplant and discard. Slice lengthwise (about 1/4 inch wide). Slice each piece lengthwise again (about 1/4 inch wide) and then slice width-wise to form bite sized pieces.

Slice the ends off the zucchini and discard. Dice the zucchini in the same way as described above. We used 4 medium sized zucchini to make 4 cups.

Cut the peppers in half and remove the seeds. Slice the peppers lengthwise and then widthwise to form a small dice.

See the picture in the post above for approximate size of the veg. The pieces are bite-sized, but you don't have to be exact! Cooking should be fun and intuitive.

Pile the vegetables on a baking tray. They do not have to be in a single layer.

Add the balsamic vinegar, Italian seasoning and sea salt. Stir to combine.

Place in middle rack of the over and bake for 30 minutes. Stir and bake for another 20 to 30 minutes. They should look roasted but not burnt. Remove and set aside.
While the vegetables are roasting, prepare the marinara sauce using the link above.

If you are using jarred sauce, we would suggest still sautéing the 1 cup of onions and the garlic from our Simple Marinara Sauce recipe and then add the jarred sauce to that. That will bump up the flavour!
The Supporting Cast
If you are using lasagna noodles that need to be cooked first, you will need about 15 noodles for 5 layers. Cook the noodles according to the instructions. Drain and spread out on a baking tray so that they don't stick together.

Heat a deep pan on medium heat. Add the spinach and gently sauté until wilted. Drain any excess liquid. Set aside.

Measure out your vegan cheese and place in a bowl.
The Assembly
In a lasagna pan or 9 inch by 13 inch baking pan, ladle about 1 cup of the marinara sauce onto the bottom. This will keep the noodles from sticking.

Add one layer of noodles to cover the bottom. They can be slightly overlapping.

Top with another 1 cup of sauce and ½ of the roasted vegetables.

Add a second layer of noodles and another 1 cup of sauce. Top with 1 cup of the vegan cheese.

Add a third layer of noodles and spread out the spinach over the noodles.

Add a fourth layer of noodles, the remaining ½ of the vegetables and 1 cup of the vegan cheese.

Add the final layer of noodles, the remaining sauce and the remaining cheese.

You can top with some fresh basil leaves and sprinkle some nutritional yeast if you like. If you prefer the leaves to stay green, you can add them after baking!

Cover the lasagna and place in the oven for 30 minutes. Remove the cover and bake for another 20 to 30 minutes. The sauce should be bubbling and the cheese melted.

Let cool for about 20 minutes before serving so that it has time to set.
Nutrition
Calories:
372
kcal
|
Carbohydrates:
58
g
|
Protein:
10
g
|
Fat:
10
g
|
Saturated Fat:
3
g
|
Polyunsaturated Fat:
1
g
|
Monounsaturated Fat:
1
g
|
Sodium:
590
mg
|
Potassium:
537
mg
|
Fiber:
6
g
|
Sugar:
7
g
|
Vitamin A:
2483
IU
|
Vitamin C:
54
mg
|
Calcium:
84
mg
|
Iron:
2
mg