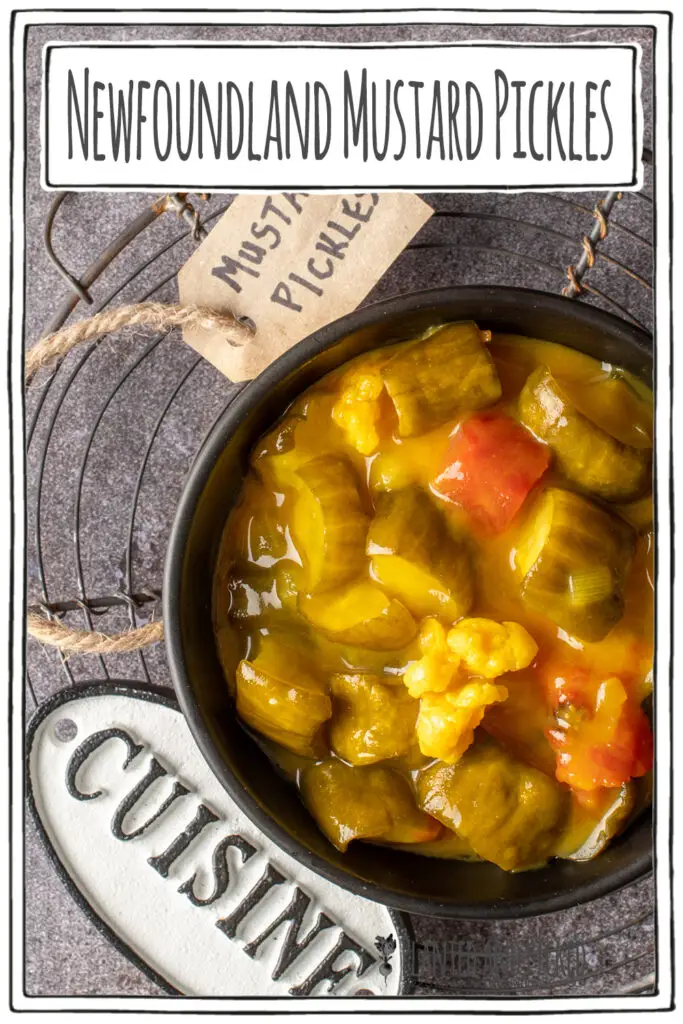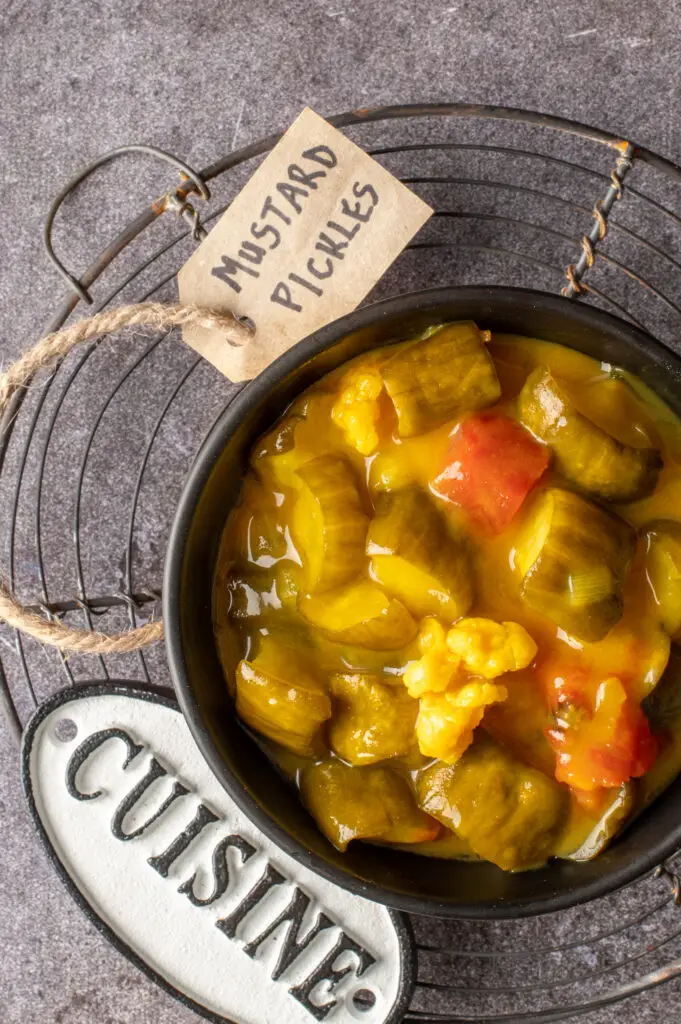 There was a time when you wouldn't find a household in Newfoundland that didn't contain a bottle of mustard pickles. Lorna's Newfoundland Mustard Pickles is a family recipe with a nice balance of sweet and tangy. They're a perfect accompaniment to any meal.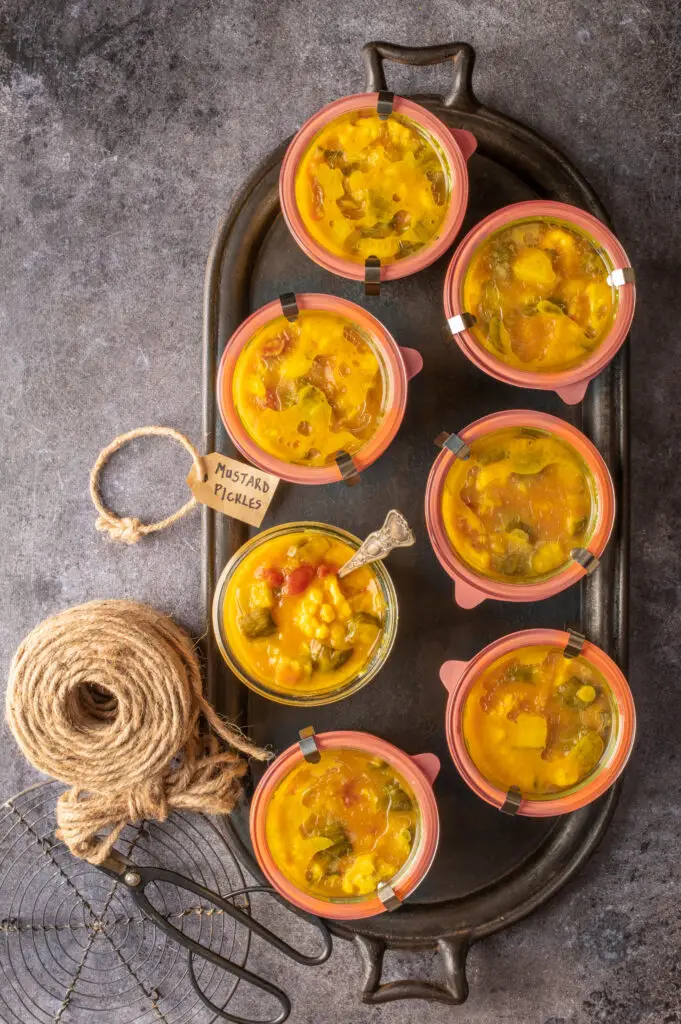 Preserving has always been an important part of the Newfoundland kitchen. With long winters and short growing seasons, preserving summer vegetables was a must. Different versions of pickles showed up at the dinner table most nights. Pickled beets, onions and cucumbers dominated.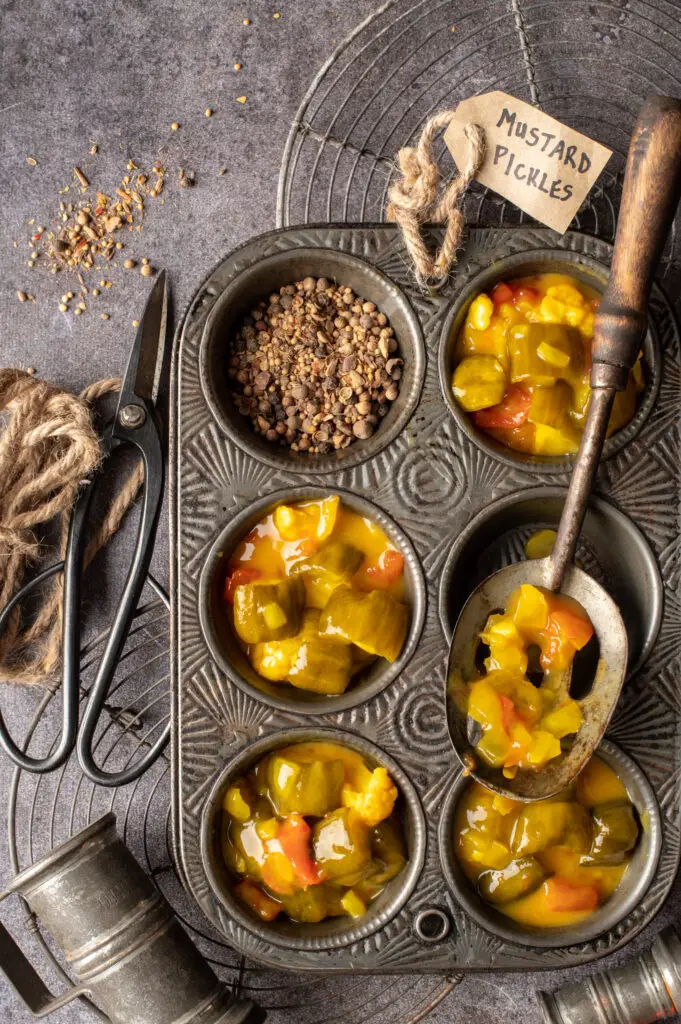 If you sit down for Sunday dinner in Newfoundland, Canada, you're likely to find yourself asked, repeatedly, to pass the mustard pickles: chunks of cucumber, onion, and cauliflower, brined and mixed together in a thick yellow sauce. They're sweet, they're spicy, and they are loved. The pickles' popularity is the result of Newfoundland's often cold and always rocky climate.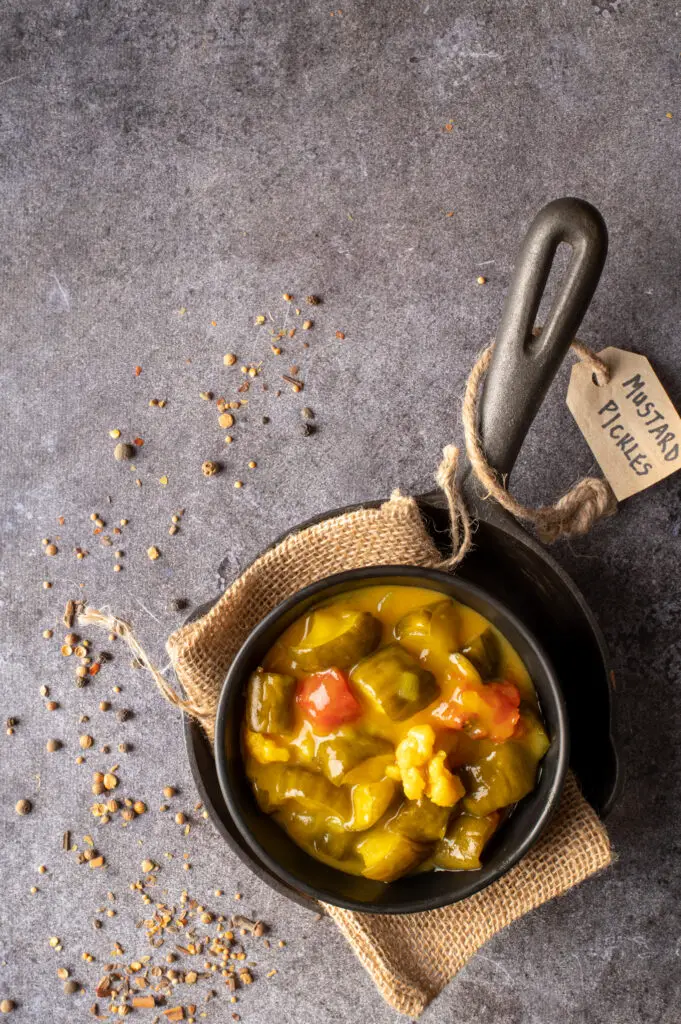 Without the benefit of grocery stores, the island province's early residents relied on preserved foods to get through the long winters. A spoonful of mustard pickles was a welcome ray of sunshine to accompany any meal. Mustard pickles are also a staple at small-town restaurants all around Newfoundland. They're particularly likely to appear with a Sunday 'Cooked or Jigg's Dinner' – a traditional meal.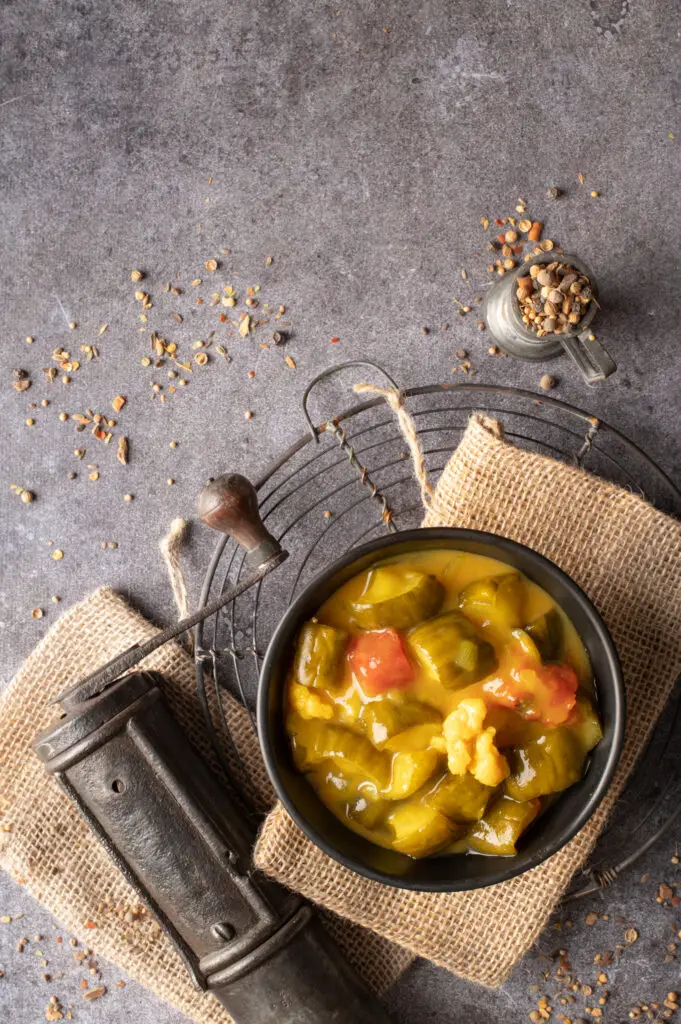 There are many variations of mustard pickles with varying ingredients and levels of sweetness. Lorna's Newfoundland Mustard Pickles is Sandra's mother's. These pickles are a nice balance of sweetness with the tanginess of the vinegar and the spiciness of the mustard. The benefit of making your own food is that you can also adjust for your own taste.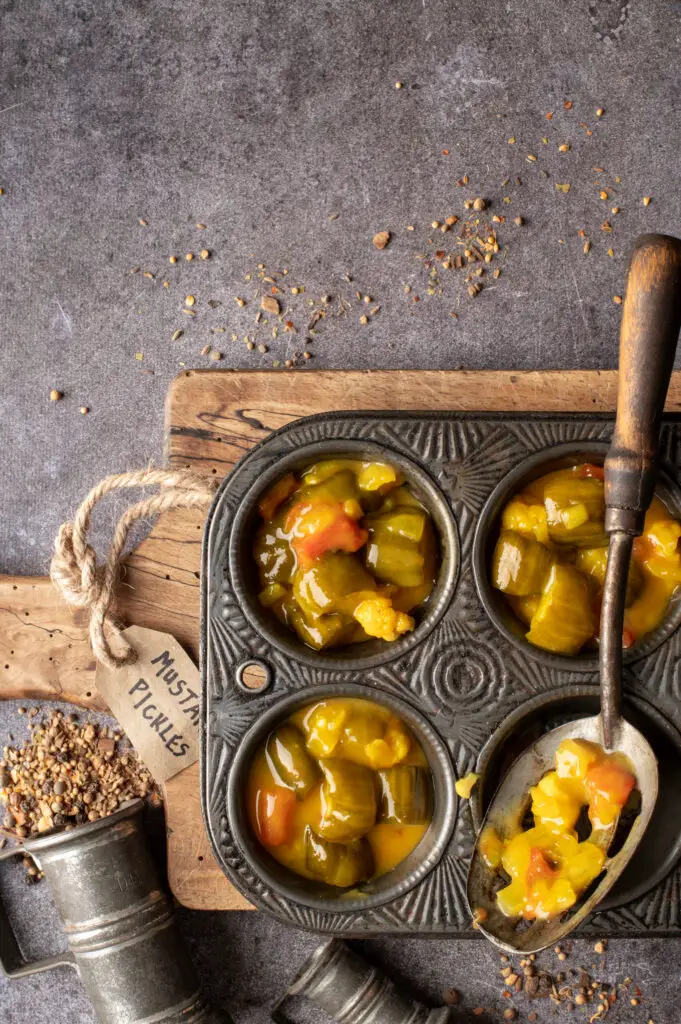 When people moved away from preserving a lot of their own food, companies stepped in to provide mustard pickles that could be purchased in the store. Newfoundlanders love mustard pickles so much that when Smucker's announced in 2016 that it was discontinuing its' brands of mustard pickles (Zest and Habitant), people went into an uproar and there was a frenzy to stock up. But with a little effort, you can easily make your own. Once you seal them, you can store them for years (but they won't last that long!)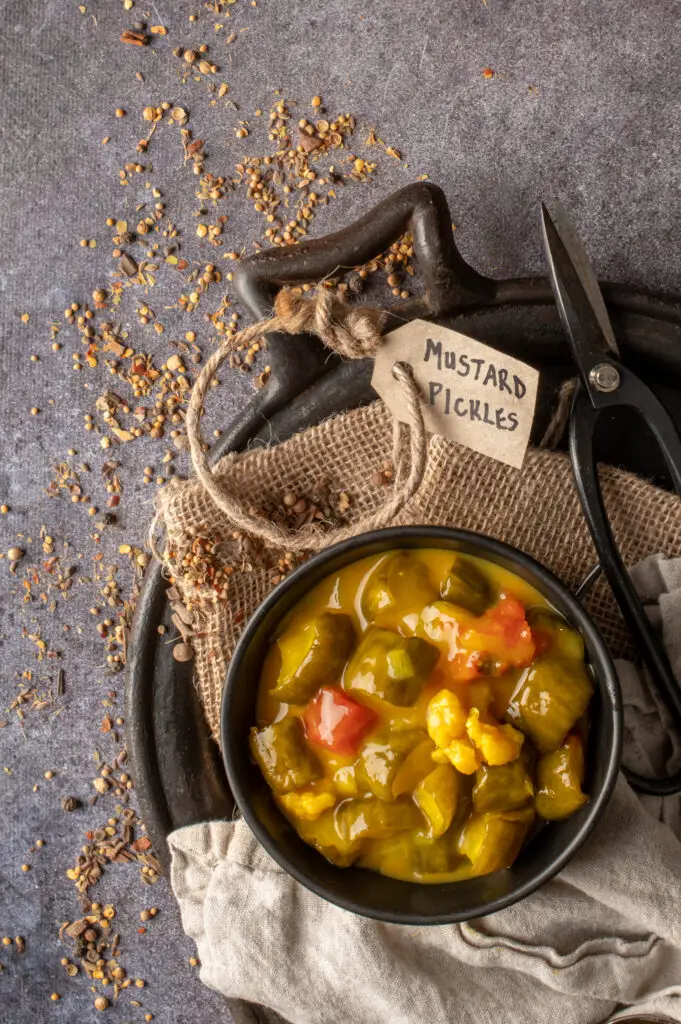 Note that in the recipe below, the prep time does not include the overnight brining time. Get ready to stock up on Lorna's Newfoundland Mustard Pickles and you won't be sorry. A couple of other great condiments in our arsenal are this Creamy Roasted Garlic Hummus or this Roasted Red Pepper Hummus. If you're looking for more dipping snacks, try our Vegan Cashew Queso Dip.
Please let us know if you make Lorna's Newfoundland Mustard Pickles because they're so totally worth it! Leave a comment and a rating and don't forget to tag us @plantedandpicked on Instagram and hashtag it  #plantedandpicked. Benjamin Franklin said "Hunger is the best pickle!", so gather up your jars and get pickling!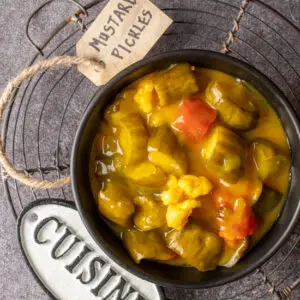 Ingredients
5

lbs

English cucumbers

2300 g

2

lbs

onions

900 g

1

head

cauliflower (smaller)

650 g

½

cup

coarse salt

120 ml

2

cups

vinegar

480 ml

4

cups

sugar

960 ml, we used organic cane sugar

3

tbsp

pickling spices in a cheesecloth bag

45 ml

28

oz

tin of diced tomatoes

796 ml

11

oz

bottle of yellow mustard

325 ml, the traditional brand to use is French's

½

cup

flour

120 ml

½

tsp

turmeric

3 ml

½

cup

water

120 ml
Instructions
Chunk up your cucumbers by slicing them into about ¾" thick slices and cutting these in halves or quarters, depending on how large your cucumbers are. Cut up peeled onions into ½" to ¾" dice and cut the cauliflower into bite-size florets. Place all of the veg in a large pot or non-reacitve bowl that you can place a weighted plate over to press down the veg.

Sprinkle the veg with the coarse sea salt and stir well to combine. Place a plate on top of the salted veg, inside the pot or bowl, and weigh it down with cans or any other heavy object(s). Leave this to sit overnight to draw out the moisture.

The next day, fill a large pot with water, so that the water comes about an inch above your jars when placed on a wire canning rack or round cooling rack in the bottom of the pot. Add the jars, open side up so that they fill with water. Bring to a boil and sterilize for 10 minutes before removing them and placing them in a pre-heated oven at 225°F to remain warm while you prepare the pickles. Repeat as necessary until all jars are sterilized.

While waiting for the canning water to boil, drain the released moisture from the veg through a callander, in batches, giving a slight rinse to remove some of the salt. Drain well and place on clean tea towels to dry.

We used 580 ml Weck canning jars, as seen in one of the photographs, and sterilized all of the lids in a separate medium-sized pot. You can do the same with standard sealing lids. After 10 minutes, turn off the heat. Remove the lids and place them in the oven with the jars. Place the rubber seals or snap lids in the pot of boiling water and remove from the heat to allow the rubber to soften up.

Combine the vinegar, sugar and bag of pickling spices in a medium sauce pot and bring to a boil before reducing to a simmer to dissolve the sugar. Continue to simmer for approximately 5 minutes.

Add the diced tomatoes and mustard to the vinegar mixture and bring to a boil before reducing to a simmer for another 5 minutes or so.

Combine the flour, turmeric and water and mix into a paste. Add this paste to the mustard mixture and bring to a boil before reducing to a simmer to thicken.

Add the veg mixture to the sauce and heat to just before boiling, before filling prepared canning jars. It is important to fill and seal the jars as quickly as possible once the veg is heated, to ensure that it stays crispy.

Once all of the jars are filled and sealed, process the jars for 10 minutes in the same canning bath pot used to sterilize the jars. Remove them and allow to cool on the counter before storing in a cool dry place.