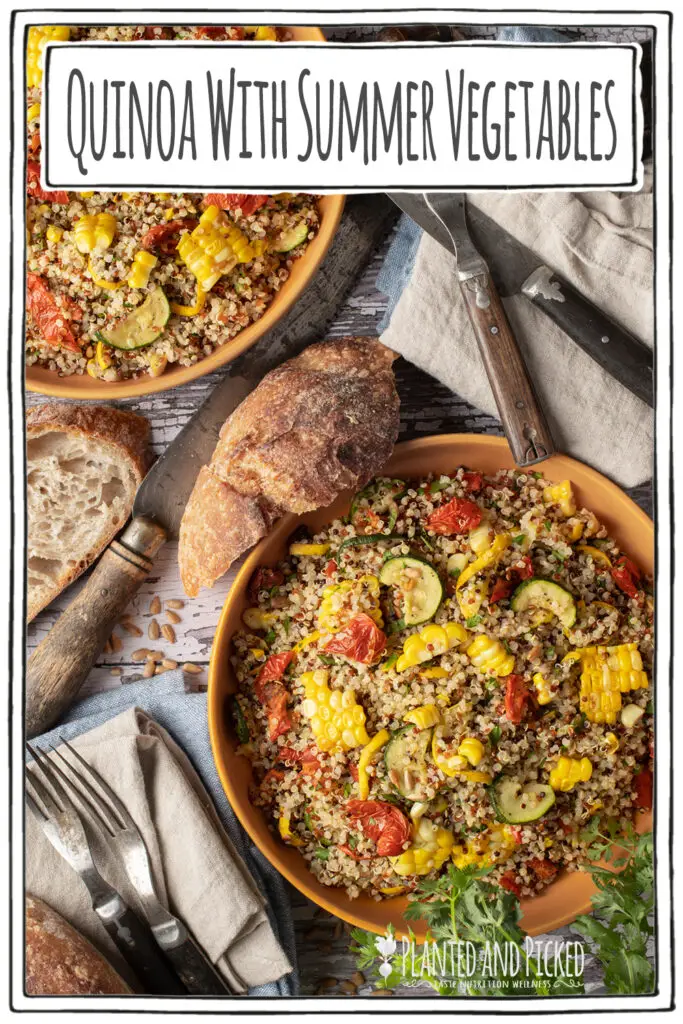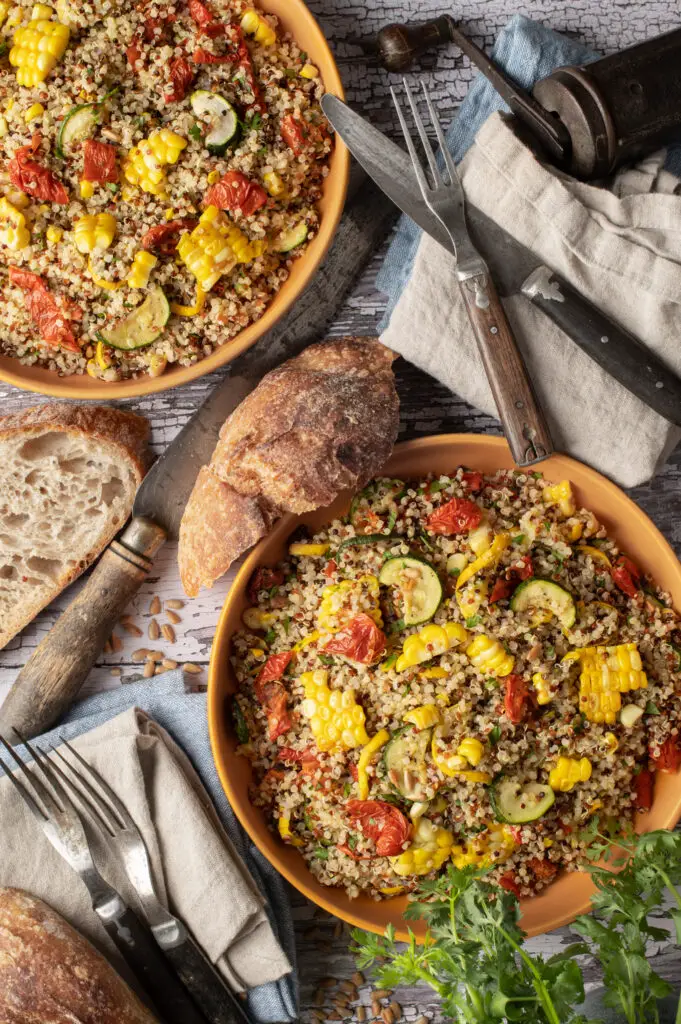 Bump up the nutrients in your meal with this Quinoa With Summer Vegetables. Naturally gluten free, high in protein and rich in veggies – what more could you want?!
History of Quinoa
Quinoa was first cultivated in South America, mostly in Peru, Bolivia and Northern Chile. Quinoa is considered an ancient seed (not a grain) because there is archaeological evidence that quinoa was grown as early as 5000 years ago. In the 1500's, Spanish explorers documented widespread cultivation of quinoa throughout the Andes. In an effort to destroy local cultures in some regions, the Spanish also attempted to end the cultivation of quinoa. As a result, its production declined during the next few centuries.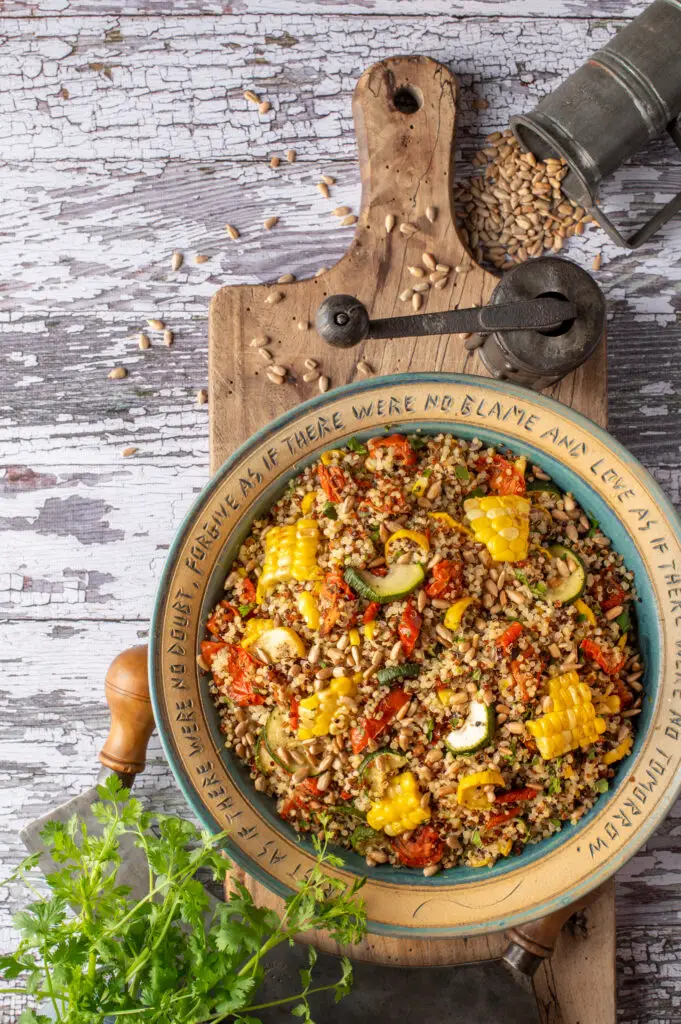 Quinoa began to experience a resurgence in the 1970's, as did the celebration of the native cultures that first cultivated it. Today, the cultivation of quinoa has reached more advanced levels than ever. Different types of quinoa exist that are more suited to varying forms of consumption such as soups, salads, side dish and for making flour.
Protect Our Resources
Sadly, due to the rise in popularity of quinoa, there have been issues with over production, taking advantage of workers by paying low wages and driving the price up so much that it makes it cost prohibitive for locals to buy it.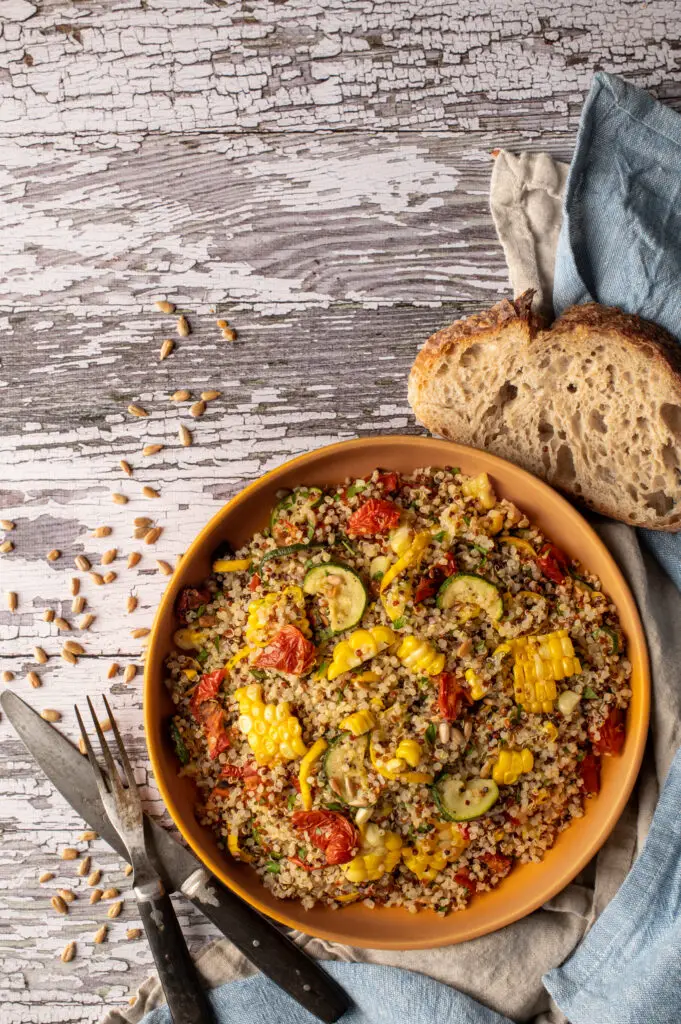 Like everything we buy, it is important to consider where the food comes from and how it is being produced. We buy quinoa from small scale operations that pay workers a fair trade wage and protect the region by farming organically and ethically. We are the stewards of this earth and we exert power by how we spend our dollars.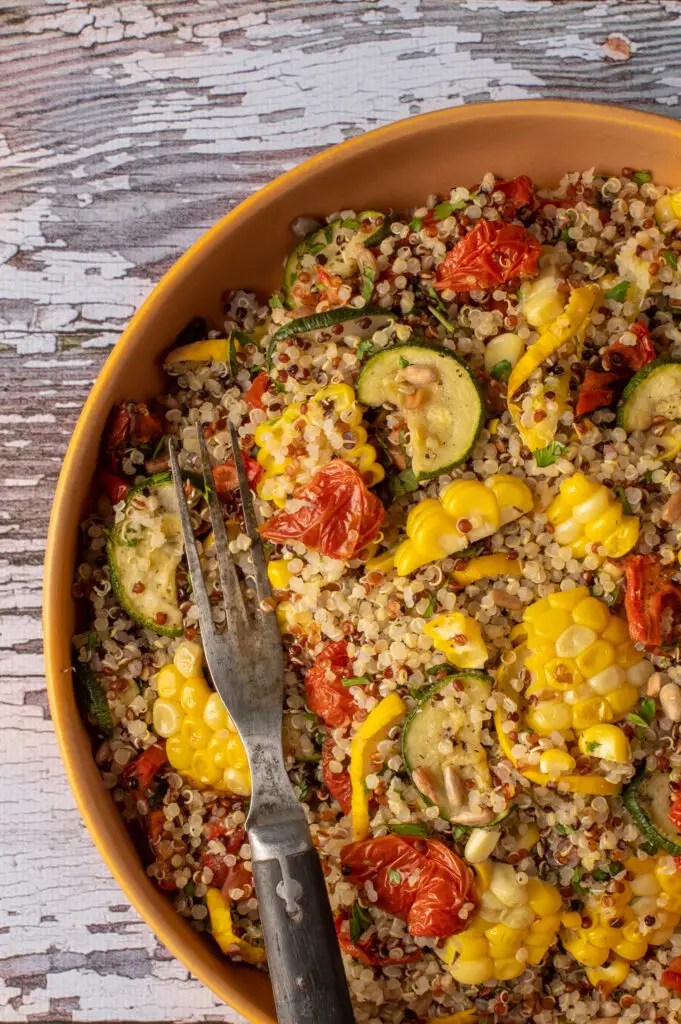 The increasing demand for quinoa that is responsibly and sustainably produced will continue to benefit the Andean communities that cultivate it as well as the health of those who consume it. We encourage you to make conscious buying decisions.
Quinoa is a Nutritional Powerhouse
Quinoa is a complete protein which means that it contains all the essential amino acids that your body can't produce itself. It is high in protein, fibre and is naturally gluten free if you suffer from a gluten allergy or sensitivity. It's also rich in many vitamins and minerals.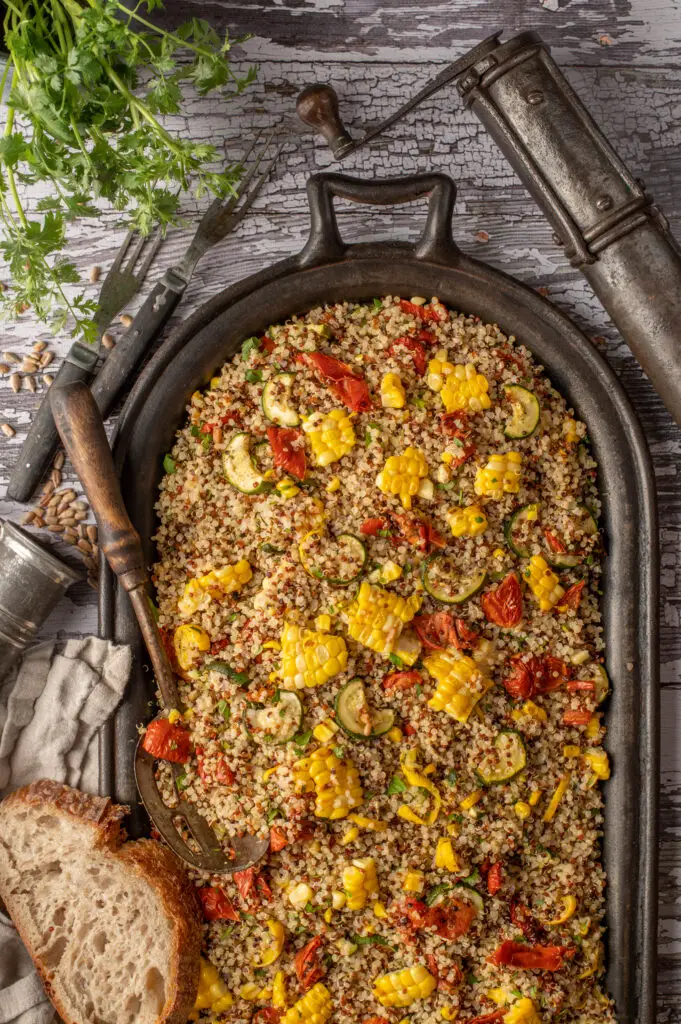 We like to bump up our quinoa with seasonal and local vegetables. This one has the tastes of summer. It makes a great side dish (we served it with tofu kabobs) or as lunch main.
For other small plate inspirations, you can also try out one of our great salads below:
This Quinoa With Summer Vegetables is a great to bring-along to a potluck and perfect for a picnic. It's also good to have in your fridge to take along for lunch on a work day or as a side dish. If you make it, please leave a comment and a rating. Show us yours and don't forget to tag us @plantedandpicked on Instagram and hashtag it #plantedandpicked.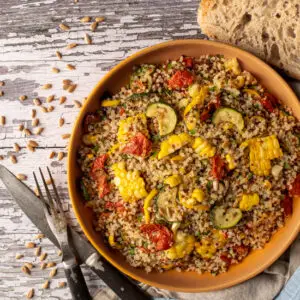 Ingredients
1 ½

cups

quinoa

1

cup

sun-dried tomatoes

We used our recipe for slow roasted tomatoes

1

cob

fresh corn

about 1 cup

¼

cup

mint

¼

cup

toasted sunflower seeds or pine nuts

optional
Roasted Vegetables
1

medium

yellow squash, diced

about 1 cup diced

1

medium

zucchini, diced

about 1 cup diced

½

tsp

sea salt

½

tsp

garlic powder
Dressing
6

tbsp

lime or lemon juice

1

tbsp

good quality olive oil

2

tsp

maple syrup

2

cloves

garlic, minced

1

tsp

dried dill

pinch

red pepper flakes

pinch

sea salt
Instructions
Roasted Vegetables
Remove the ends from the zucchini and summer squash. Quarter lengthwise. Then dice widthwise to form bite sized pieces.

Sprinkle with sea salt and garlic pepper. Stir to combine.

Place in oven and bake for 30 minutes. Stir halfway through.

Remove from oven and set aside.
Quinoa
Rinse the quinoa well through a mesh strainer.

Place in a medium pot with 1 ½ cups of filtered water (or vegetable broth). Add a pinch of salt.

Bring to a boil. Reduce the heat to low, cover and simmer for about 12 minutes.

Remove the pot from heat and let set aside.
Dressing
While the quinoa is cooking, prepare the dressing.

Juice the lemon or limes to yield about 6 tbsp of juice.

Add the juice to a large bowl, along with the rest of the dressing ingredients. Stir to combine.
Corn
Remove the husk and silk from the corn. Rinse.

Bring a pot of water to a boil (large enough to fit the cob of corn).

Add the cob and simmer for about 5 minutes. Remove the corn from the pot and let cool.

Once cooled, stand the corn on one end. Use a knife to strip the corn off of the cob.

One cob will yield about one cup but you don't have to measure – use all the corn that you remove.

You can sub 1 cup frozen corn that has been thawed but fresh summer corn is better in this recipe.
Put it All Together
We made slow roasted tomatoes the day before to use in this recipe but you can use store bought sun-dried tomatoes.

Slice the tomatoes and add them to the bowl.

Slice the mint and add it to the bowl.

Add the quinoa and stir to combine.

Add the remaining ingredients (except seeds or pine nuts). Stir to combine.

Taste and adjust seasonings to taste.

Top with the toasted sunflower seeds or pine nuts (optional).
Nutrition
Calories:
225
kcal
|
Carbohydrates:
35
g
|
Protein:
8
g
|
Fat:
7
g
|
Saturated Fat:
1
g
|
Polyunsaturated Fat:
3
g
|
Monounsaturated Fat:
3
g
|
Trans Fat:
1
g
|
Sodium:
186
mg
|
Potassium:
869
mg
|
Fiber:
5
g
|
Sugar:
8
g
|
Vitamin A:
318
IU
|
Vitamin C:
19
mg
|
Calcium:
49
mg
|
Iron:
3
mg