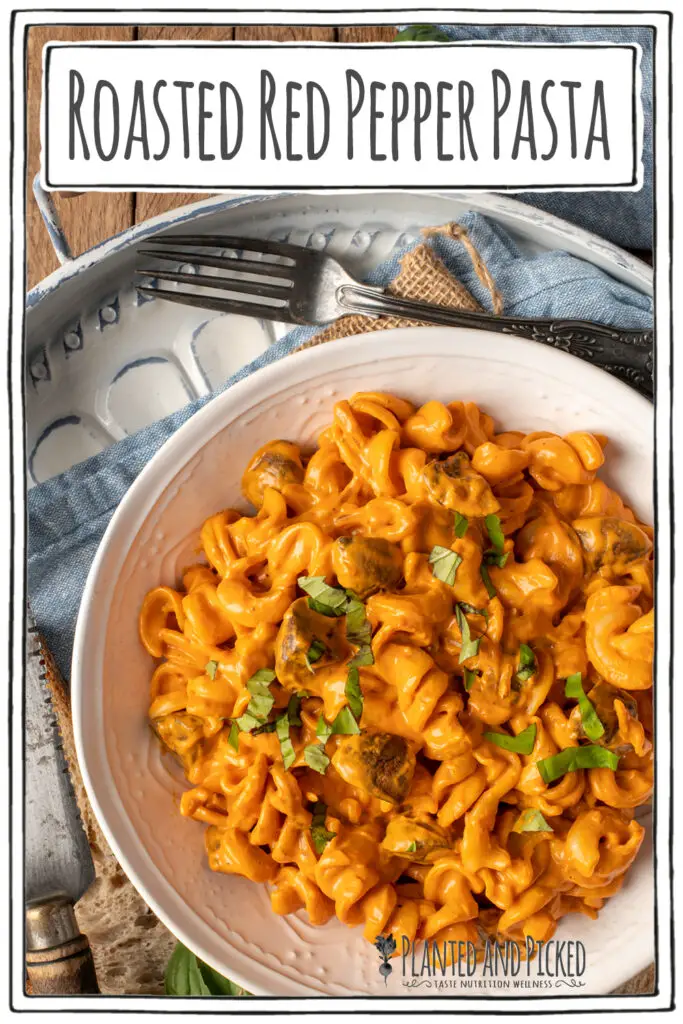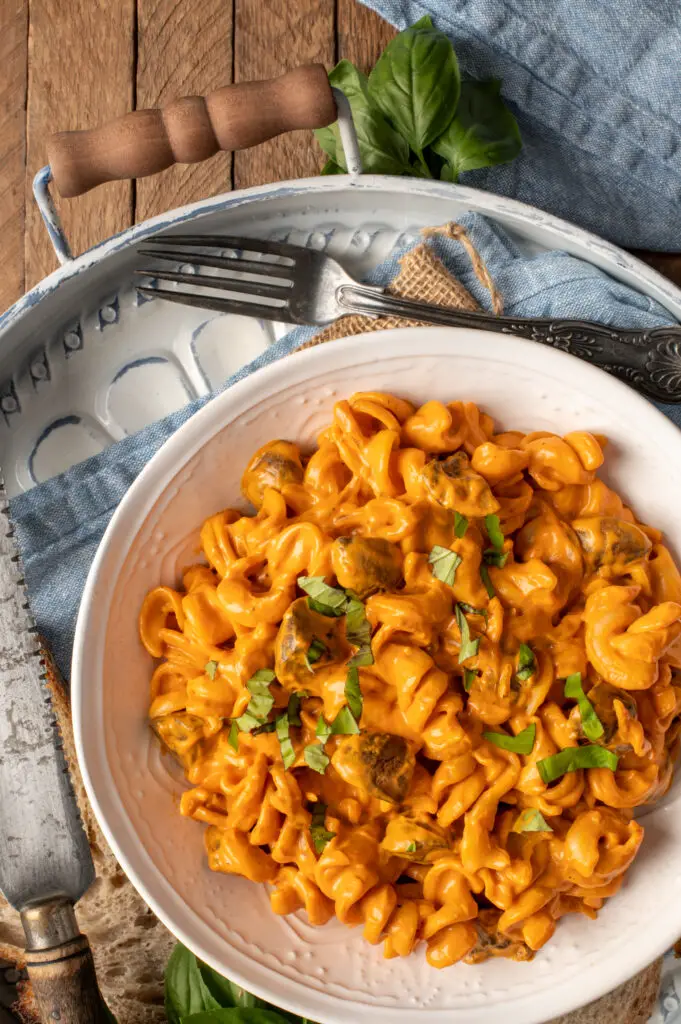 This Creamy Roasted Red Pepper Pasta sauce has just moved up as one of our regulars because roasted veg, creamy and pasta just go together any time. Are you with us?!?
The sauce is smooth, creamy, luxuriously savoury with just a hint of sweetness from sautéed sweet onions. You can make it super easy by using store-bought roasted red peppers. If you have time though, roast your own at home under the broiler. We did ours on the barbecue! All you need is some direct heat to char the skins. Pop them in a mixing bowl and allow to cool enough to handle. This makes removing the skins quick and easy.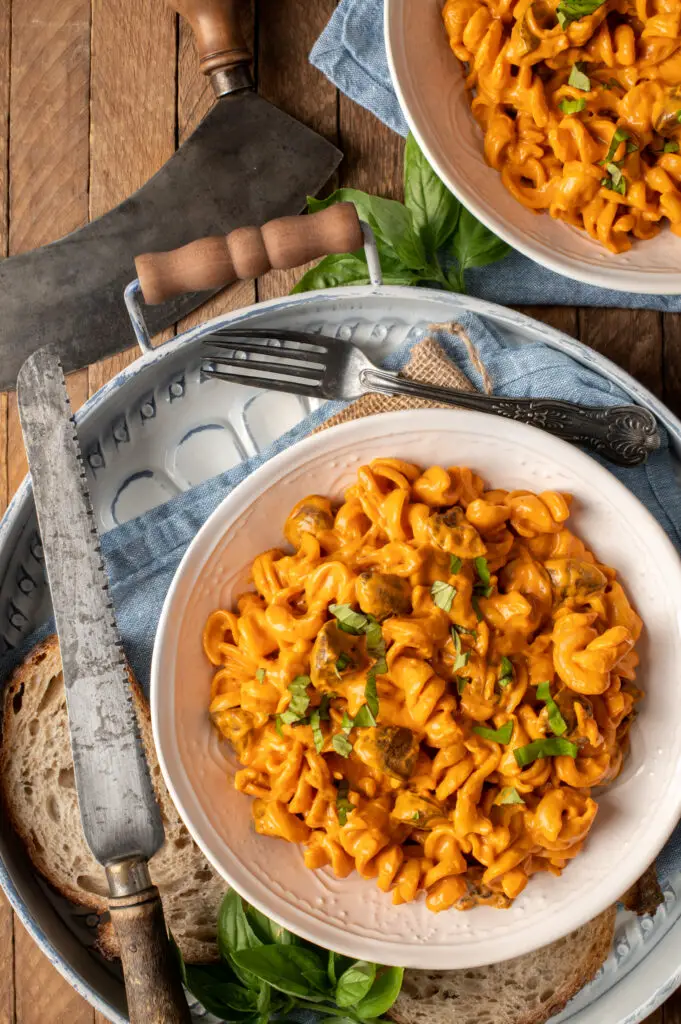 We love the earthy taste of sautéed mushrooms in this roasted red pepper sauce and added these in after sautéing the onions. However, if you're not a shroom person, just leave them out and your sauce will be just as divine. The sauce all comes together in the blender. Simply pour it over the sautéed veg before mixing in your prepared pasta and fresh basil. Totally easy!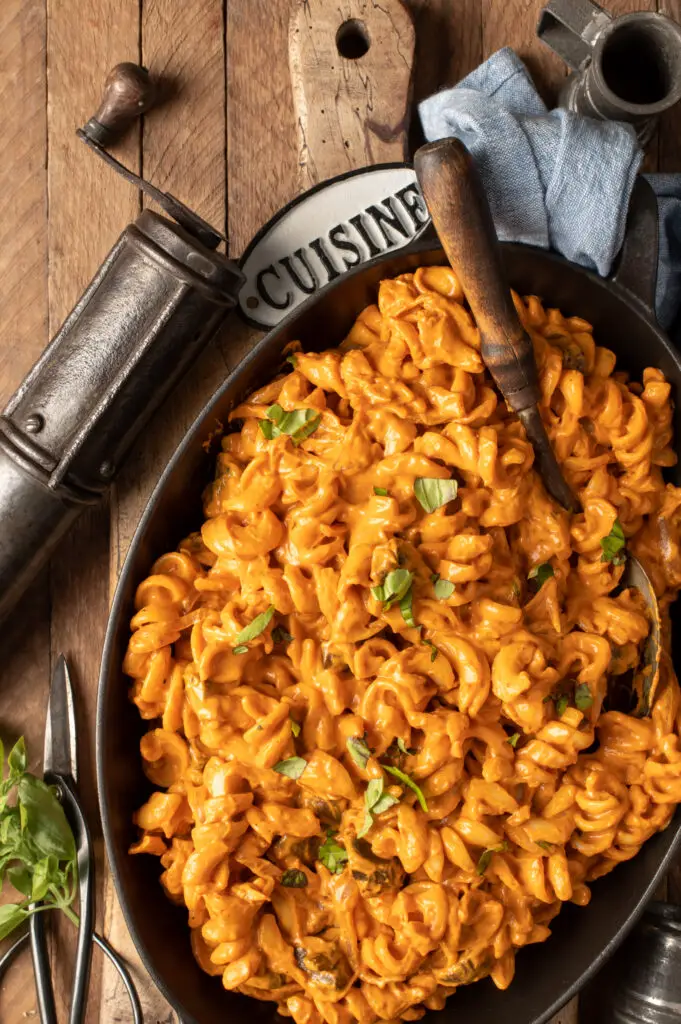 Cashews are the secret to the creaminess of this roasted red pepper pasta. Just blend them together with some plant-based milk, the roasted red peppers, nutritional yeast, lemon juice, tomato paste, veg stock and voila! Your sauce is ready to go!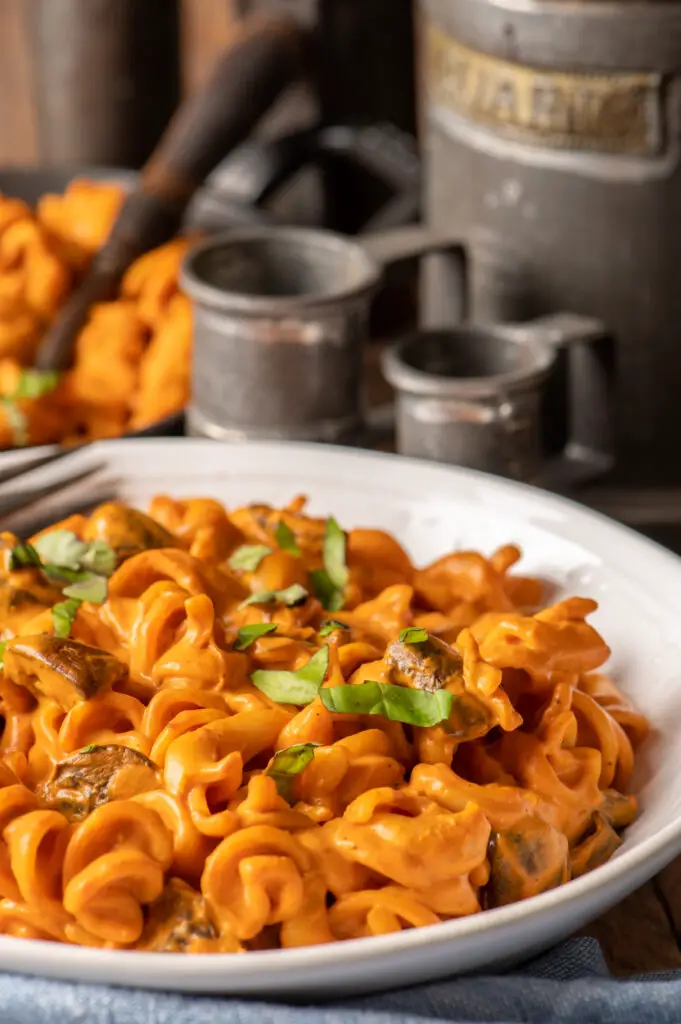 Choose whole wheat or spelt pasta for a boost of nutrition, or your favourite gluten free pasta for ease of digestion or dietary need. The sauce will be the star regardless of which pasta you choose.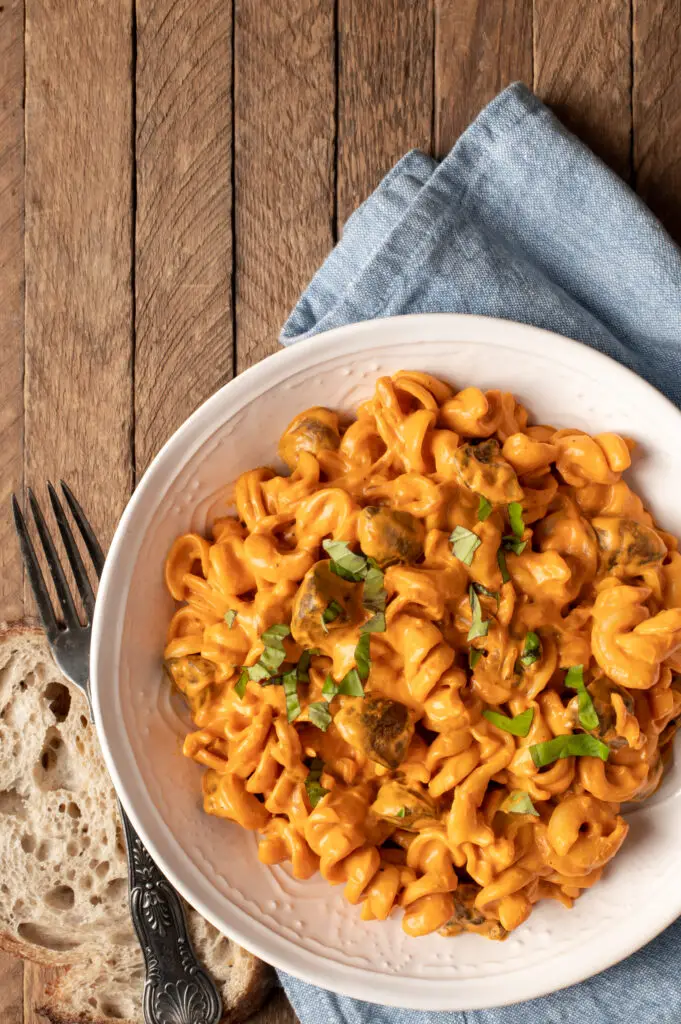 This creamy roasted red pepper pasta will delight anyone who loves pasta. It's a perfect weeknight meal that comes together in under an hour if you choose store bought roasted peppers. You may also like to try this Vegan Pasta Alfredo, our Creamy Roasted Vegetable Pasta or the deliciousness we call Roasted Vegetable Lasagna! We also recommend this Simple Asparagus Rigatoni. For a change, we make our own noodles in this flavourful Vegan Hungarian Tofu Paprikash.
If you make this Creamy Roasted Red Pepper Pasta, we would love to see and hear how yours turns out. Leave a comment and a rating and don't forget to tag us @plantedandpicked on Instagram and hashtag it  #plantedandpicked. Always remember the words of M.F.K. Fisher "Sharing food with another human being is an intimate act that should not be indulged in lightly"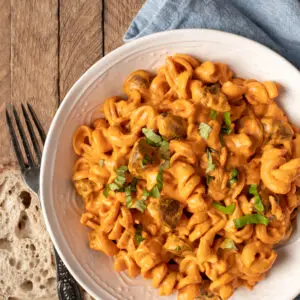 Ingredients
1

cup

raw cashews

150 g

1

lb

spelt, wholewheat or gluten free pasta

454 g

1

tbsp

olive oil

15 ml

13

oz

sweet onion, sliced in thin wedges

365 g (we used 2 medium onions)

1

tbsp

minced garlic

10 ml

1

tsp

sea salt

2 ml

¼

tsp

freshly ground black pepper

1 ml

1

lb

cremini mushrooms

454 g

2

tbsp

lemon juice

30 ml

1.5

cups

oat or soy mylk

360 ml

16

oz

roasted red peppers

450 g (we used five peppers)

¼

cup

tomato paste

60 ml

3

tbsp

nutritional yeast

45 ml

1.5

cup

vegetable broth

360 ml

1½

oz

fresh basil

40 g
Instructions
Soak cashews in filtered water for at least 30 minutes or up to overnight and drain. Note that if you have a high powered blender, 30 minutes is sufficient, but that longer periods may be required for less powerful blenders.

If you are roasting your own peppers, we do ours on the barbecue, turning them periodically until they are blackened on all sides. You can do the same thing under a broiler in your oven as well. This could take 20 to 30 minutes. Once done, place them in a glass bowl and allow to cool just until you can handle them. They will sweat a little and this makes it significantly easier to remove the skins.

Feel free to use store-bought roasted peppers for a quicker alternative!

Bring a large pot of salted water to a boil to prepare pasta.

Slice onion in thin wedges. Heat olive oil in a heavy pan over medium-high heat and add onions. Reduce the heat to medium and sautée together with the minced garlic for approximately 20 minutes until they start to brown, stirring occasionally to reduce the amount of sticking. A little bit of sticking is fine to help with browning. Towards the end, just add a little veg broth (a tablespoon or so) to deglaze and bring all of that good taste back onto the onions! Remove onions to a bowl and set aside.

While the onions sautée, half or quarter the mushrooms to make them bite-sized (note that they will shrink). Once the onions are done and set aside, toss the mushrooms into the same pan and sautée for approximately 10 minutes, stirring regularly. They should be nicely browned.

While the mushrooms sautée, prepare your pasta. You can also remove the skins, stems and seeds from the roasted peppers and set these aside.

Drain the cashews, rinse and add to your blender with the oat or soy milk and lemon juice and blend on high until it reaches a smooth consistency. Add the peppers, tomato paste and nutrional yeast and continue to blend until smooth again. Add the vegetable broth and blend again.

Return the onions to the pan and pour the sauce in, stirring to combine. Add the prepared pasta and basil leaves and stir to combine and keep warm.
Nutrition
Calories:
527
kcal
|
Carbohydrates:
81
g
|
Protein:
21
g
|
Fat:
15
g
|
Saturated Fat:
2
g
|
Polyunsaturated Fat:
3
g
|
Monounsaturated Fat:
7
g
|
Sodium:
1790
mg
|
Potassium:
1134
mg
|
Fiber:
7
g
|
Sugar:
11
g
|
Vitamin A:
1292
IU
|
Vitamin C:
48
mg
|
Calcium:
183
mg
|
Iron:
5
mg