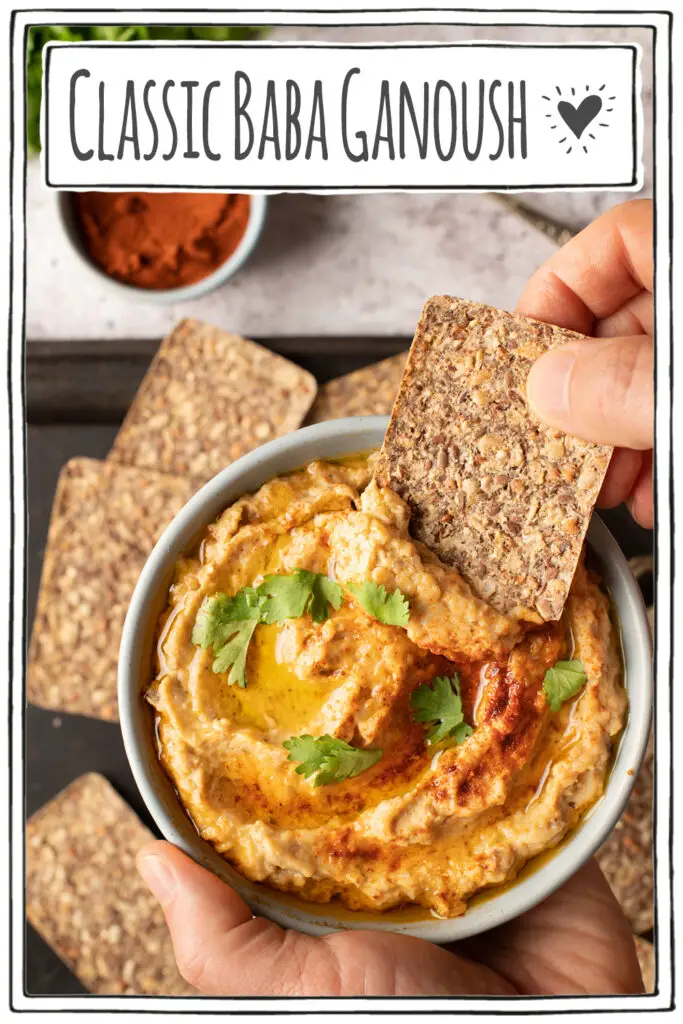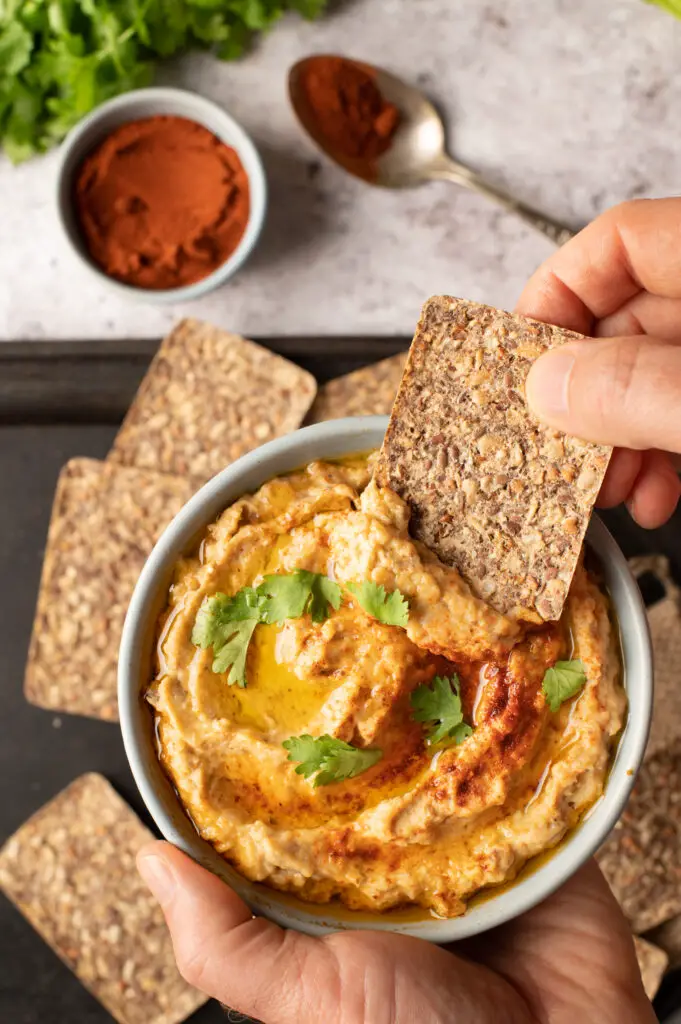 This classic baba ganoush is a wonderfully smokey, creamy and flavourful dip that you can make with very little preparation. It is a great alternative when you want a change from hummus.
Baba ganoush is basically an eggplant dip and it is similar to hummus. This recipe makes a great appetizer or snack and it is very quick to make once you've roasted the eggplant and garlic.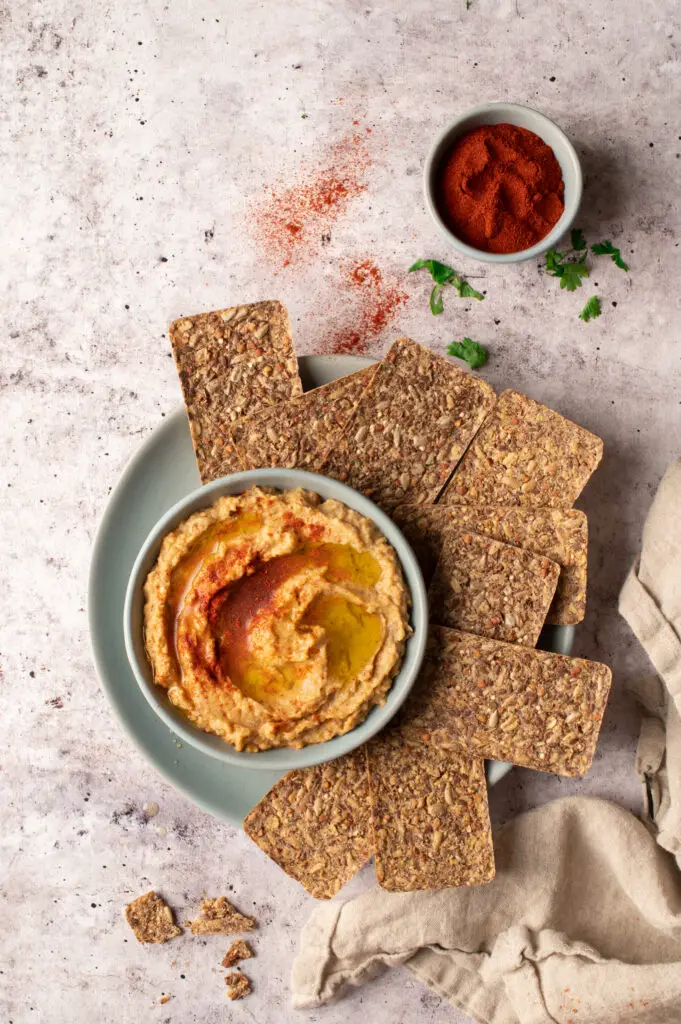 How This Classic Baba Ganoush is Made
There are many ways that you can cook the eggplant. We cooked ours whole on the BBQ, turning it every 5 minutes or so for about 45 minutes to ensure that it is nice and soft inside. Charring the skins also adds a smokiness to the eggplant. You can also roast the eggplant in an oven for the same amount of time. The eggplant gets mixed with simple ingredients that we always have on hand – creamy tahini, garlic, lemon juice and spices.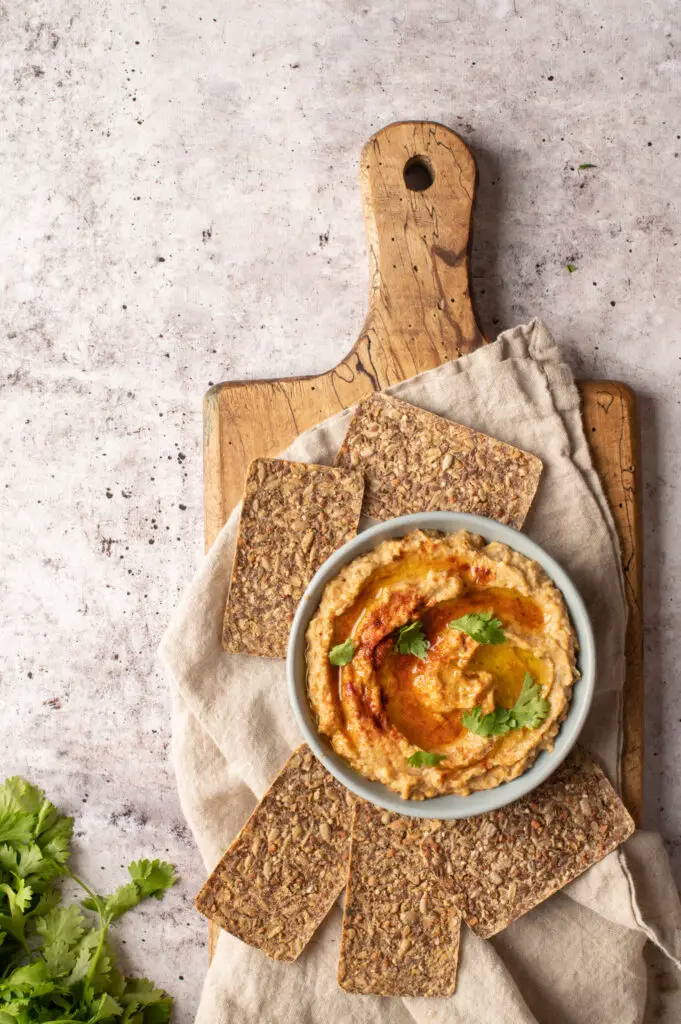 You can make this baba ganoush dip as chunky or smooth as you like. We make ours by hand by just mashing the eggplant with a fork so that it stays more on the rustic side. You can feel free to blend it though if you prefer a creamier dip. We find the dip creamy enough, but you can add a drizzle of a good quality olive oil if you like.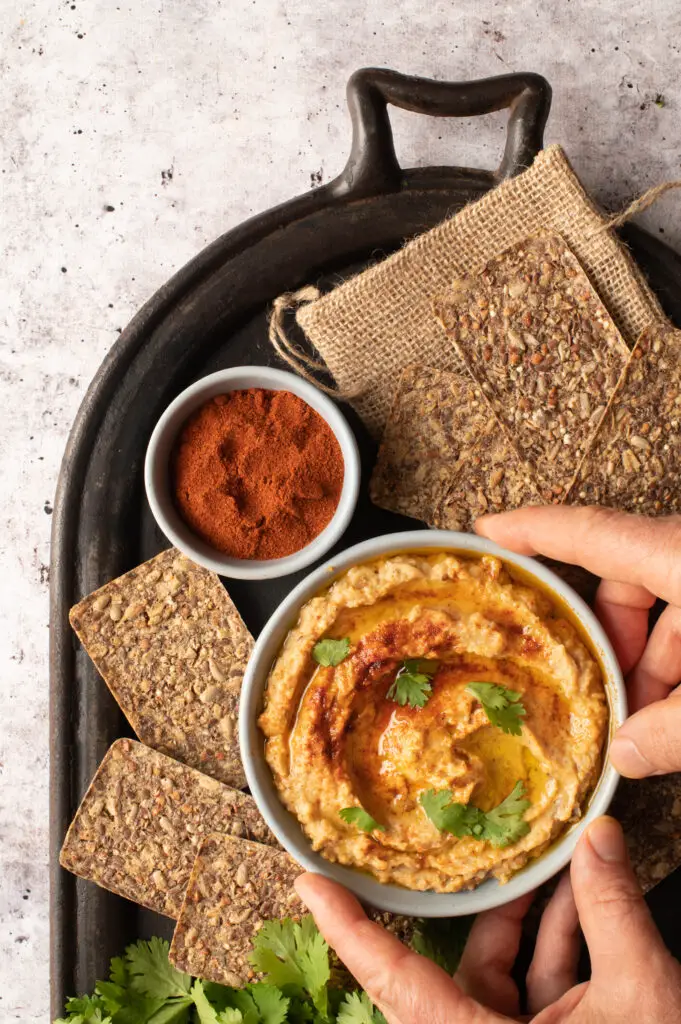 Eggplant is a good source of antioxidants as well as dietary fibre, potassium and B vitamins.
We are always looking for different ways to enjoy summer eggplant – we can only eat so much ratatouille! (Sandra's favourite eggplant dish). The baba ganoush will keep well in the fridge for around 7 days in an air tight container. You can enjoy it with pita bread, vegetables, crackers or as a spread in your favourite sandwich.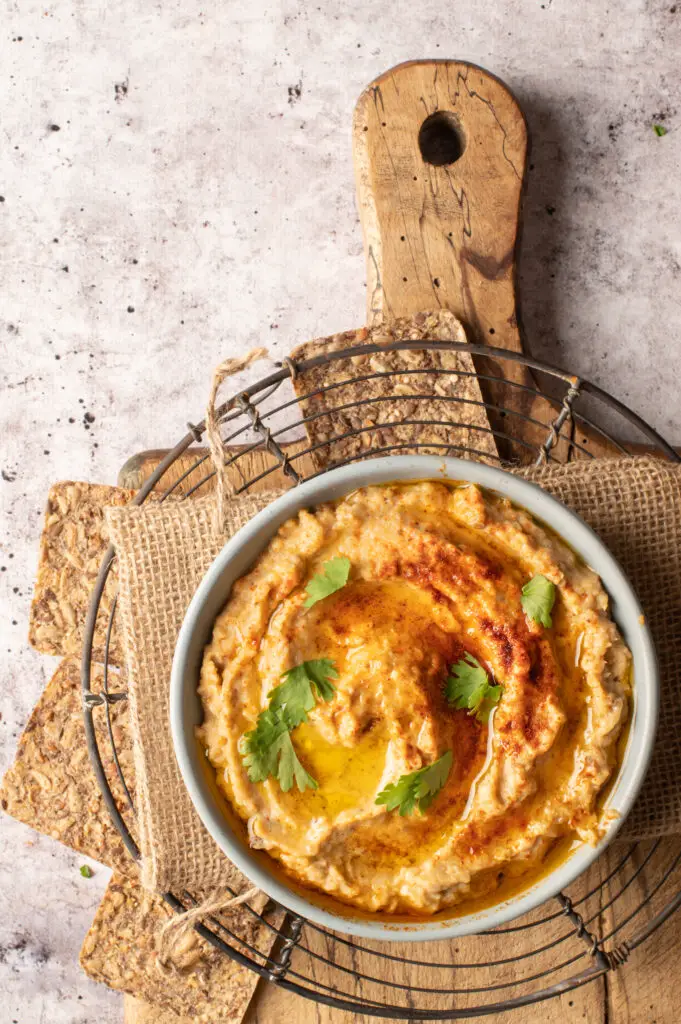 More Great Spreads and Dips . . .
If you are looking for some other dips or spreads, check out our Beet and Dill Hummus, Creamy Roasted Garlic Hummus or Roasted Red Pepper Hummus. Or for some Mexican flavour, try our Vegan Cashew Queso Dip. Please let us know if you make this Classic Baba Ganoush because we always like to see your feedback! Leave a comment and a rating and don't forget to tag us @plantedandpicked on Instagram and hashtag it  #plantedandpicked. Pooja Mottl has told us that "Healthy eating isn't about counting fat grams, dieting, cleanses and antioxidants; it's about eating food untouched from the way we find it in nature in a balanced way."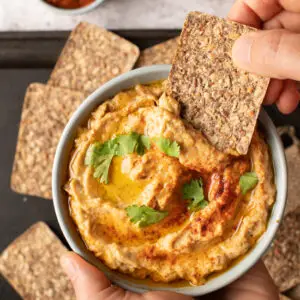 Ingredients
2

medium

eggplant

⅓

cup

tahini

80 ml

2

heads

garlic

2

tbsp

lemon juice

30 ml

½

tsp

ground cumin

2 ml

½

tsp

smoked paprika

2 ml

⅛

tsp

sea salt

0.5 ml
Instructions
Preheat oven to 425°F or preheat BBQ and set dial to medium heat.

Cut off the ends of the heads of the garlic and put them an an oven proof dish with a lid.

Wash and dry the eggplant and pierce all over with a fork. Place on a baking tray if using the oven. Place the tray in the oven on the middle rack. Add tbe garlic heads as well and bake for about 45 minutes, turning every 10 minutes or so.

If using a BBQ for the eggplant, just place the eggplant directly on the rack and close the lid. Turn every 10 minutes or so, to try to get all sides charred.

Remove the garlic and eggplant. Let cool for 15 minutes. Slice the eggplant lengthwise in half. Scoop out the eggplant flesh and place it in a bowl.

Mash the eggplant with a fork until creamy. Squeeze the garlic out of the skins into the the same bowl and mash to blend.

Add the rest of the ingredients and stir to combine. Taste and adjust the seasonings to your liking.

You can place the prepared baba ganoush into a airtight glass container and store it in the refrigerator fo up to 7 days.

You can enjoy it with pita bread, vegetables, crackers or even as a spread in your favourite sandwich.
Nutrition
Calories:
100
kcal
|
Carbohydrates:
12
g
|
Protein:
3
g
|
Fat:
6
g
|
Saturated Fat:
1
g
|
Polyunsaturated Fat:
2
g
|
Monounsaturated Fat:
2
g
|
Sodium:
44
mg
|
Potassium:
345
mg
|
Fiber:
4
g
|
Sugar:
4
g
|
Vitamin A:
97
IU
|
Vitamin C:
7
mg
|
Calcium:
39
mg
|
Iron:
1
mg