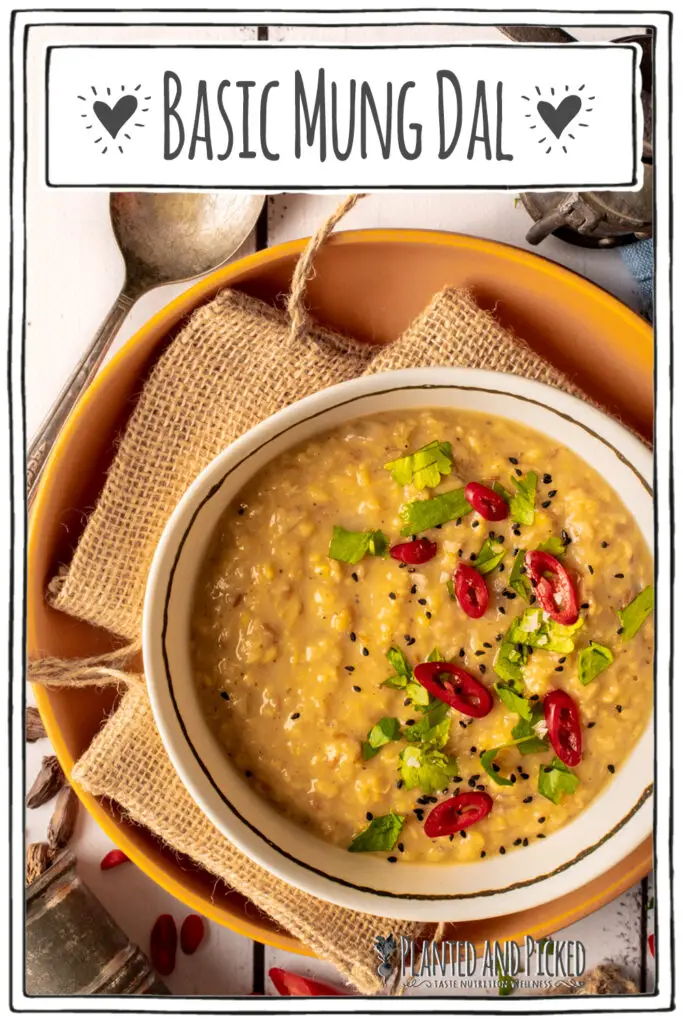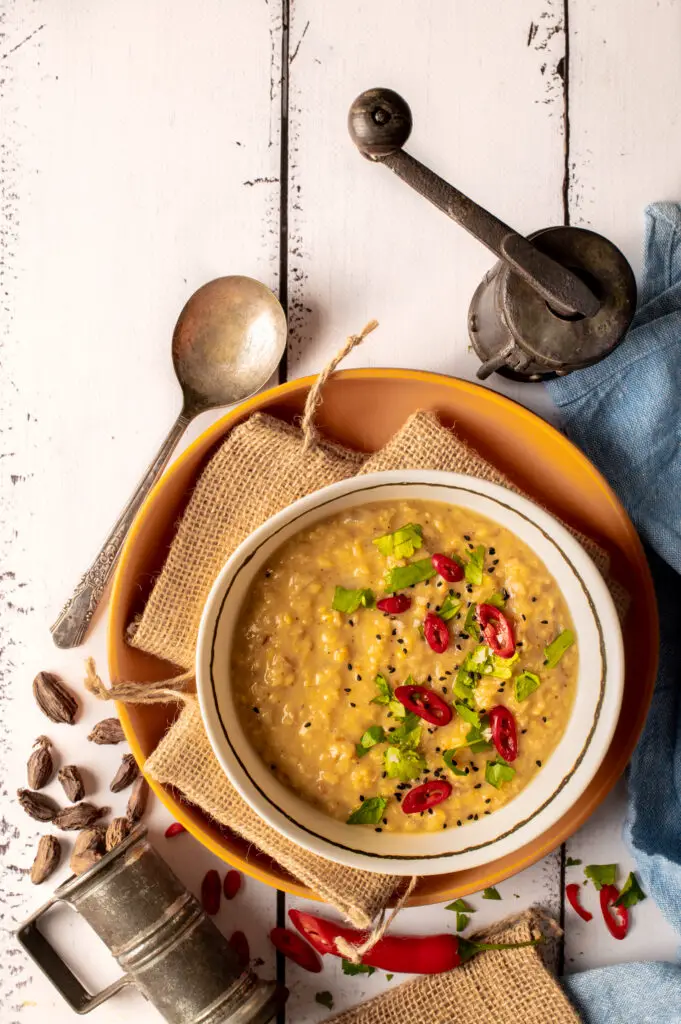 This basic mung dal recipe is easy and versatile. You can have a bowl of this nourishing dish to the table in 45 minutes.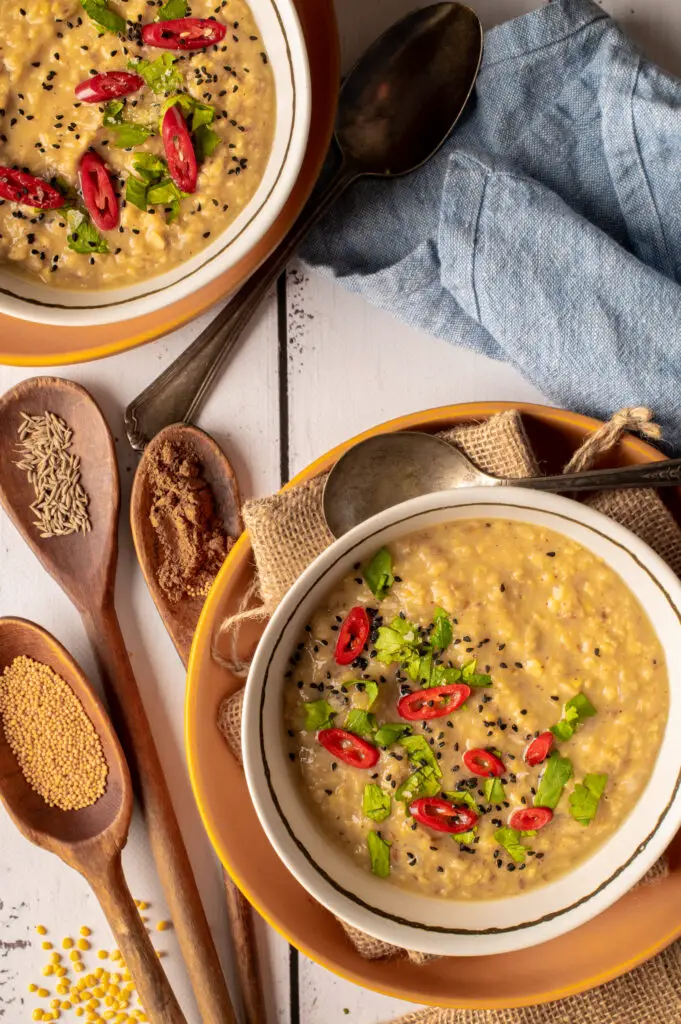 Mung Dal is made from husked and split mung beans which are easy to digest and an excellent protein source. If you have trouble digesting beans and lentils, mung beans are a good choice. They are nourishing and not as drying as other beans and lentils.
Mung Beans are easier to digest than some other beans and lentils, do not tend to cause gas and bloating (if soaked and rinsed well) and are exceptionally versatile. From an ayurvedic perspective, mung beans are neither heating nor cooling so are considered tridoshic.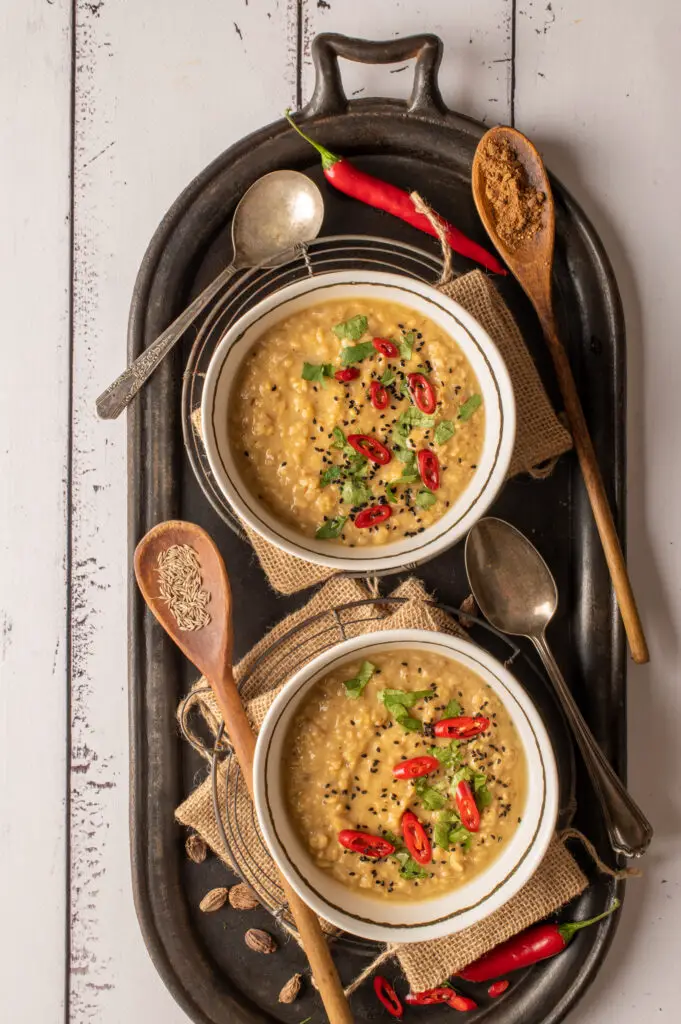 For more information on beans and how to make them more digestible, check out our blog post The Health Benefits of Beans.
Mung Dal is low in fat content and very high in protein. In fact, mung dal is one of the best sources of plant protein with 24 g in 100 g of dried beans. You can use this basic recipe and expand upon it in your own kitchen. You can add additional spices such as mustard seeds, hing, coriander, paprika etc. Basically any tastes that you particularly like! You can also add seasonal vegetables to this dish such as carrots, spinach or sweet potato.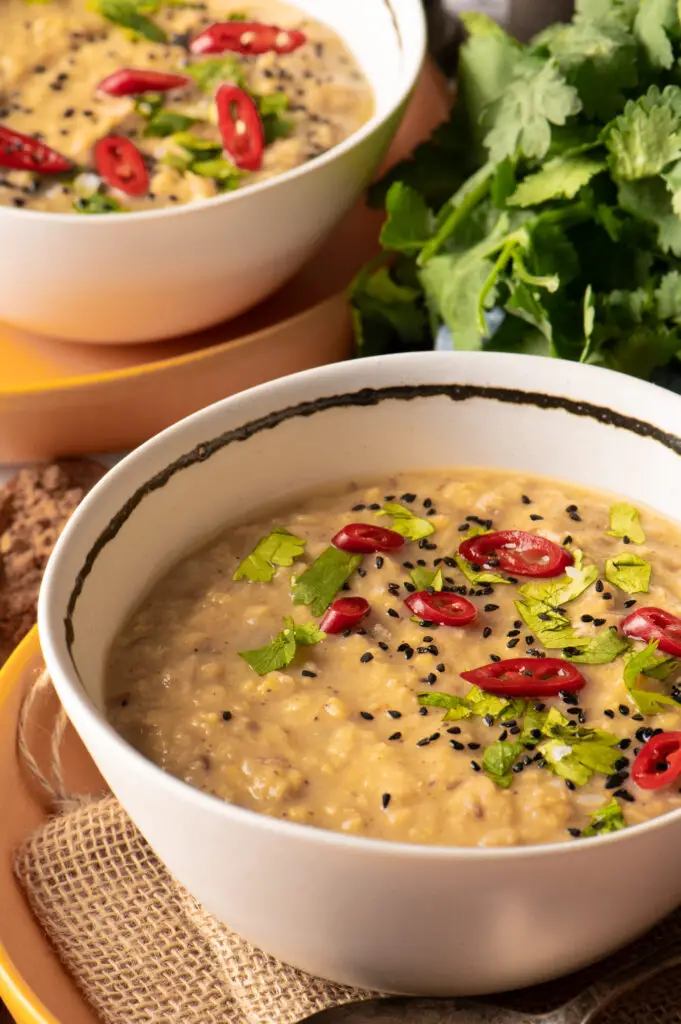 When preparing mung dal, you need to rinse it very well. We rinse it under cold running water until the water runs clear and there are no bubbles remaining. We then soak the mung dal overnight and rinse it again in the morning. You don't necessarily have to soak it, but it will make them it more digestible.
We love to serve this a little soupy, in a bowl, alongside some rice, steamed greens and a dollop of unsweetened coconut or almond yogurt. We also like to squeeze a little lime on top.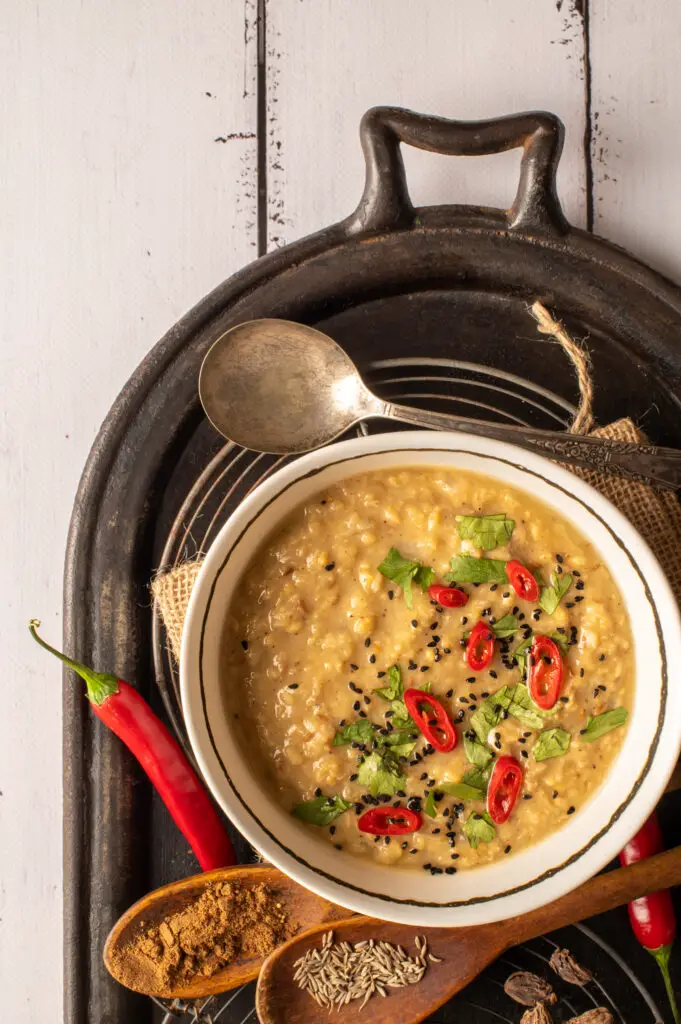 This Basic Mung Dal is nourishing and comforting. If you are seeking more comfort food, you may also like to try this Creamy Roasted Red Pepper Pasta, Vegan Pasta Alfredo, our Creamy Roasted Vegetable Pasta or the deliciousness we call Roasted Vegetable Lasagna! We also recommend this Simple Asparagus Rigatoni. For a change, we make our own noodles in this flavourful Vegan Hungarian Tofu Paprikash.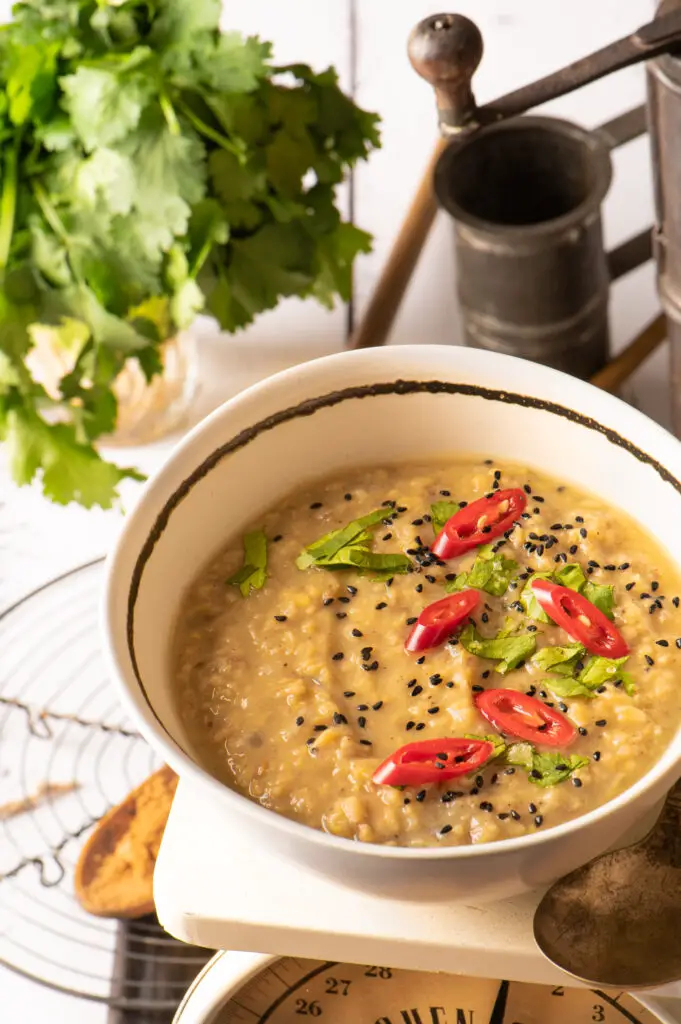 If you make this Basic Mung Dal, we would love to see and hear how yours turns out. Leave a comment and a rating and don't forget to tag us @plantedandpicked on Instagram and hashtag it #plantedandpicked. Remember what Anthony Bourdain said . . . "Good food is very often, even most often, simple food"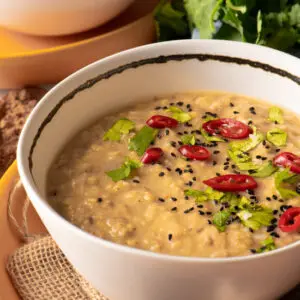 Ingredients
1

tbsp

coconut oil

ghee is traditionally used if not vegan

1

cup

mung dal

½

cup

onions, diced

2

inches

ginger, grated or sliced into small sticks

1

tbsp

cumin seeds

1

tbsp

garam masala

½

tsp

sea salt

fresh ground pepper to taste

1

lime
Instructions
Place mung dal in a bowl. Run under water, stirring with your hand. Keep rinsing until the water runs clear and there are no bubbles forming on the surface.

The beans are okay to use at this point; however, to make them even more digestible, we like to soak them overnight and then give them one more rinse in the morning.

Peel the fresh ginger and either slice into small sticks or mince it. Dice the onion.

Heat a large pot on the stove on medium heat. Add the coconut oil.

Add the cumin seeds and cook for about a minute (until they release their aroma). Be careful not to burn.

Add ginger, sea salt and onions to the pot. Continue to cook until onions are translucent (about 5 minutes). Add garam masala and stir to combine.

While the onions are cooking, fill a kettle of water and set to boil.

Add the drained mung dal and a pinch of black pepper if using. Stir to coat the mung dal.

Add 3 cups of the boiling water and reduce to a simmer. Cover and simmer on medium low heat for 30 minutes. Stir a few times during the 30 minutes to make sure it doesn't stick.

This should be slightly runny. If you prefer a more soup like texture, you can add more water.

Once done, squeeze the juice of a lime into the mung dal. You can serve this with some chopped cilantro as well.

We eat this nutritious dish with some rice, steamed greens, a dollop of coconut yogurt and some mango chutney.

For different variations of this dish, you can add seasonal vegetables to it while cooking such as carrots, sweet potatoes or chopped greens. You can also vary the spices with coriander, mustard seeds, cardamom pods or fennel as examples.
Nutrition
Serving:
6
g
|
Calories:
158
kcal
|
Carbohydrates:
24
g
|
Protein:
9
g
|
Fat:
3
g
|
Saturated Fat:
2
g
|
Polyunsaturated Fat:
1
g
|
Monounsaturated Fat:
1
g
|
Sodium:
207
mg
|
Potassium:
58
mg
|
Fiber:
4
g
|
Sugar:
1
g
|
Vitamin A:
85
IU
|
Vitamin C:
4
mg
|
Calcium:
30
mg
|
Iron:
2
mg