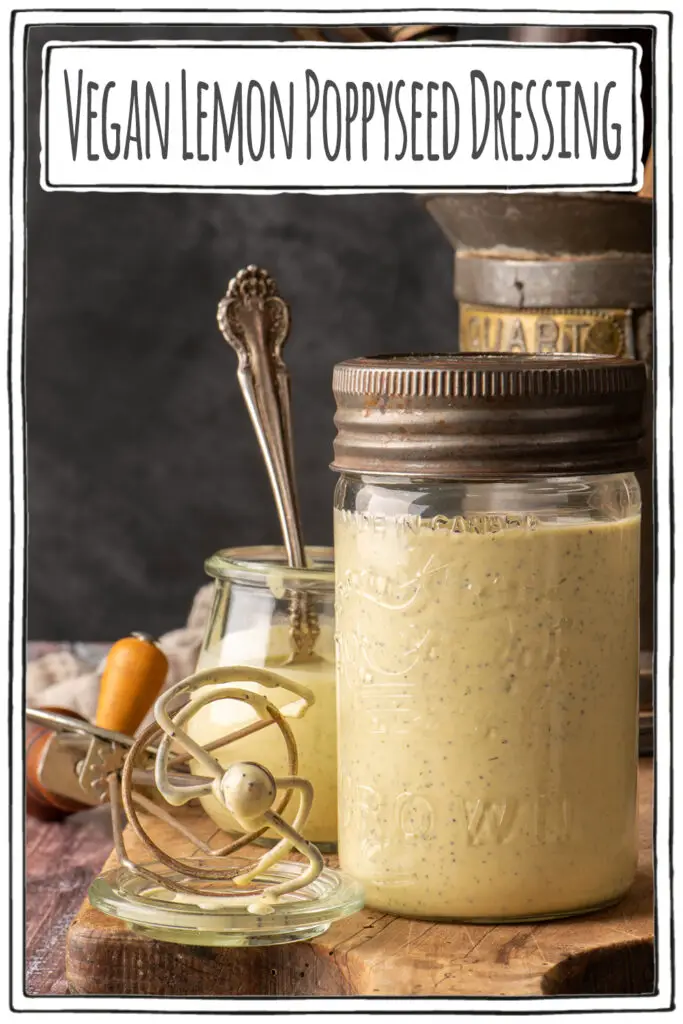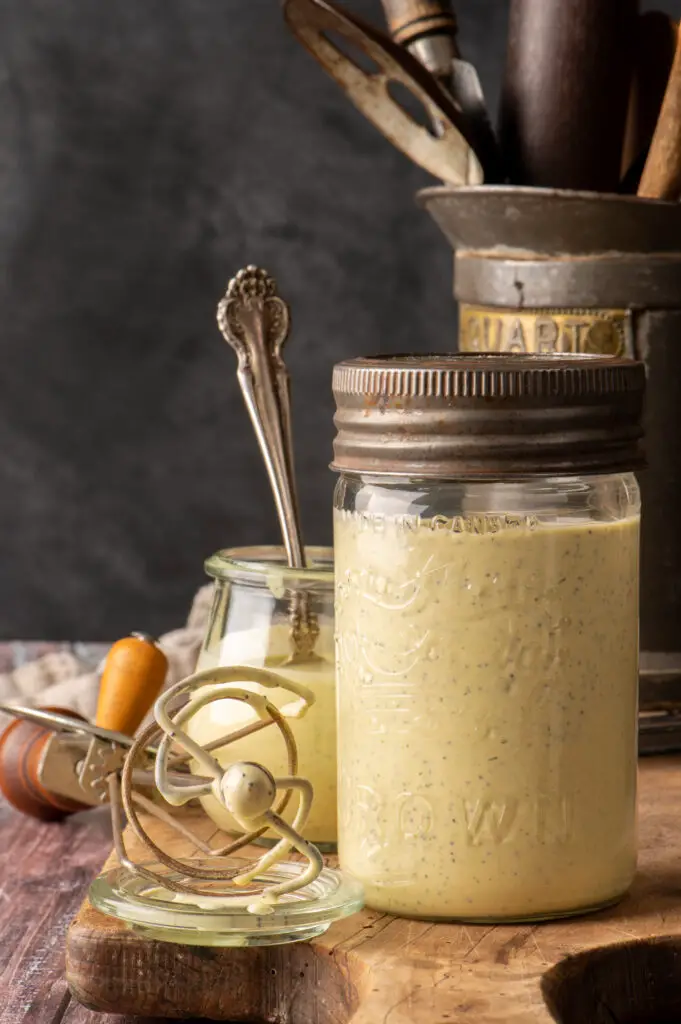 This Vegan Lemon Poppyseed Dressing is creamy, naturally gluten free and oil free. It's a perfect balance of tart and sweet and you'll be licking it off your fingers for sure. We enjoy this over quickly blanched asparagus with just a little flaked sea salt sprinkled over top.
Vegan Lemon Poppyseed Dressing for Meal Prep
We love sauces! Cashews form the base for this super smooth and creamy dressing that you'll want to have on hand. We love dill too and have included it in this dressing because it has a wonderfully fresh flavour. If you don't like dill, just skip it and you'll have a fantastic dressing without it. We always have some sort of dressing prepped in the fridge. It's always there ready to drizzle over roasted or steamed veggies, a salad, buddha bowls or as a dipping sauce.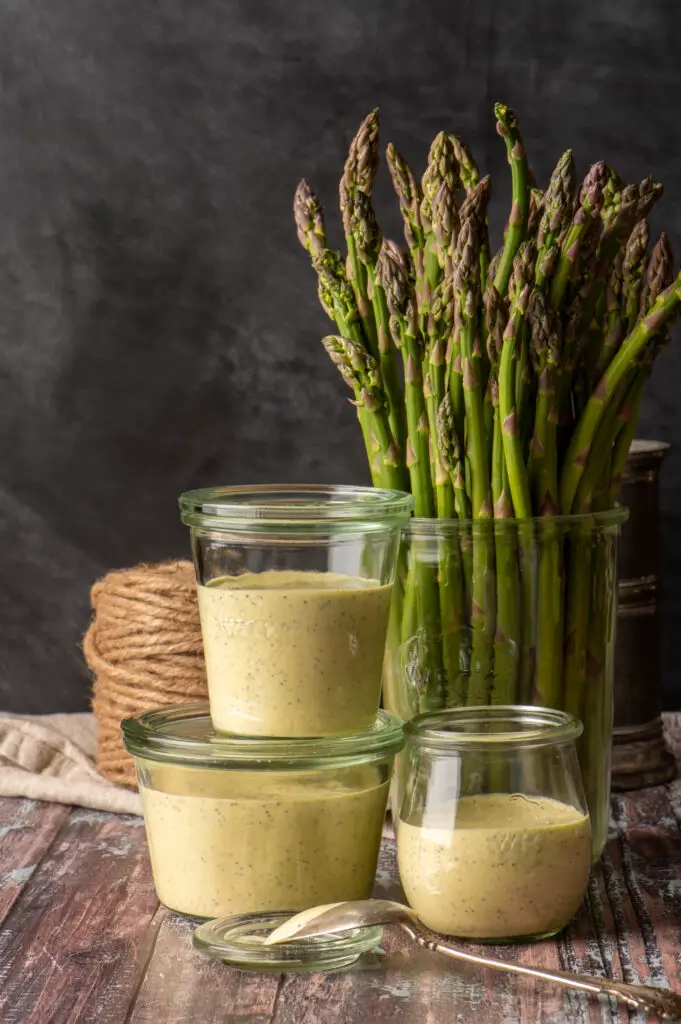 Preparation Tips . . .
This vegan lemon poppyseed dressing is quick and easy to prepare. A high-powered blender will make little work of giving the cashews a perfectly smooth and creamy texture. Don't worry if you have a less powerful blender because soaking the cashews helps tremendously.
Soaking the cashews for as little as 15 to 30 minutes is sufficient for consistency if you have a high-powered blender. However, soak them in a salt solution for 4 to 6 hours if you have time because this makes the many minerals more bio-available. The longer soak time is also helpful if your blender is not a powerhouse. We also soak the cashews in a solution of filtered water and 1 teaspoon of sea salt for each cup of nuts. Some sources indicate that over-soaking can lead to bitterness and reduced flavour.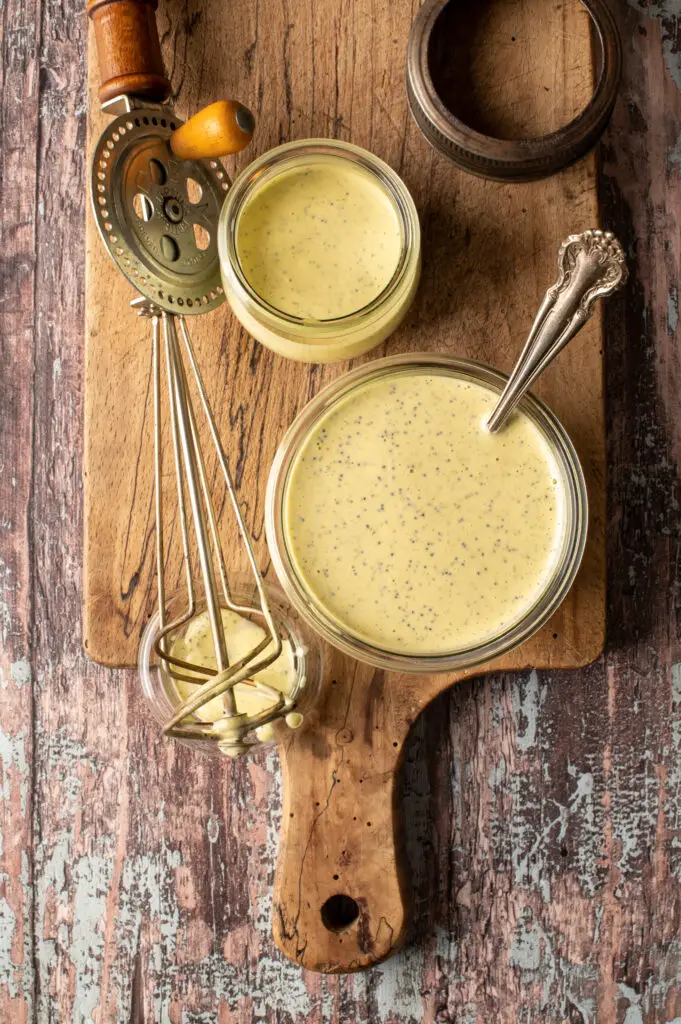 This lemon poppyseed dressing thickens in the refrigerator over time. You can, therefore, simply whisk in a small amount of filtered water or plant-based mylk to change the consistency.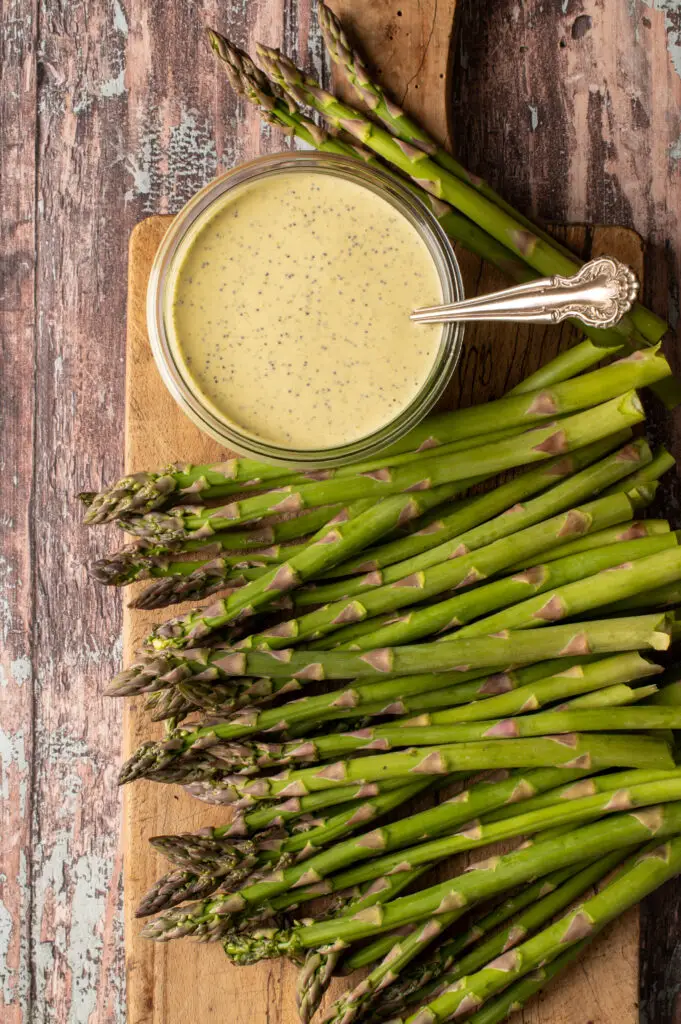 Perfect Over Asparagus
Asparagus is a powerhouse vegetable. It has loads of fibre, vitamins, minerals and antioxidants with hardly any calories – just 20 cal per 100g! The green asparagus is also a good source of detoxifying chlorophyll. White asparagus has never seen the light of day, so we go for the green.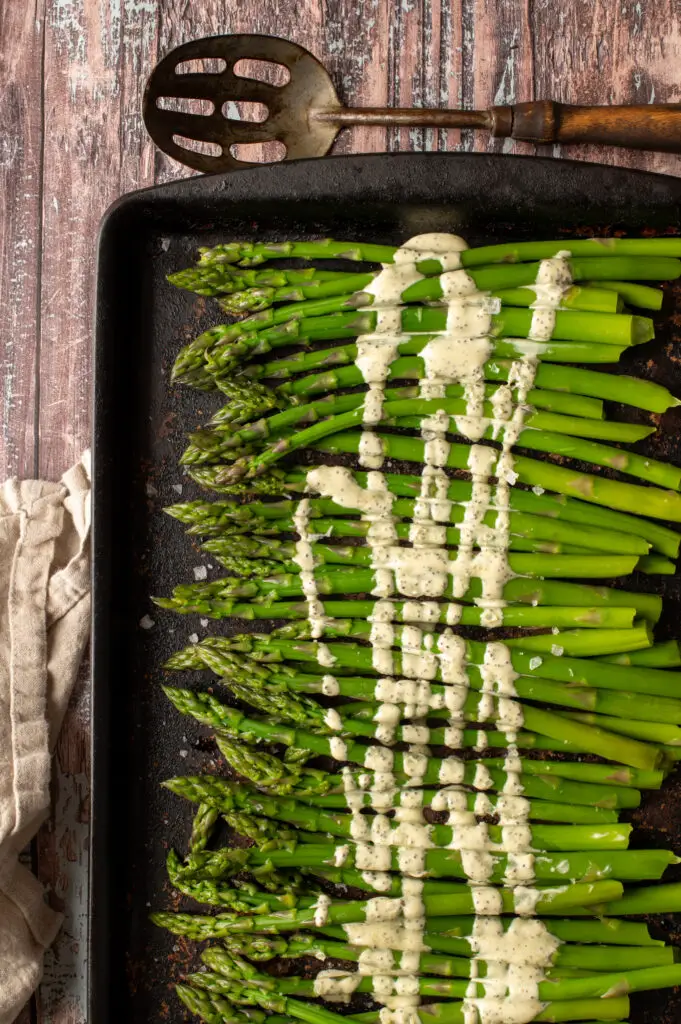 We enjoy the Lemon Poppyseed Dressing over asparagus that has been quickly blanched. Just blanch the asparagus in boiling water for about 2-3 minutes (depending on the size of the stalks). Immediately remove the asparagus to an ice bath in order to cool for a few minutes. This will preserve its bright green colour. Drizzle liberally with dressing and serve as a side or part of a buddha bowl.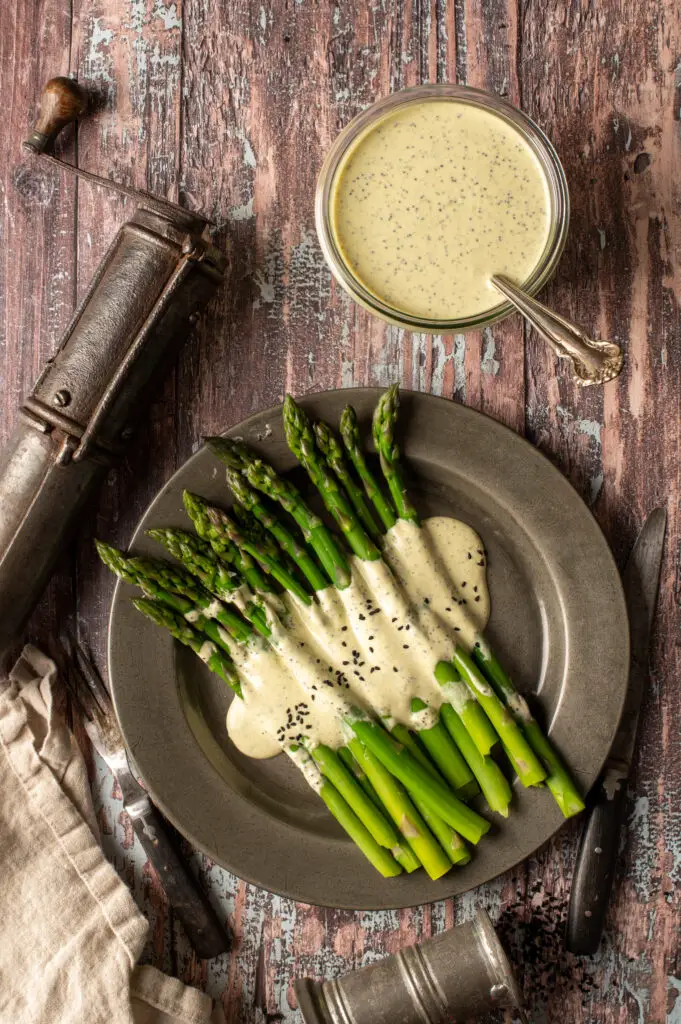 This Spicy Cashew Avocado Mayo is another great condiment for a buddha bowl. It's also a dipper for some sweet potato wedges. This Tahini Mustard Dressing is also wonderful over a buddha bowl, a salad, falafel and roasted vegetables. Our Vegan Cashew Sour Cream is super creamy and a great topping for soup or chili, quesadillas, nachos or pierogies.
Let us know if you make this vegan lemon poppyseed dressing. We really do love to have your feedback! Leave a comment and a rating and don't forget to tag us @plantedandpicked on Instagram and hashtag it  #plantedandpicked. Anthony Bourdain said once that "An ounce of sauce covers a multitude of sins".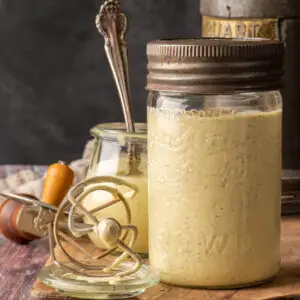 Ingredients
1

cup

raw cashews

150 g

½

cup

plant-based mylk

120 ml

1

tbsp

cider vinegar

15 ml

1

tbsp

maple syrup

15 ml

⅔

cup

fresh lemon juice

160 ml

⅓

cup

fresh dill sprigs

80 ml

2

tbsp

Dijon mustard

30 ml

2

tbsp

poppyseeds

30 ml

¼

tsp

fine sea salt

1 ml
Instructions
Soak cashews in filtered water with a teaspoon of sea salt (not in ingredients) for at least 30 minutes or up to overnight and drain. Note that if you have a high powered blender, 30 minutes is sufficient, but that longer periods may be required for less powerful blenders.

Add cashews, plant-based mylk, cider vinegar and lemon juice to a blender and blend to produce a smooth creamy consistency. Place in a suitable container and store in the refrigerator. The sour cream will thicken in the refrigerator.

Add remaining ingredients and continue to blend for 30 seconds. Place in a suitable container and store in the refrigerator. The dressing will thicken in the refrigerator.
Nutrition
Calories:
54
kcal
|
Carbohydrates:
4
g
|
Protein:
2
g
|
Fat:
4
g
|
Saturated Fat:
1
g
|
Sodium:
56
mg
|
Potassium:
85
mg
|
Fiber:
1
g
|
Sugar:
2
g
|
Vitamin A:
95
IU
|
Vitamin C:
5
mg
|
Calcium:
31
mg
|
Iron:
1
mg