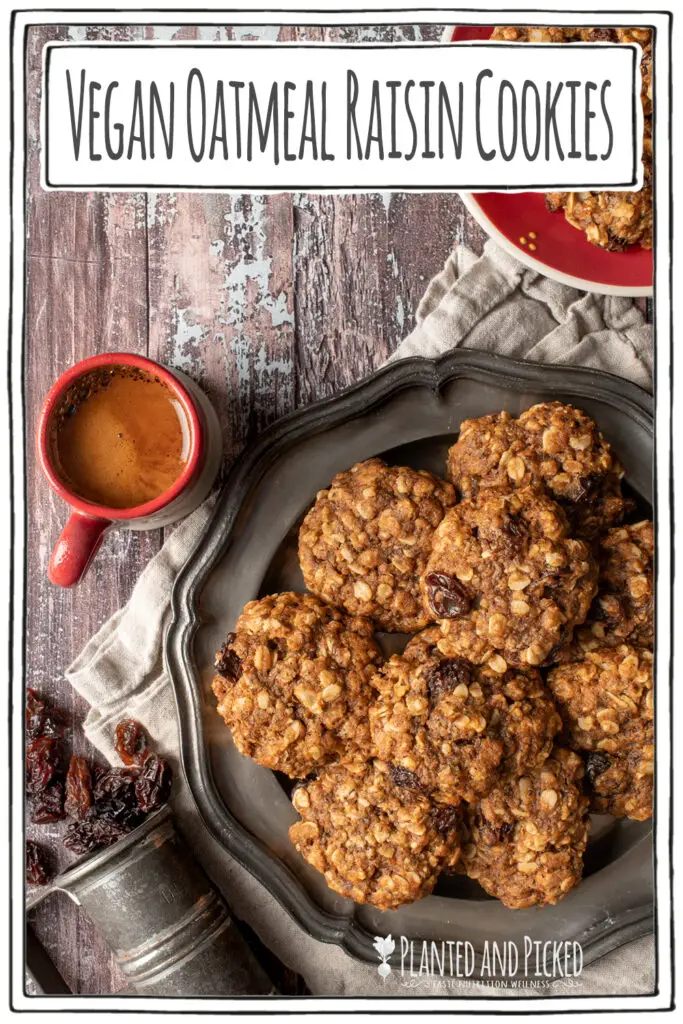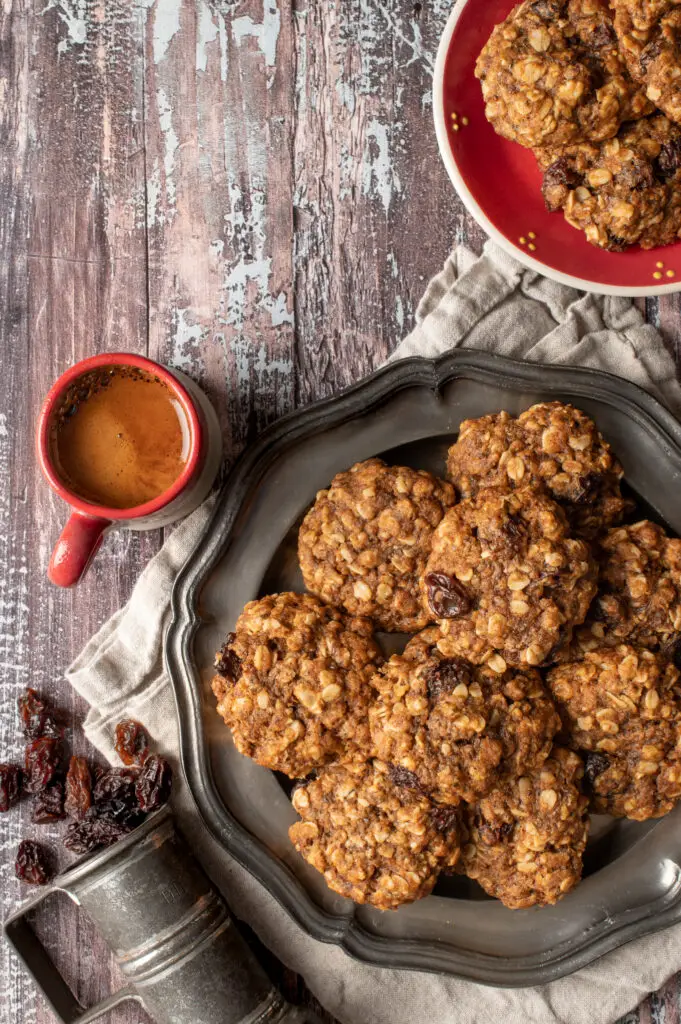 These vegan oatmeal raisin cookies are chewy and satisfying! They have just the right amount of sweetness to satisfy any sweet tooth and they are so easy to make. They're also easy to eat and make a great breakfast cookie!
We have to admit, when we first started testing vegan cookies, a few attempts went into the compost bin. When you are not using staples such as eggs in baking, it's important to get the right blend of ingredients that ensures the cookie will hold together.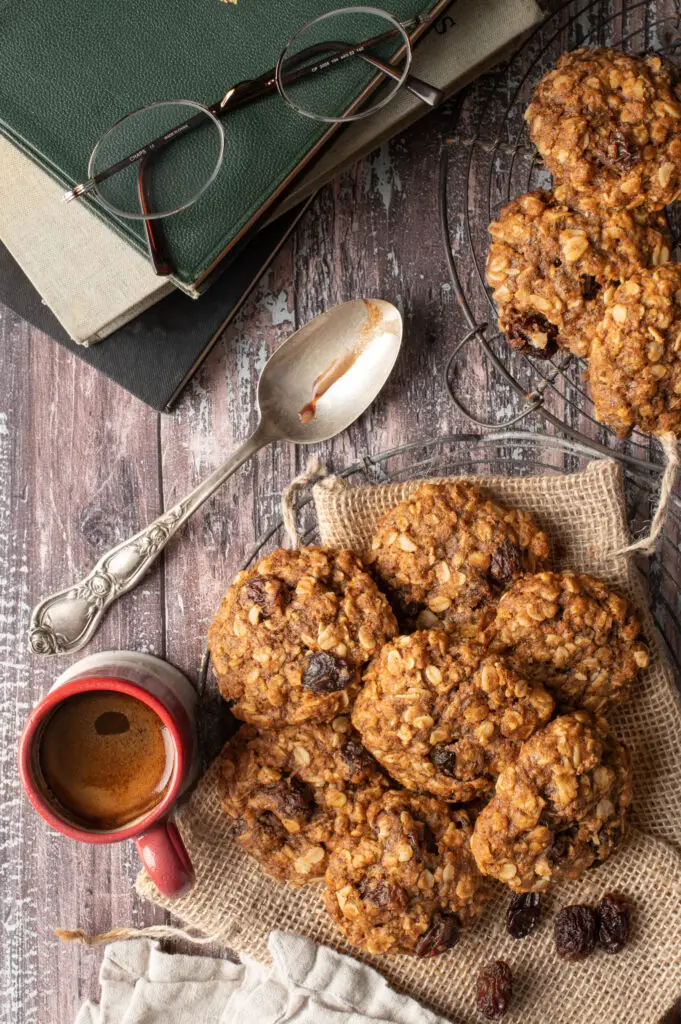 Coconut Oil – Good or Bad?
We used coconut oil in these oatmeal raisin cookies because, at room temperature, the oil will solidify, thereby helping the cookie to firm up.
We are not proponents of fat-free diets unless it is for a medical reason. Fats are a macronutrient and an important part of a healthy diet. Yes, coconuts contain saturated fats. It's one of the only plant foods that do. Because we don't eat meat, we get very little saturated fat in our overall diet. The research around saturated fats is controversial, but we believe that Individual macronutrients aren't to blame for disease progression. Rather, it's the diet as a whole that truly matters.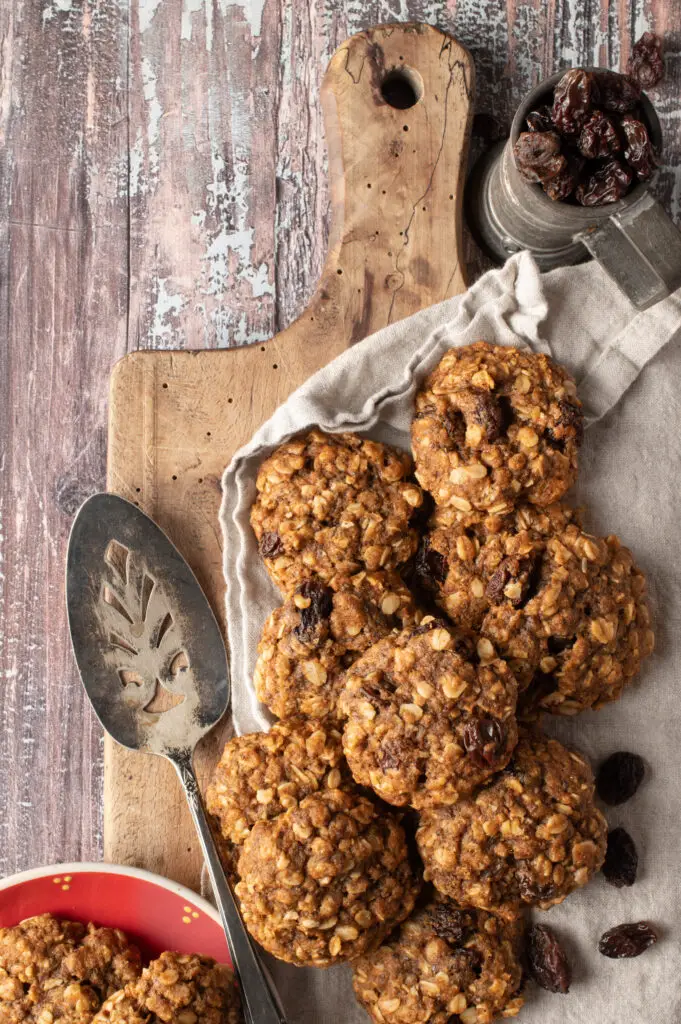 Most of the saturated fats in coconut are medium chain fatty acids whose properties and metabolism are different to those of animal origin. Medium chain fatty acids are directly used in the body to produce energy. They can encourage your body to burn fat. Furthermore, they provide quick energy to your body and brain. So enjoy an occasional vegan oatmeal raisin cookie guilt free!
The Supporting Cast to these Oatmeal Raisin Cookies . . .
To sweeten this cookie, we used organic brown sugar (it has more flavour and nutrients than regular sugar) and also a little homemade apple sauce. Making your own apple sauce is super simple! Just peel and seed some organic apples. Cut them into chunks and place in steamer for about 5 minutes or so (until soft). Mash or blend them, depending on the consistency that you like. Add a little water if required for consistency.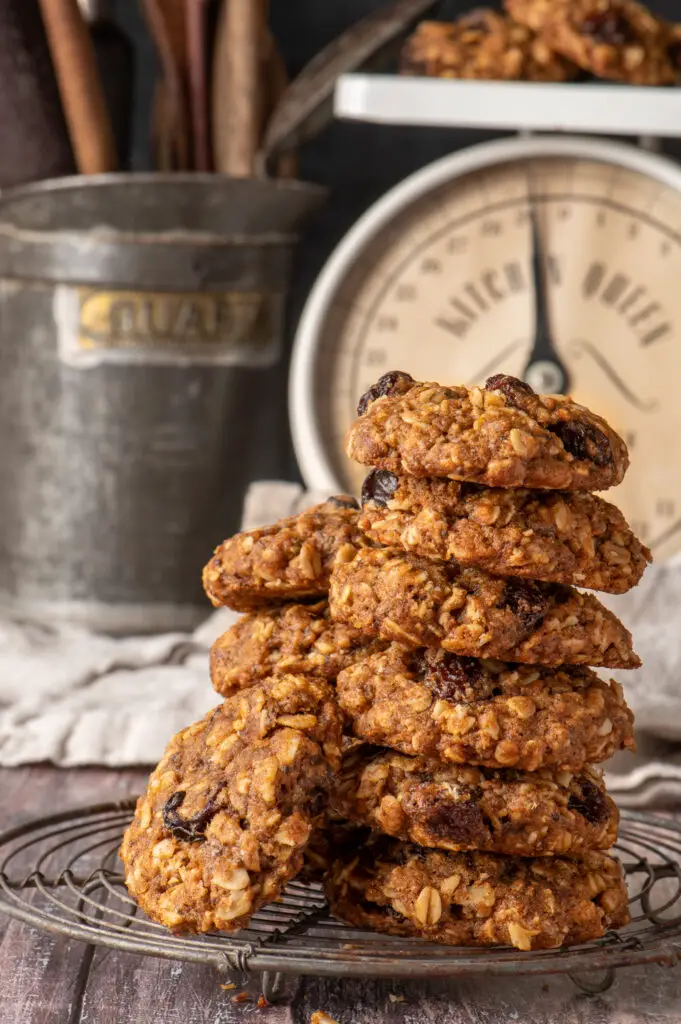 The arrowroot starch and chia seeds also help to bind these oatmeal raisin cookies. We always use slow cooking oats in our recipes. Because they are less processed and they retain more of their nutrients and fibre than the 'quick' varieties.
We used local organic spelt flour but you can feel free to use your favourite gluten free blend. Spelt is a more ancient grain, it is more nutritious and it has not been hybridized in the same way as wheat. People with a gluten sensitivity sometimes find that they are OK with spelt – that's the case with Sandra!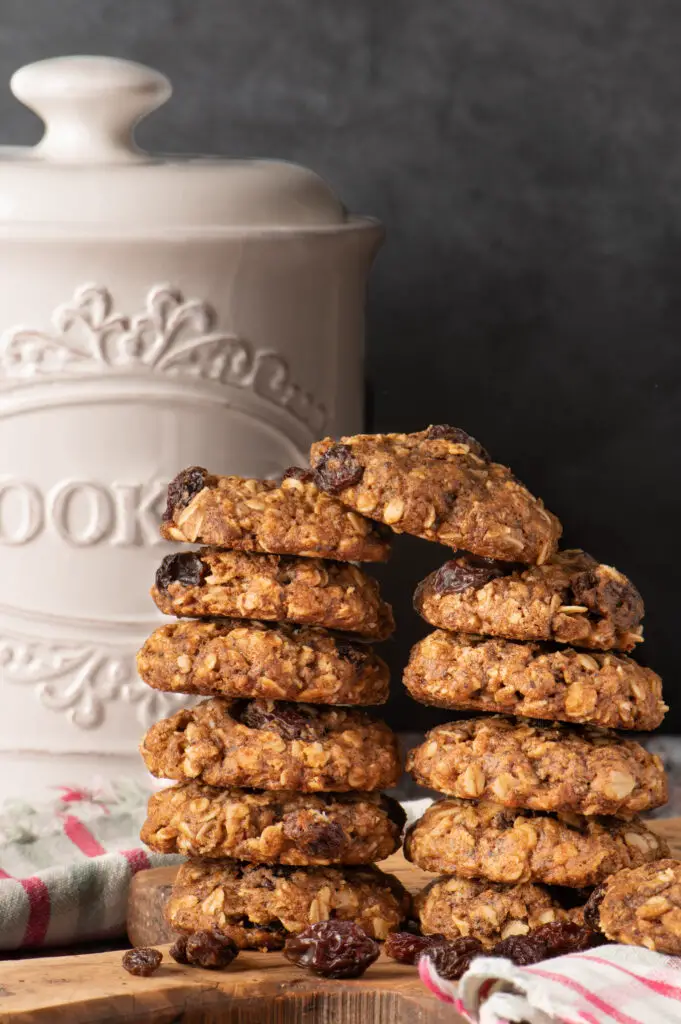 We hope you love these vegan oatmeal raisin cookies. If you're looking for more sweet inspiration, try out this Lemon Strawberry Loaf,  Maple Almond Coffee Cake, or Almond Chocolate Chip Cookies.
Let us know if you make these cookies. We are all about sharing and conversation! Leave a comment and a rating and don't forget to show us a photo of yours by tagging us @plantedandpicked on Instagram and hash tag it #plantedandpicked. James Beard said once "I am still convinced that a good simple, homemade cookie is preferable to all the store-bought cookies one can find" 💚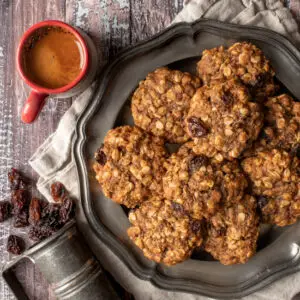 Ingredients
Dry Ingredients
1

cup

organic spelt flour

1

cup

slow cooking oats

½

tsp

baking soda

1

tbsp

arrowroot starch

¼

tsp

sea salt

1

tsp

cinnamon

½

cup

brown sugar

½

cup

raisins
Wet Ingredients
½

cup

coconut oil

softened

1

chia egg

1 tbsp chia seeds + 3 tbsp water

1

tsp

vanilla extract

¼

apple sauce
Instructions
In a small bowl, combine 1 tbsp of chia seeds and 3 tbsp of water and set aside. This mixture will gel.

In a large bowl, combine all dry ingredients and stir to combine.

If your coconut oil is solidified, heat it gently to melt.

In a medium bowl, combine all of the wet ingredients.

Combine the wet and dry ingredients. Cover the dough and refrigerate for at least 30 minutes. You can actually make this the night before and place it in the fridge. If you refrigerate for a longer period of time, let the dough sit on the counter for at least 30 minutes to soften.

Take about 2 tbsp of the dough and roll into a ball. Place on a cookie sheet and flatten into cookie sheet.

Place on centre rack and bake for about 12 minutes. Cool for about 5 minutes and then place cookies on a rack to cool further.

You can make these cookies larger, you will just have to increase the cooking time accordingly.
Nutrition
Calories:
176
kcal
|
Carbohydrates:
23
g
|
Protein:
2
g
|
Fat:
9
g
|
Saturated Fat:
7
g
|
Polyunsaturated Fat:
1
g
|
Monounsaturated Fat:
1
g
|
Trans Fat:
1
g
|
Sodium:
85
mg
|
Potassium:
79
mg
|
Fiber:
2
g
|
Sugar:
8
g
|
Vitamin A:
1
IU
|
Vitamin C:
1
mg
|
Calcium:
18
mg
|
Iron:
1
mg