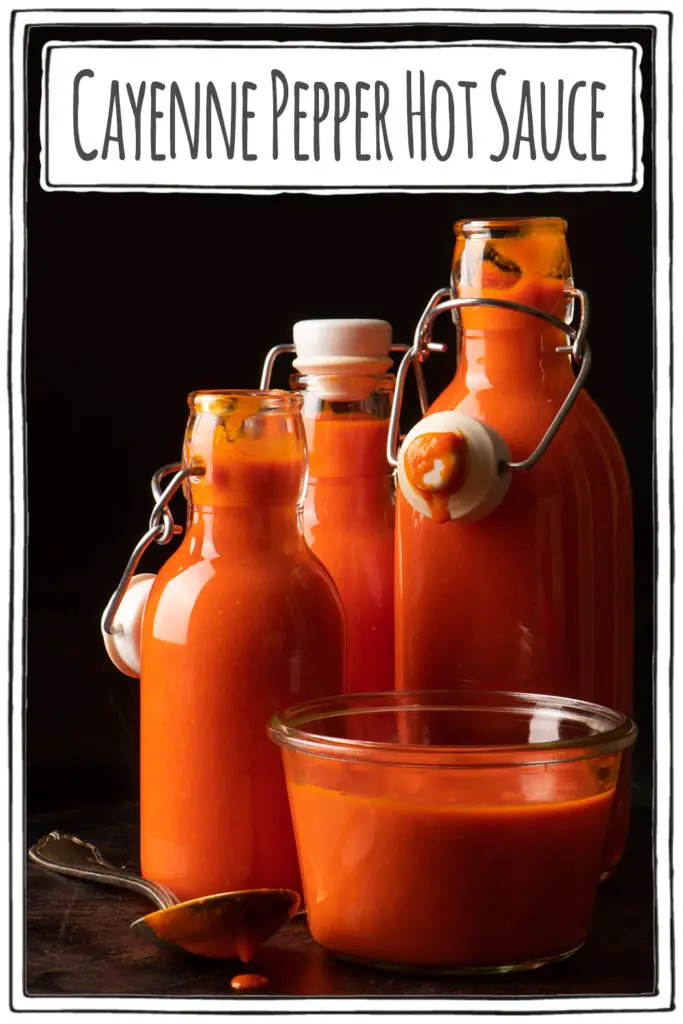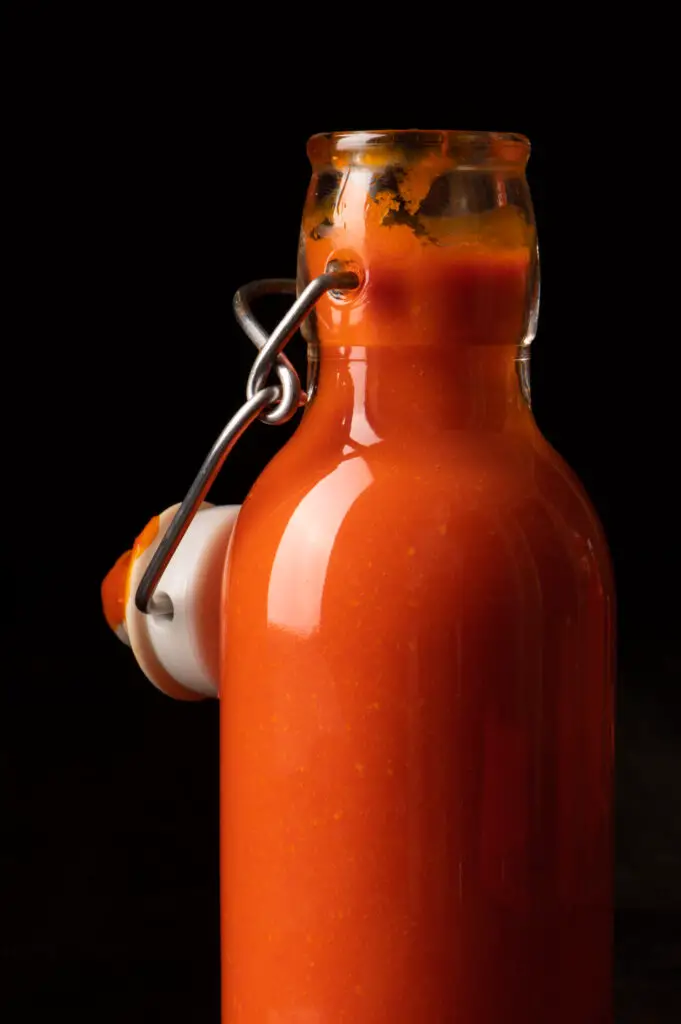 We need our hot sauce to have flavour with some heat, and not simply heat in the absence of flavour. We really see no point in breaking out in a sweat and not tasting your food. If you're with us, read on and check out just how easy it is to make this Cayenne Pepper Hot Sauce.
How This Cayenne Pepper Hot Sauce is Made
This is a cooked hot sauce recipe and it's wonderfully easy to put together in about an hour. After washing and drying your peppers, remove the stem end and slice them up or chop them into small pieces. You really don't have to worry about how small because they're going to cook for a while and be blended in the end. Peel and chop up the garlic in chunks. Add the peppers and garlic to a non-reactive pot together with the vinegar and sea salt. Bring the mixture to a boil before reducing to a simmer for about 35 to 40 minutes. The peppers are done when they are soft enough that they fall apart when pressed against the side of the pot.
Just blend it all in a high speed blender, stir in the maple syrup and bottle it up! You can also process the hot sauce by following standard canning practices, but we typically just place it in the refrigerator.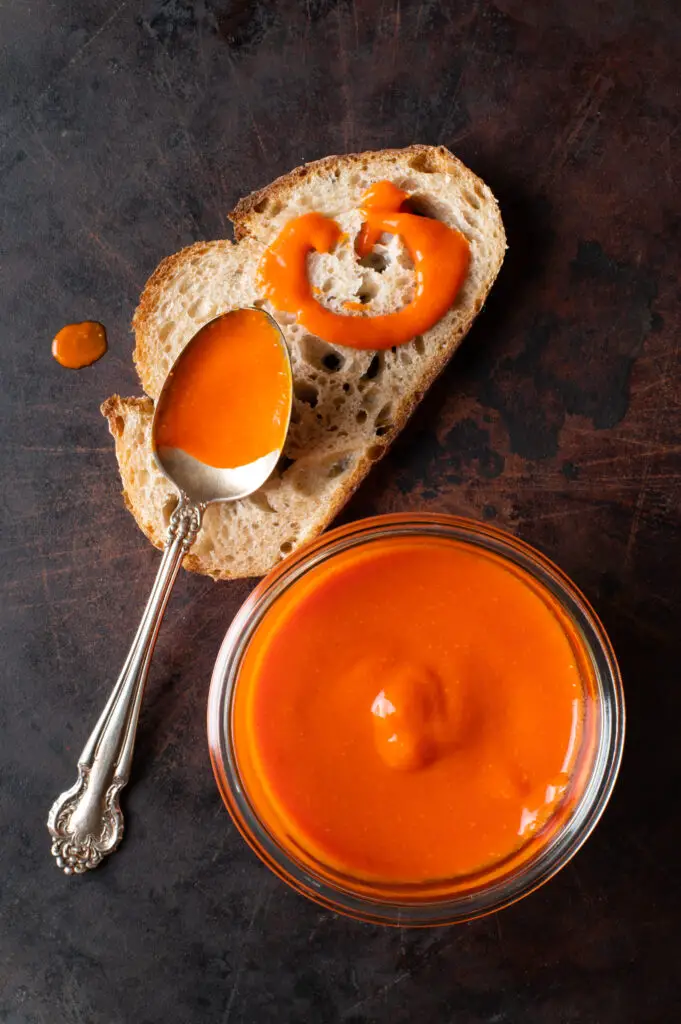 How Hot is Hot?
We would say that this Cayenne Pepper Hot Sauce has a medium heat level. However, we understand that everyone has a different tolerance for spiciness. We used two pounds of cayenne peppers plus two habañero peppers in our sauce and could quite easily tolerate more heat. We chopped up the whole pepper, including the seeds. Our suggestion is that you make it the first time according to the recipe. If you decide you love the flavour, but can take more heat, just add more habañero peppers the next time!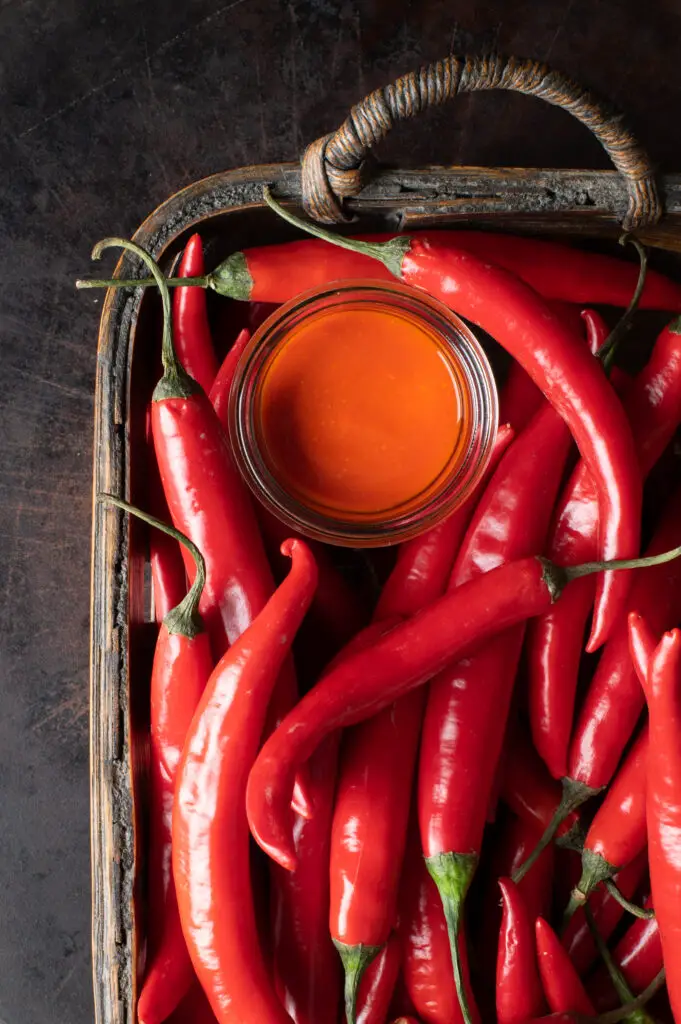 The great thing about homemade hot sauces like this Cayenne Pepper Hot Sauce? You can adjust the heat to suit your taste. Peppers' heat has a rating in Scoville Units or SHU. The cayenne pepper rates at 30,000 to 50,000 SHU where the habanero pepper rates at 325,000 SHU. You can read about the the origin of the Scoville Scale here at Pepperseeds.eu.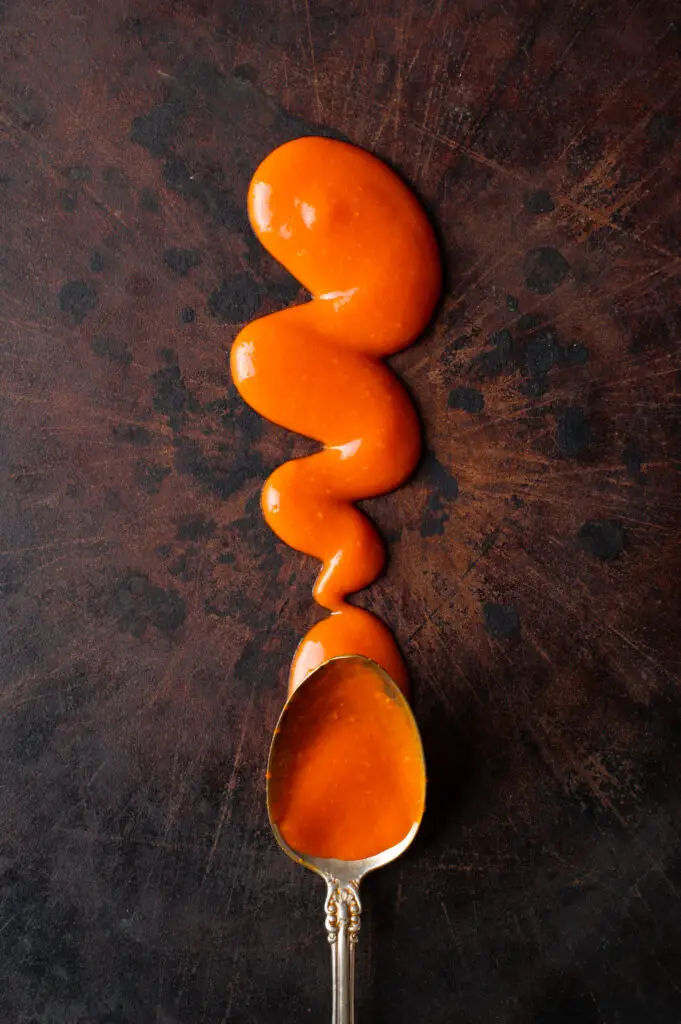 Preparation Tip For This Hot Sauce
We recommend that you wear a pair of latex or non-latex gloves to handle the habanero peppers. The cayenne peppers will not sting your hands nearly as much, but it's better to play it safe with the habañero peppers.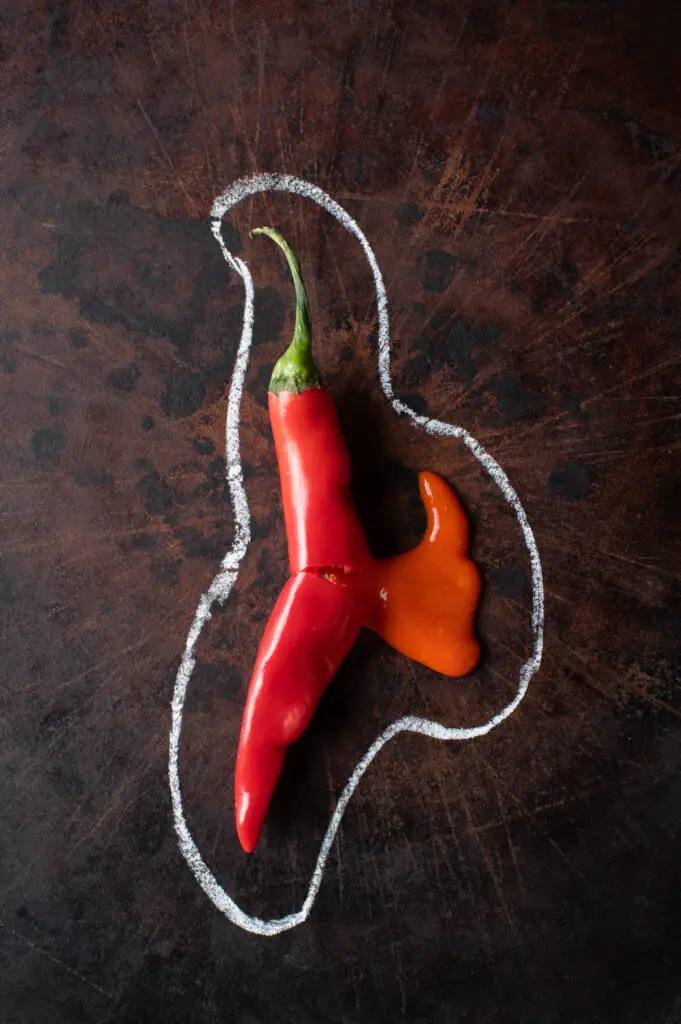 Health Benefits of Peppers
We talked about the benefits of hot peppers in our Habañero Plum Hot Sauce post. There is evidence that hot peppers are natural stimulants for both energy and metabolism. Some studies have linked them to lower blood fat levels as well as a reduction in blood pressure and atherosclerosis. They contain a compound called capsaicin, which helps increase blood flow in the brain, digestive system and skin. So if you like life a little spicy, include some hot peppers in your diet daily and make a batch of hot sauce!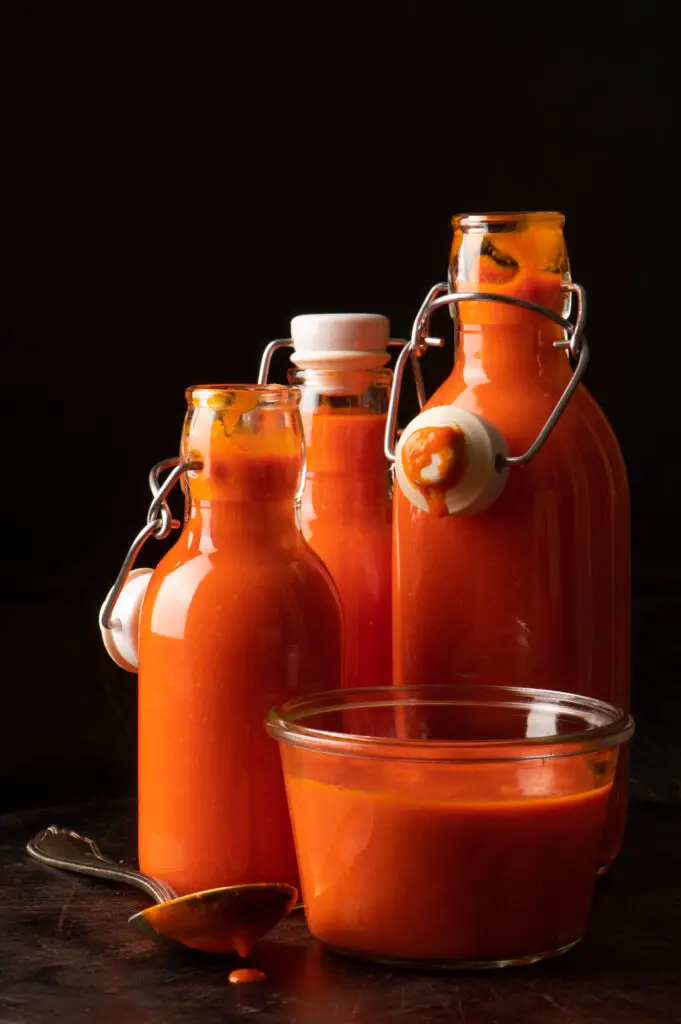 Try out this super flavourful Jerk Style Peach Hot Sauce, this Mango Lime Hot Sauce or this Habañero Plum Hot Sauce if you're wanting to get a little more spicy in your life! We like to use a little hot sauce with our Creamy Roasted Garlic Hummus on some pita wedges or toasted sourdough. It is also a great condiment on a sandwich stacked with Baked Tempeh Bacon Strips or on Vegan Mexican Stuffed Peppers. It's also perfect on cauliflower wings! We can't wait for you to try them all out!
Let us know if you try out our Cayenne Pepper Hot Sauce because we love to have your feedback! Leave a comment and a rating and don't forget to tag us @plantedandpicked on Instagram and hashtag it  #plantedandpicked. Remember to cook together, eat together and celebrate life.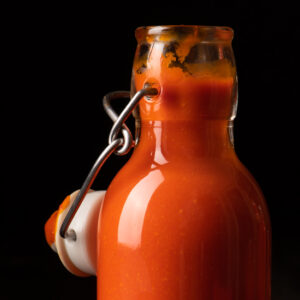 Ingredients
2

lbs

fresh cayenne peppers chopped with seeds

900 g

2

habañero peppers chopped with seeds

3

heads

garlic, roughly chopped

2¾

cups

white vinegar

660 ml

4

tsp

fine sea salt

20 ml

2

tbsp

maple syrup
Instructions
Rinse and dry all of the peppers and remove and discard stem end. Chop the peppers in small pieces and transfer to non-reactive pot. We use a enamel coated cast iron pot.

Add chopped garlic, vinegar, sea salt and bring to a boil. Reduce to simmer and leave to cook for approximately 40 minutes, stirring occasionally until the peppers are very soft. Remove from heat and let cool partially. We typically wait about 15 to 30 minutes.

Transfer cooked pepper mixture, in batches, to a blender and process until completely smooth. Stir in the maple syrup to combine.

Store in glass bottles or jars of your preference in the refrigerator. Given the high acidity level, it may be possible that you needn't refrigerate it, but we prefer to refrigerate it to be certain it stays fresh.

Note that the nutrition information provided is for 1 cup of the sauce. We don't recommend using a cup as a single serving!
Nutrition
Calories:
113
kcal
|
Carbohydrates:
20
g
|
Protein:
4
g
|
Fat:
1
g
|
Saturated Fat:
1
g
|
Polyunsaturated Fat:
1
g
|
Monounsaturated Fat:
1
g
|
Sodium:
1712
mg
|
Potassium:
607
mg
|
Fiber:
3
g
|
Sugar:
9
g
|
Vitamin A:
1606
IU
|
Vitamin C:
247
mg
|
Calcium:
60
mg
|
Iron:
2
mg