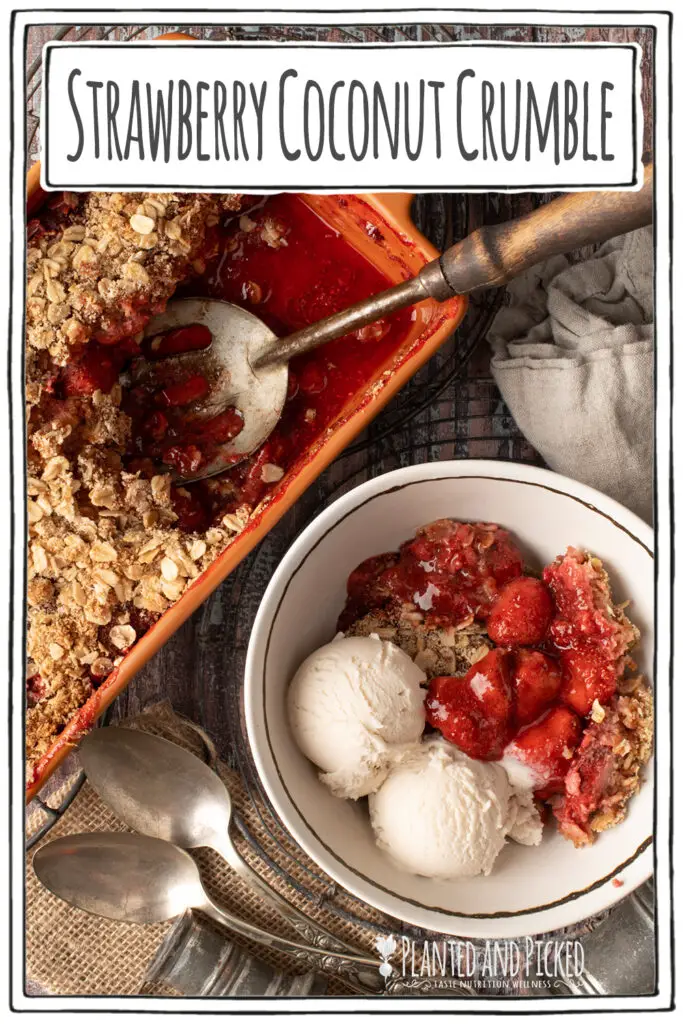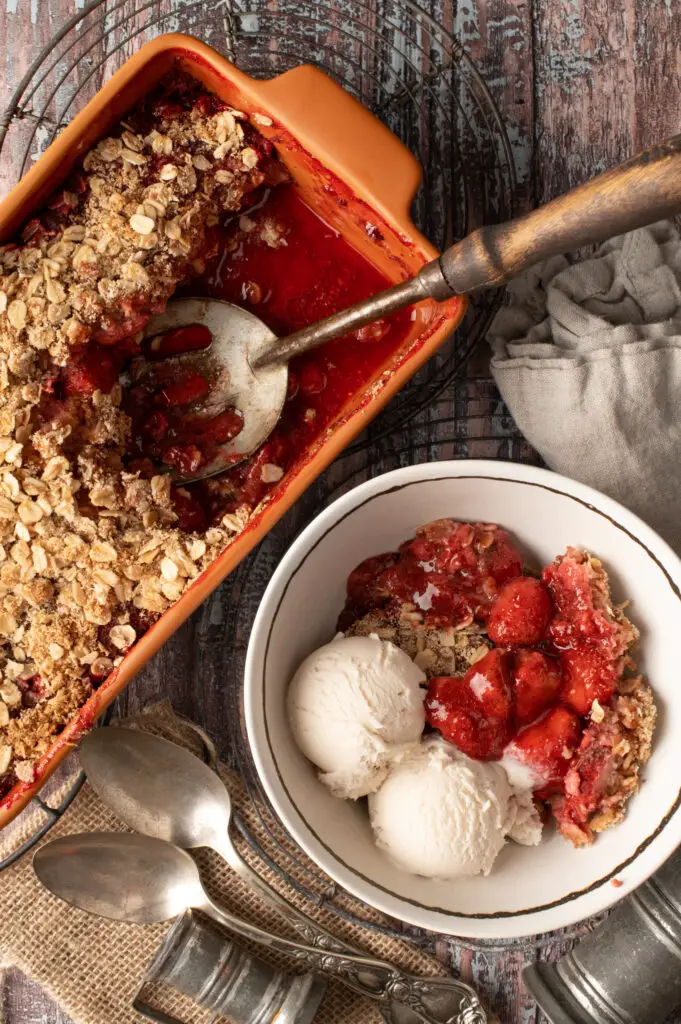 Strawberries are the start of summer to us and this Summer Strawberry Coconut Crumble is one of the dishes we love to make with this seasonal berry.
When local strawberries are available, you have to use them in every variation of meal possible. They are the star of this Summer Strawberry Coconut Crumble.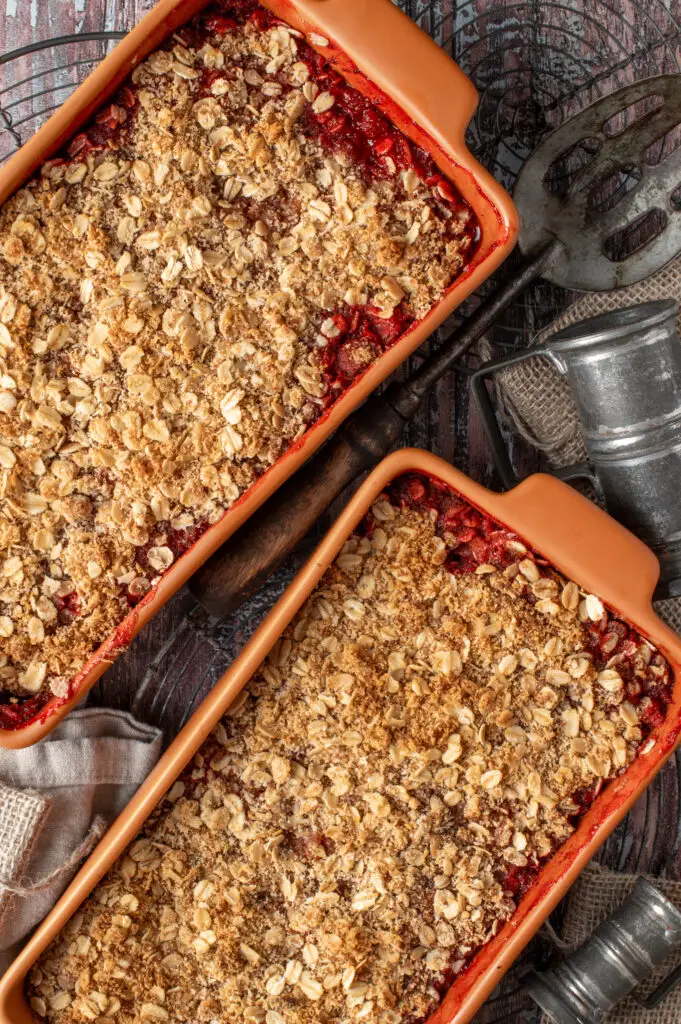 We try to hoard strawberries when they are in season. They are so juicy, tasty and packed with nutrients. There is no comparison to the farmed, tasteless strawberries that are available year round. Where we live, we source them at local farmers markets and also pick-your-own farms in the area. They make the best strawberry coconut crumble!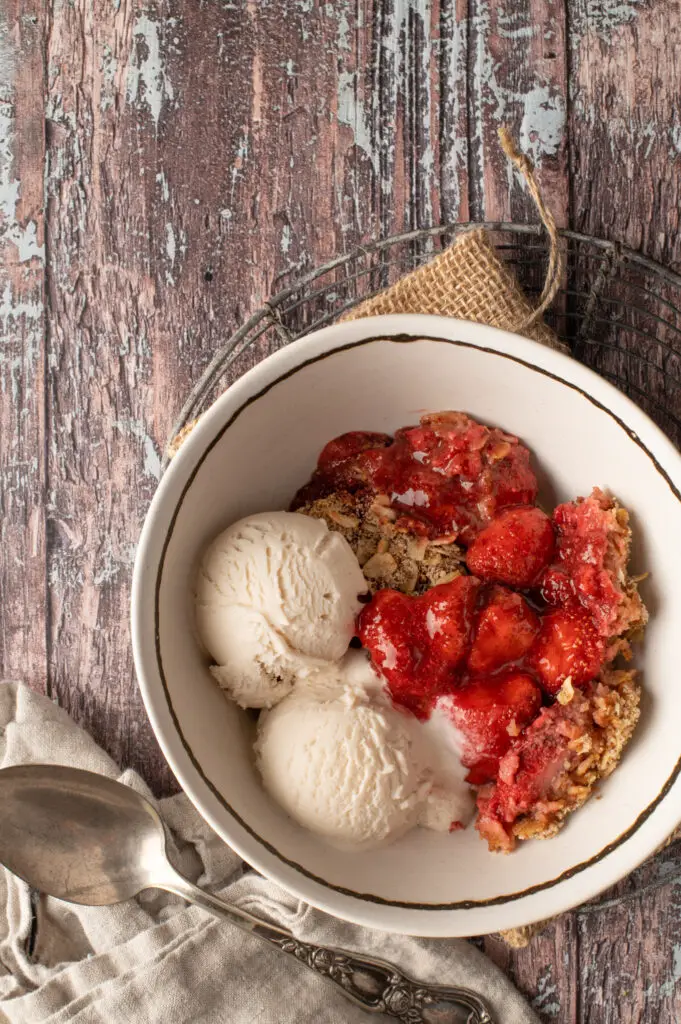 When buying strawberries always try to buy organic. Unfortunately, strawberries are one of the most heavily sprayed fruits. If you are not buying organic, you are probably getting a dose of pesticides and other chemicals along with them. According to the environmental working group, studies have shown that strawberries contain an average of 7.8 different pesticides per sample, compared to 2.2 pesticides per sample for all other produce. You can refer to the following post for more information: EWGs Shopping Guide.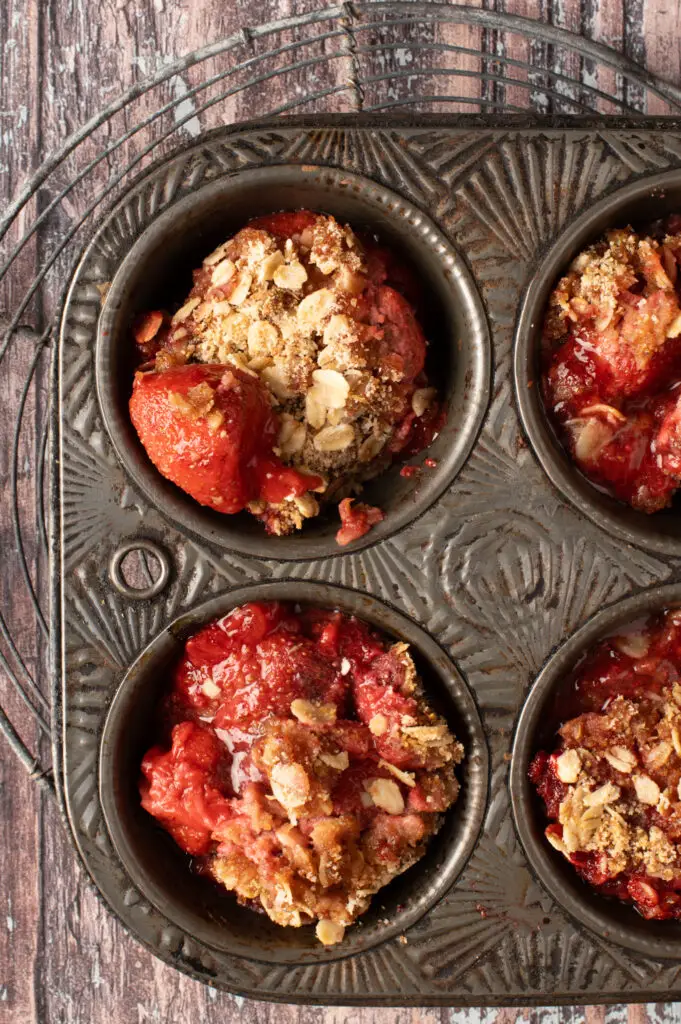 If you are buying strawberries from local farms that are not organic, ask the farmers how they prep their fields and what chemicals they use. Some small scale farms are not organic, but may not use the same amount of chemicals as farms that are mass producing strawberries. Local is always preferable to us because of the nutrients present in the fruit and the far superior taste. Washing the fruit with a little friction will help remove anything on the surface. Just make sure to gently dry them before mixing your strawberry crumble ingredients.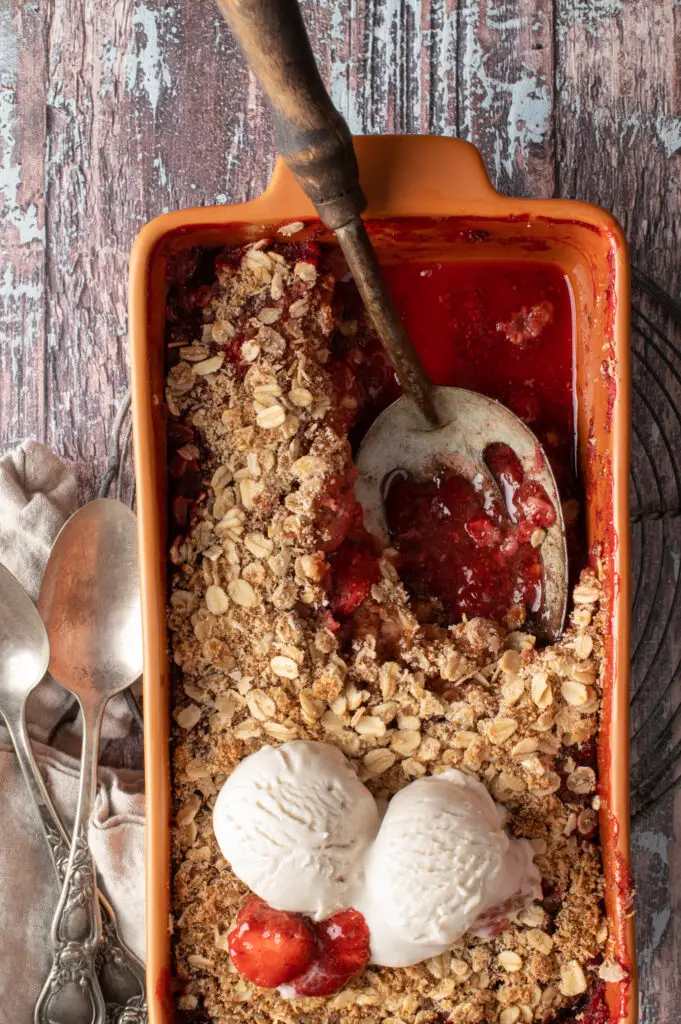 If you buy a lot of strawberries when they are in season, you can freeze them for use later. We wash and dry them, place them on a baking tray in a single layer and freeze them. Then we store them in a glass container and use them year-round for smoothies and desserts.
Along with great taste, we always try to include as much nutrition in our recipes as possible. In this strawberry coconut crumble we have added some ground chia and flax, along with some antioxidant rich spices – cinnamon and nutmeg.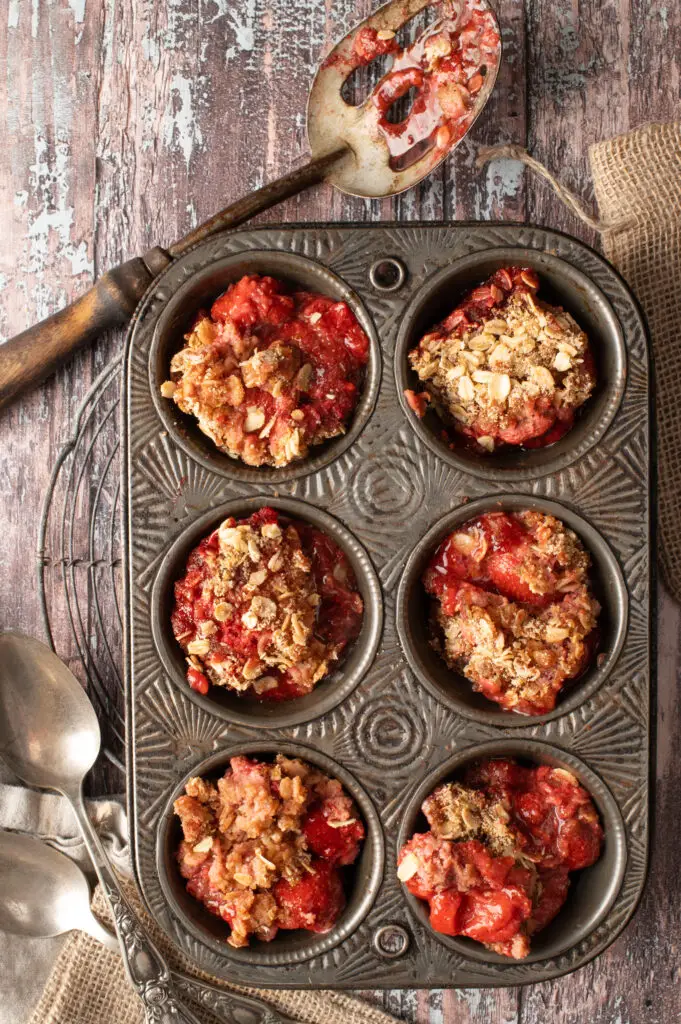 We hope you love this Summer Strawberry Coconut Crumble. If you're looking for more sweet inspiration, try out this Lemon Strawberry Loaf,  Maple Almond Coffee Cake, or Almond Chocolate Chip Cookies.
Let us know if you make this Crumble. We are all about sharing and conversation! Leave a comment and a rating and don't forget to show us a photo of yours by tagging us @plantedandpicked on Instagram and hashtagging it #plantedandpicked. Remember that some of the fondest memories are made with gathered around the table.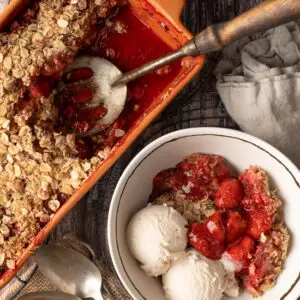 Ingredients
Crumble
1

cup

slow cooking oats

½

cup

coconut flour

½

cup

almond flour

¼

cup

shredded coconut

½

cup

brown sugar

¼

cup

coconut oil (melted)

1

tsp

cinnamon

¼

tsp

nutmeg

2

tbsp

ground flax

optional
Strawberry Base
8

cups

fresh strawberries

½

cup

maple syrup

2

tbsp

arrowroot starch or organic corn starch

2

tbsp

ground chia seeds
Instructions
Place whole strawberries in a large bowl. Let the strawberries sit for about an hour and allow them to release some of their juice.

Add the maple syrup and arrowroot starch. Stir to combine.

Place strawberries in an 11"X9" baking dish.

In another bowl, mix the crumble ingredients.

Spoon the crumble over the strawberries.

Place in oven for 50 minutes. The crumble should be golden but not burnt.

Let sit for at least 15 minutes.

You can eat this on its' own or top it with some coconut ice cream. Our favourite brand is Coconut Bliss.
Nutrition
Calories:
367
kcal
|
Carbohydrates:
56
g
|
Protein:
6
g
|
Fat:
15
g
|
Saturated Fat:
8
g
|
Polyunsaturated Fat:
2
g
|
Monounsaturated Fat:
1
g
|
Trans Fat:
1
g
|
Sodium:
32
mg
|
Potassium:
358
mg
|
Fiber:
9
g
|
Sugar:
35
g
|
Vitamin A:
20
IU
|
Vitamin C:
85
mg
|
Calcium:
104
mg
|
Iron:
2
mg