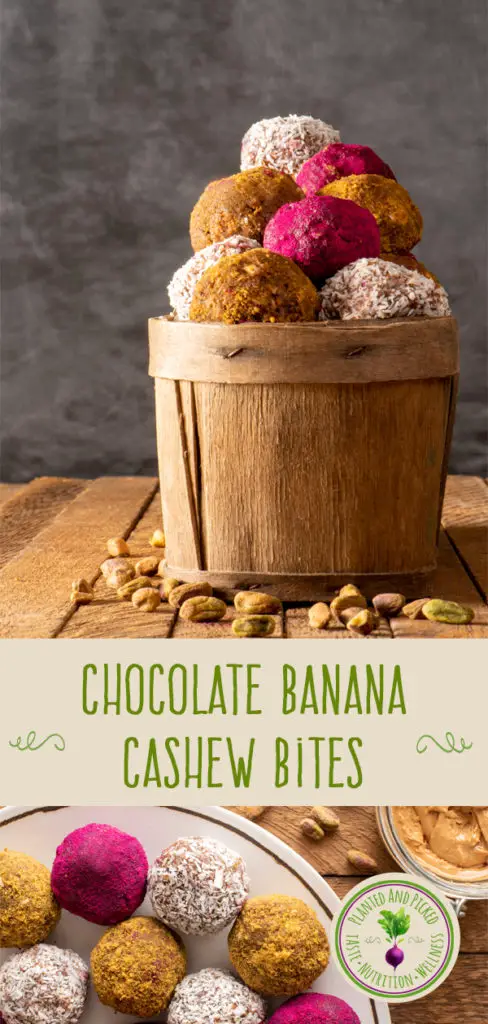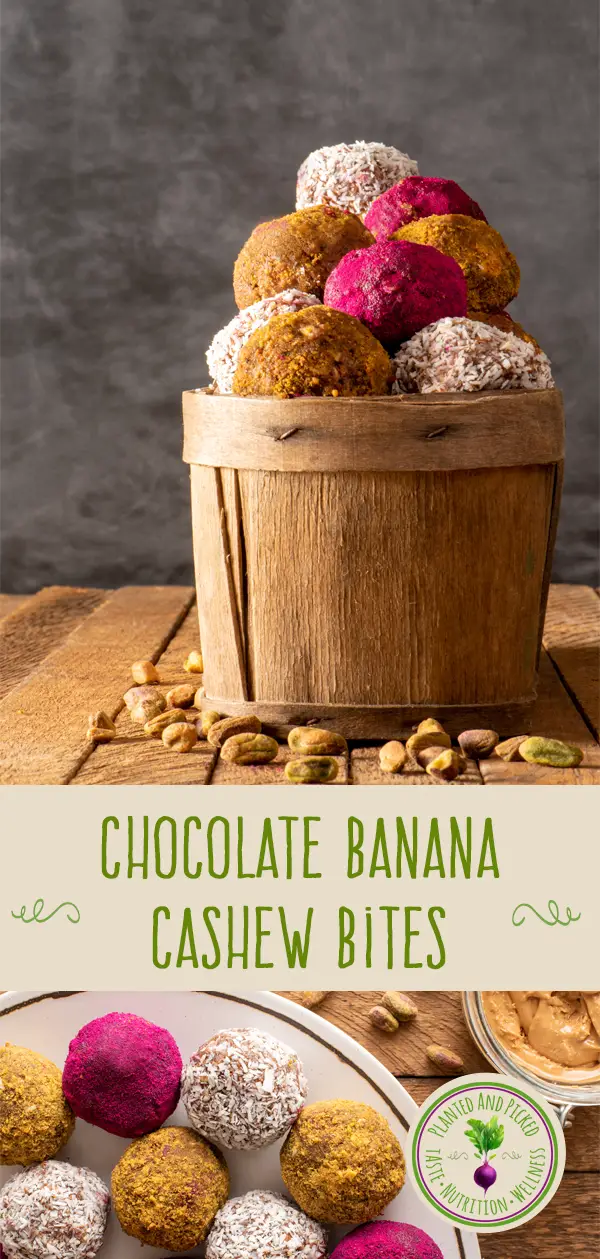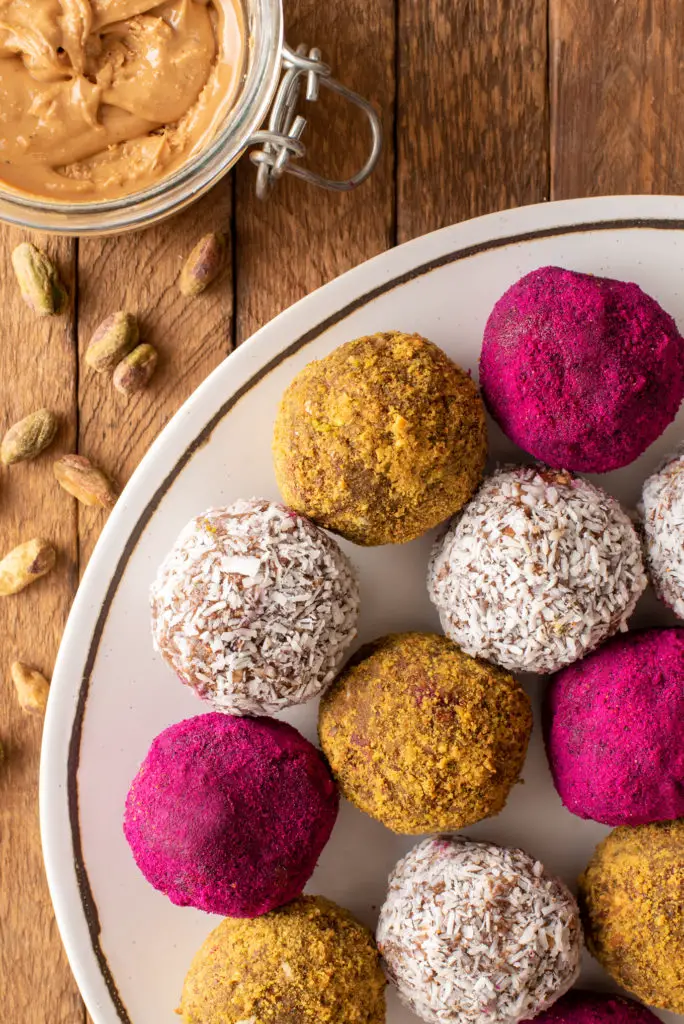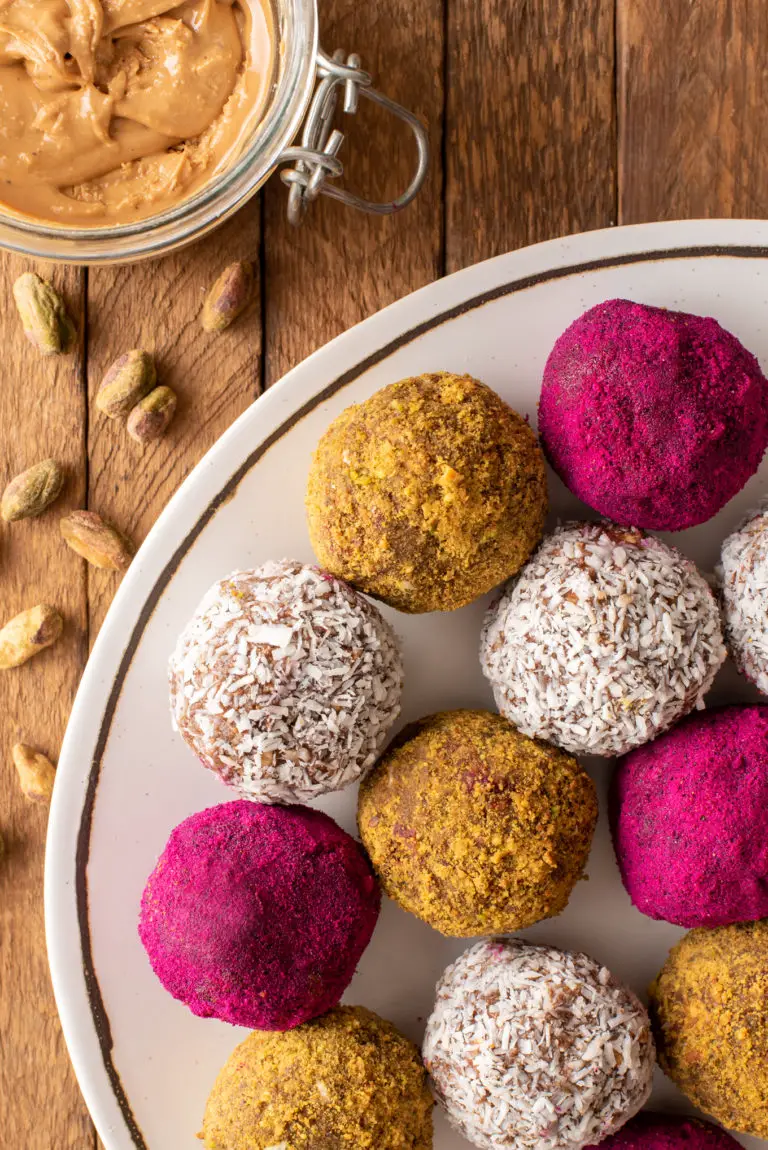 These Chocolate Banana Cashew Bites are fun sized bites of deliciousness! Perfect treat when you're craving chocolate in the healthy form of raw cacao powder, banana and raw cashew butter.
Sweet Cravings Satisfied!
These Chocolate Banana Cashew Bites have a nice hint of sweetness. The touch of sweetness from the maple syrup and mashed banana helps fulfill any sweet cravings you have. If you are someone who craves something sweet after a meal, make the smaller version of these and store them in your freezer. They'll soften up quickly and, therefore, be ready to eat in a hurry. It will keep you from reverting to something unhealthy aka Snickers bar!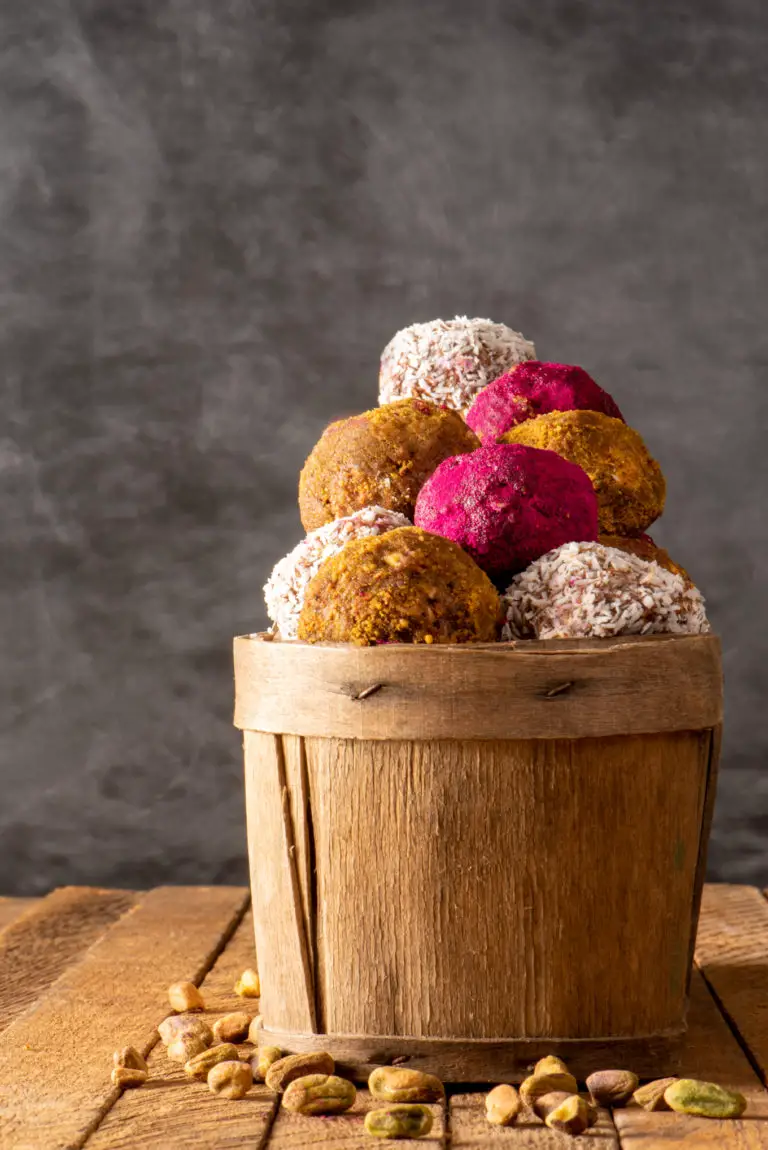 Why these Cashew Bites are a Healthy Choice
In addition to having a nice hint of sweetness, these cashew bites also contain a good dose of healthy fat. Healthy fats help you feel satiated. The body requires healthy fats for so many functions. They help with absorbing certain vitamins and minerals. They also help with energy production, maintaining proper body temperature, supporting brain function and producing hormones, to name a few. Where can you get all these healthy fats from plant sources? Avocados, raw nuts and seeds, olives, coconut and some good quality cold pressed oils such as olive, coconut and flax. Healthy fats also help you feel satiated.
Different body constitutions require different amounts of fats. Some other considerations are: the season of the year, season of life, types of activities you engage in and any imbalances you may have. As an example, if you are very stressed, you may need more healthy fats to help you feel grounded (fats insulate the nervous system). Also, we are currently in the Fall season. This is a very dry time of year, so including some extra good fats in your diet on a daily basis – hello cashew bites – will help offset that dryness settling into the body (creaky joints and dry skin anyone?).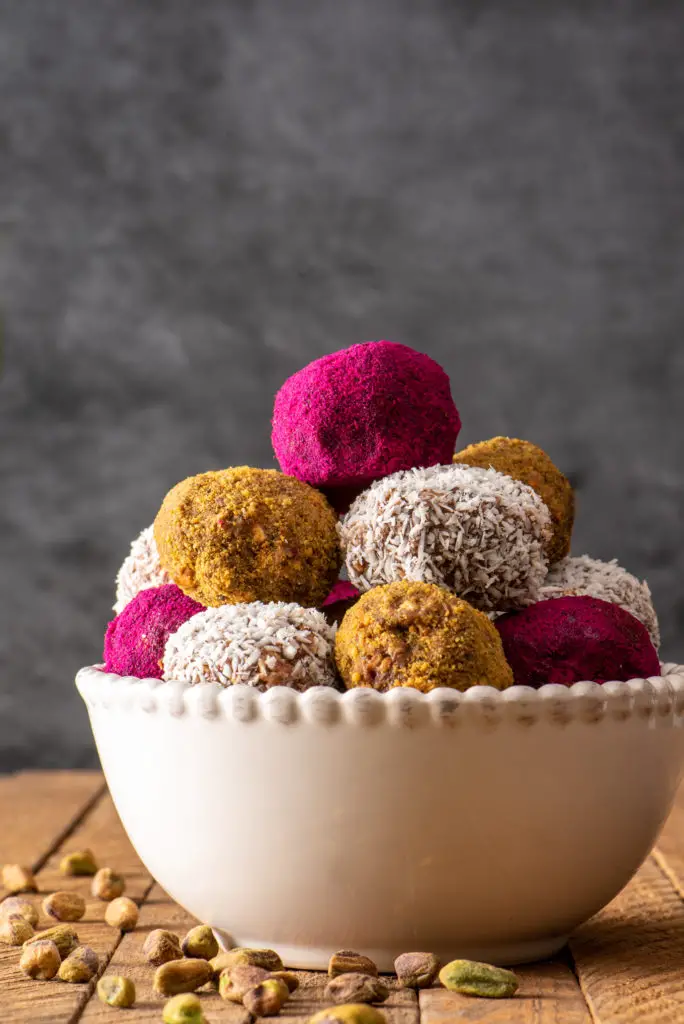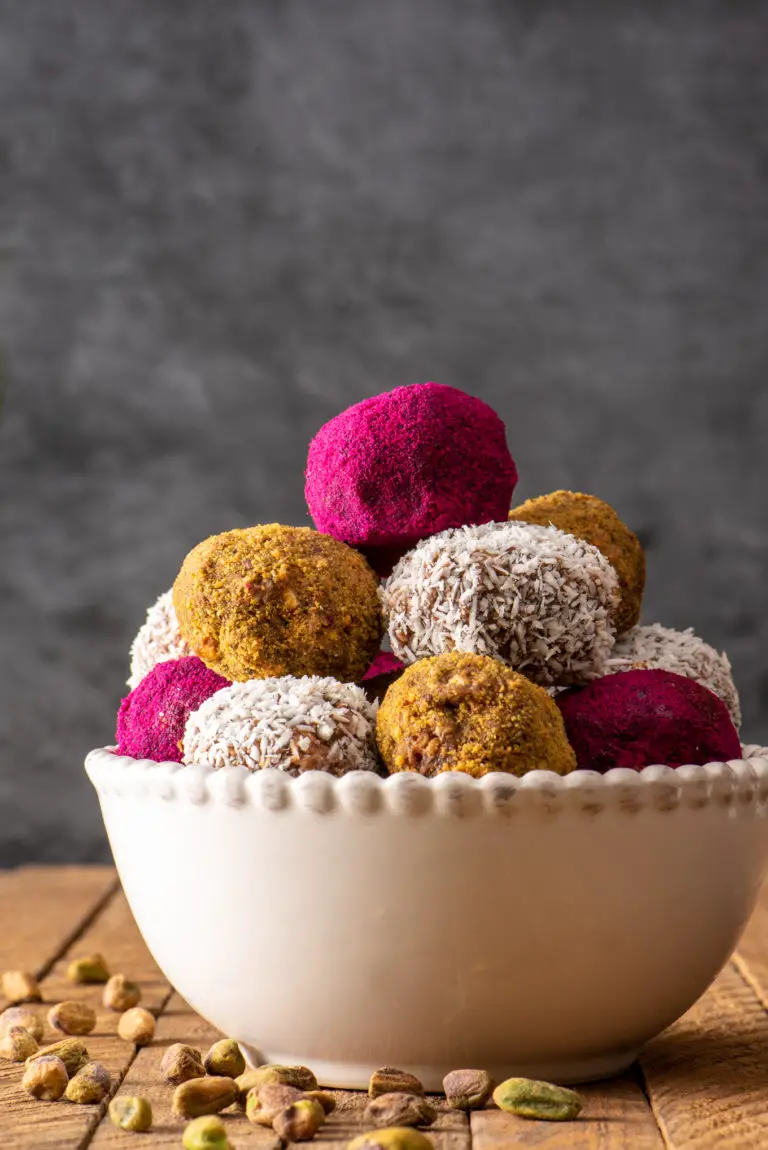 Bottom line – don't be afraid to include some fat in your diet. Just make sure that you are choosing healthy, whole food sources where possible and focus on your individual needs as well.
If you like the sound of these Chocolate Banana Cashew Bites and you're looking for some more healthy snack inspiration, try out our Seedy Almond Butter Energy Bites, No-Bake Granola Bars, these Pumpkin Spice Muffins or these Blueberry Oatmeal Muffins. They are sure to satisfy and are full of nutrition. Eat healthy, be healthy and feel good!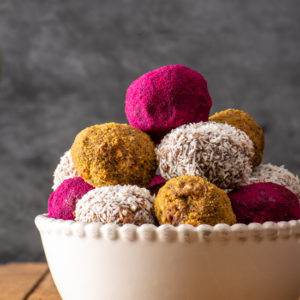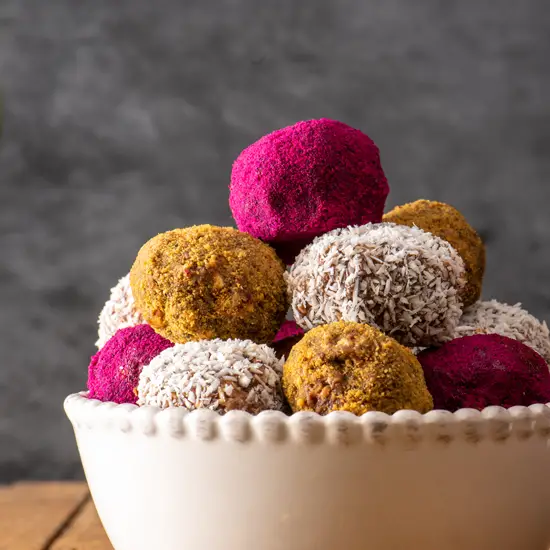 Ingredients
⅔

cup

raw cashew butter

¾

cup

oats

1

large

banana, mashed

2

tbsp

chia seeds, ground

¼

cup

coconut, shredded

2

tbsp

raw cacoa powder

¼

cup

maple syrup

⅛

tsp

sea salt

⅛

tsp

cayenne pepper
Optional Toppings
shredded coconut

dragon fruit powder

raw cacao powder

crushed/ground nuts such as pistachios
Instructions
If you have whole chia seeds, grind them first (a coffee grinder works well).

Mash banana in a large bowl. Add the rest of the ingredients and mix well.

Taking about 2 tbsp of the mixture for smaller balls or a 1/4 cup of the mixture for large, roll into balls and place on a cookie tray.

Once all the balls are formed, you can roll them in optional toppings such as shredded coconut and crushed nuts or seeds.

Place in the freezer on the cookie tray. Once frozen, they can be transferred to an airtight container and stored in the freezer until ready to eat.