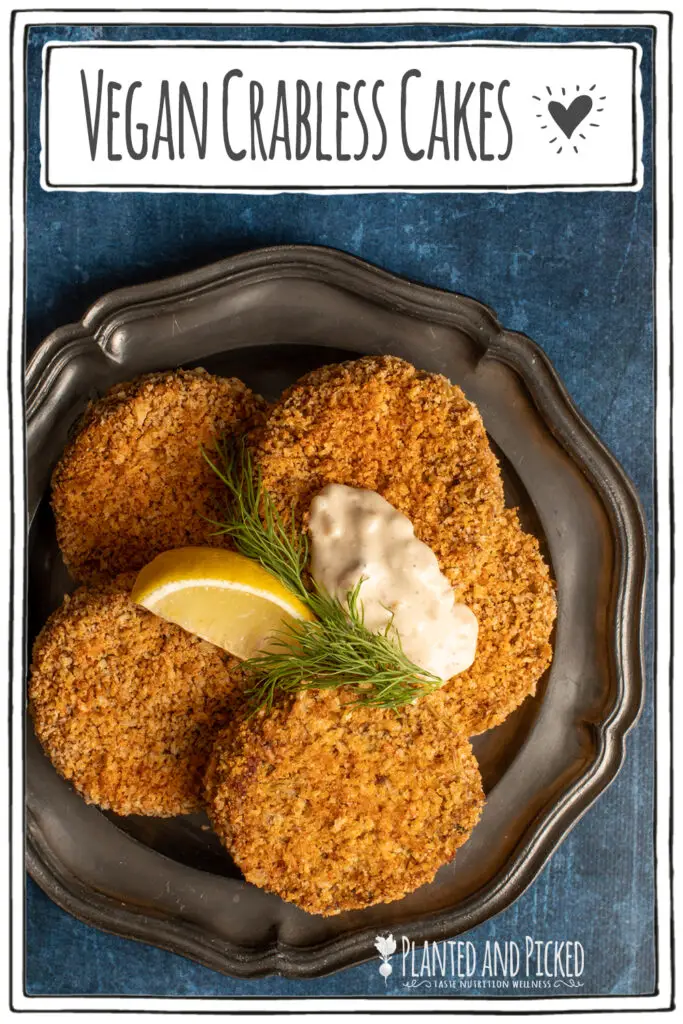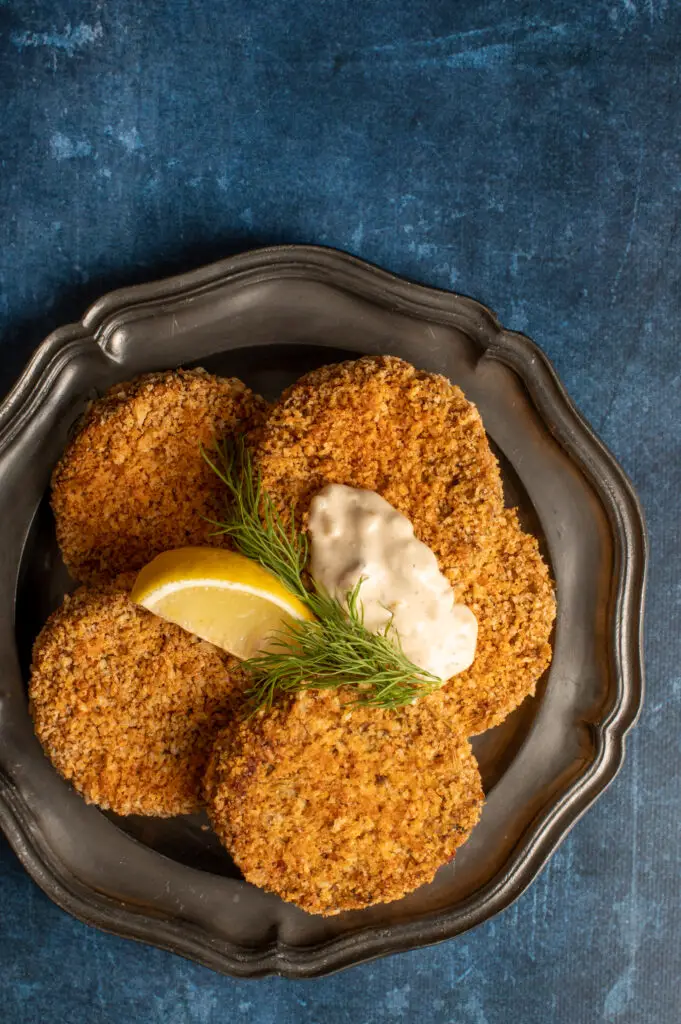 Made with artichokes, hearts of palm and chickpeas, these Vegan Crabless Cakes have a pleasing texture and are full of fibre AND flavour.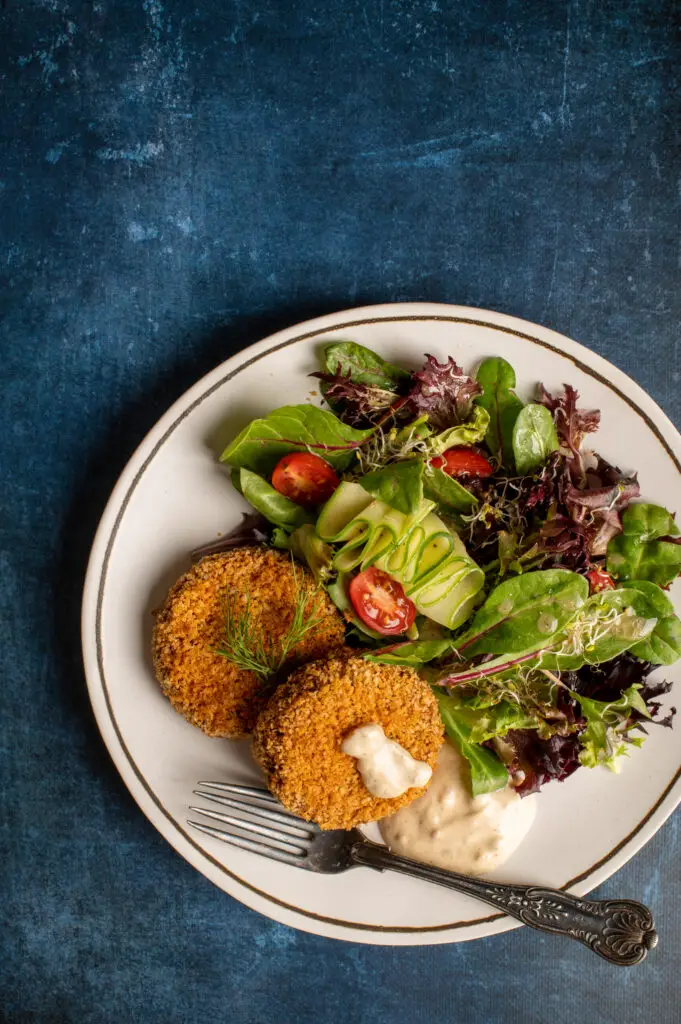 If you haven't tried hearts of palm before, this vegan crabless cakes recipe is a good opportunity to experience them. Hearts of palm are a vegetable that is harvested from the inner core of certain species of palm trees. They are high in fibre and low in carbohydrates. They also contain a good amount of protein. They're a good source of vitamins and minerals such as iron, manganese, copper and vitamin C. Potential benefits include better digestive health, balanced blood sugar and improved immunity.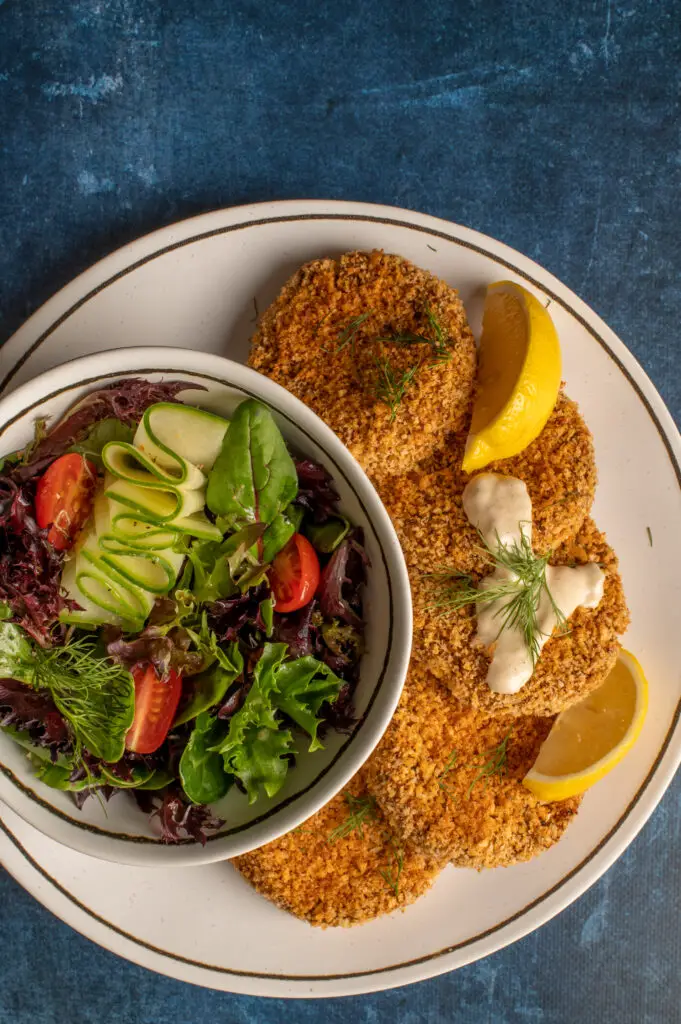 The other high fibre stars in these crabless cakes are the artichokes and chickpeas. More and more research continues to demonstrate the importance of having a healthy gut microbiome. This is important not only for our physical body, but also for our brain. One of the ways to enhance the good bacteria in our gut is through increasing your fibre intake.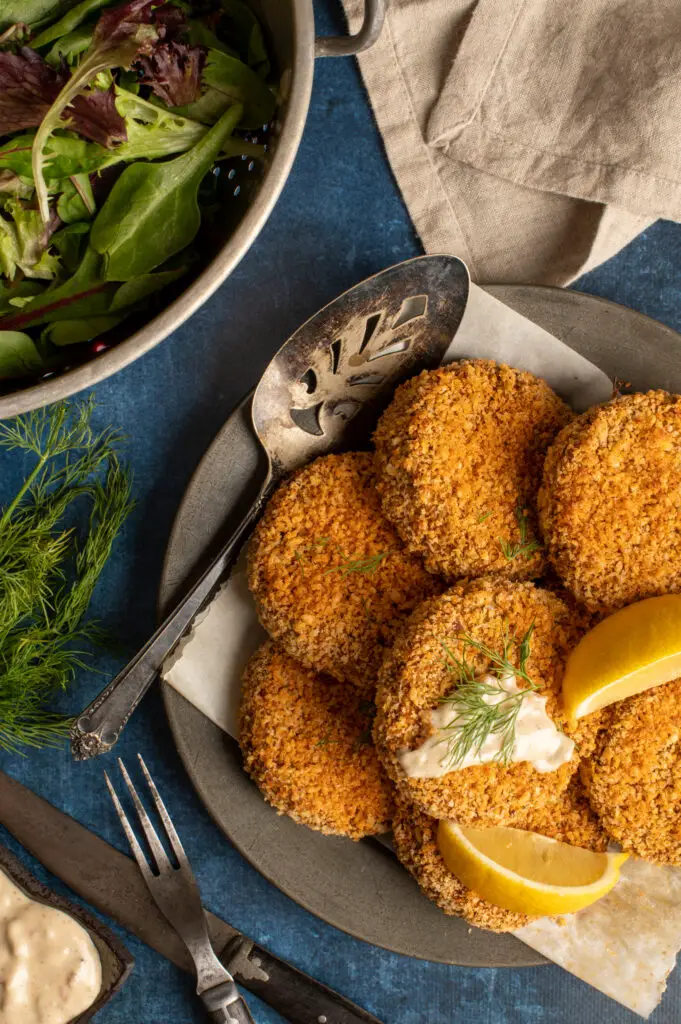 The condiments in this vegan crabless cakes recipe, such as the capers and dulse give these vegan crabless cakes a slightly salty sea taste. It's all about flavour with any food that we eat, after all. If your food is flavourful, the texture is inviting on the palate and you're with good company, this is what's truly important. Add nutrition to the punch and you're all set.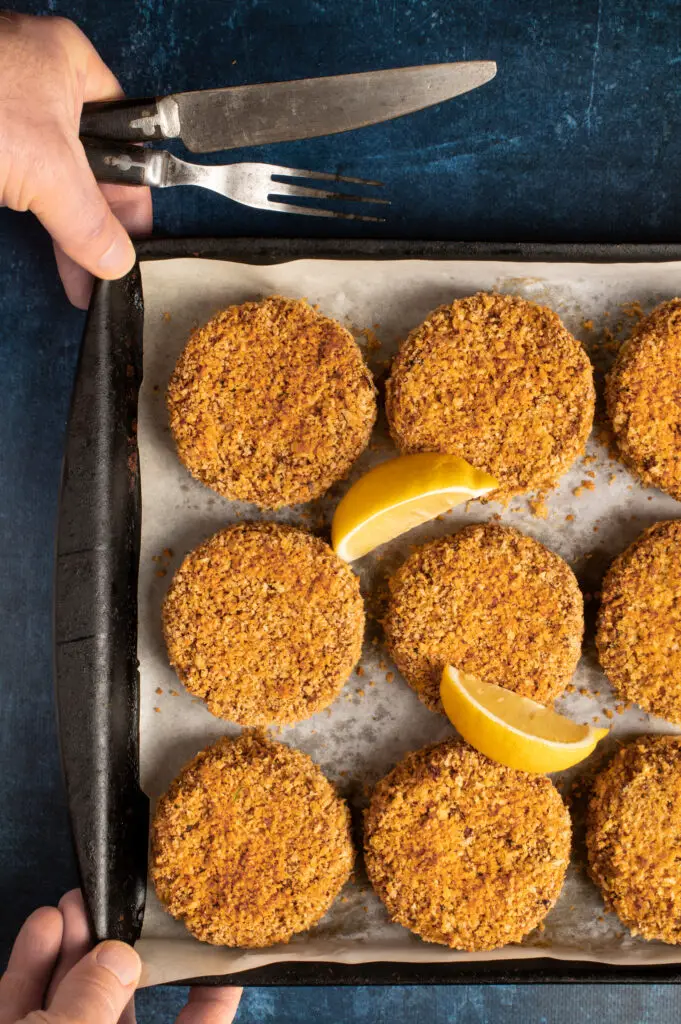 We believe that these vegan crabless cakes truly shine when paired with our vegan tartar sauce. It's a perfect complement and we're certain you'll agree once you've tried it.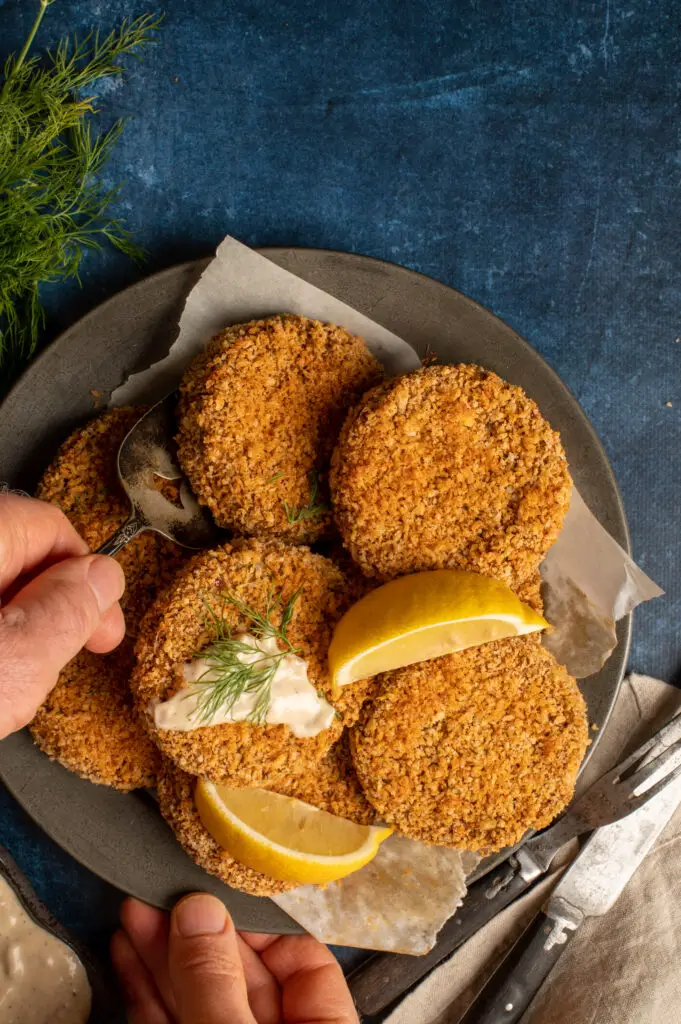 You can enjoy these crabless cakes as an appetizer or as a lighter main course with a spring greens salad with this Tahini Mustard Dressing. You might also want to try these White Bean and Artichoke Patties with this Indian Spiced Tomato Chutney. For more crunchiness, try out our Crispy Tofu Strips.
These Vegan Crabless Cakes are a great plant-based alternative. We want to hear what you think. Please leave a comment and a rating and don't forget to tag us @plantedandpicked on Instagram and hashtag it  #plantedandpicked. Remember that eating well is a life-long priority.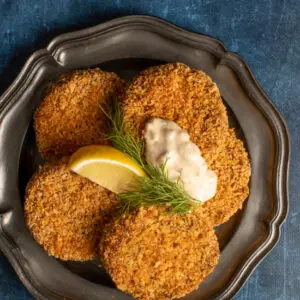 Ingredients
Vegan Crabless Mixture
1

tbsp

minced garlic

15 ml

2

tbsp

lemon juice

30 ml

14

oz

can hearts of palm

200 g drained

10

oz

jar artichoke hearts

215 g drained

14

oz

can chickpeas

250 g drained

2

tbsp

capers

20 g

¼

cup

vegan mayonaise

60 ml

2

tsp

dijon mustard

10 ml

1

tbsp

vegan worscestershire sauce

15 ml

2

tbsp

dulse flakes

30 ml

¼

tsp

fine sea salt

3.75 ml

½

tsp

celery seed

2.5 ml

¼

tsp

freshly ground black pepper

1.25 ml

1

tbsp

Old Bay seasoning

15 ml

¼

cup

green onion

60 ml

¼

cup

roughly chopped fresh dill

60 ml

½

cup

regular bread crumbs

180 ml

½

cup

arrowroot starch

120 ml

6

tbsp

plant-based mylk

We find soy mylk works best

1½

tsp

apple cider vinegar

7 ml
Breading Mixture
1

cup

panko style bread crumbs

240 ml

2

tbsp

olive oil

30 ml

1

tsp

paprika

5 ml

1

tsp

garlic powder

5 ml

1

tsp

onion powder

5 ml
Vegan Tartar Sauce
½

cup

Vegan Mayonaise

120 ml

2

tbsp

Sweet Pickle Relish

30 ml

¾

tsp

Dijon mustard

4 ml

1

tbsp

finely minced red onion

15 ml

2

tsp

fresh lemon juice

15 ml

1

dash

fine sea salt

½

tsp

vegan Worcestershire sauce

3 ml

1

dash

freshly ground pepper
Instructions
Combine minced garlic and lemon juice in a small bowl to allow garlic to mellow

Cut hearts of palm lengthwise into thin strips and cut strips into ½ inch lengths. Place these in a large mixing bowl. Chop artichoke hearts into very small pieces and add these to the mixing bowl. Mash chickpeas and capers with a potato masher or in a food processor so that some peices remain, and add these to the mixing bowl with the hearts of palm and artichoke hearts.

Add all remaining ingredients to the mixing bowl with the exception of the arrowroot starch, plant-based mylk and apple cider vinegar. Stir to combine and form into patties using a one-third measuring cup. Place on a baking sheet and into the freezer for 20 minutes to firm up.

Place the arrowroot starch in a small flat dish. Add the cider vinegar to the plant-based mylk and stir. It will thicken to a buttermilk like consistency. Place this in a second flat dish. Combine all breading ingredients and stir until oil is evenly incorporated and place this in a third flat dish.

Remove patties from the freezer and, using one hand, coat each in arrowroot starch and dip in the 'buttermilk' mixture. Transfer the coated patties to the breadcrumb mixture. Using a spoon with your clean hand, cover the top of the patty with more bread crumbs and press them in gently with the back of the spoon. Using your clean hand, turn the pattie over and press the crumb mixture into the patty until it is evenly coated. Transfer to a parchment line baking sheet.

Bake the crabless cakes for approimately 30 mintues or until golden brown and crispy.

While the crabless cakes are baking, prepare the vegan tartar sauce by mixing all ingredients and placing in the refridgerator to chill.
Nutrition
Calories:
285
kcal
|
Carbohydrates:
33
g
|
Protein:
6
g
|
Fat:
14
g
|
Saturated Fat:
2
g
|
Sodium:
669
mg
|
Potassium:
787
mg
|
Fiber:
4
g
|
Sugar:
8
g
|
Vitamin A:
229
IU
|
Vitamin C:
8
mg
|
Calcium:
74
mg
|
Iron:
3
mg