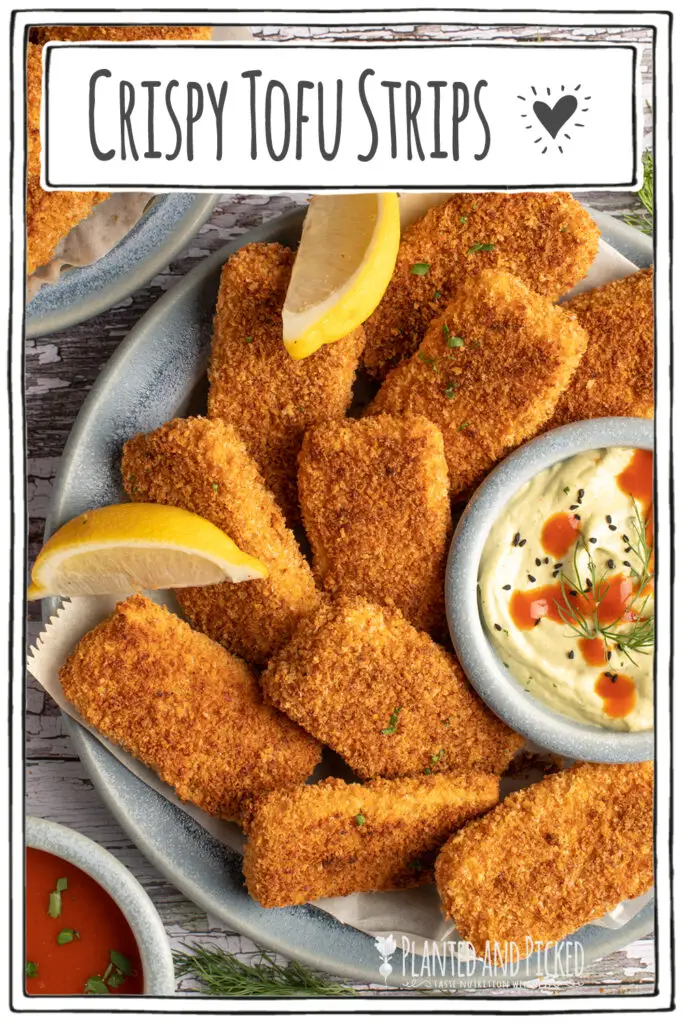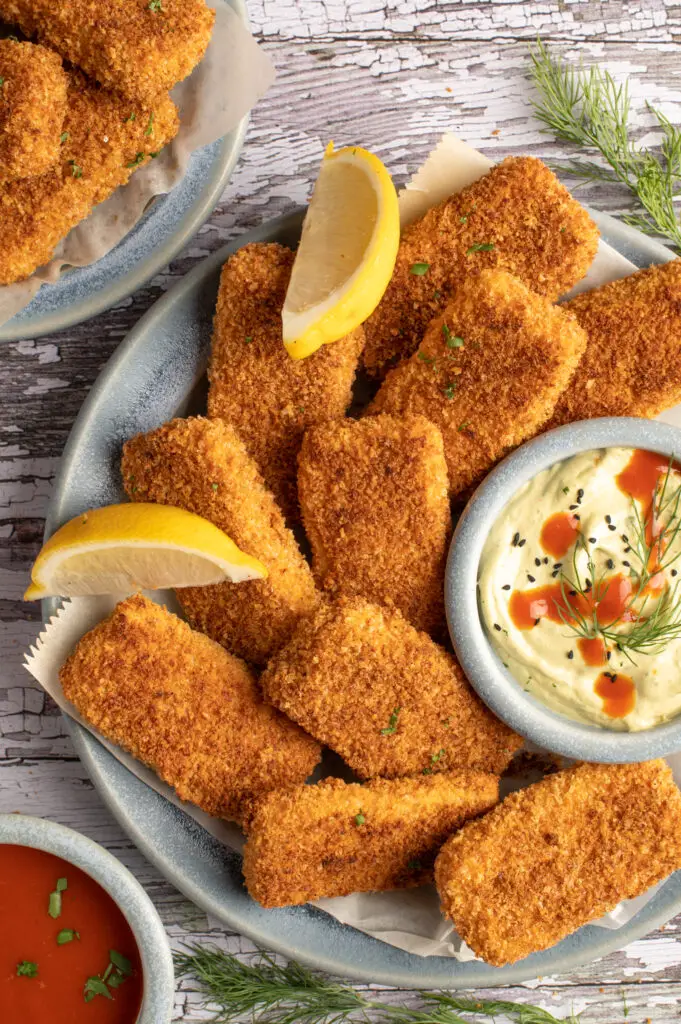 Are you looking for a plant-based version of chicken strips that's just as satisfyingly crispy? These Crispy Tofu Strips have a good bite to them and are great dunked in your favour dipping sauce!
Crispy Tofu Strips with a Chicken Strip Bite!
Tofu comes in a range of firmness. Therefore, the trick to making tofu strips with a meaty bite is to use firm or extra firm tofu and to press as much of the water out as you can. You can wrap paper towel around your tofu and weighted plate on top of it. However, the most effective way to squeeze out the water and get the meatiest texture, is to use a tofu press. If you don't have one yet and decide to get one, we can say for sure that you'll be happy you did. Press the tofu for 30 minutes to an hour, pour off the water, and you're all set.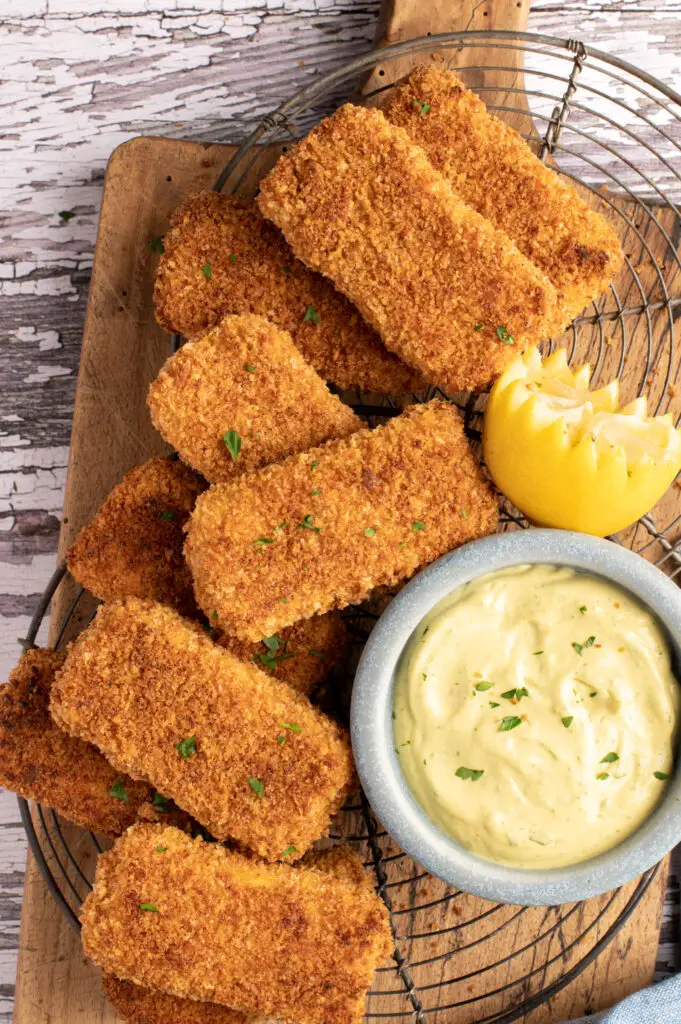 Choosing Your Tofu
When we buy tofu, we like to choose an organic sprouted version. We're lucky to have a local company that makes one close to home. Sprouting makes any food easier to digest. It breaks down any inhibitors such as phytic acid and increases the enzyme content that aids in digestion. Sprouted tofu also has more nutrients and those nutrients are more bioavailable. Scientific studies have shown that tofu that has been sprouted also has a higher protein content. Just a note, the sprouted tofu tends to have more liquid in it, even the extra firm varieties, so we press them for a longer period of time to remove as much of the water as we can. On to the tofu strips!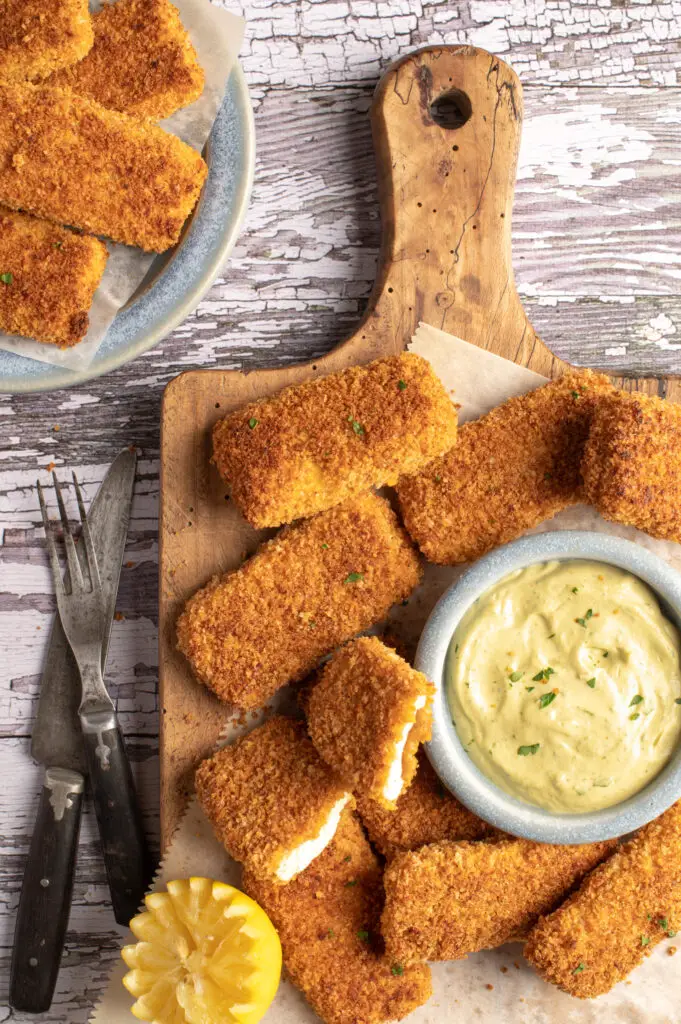 The Trick to Crispy . . .
We prepare the breading by mixing panko style breadcrumbs with garlic powder, onion powder and smoked paprika. The trick to getting crispy breading, baked in the oven, is to mix a little olive oil in with the breading mixture before coating your strips. We dip the tofu strips into arrowroot starch and then in a homemade plant-based buttermilk. We then coat them in the arrowroot starch again and back in the buttermilk! That's right, we do this twice so that there's a thick enough layer for the breadcrumb mixture to stick to. After all, you want to have lots of crunch with your tofu strips and this is the best way to get it! By adding a teaspoon of cider vinegar to your plant-based milk, it's thicker and helps out even more with the breadcrumb sticking abilities. We have the greatest success making plant-based buttermilk with soy milk.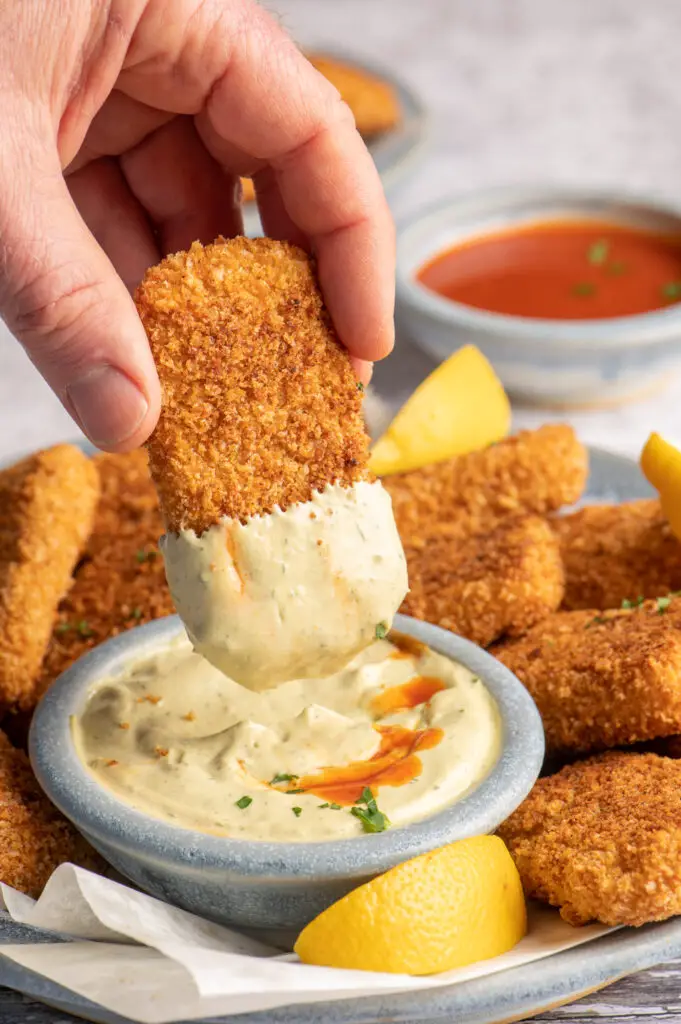 Prepping Your Tofu Strips
We cut our tofu block into ten strips across the width of the block. We also doubled the recipe for the blog post to be able to show as much crispy loving as possible in the photos! Season the tofu strips on both sides with a mixture of garlic powder, onion powder, sea salt and freshly ground black pepper.
Breading anything can always get a little messy. Use one hand to do the arrowroot starch and buttermilk double-dipping before placing the coated strip into the breading mixture. Use your second hand to spoon the breading over the top of the strip. Press the breading into the strip with the flat side of the spoon before transferring it onto a parchment lined baking sheet. This works pretty well, but you may want to do a hand rinse half-way through just to keep things orderly!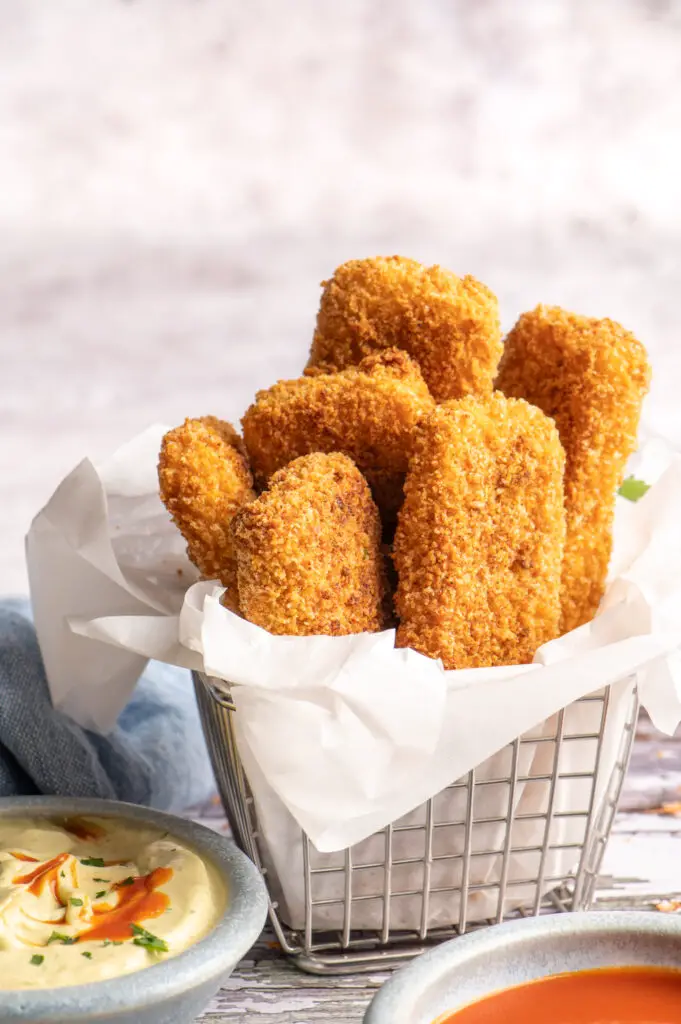 Lovin' in the Oven
We get the best results baking the crispy tofu strips for about 30 minutes at 400°F and flipping them over halfway through. You want the coating to be crispy and golden without drying out your tofu. Lovin' in the oven meant the kids were totally excited to have these twice in one week! You may want to make a double batch and have some left-overs. They are perfect in a wrap or to cut up and include in a salad.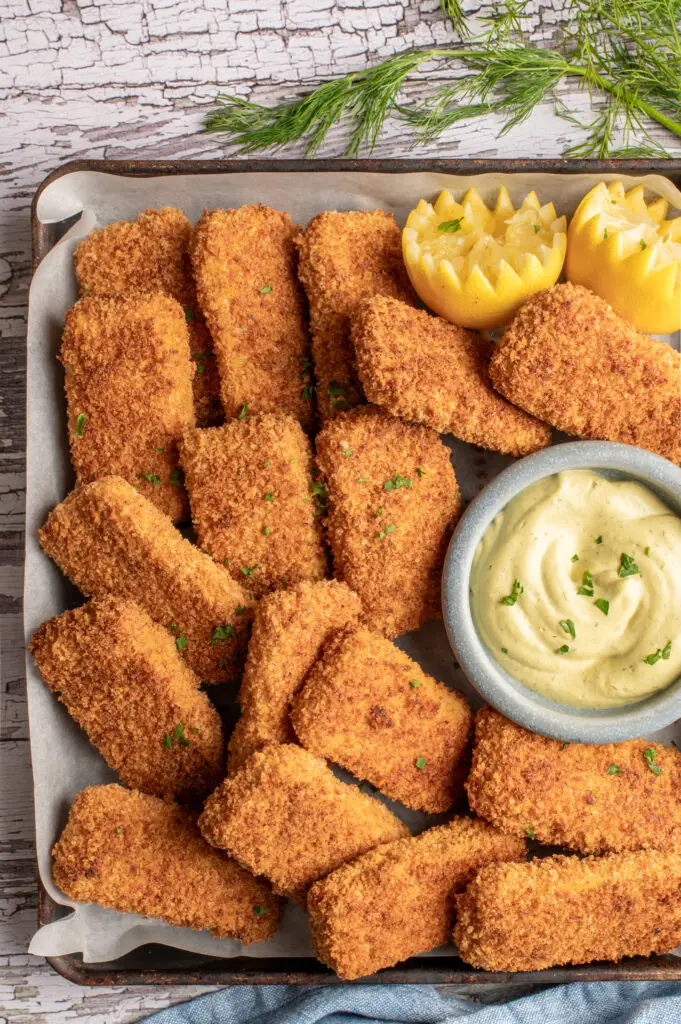 Sprouted tofu is a great source of plant-based protein. It's also a healthy choice on your plate. After you've made your Crispy Tofu Strips, try out our recipe for Vegan Butter Tofu, this Spicy Stick Tofu, our Grilled Vegetable and Tofu Wrap and this Udon Noodle Stir Fry. For breakfast, try out our Super Eggy Tofu Scramble!
These Crispy Tofu Strips made us all believers in this healthier version of the store-bought vegan strips. We want to hear what you think. Please leave a comment and a rating and don't forget to tag us @plantedandpicked on Instagram and hashtag it  #plantedandpicked. Always make extra for an unexpected guest or two!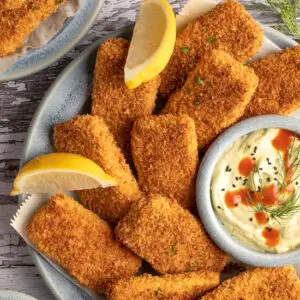 Ingredients
Tofu Preparation
1

block

firm or extra-firm sprouted tofu

¾

tsp

garlic powder

¾

tsp

onion powder

½

tsp

fine sea salt

¼

tsp

freshly ground black pepper

½

cup

arrowroot starch

6

tbsp

plant-based mylk

We find soy mylk works best

1½

tsp

apple cider vinegar
Breading Mixture
1¼

cup

panko style bread crumbs

2

tbsp

olive oil

1

tsp

smoked paprika

1

tsp

garlic powder

1

tsp

onion powder
Instructions
Press your tofu for at least 30 minutes. You can even press it the night before or in the morning so that it's ready to go when it's time to bread them. Note that we have not included the pressing time in the recipe.

Slice the tofu block across its width in 10 slices. Place in a single layer on a flat surface such as a cutting board and season both sides with a mixture made by combining the garlic powder, onion powder, sea salt and pepper.

Place the arrowroot starch in a small flat dish.

Add the cider vinegar to the plant-based mylk and stir. It will thicken to a buttermilk like consistency. Place this in a second flat dish.

Combine all breading ingredients and stir until oil is evenly incorporated and place this in a third flat dish.

Using one hand, coat each tofu strip in arrowroot starch and dip in the 'buttermilk' mixture. Repeat this a second time for a thick layer of breadcrumb sticking power!

Transfer the coated tofu strip to the breadcrumb mixture. Using a spoon with your clean hand, cover the top of the strip with more bread crumbs and press them in with the back of the spoon. Using your clean hand, turn the tofu strip over and press the crumb mixture into the strip until it is evenly coated. Transfer to a parchment line baking sheet.

Bake the tofu strips for approimately 30 mintues or until golden brown and crispy, flipping about half-way through.

We served our Crispy Tofu Strips with our Spicy Cashew Avocado Mayo, but added a packed ¼ cup of fresh dill when blending it. However, you can certainly use any of your favourite dipping sauces!