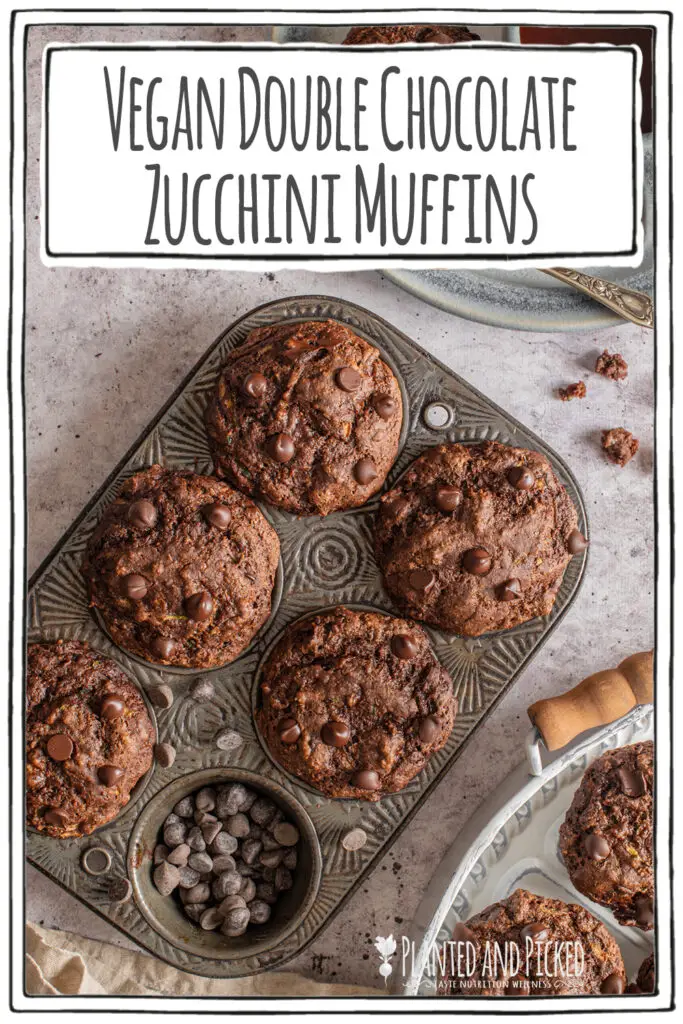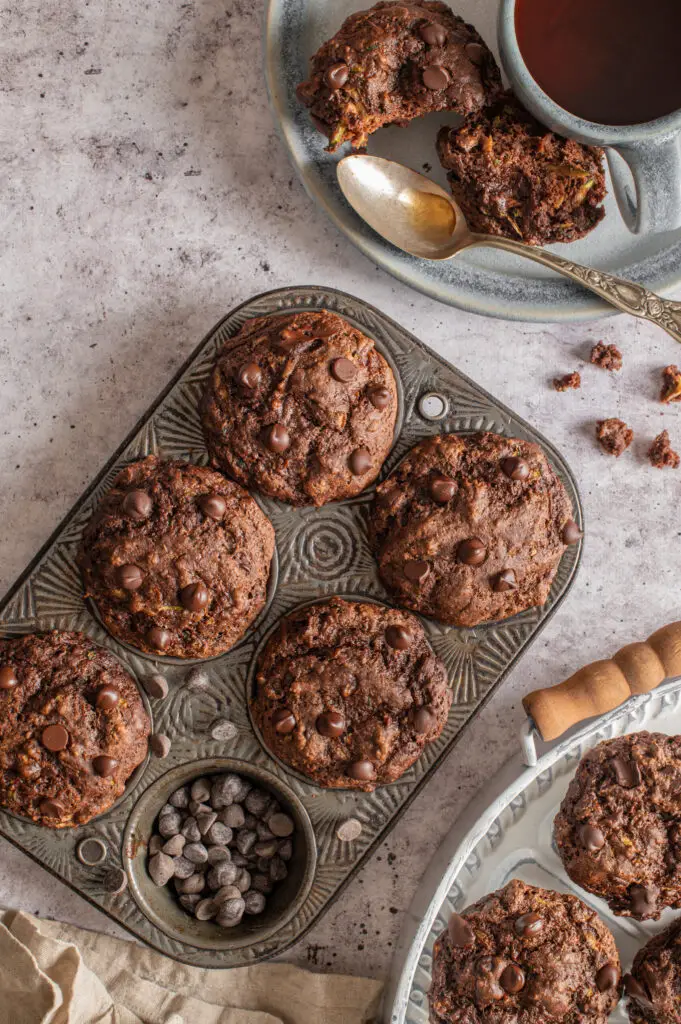 We love to make everyday food healthier and these oil free Vegan Double Chocolate Zucchini Muffins won't disappoint. It's a great way to trick your kids into having vegetables for breakfast!
The base for this chocolate zucchini muffin recipe is 2 cups of grated zucchini. In addition to providing moisture, the zucchini adds nutrition. Zucchini is a good source of vitamin C, which is an antioxidant. Consumption of foods containing antioxidants can help to reduce cell damage, or oxidation. If you would like more information on antioxidants, see our post on Antioxidants and Foods Containing Them. Vitamin C is also essential in the production of collagen (for skin health). And of course we also know that Vitamin C is essential for a healthy immune system.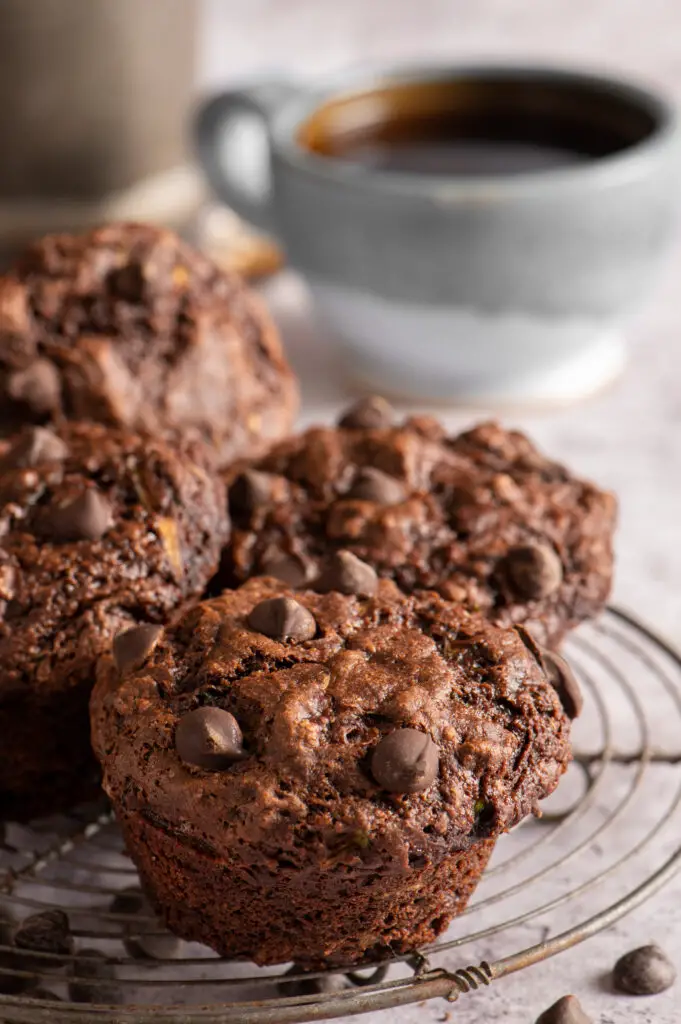 We make this Vegan Double Chocolate Zucchini Muffin recipe oil free by adding apple sauce. Plus we add a little plant based milk for moisture. By adding the apple cider vinegar to the milk and letting it sit, it creates a 'buttermilk'. This adds some acidity to the muffins which helps them to rise a little.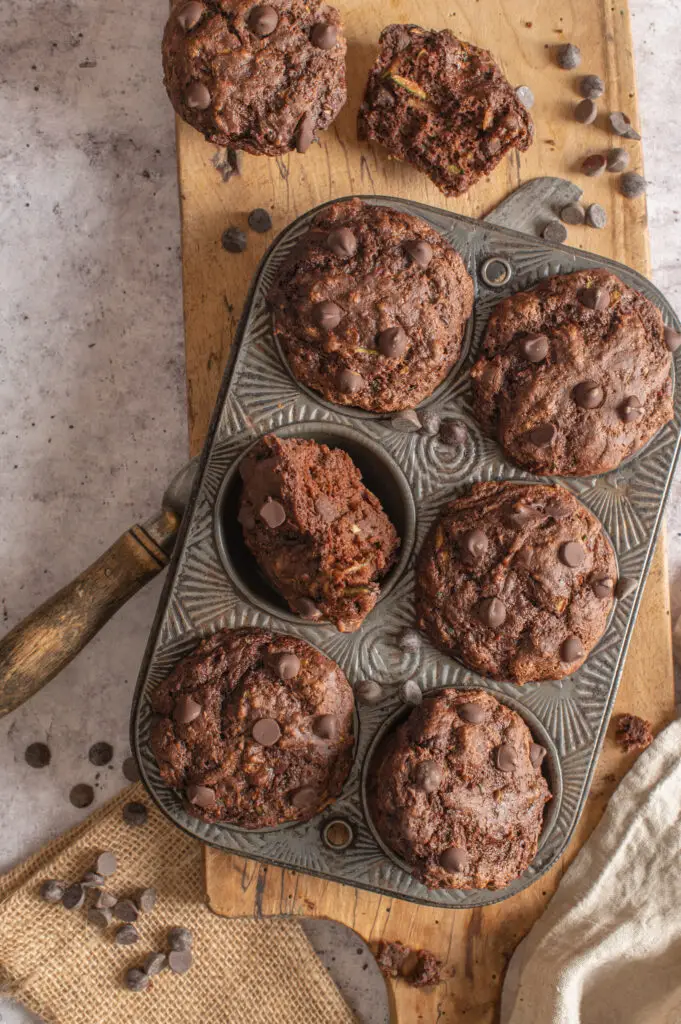 We use a good quality organic spelt flour over regular wheat flour. Spelt is related to wheat but is considered more of an ancient grain. It hasn't been manipulated to meet manufacturing needs as wheat has been and it has a broader spectrum of nutrients. Spelt also tends to be easier to digest. Like wheat, spelt contains gluten so you can use it to replace wheat flour. However, it is denser, so your baked goods will not typically rise quite as much as they would if you use regular flour. Do you prefer to make muffins gluten free? If so, you can replace the flour with a good quality gluten free blend that contains xanthan gum. Your chocolate zucchini muffins will be just as delicious!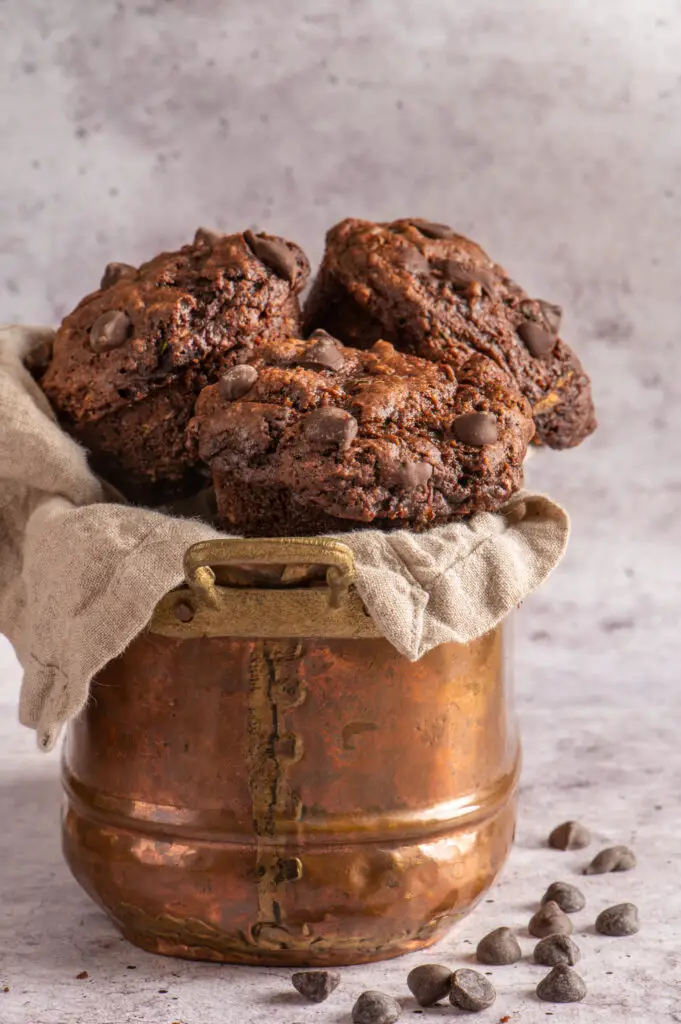 If you love muffins, try out these Banana Raspberry Muffins or Oatmeal Cranberry Muffins. Also, we love these Pumpkin Spice Muffins and these Blueberry Oatmeal Muffins. The Oatmeal Cranberry Muffins, Banana Raspberry Muffins and the Blueberry Oatmeal Muffins are also gluten-free.
If you make these Vegan Double Chocolate Zucchini Muffins, please let us know how you like them by leaving a comment and a rating. Don't forget to take a picture of yours and tag us @plantedandpicked on Instagram and hashtag it  #plantedandpicked. Our Planted and Picked door is always wide open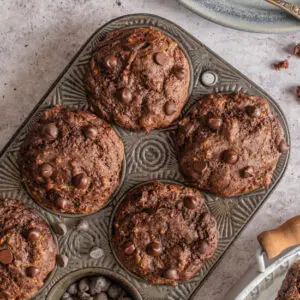 Ingredients
2

cups

organic spelt flour

¼

cup

good quality cocoa powder (we use Camino organic powder)

1

tbsp

flax meal

1

tbsp

baking powder

1

tsp

baking soda

1

tsp

cinnamon

¼

tsp

sea salt

2

cups

grated zucchini

½

cup

unsweetened apple sauce

½

cup

organic cane sugar

1

tsp

vanilla

½

cup

vegan chocolate chips

¼

cup

unsweetened plant based milk

1

tsp

apple cider vinegar (or lemon juice)
Instructions
Grate the zucchini. Place in fine mesh strainer and let sit while you prepare the rest of the ingredients.

Combine the plant based milk and apple cider vinegar (or lemon juice) and set aside for about 5 minutes as you prepare the rest of the ingredients.

In one large bowl, mix the flour, baking powder, baking soda, cocoa, flax meal, cinnamon sea salt and chocolate chips.

In another bowl, combine the apple sauce, sugar and vanilla.

Press the zucchini to strain out any water. Add it to the apple sauce mixture. Add the milk and stir to combine.

Place 12 muffin liners in a regular muffin tin (or oil the sides) for regular sized muffins. We made 10 larger muffins with the same amount of batter, so feel free to do the same if you like larger muffin tops!

Combine the wet and dry ingredients and stir until just combined.

Place in oven. Turn down heat to 375°. Bake 20 to 22 minutes. Stick a toothpick or metal skewer in the muffin in the centre of the muffin to check doneness. It should come out clean.
Nutrition
Calories:
167
kcal
|
Carbohydrates:
32
g
|
Protein:
4
g
|
Fat:
4
g
|
Saturated Fat:
2
g
|
Sodium:
252
mg
|
Potassium:
153
mg
|
Fiber:
5
g
|
Sugar:
14
g
|
Vitamin A:
93
IU
|
Vitamin C:
7
mg
|
Calcium:
87
mg
|
Iron:
2
mg