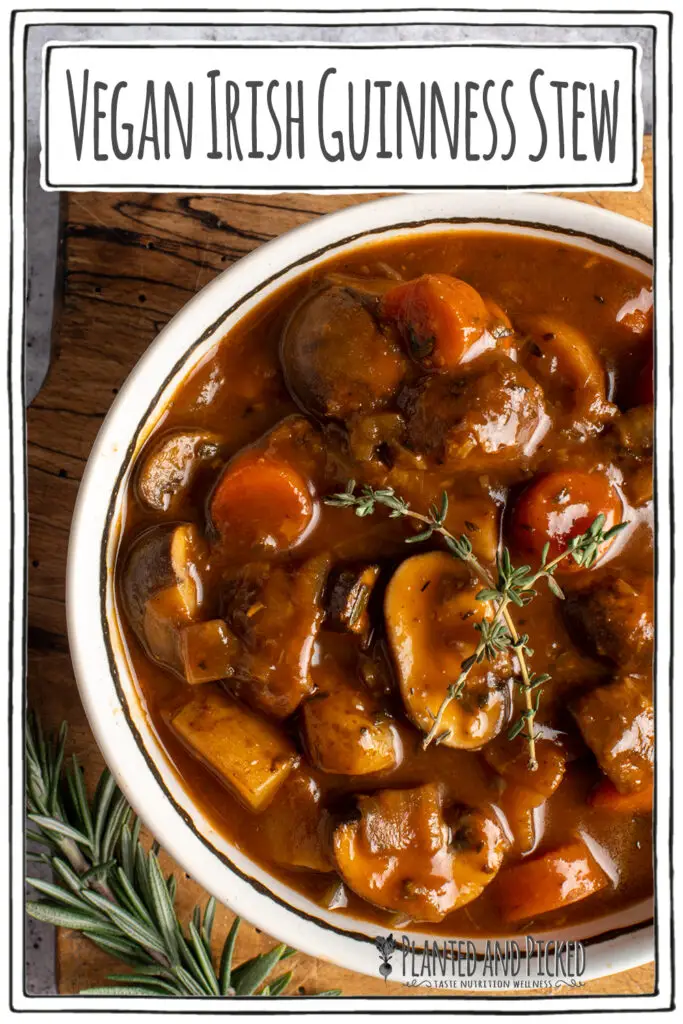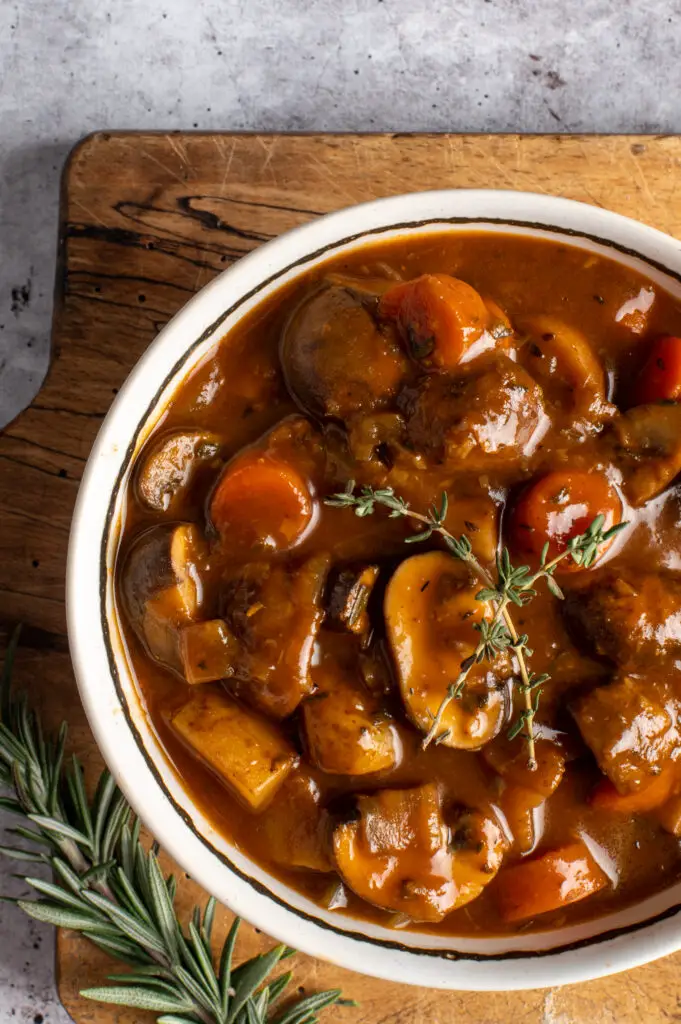 Ireland is one of our favourite places and one of our favourite past times is listening to some "trad" or traditional music in an authentic Irish pub and enjoying a pint of Guinness. We've put a pint of the black gold into this deliciously comforting Hearty Vegan Irish Stew and promise you'll fall in love!
Happy Saint Patrick's Day! We've tapped our toes to "trad" music at more than one Irish pub with a pint of Guinness stout in our grip. Experiencing this great part of Irish culture is a wonderful way to spend an evening. There is a sense of community in many pubs and you are always made to feel welcome. We've prepared this Hearty Vegan Irish Stew so that you can tuck into a veganized version of an Irish classic.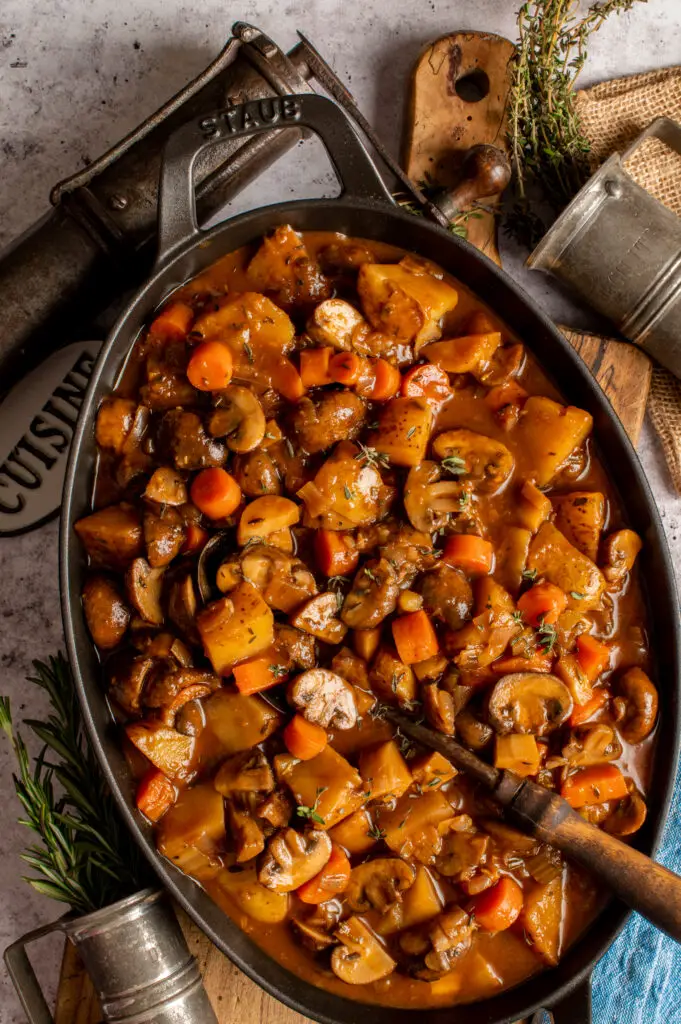 We've made an easy version of Irish Stew with two pounds of mushrooms along with root veggies, potatoes, onions and celery. The sauce is rich and comforting and great the first day, but always better with age. We also like to think the same about ourselves!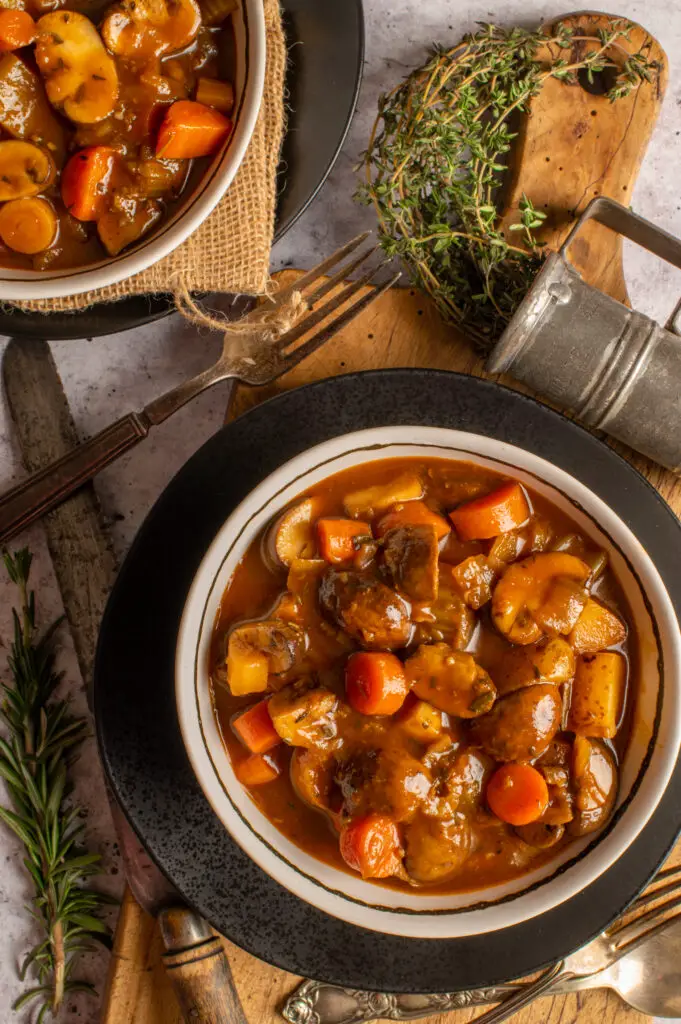 Mushrooms can potentially boost immunity, even the common Cremini. They contain a significant amount of helpful bacteria that are beneficial to the microbiome found in the human digestive tract. This helpful bacteria can improve digestion and also boost the body's immune response. We've, therefore, packed two pounds of cremini mushrooms into this Hearty Vegan Irish Stew! You'll be all the better for it.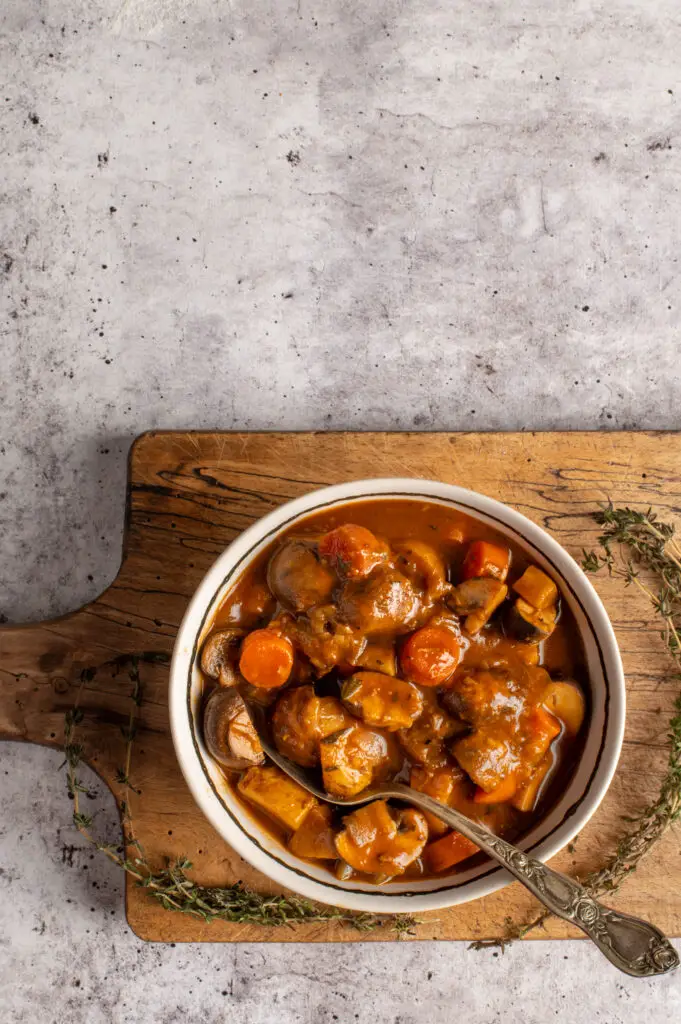 We've used Guinness stout in this stew and lucky for all of us, Guinness stout is now vegan. Guinness decided to update their filtration process to remove isinglass. Isingless is derived from fish, and its stout has been vegan since 2018. If you prefer to make this hearty stew without the stout, we recommend substituting an equal amount of mushroom or vegetable stock.
Loving comforting stew? Try our Hearty Vegetable Shepherd's Pie, Moroccan Chickpea Stew, or this Autumn Vegetable Stew and our popular Black Bean and Sweet Potato Stew. But first . . . try this Hearty Vegan Irish Stew. You will be happy you did, indeed!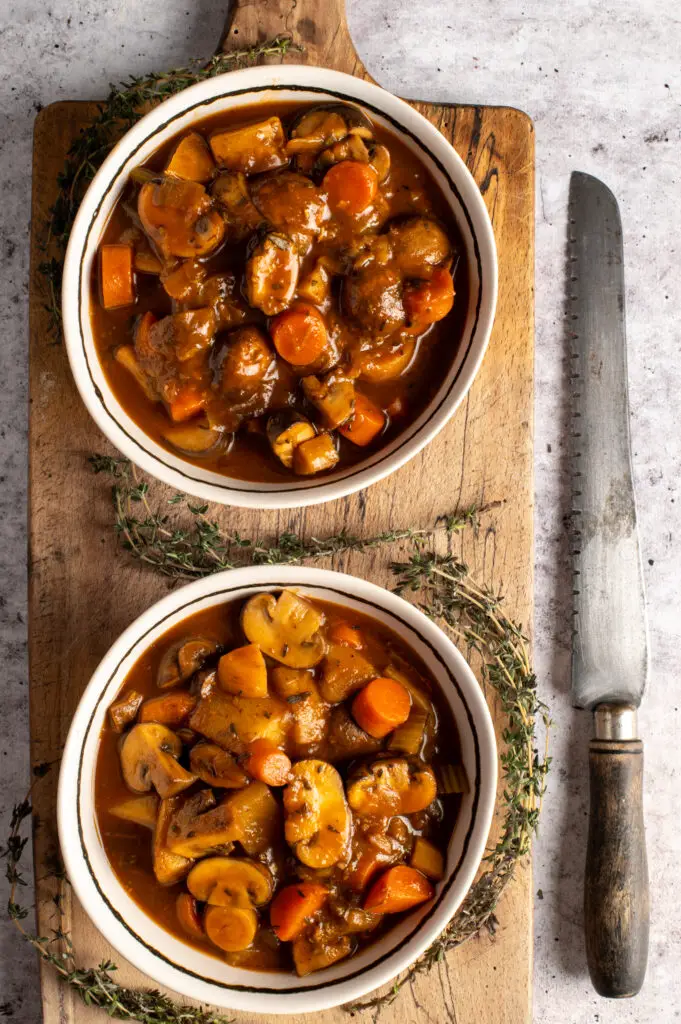 If you try this Hearty Vegan Irish Stew, show us yours! Your feedback helps us the whole community. Leave a comment and a rating and don't forget to tag us @plantedandpicked on Instagram and hashtag it  #plantedandpicked. May the wind always be a your back!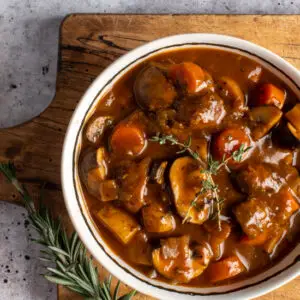 Ingredients
1½

tbsp

olive oil

22 ml

2

medium to large onions, chopped

240 g

1

cup

celery, chopped

100 g

4

large garlic cloves, minced

1

tsp

fine sea salt

6 g

2

bay leaves

2

tbsp

fresh thyme

substitute 2 tsp dried thyme

1

tbsp

fresh rosemary

substitute 1 tsp dried rosemary

¼

tsp

freshly ground black pepper

¼

cup

flour

45 g

¼

cup

tomato paste

60 ml

1½

cups

carrots, ½ inch chunks

200 g

1½

cup

parsnips, ½ inch chunks

200 g

3

medium waxy potatoes, ¾ inch cubes

650 g

2

lb

cremini mushrooms, halved or quartered to bite sized

900 g

1

can

vegan Guiness Stout

14.9 oz or 440 ml or substitute equal amount of mushroom or vegetable stock

1

cup

vegetable broth

350 ml

2

tbsp

vegan worcestershire sauce

22 ml
Instructions
Add your olive oil to a large heavy pot and prep your garlic, onion and celery. Pre-heat the pot and sautee the veg, seasoned with sea salt, for 7 to 10 minutes, stirring periodically to ensure that garlic does not stick to the bottom of the pot and burn.

Add herbs and freshly ground black pepper and stir to combine. Saute for another minute or so until wonderfully fragrant. Add flour and stir to combine well and cook for another minute or so.

Add tomato paste and and stir to coat veg and cook for another minute.

Add all of the veg and stir to distribute aromatics throughtout and pour in the stout (yup, it's vegan . . . thank you Guiness!) Bring to a boil and let cook for a few minutes so that that veg can take on some of the stout. If you are not using the stout, add all of the mushroom or vegetable stock at once in the next step.

Add the veg stock and worcestershire sauce and bring to a boil before reducing to a simmer and covering for about 30 minutes, stirring every 10 minutes or so and replacing the cover.

The flour that was cooked with the aromatics should be enough to thicken your stew. However, if you find it could be a little thicker, make a slurry out of a teaspoonful each of flour and arrowroot starch (or cornstarch) and water. Bring the stew back to a boil and add just enough of the slurry to thicken to the desired consistency.
Nutrition
Calories:
228
kcal
|
Carbohydrates:
44
g
|
Protein:
8
g
|
Fat:
4
g
|
Saturated Fat:
1
g
|
Sodium:
742
mg
|
Potassium:
1563
mg
|
Fiber:
8
g
|
Sugar:
11
g
|
Vitamin A:
5925
IU
|
Vitamin C:
39
mg
|
Calcium:
111
mg
|
Iron:
4
mg