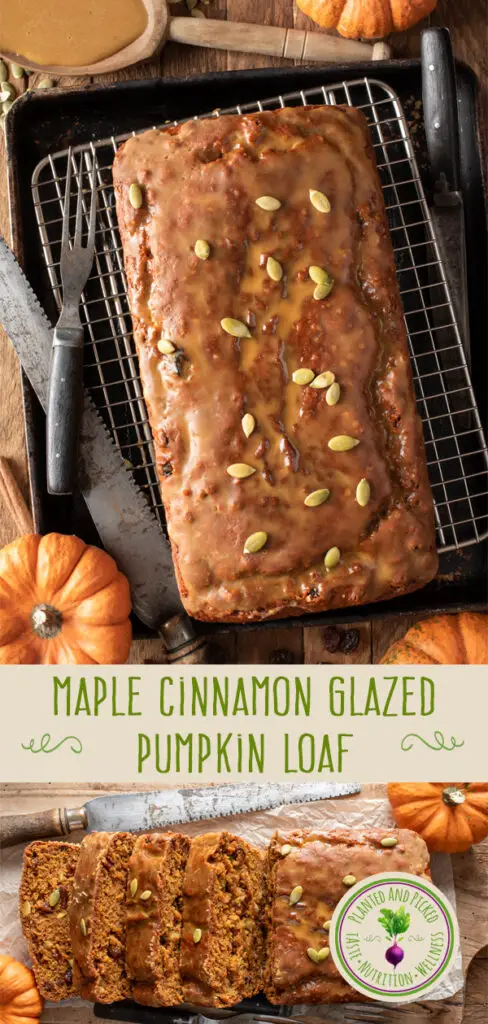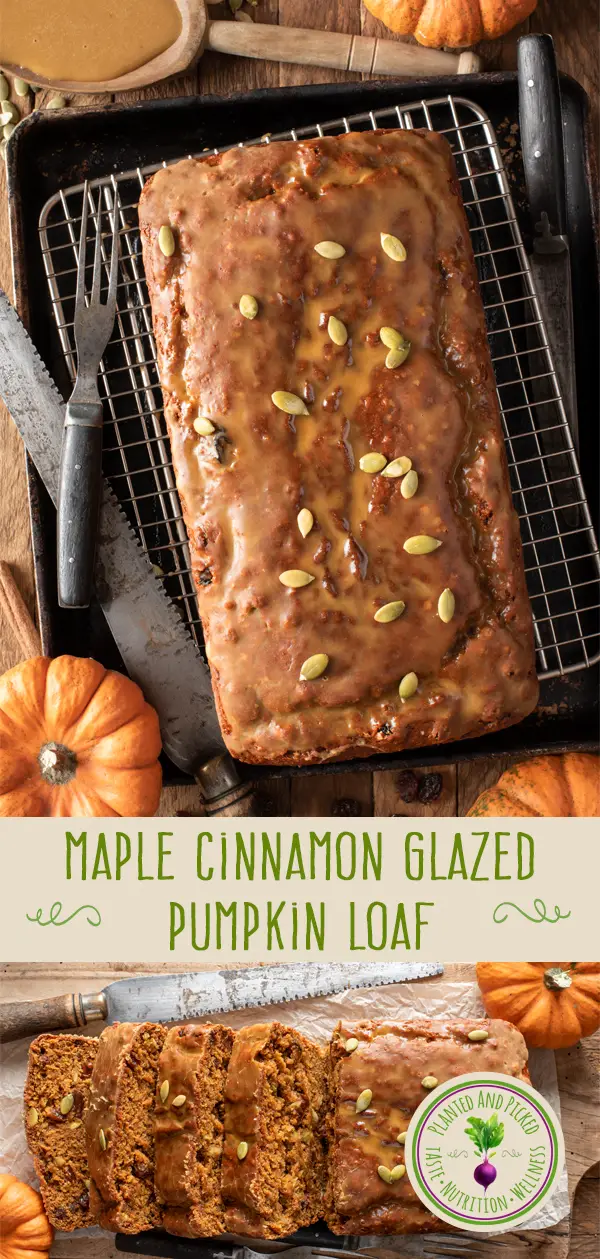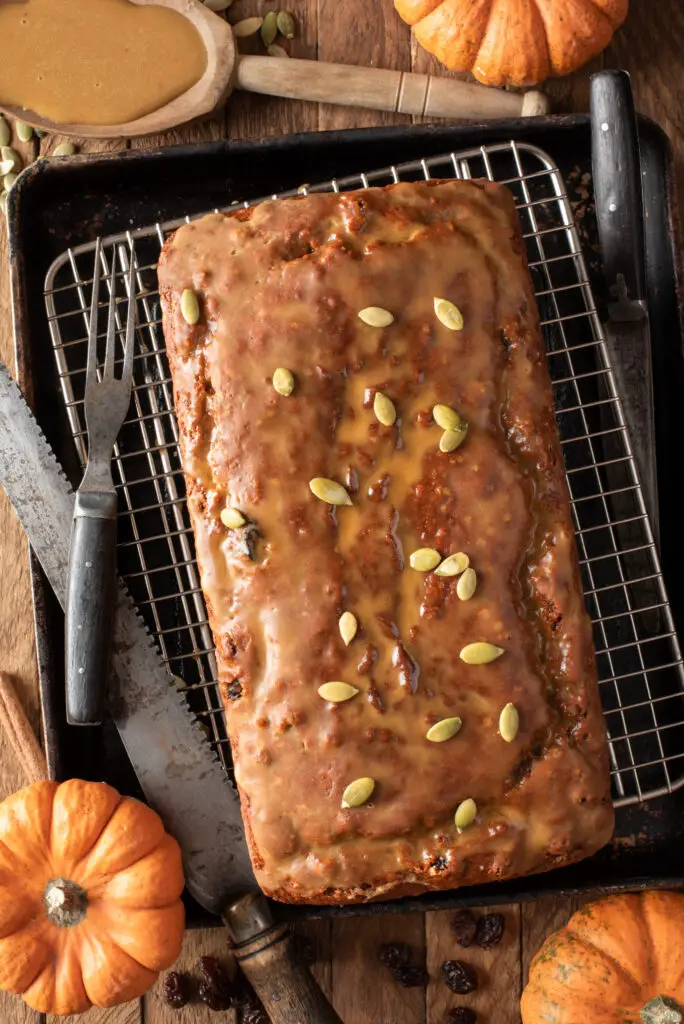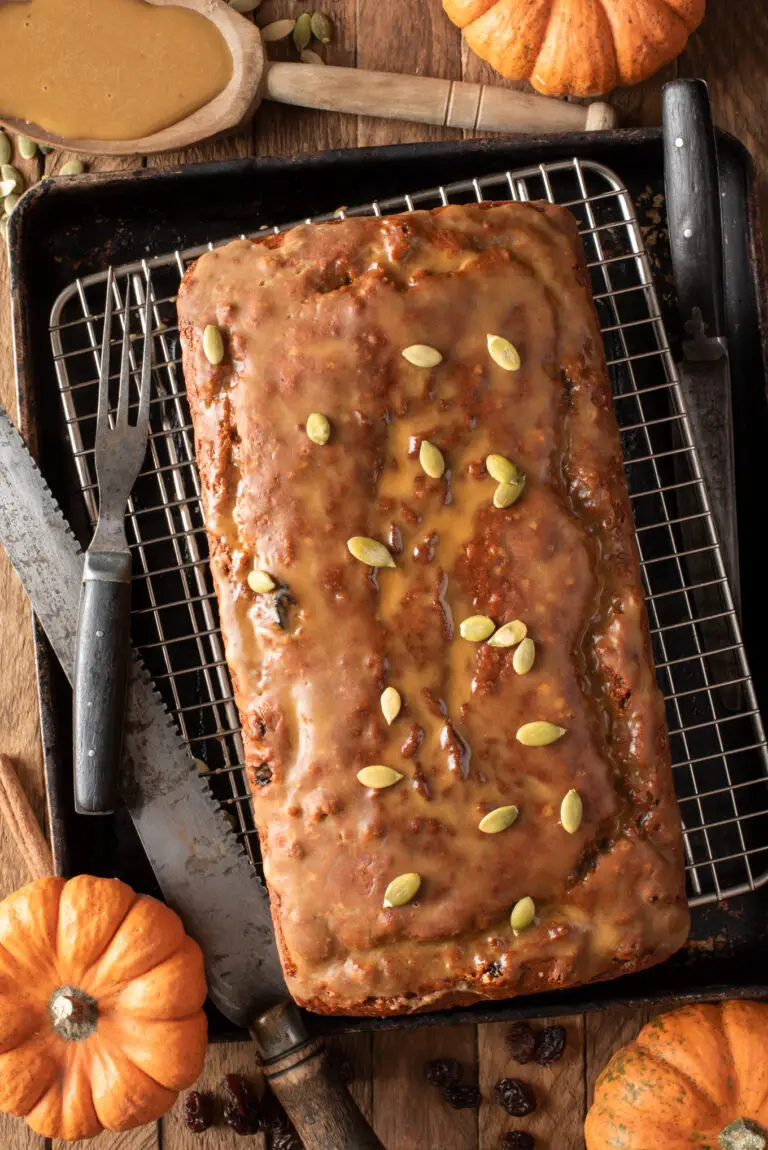 It's officially fall, or autumn depending on how your pumpkin rolls. We've noticed the leaves just starting to turn and before you know it, the trees will be full of brilliant colour. We've got more pumpkin love this week and it's coming to you deliciously in our Maple Cinnamon Glazed Pumpkin Loaf.
We'll soon be greeted with shorter, colder days and a desire to bundle up in cozy sweaters, scarves and even rain jackets at times. Our bodies and our souls are beginning to crave warming foods and drinks. These complement the cooling environment and give us balance to appreciate the changing season in comfort. Just grab a sweater, go for a brisk walk and come indoors for a slice this delicious fall treat. Let's celebrate fall with pumpkin loaf!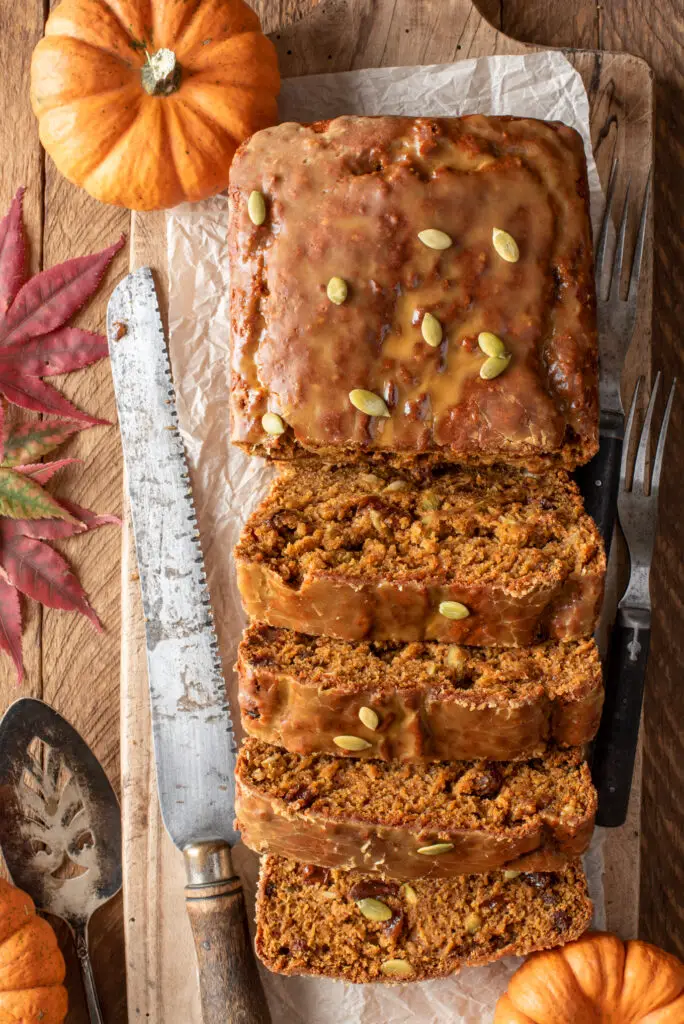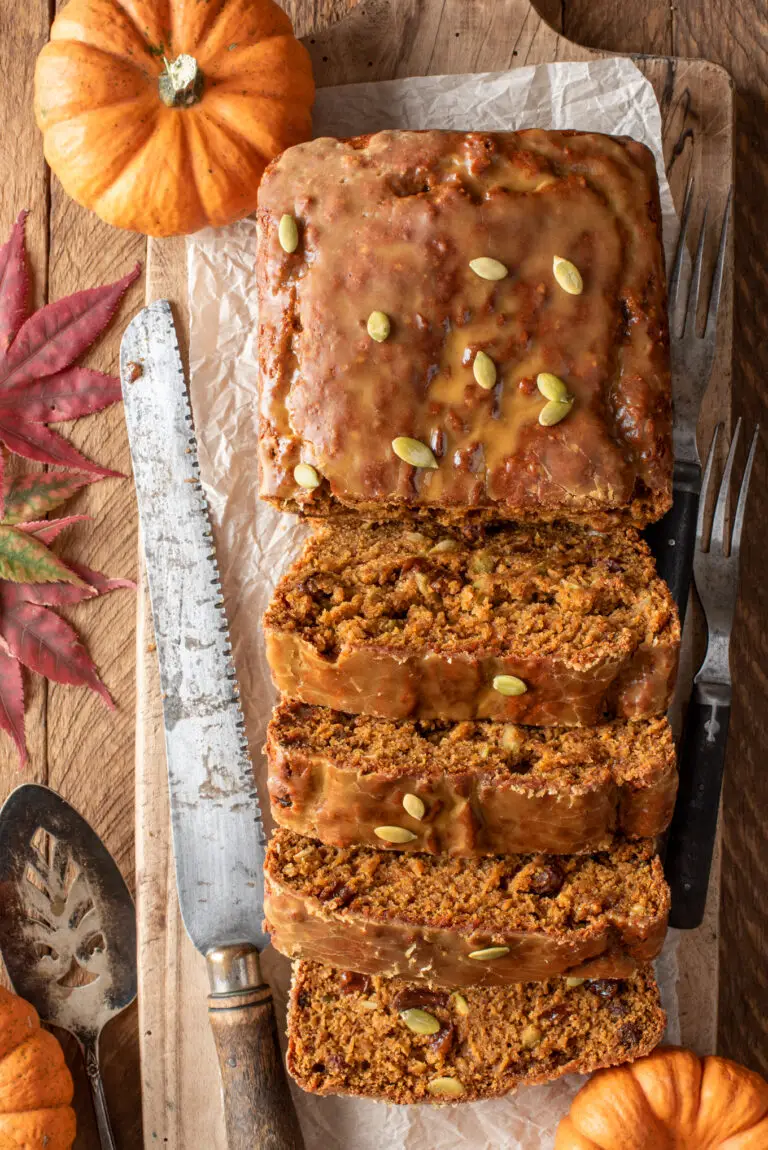 Our Oil-Free Pumpkin Loaf Confession
This recipe is oil-free and there is nothing given up. The flavour is fantastic, the loaf is moist and it holds together perfectly. We have to be perfectly honest though. We had intended to include a quarter cup of melted coconut oil. In fact, it was melted in a small pot and sitting on the stove. We baked the loaf, the timer went off, we tested it with a wooden skewer and the melted coconut was still right there in the pot on the stove. After cooling and glazing the loaf, we tried it and it was just right. So the oil went right back into the jar instead of into the pumpkin loaf!
Important Reminders When Mixing and Baking
You typically want to use about a teaspoon of baking powder and a quarter teaspoon of baking soda for each cup of flour. While it is possible to use one and not the other in some cases, this can affect the amount of leavening and the taste of your cake.
The other important point here is that when using organic baking powders, they are typically only single-acting. This means that the reaction starts when combined with moisture. While a second reaction occurs with double-acting baking powders once exposed to heat, this requires chemical agents. We just prefer to keep these out of our bodies. Given the reliance on only the single reaction, it is necessary to pop your pumpkin loaf straight into the oven. The bubbles of carbon dioxide produced by the reaction will otherwise disappear and you'l end up with a flat cake!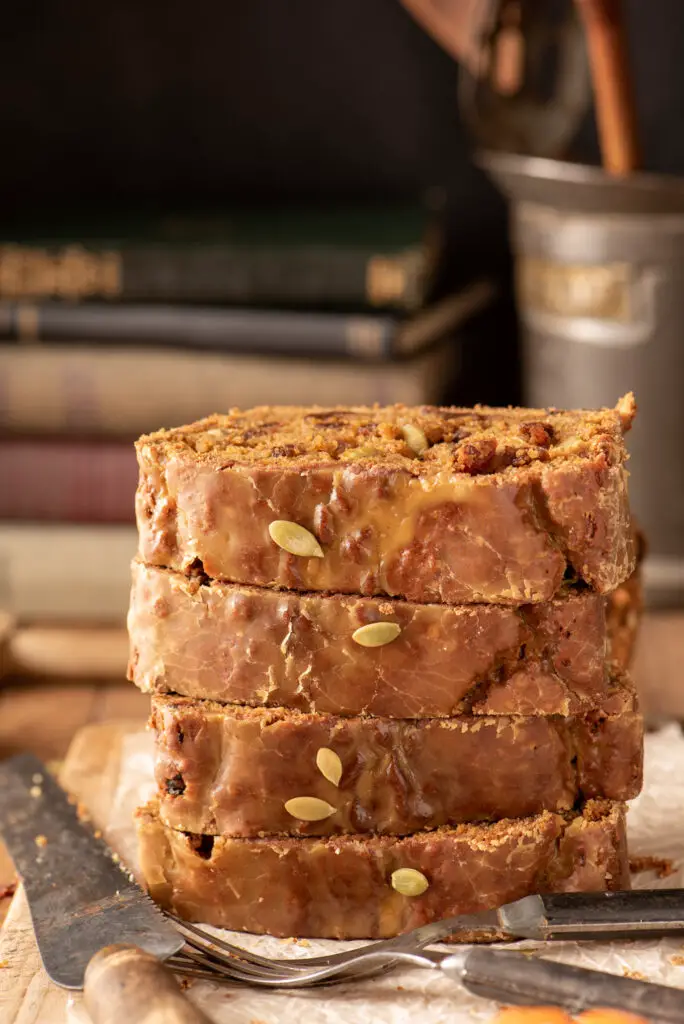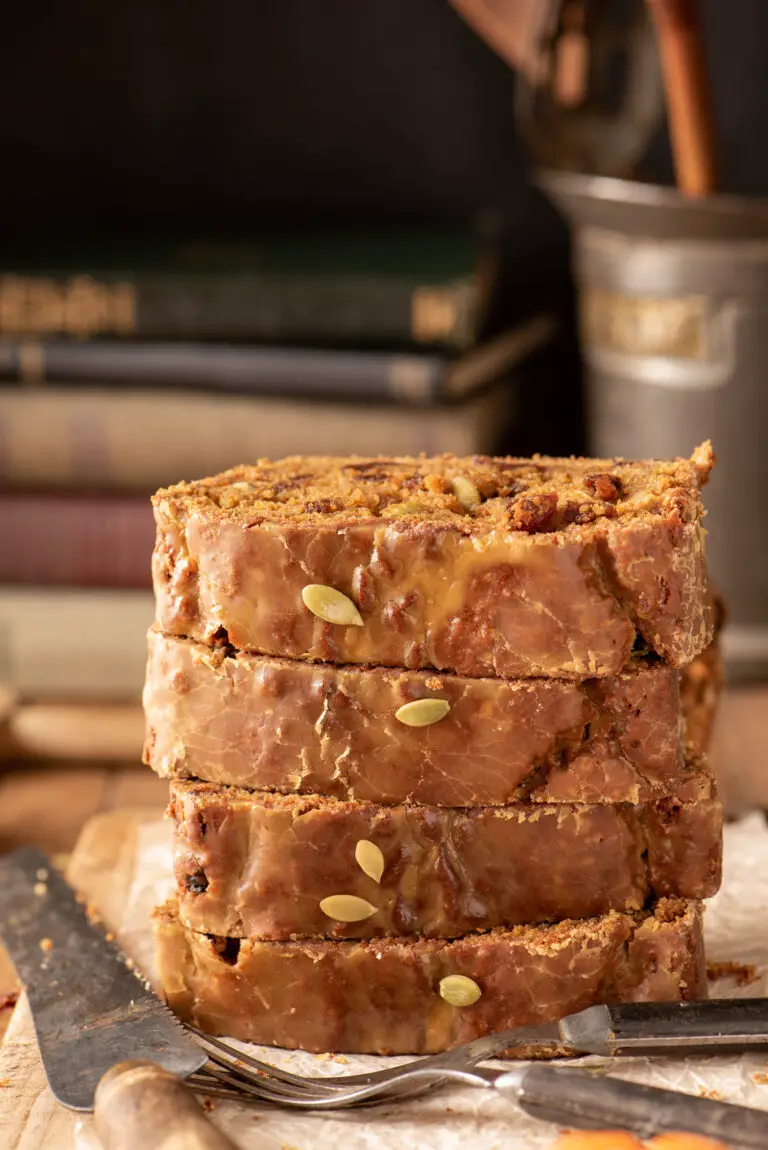 The cinnamon maple glaze is just enough sweetness to compliment the pumpkin loaf. If you prefer, you can even skip it. Either way, you'll love it alongside a cup of tea or coffee for your morning break! You can also try out our Pumpkin Spice Muffins or if you're looking for gluten-free options, these Oatmeal Cranberry Muffins, Blueberry Oatmeal Muffins and Banana Raspberry Muffins are also good at tea time. If you want to go all the way, enjoy your Maple Cinnamon Glazed Pumpkin Loaf with a homemade Maple Pumpkin Spice Latte!
If you make this pumpkin loaf, please leave a comment and rating below. Take a photo and share it with us on Instagram by tagging us @plantedandpicked and hash tagging #plantedandpicked. It's coffee time!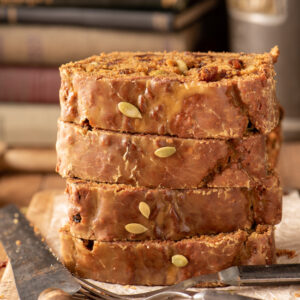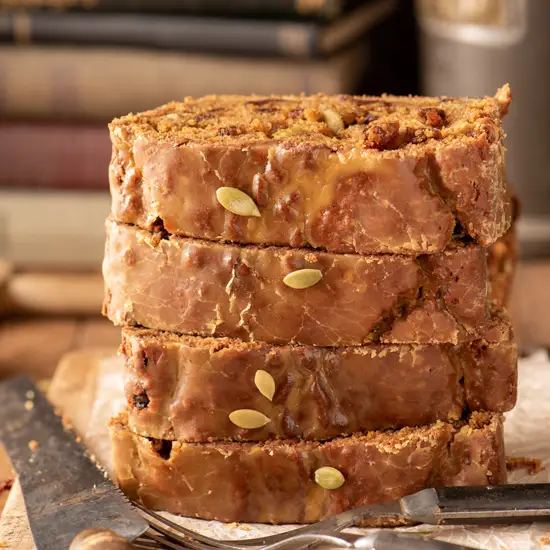 Ingredients
Pumpkin Loaf Dry Ingredients
1½

cups

all-purpose flour

250 g

¾

cup

almond meal

100 g

⅓

cup

pumpkin seeds

¾

cup

raisins

2

tsp

organic baking powder

½

tsp

organic baking soda

2

tbsp

Homemade Pumpkin Pie Spice Blend

See recipe below

½

tsp

fine sea salt

⅔

cup

cane sugar
Pumpkin Loaf Wet Ingredients
¾

cup

plant-based milk

soy works best

1

tbsp

cider vinegar

1

cup

pumpkin purée

½

cup

maple syrup
Maple Cinnamon Glaze
¼

cup

cane sugar

¼

cup

maple syrup

½

tsp

ground cinnamon
Instructions
Maple Cinnamon Glazed Pumpkin Loaf
Pre-heat oven to 350°F with rack in the middle of the oven.

Add cider vinegar to plant-based milk (soy), stir to combine and thicken and let rest while preparing dry ingredients.

Combine all dry ingredients in a large mixing bowl.

Combine pumpkin purée and maple syrup with the soy milk mixture.

Stir wet ingredients into dry ingredients until combined ONLY once oven has pre-heated. If using organic baking powder, it is only single-acting (activated by moisture) rather than double-acting (also activated by heat). You will want to place the loaf pan in the oven as soon as you have mixed the wet and dry ingredients to avoid the bubbles escaping before the cake has started to bake!

Add the mixed batter to a parchment-lined loaf pan and place in the oven to bake straight away.

Bake for approximately 65 minutes or until an inserted wooden skewer or toothpick is removed cleanly. Add an additional 5 minutes at a time, checking with the skewer, as required.

Let cake cool completely before frosting.

Add the quarter cup of cane sugar to a high power blender and blend for about 30 seconds to produce a fine confectionary consistency sugar.

Add the maple syrup and ground cinnamon to create the desired glaze consistency. You want the glaze to flow sufficiently to drizzle over and penetrate the loaf.

Drizzle the glaze over the loaf, allowing it to penetrate.

Before serving, sprinkle some additional blended cane sugar (or icing sugar) over the top of the loaf top (optional).