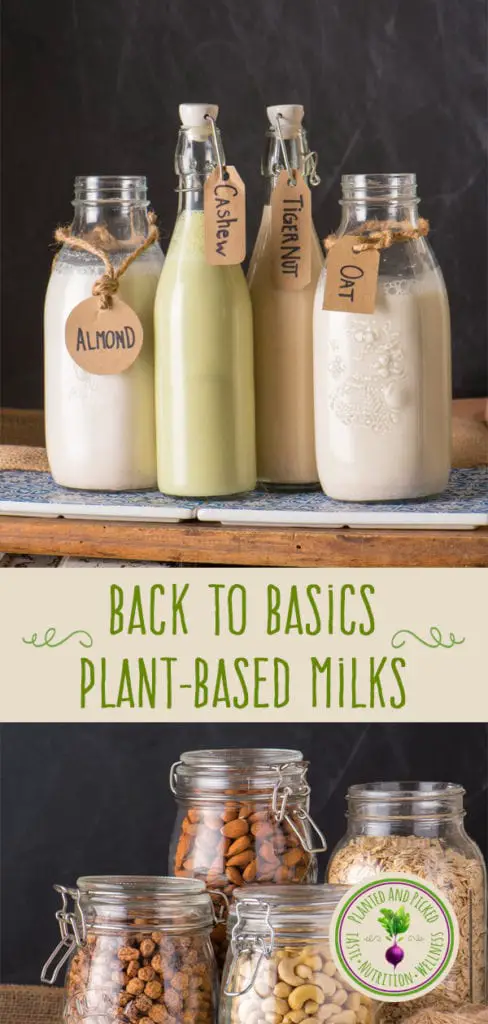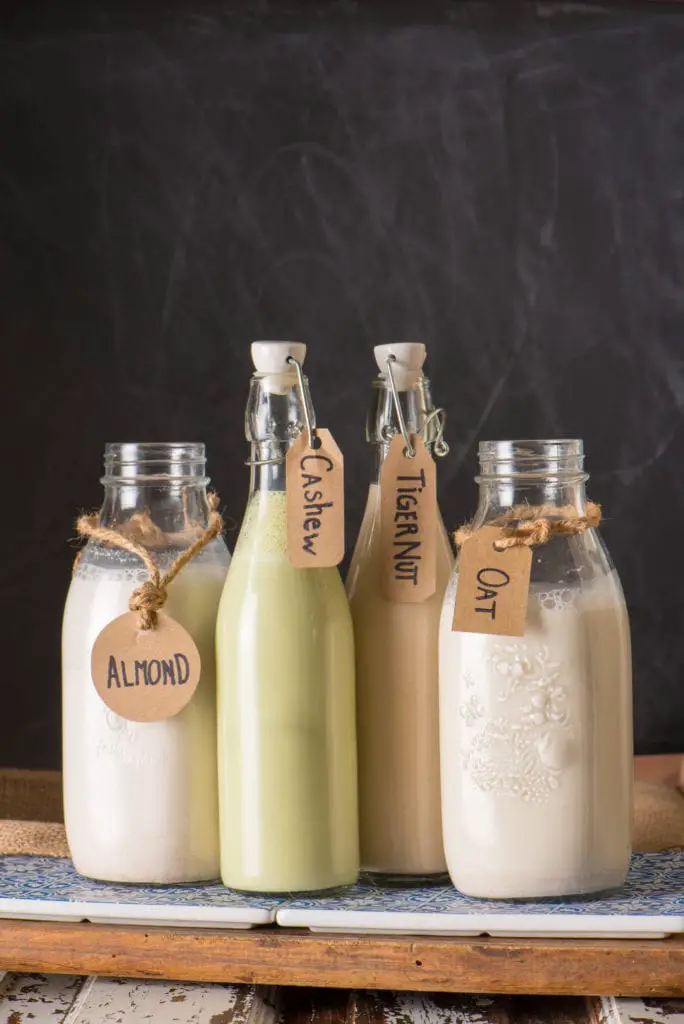 If you are running a plantiful kitchen, one recipe that you should have in your arsenal of basics is a plant based milk that you enjoy. Making these milks on the weekend is always part of our meal prep. The combination of flavours that you can play with are endless!
Plant Based Milk Basics
We are highlighting four different kinds of plant based milks and variations to demonstrate some different flavour combinations. You can definitely play around with ingredients on the flavourings or just keep it simple and unsweetened. The milks we are highlighting are tigernut, oat, almond and cashew. Most of these will last up to about 5 days in the refrigerator. However the tigernut milk has a shorter shelf life of about 3 days. If you are not going to use it in that amount of time, you can freeze it. The milks may separate, but will be fine with a vigorous shake prior to serving.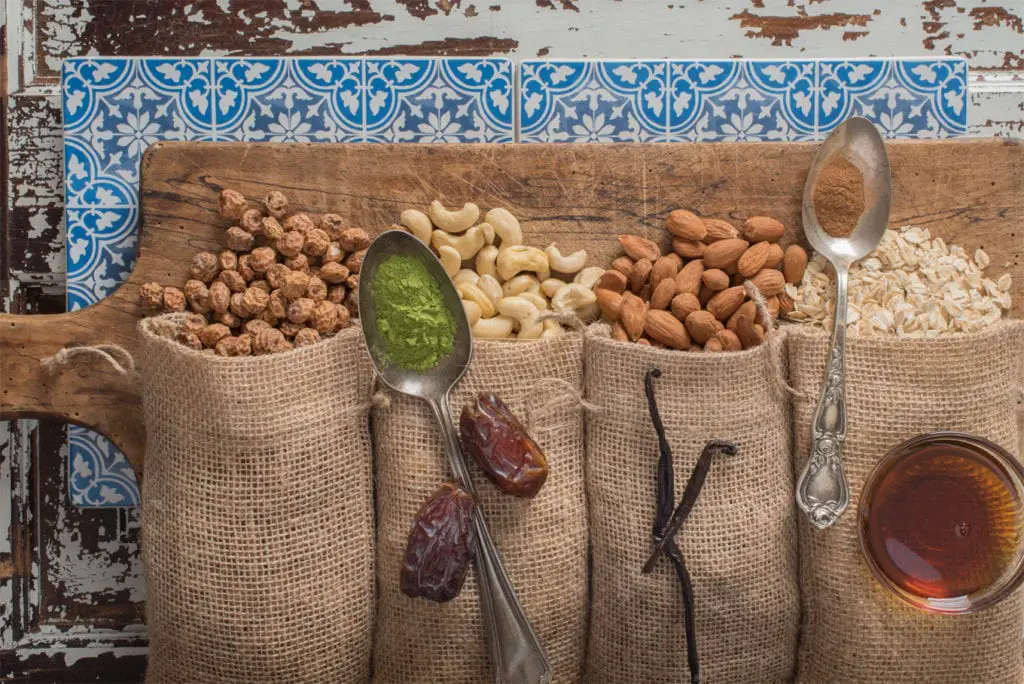 Tigernut Milk
Despite the name, tigernuts are not a nut. They are actually a tuber and used to be a big part of the diet originating in Egypt thousands of years ago. Today they are widely cultivated in Spain. They have a small amount of protein but are mostly composed of carbohydrates and monounsaturated fat. The taste is slightly sweet and nutty. They contain a significant amount of fibre if eaten whole. However, straining to produce a plant based milk removes most of the fibre from the milk. Tigernuts are also high in antioxidants and also prebiotics (the food source to support healthy probiotics in the gut).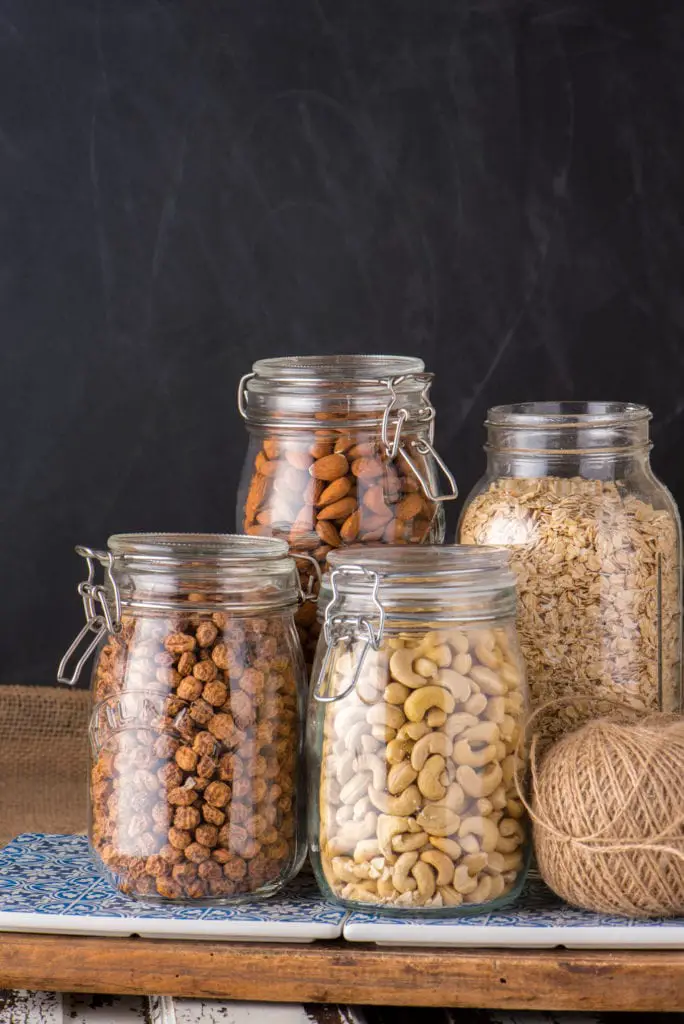 Almond Milk
Unsweetened almond milk is a staple for us. It is the base of most our smoothies and a topping for oatmeal in the morning. Of the many plant based milks available, unsweetened almond milk is one of the easiest to find in the grocery stores now. However, they often contain additional ingredients such as emulsifiers (soy lecithin) and thickeners (carrageenan). By making your own almond milk, you can omit these extra ingredients. You may also want to pay attention to the source of your almonds. Unfortunately, due to the growth in almond milk consumption over recent years, almonds are becoming more of a commodity crop. Almond crops also take a vast amount of water to produce.
There have also been issues in California, where 80% of the world's almonds are produced. Bees that pollinaate almond crops are dying off in droves. Much of this is to do with the immense amounts of fungicides and pesticides that farmers spray on the crops. See this article from Honey Colony for more information on this issue.
Try to source organic almonds when possible, and preferably from Spain. Crops are smaller there and legislation is in place to limit the amount of water farmers are able to use. Almonds from Spain are also not pasteurized, which means that they retain more of their nutrients and enzymes. We purchase our almonds from Upaya Naturals (in Canada).
Cashew and Oat Milk
The other two plant based milks that we rotate are cashew and oat. Oat milk is another good source of a nut milk alternative that you can make fairly creamy. The benefit of cashew milk is that it is very creamy and straining is not necessary. Cashew milk just seems decadent! If you want a creamer for your coffee, just reduce the amount of water you use when blending to two cups instead of three.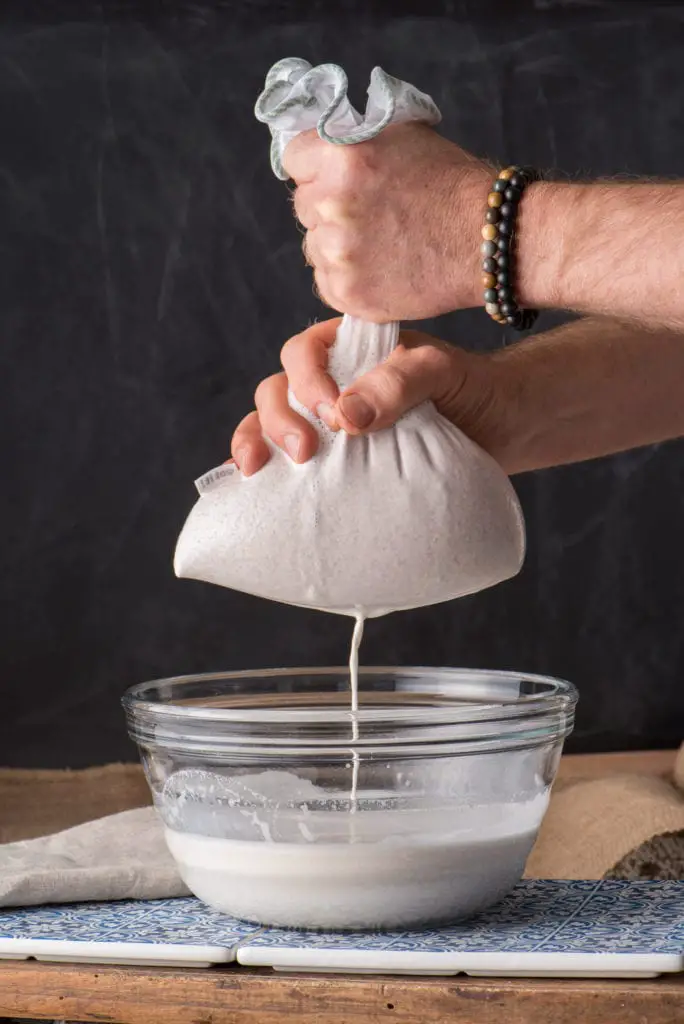 Plant based milks are a key ingredient to our Post Workout Protein Smoothie, Nut Butter Overnight Oats and Raspberry Chia Pudding. Or sub the coconut water in our Vegan Super Greens Smoothie with a plant based milk. Try these out with your own homemade versions.
Let us know if you get back to basics and try making your own plan based milks. We look forward to hearing what you add to yours if you switch it up. Don't forget to take a photo and tag us @plantedandpicked on Instagram and hashtag it  #plantedandpicked. Enjoy simplicity!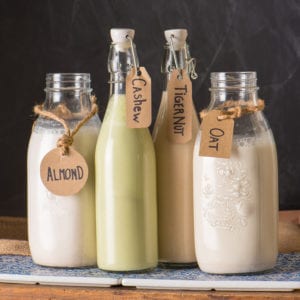 Equipment
High Speed Blender

Nut milk bag
Ingredients
Unsweetened Vanilla Almond Milk
1

cup

organic, raw almonds

4

cups

filtered or sping water

½

vanilla bean
Tigernut Milk
1

cup

whole tigernuts

4

cups

filtered or spring water
Matcha Cashew Milk
1

cup

organic, raw cashews

3

cups

filtered or spring water

1

tsp

good quality matcha green tea (or 2 tsp if you prefer a stronger matcha flavour)

2

dates, pitted
Sweetened Oat Milk
1

cup

organic rolled oats

3

cups

filtered or spring water

2

tbsp

maple syrup

½

tsp

cinnamon
Instructions
Unsweeted Almond Milk
Soak almonds in water for 8 hours (overnight).

Drain and rinse the almonds.

Slice vanilla bean in half and scrape out the seeds.

Add the almonds to a high speed blender along with 4 cups of spring or filtered water and the vanilla bean seeds. Blend well for about one minute.

Pour mixture through a nut bag, into a large bowl and squeeze the nut bag until only the pulp is left. Discard the pulp.

Store almond milk in a glass container in the refridgerator for up to 5 days. Shake before using.
Tigernut Milk
Cover tigernuts with water and soak for 24 hours in the refrigerator (they may ferment if left sitting on the counter).

Drain and rinse the tigeruts.

Add the tigernuts and 4 cups of water to a high speed blender. Blend for about a minute until creamy.

Strain through a nut bag and place into a glass bottle. Refrigerate.

This milk needs to be used within about 3 days. If you are not going to use it within that time, you can freeze it for later use.

This milk is so super creamy and delicious that you will want to drink it by the glass!
Creamy Matcha Cashew milk
Cover cashews in water and sock for 4 to 8 hours.

Drain and rinse the cashews.

Add the cashews, filtered water, matcha powder and dates to a high speed blender.

Blend on high for about a minute (should be nice and creamy).

Pour directly into a glass bottle and store in the refrigerator for up to 5 days.

We gently heat this milk and enjoy it as an after dinner drink.
Sweetened Oat Milk
Add all ingredients to a high speed blender.

Blend on high for about 30 seconds. Do not over blend or the 'milk' will turn slimy as the oats break down.

Pour through a nut milk bag.

Pour into a glass bottle and refrigerate for up to 5 days.

We enjoy this milk with cereal, granola, on top of oatmeal or sometimes in coffee.