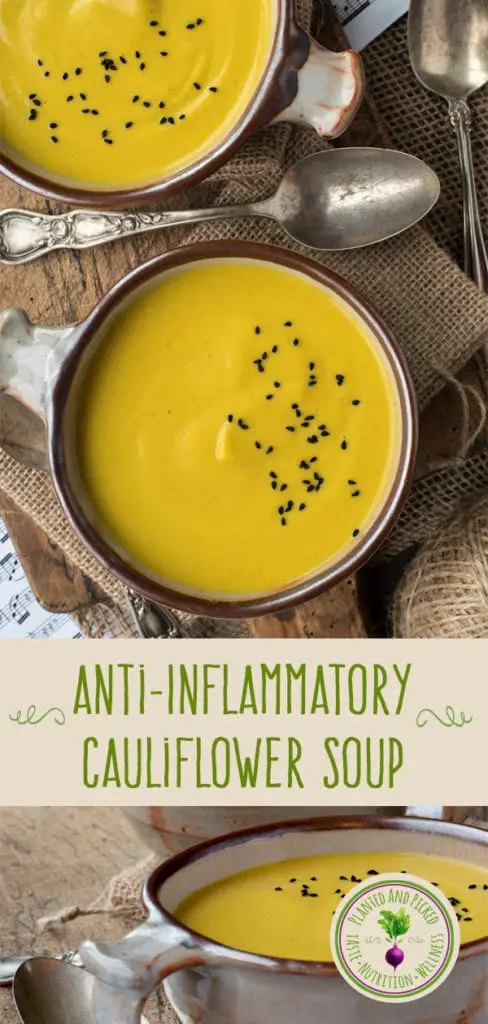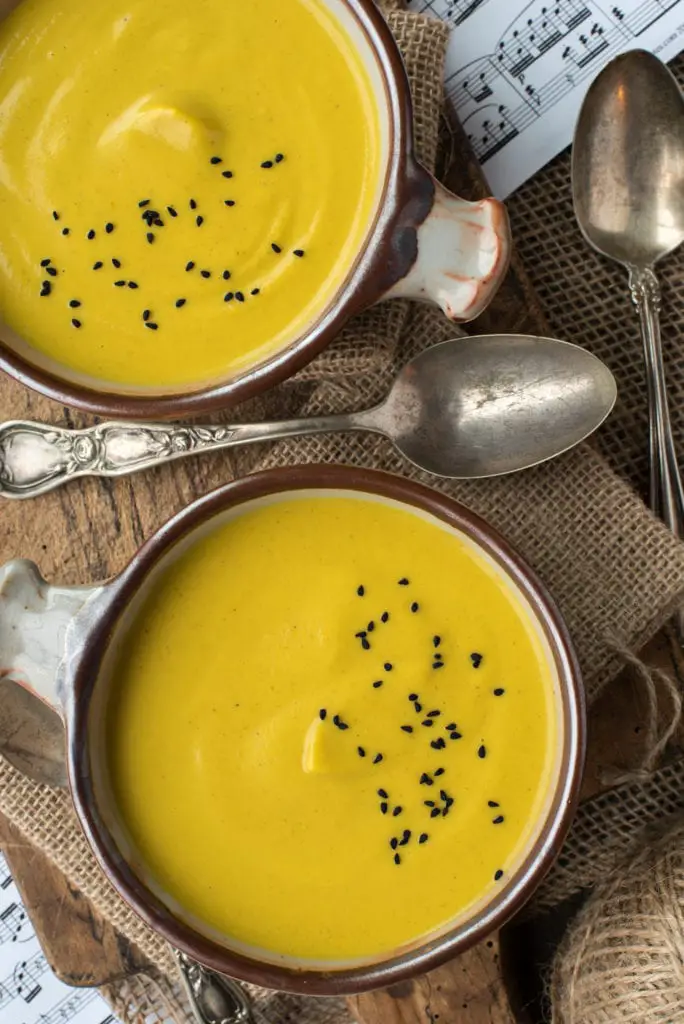 This anti-inflammatory cauliflower soup is, you guessed it, full of anti-inflammatory and detoxifying ingredients. These will help your body recover after the holidays. Simple, healthy and delicious!
Inflammation is our body's response to injury and is necessary for our survival. It helps to repair when we get an injury such as a cut to the finger. However, in many cases, inflammation can become chronic as the injury keeps recurring. An example of this would be when we eat a food that the body is sensitive to (e.g. dairy). Over time, chronic inflammation can become a source of other diseases in the body such as cancer and heart disease.
To counteract the inflammation, we need to reduce or eliminate the causes. We also need to increase our anti-inflammatory weapons through the food we eat. Onions, garlic, cauliflower, turmeric and ginger are all examples of anti-inflammatory foods and this soup contains all of them!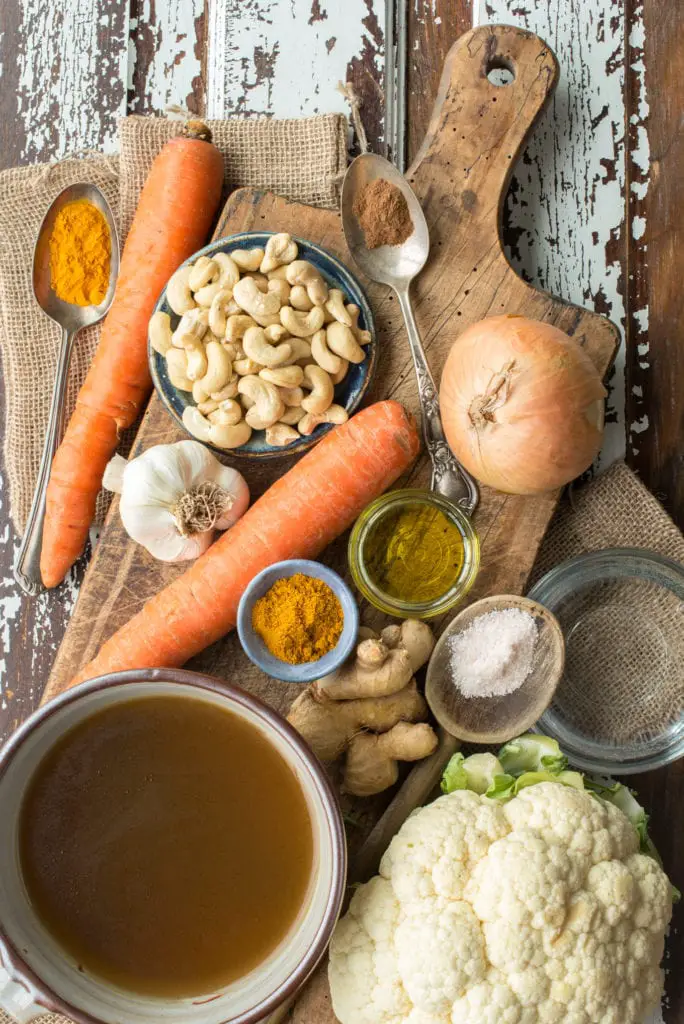 The star of this anti-inflammatory cauliflower soup is, of course, the cauliflower. Cauliflower is a cruciferous vegetable and cruciferous vegetables help to reduce inflammation and combat oxidative stress. Evidence indicates that consuming them reduces markers of inflammation in the blood. Other cruciferous vegetables are foods like broccoli and cabbage.
Ginger contains highly anti-inflammatory compounds called gingerols, which are powerful compounds that block inflammation. Onions and garlic contain sulfur compounds and other molecules that also avert inflammation. The sulfur compounds also help to enhance the detoxification process.
Let's not forget turmeric! We have talked a lot about turmeric in past blog posts as it is one of the most potent anti-inflammatory spices, and is also a strong antioxidant. Turmeric's power comes from curcumin – one of the most active anti-inflammatory components. We try to add it to recipes as often as possible.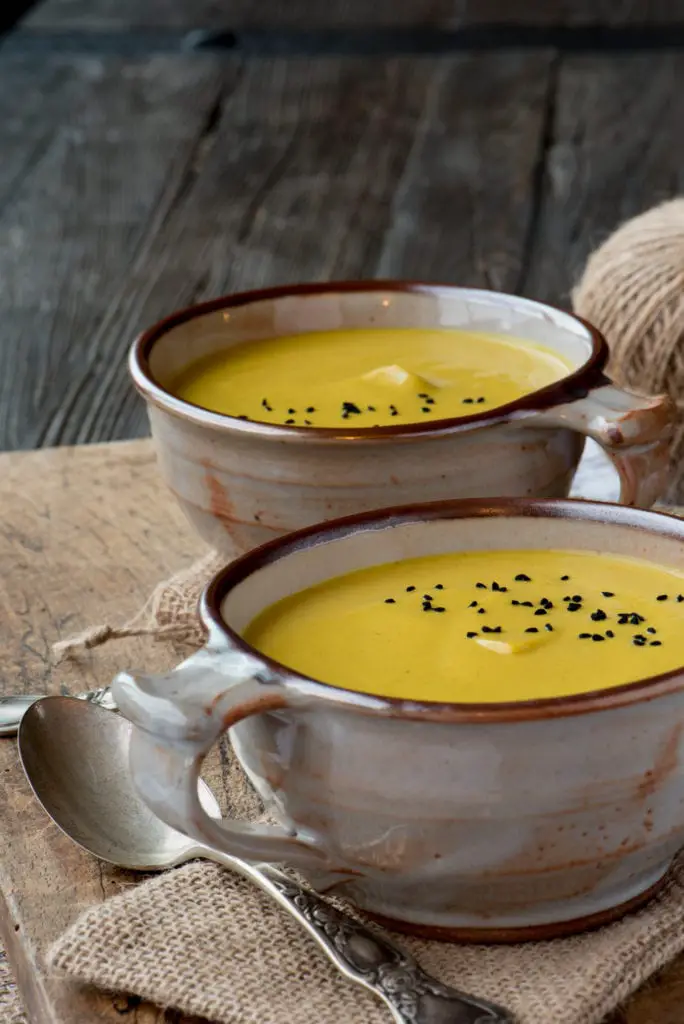 If you'd like to dress your Anti-Inflammatory Cauliflower Soup the way we did, sprinkle on some black sesame or kalonji (Nigella) seeds available from your Indian grocer. If you're looking for some other soup ideas, try out one of these . . . Warming Carrot Ginger Soup, Classic Italian Minestrone Soup, Roasted Squash and Pear Soup, Spiced Red Lentil Soup, Fire Roasted Tomato Soup or Creamy Vegan Corn Chowder.
Let us know if you make this Anti-Inflammatory Cauliflower Soup because we love reading your comments and always follow up! Leave a comment and a rating and don't forget to tag us @plantedandpicked on Instagram and hashtag it  #plantedandpicked. Good-for-you food can be great-tasting food. Be well.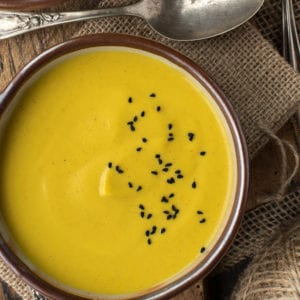 Ingredients
Cashew Cream
½

cup

raw cashews

½

cup

filtered water
Soup Base
1

tbsp

extra virgin olive oil or coconut oil

1

cup

onions, diced

½

cup

carrots, diced

2

large

garlic cloves, minced

1

tsp

salt, himalayan or other good quality sea salt

1

head

cauliflower, broken up into small pieces (florets)

2

tbsp

curry powder (good quality)

1

tsp

turmeric or ½ inch of turmeric root, diced finely

½

tsp

ground ginger, or 1 inch of ginger root, diced finely

¼

tsp

cinnamon

3

cups

vegetable broth
Instructions
Cashew Cream
One hour prior to starting to make the soup, place cashews in a bowl and cover with water. Let soak for one hour and drain.

In a blender, add cashews and ½ cup of filtered water. Blend until creamy, scraping down the sides of the blender, as required. Set aside.
Soup Base
Prepare vegetables. Add oil to a large pot and heat on medium temperature.

Add onions, garlic, carrots and salt to the pot. Sauté, stirring occasionally for about 7 minutes.

Add cauliflower, spices and vegetable broth to the pot. Stir and increase heat and bring to a boil.

Reduce heat to simmer. Cover and cook for 20 minutes, stirring occasionally.

After 20 minutes, add the cashew cream and stir to combine. Turn off heat.

Using an immersion blender, blend soup until desired consistency is reached. Alternatively, tranfser the soup to a blender and blend to desired consistency.

Return to the pot and reheat, if required. Add additional vegetable broth, 1/2 a cup at a time, to desired consistency.

This soup can form the basis of a healthy lunch, light dinner or as an appetizer.